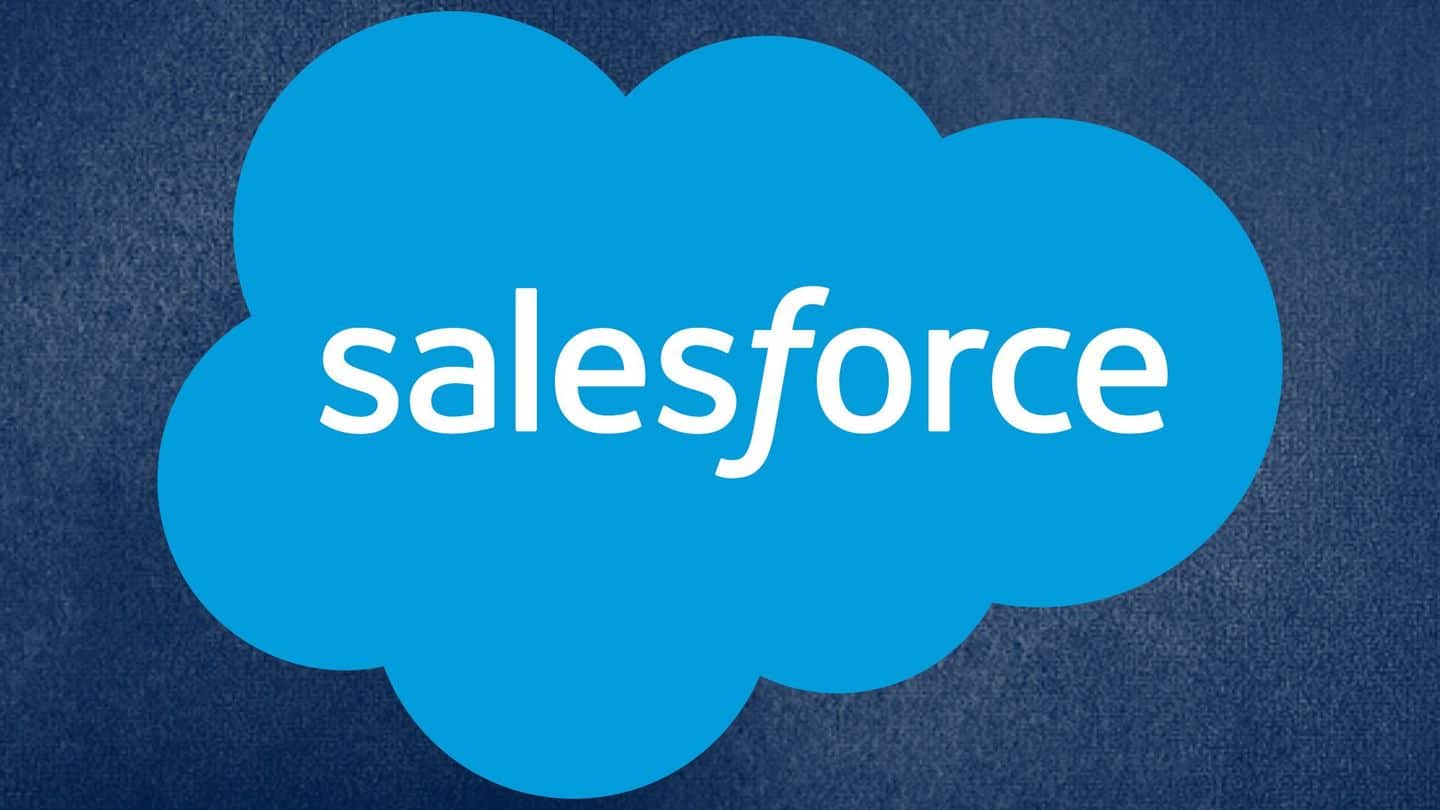 To help you make your decision, we have summarised the advantages and disadvantages of the solution, before going into more detail about the features later.
The benefits of Salesforce
A very powerful CRM. In terms of functionality, there is not much to complain about with Salesforce. Almost all the features you would expect from a CRM are available: Quote and order management, product and price management, lead management, and more.
The ability to add/remove features as needed. Depending on your sector of activity and the size of your company, you will not necessarily need all of Salesforce's features. Being able to tailor features to your needs is therefore an important advantage.
Many salespeople know how to use the tool. Salesforce's reputation makes it a must-have tool in the sales world. It is therefore likely that the salespeople in your team or those you are going to recruit already have some knowledge of it, if not more.
The disadvantages of Salesforce
An expensive tool. We will detail the prices in the next section but the tool is quite expensive overall. All the more so as it is often necessary to integrate paid complementary modules to access certain more advanced functions.
Configuration and installation are complex and time consuming. In addition to the financial aspect, the functional depth of Salesforce sometimes makes it difficult to deploy. This can be felt by your teams, whose learning curve never seems to end.
The busy interface makes navigation and simple tasks unnecessarily complex. In terms of UX, Salesforce suffers in comparison with lighter and more intuitive solutions. The interface is a bit busy and slows down the daily use of the solution.
Customer support has a bad reputation. Comfortably installed in its leading position, Salesforce relies on the power of its tool and can seem to leave its customers behind with unresponsive support.
SDO's opinion
Salesforce is not very flexible and intuitive, but it has a good functional depth and its position on the market can make it easier for your teams to learn.
How much does Salesforce really cost?
The cost of the software itself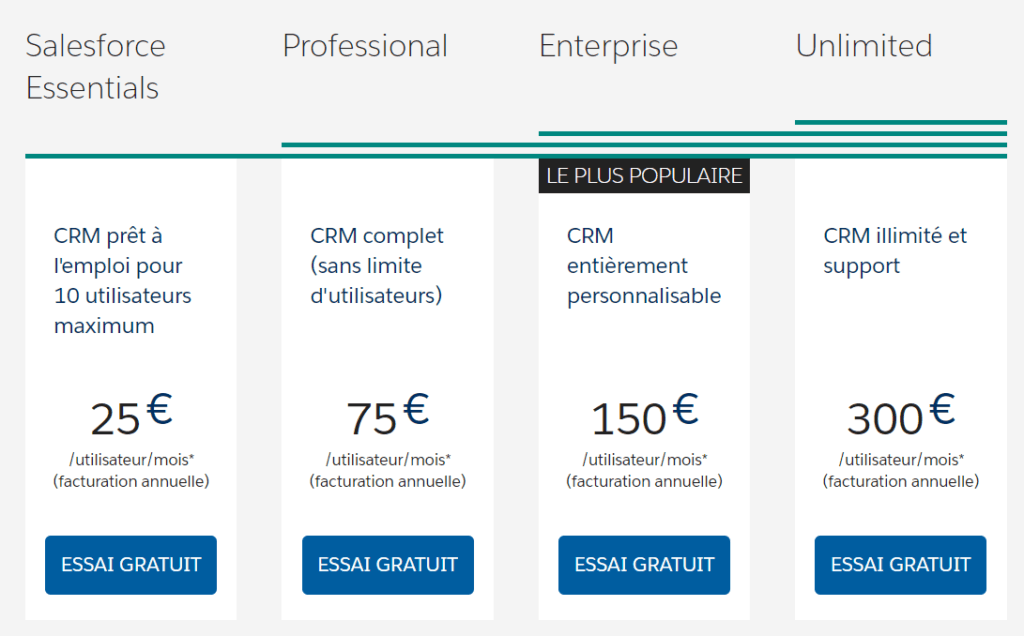 There are several levels within Sales Cloud: Salesforce Essentials, Professional, Enterprise and Unlimited:
The Essentials plan (€25 per user per month, billed annually) provides sales and marketing services for up to 10 users. It includes guided onboarding, account and contact management, opportunity tracking, lead scoring and attribution, email and event tracking, customisable reports and dashboards and mobile access. Overall these features are pretty basic, if that's all you need, you might want to look at more suitable Salesforce alternatives.
The Professional plan (€75 per user per month with an annual subscription) has no user limit and offers campaign management, customisable dashboards, products, quotes and orders, and role-based access for users. This plan is most suitable for small businesses, however it seems expensive compared to other software such as Pipedrive or Zoho CRM.
The Enterprise plan (€150 per user per month with an annual subscription) is the most popular and shows why Salesforce remains one of the most successful CRM solutions. In addition to all the features mentioned above, this plan includes further workflow and approval automation, report history tracking, enterprise territory management, profile pages, custom application development, and web services API access. The Enterprise plan also includes Salesforce Identity and Salesforce AppExchange. The former provides a single sign-on to all enterprise applications, and the latter provides access to all available integrations.
The Unlimited package (€300 per user per month with an annual subscription) allows for unlimited customisations, multiple sandboxes, customised applications, free 24/7 support and unlimited training. If you need Service Cloud, you can get it with the Unlimited edition.
The SDO opinion
While the first two plans may be suitable for SMEs, the prices offered by Salesforce make them rather unattractive. The Enterprise and Unlimited editions are clearly the interesting options at Salesforce, but they are aimed at larger commercial organisations. For these larger companies, Salesforce is flexible on pricing when the volume of users increases. This is where we think it makes sense to implement this solution.
The cost of integration
In addition to the cost of the CRM itself, when you deploy a CRM in your company you must also take into account the cost of integration. This is even more true for Salesforce.
In fact, it is estimated that Salesforce will cost you at least €5,000 for a single user in the first year and you could pay up to €50,000 per year for a relatively small sales team.
This (wide) range varies according to the following factors:
#1 The size of your organisation
This can be measured by the number of users, the number of customers or the number of transactions you process. As a general rule, larger operations and organisations will require greater investment in implementing Salesforce.
#2 The sector in which you operate
Are you an online merchant? A professional blogger? A membership-based non-profit organisation? Do you sell goods or services? Some sectors or businesses have more complex sales channels than others.
Some companies require a deeper commitment from their customers than others. In this case, it is usually the complexity that drives up the price.
#3 The type and complexity of your organisation
The more complex your organisation is (company structure, hierarchy, internal procedures, business processes, etc.), the more time-consuming and therefore expensive the Salesforce integration will be.
#4 Your business objectives
If you are simply looking to follow up with your customers, implementation will require less investment. But if you want to create a personalised customer experience, provide effective customer service or build an engaged community around your brand, integration will take much longer.
You can also expect to pay more if you migrate to Salesforce from another CRM. The same is true if you need to integrate Salesforce with other applications and for any training beyond the basic free Salesforce offering (which you probably will).
The SDO view
While the cost of integrating Salesforce will vary greatly depending on these different factors for your company, there is no need to kid yourself that the return on investment will generally be high.
Salesforce features
Commercial CRM: the heart of the software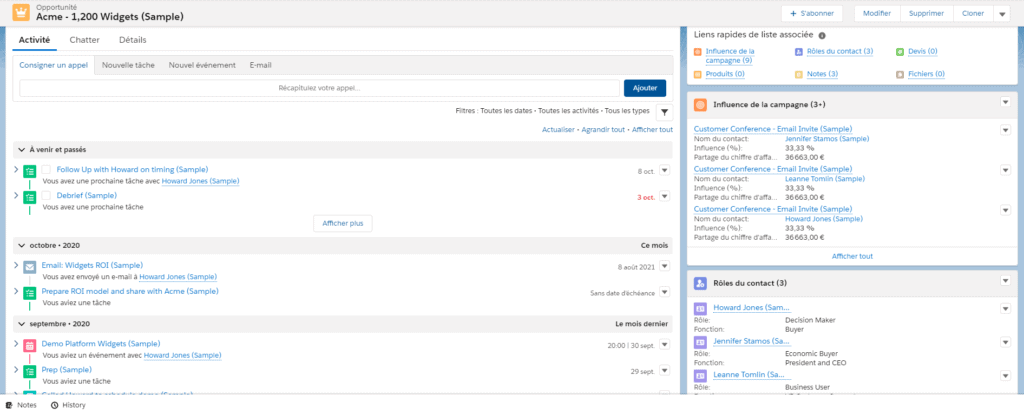 Opportunities and pipeline management. Track sales opportunities throughout their lifecycle – from lead to order confirmation. Sales pipelines can be tracked by an individual salesperson, teams, regions or across the company. These different entities track the progress of leads through your sales funnel and take action based on the potential value of the deals and the likelihood of closing.
Partner relationship management. Manage partners by tracking channel partner leads and sales opportunities.
Tasks & activities. Assign due dates, set priorities, integrate tasks with calendar applications and manage your calendars.
Contact and account management. Store and access contact information to improve the quality of marketing communications and messages. Track interactions to gain insight into your customers' journey.
Contract management. Manage customer contracts, including negotiations, define contract terms and conditions and ensure that they are met. Any changes made can be agreed and documented in one place.
Product and price lists. Create and manage your product lists with prices, including custom prices and customer discounts if required.
Quotes and orders. Quickly create quotes for your customers based on your product information and prices. Salespeople can also process orders when all the required information is present – or assign orders to the appropriate department for completion.
Lead management (CRM Marketing)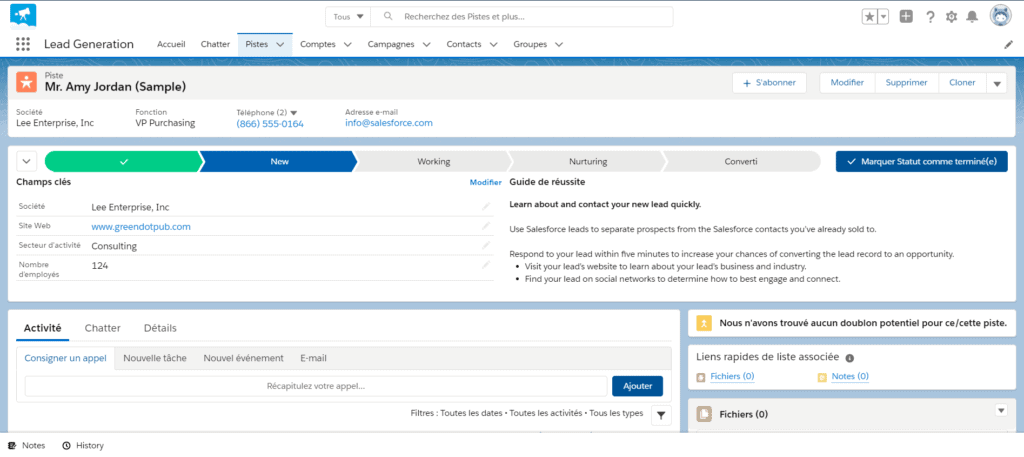 Sales and lead generation are two separate applications. The difference is in some of the tabbed features available. For example, the sales application has tabs for notes, tasks and other activities, while the more focused lead generation application has one for campaigns.
It is essential to be able to filter your view to prioritise leads. You can also display your lead list as a traditional chart or as a Kanban board, which makes it easier to move leads through your pipeline.
One important source of analysis is Sales Cloud Einstein Lead Scoring, which uses the Salesforce Einstein analytics platform to evaluate each lead.
It uses your company's historical data to discern patterns of success. (To use Lead Scoring, you must be using Sales Cloud Lightning.) Salesforce recommends that for Lead Scoring to work, you must have created at least 1,000 leads in the last six months, with a minimum of 120 conversions.
Lead scoring is particularly useful for high-potential deals as leads with a higher score (indicating a higher probability of conversion) are automatically sent to more experienced salespeople.
Smaller organisations can use lead scoring to sort through their lists of prospects (available in the Sales Cloud) and decide who to contact first.
Customer tracking features on Salesforce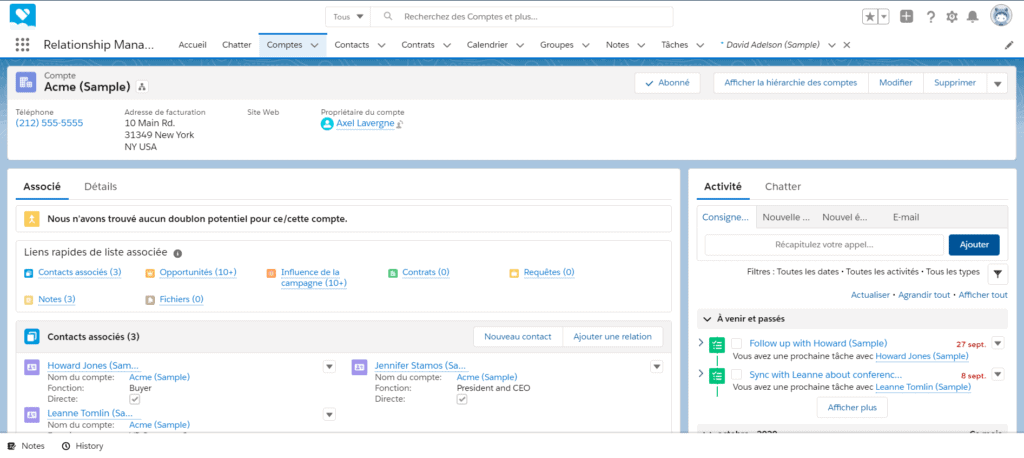 Here are the details of the features offered by Salesforce in terms of customer follow-up:
Call centre. Call recording, analysis, workforce management, call script management and compliance management.
Problem management. Follow-up of problems/queries for help reported by customers throughout the resolution process.
Customer Support Portal. Provides your customers with a place to submit service issues, technical problems, place orders, view order history and contact your support team.
Knowledge base. An information base where your customers can access all kinds of information about your products, services and other information they need to get the best experience possible.
Support Analytics. Measure the performance of your customer support system and identify opportunities for improvement.
Salesforce is very complete in this respect and will allow you to provide a personalised message and follow-up to all your customers, which is particularly effective when you are using anAccount Based Marketing (ABM) approach.
The Salesforce App Exchange ecosystem: why it matters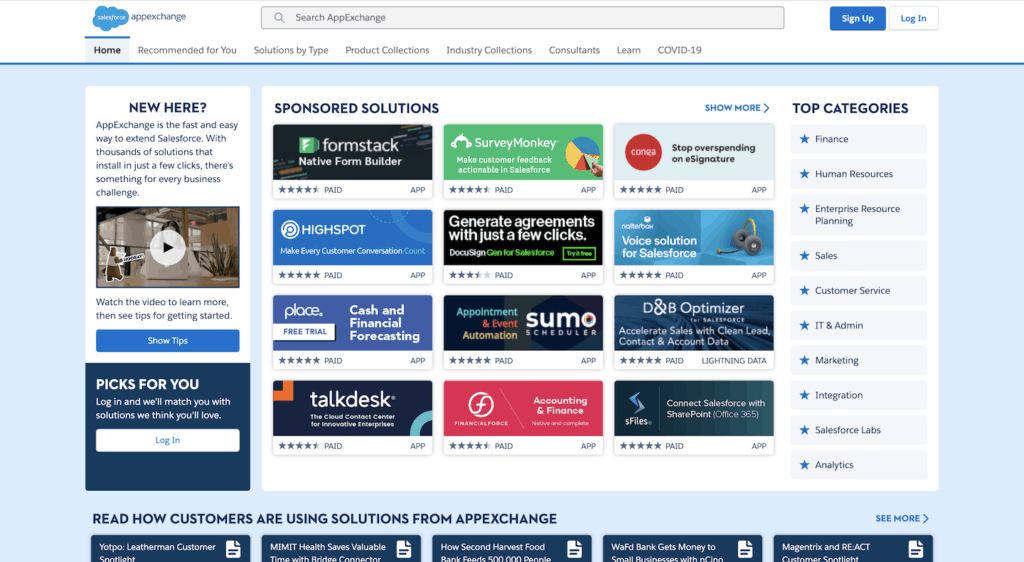 Salesforce is one of the largest third-party application markets. You'll likely be able to integrate CRM with all the business applications you use, including QuickBooks, RightSignature and Zendesk.
Launched in 2006, the Salesforce AppExchange platform now has more than 5,000 applications available and, according to Salesforce, has facilitated more than 6.5 million business application deployments.
With the Professional, Enterprise and Unlimited plans, there are also a multitude of add-ons to add additional functionality to the business CRM experience.
SalesforceIQ Inbox provides users with a suite of productivity applications for mobile phones and desktops, including email and calendar integrations with intelligent contract and lead reminders.
Another useful addition is called Salesforce CPQ (Configure, Price, Quote), an automated quote generator for configuring products and prices for cross-selling, up-selling, contract and proposal generation, and invoice and payment processing.
Salesforce Billing allows for subscription renewals, contract renewals, and flexible billing.
For social networking, Salesforce has Chatter, its social networking platform. Chatter allows you to create a profile and keep your colleagues updated on your status; a "Share" button is located at the top right of the main page. You can use Chatter to update the status of a project or give notes to other users.
The SDO opinion
There are many, many features. You now have a better vision of the possibilities offered by Salesforce. And you understand us a little better when we mentioned the possibility of getting "lost" in these features. For an efficient deployment in your sales team you will need to set up a specific dedicated team or a service provider specialised in the subject.
Customer reviews of Salesforce
While we have highlighted some of the limitations of this tool, it is still the market leader for a reason. Overall, users are satisfied with Salesforce and its ROI. This is evidenced by its 4.2 rating on G2 and 4.4 on Capterra with a very high number of reviews.
However, there are some points on which users share our opinion:
Salesforce is great for functionality and tailoring a platform to your needs, but the setup process can be a pain and the day-to-day use of the software is frustrating.
If you're looking for ease of use in sales and marketing tools, Salesforce feels like a hindrance rather than a help, which is particularly hard to accept at this price point.
The SDO view
Again, the choice of your Salesforce integrator & the efforts you make in the first year to ensure its deployment will be fundamental to creating a CRM that can grow with your organisation, and maximise ROI.
Conclusion
Salesforce has long been the CRM solution to beat. This pioneering platform excels with an exceptional feature set and an ever-expanding set of innovations, including artificial intelligence, and easy integrations with a long list of business applications such as Slack, Facebook Ads, and resource management software.
However, Salesforce does not scale well to smaller organisations, particularly because of the cost of implementation & the cost of the software itself.
To go further
Looking to deploy a CRM in your business? Feel free to draw on the resources below to help you:
Reader Interactions