Salesforce is the undisputed leader in CRM. The Service Cloud suite remains highly sales and customer data oriented, with great functional depth, and native integration with Salesforce and its ecosystem of integrations via the Appexchange. The only downside is that prices are significantly higher than the competition.
Zendesk is also a must-have among customer service software. Originally focused on managing tickets and incoming requests, it has evolved into a more comprehensive software package for managing customer relations in the broadest sense (with Zendesk Sell), while remaining fairly accessible thanks to itsautomation features and highly effective templates.
In this article, I compare the two customer service giants in detail.
Zendesk VS Salesforce Service Cloud: What customers say
Zendesk is generally appreciated for its simplicity (relative, but still) and ease of administration. On the other hand, their customer service is regularly called into question by dissatisfied customers.
Salesforce Service wins in the vast majority of cases: omnichannel management, reporting, help center, and Einstein AI tools are regularly mentioned in positive reviews.
Salesforce Service VS Zendesk: functional scope
Ticket and query management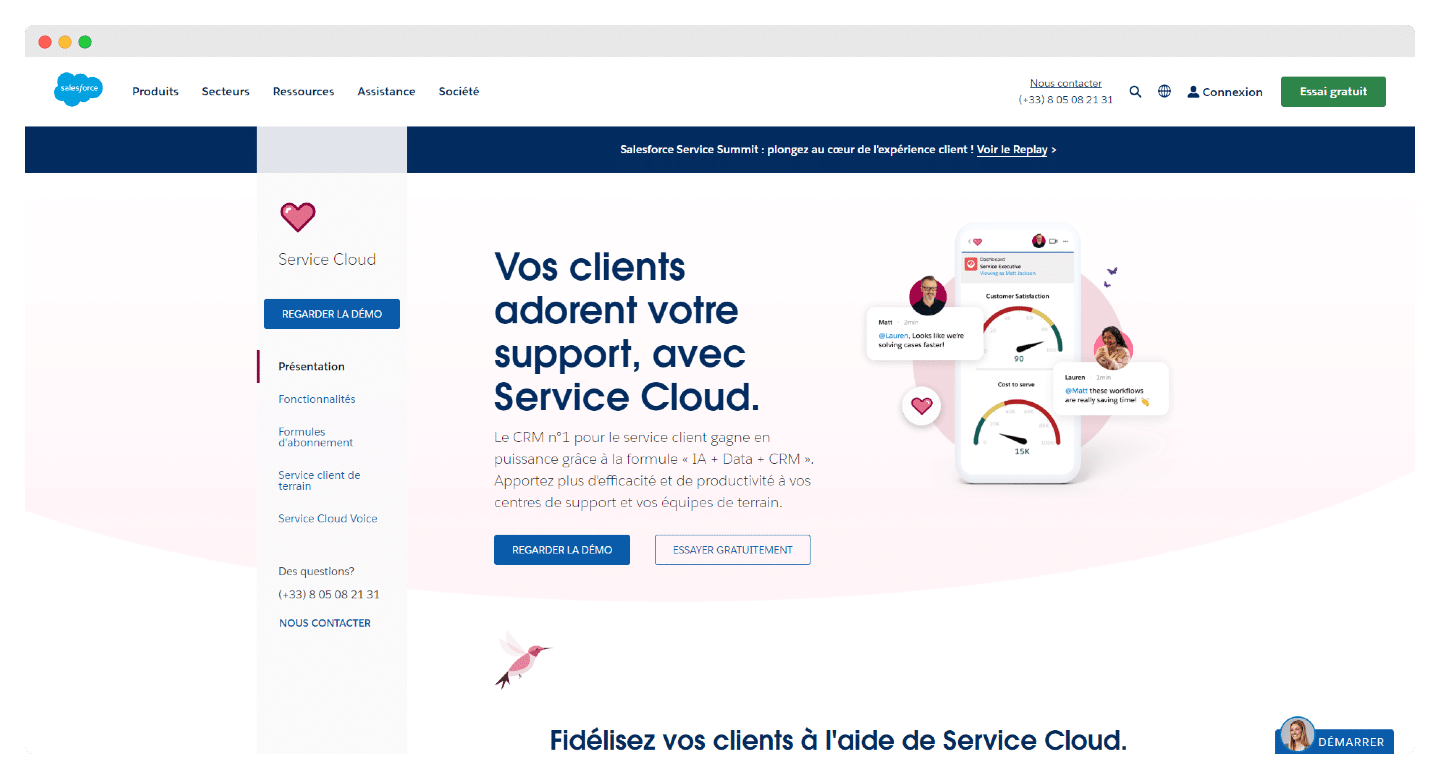 Zendesk and Salesforce Service Cloud both offer a single inbox for fast, organized ticket management – all requests, regardless of channel (email, social networks, web forms, chats), are brought together in a single inbox.
To prevent multiple agents handling the same request at the same time, and a customer receiving multiple responses for example, both tools offer a collision detection function: for Zendesk, this is displayed on the dashboard of each ticket.
To manage tickets, both tools rely on automation and artificial intelligence.
Zendesk uses a form of machine learning to support agents and automate responses to simple, repetitive questions. If the customer still needs help, the ticket is forwarded to an agent.
Simple yet effective, this is best suited to smaller teams who prefer an easy-to-implement solution for ticket management.
Service Cloud, on the other hand, offers cases rather than tickets. Like Zendesk, its case management takes care of all theautomation. What's more, if you also use other Salesforce products (sales and marketing software), you increase the power of the platform.
Agents, sales reps and marketers can get a 360-degree view of a customer's profile – more information for better decision-making and faster case resolution.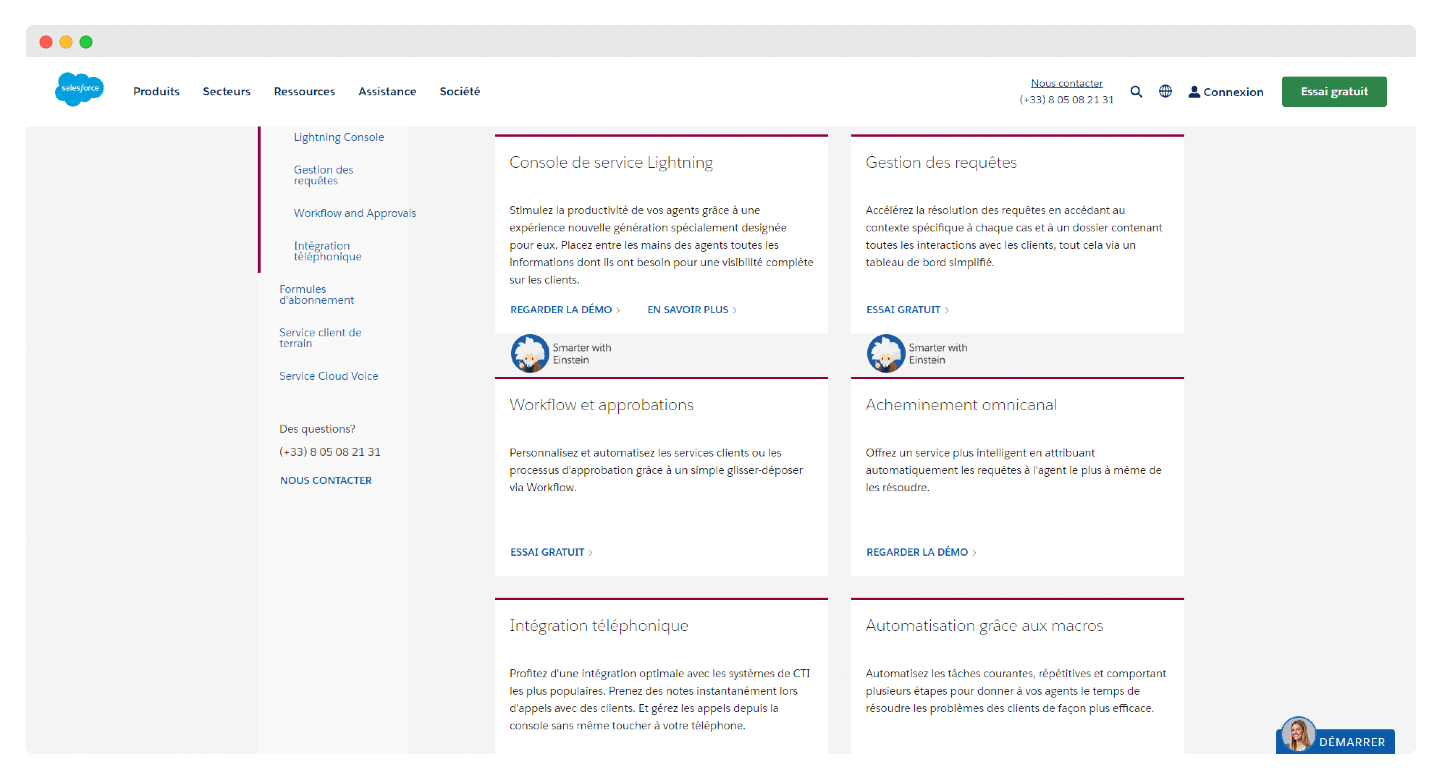 Service Cloud therefore has a more complex configuration for ticket management, but can be an excellent solution for large organizations that want to extract more value from their customer data.
When it comes to managing omnichannel conversations, both tools offer users the possibility of receiving requests from all channels in the same inbox.
Note that Salesforce requires phone integrations and add-ons for chat and automation. This means that you have to factor additional costs on top of the basic Salesforce prices into your operations.
But customer reviews are clearly in Salesforce's favor when it comes to these functionalities, especially when it comes to "social listening", i.e. tracking what's being said on social networks.
Try it out for free to compare solutionsThebest way to find out is often to try out the software. As intuitive & intelligent as they all are, you and your teams will necessarily have an intuitive preference. Once this is established, you can estimate the cost of this preference to make the right decision.
Automation & Artificial Intelligence
Both platforms have fairly advancedautomation and AI tools with OpenAI, but Salesforce's are more sophisticated.
The Zendesk dashboard lets you configure automation conditions and trigger sequences based on criteria – form submission, channel sources, time elapsed since assignment, and so on.
But the interface isn't the most intuitive and doesn't serve all CRM users.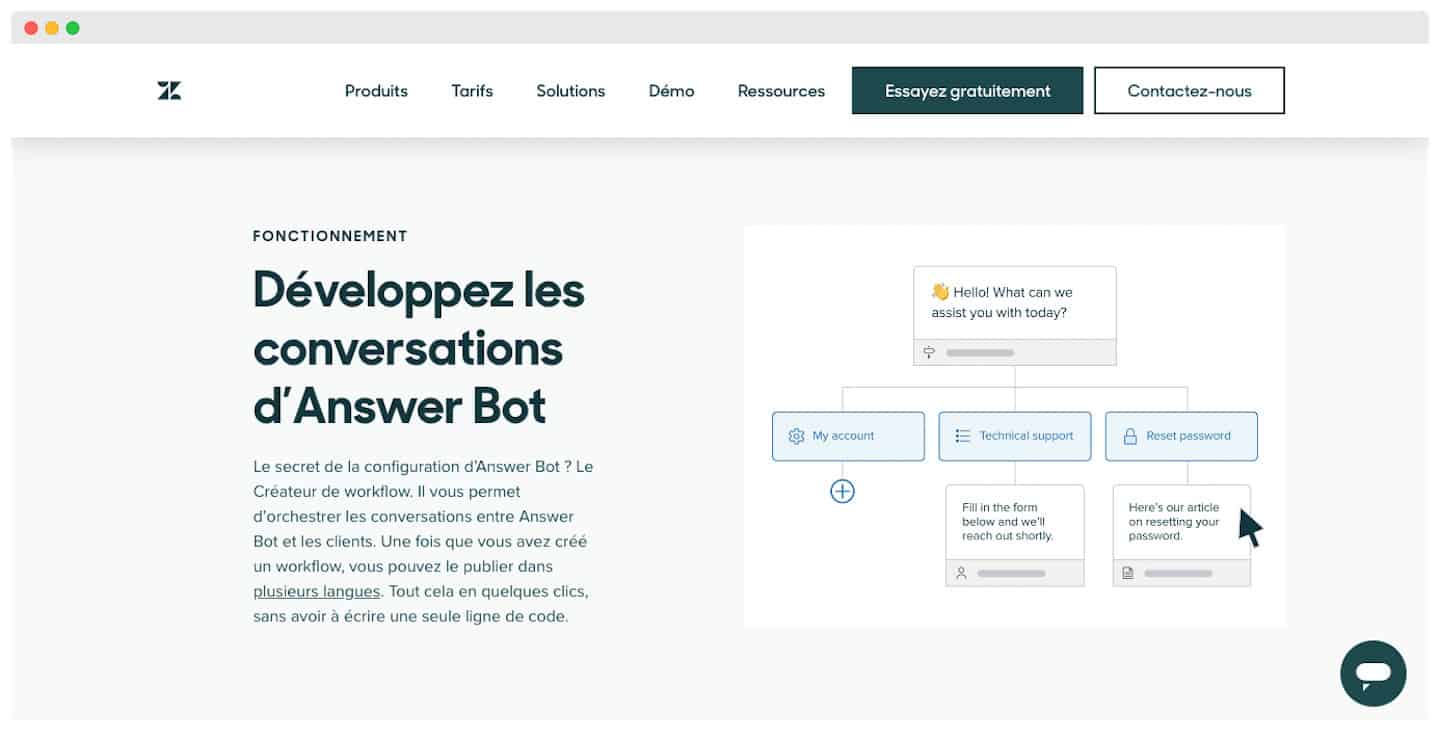 Salesforce automation is more dynamic, but not the easiest to deploy. The basic plan gives access to the Process Builder interface, which is functional but sometimes confusing due to a complex series of drop-down menus.
If you want to program automations rather than triggering them only when certain conditions are met, you'll need to upgrade to the more sophisticated Flow Builder.
As far as AI is concerned, Zendesk is working with OpenAI to offer a suite of tools with which agents can obtain more information about customers prior to interaction, sort tickets, obtain contextual information, suggestions for related articles and existing knowledge, and automate common tasks.
Its AI-driven chatbots are extremely simple to deploy and are highly effective at solving simple customer problems without the intervention of an agent, thanks to machine learning capabilities that help improve automated responses.
Not all of these features are included in the standard plan, but the Advanced AI package costs just $50 more per month and includes advanced bots, macro suggestions, sorting and agent information.
Salesforce has beaten Zendesk to the punch by offering the first generative AI integration for a CRM, via OpenAI, which is also part of a $50 per month package. Their Einstein GPT tool provides information on user behavior, suggests actions and automates planning.
Thanks to Salesforce's proprietary modeling, Einstein can create original knowledge bases, web content, agent responses and other omnichannel messages.
Einstein is also behind Best Action, a module for creating intelligent assistants that can transform data into predictive suggestions and action strategies.
Help center & documentation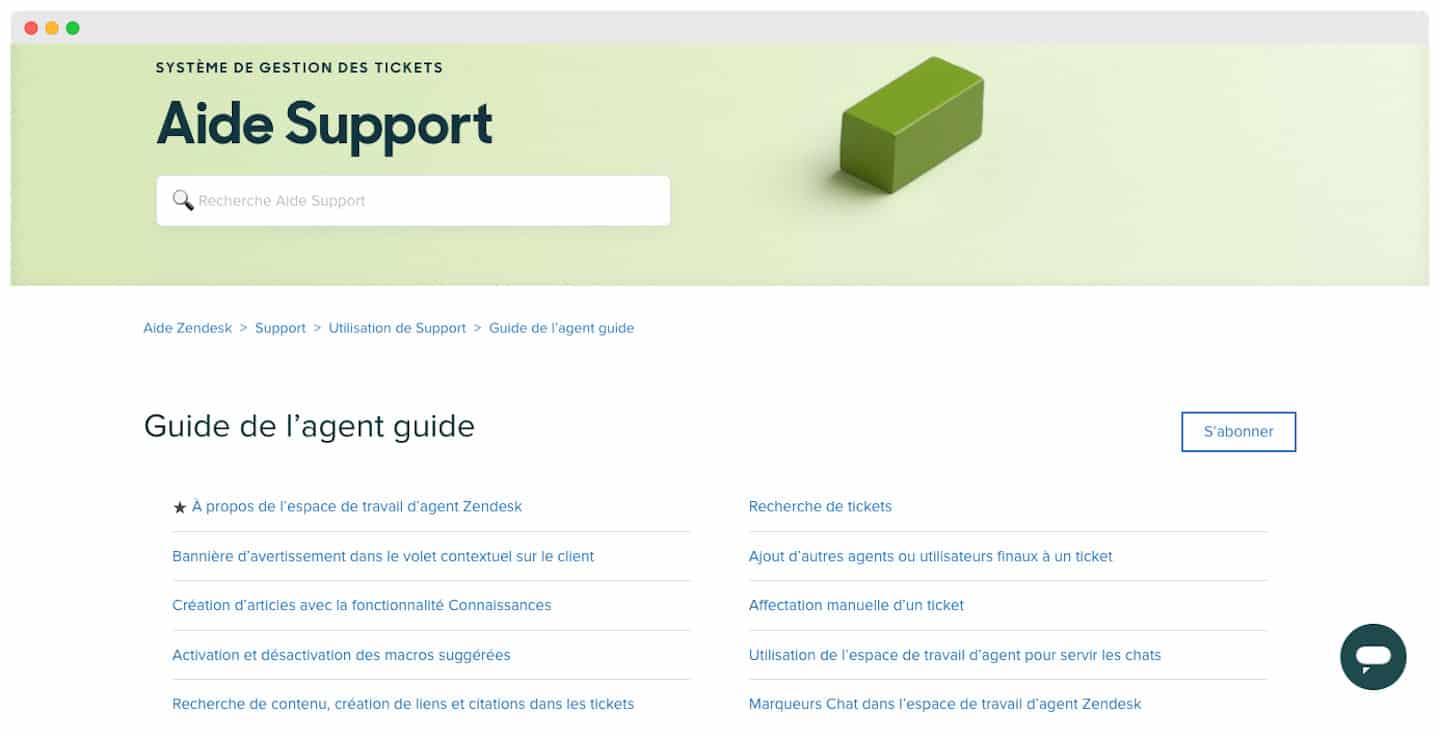 Help Centers help your customers to resolve their problems quickly, reducing the number of tickets and enabling agents to concentrate on the most urgent requests.
But these portals also help agents find the right information when helping a customer.
Both Zendesk and Salesforce feature Help Center interfaces for customers, which can be easily configured and customized to suit your business – layout, color, menu, etc. Here again, customer reviews favor Salesforce.
Try it out for free to compare the solutionsIstrongly recommend that you try out both software packages to form your own opinion on the different functionalities of these two tools, all the more so when you have a free trial.
Reporting
Zendesk's Reporting (Explore) module is pretty solid, with its own dashboard that gives access to report templates, associated cloud data and previous reports.
That said, native reporting capabilities seem rather focused on issue-related metrics – resolved tickets, status duration, call activity and chatbot performance.
When creating reports, there are only four sales-related reporting data sets, compared with 12 service-related data sets.
Salesforce's reporting module is a little more extensive, with dozens of report types to choose from. Both tools can create customized reports, but Salesforce seems more naturally positioned for a wide range of reporting applications.
Here again, customer reviews favor Salesforce's Reporting module, which is better rated than Zendesk's.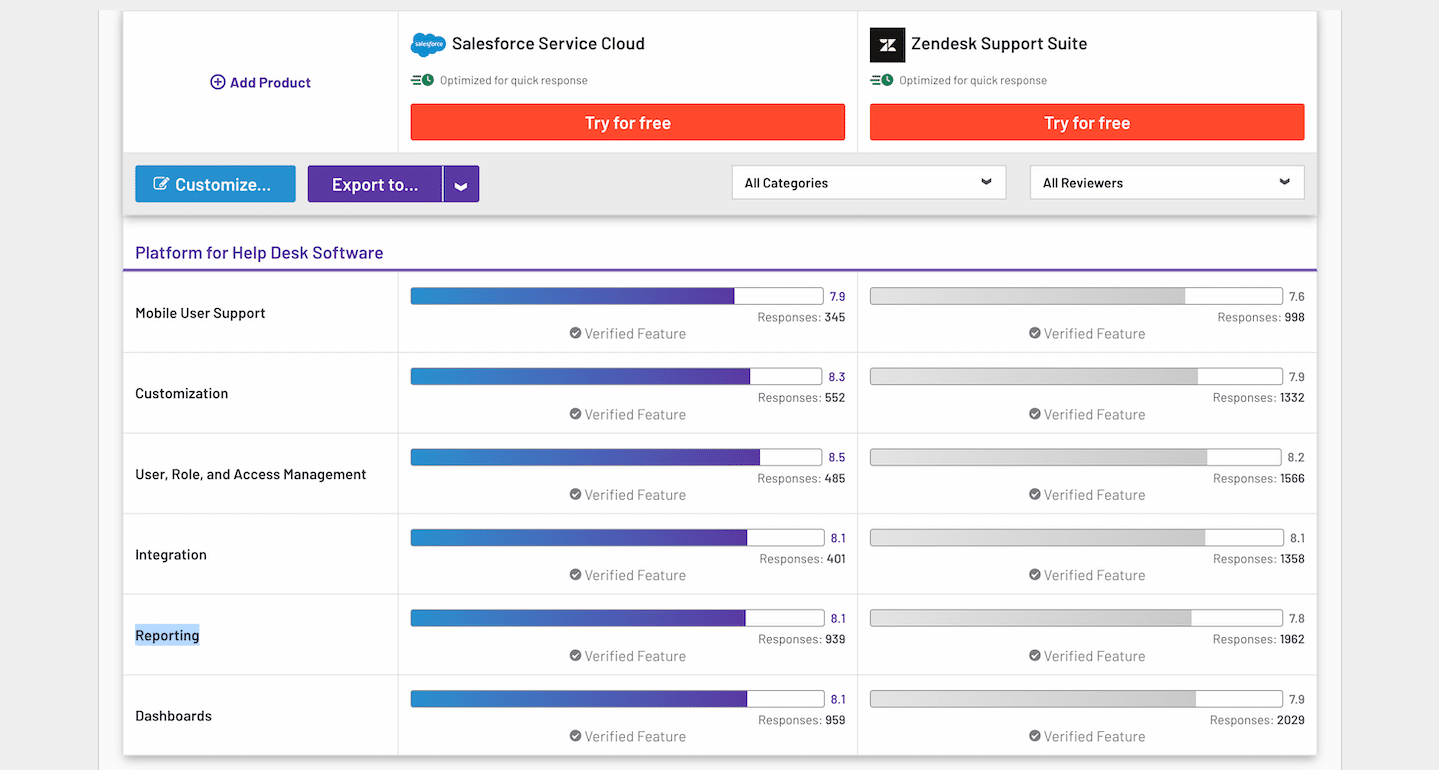 Source :
G2

Salesforce VS Zendesk: Integrations & philosophy
Zendesk provides all the integrations your team needs; but Zendesk customers often need integration with Salesforce, so much so that there's a Salesforce integration guide to get you there fast.
Salesforce is way ahead of the game, with the AppExchange and a network of partners and agencies almost unrivalled in the software world.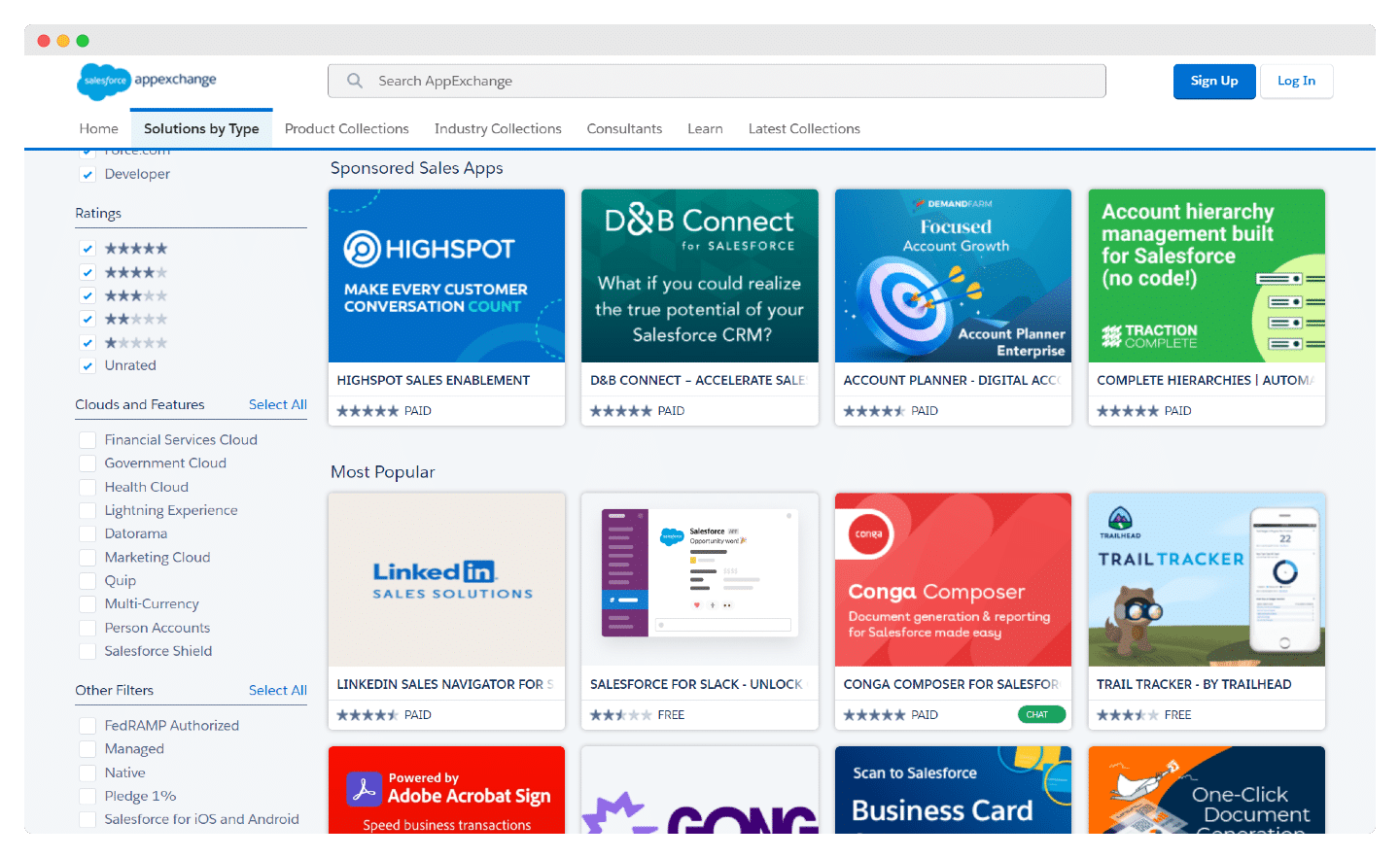 What's more, custom integrations are no problem for either software. Zendesk APIs include both coded and codeless functionality. Service Cloud includes a wide range of Apex utilities, integration templates, declarative tools, platform events and APIs.
In terms of philosophy, Zendesk has an "issue management" DNA: it is first and foremost a ticketing software, even if it is gradually evolving into a more complete customer relationship management software in the broadest sense.
Salesforce has a more account management DNA, very sales & revenue oriented, which doesn't correspond to all customer relations processes.
Try it out for free to compare solutionsAnd hereagain, I recommend that you try out both tools with your teams, to see which one they're most comfortable with first, and then decide which software suits you best.
Zendesk VS Salesforce: Pricing
| Solution | Salesforce | Zendesk |
| --- | --- | --- |
| Prix d'entrée | 300€ par an | 228€ par an |
| Tarif pour 2 utilisateurs (usage léger) | 600€ par an | 456€ par an |
| Tarif pour 5 utilisateurs (usage relativement avancé) | 1920€ par an | 1320€ par an |
| Tarif pour 50 utilisateurs | 99000€ par an | 69000€ par an |
Salesforce Service offers are negotiable and tailor-made, but will not be less than €25/agent/month. You can take advantage of a free trial.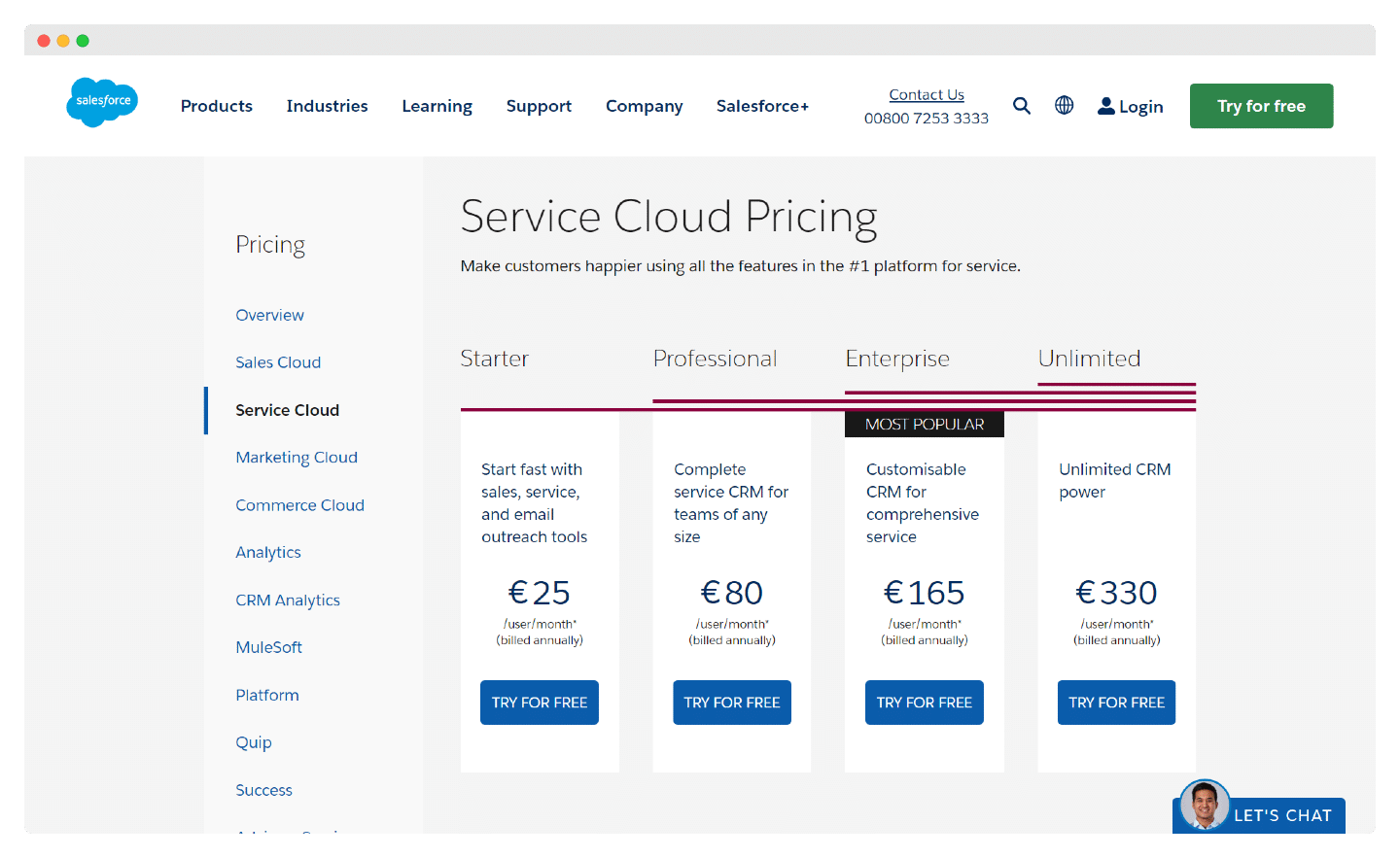 Salesforce offers 4 different packages, depending on your needs, differentiated mainly on the following criteria:
Service Contracts and Entitlements: this tool, which enables you to track specific entitlements and warranties, is only available in the Professional version.
API: to connect external services to Salesforce, it's best to opt for the Enterprise plan.
Note also that the Premier Success Plan, with 24-hour support, is only available for the Unlimited plan.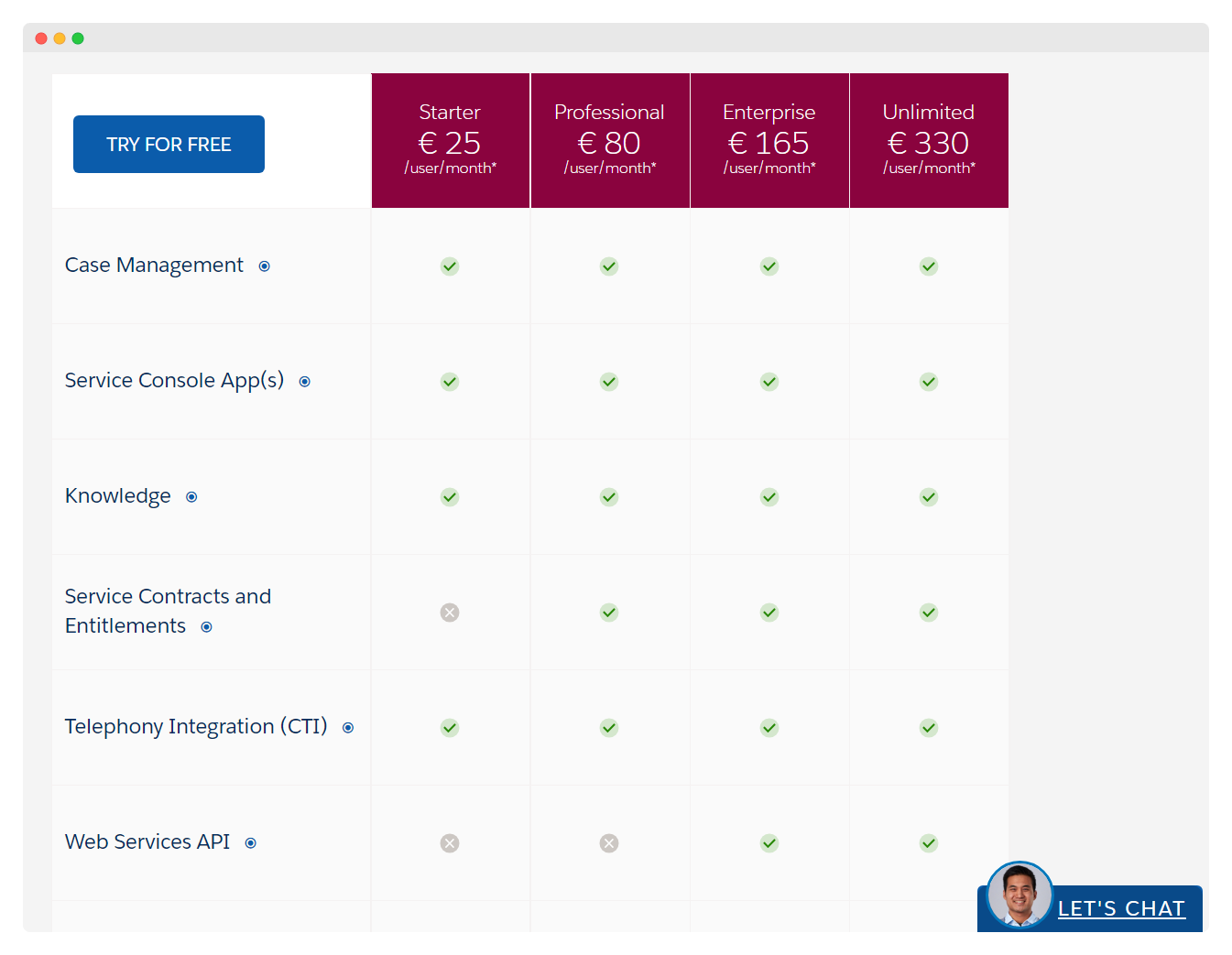 But Salesforce 's Sales + Service combo makes the tool much cheaper if you're on Salesforce. Even if this is billed to the user, and it's not always the same users who manage customer support & sales.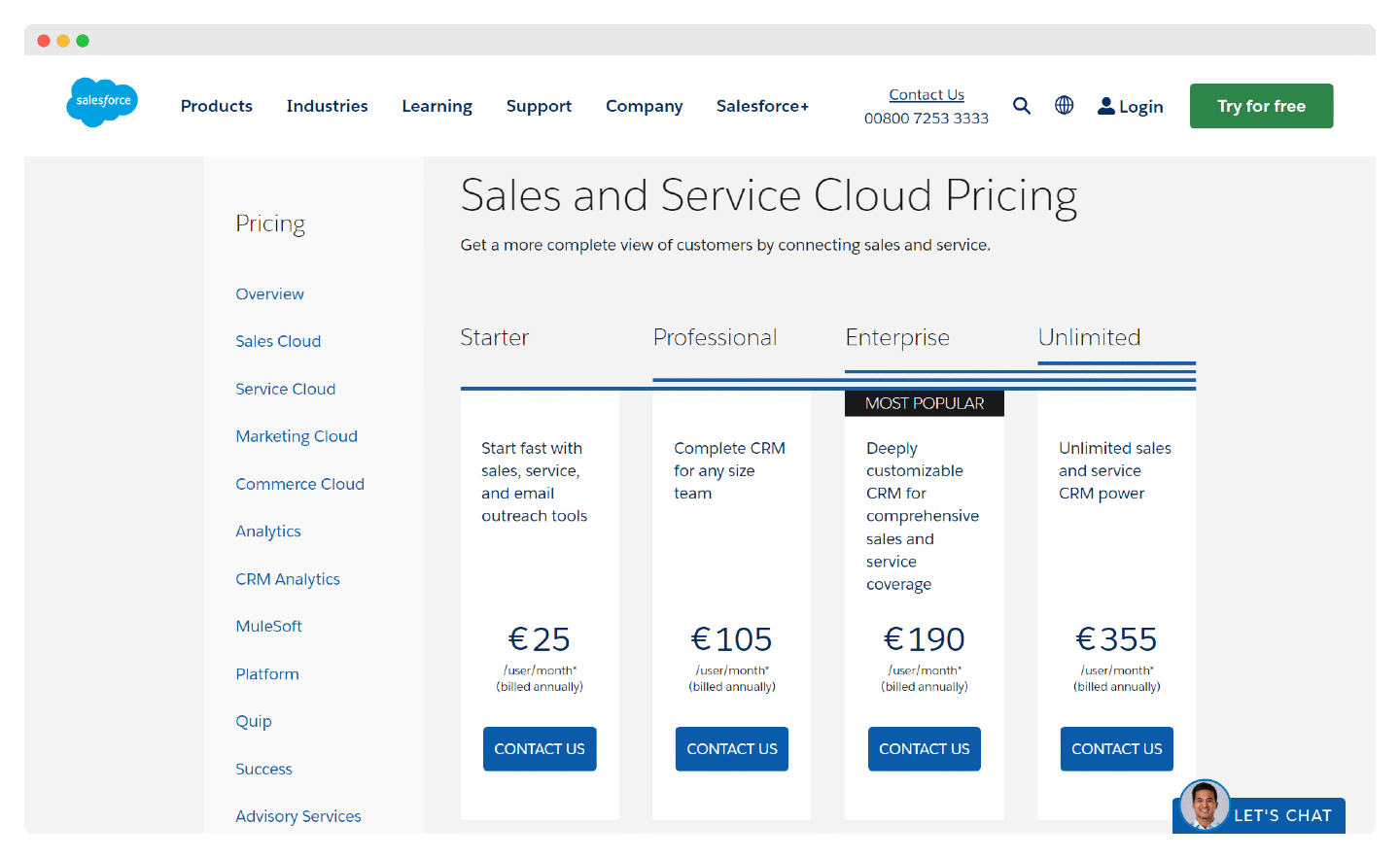 Zendesk offers plans at slightly lower prices. For basic support, 3 offers are available: Team at €19/agent/month, Professional at €49/agent/month and Enterprise at €99/agent/month (min. 5 agents, invoiced annually).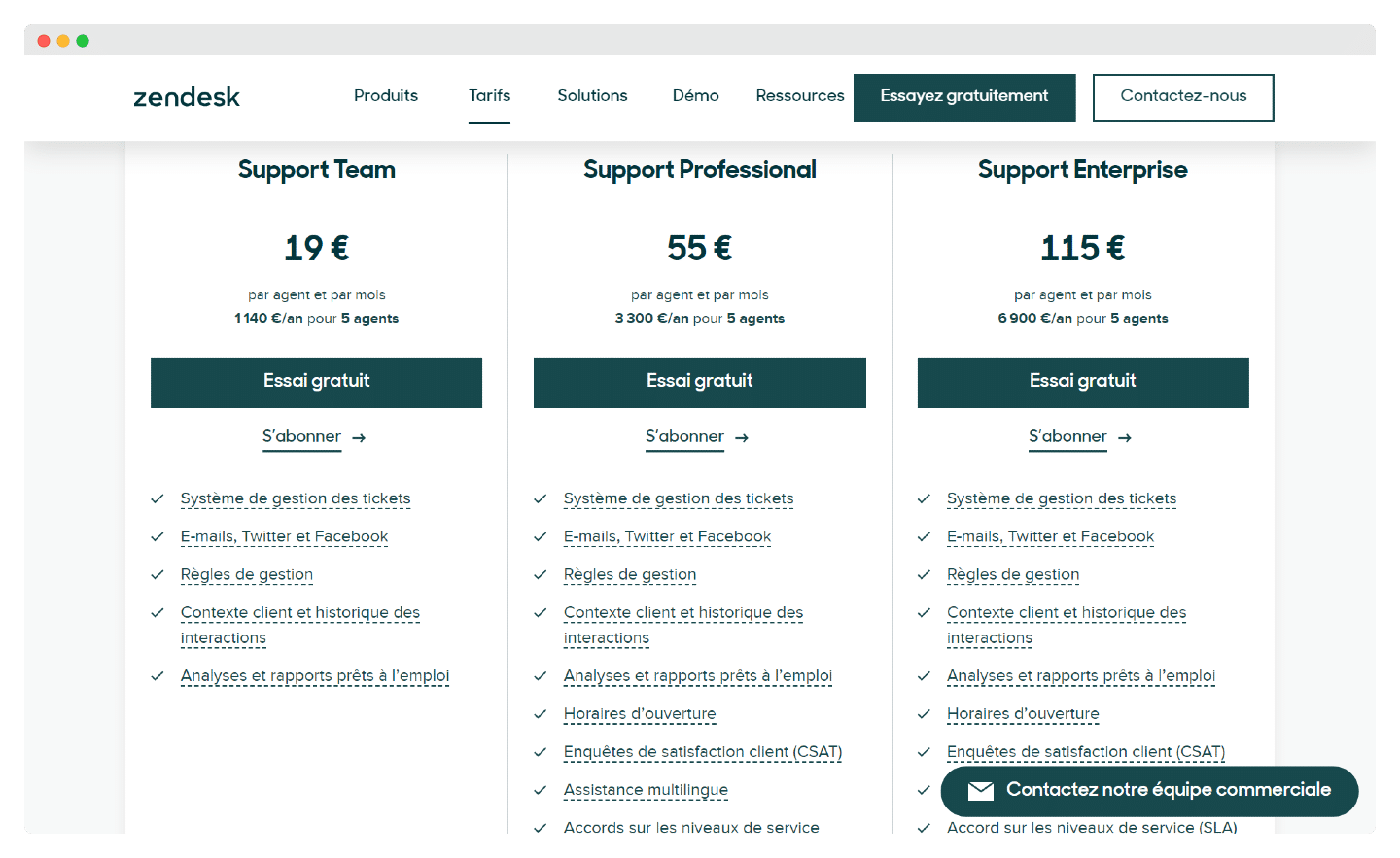 However, for full-featured customer service software, Zendesk offers a 14-day free trial to choose one of 5 packages (priced per agent and billed monthly):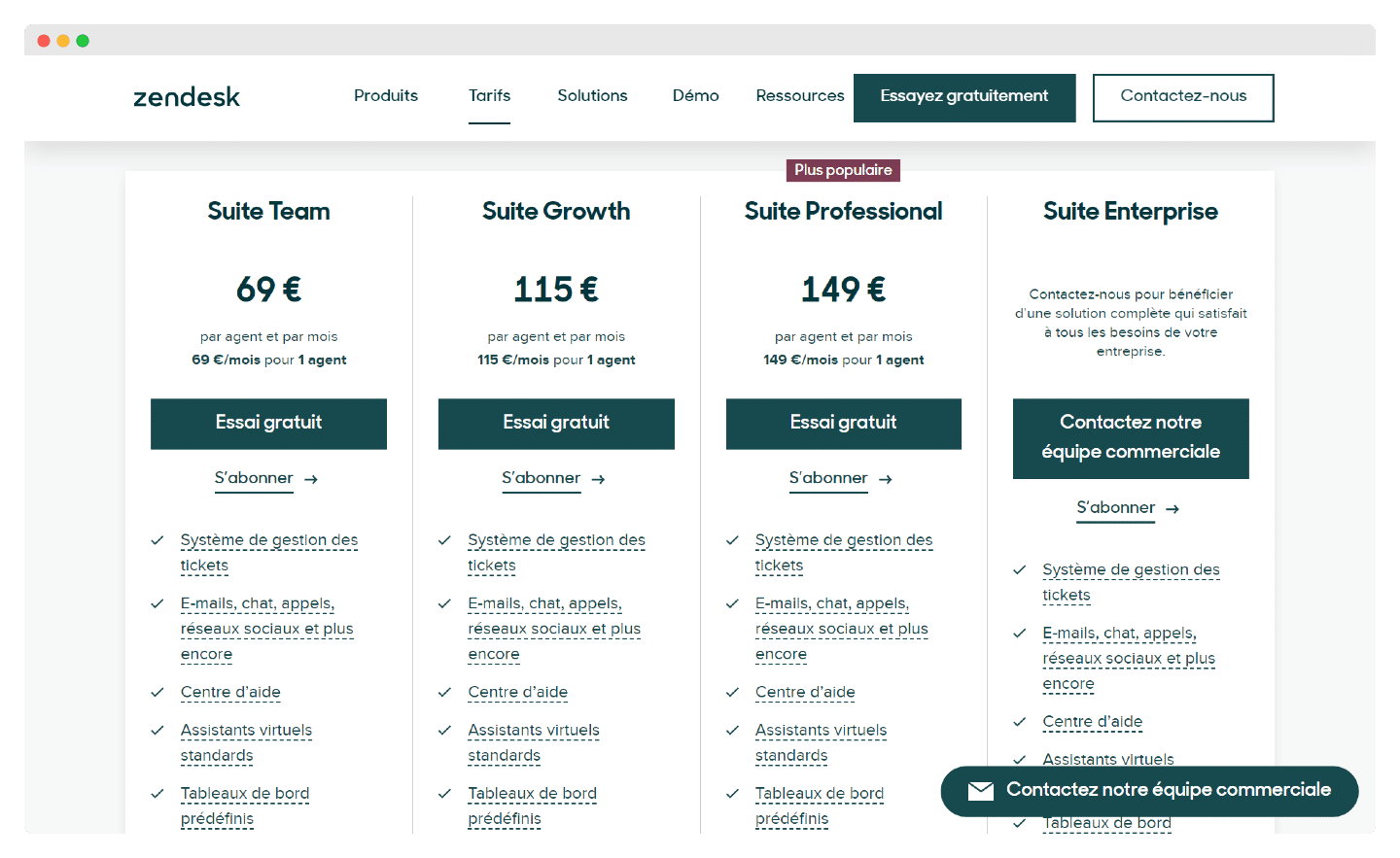 Team Suite: includes basic functions such as a contact form allowing an unlimited number of email addresses, ticket attachments, automatic translation, etc.
Growth Suite: the offer includes 5 help centers, with answers in over 40 languages, and 100 chatbots, compared with 50 for the Team Suite.
Suite Professional: you can group your agents into more than 50 departments, compared with 2 for previous offers, skill-based routing, teleconferencing, call listening by managers, etc.
Suite Enterprise: the main features of this offering are more than 1,000 bots, more storable data and more automation.
Going further
Find out more about the cost of Salesforce.