Convertkit is a very easy-to-use software that allows you to quickly set upemail campaigns, marketing automation sequences, and even take payments.
The solution is a bit expensive compared to the market, but it is particularly suitable for bloggers and content or training creators.
In this article, we will review all the features of the software, to help you determine if the tool is suitable for the use you want to make of it.
Our opinion on ConvertKit
Criterion
Note Salesdorado
Comment
Overall score
Overall, a nice solution with easy handling, very suitable for setting up simple funnels (training, resources to download, …) from lead capture to payment
Functional scope
An emailing software that does what you want it to do: email campaign creation and automation, landing page and website creation, contact management and segmentation.
Reporting
The weak point of the solution: a too light reporting, which lacks key functionalities proposed by others (rejection rate or location of clicks on newsletters)
Accompaniment/ Support
Customer support that works via live chat and email. The helpcenter is very well organized to find solutions in autonomy
Integrations
A nice selection of integrations, very creator focused, but less dense than some competitors
Value for money
A good value for money, with a real advantage for the free plan (ideal for small volumes) – but the paid plans are a bit expensive for the features offered
The advantages of ConvertKit :
Ease of use: easy to use, with a design and features adapted to newsletter creators – overall a very good user experience especially for those who are new to the site.
Very suitable for selling content: Convertkit is wired from the ground up to set up content marketing campaigns. The lead generation tools are excellent, the reporting focuses on audience growth, and the tool makes it easy to set up sequences or campaigns and cash in online with Stripe.
The disadvantages of ConvertKit:
Disappointing reporting: On the emailing campaign side, we would have appreciated more precise data such as heatmaps, clicks on the newsletter, geographical data or bounce rates, which are not indicated.
Average quality/price ratio: compared to solutions such as MailerLite, Moosend or Sendinblue, it is hard to justify Convertkit's prices.
The email editor is very light: Convertkit argues that content is more important than form, and only allows you to send simple emails in text format. This is very suitable in some cases, but you can't design colorful and illustrated newsletters with this tool, and this is a real limitation.
Discover ConvertKit
Take advantage of ContvertKit's features!
ConvertKit : Overview of features
Email marketing: editing and automation
ConvertKit provides an easy to use and customizable email editor. You can only design email campaigns in text format. It makes campaigns that look like an email you would have sent with your usual mailbox.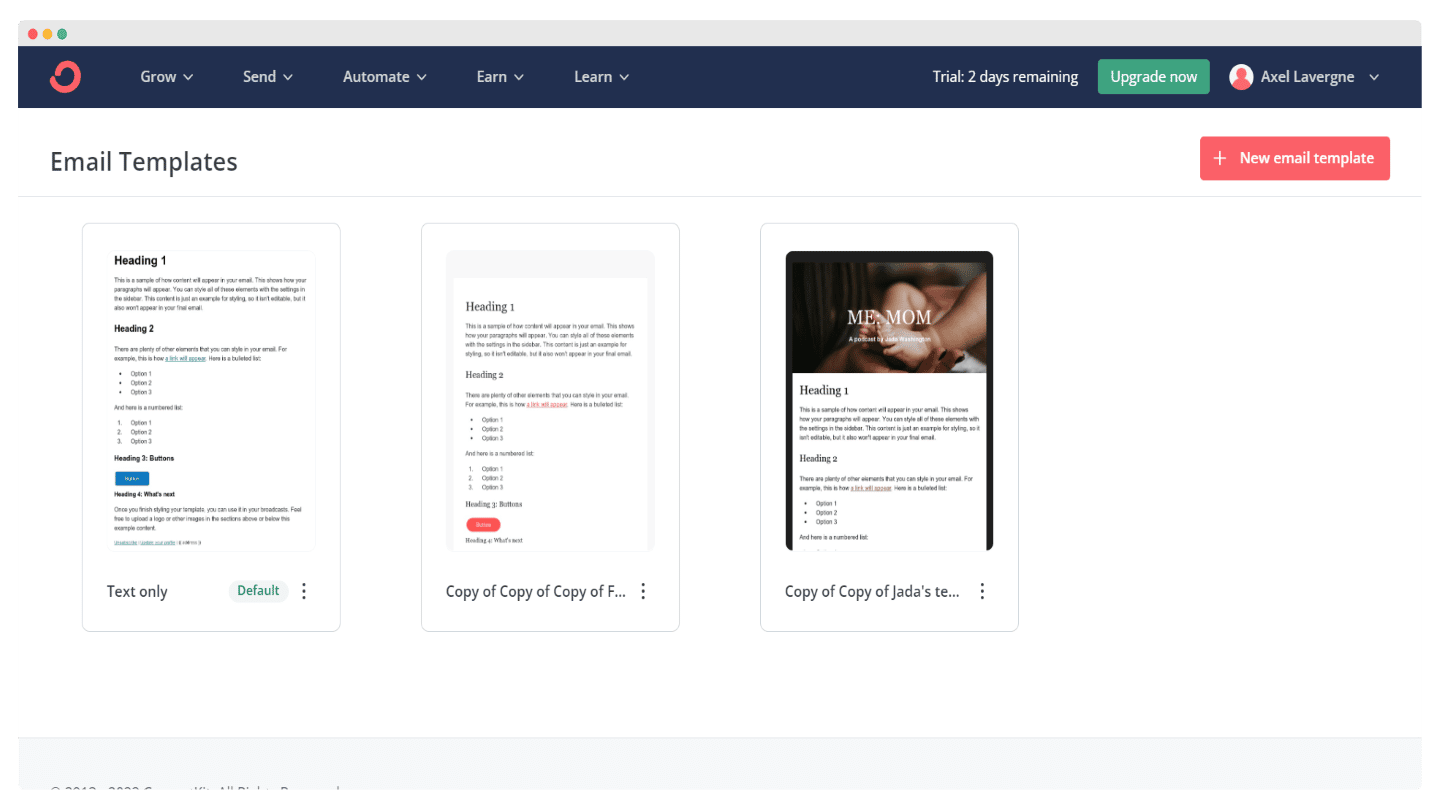 The software relies on the simplicity of its layout features to emphasize the content, rather than the form. This is both an advantage and a disadvantage of ConvertKit.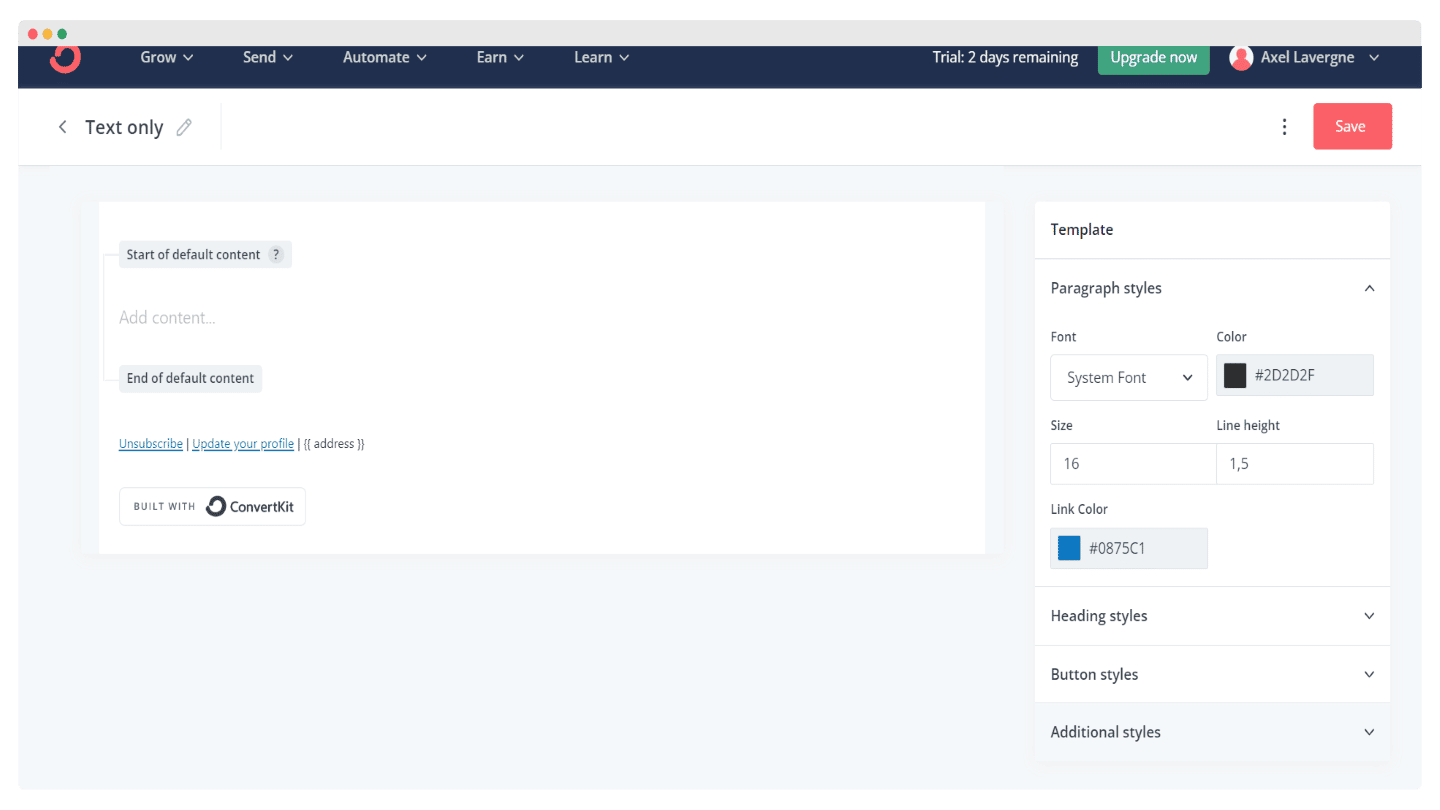 It's much simpler but a bit limiting compared to solutions like MailerLite or Sendinblue, which allow you to design more complexemail marketing campaigns, with images, videos, buttons, etc. ConvertKit offers some automation features, and here again simplicity is at the heart of the proposition.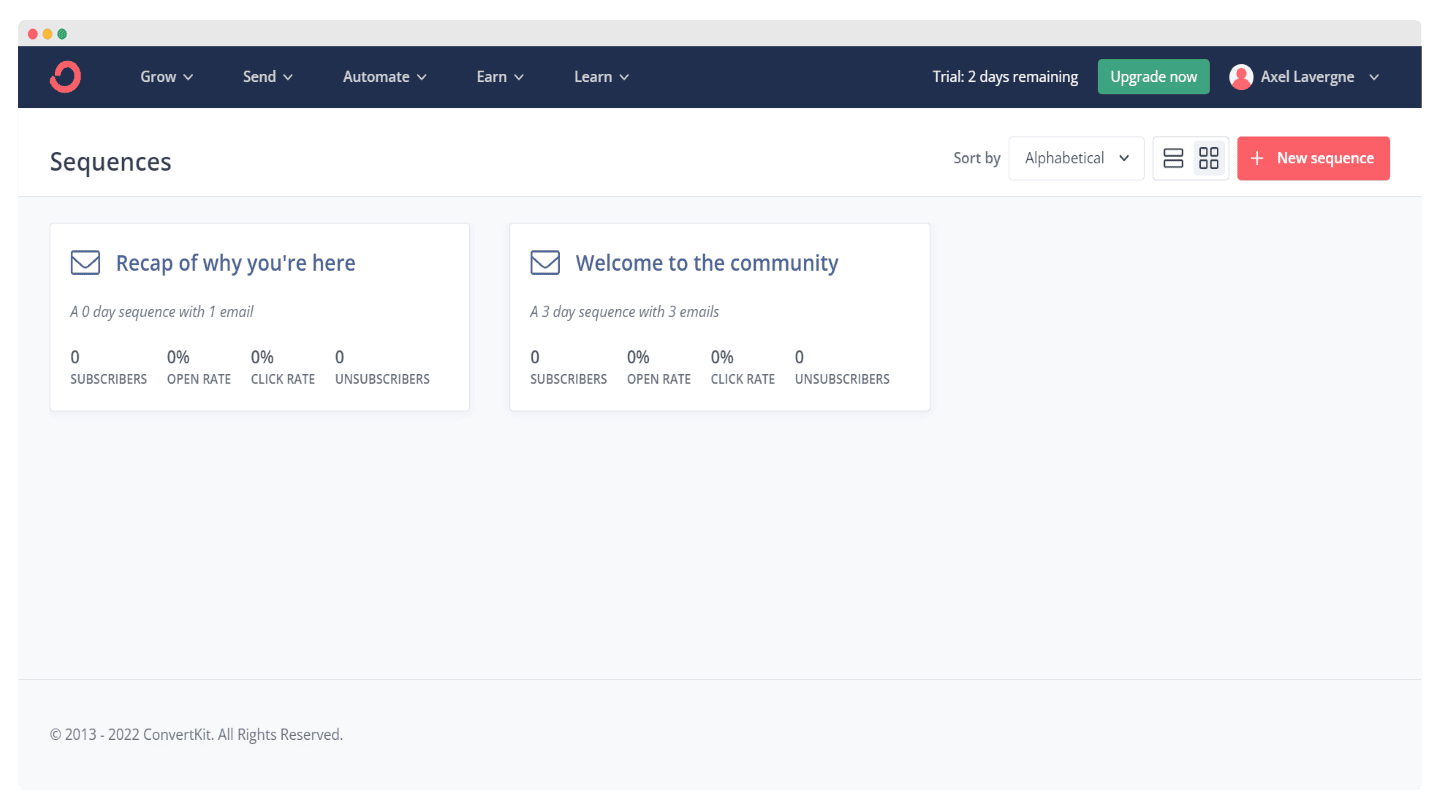 The software offers pre-designed automation sequences, and also allows you to design your own sequences with a complete editor.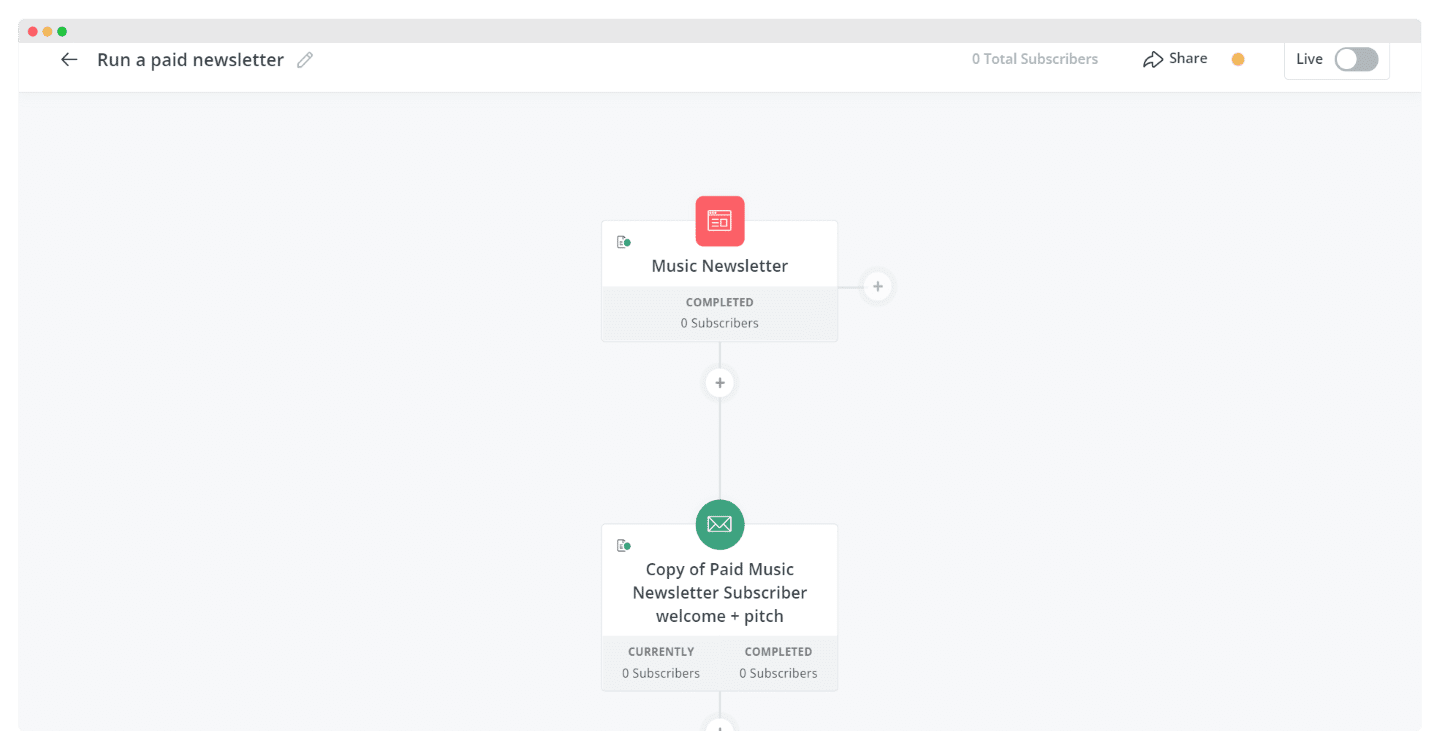 But it's still a bit light compared to solutions like Sendinblue or ActiveCampaign, which are more flexible, and allow multi-channel (SMS, Whatsapp, Popups,…).
Contact management and segmentation on Convertkit
To manage your contacts, two approaches are possible on Convertkit:
Organize contacts with "tags": very flexible tags that you can define yourself and fill in by hand, or through the automation platform. It's convenient and easy to use, but once you've created a few, it gets messy very quickly.
Create contact segments: Convertkit offers an interface to group contacts according to one or more tags with logical links (inclusion, exclusion, And, Or,…). This allows you to design audiences in a rather fine way, provided that your tags are relevant…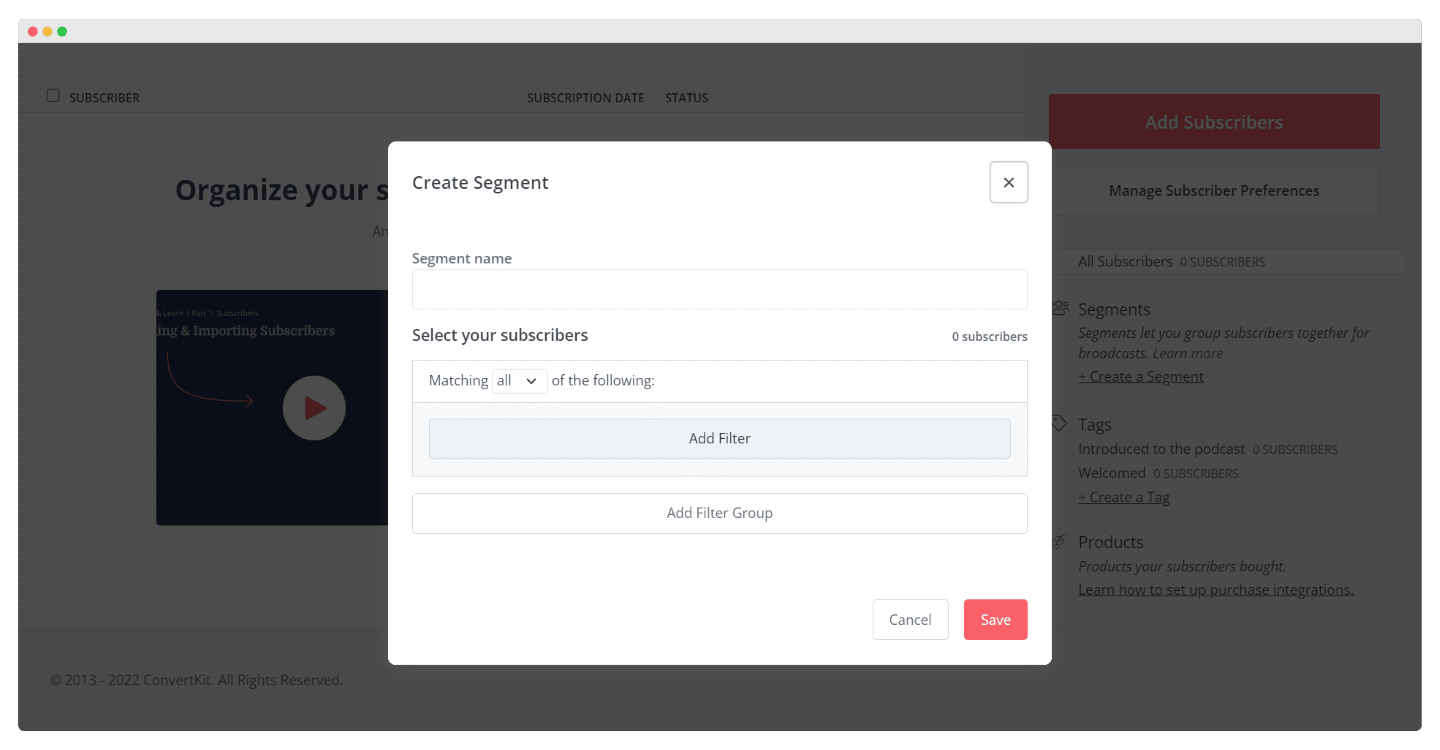 The software also offers to group segments of contacts according to similar interests.
ConvertKit is one of the only platforms to provide such transparent data on the growth of your contact list, very effective to easily increase your number of subscribers.
Website and landing page creation
ConvertKit offers four types of email capture forms:
Inline: appears in the content of your blog
Popup: displays a box asking for a visitor's email address, according to the defined parameters
Slide in: appears at the bottom of the web page to attract the visitor's attention
Sticky bar: appears at the top of the web page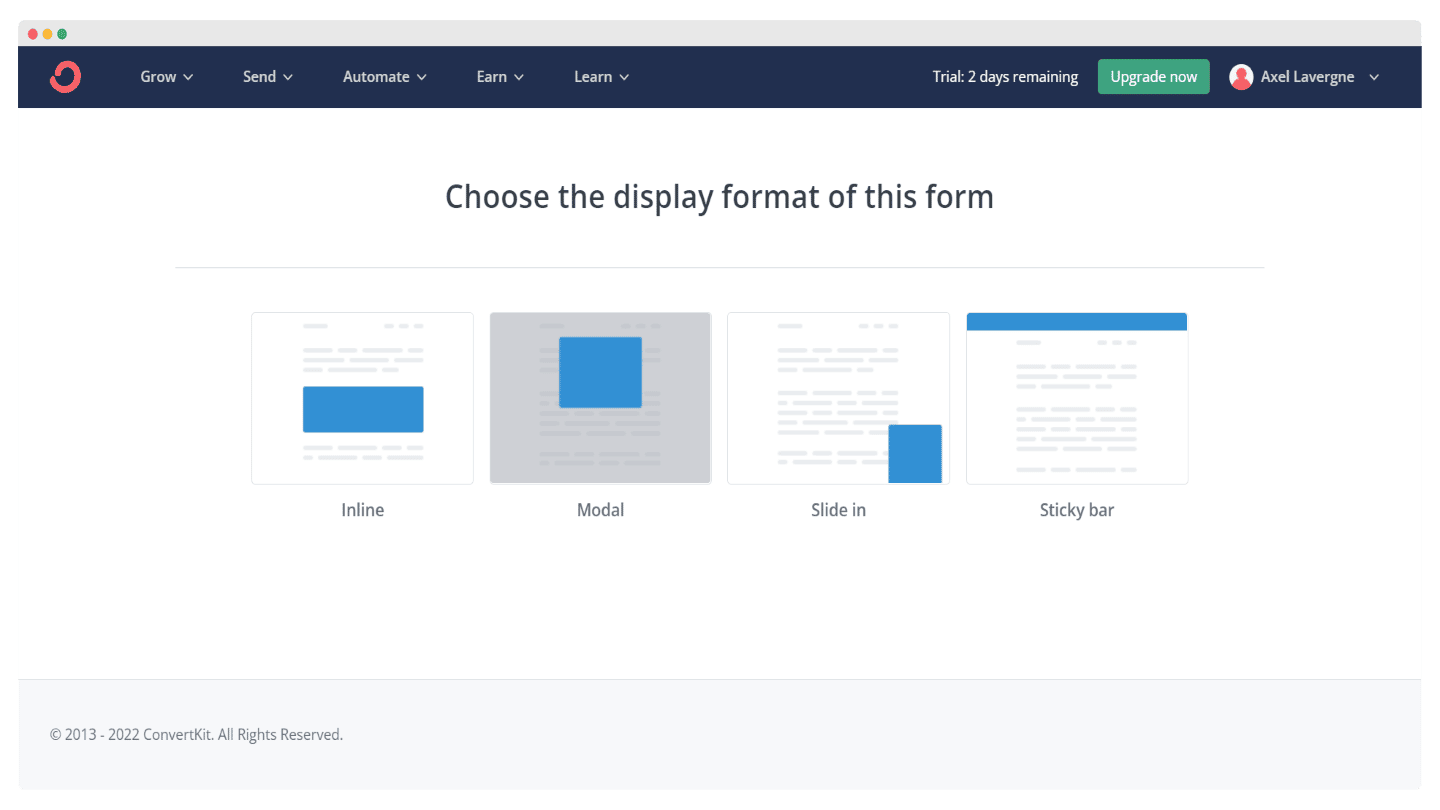 Several customizable form templates are available on the site. You can make a form appear automatically, for example according to the percentage of scrolling or the time spent on the page.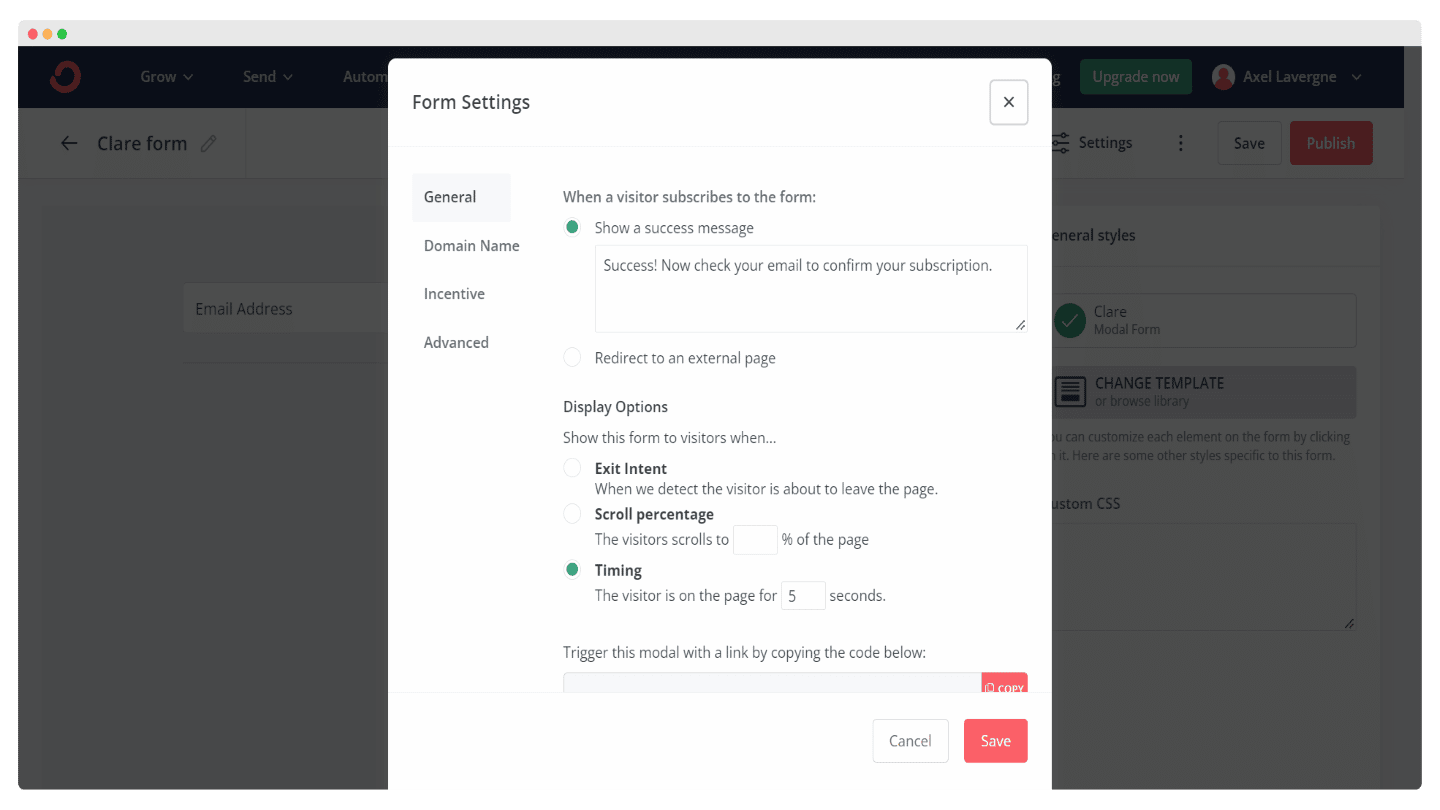 ConvertKit also allows you to create capture forms that are displayed according to the blog category, for example to highlight a CRM benchmark on your pages on the subject, and a white paper on scraping where relevant.
The software provides more than 40 landing page templates, adapted to different categories (eBooks, newsletters, podcast, etc.). The templates are very varied and adapt quite well to all uses.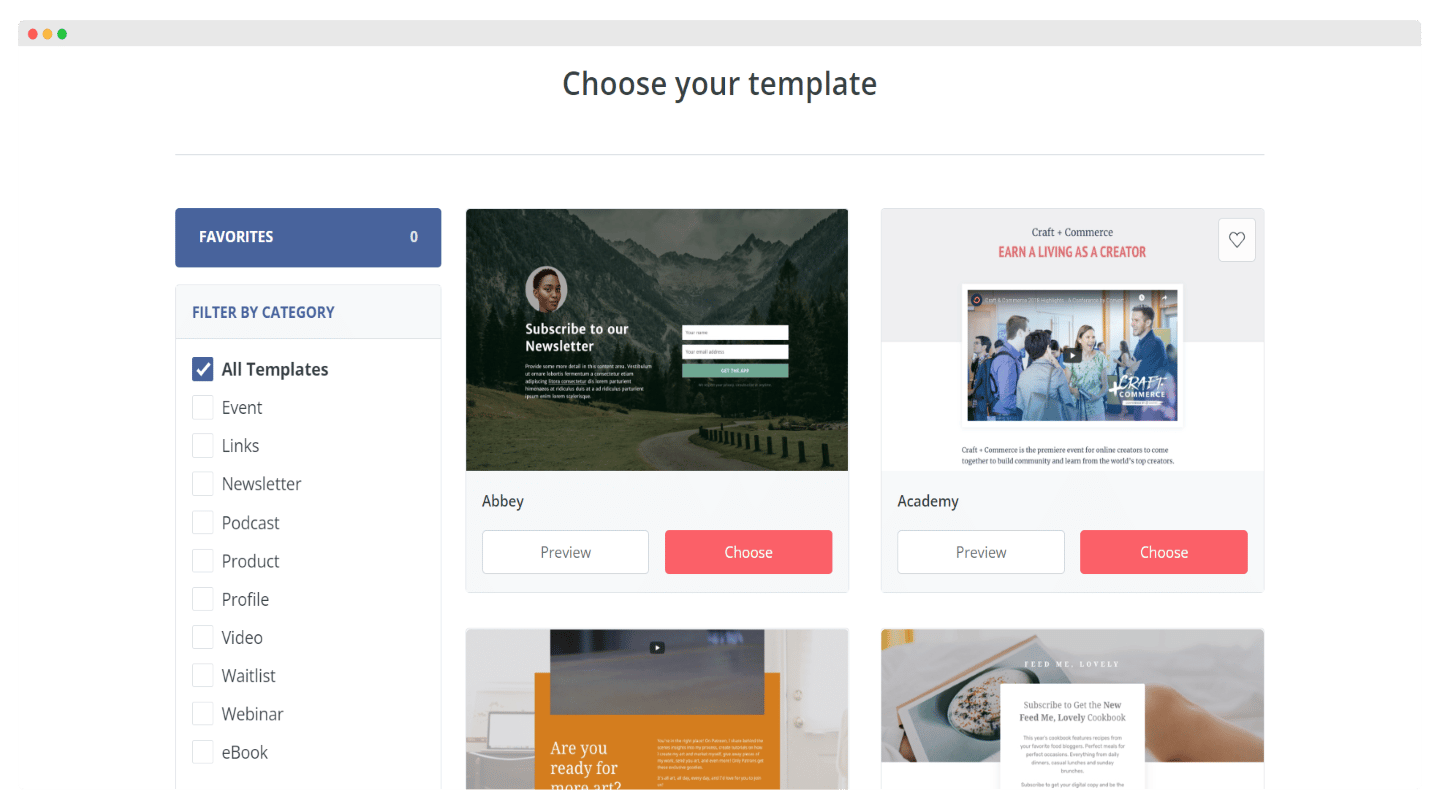 The features offered by ConvertKit are not as advanced as those of a dedicated tool like OptinMonster, but it's already much more than most emailing solutions, and it's more than enough for sites that have less than 100,000 visitors/month.
Our opinion
We regret a little that the number of templates is less than other competitors (MailerLite or Sendinblue for example) but overall the lead capture features are very successful on Convertkit.
Discover ConvertKit
Take advantage of ContvertKit's features!
Customer reviews of ConvertKit
ConvertKit has excellent customer reviews on existing platforms. Customers are very satisfied with the integrations offered and the landing page templates available. They also appreciate the ease of use of the software. But overall, they would like to have a richer free plan.
Customer support at ConvertKit
ConvertKit customer support is available via chat or email and is quite easy to access. It is available 24 hours a day, but only in English.
The help center is quite rich. It clearly lists several topics by categories (automations, landing pages and forms, deliverability etc.). The information is developed, richly illustrated and explanatory videos are available in addition.
User community: the ContvertKit user community can exchange on the dedicated forum or get information on the Youtube channel of the software. It is very active and exchanges in English.
Discover ConvertKit
Take advantage of ContvertKit's features!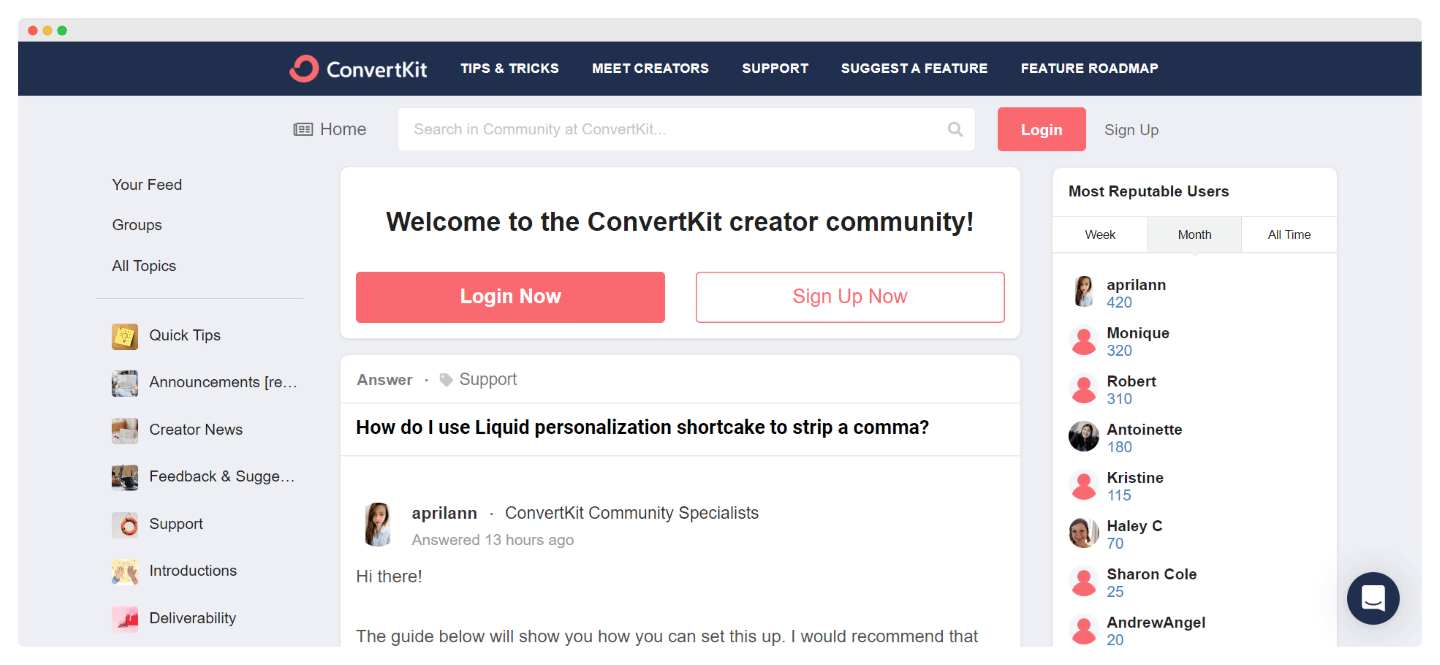 The ConvertKit integration marketplace
Not surprisingly, ConvertKit integrations are very specific to the sale of digital products or training, and it is rather weak on the CRM/CMS side (very few choices).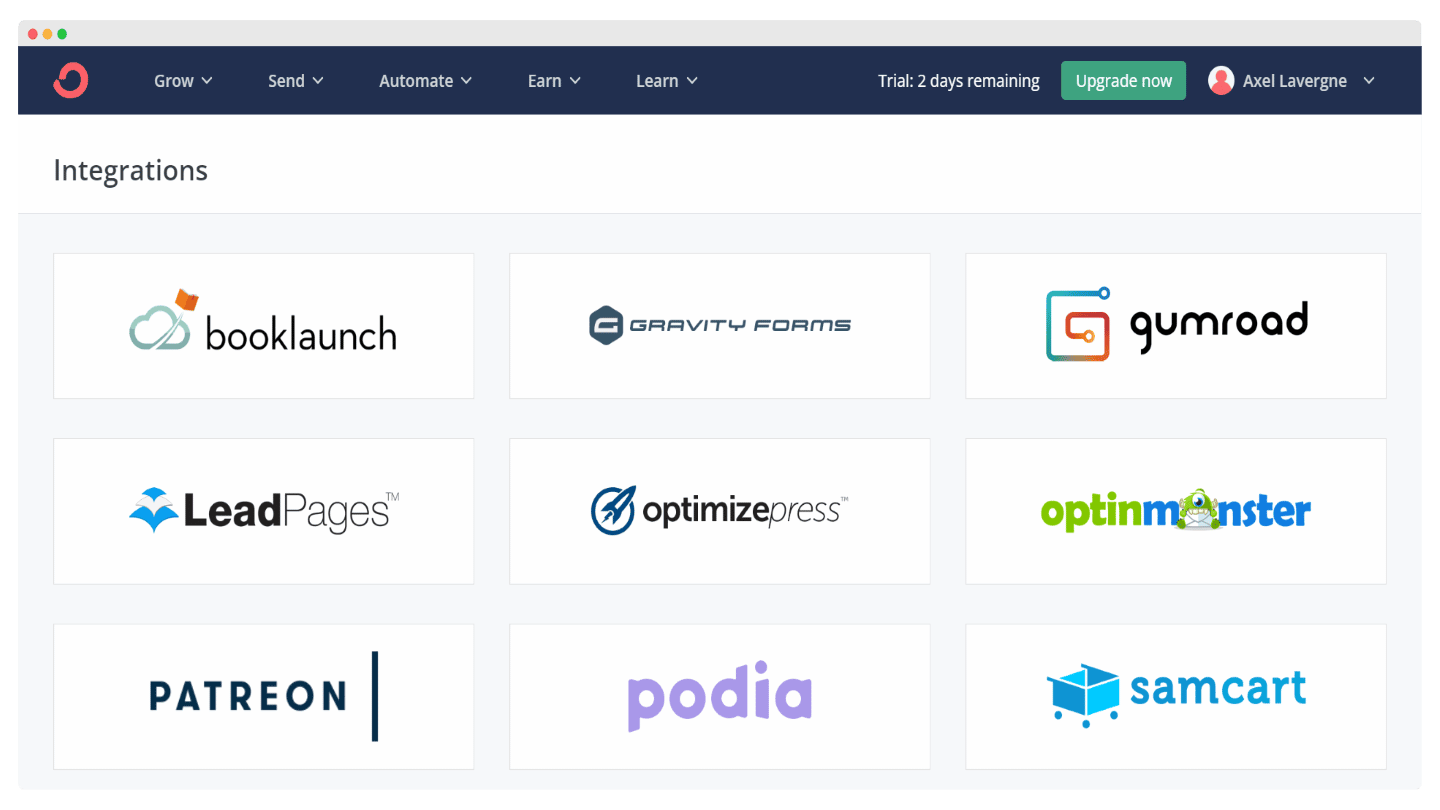 Some of the proposed integrations:
Stripe:

Convertkit was one of the first emailing software to propose the use of personalized payment links. It is a very simple and effective way to sell digital products, relying exclusively on no-code tools. If you want to sell trainings, contents, access to certain contents, etc., it is really much easier with Convertkit than elsewhere.

Lead Capture: Unbounce, Leadpages, Lead Parrot: Convertkit offers deep integrations with most landing page and lead capture tools
Surveys & Quizzes: All means are good to generate leads, including sometimes with more complex forms, simulators or more advanced questionnaires. Convertkit integrates with solutions like Typeform, Interact, or Gravity Forms on WordPress to make this easier.
The positive point
ConvertKit integrates with Zapier and has its own API, making it easy to integrate with third-party software.
Discover ConvertKit
Take advantage of ContvertKit's features!
ConvertKit : prices
ConvertKit offers several rates:
Free plan: it allows you to have a list of 1000 contacts, to have access to all the email capture forms and landing page templates.
Creator package: at 80€/month for a list of 5000 contacts, it gives access to the marketing automation engine
Creator Pro package: at 111€/month for a list of 5000 contacts, it allows you to benefit from lead scoring tools, advanced reporting and to set up a sponsorship program on your newsletter.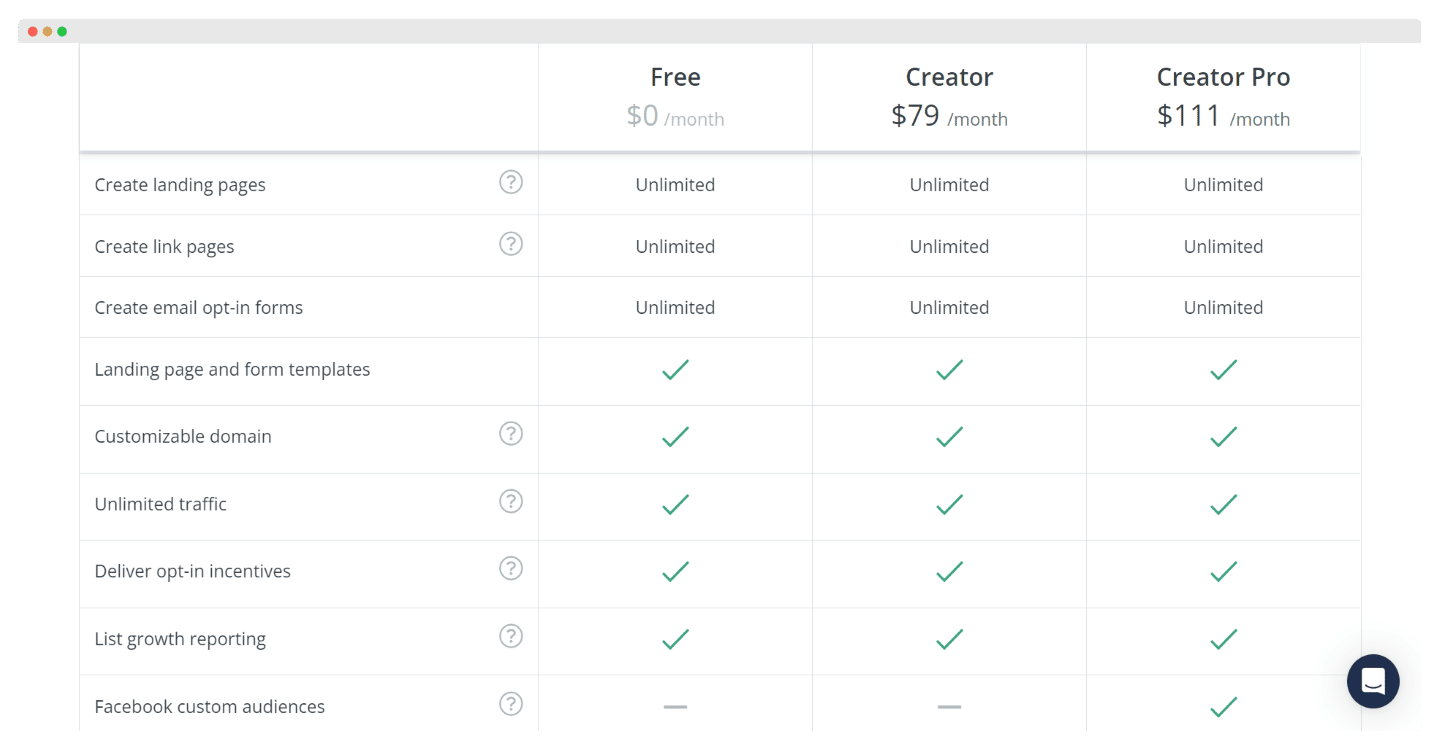 Pro tip
An annual subscription allows you to benefit from two free months.
Discover ConvertKit
Take advantage of ContvertKit's features!
The main alternatives to ConvertKit
Sendinblue is also a possible solution, with an equivalent level of functional depth, and which can be financially very interesting depending on the use you make of it.
ActiveCampaign is one of the most credible alternatives to ConvertKit. The software offers very powerful features, especially in marketing automation, lead scoring and lead capture. It is very interesting for those who have a large budget.