About this article
This article was prepared in collaboration with the Sellsy team. Sellsy is a complete CRM suite that allows you to boost your prospecting and acquisition, but also to facilitate and optimise your invoicing processes and the management of the company in the broadest sense.
To find out more about Sellsy, go here 👇
The sales pipeline is at the heart of sales operations. As a reporting, operational monitoring and even analysis tool, it is essential to the sales process.
But it still has to be built and operated properly. How to build it? What are the components of the sales pipeline? How to use it to optimise your sales processes? How to maintain it over time?
In this article, Sellsy shares its secrets for getting the most out of your sales pipeline.
What is a commercial pipeline, and what is it for?
Definition
The sales pipeline is a visual representation, usually chronological, of all ongoing sales opportunities for a company. The term "pipeline" comes from the English language and refers to the "sales funnel" (also called "funnel"). Opportunities come in and closed sales go out.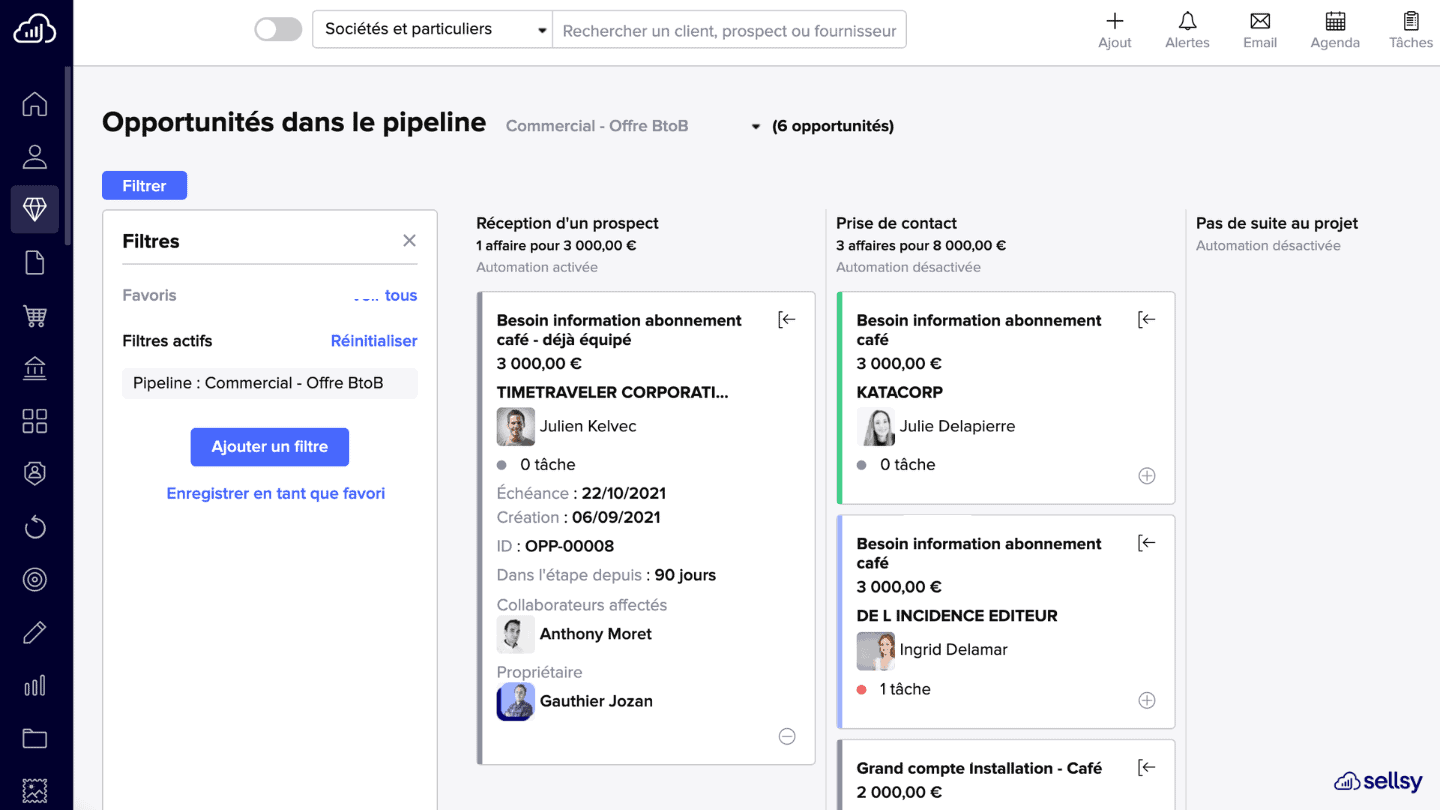 The sales pipeline is at the heart of B2B sales operations, and for good reason. It allows you to represent and estimate at a glance :
The total potential value of current opportunities
The sales cycle
Sales performance (conversion rate) at each stage of the sale
The commercial performance of each member of your team
The commercial over- or under-capacity of your teams
What are the main stages of a commercial pipeline?
1. Prospecting and/or generating new leads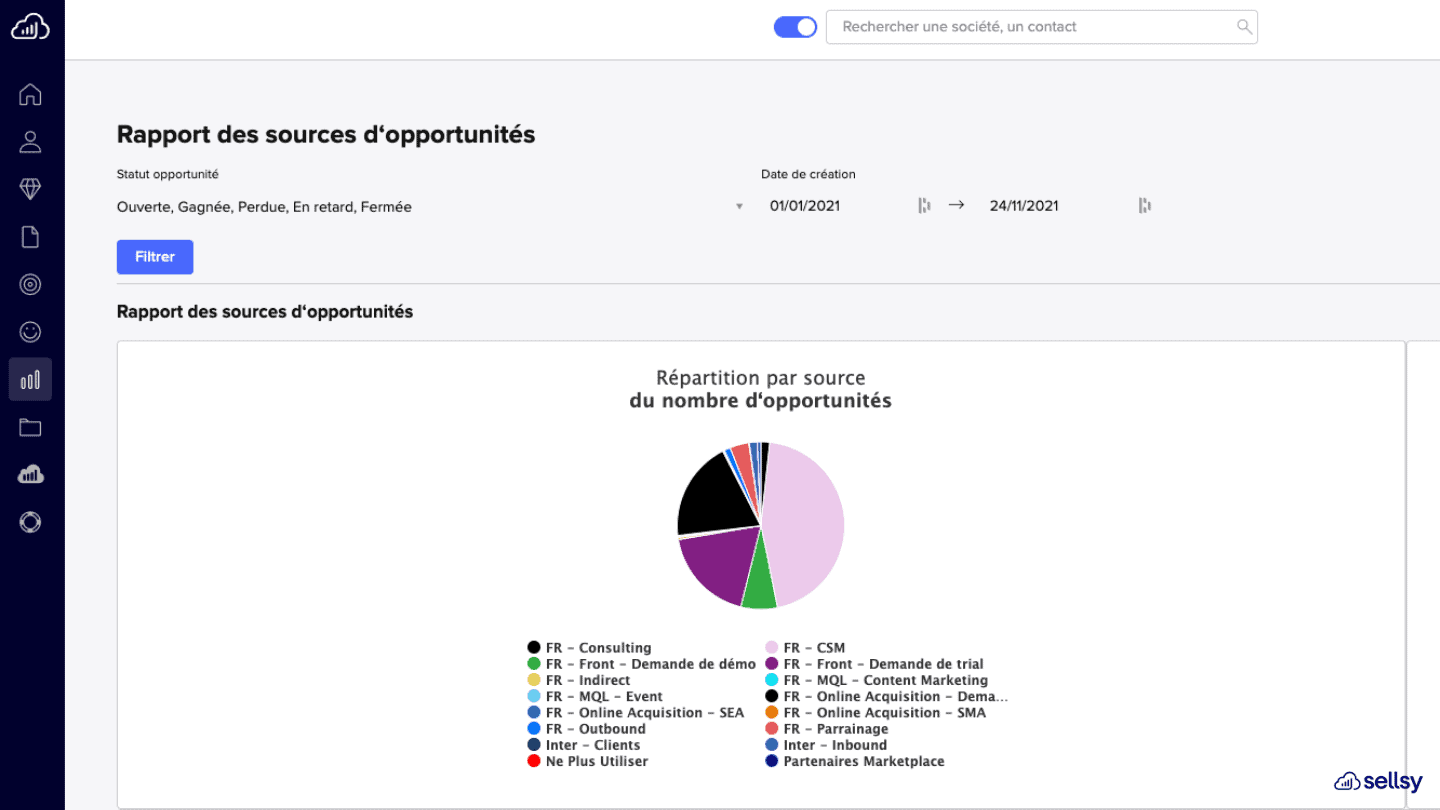 These are all the prospects that enter the sales funnel. This is the "top-line".
2. Qualification
The schools here vary a lot. If we refer to sales actions, we think of first contacts, qualification calls or appointments. If we take a flow view, it is a matter of determining whether the commercial opportunity is exploitable by the sales teams. Some use BANT, others MEDDIC, CHAMP, ANUM, etc. There is no shortage of frameworks.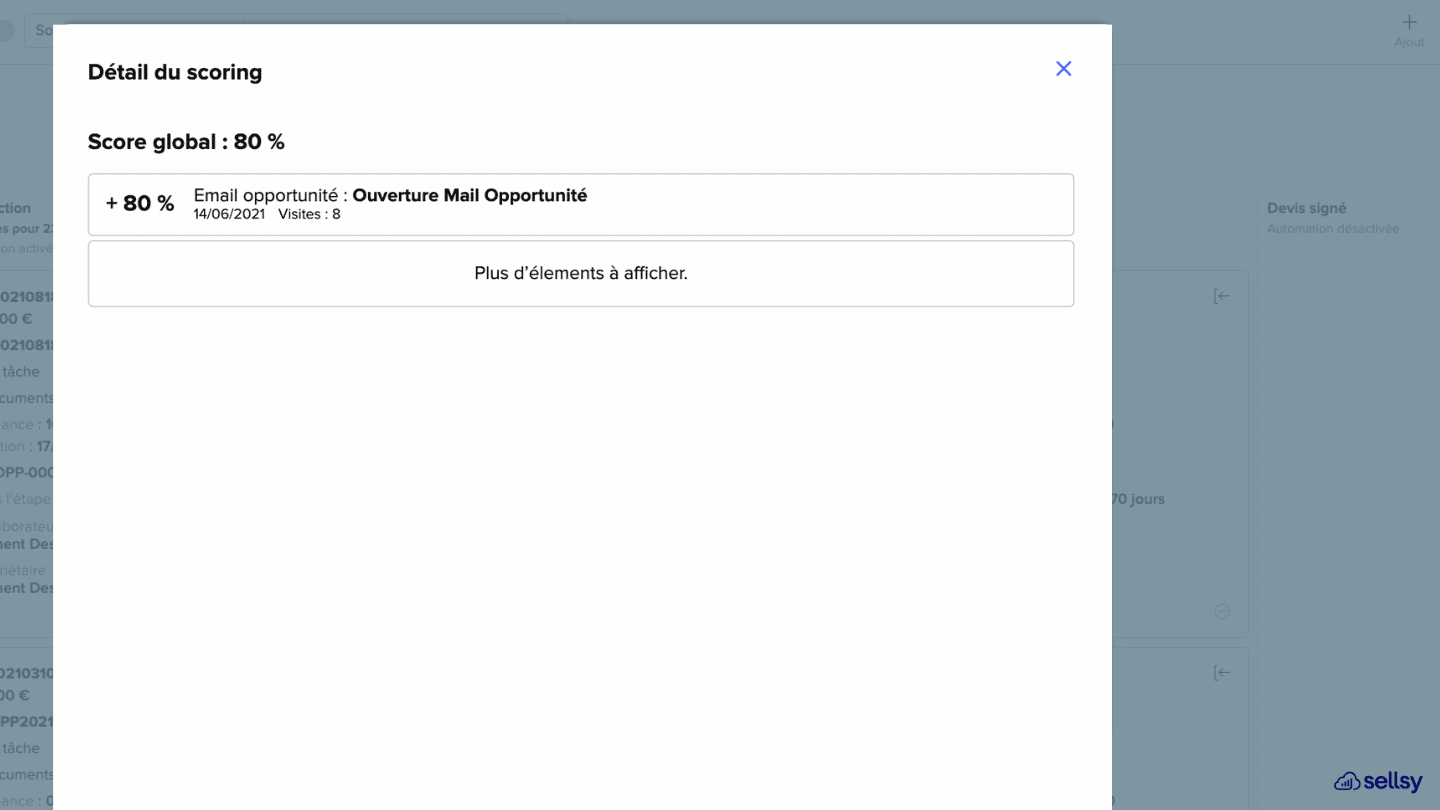 3. Evaluation and negotiation
This is the "soft underbelly" of the sales process, and surely the stage that varies the most from one company to another. Sometimes one meeting is enough to move towards a proposal. For more complex sales, this may require several meetings with several stakeholders. Frameworks are less common at this stage, but it is equally important to map out this stage to determine key steps and actions.
4. The proposal
Sometimes very short, sometimes much more complex, this is the stage where you build the commercial proposal, and negotiate if necessary with the buyer.
5. Closing
It is the completion of the sale. This is a fundamental step if you want to accelerate sales cycles. You have to go all the way to invoicing, and even to onboarding and sponsorship.
How to build an effective sales pipeline?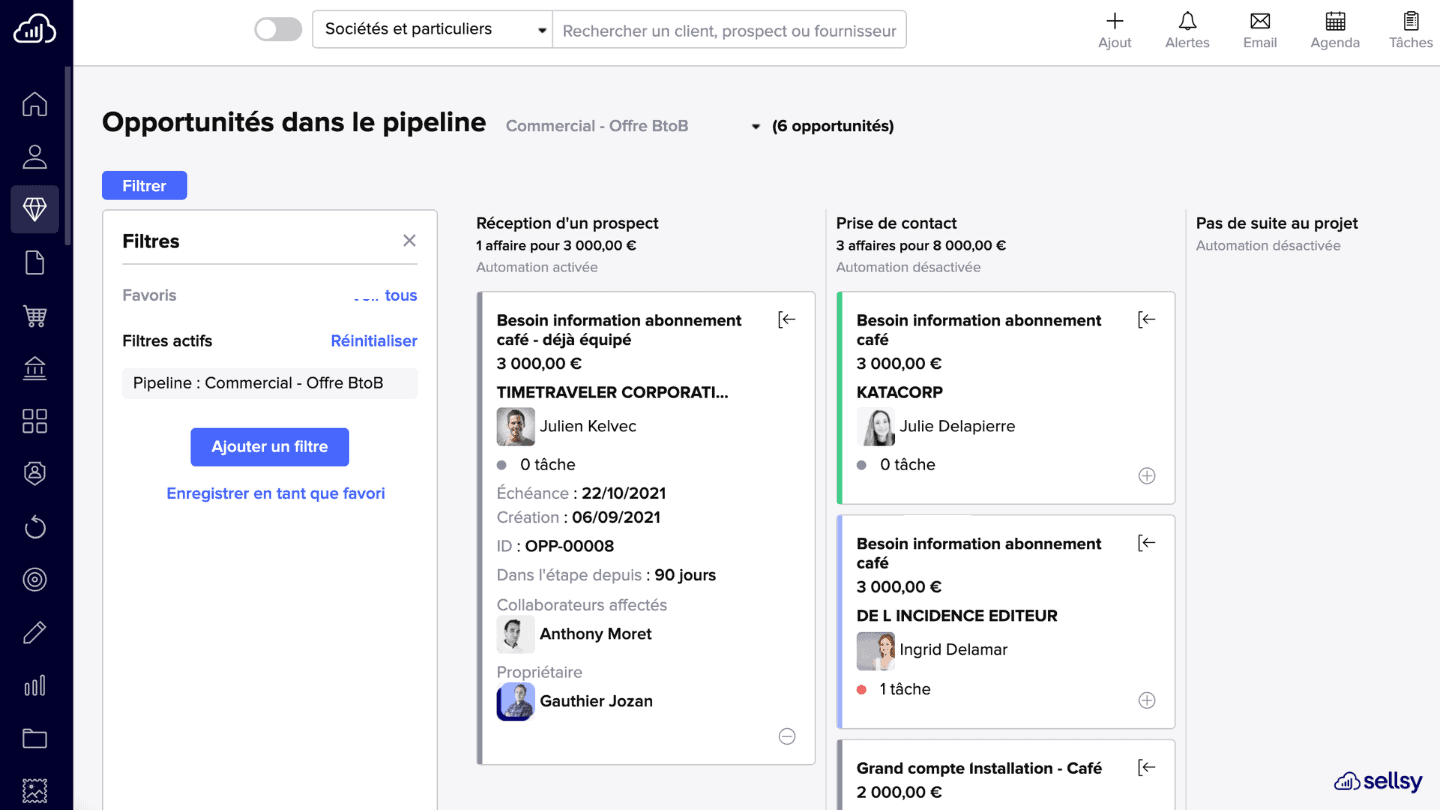 Define the stages of your business pipeline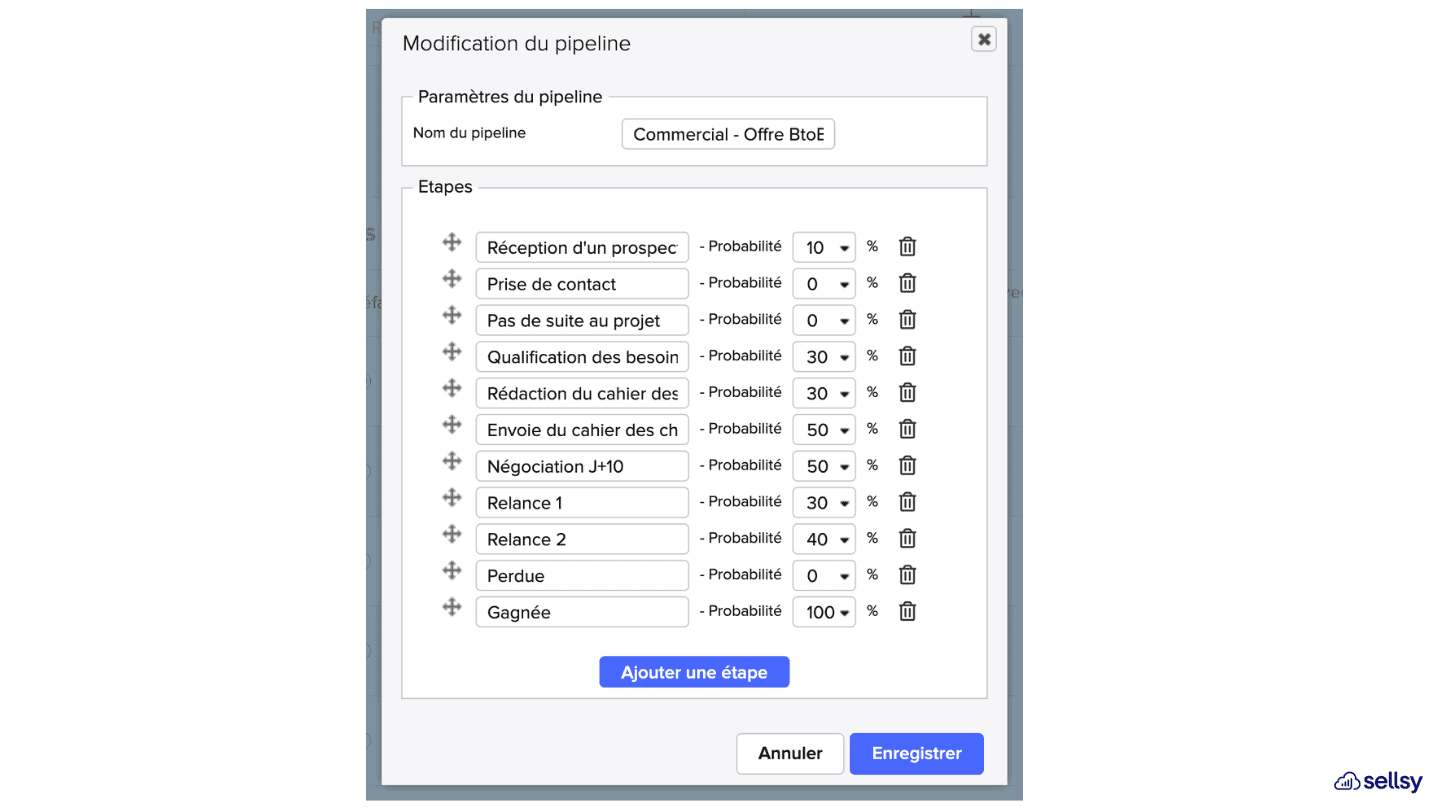 To build an effective sales pipeline, you first need to define the stages of the pipeline.
Start by thinking about your customers' decision-making and buying processes: how do they approach a purchase? What motivates their decisions?
In 10 minutes, try to list the sales stages that correspond to your customers' "buying stages".
Go through all your typical sales scenarios and make sure that the sales steps you have defined correspond to each of them.
Now review these sales steps with your whole team, to get their input and understanding of why they are important. Also make sure everyone agrees on the KPIs for each stage or segment of the pipeline.
In a month or two, you can refine the steps. If any are confusing, feel free to rename, delete, or add to them to reflect more accurately what is happening in your pipeline.
Define the sales actions that move a lead through the sales pipeline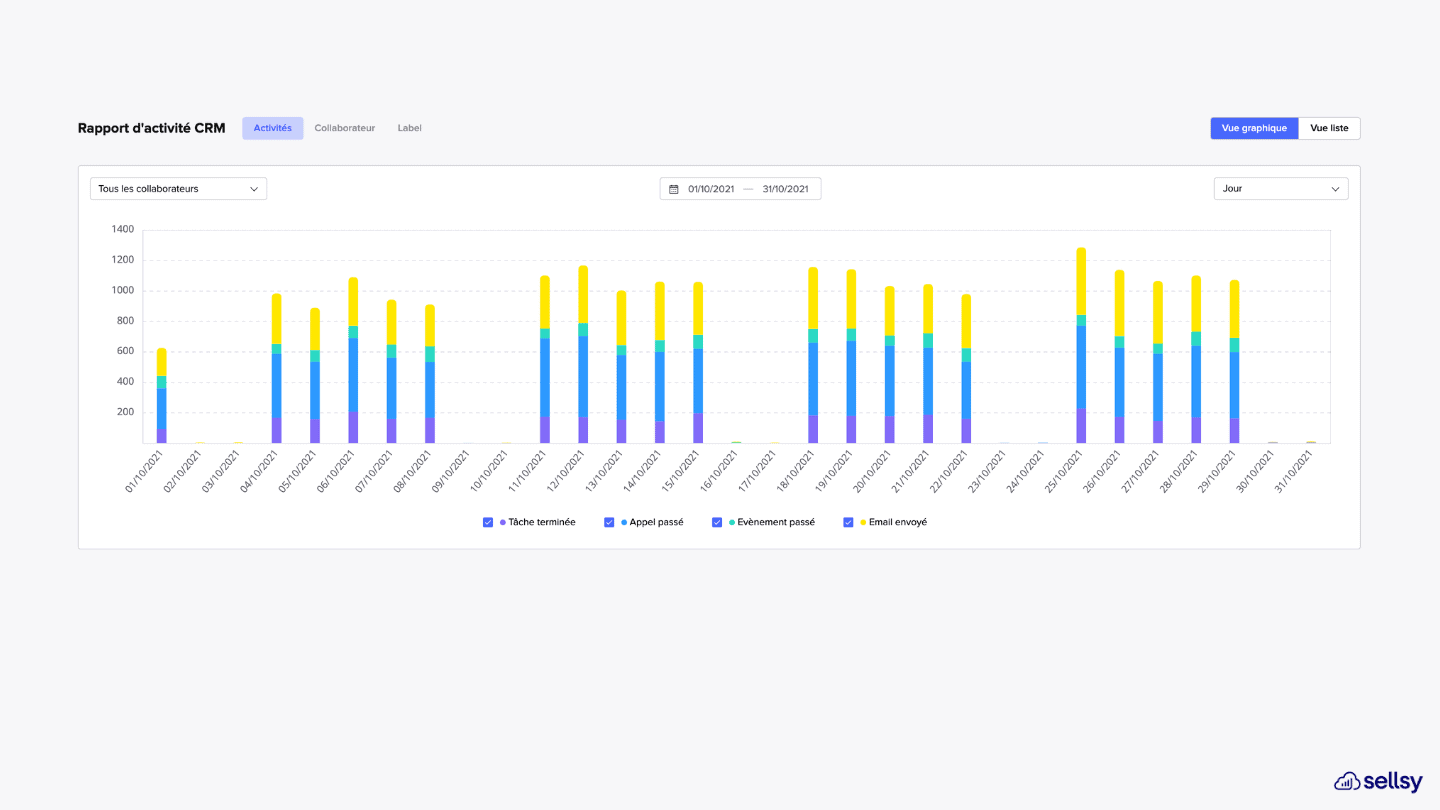 Once you have determined the stages of the pipeline, you need to define:
Conversion rates at each stage
The commercial actions that allow you to move from one stage to the next.
Simply put, a sales pipeline can have many holes, and the leads you bring in may leave before the end. So it's imperative to look at your conversion rate. What percentage of the people you contact end up buying?
Start with your own steps. For example, consider the following steps:
Qualified leads
1st meeting
Sending the proposal
Contract won
For each step, the conversion rate must be calculated and then the actions to be taken to move on to the next step must be determined.
For example, if you need to make 50 calls to different prospects to make 2 sales, your conversion rate is 2/50 = 0.04 or 4%. From this rate and the number of sales you want to make, you can now calculate the number of calls you want to make in your first prospecting stage.
To sign a contract, you may find that you need :
A first call to make an appointment
Two meetings to find out what is needed
Two draft proposals
A call for contract negotiations
10-15 emails throughout the process.
Attention
As with any analytical approach, the key is almost always segmentation. Trying to build a single framework to explain all your processes and performance is an intangible ideal, and not very workable. It is essential that a sales pipeline is as representative as possible of the operational reality, even if it means having several if you have several sufficiently different sales processes.
Define the right objectives at each stage of your pipeline
In order to define the actions to be taken at each stage to achieve your objectives, these overall objectives must be broken down into sub-objectives for each stage.
The idea is to set good goals at each of these stages. Let's start with a figure: more than 80% of companies set the wrong goals for their salespeople, i.e. goals that they cannot achieve.
Define a good objective
A good sales target is not necessarily a high performance target. Instead, the focus here is on how to set good sales targets so that you can effectively manage your sales pipeline and achieve the desired results.
Keep in mind that you cannot control the results, only your own actions. But you can still achieve your sales goals by setting these sub-goals. In fact, the results that come from carefully planned and managed activities can far exceed any results you may have set in the past.
The idea is to arrive at business action objectives for your teams, rather than just performance objectives.
In addition, you arrive at a much more predictable pattern. You know with near certainty that your goals will be achieved if :
You generate X qualified leads per day that your SDRs can process.
Your SDRs make X cold calls, and get an average of Y appointments per day.
Your Account Executives convert Z appointments into opportunities in 2 appointments, over two weeks.
You then convert Z' of these opportunities into sales.
Do you like what you read?
This article was prepared in collaboration with the Sellsy team. Sellsy is a complete CRM suite that allows you to boost your prospecting and acquisition, but also to facilitate and optimise your invoicing processes and the management of the company in the broadest sense.
To find out more about Sellsy, go here 👇
How can you use your sales pipeline to improve performance?
Once you have a solid database and have created a good sales pipeline that is well segmented and ready to receive new prospects, the idea is to give it a little boost. To do this, you can play on 4 levers in your pipeline:
Boosting acquisition to increase the number of opportunities
Generating greater opportunities
Optimise conversion rates at each stage of the sales pipeline
Accelerate the sales cycle by speeding up each stage of the pipeline
1. Boosting acquisition to increase the number of opportunities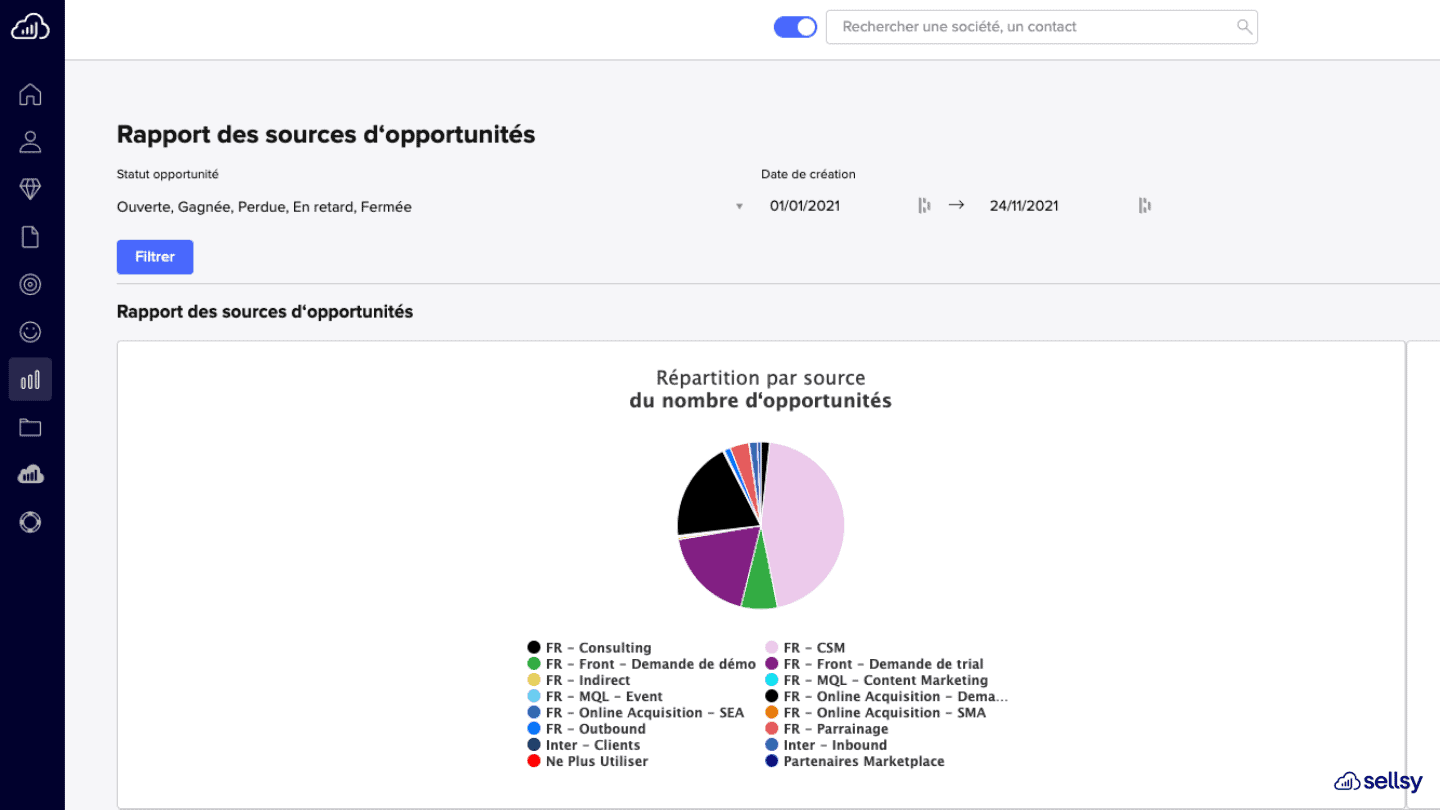 There is no magic formula for signing more deals: if at the end of your pipeline you want more deals, you need to increase the number of conversations with prospects at the beginning of the pipeline and maintain them. The idea is to maintain a continuous flow of conversations in your pipeline. To do this, there are 3 tips:
Set a daily or weekly target: for example, the number of new opportunities your sales team should bring in per week. Depending on the length of your sales cycle, you may not see results right away, but it can really boost your revenue.
Continuouslyenergise acquisition: keep up the habit of nurturing your list of new prospects to create an uninterrupted flow in your pipeline.
Be creative in making this list: It's hard to escape a classic list of prospects to call and follow up, but you can add to that list with these tips:

You can ask for referrals from your existing customers, but also ask prospects who have not signed. Every "no" can still help you build your pipeline.
Also, feel free to go through your list of contacts, reconnecting with those you haven't spoken to in months, including those who initially said "no".
Keep in touch: for example, job changes are a great excuse to start a conversation. Linkedin allows you to follow the mentions of your friends and professional contacts in the news.
Get into the habit of constantly looking for new sales opportunities to place new conversations in your sales pipeline.
2. Generate greater opportunities
To win bigger and more profitable contracts, you need to be ambitious, but not only that: even a small company can do it if it manages its pipeline properly and has the right mindset.
Imagine yourself closing large contracts
It may sound like a cliché, but business success is also about self-confidence. If you believe in it, you will be much more likely to find ways to make your vision a reality.
Pro tip
Try it. Start by imagining yourself closing a huge deal. How do you make that deal happen?
Depending on what you have imagined, set yourself activity targets: approaching several companies with larger budgets or offering complements to each proposal, or both.
Try to understand the purchasing processes of large companies
Every client is different and it is difficult to know how each one works.
Focus on large companies with bigger budgets
The bigger the client, the more people knock on their door and the less time they have for you. This can be a bit daunting, but if you want to get the biggest deals, you'd better find ways to get their attention.
Adopt upselling and bundle several products and services into one offer
Upselling allows you to increase the volume of your sale and better serve your customers. A very simple example: you are on a site where delivery is offered from an amount greater than the sum of two products.
3. Optimise conversion rates at each stage of the sales pipeline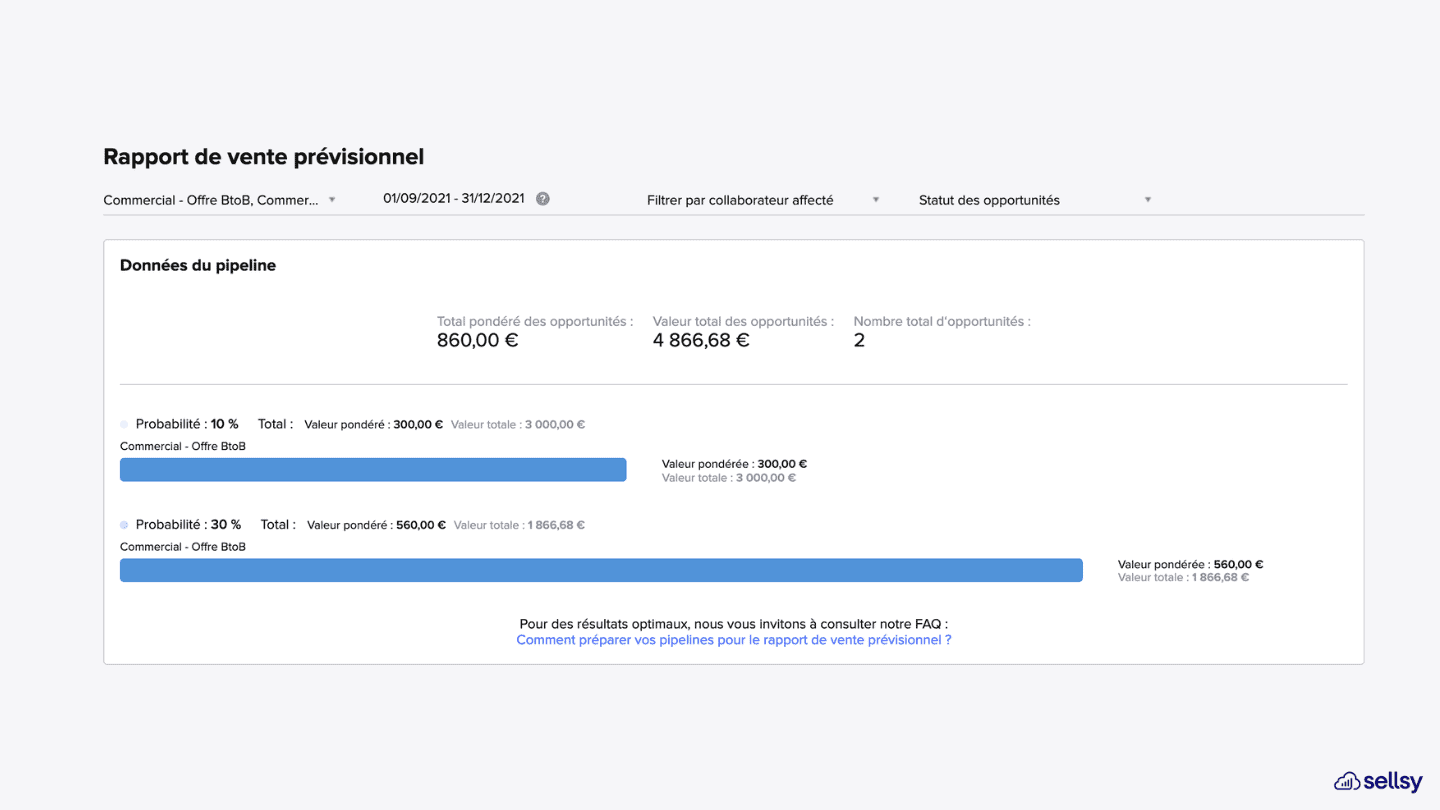 Another possible lever is to plug the leaks in your pipeline to increase your conversion rate.
Work with the right people
In your prospect list there are several types of people: decision makers, influencers and gatekeepers. Influencers are relatively easy to get in touch with, but they will take up too much of your time and bring in very little.
Conversely, decision-makers don't have much time to waste and can give you a yes or a no on their own. If you find that you are not reaching the right people, or that you are not getting past the barriers, you may need to work on these skills.
Many companies have elaborate processes in place for the purchase of goods and services: invitations to tender, requests for quotations, etc. The problem is that in most cases the prospect has already made up his mind by the time the request is sent. The problem is that, in most cases, the prospect has already made up his mind by the time the request is sent.
It is much easier, and more effective, to help prospects make up their minds rather than trying to convince reluctant customers. Be proactive and seek out new customers yourself.
Drop bad prospects as soon as possible
At the risk of being repetitive, it is more important to look for new opportunities than to try to persuade someone to buy. To be effective, you need to define a good buyer profile and then stick to it: as soon as you talk to a prospect who doesn't fit that profile, move on quickly.
Know your potential customers' business better than your competitors
This is the key to success: if people or companies buy, it is to satisfy a need or a want. If you can understand this and then do your best to meet your prospects' desires, you will see a dramatic increase in sales.
4. Accelerate the sales cycle by speeding up each stage of the pipeline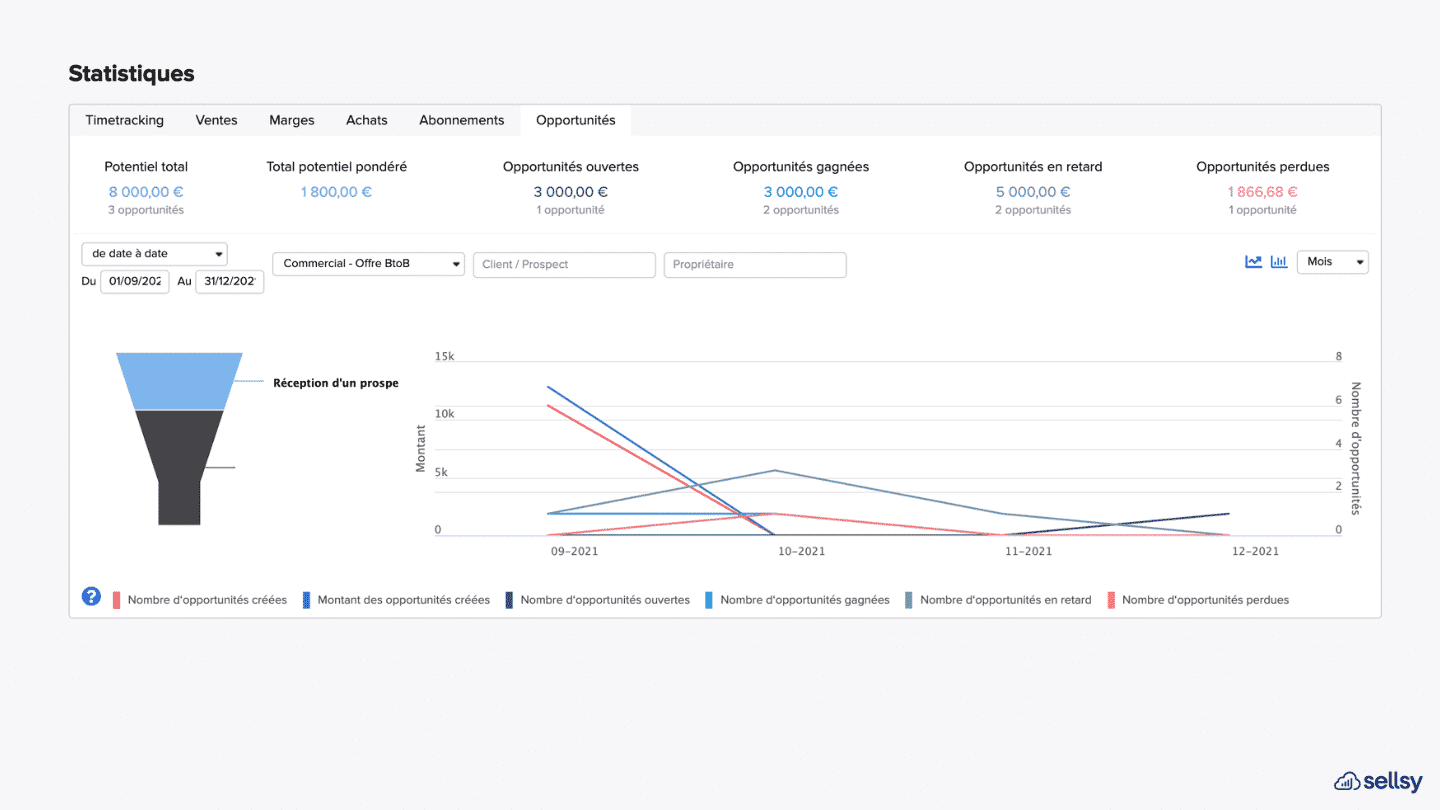 A quick question: how long do you think a prospect should think before making a decision? And yes, it is up to you to decide how long a decision takes by speeding up your sales process.
Try to understand the decision-making process of the companies you are interested in
It's hard to get someone to go faster than usual, especially when you don't even know how fast they usually go. But it's easy to find out: ask them! For each step, ask your prospect what it would take to move to the next step in your pipeline.
By doing this several times, you will learn how decisions are made in a particular company or even industry.
Abolish the annoying tendency of a prospect to "think".
Often salespeople, especially newcomers, are reluctant to push prospects a little. But you have every right to do so: your prospects need to think, but not that much.
Pro tip
If a prospect tells you that they need time to think about it, you can ask them what their doubts are and what additional information they might be interested in. If they tell you that they need to discuss it with someone else the next day, you can offer to call them back the next day after their discussion to take the next step.
This kind of gentle pressure can move conversations forward more quickly and even trigger an immediate decision.
If a prospect has been in your sales pipeline for a long time, chances are you can't close them. If you can't do anything to move your prospect to the next stage, it may be time to move them out.
It's not about turning your back on them completely, but focusing on the deals that can be done: put that prospect in the "I'll be back in six months" category.
Some good practices for an effective sales pipeline
1. Purge your sales pipeline
The idea is to keep your reps focused on the right prospects, purging your pipeline of dead leads. It also allows you to identify silent leads to try and save them.
To do this, you can start by defining when to move a lead from the main pipeline to your lost leads pipeline. For example, if there is radio silence for more than 30 days, you can remove that contact from the main pipeline to make room for new leads.
But when to remove a lead completely from your pipeline? There are obvious signs:
They tell you clearly that they are not interested
They buy from a competitor
They do not respond at all.
But you can also create your own definition of a dead lead based on your experience with customers. For example, was a prospect in your pipeline longer than your average sales cycle without making any progress? Or a prospect was excited about your product but was rejected by their managers in their company?
Pro tip
Before you remove a prospect completely from your pipeline, send them a break-up email. This gives them one last chance to convert before ending the relationship.
2. Prioritise your leads
A new stage, a new difficulty: your sales people are overwhelmed by the number of new prospects that arrive. Congratulations! But you'll need to prioritise your leads. To optimise the time your sales reps spend on new leads, it is essential to prioritise them according to their suitability for your product and their chances of closing.
In other words, you need to set up a leadscoring system.
Basically, it is about defining the specific actions and behaviours that appear systematically in your best customers and then setting up a system of points to award to your new prospects.
3. Analyse the individual performance of your sales staff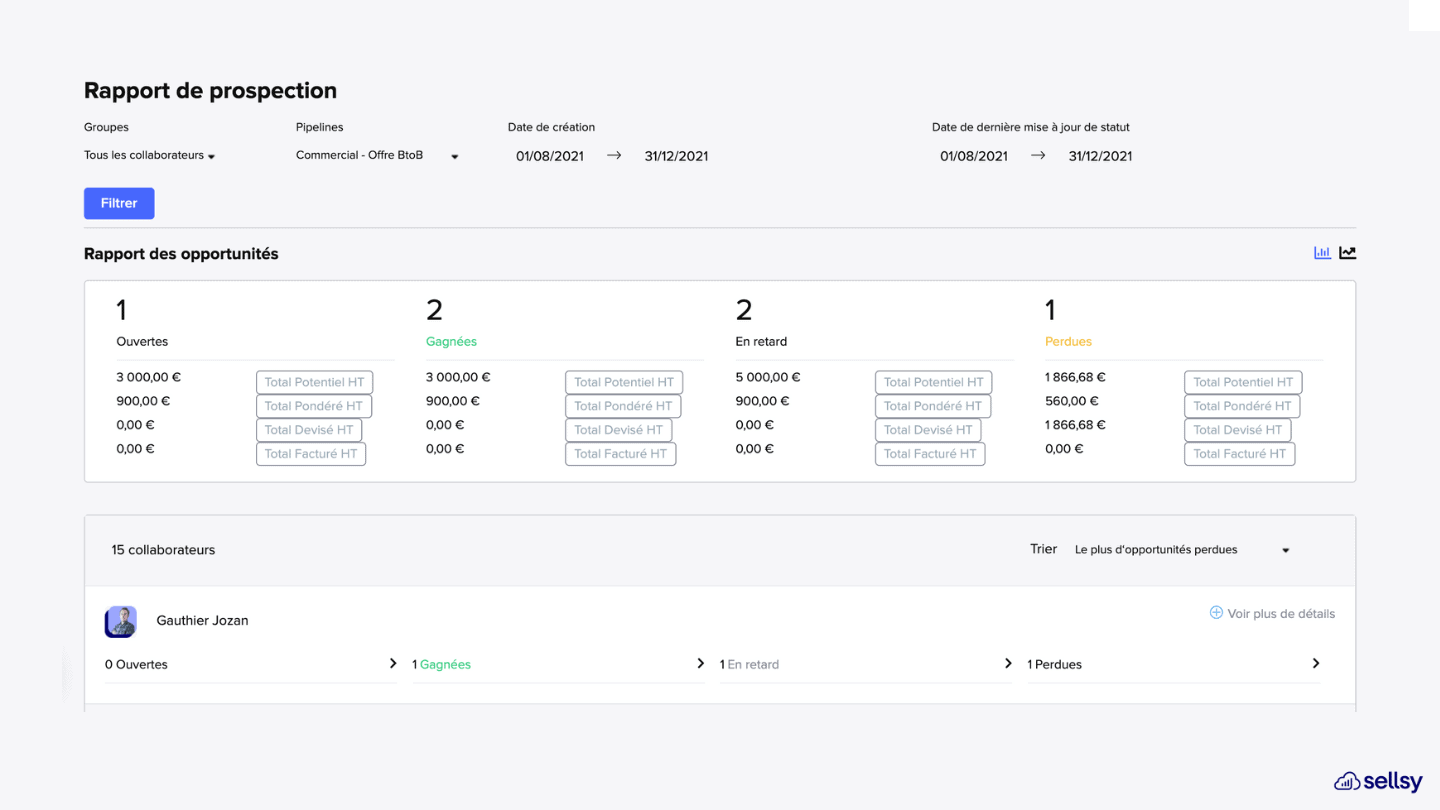 Every salesperson has their strengths and weaknesses, and you can easily understand them by digging into your data: the number of calls made, emails or text messages sent, leads created, length of call, etc.
Software such as Sellsy even provides graphs for each representative to analyse their performance.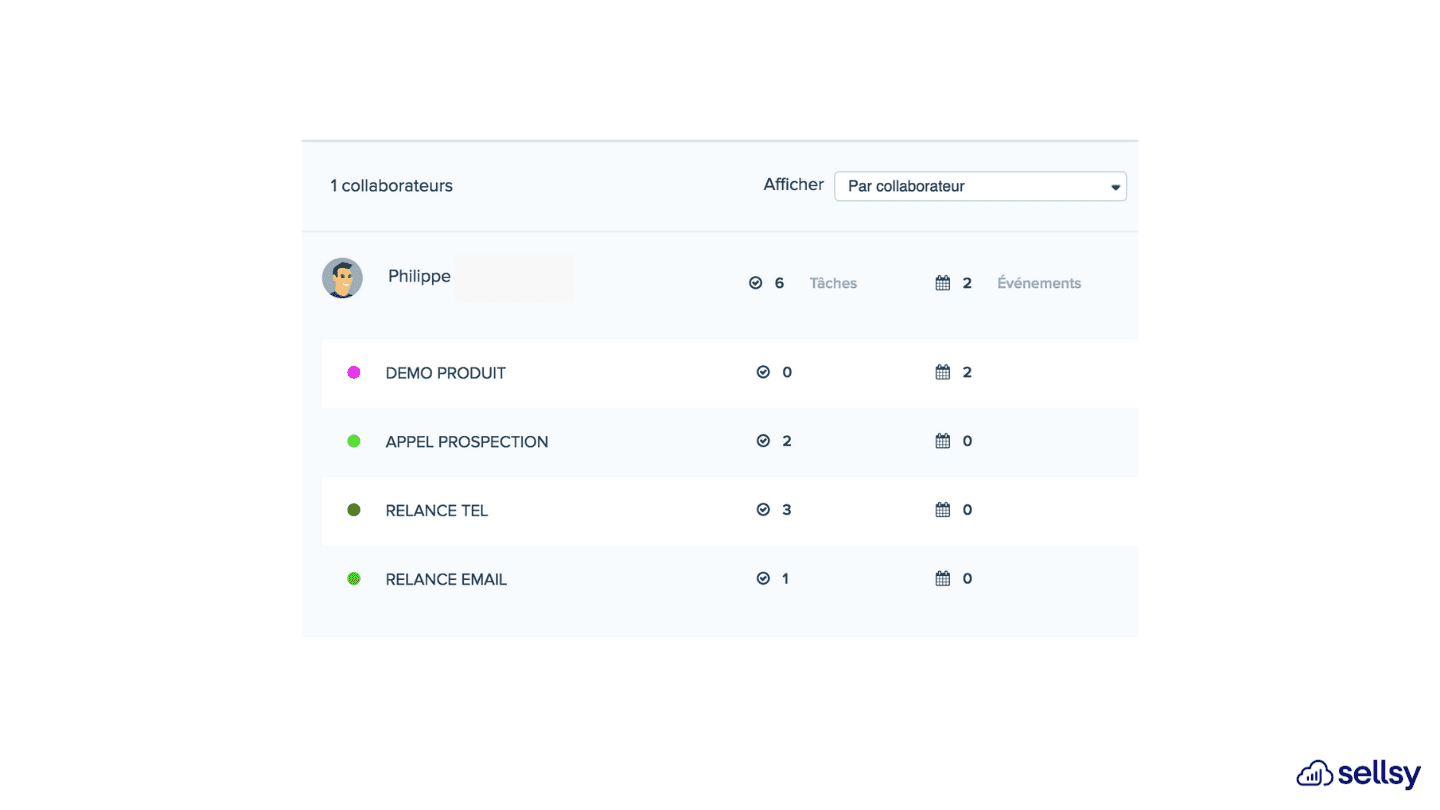 Secondly, you can match the best performing reps in certain areas with the right tasks and prospects. If there is one rep who is not very comfortable demonstrating products, pair him or her with a rep who is particularly good at it so that the two complement each other to maximize your results.
4. Systematise everything you can
To save time, it is essential to systematise the most common actions in your pipeline.
Normally, if your pipeline is well constructed, your representatives always know what they need to do. But by including reusable templates, you make their lives easier and the steps go faster.
For example, you can set up cold call scripts and prospecting e-mail templates. Similarly, when your salespeople need to send out proposals, they should have access to presentation folders and pre-formulated contracts.
5. Get clear causes for each failed sale
Was the lead not qualified? If so, why? What went wrong in the qualification process? Where did the lead come from? Are there other similar leads in the pipe that need to be de-prioritised or exited?
Did the offer not convince? Why not? What can we learn from it in terms of qualification? In terms of product? In terms of negotiation?
That's a lot of questions, but it's a step that needs to be emphasised because salespeople don't immediately gain from it. Detailing the causes of failure will not help them convert better, at least not immediately.
This is fundamental to identifying the causes of failure, and refining the pipeline over time, enabling all salespeople to achieve better performance. This is a huge lever for value creation.
Going further
This article was prepared in collaboration with the Sellsy team. Sellsy is a complete CRM suite that allows you to boost your prospecting and acquisition, but also to facilitate and optimize your invoicing processes and the management of the company in a broader sense. The kind of tool that will allow you to set up, optimise and develop your sales pipeline 😇
To find out more about Sellsy, go here 👇