#1 Contact management on Insightly
To add users, simply click on System Settings in the drop-down menu in the upper right corner, then click on Users or Teams.
The administrator can give specific permissions to users and automatically assign them to various managers or contacts, either manually or through a workflow process.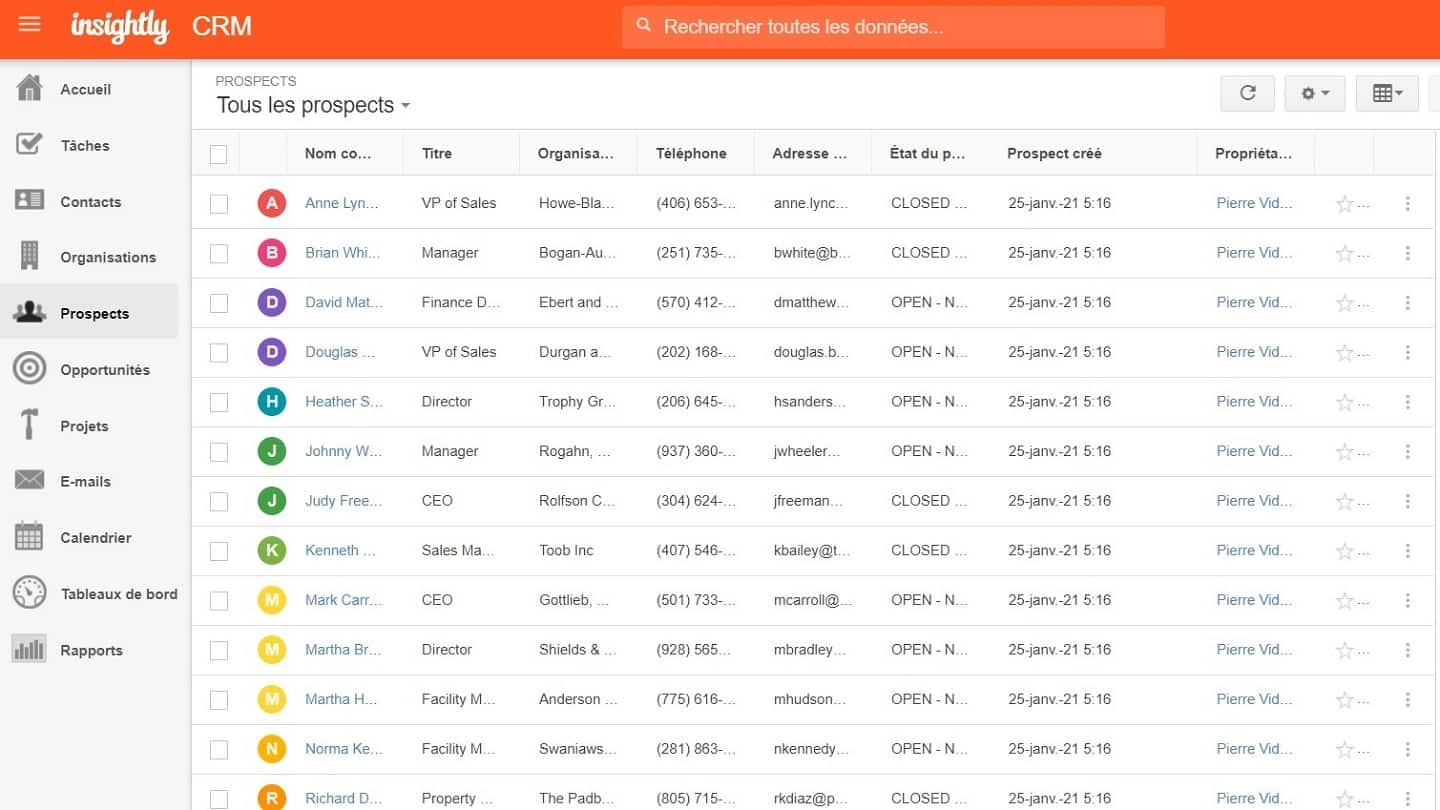 To create a lead, click on the Prospects tab on your left and then on the red New Lead button. Every entry you create in Insightly CRM – whether it's a project, a lead, or something else – is called a "record."
When you add a new record, you can set visibility levels for everyone, only the record owner, or for specific team members.
You can create detailed records, link them to one or more projects, contacts and even to other records. The Contacts section provides users with all the tools they need to access specific contacts.
In addition to names, titles, phone numbers and emails, it shows photos of your contacts. This feature may seem minor, but it adds a personal dimension and another way to better recognize your contacts.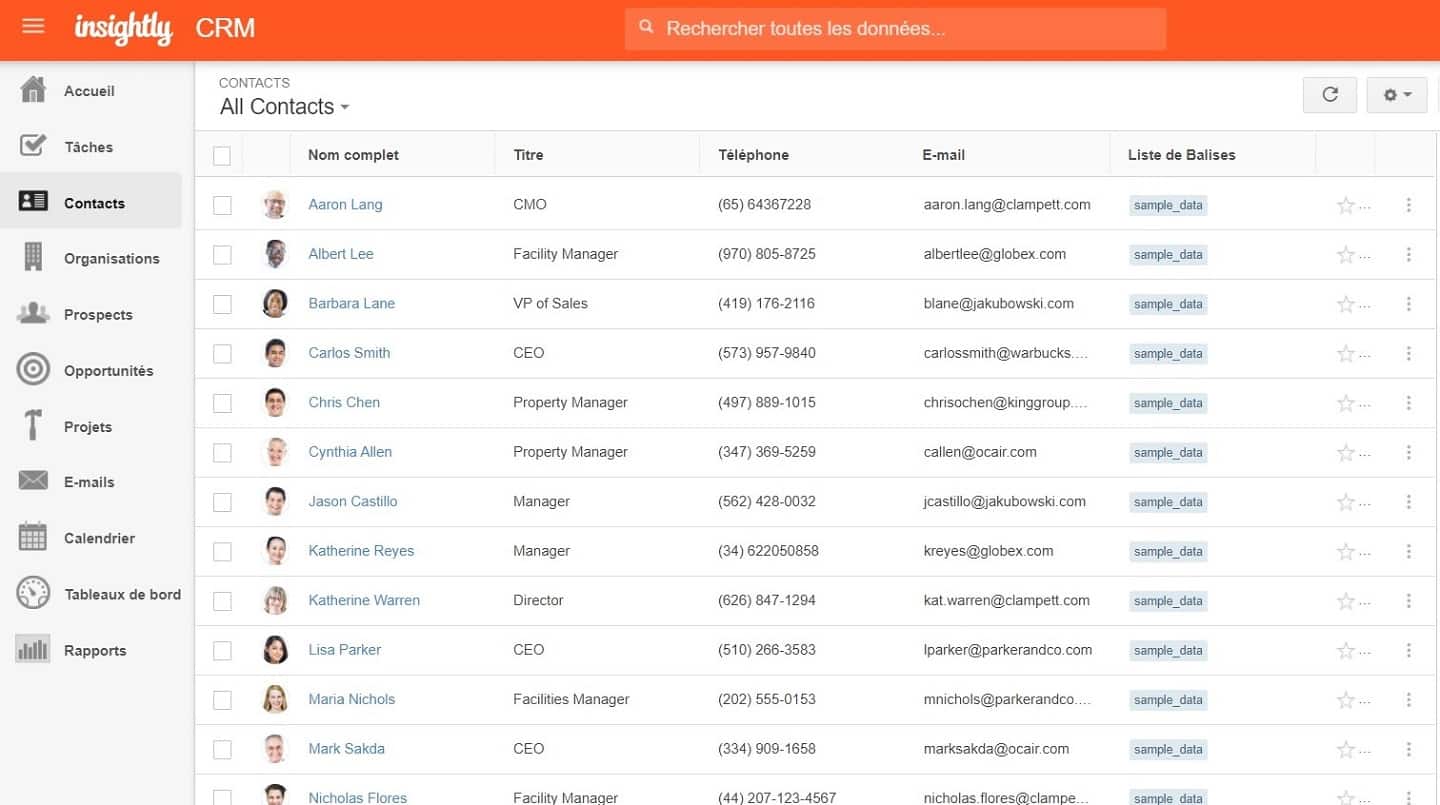 In addition to the usual contact information, you can include data such as their status and source (a reference, a web form, etc.).
When prospects become leads, they are "converted" and placed in the "Opportunities" category. It is at this point that they become a contact.
Insightly also includes lead assignment rules. Users can add assignment rules via a web form when importing a CSV file, Excel file, or via the Insightly API.
#2 The sales funnel on Insightly
Insightly also allows for the creation of pipelines, similar to other platforms like Pipedrive CRM and PipelineDeals. A pipeline is a series of steps to ensure that your salespeople follow the same process.
The pipeline allows you to easily track the progress of your opportunities in the sales funnel. However, Insightly allows you to create pipelines only for opportunities (converted leads) and projects.

You can also create a set of activities, i.e. a series of tasks for each step. Unlike pipelines, you can generate sets of activities for leads, opportunities, contacts etc.
You can manually add a set of activities to a lead or a group of leads. One of the most useful features of a lead management tool is the ability to automate the initial response so that you can reach multiple prospects at once.
Insightly also allows you to set up workflow automation via a series of forms. For example, you can automatically send an email to all new prospects, then send them a follow-up email a week later if they don't respond.
#3 Ease of use and set up
When you first log in to Insightly, you'll notice a user-friendly and intuitive interface. On the left side of your screen you will find the main menu with all the important links:
Tasks,
Contacts,
Organizations,
Prospects,
Opportunities,
Projects,
E-mails,
Schedule,
Dashboards and,
Reports.
Insightly assigns a Customer Success Manager to new customers to guide them through the process of getting started. The web interface is surprisingly fast. Navigation is fast and frictionless. Insightly's ability to adapt to any screen size is a remarkable thing.
A quick button is accessible by clicking on the (+) icon on the right side. It provides one-click access to the most commonly used functions, such as Add a new task, Add a new contact, Add a new organization etc.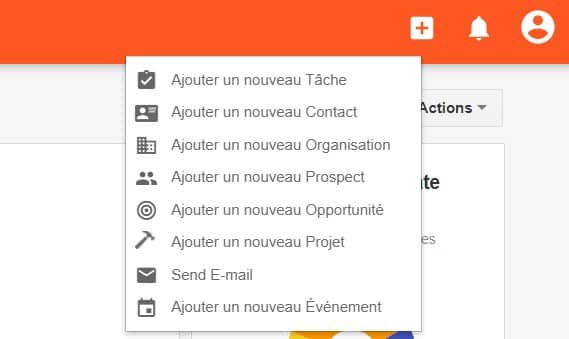 In the "Home" section, you will find the opportunities dashboard. You will see many dynamic widgets that allow all users to understand their situation at a glance, thanks to many key data and indicators.
These widgets automatically move and resize according to the screen size. They are also easy to organize with the drag and drop option.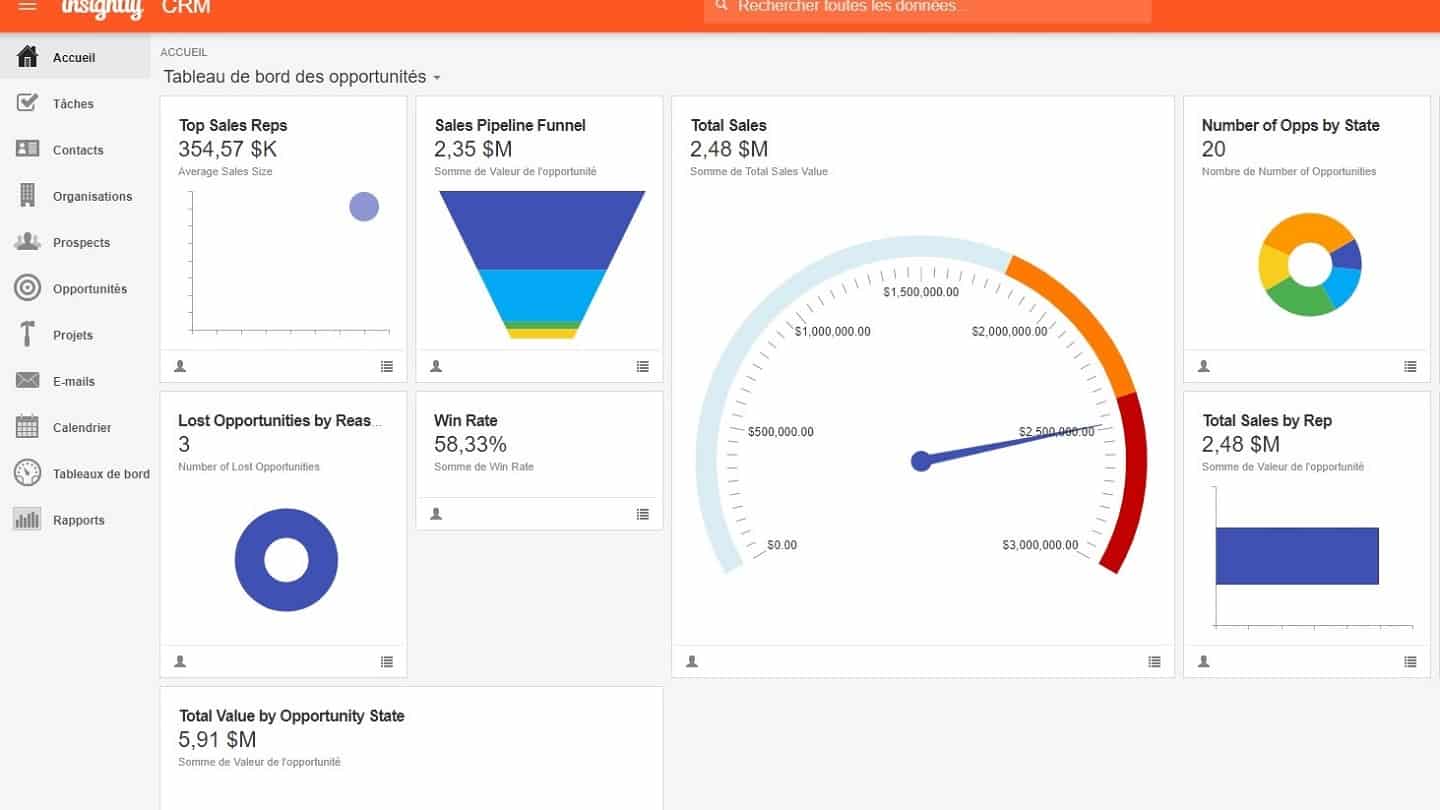 #4 Insightly integrations
Like most of the best CRM software, Insightly offers many integrations. Among them, Microsoft Power BI. It allows for the addition of in-depth analysis to Insightly CRM reports.
To take advantage of this, you must have a Microsoft account in order to connect Power BI to Insightly via the Insightly API.
Power BI then retrieves CRM data from Insightly and populates a dashboard showing opportunity forecasts, win rates and productivity metrics.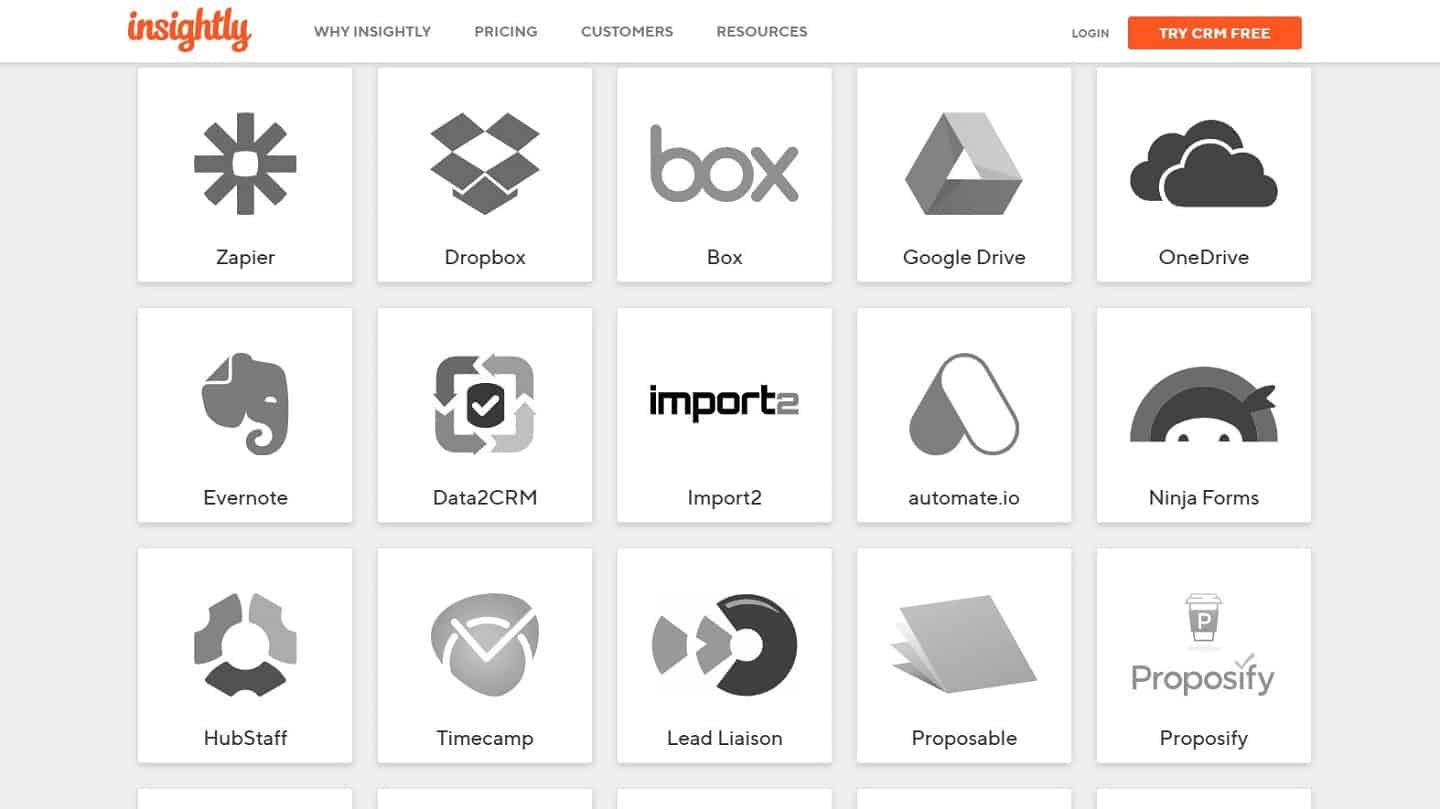 Insightly also integrates with the tools you already use: Slack, Google Apps, Microsoft Outlook, Boomerang, Dropbox, Evernote, Google Calendar, Google Drive, MailChimp, PandaDoc, Proposable, QuickBooks, Xero and Zapier.
For organizations with hundreds of users, Insightly also integrates with single sign-on (SSO) tools like OneLogin, AuthO or Okta Identity Management.
Finally, the tool also offers apps for iPhone, iPad and Android that provide handy tools like business card scanning.
Unfortunately, their emailing capabilities are clearly insufficient: you can neither send an email on the mobile application nor check if a recipient has read an e-amil you sent.
#5 What customers are saying about Insightly CRM
Here are the main advantages and disadvantages reported by customers on the main online review sites.
For small to medium-sized commercial enterprises, this is a great way to ensure that all opportunities are accurately tracked.
It is very easy to find information about a current opportunity.
The customer support is very efficient.
Insightly has the best native integrations and tools to manage your customer data in a secure and timely manner.
The fact that it integrates easily with other applications such as PandaDoc and Microsoft Outlook
It is difficult to integrate it into an existing database.
The data is not updated automatically, which can be a problem if you are working in a team on the same document at the same time.
The presentation of the projects is not optimal visually speaking. The design is not modern which affects the user experience.
The average rating of the customer reviews is 4/5.
#6 Insightly Sell pricing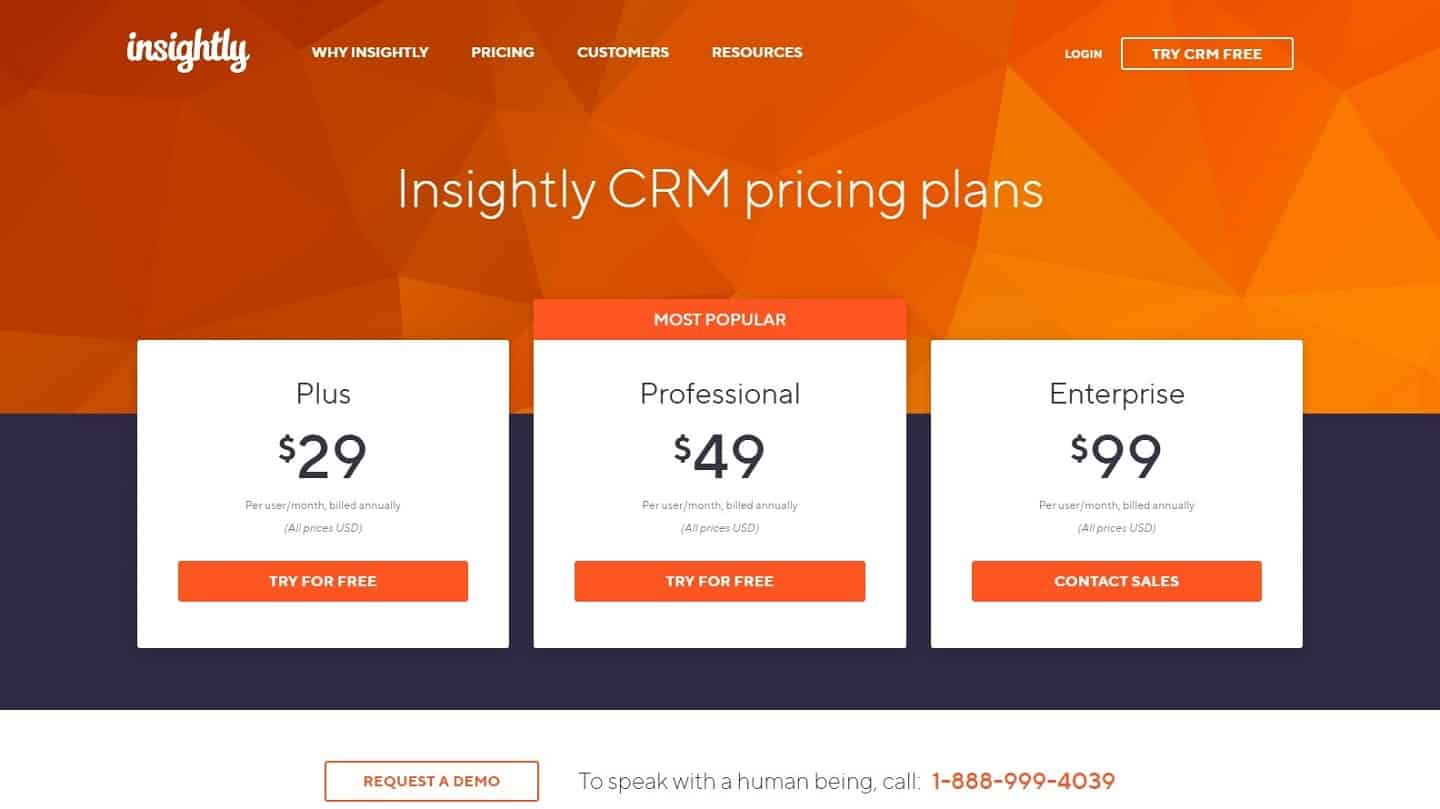 Plus: The Plus plan starts at $29 per month per user. This is the entry-level price for using Insightly. This package gives you access to Insightly mobile applications, but also to Google Docs, Microsoft Calendar, Slack, Gmail integrations etc. You will also have the basics of teamwork, including calendar synchronization and the ability to scan up to 15 business cards.
Professional: The Professional plan is priced at $49 per month per user. From this package, you will be able to access all the lead management features, but not only. You will also have access to opportunity management and customizable reports. It is also from this package that you will be able to see exactly which member of the sales team is working on which task.
Enterprise: Finally, the Enterprise plan is priced at $99 per month per user. All Insightly features will finally be unlocked, allowing you to access the full power of the tool. This is where you can create an unlimited number of graphs to show your teams where you stand or unlock all the customer relationship management features.
Insightly also offers a marketing-oriented product. Marketing automation, lead capture and advanced data management are all available in one of the 3 plans offered by Insightly Marketing.