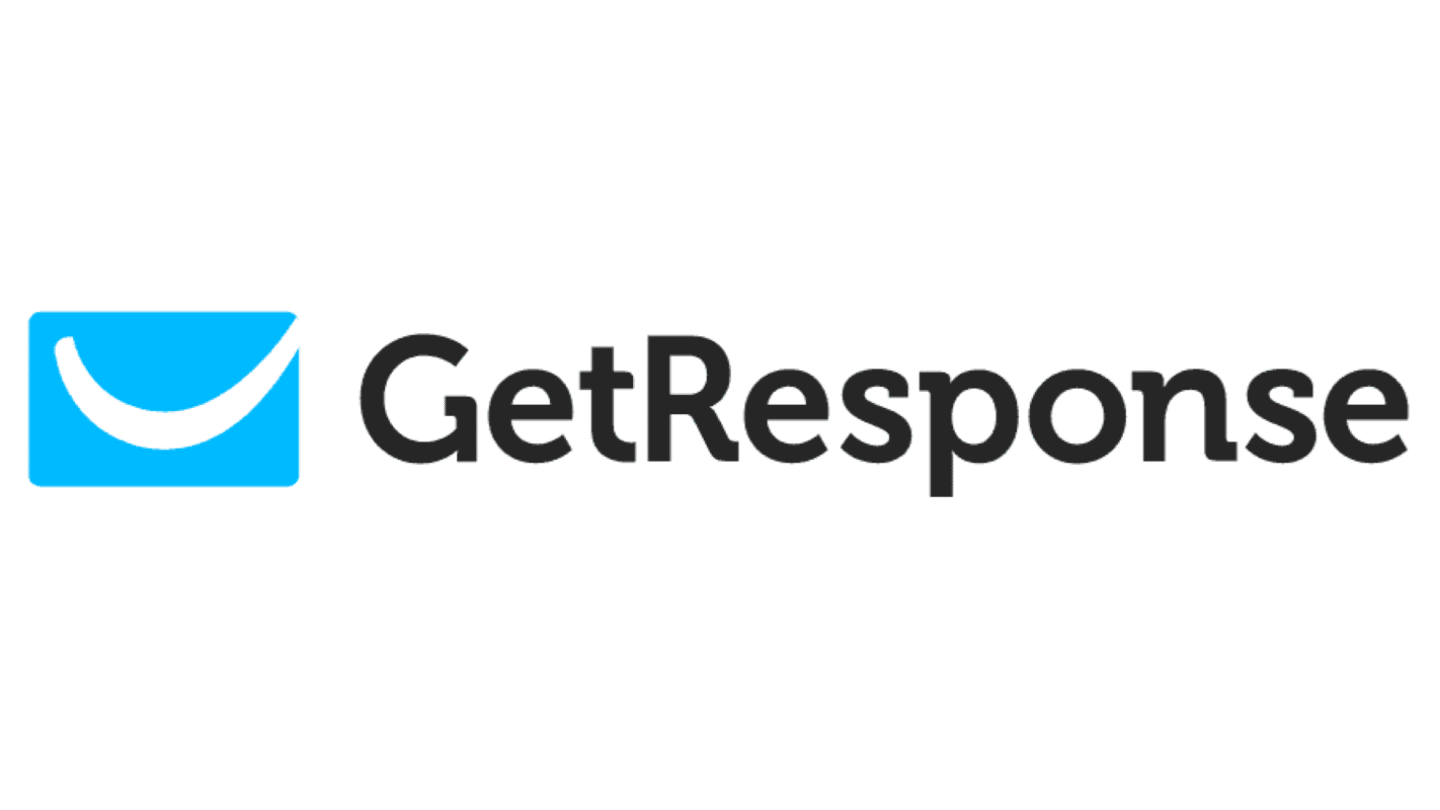 GetResponse is a veteran in the emailing software and marketing automation tools market. It is a very complete solution with a lot of features, which has remained very simple and accessible.
The software allows you to create email campaigns and marketing automation sequences. The design and overall usability of the tool are a bit dated, but it is perfectly suited for beginners who want to set up successful campaigns.
In this article, we'll tell you everything you need to know about GetResponse!
Our opinion on GetResponse
Criterion
Note Salesdorado
Comment
Overall score
GetResponse is a veteran in the
emailing
and marketing automation market, offering a very complete software suite with many features, while being very simple and accessible
Functional scope
GetResponse offers a lot of features: creation of email campaigns and marketing automation, creation of landing pages and websites, contact management and segmentation, etc.
Reporting
The reporting is well developed and offers classic and more advanced information
Accompaniment/ Support
The help desk is very rich and produces a lot of content
Integrations
The catalog of integrations is very rich
Value for money
The quality-price ratio is very good and suitable for all types of users
The advantages of GetResponse
The tool is very complete, with features not found on the market (Webinars, conversion funnel, web notifications,…)
The marketing automation module is also very complete and impressive for its ease of use.
The integration library is very deep, well designed, and the integrations are all very well done.
The disadvantages of GetResponse 
There are many features. Even if the experience remains relatively simple given the richness of the software, one can quickly get lost. For a very intense use it is ideal, but for a lighter use it is perhaps a little too rich, and not simple enough.
The prices are in line with the market, but you risk paying for features you don't really need, where solutions like Sendinblue or even MailerLite are still significantly cheaper.
Deliverability is the big unknown at GetResponse. The Polish company has a good reputation, and with more than 20 years of experience, they know how to deliver, but we get some feedback from customers who are a bit disappointed. Maybe because the software does not support its users as much as others on the quality of the lists?
GetResponse: ideal for hardcore marketers
If you're betting big on inbound marketing and planning to create campaigns to generate leads, sales, or customer retention, GetResponse won't disappoint. The tool is probably the most complete on the market in these price ranges.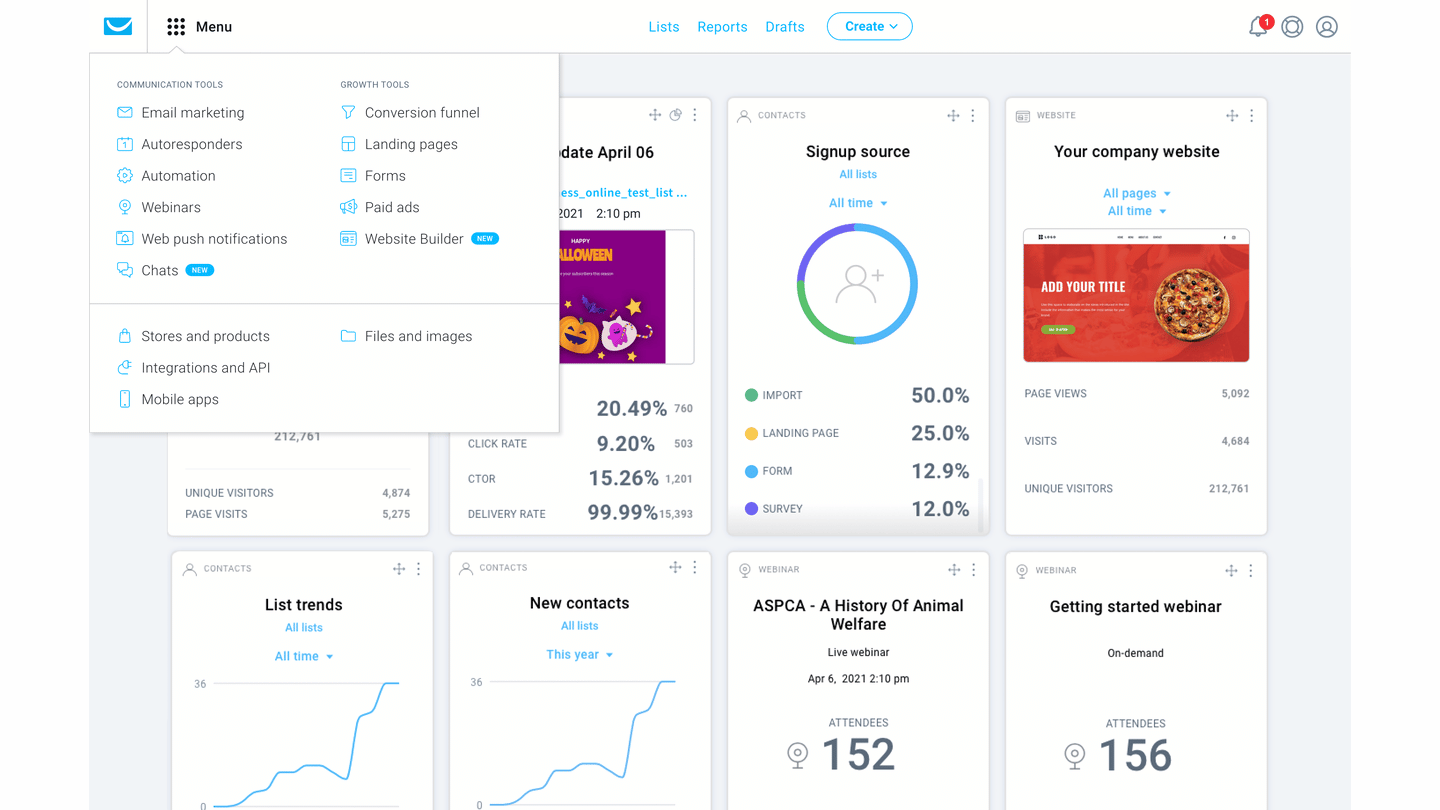 But given the volume of features, you will spend some time. The software is a bit slow at times, the deliverability not always guaranteed. These are problems that you will encounter less with other simpler solutions like Sendinblue, MailerLite or even Activecampaign – also very complete, but rather easier to use.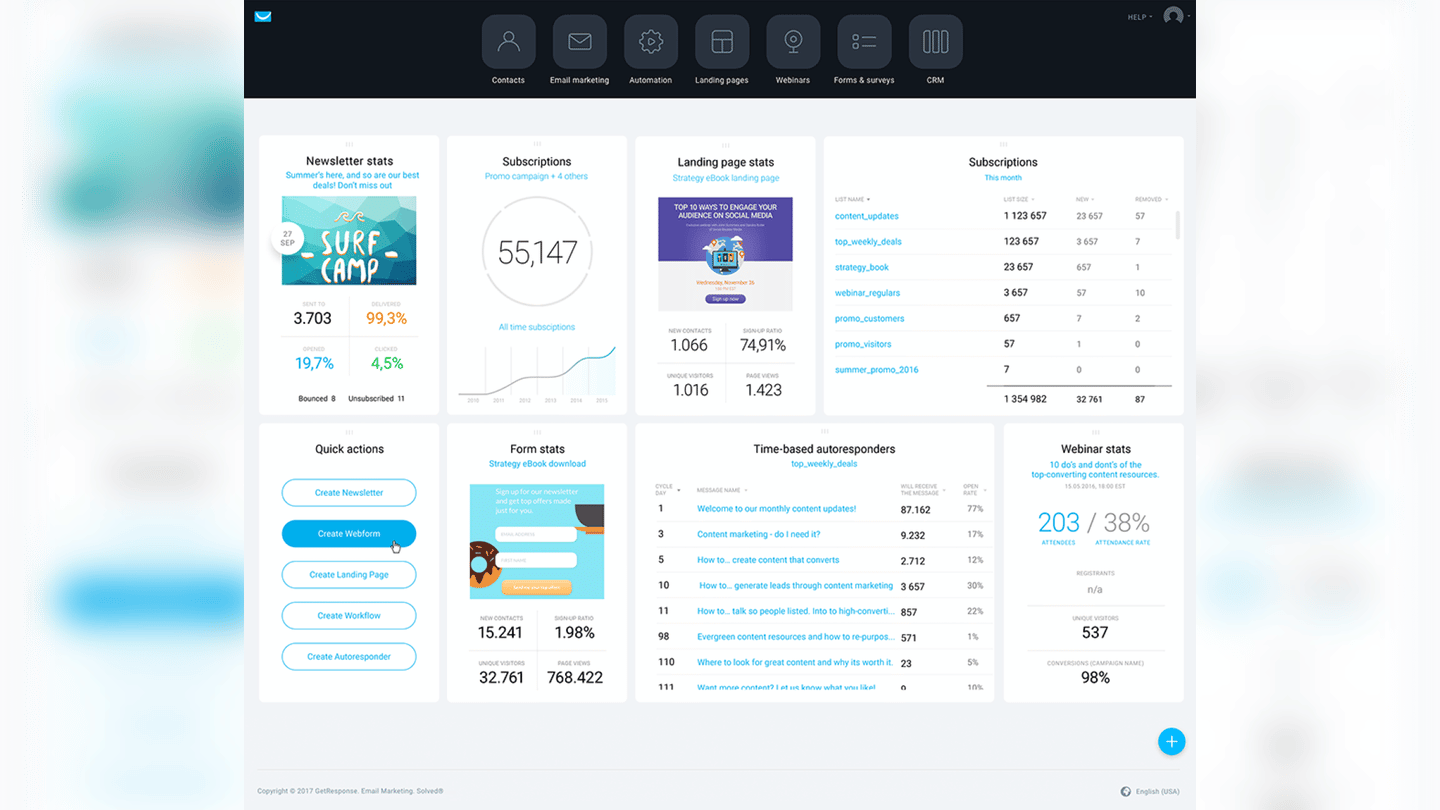 The functional scope of GetResponse is very deep
Send email marketing campaigns
Drag & Drop email editor
GetResponse offers a drag & drop email editor that allows you to build email campaigns in a fairly intuitive way. The features offered are quite numerous (adding images, text, videos, margins, links, custom HTML, etc) and the software also allows you to save blocks and sections, which will save you time.
The editor allows you to create custom templates and define the structure and appearance of the e-mail yourself.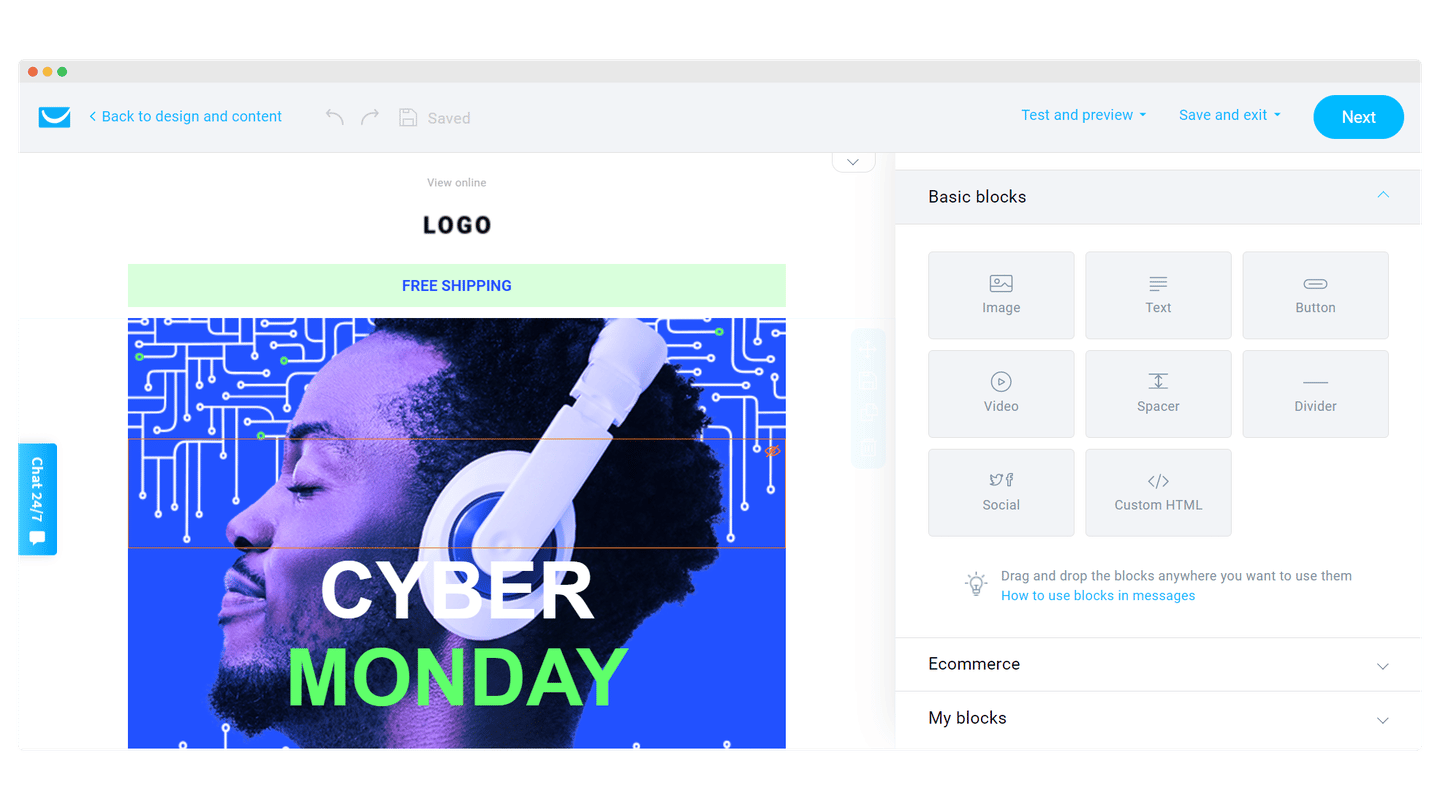 You can also add products to your email from your online store, thanks to Shopify in particular.
Template library
GetResponse offers 7 categories of email templates. For example, you can "educate, promote, welcome" your customers. The product also allows you to build your own library of templates by saving those you have previously used.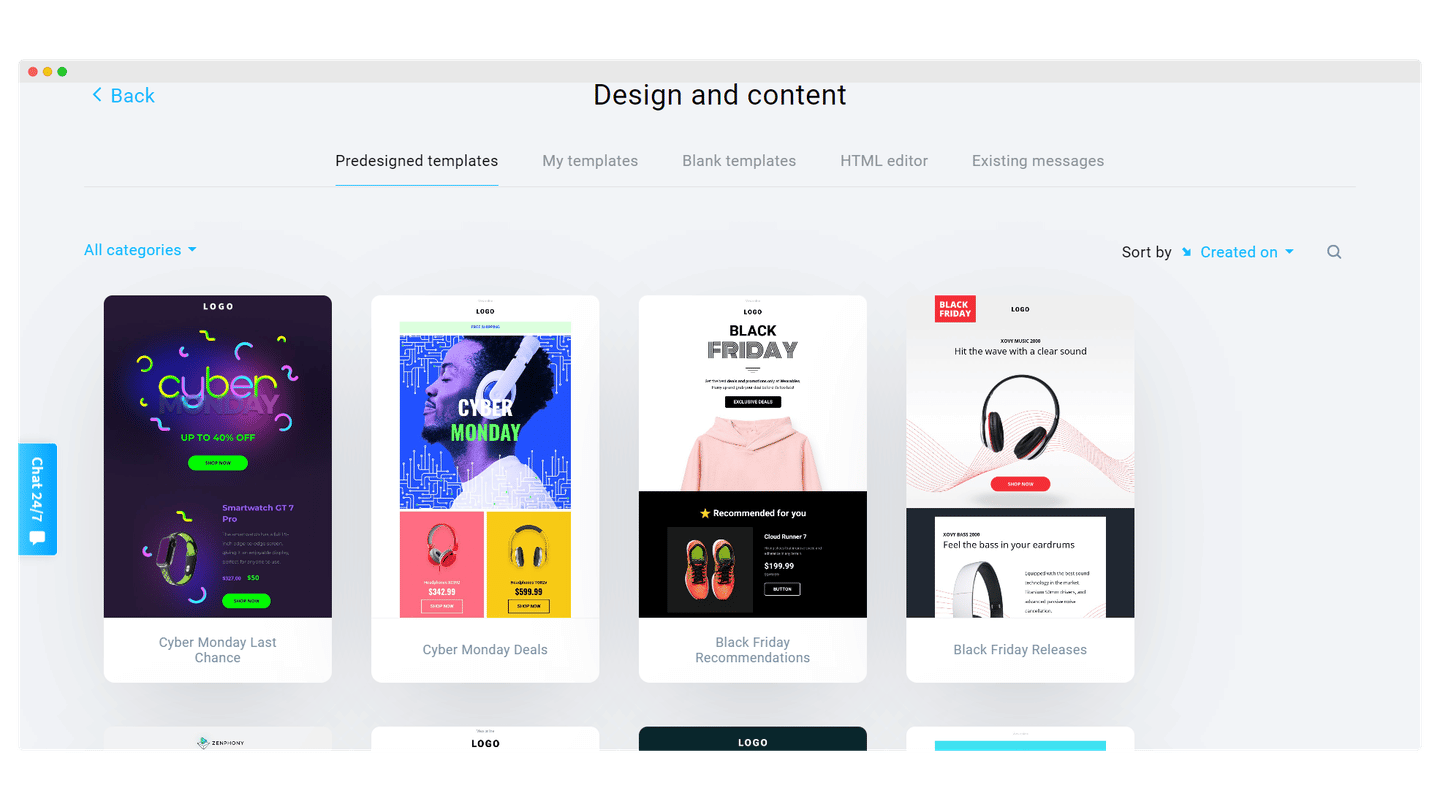 Contact management & segmentation
GetResponse allows you to manage your contacts and segment your campaigns for a better relevance of your mailings. You can create segments based on your customers' characteristics (geolocation for example), their activity or the way they signed up, and then create a personalized campaign for each segment. This allows you to profile each of your subscribers and build the most relevant email campaigns.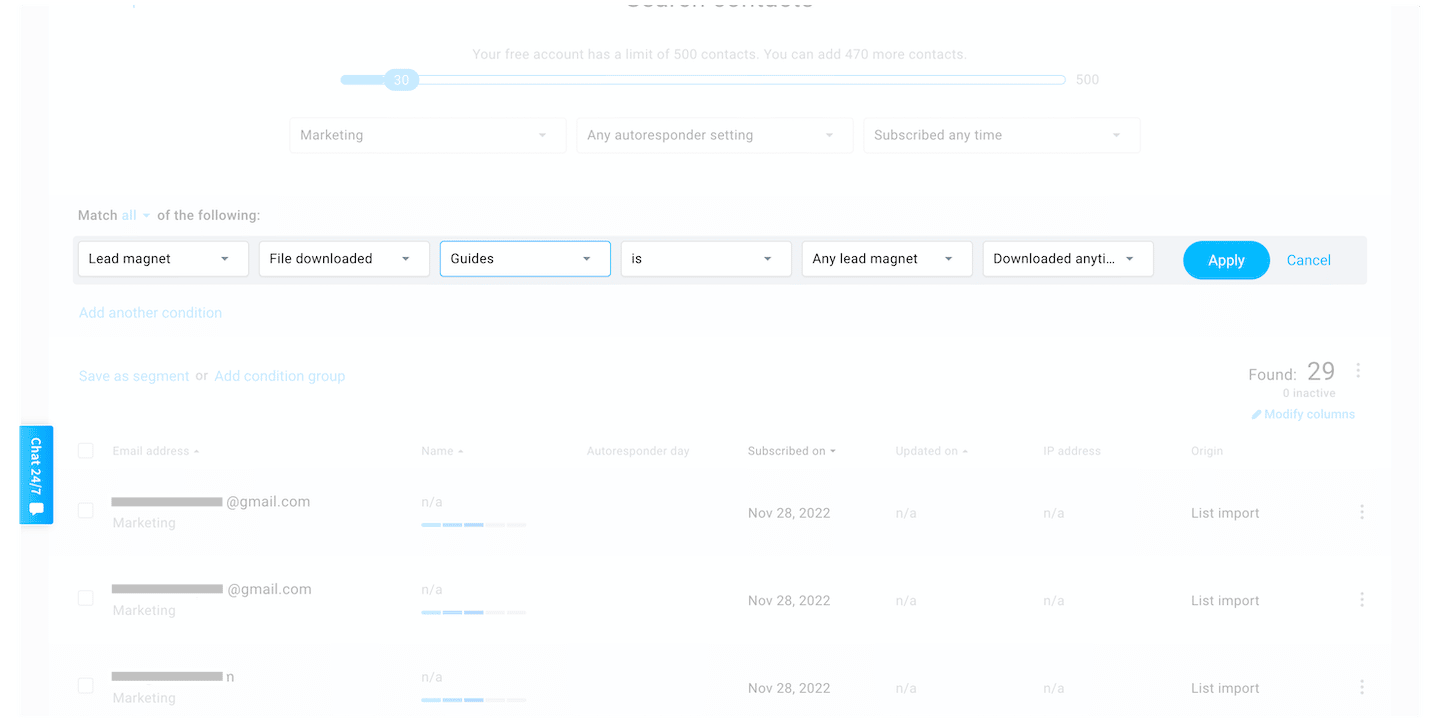 Registration forms, popups, and landing pages
Forms & popups
There are two ways to use forms in GetResponse: you can either add an HTML form that you format yourself, or you can design your form in GetResponse, choosing from a series of templates and adapting them to your site's design. The second solution allows you to add the form to your site using a Javascript code snippet.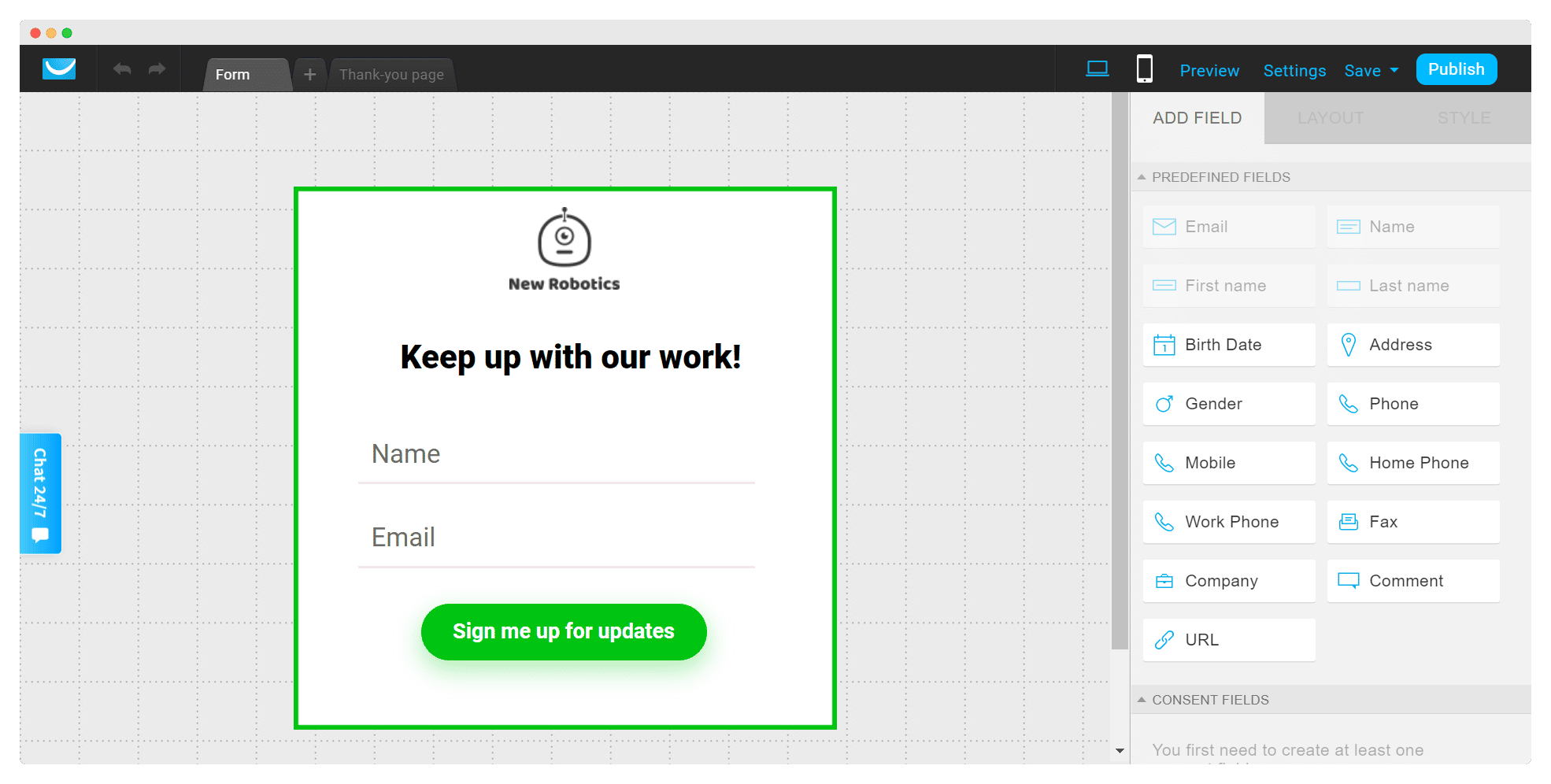 To enter data in GetResponse's standard or custom fields, you can use both HTML forms and Javascript forms. You can also send your contacts an opt-in confirmation message or add users to an autoresponder cycle.
One interesting thing about GetResponse form builder tools is the level of control you have over how your pop-up forms are triggered and to whom you want to address them. You can define what triggers your pop ups (timing, page exits, inactivity…), as well as the number of seconds to wait before displaying them or the devices you want them to be displayed on.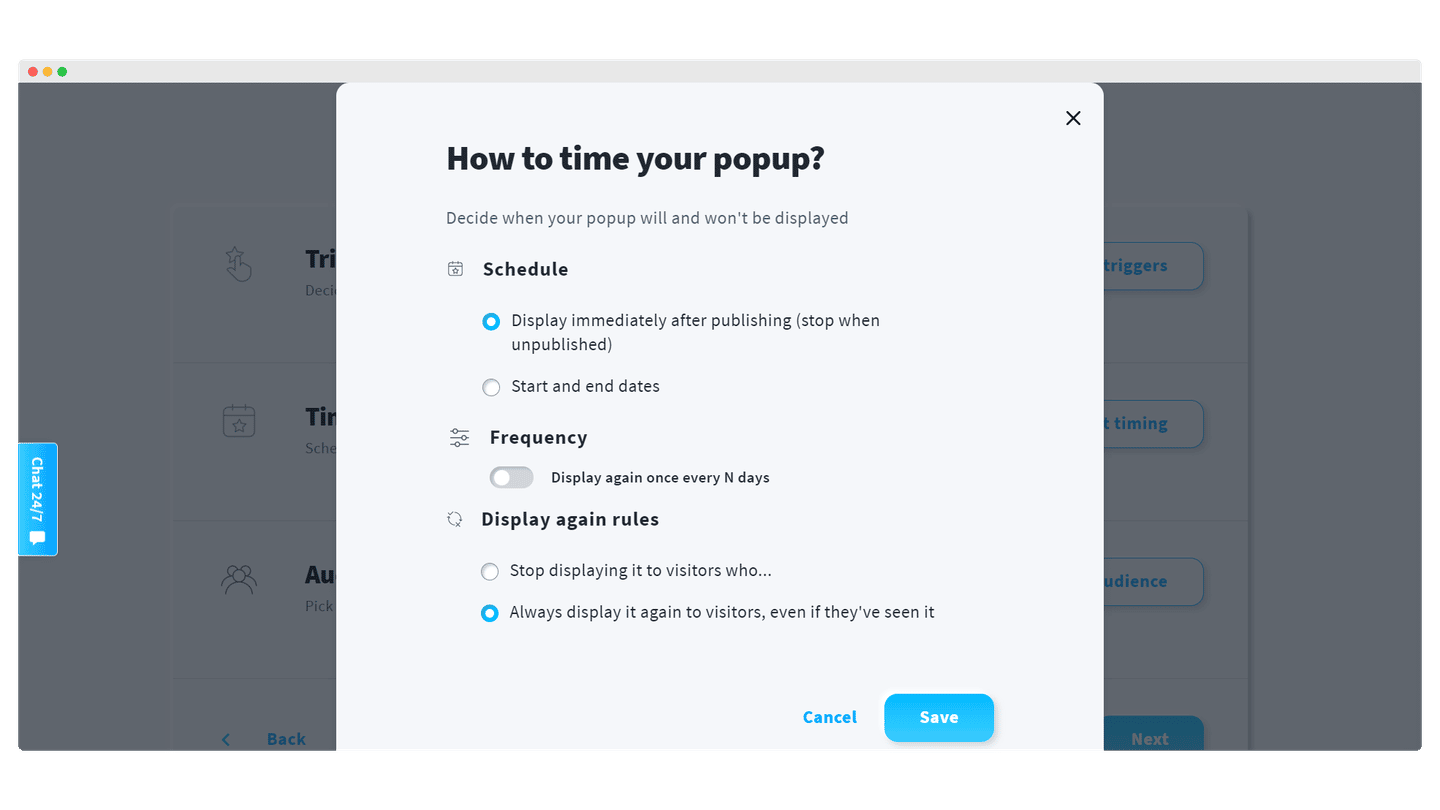 With this feature you can also post promotional codes or encourage your followers to follow your business on social media.
Landing pages
Getresponse also has a landing page generator included for free in all plans. It offers over 200 customizable templates.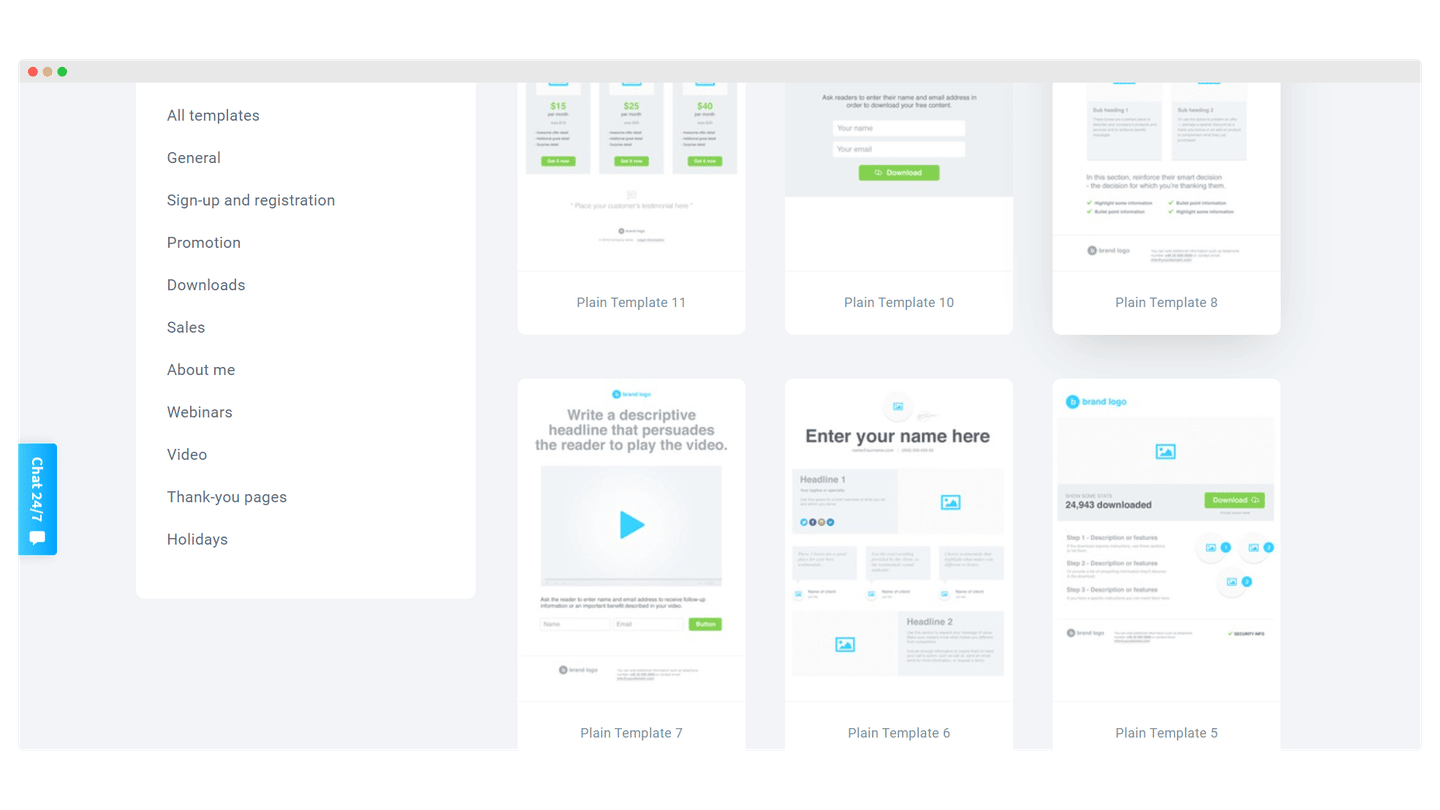 The editing experience is a little different than the email builder. You can create A/B variants from the start, unlimited, as well as forms and thank you pages.
Website editor
GetResponse also offers a website editor that allows you to create a website within the software interface itself and connect it to another domain you own.
The proposed templates are of good quality, numerous (about 125), but the tool remains rather simple and only allows you to create classic and static pages. You can create one website with the "Email Marketing" plan while the "Marketing Automation", "Ecommerce Marketing" and "Max" plans allow you to create five.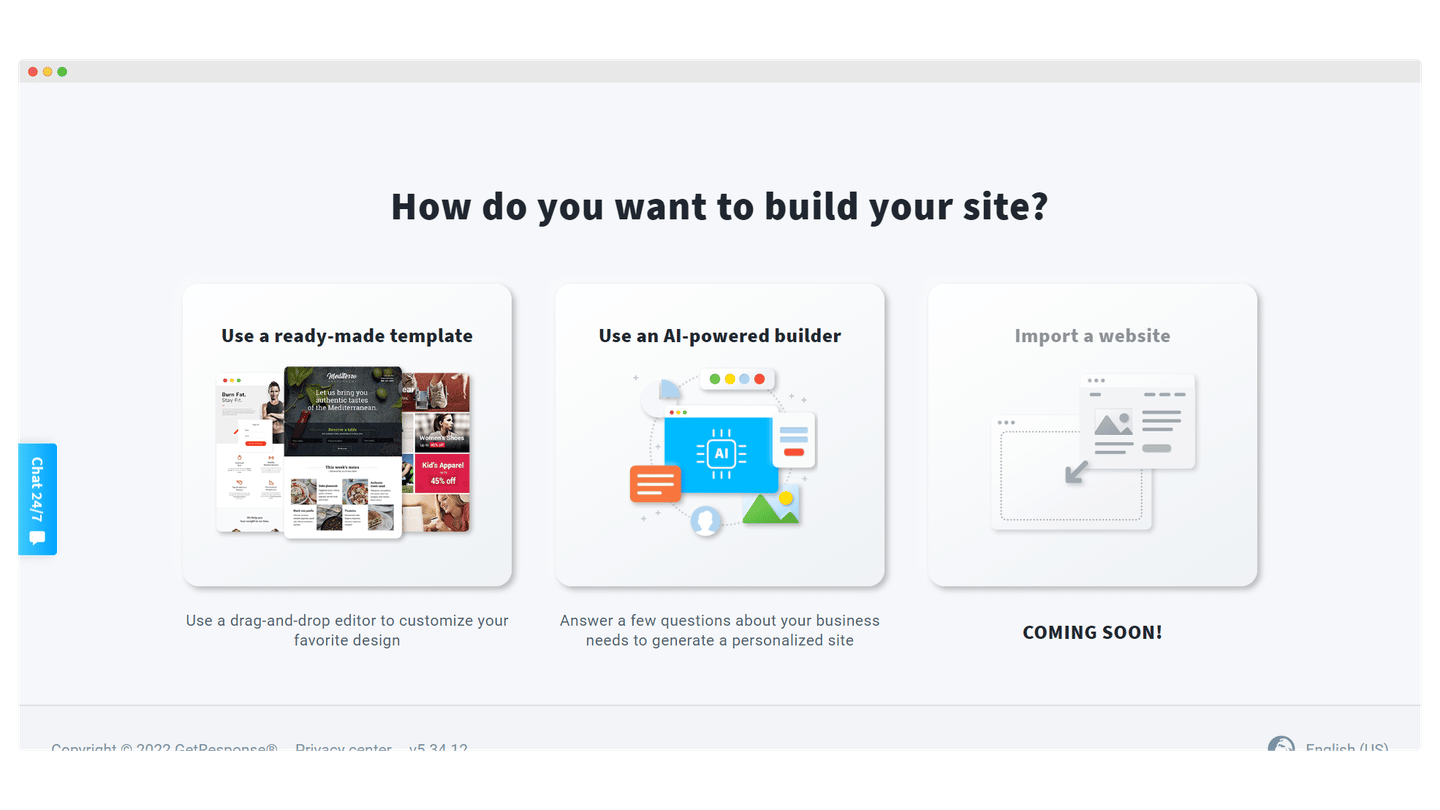 You can also add GetResponse forms very easily. The software is suitable for those who are new to web design and want to create a site in a simple way. But the user experience is still rather unintuitive, and the speed and stability standards of the sites you can create leave something to be desired, especially compared to solutions like Big Cartel, Squarespace or Wix. If you're hoping to create an online store with this tool, you'll be a little disappointed.
But this new feature is still in its infancy, and it's quite possible that it will improve. In any case, having a platform that centralizes website, email marketing and webinars is a very attractive solution, especially for small business owners.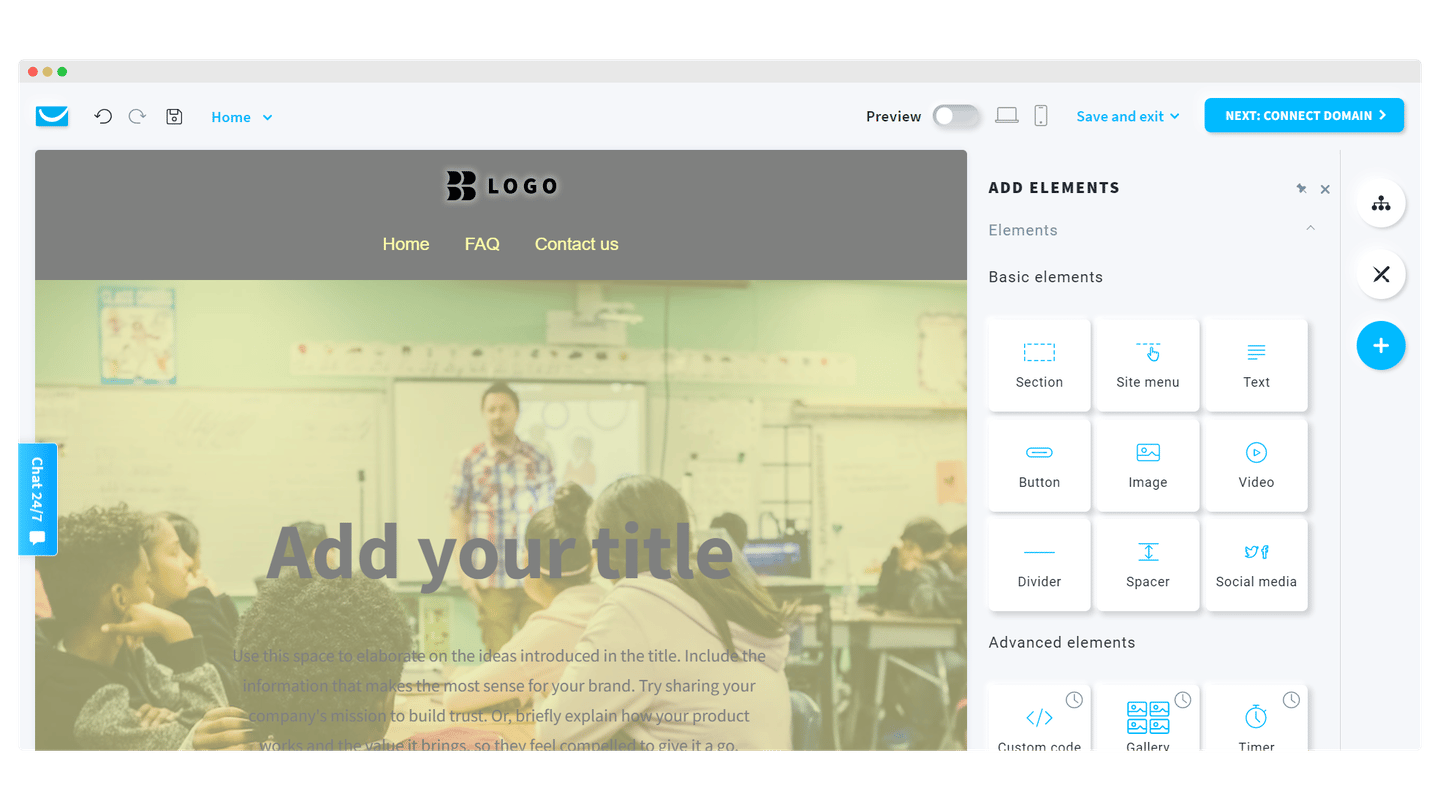 Marketing automation and autoresponders
Autoresponders. They allow you to send emails when one of your contacts does something, for example when they register. You can uncheck the days of the week when you don't want the autoresponder to be sent.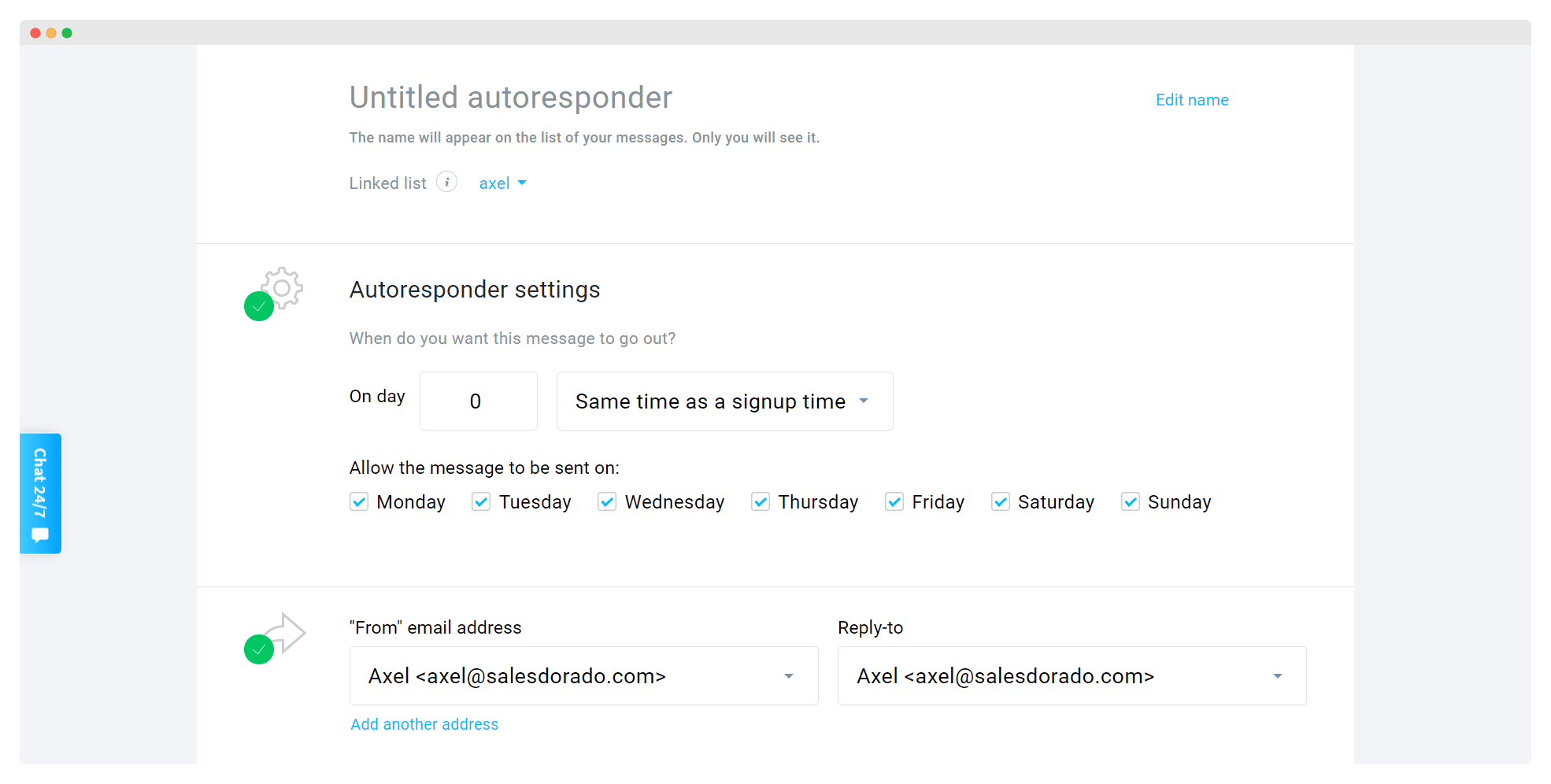 The marketing automation script editor. GetResponse offers brilliant marketing automation solutions that are popular with SMBs, especially with its automated workflows. Several automation templates are available.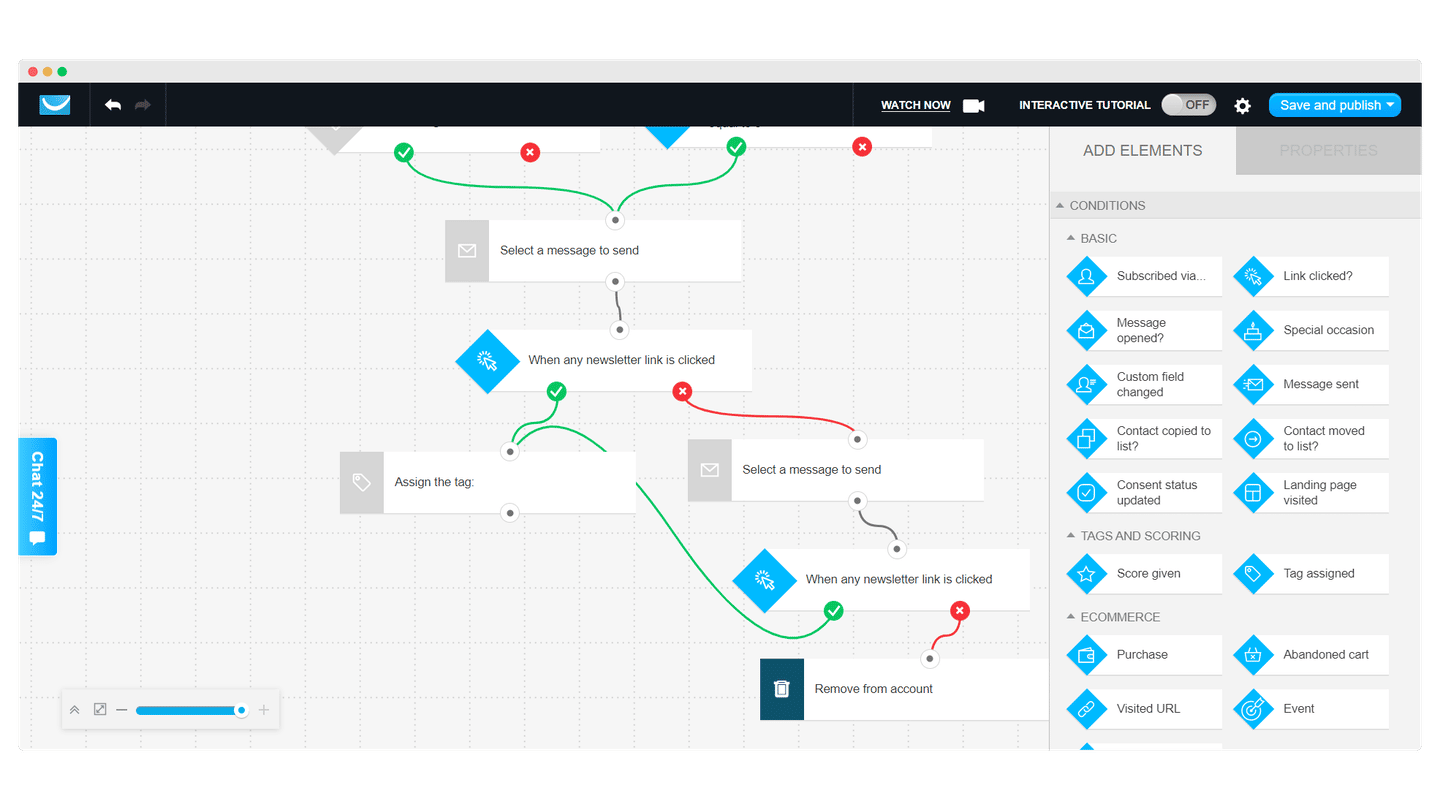 Product recommendation (e-commerce).
GetResponse allows you to import a product feed directly from your e-commerce site(Shopify, Woocommerce, etc) to add products directly into the email. Everything is generated automatically using what is written on the site. The strength of the feature is that you can suggest different products depending on the contact.
The tracking specifically e-commerce allows to reconcile actions taken from emails with conversions on an e-commerce site. We can put euros on an email campaign.
Conversion funnels
Conversion funnels are a unique feature of GetResponse. You can put the pieces together and create a funnel with a guaranteed conversion rate to turn visitors into customers. GetResponse offers several lead magnets that you can use to create your funnel.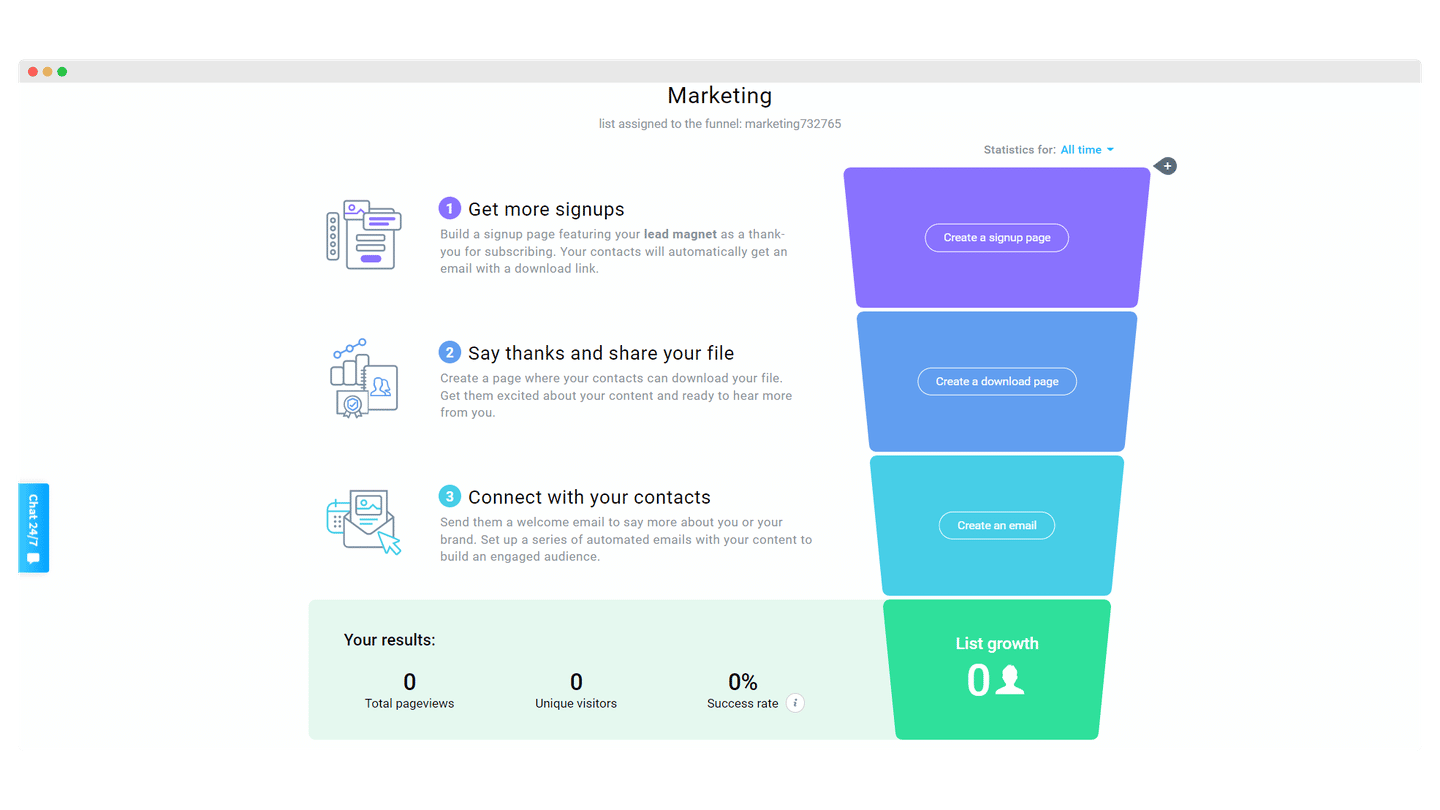 Conversion Funnel takes the guesswork out of high-converting campaigns, which are made up of sign-up forms, landing pages and emails. All you have to do is fill in the blanks and watch the conversions roll in.
Webinars
GetResponse recently started offering to host webinars on their platform. It's convenient for generating leads and revenue.
The prices are quite attractive compared to other webinar solutions like GoToWebinar, especially if you take into account the full marketing features offered by the software.
The interface is very intuitive and the functionalities are very good.
Screen sharing, video sharing, powerpoint uploads or the use of pre-recorded webinars are also very popular.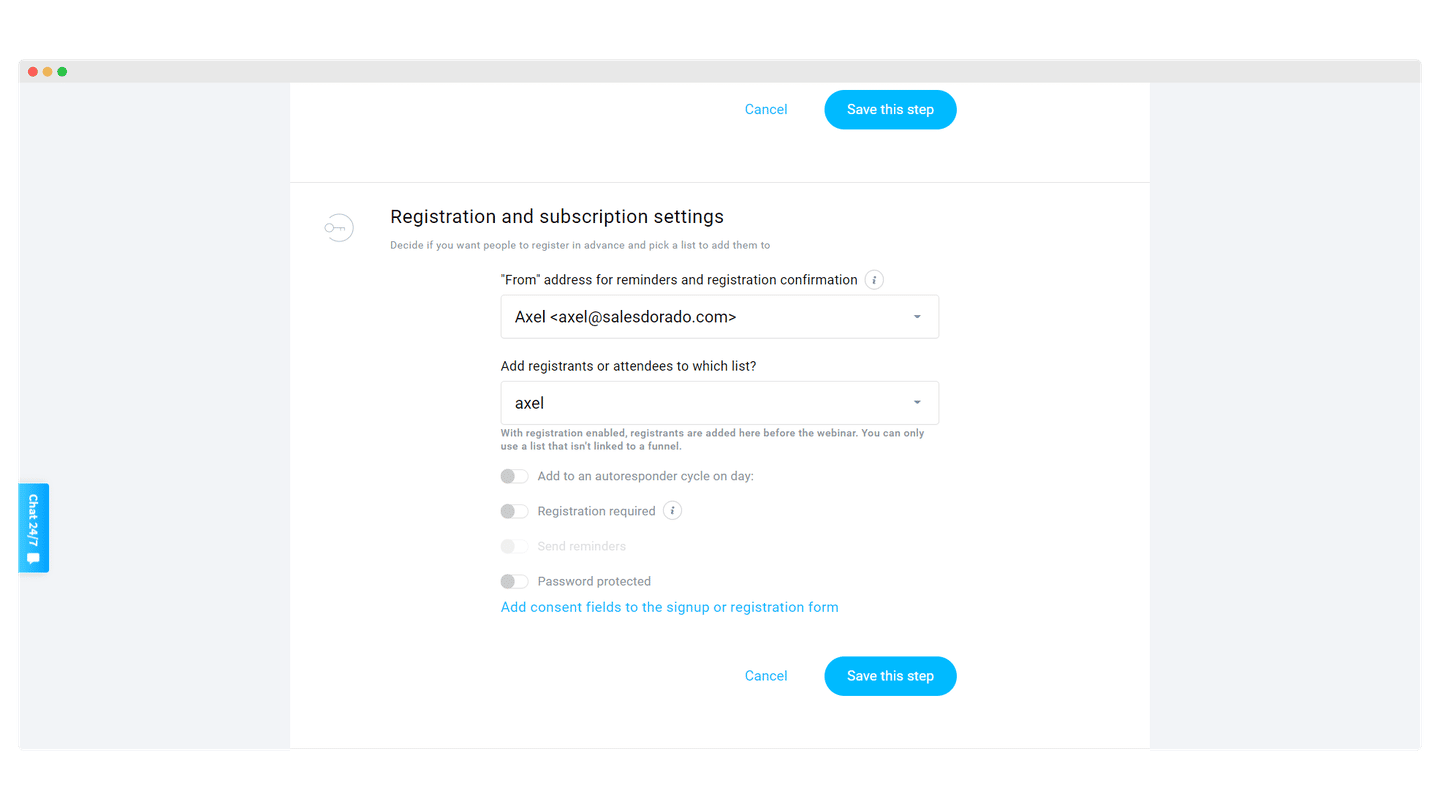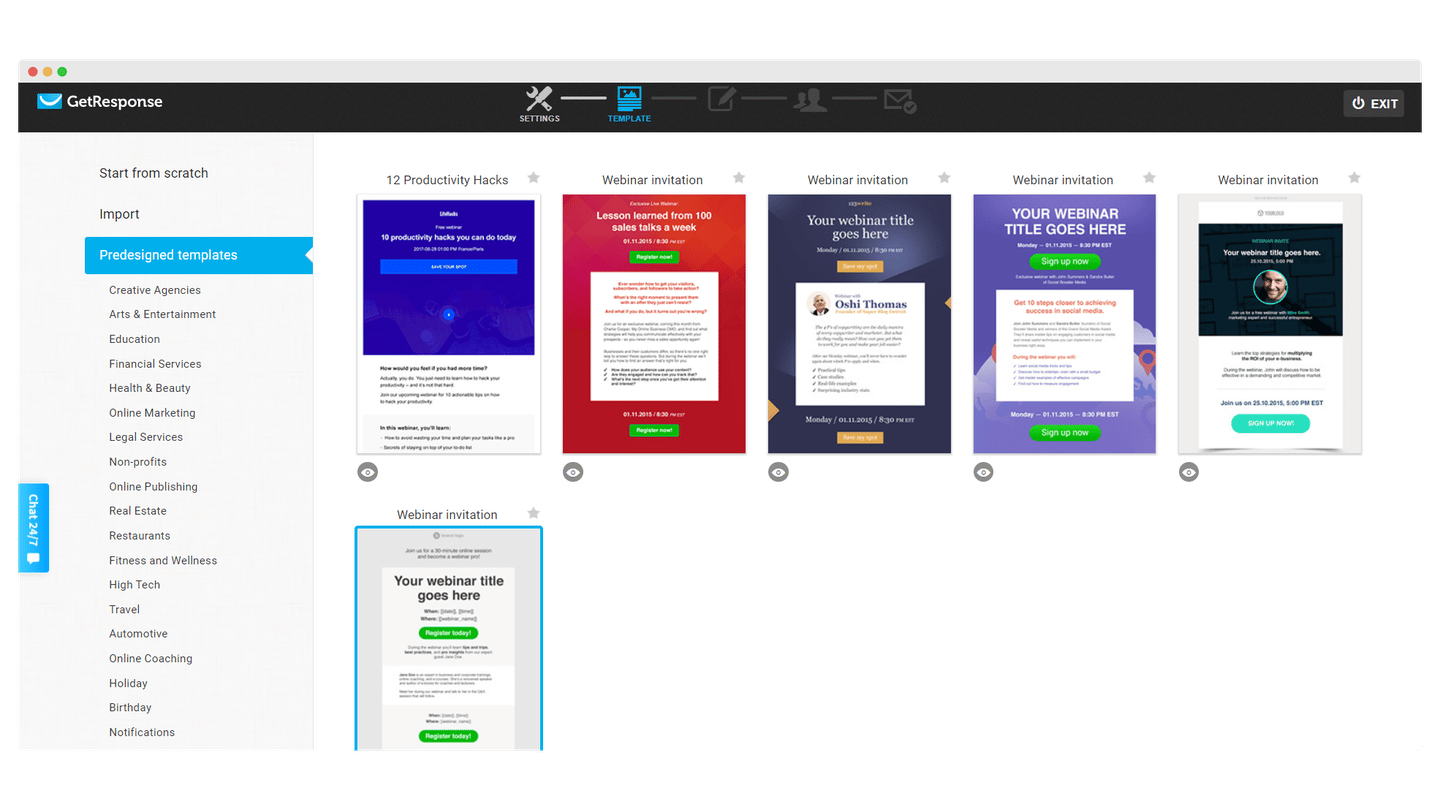 The number of participants is a bit limited, especially with the Marketing Automation plan that sets the limit at 100 participants.
On-demand and paid webinars are only available if you have the Ecommerce Marketing or MAX² plans.
The file storage limits for recorded webinars are not very generous (3 hours storage with the "Marketing Automation" plan, 6 hours with the "Ecommerce Marketing" plan and up to 20 with the "Max2" plan).
But overall, the webinar functionality provided is a very useful feature to have in your email marketing arsenal, and its inclusion as a feature gives GetResponse a significant advantage over its main competitors. The fact that your email list is fully integrated with your webinar delivery tool is a serious plus, and the quality of this functionality is very high.
Live chat
GetResponse also offers live chat functionality to your website, either one you've created via GetResponse's new website creation feature, or your own existing site.
This feature is available on all paid plans, but you can only use it on external websites (those not created using GetResponse's website builder) if you have a Marketing Automation, Ecommerce Marketing or MAX² plan.
This is a very useful feature that can help you increase your conversion and subscription rates if you use it correctly. But, like all such interactive tools, it is likely to slow down the loading time of your pages.
GetResponse also allows you to send push notifications to your subscribers' web browser. The feature is quite sophisticated, but it should be used sparingly as it can quickly become annoying for your subscribers. It is available on Ecommerce Marketing and higher plans.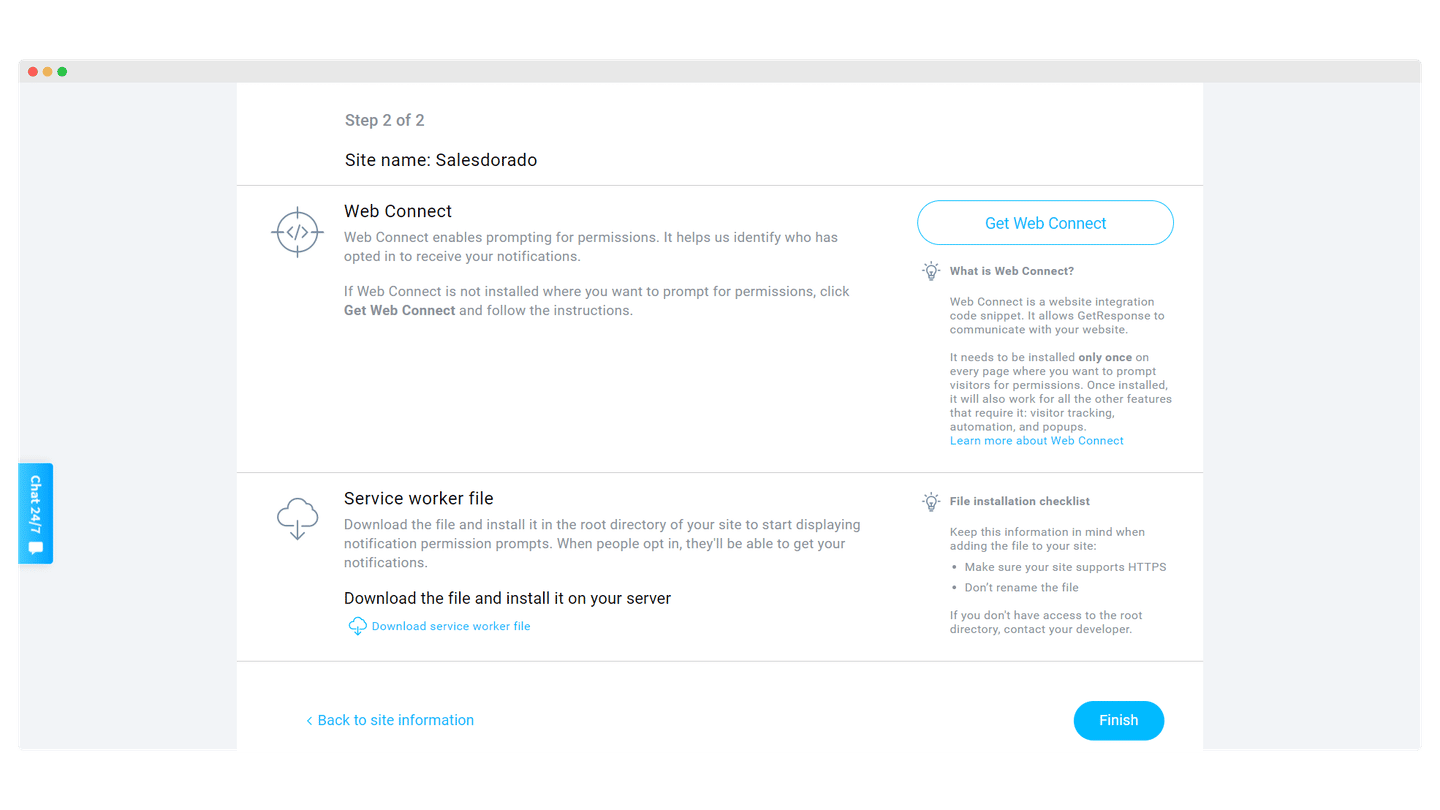 Reporting on GetResponse
GetResponse offers a reporting tool that provides simple information about the deliverability rates of your emails, the open and click rates of your campaigns. More detailed information is also available, such as bounce and unsubscribe rates, or the number of complaints received.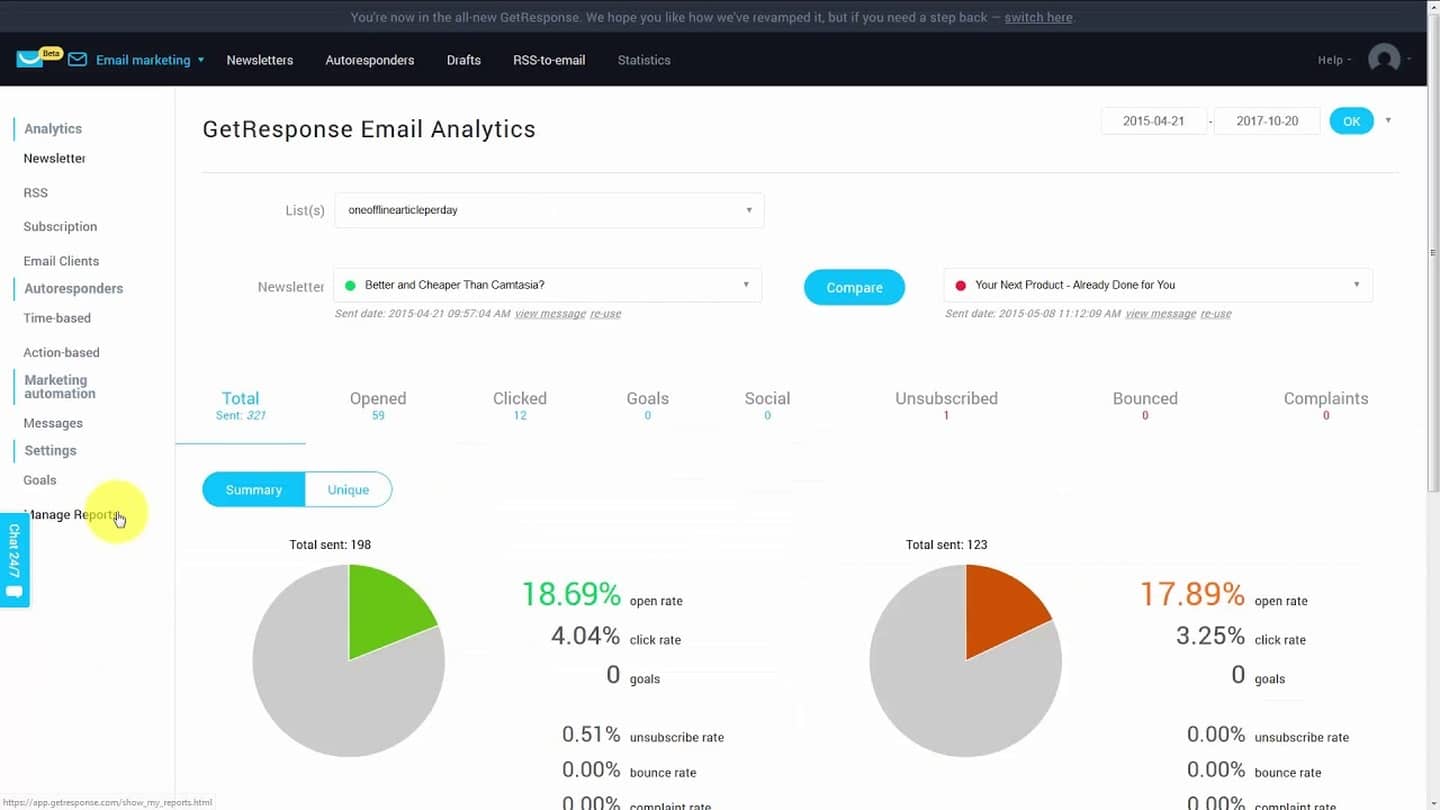 GetResponse: customer reviews
GetResponse has good customer reviews overall. They appreciate its very affordable cost, the simplicity of the software and the features offered, and the great freedom of customization. It is particularly appreciated by email marketing beginners.
Some customers complain about the slow loading of pages or not being able to send emails to recipients with Gmail or Yahoo addresses. Other customers complain about the inefficiency and slowness of the customer support.
Customer support at GetResponse: our opinion
Customer support is available via email and chat, 24 hours a day, 7 days a week, in 8 languages.
The help center is well supplied, and lists resources by category (automation, landing pages, e-commerce, etc.). The articles are available in all the languages offered by the site. Videos are also available.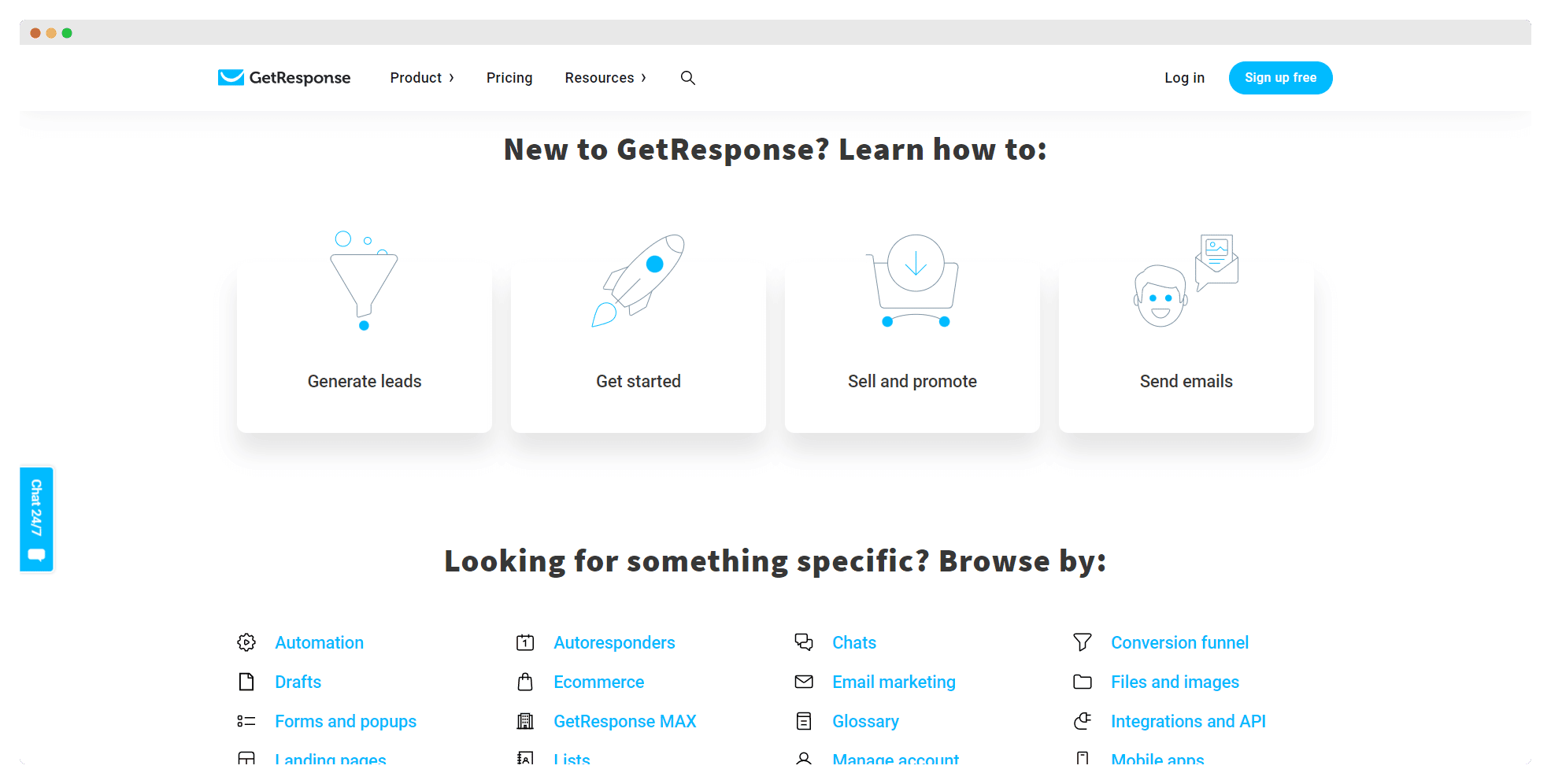 A rather active Youtube channel allows to have additional and very well explained information. The videos are only available in English. Users can also exchange on a private Facebook group, "Landing Page & Funnel Experts", which has more than 12 000 members today. Interactive guides are also available.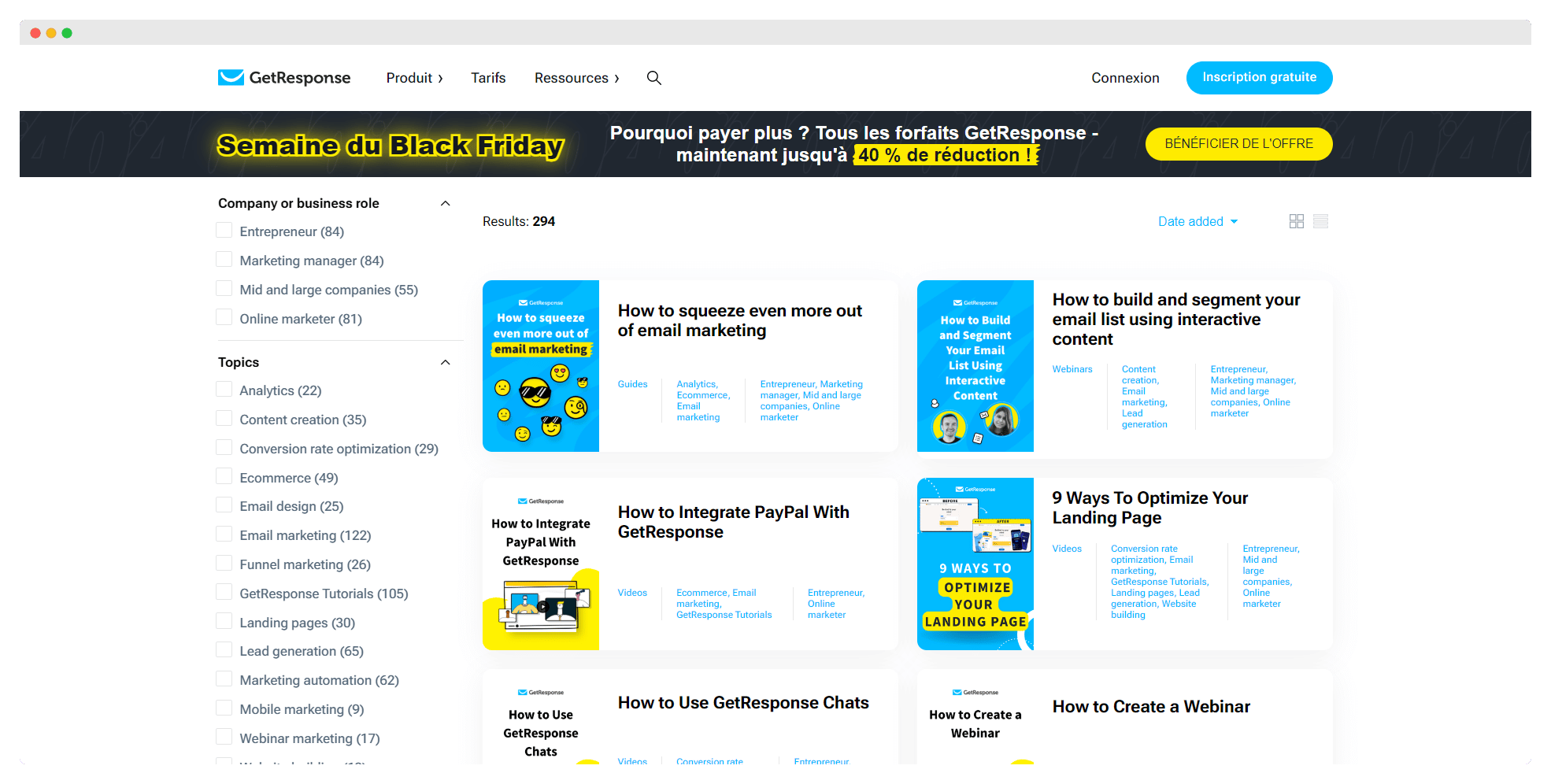 Integrations on GetResponse
The GetResponse MAX² plan provides access to over 100 integrations and synchronizes your tools with an API. It offers its users to build a custom integration, with pricing on demand.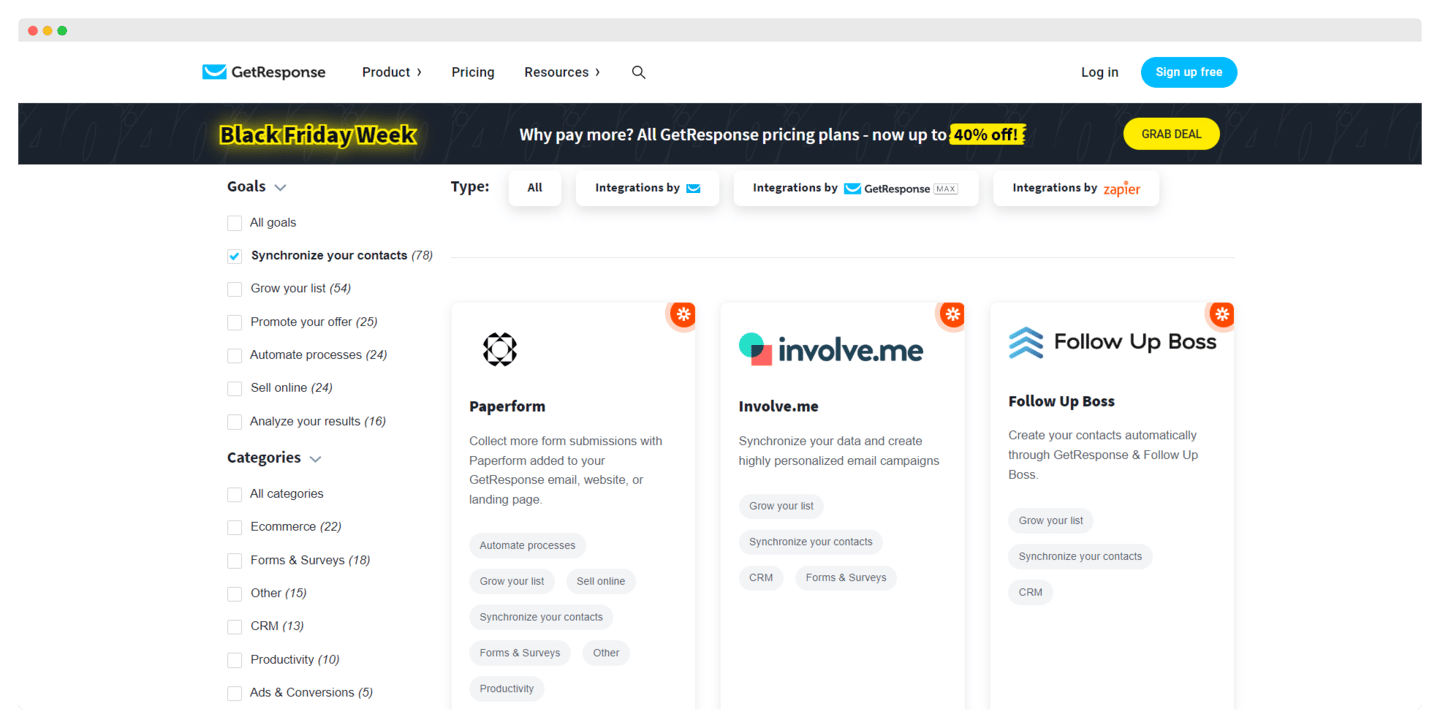 GetResponse: Rates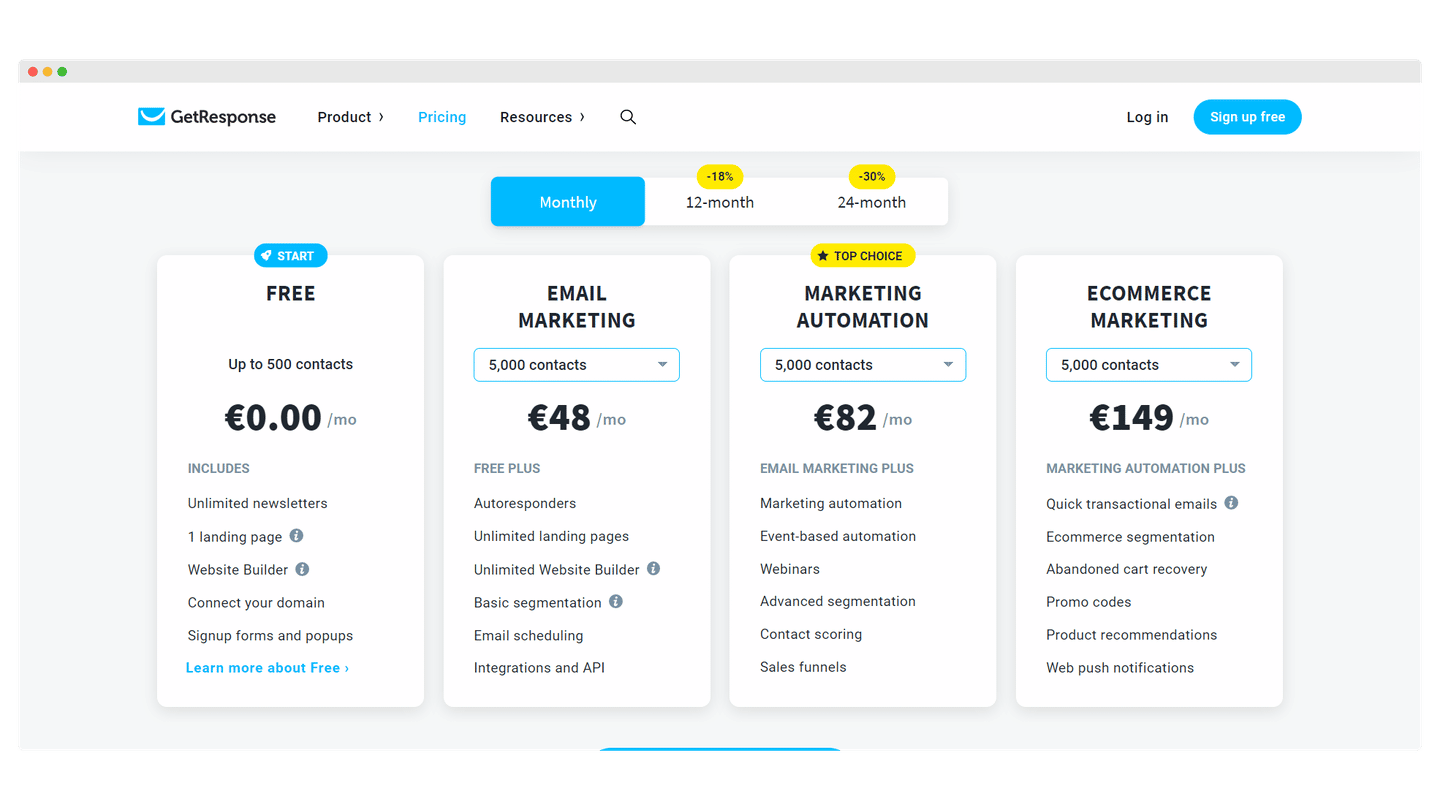 The free plan (forever) allows you to have a list of 500 contacts and a landing page. It also gives access to the form editor, popup editor, and website editor. You can even connect your own domain name (for example salesdorado.com) to customize your website & emails. However, you can't plan your email campaigns, you have to send them yourself.
The Email Marketing plan starts at 16€ / month for 1000 contacts. Count 48€ / month for 5000 contacts. It allows you to plan your campaigns as you wish, and gives access to an unlimited number of landing pages, basic contact segmentation tools, integrations and API. On the other hand, if you want to take advantage of marketing automation you will only have access to autoresponders. For more complex sequences, you'll have to upgrade to higher plans.
The Marketing Automation plan starts at 54€/month for 1000 contacts. For 5000 contacts, the price climbs to 82€/month. It allows you to benefit from automation tools, access to webinars, advanced contact segmentation tools and sales funnels.
The Ecommerce Marketing plan allows, from 149€ / month to have a list of 5000 contacts (106€ / month for a list of 1000 contacts). It allows you to send quick transactional emails, to have access to e-commerce segmentation tools, promotional codes as well as product recommendation and web push notifications.
The MAX² plan allows you to benefit from all of the software's features, unlimited monthly emailing, and offers a personalized rate according to your needs.
GetResponse allows you to try all paid plans for 30 days for free. You can also get an 18% discount for an annual commitment (2 months free), and even 30% for a two-year commitment.
Reader Interactions