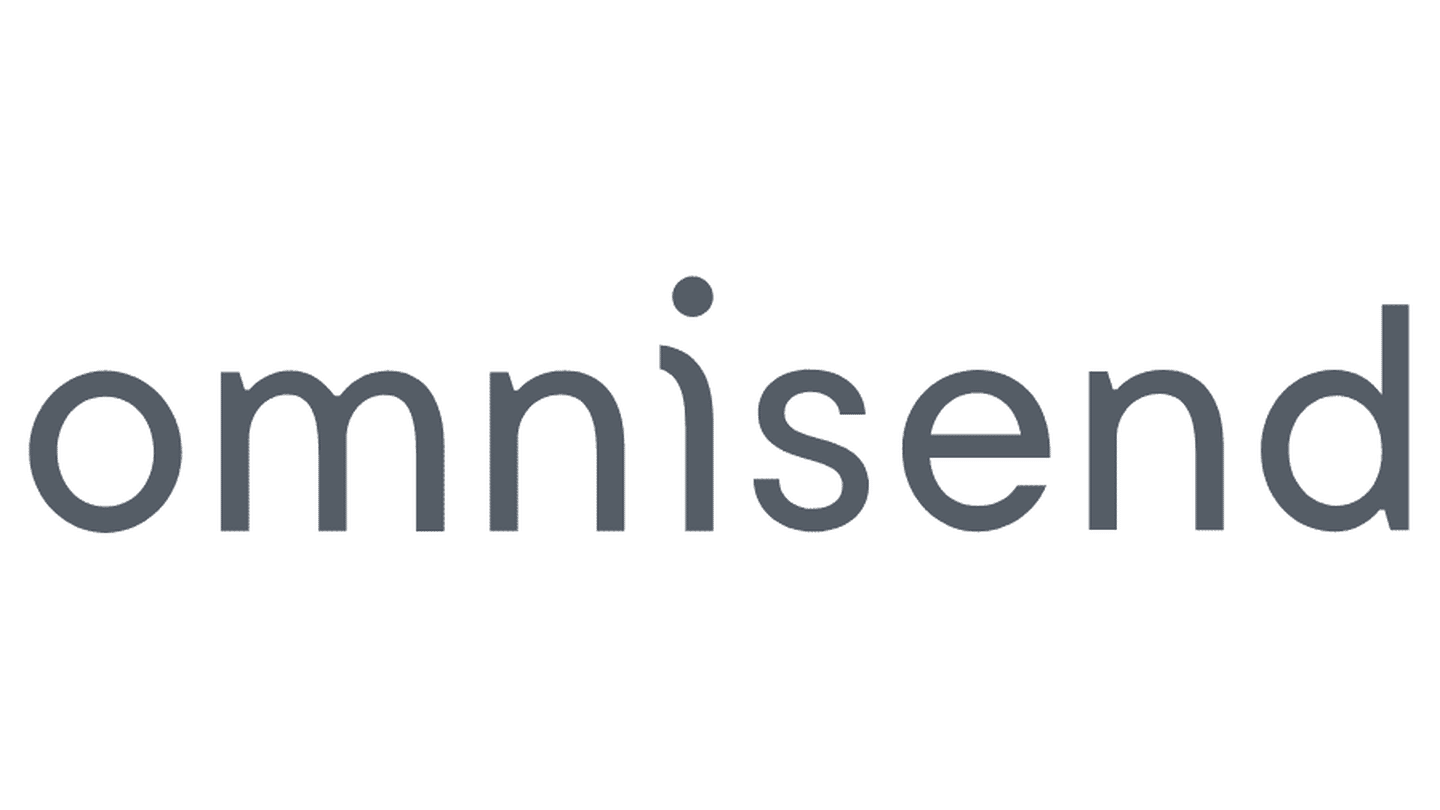 Our review of Omnisend at a glance
Omnisend is a very powerful and easy to use email marketing tool that allows you to create email marketing & marketing automation campaigns . It is a solution designed for e-commerce sites, which offers many integrations and has managed to make a place for itself in the email marketing software and marketing automation tools market.
It allows you to benefit from the classic features of emailing tools (creation of emailing campaigns, marketing automation sequences, conversion newsletter…). The tool is a bit dated overall, especially its reporting features, but it is perfectly suited for those new to email marketing and is quite popular with email marketing andinbound marketing agencies.
In this article, we detail everything you need to know about Omnisend!
Criterion
Note Salesdorado
Comment
Overall rating
When used in its core business – e-commerce on Shopify or BigCommerce – Omnisend is hard to beat. But the tool lacks a little flexibility and performance on the emailing itself
Functional scope
On the e-commerce side, it goes quite far, and it is very successful. But as soon as you try to do something very classical in e-commerce (subscription, webinars, lead magnets, contests, …) Omnisend quickly becomes very limited
Reporting
We regret a little the very "old-school" vision of the reporting, which focuses on conversions and € generated by each campaign, but it is quite successful, and especially the reporting is homogeneous on the 5 channels offered by the tool
Accompaniment/ Support
Omnisend's support has a good reputation, but it is only available in English
Integrations
The integrations are numerous, and sometimes quite original. Omnisend integrates with customer review management, waiting list, affiliate, customer support tools – but again this is almost exclusively in the Shopify ecosystem
Quality-price ratio
Prices are in the high range for emailing software, and in the middle range for marketing automation tools. If you're on Shopify, it studies. Otherwise, you will easily find a more versatile solution at this price
Omnisend's main strengths
The e-commerce integrations are among the best on the market. If you have an online store, Omnisend is an excellent choice. It integrates seamlessly with all popular e-commerce platforms and the email editor includes unique features such as scratch cards, gift boxes and the "Product Picker" feature. It allows you to choose a product from your store and automatically insert it in your newsletter.
The interface and the ease of use of the software: all the users speak about it, and we agree. The tool is super intuitive, it's well put together, and everything is done to simplify the user experience as much as possible.
The available channels allow you to go quite far, even if they are very e-commerce oriented. Omnisend allows to exploit 5 channels: email marketing, SMS, push notifications, and retargeting on Google and Facebook. It's a very e-commerce oriented channel-mix but it allows you to go very far in marketing automation.
The disadvantages of Omnisend
The tool is still quite new. The software was born in 2014 under the name Soundest and exploded from 2018 – 2019, especially with a particularly successful Shopify integration. The disadvantage is that the product is still evolving a lot, and some users are sometimes a little disappointed with the updates and the lack of communication on these new features, especially in terms of prices which sometimes increase a lot from one year to the next.
The other disadvantage of such a young solution is its reputation and its ability to fight against SPAM. The deliverability tests are not worth much, but overall we are not very surprised to read that some users had problems to deliver on such a young platform.
The e-commerce angle is clearly assumed and that's fine, but the solution is not very versatile. When we know that more and more e-retailers are turning to subscription as a growth lever, it calls into question the old-school product vision that over-values last-click conversions as in the early days of e-commerce, rather than first-click LTVs. Even Google Analytics has made the shift with GA4, and we haven't seen the shift at Omnisend (yet?).
Omnisend: ideal for e-commerce pure-players on Shopify
Omnisend is hyper efficient and clearly deserves a place on your shortlist if you are looking to equip a 100% online merchant on recent solutions like Shopify or BigCommerce.
On the other hand, if you go outside this framework, Omnisend lacks a bit of flexibility, integrations with more traditional CMS, with the main CRMs on the market or even with analytics tools are much less successful.
More established and generalist emailing software like Sendinblue, ActiveCampaign, and even Klaviyo or Hubspot (heavier though) will be much easier to use.
Omnisend's functional scope: e-commerce as a priority
Send email marketing campaigns
The email editor is a very easy to use tool with many customization options. It does not require any particular technical skills, thanks to its "drag and drop" interface. The software offers several email templates that you can customize yourself.
Because of Omnisend's e-commerce focus, there are more content block options than in most email marketing services. It's mainly elements specific to stores (product lists, "Product Picker" functionality, price discount blocks…).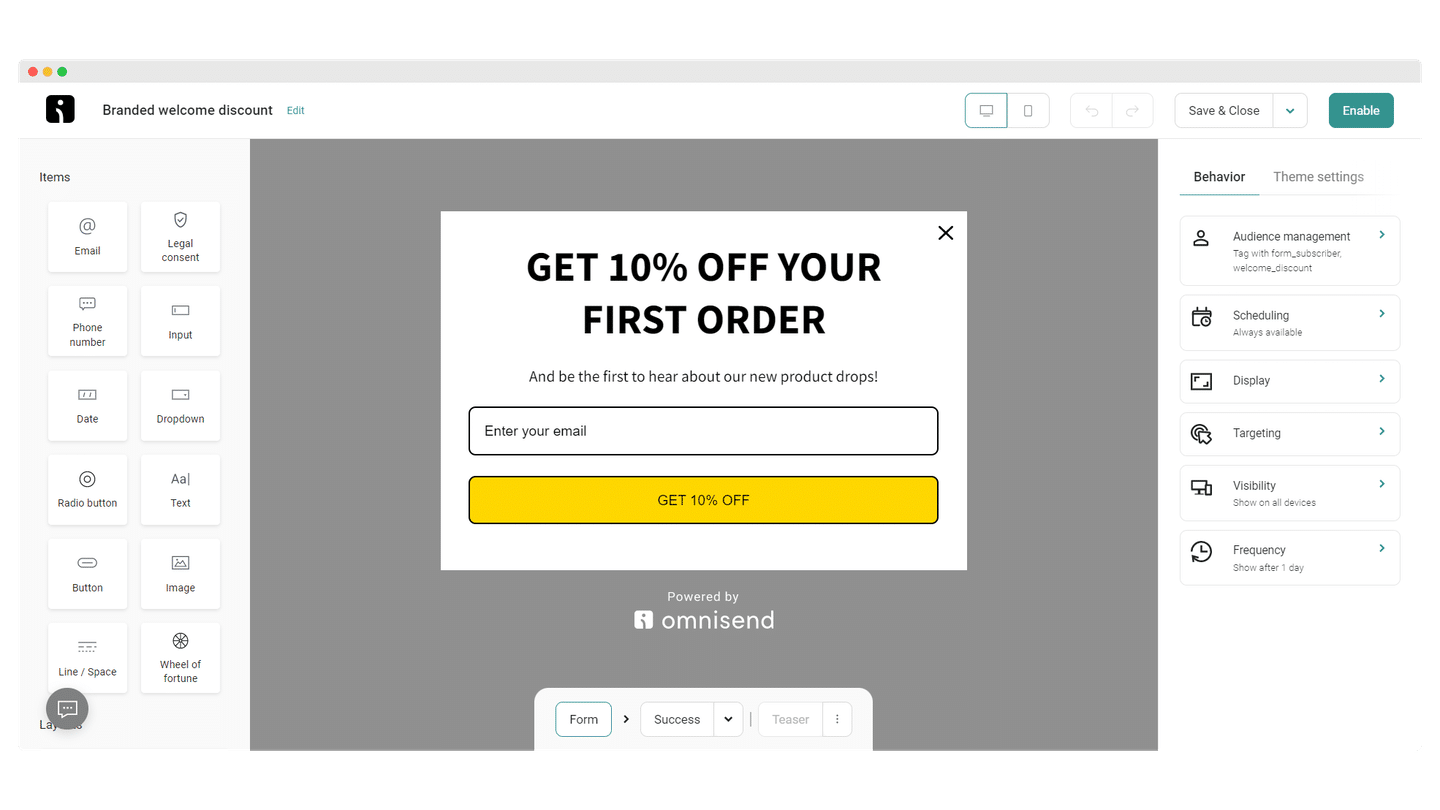 The software does not provide a library of stock images, but offers a wide range of image editing features. You can also configure your emails so that certain content appears or not depending on the identity of the recipient or on certain actions he performs.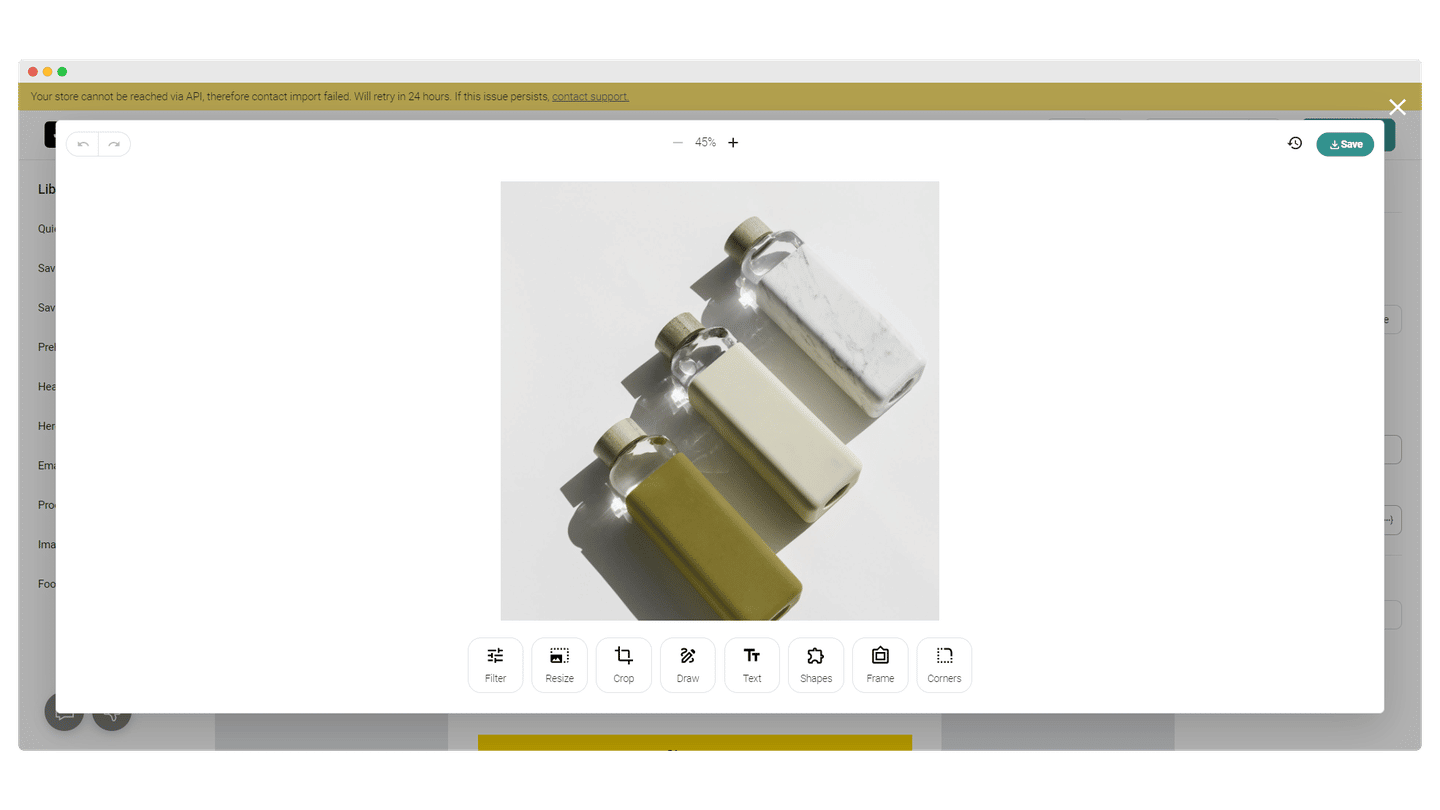 Omnisend also allows you to use your own company's details, which are listed in the "Account" section. This is especially useful if you manage a company in different countries to send emails with relevant data. It also offers product recommendations and A/B testing.
Contact management & segmentation
Omnisend provides an intelligent intelligence tool about your users that is quite interesting. It offers both data analysis, insights and segmentation capabilities. Reports provide key information on customer lifecycle stages, retention analysis, funnels and product analysis.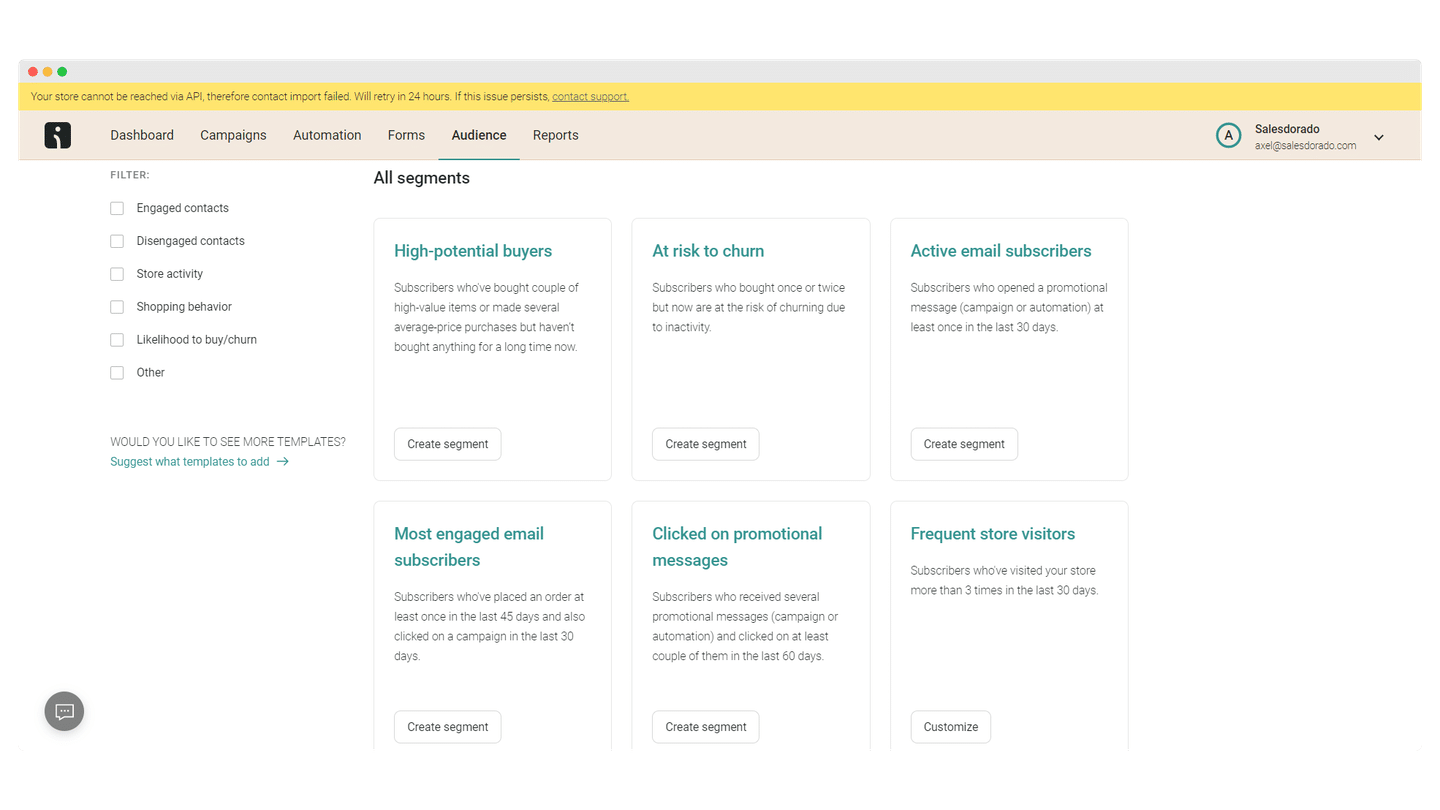 The software also provides analytics that allow you to identify which products are most likely to attract new customers, or which products are often abandoned in shopping carts. This is especially useful for customizing your automated workflow while taking into account your customers' preferences.
Omnisend offers another particularly useful feature: the software health check option. It compares your brand's overall performance to industry competitors in customer retention, campaigns, workflows, cart abandonment, and sign-up forms, using the last 30 days of brand data.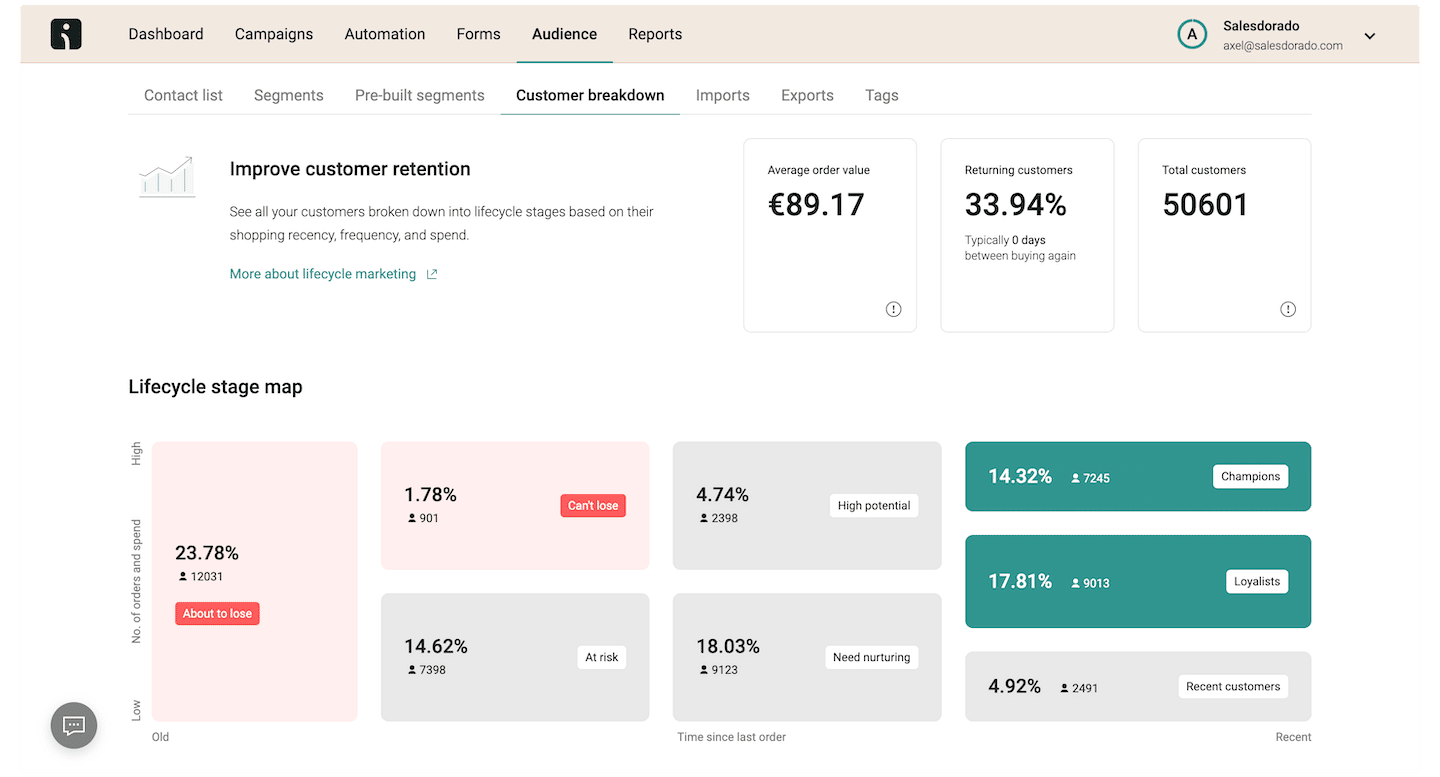 Registration forms, popups, and landing pages
Omnisend offers many different models. The form builder is quite intuitive and allows you to drag and drop content items directly onto the template. You can also define the tagging of contacts in the Form Builder options. It also offers registration forms, cross-selling and promotions.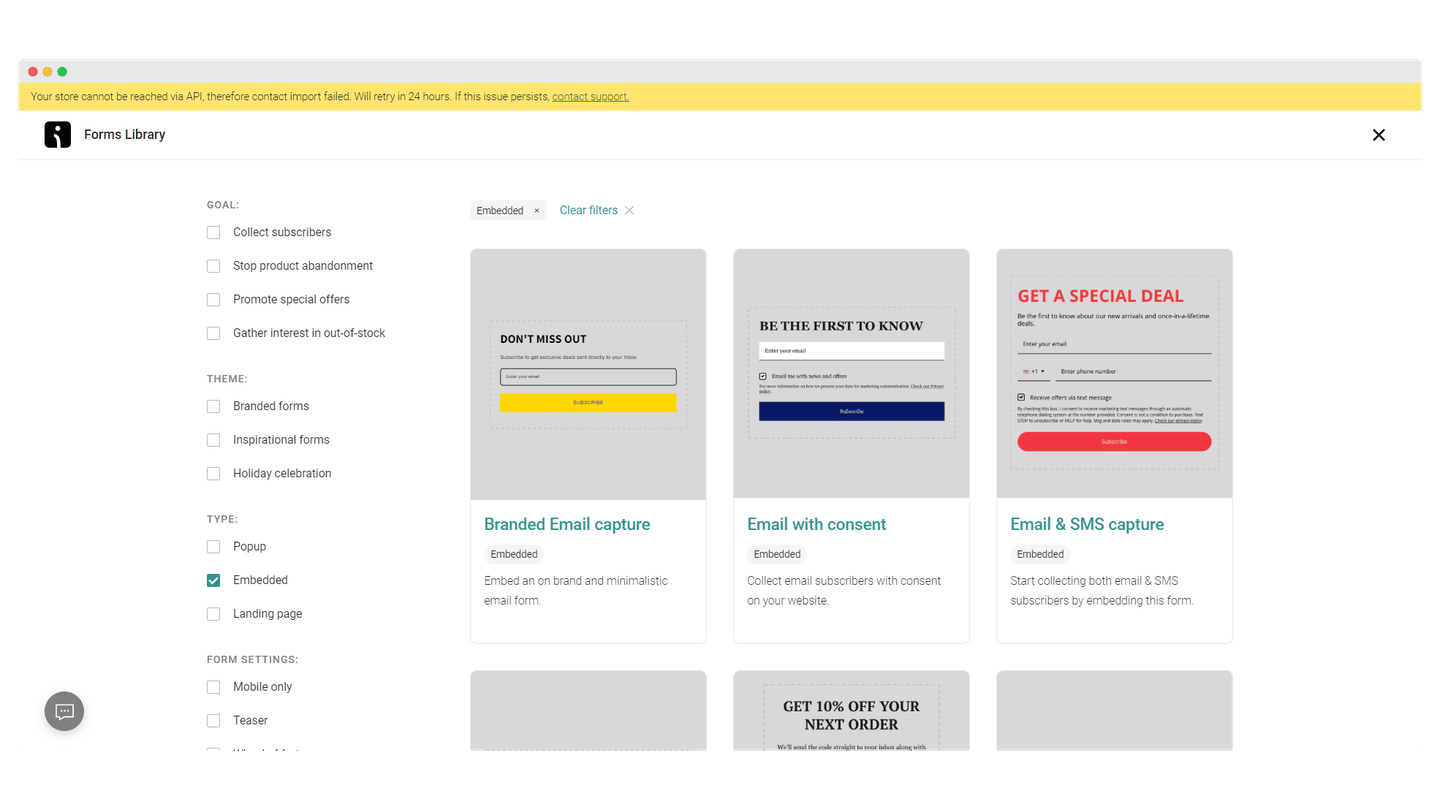 Marketing automation
Omnisend offers extensive automation functionality options. They are available on all plans, even the free ones. That puts it on par with its competitor Sendinblue, which offers a very generous free plan. You have access to 33 workflow templates.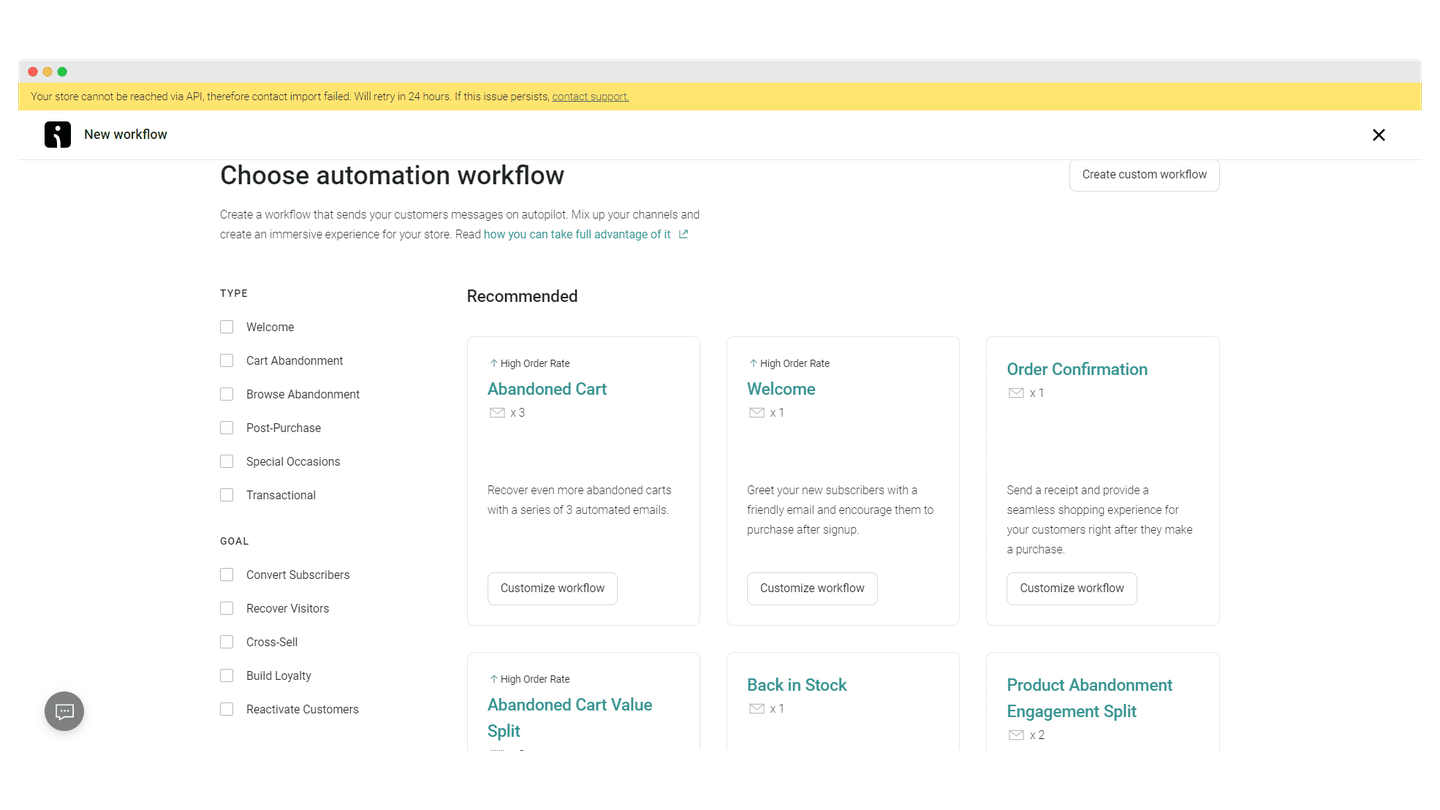 Since it is heavily focused on e-commerce, it offers very strong sales automation options. It offers classic features (sending follow-up emails after a product is purchased, recommending personalized products based on purchase history), but also set up A/B test automation to test different time frames before holding out the cross-sell carrot – do most customers bite after a day, a week, two weeks? This is particularly effective if you don't plan to useinbound marketing tools but still want to maintain customer relationships and build loyalty.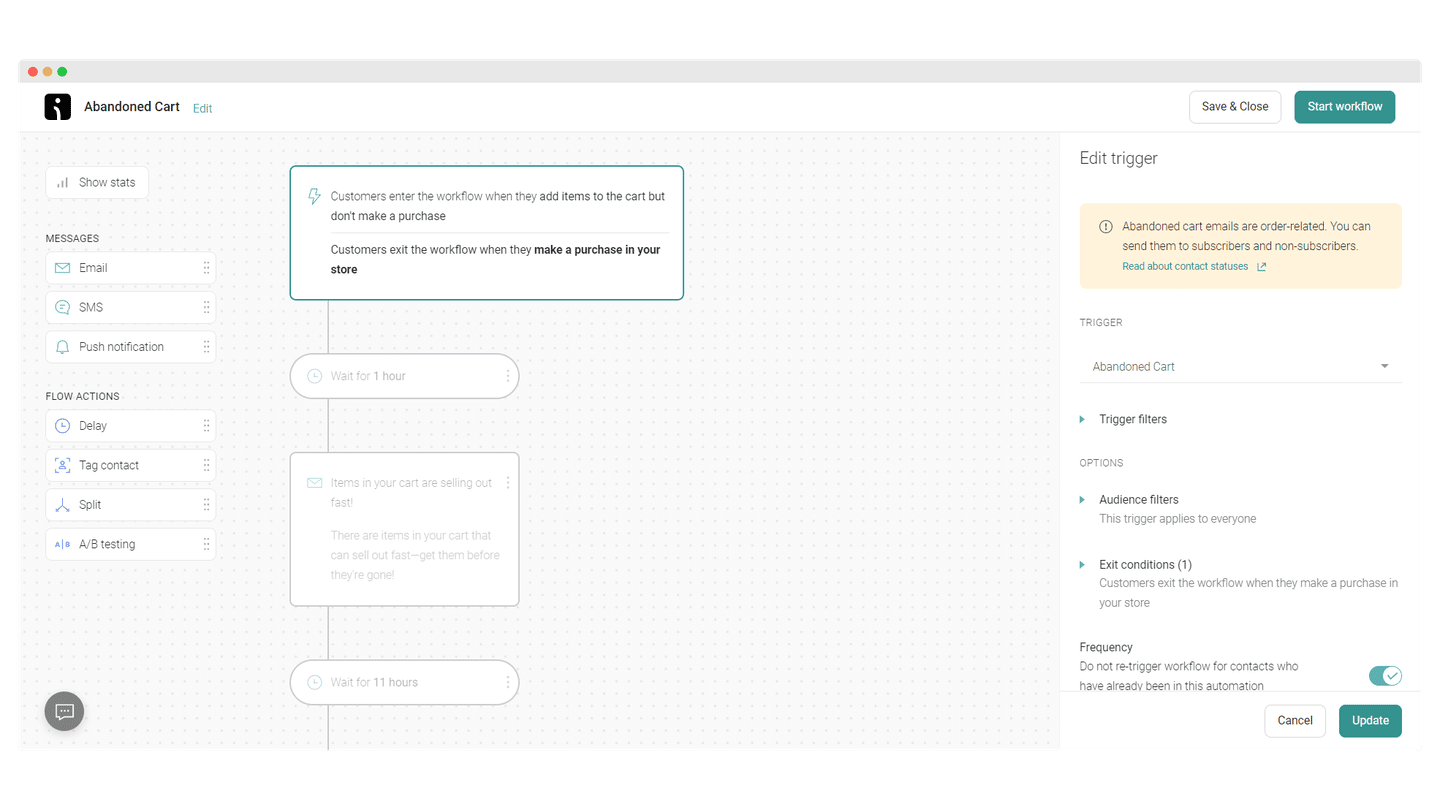 Omnisend does not allow you to automate the management of your lists or segments like some marketing automation agencies, but it does offer to automatically add labels to contacts. It allows you to add to a list the contacts who didn't take the bait when you tried to get them to retrieve an abandoned cart for example. You can then use this information to create market segments.
Discover Omnisend
Take advantage of Omnisend's features!
Reporting on Omnisend
Omnisend offers very clear reports and provides comprehensive information about your campaign open and click rates, revenues, unsubscribes, etc. It also allows you to track your sales on multiple channels (email, SMS, push notifications).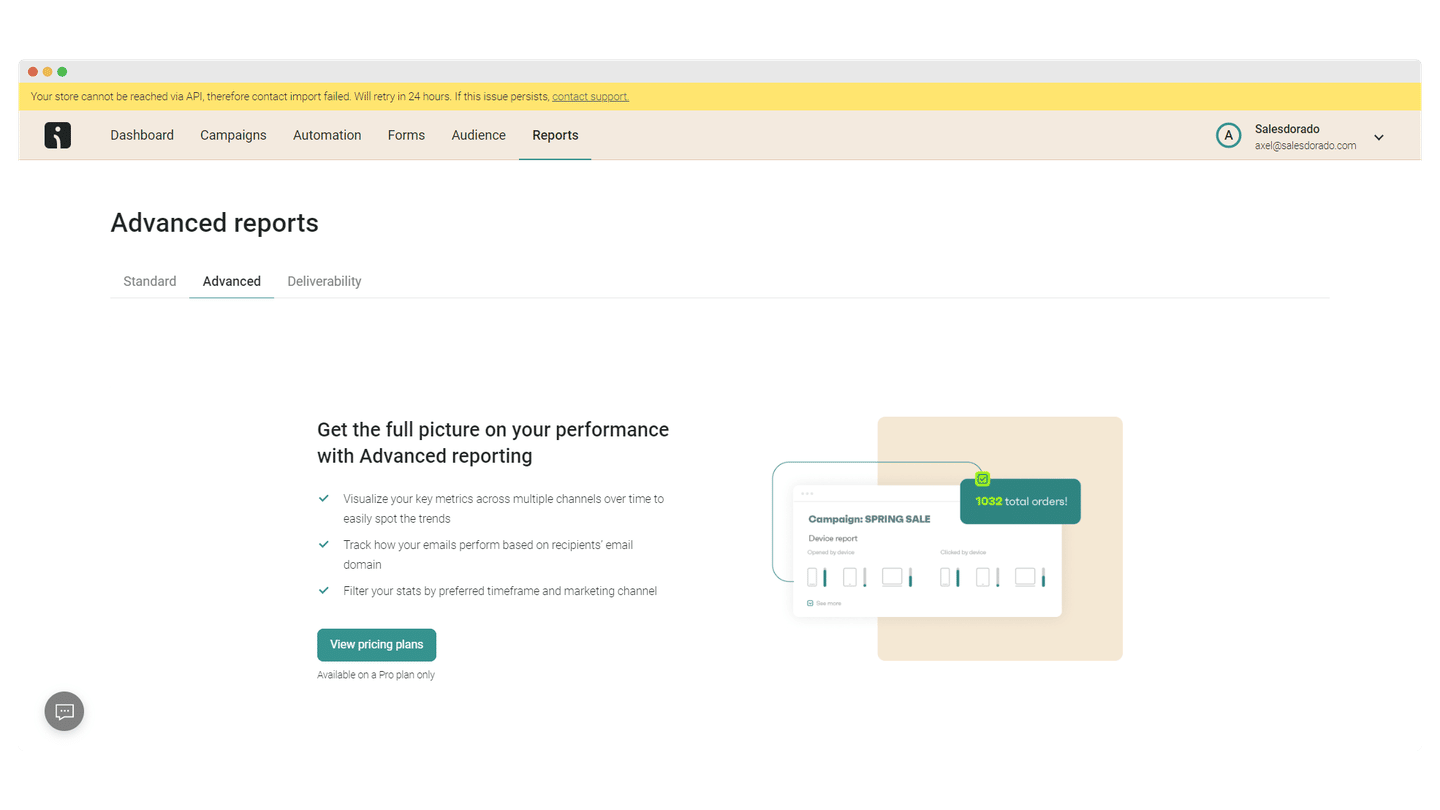 A new feature offers a lifecycle map that highlights contacts that need to be nurtured, those that are at risk, those that are loyal customers, etc. A customer retention report also provides in-depth analysis of the behavior of your most loyal customers. This is especially useful for adjusting your campaign strategies and customer journeys to maximize your customer numbers.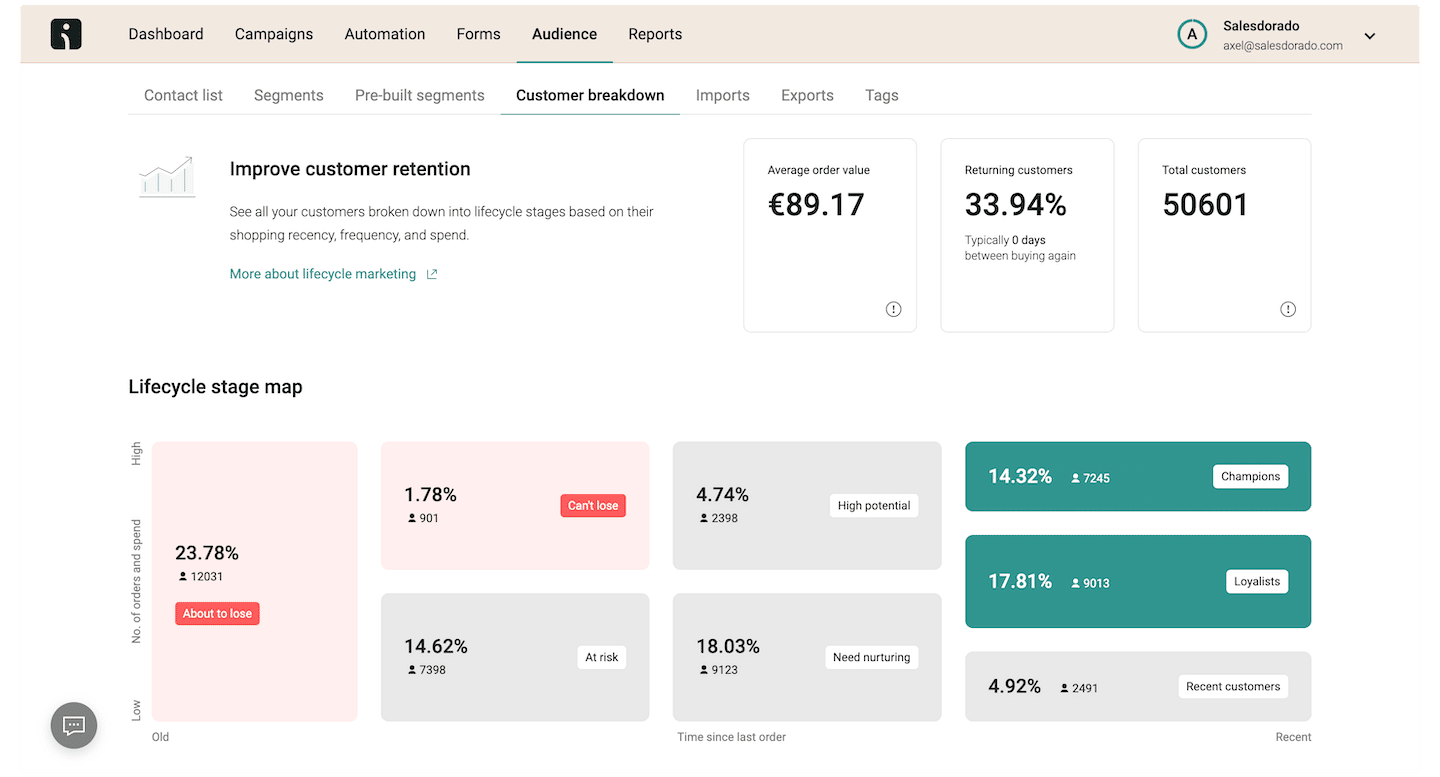 Discover Omnisend
Take advantage of Omnisend's features!
Omnisend : customer reviews
Omnisend has good customer reviews. They appreciate its ease of use, the design of the tool and the email templates offered. The "Product Picker" feature is also very popular.
Some customers find the solution a bit limited and insufficient for those with more experience in email marketing. Others regret that it is not possible to integrate multiple stores on a single platform.
Discover Omnisend
Take advantage of Omnisend's features!
Customer support at Omnisend: our opinion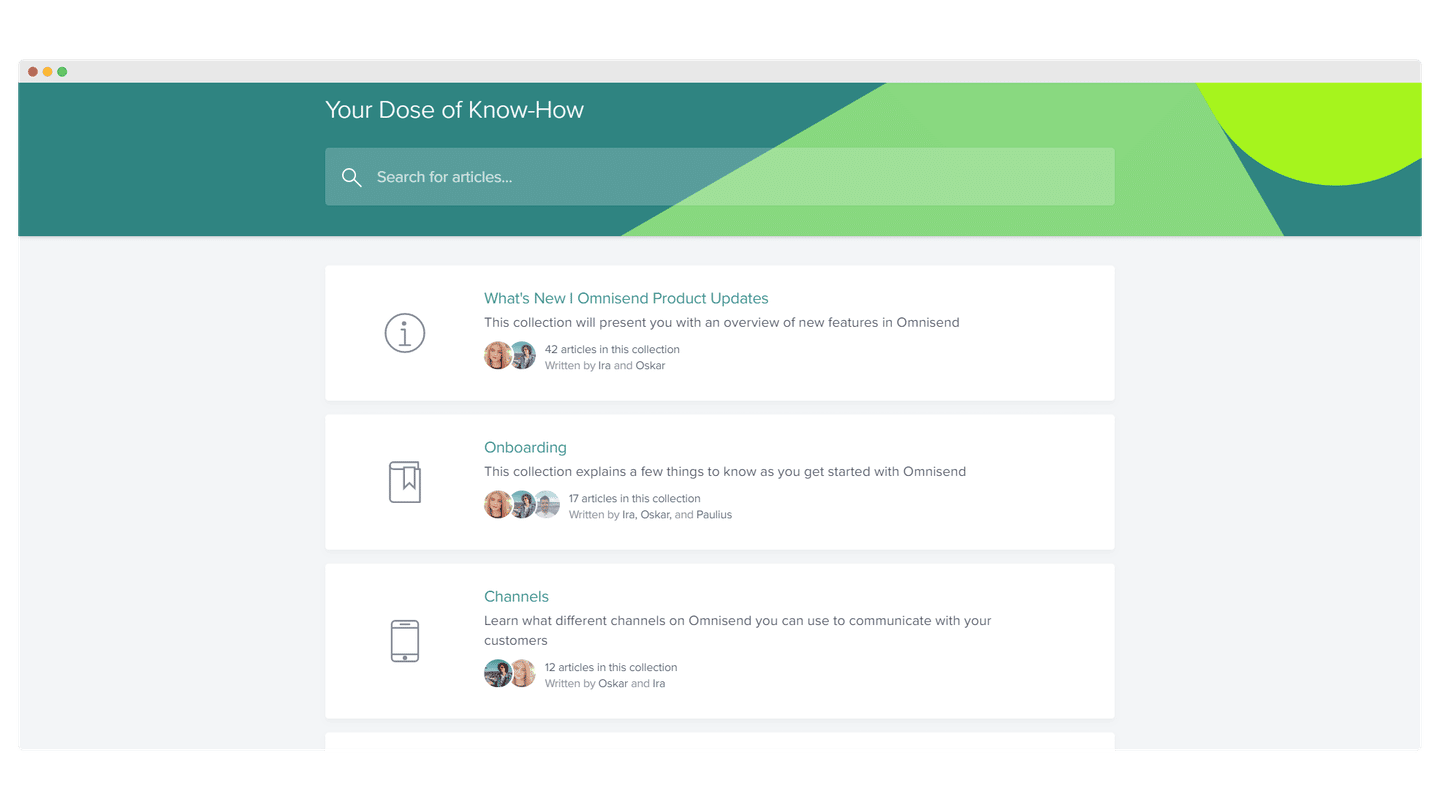 The customer support is quite good, accessible by email and chat, 24 hours a day, 7 days a week, but only in English.
The help center is well stocked and all resources are listed by category (campaigns, automation, registration forms…). The information is available in English, and is enriched by screenshots, and sometimes videos.
Omnisend offers interesting migration tools that make it easy to change your emailing tool. The support center provides very clear information on how to switch from Mailchimp, Klaviyo, Active Campaign, or Bronto to Omnisend.
Integrations on Omnisend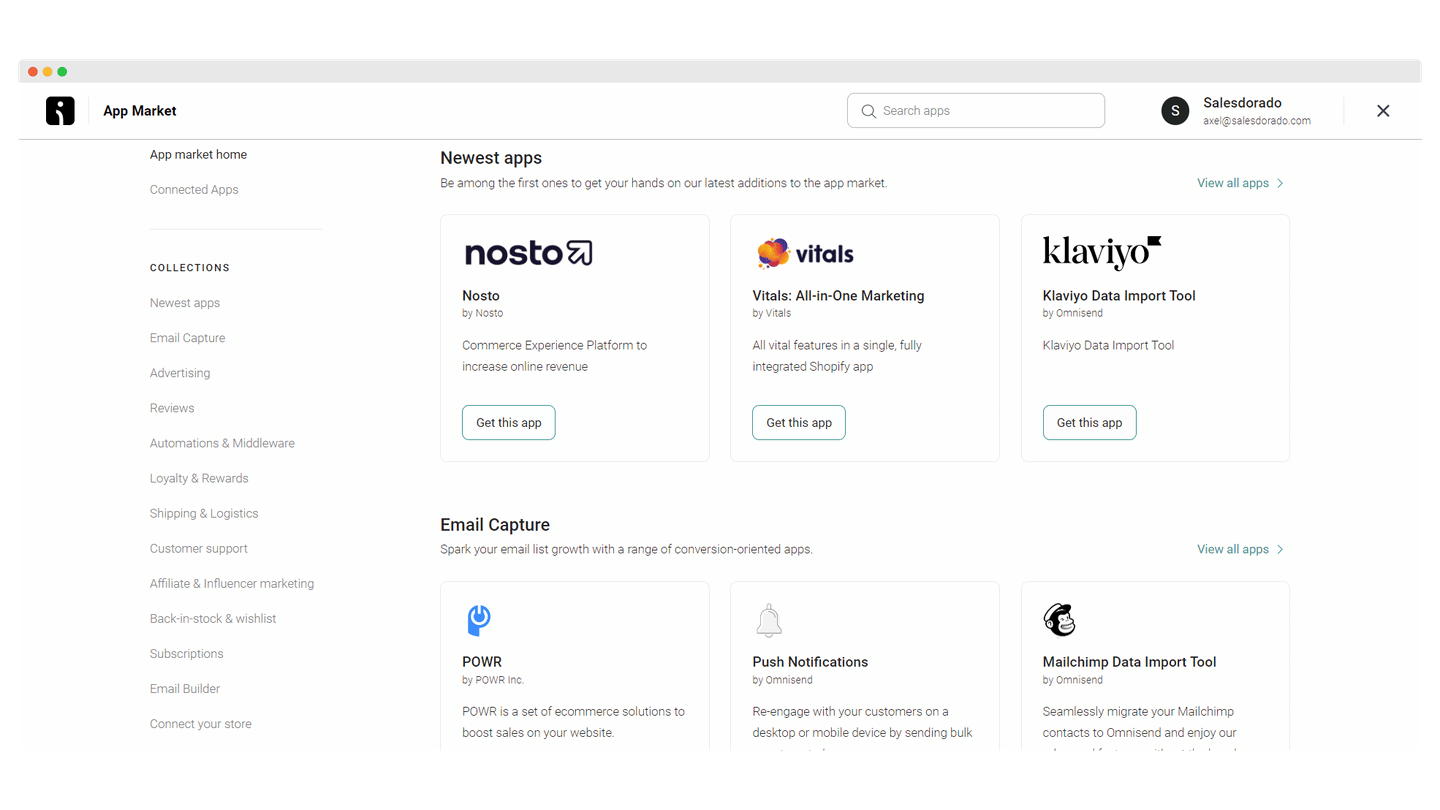 Shopify or Shopify Plus integration with Omnisend allows you to build an effective omnichannel marketing strategy right from your Shopify store. There are two options for integrating your company with Omnisend. Either by adding Omnisend from Shopify and registering your account there, or by creating an account on Omnisend and connecting your company to Shopify from Omnisend.
Once integrated with Shopify, Omnisend receives all the information about your contacts, your products and your contacts. You will be able to set up the abandoned cart workflows as you wish, and test how they work. To perform the tests, adjust the appropriate delay to trigger the workflow immediately, use the Incognito window of your browser and use different email addresses.
Omnisend also integrates with all the leading applications on Shopify: Gorgias for customer support/live chat, Judge.me for customer reviews, Gatsby for influencer marketing, Smile for referral.
On the other hand, the software does not integrate with the CRM software on the market and does not integrate well with other e-commerce platforms.
The marketplace is quite well organized and offers many solutions.
Discover Omnisend
Take advantage of Omnisend's features!
Omnisend : prices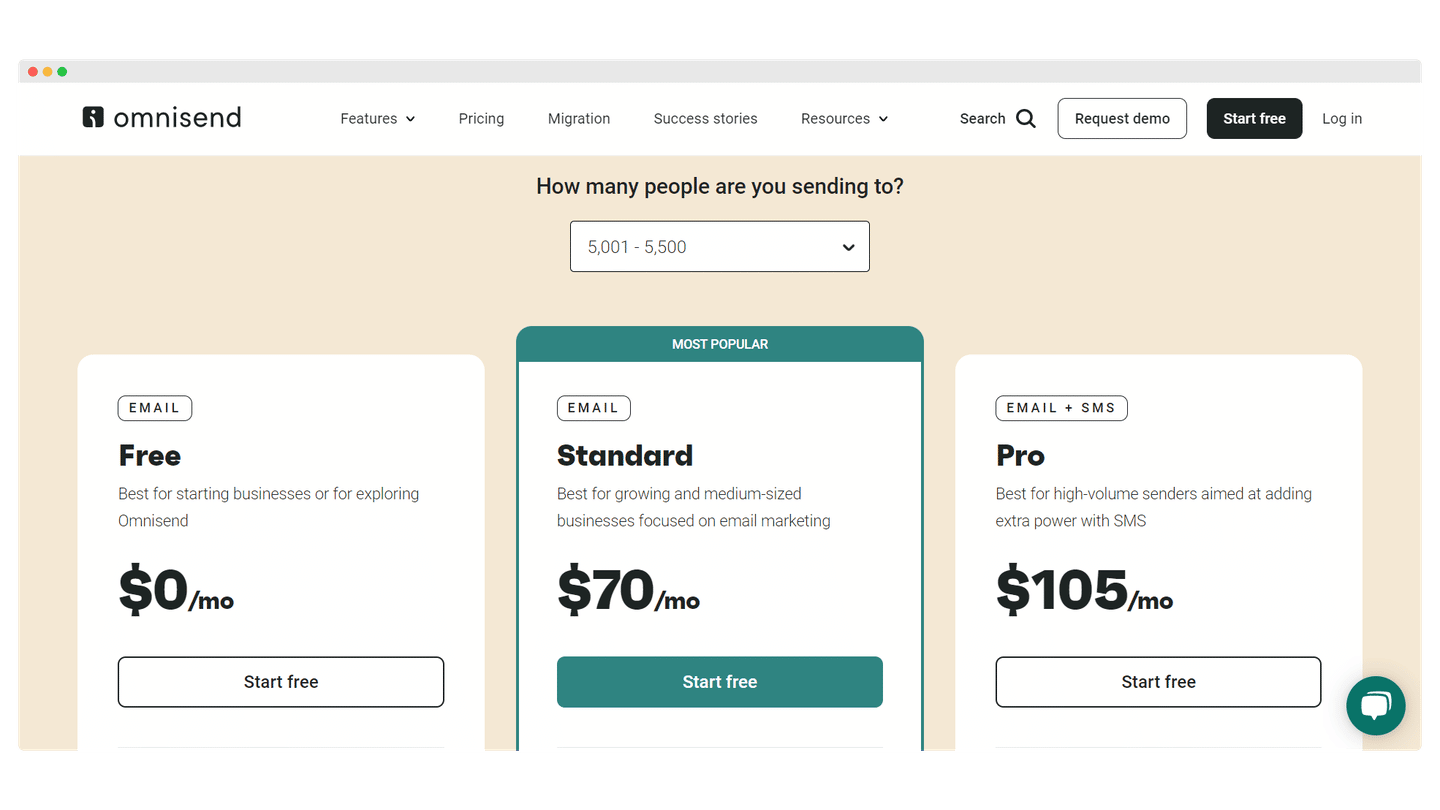 Free plan: it allows you to have access to 250 contacts, send 500 emails per month, up to 60 SMS, 500 push notifications and a multitude of features (email templates, automations and predefined workflows, popups and registration forms, A/B tests…).
Standard Plan: From 65€/month for 5000 contacts, it allows sending 66000 emails per month, unlimited push notifications, all the features of the free plan and a customer success manager from 377€/month.
Plan Pro From 99€/month for 5000 contacts, it allows you to send unlimited emails, to send up to 7000 SMS per month, to benefit from all the features of the Standard plan and reports, a customer success manager from 377€/month and a 24/7 priority support.
Reader Interactions