Are you looking for a powerful and relevant approach for your webinars? We have compiled the best examples of SaaS webinars for you in one article.
We've reviewed all of these practices and selected those that will help you improve your webinar strategy for greater impact. Whether you want to learn how to brand your webinar or increase audience engagement, you'll find inspiring examples in this list.
#1 Mention: Specific use cases and clearly identified personas
Around a specific use case
Mention is a media and social network management agency. They organise webinars on specific use cases such as :
Competitive Analysis
Digital marketing
Content marketing
Public Relations
Influencer marketing
Crisis management
Online monitoring
Social network management
These webinars are organised on demand and allow Mention to better qualify acquired leads by determining which case is of most interest to a specific person or company.
According to personas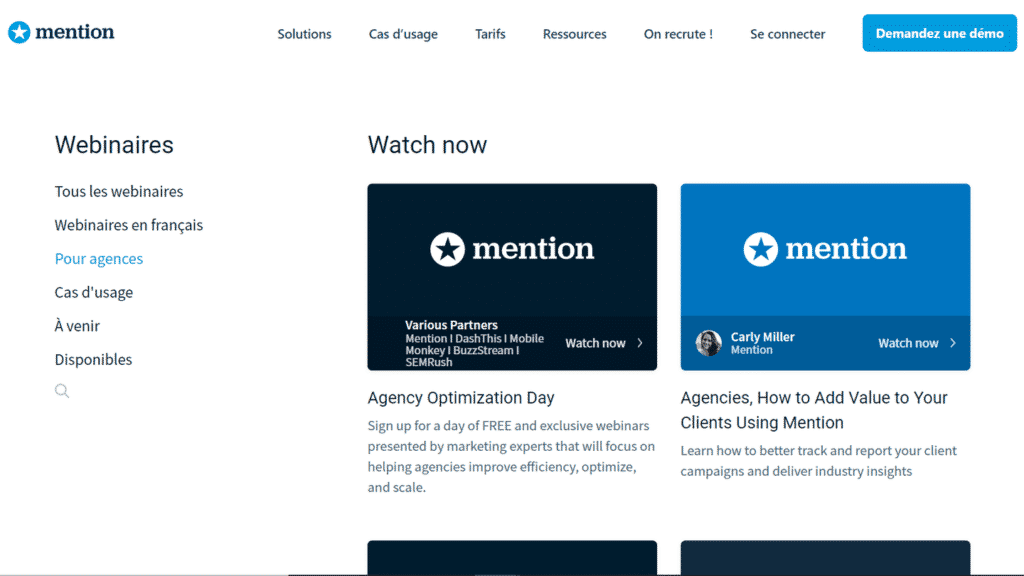 When targeting specific companies, you can replicate what Mention does and create webinars tailored to that niche.
The advantages of this strategy
Offer specific content with a clear promise
Pre-qualify all your listeners
#2 Active Campaign: A detailed webinar for each (new) feature
Webinars can also be used to introduce different product updates or new features. ActiveCampaign is a good example of this with a series of webinars dedicated to product updates.
Note that they are not private. ActiveCampaign uses these videos to promote the company and communicate easily with its customers. For clarity, the webinars are broadcast as a series:
"Office Hours aims to provide information on strategy and best practice.
"Getting Started Part 1" and "Getting Started Part 2″ deal with setting up ActiveCampaign. Both series are primarily focused on first-time customers, and also serve as onboarding documentation.
Finally, "Success Hours" discusses best practices that experienced clients can apply to achieve their goals.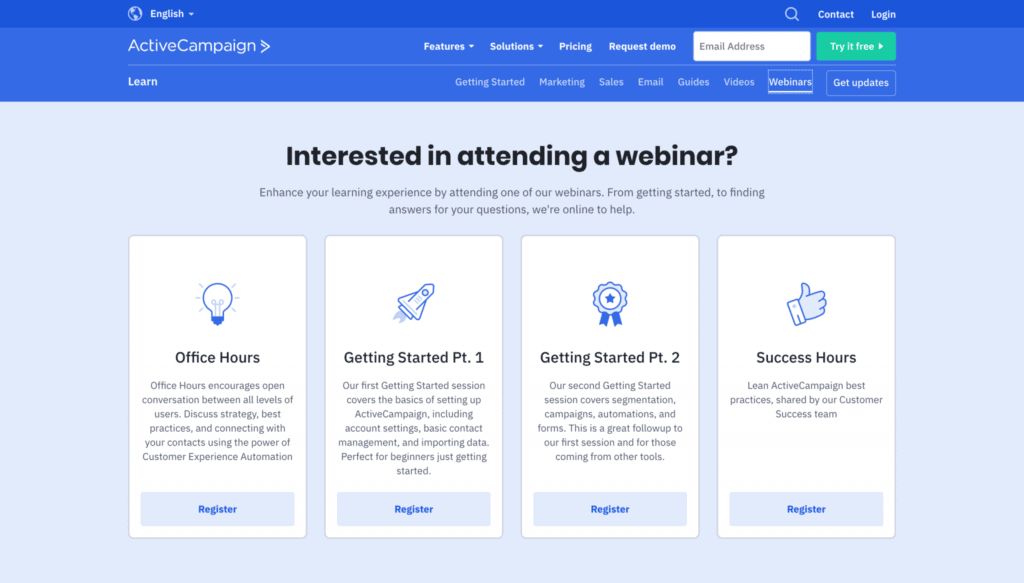 The advantages of this strategy
Announcement effect & regular new content with each major product update.
Re-use these webinars for all prospects & customers in an onboarding approach. Your sales representatives can send each webinar on a given functionality to their prospects to go further.
#3 Intercom : The human being at the heart of the webinar
In terms of webinars, Intercom focuses on the human element with formats such as the following:
Real events recorded in webinars
Dialogues that attack a topic in depth: two people exchange around a specific subject
Detailed presentations by members of the Intercom team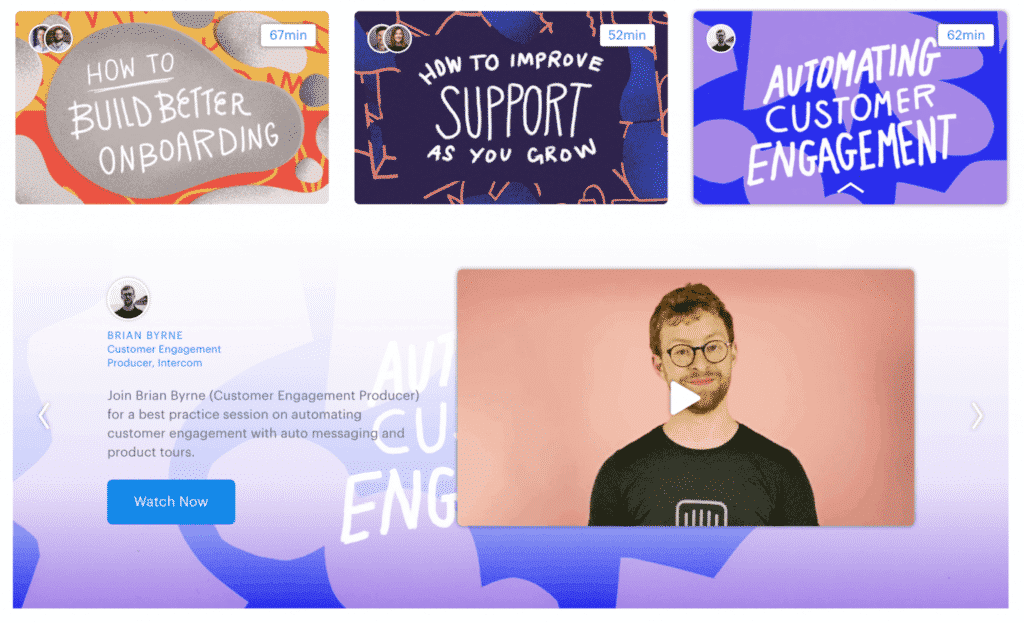 In all cases, Intercom puts people and speakers at the centre of the webinar.
The advantages of this strategy
Capitalise on guests' personal network
Humanise your brand
#4 Keap: Voice over presentation
Keap makes the exact opposite choice, with webinars where the moderator is not present on the screen, but only by his voice, on his presentation.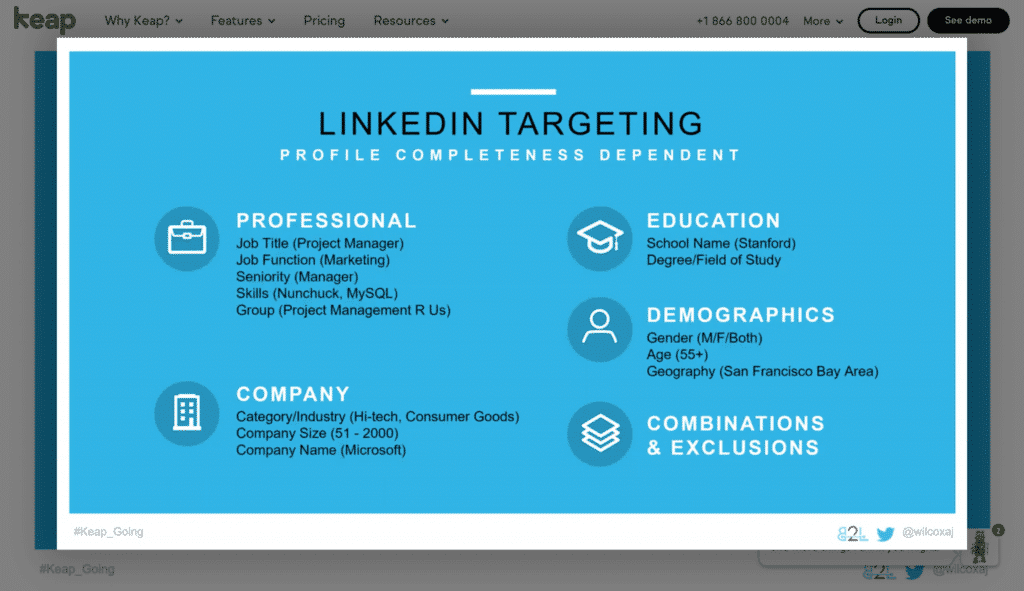 The advantages of this strategy
Set up webinars quickly and easily: no need for equipment, no worries about lighting, etc. You can make do with a simple webinar platform and offer a very professional result.
Regularly and easily change the speaker according to the availability of each person in smaller teams.
#5 Litmus: Collaboration with other brands
As we discussed in our guide to generating leads with webinars: collaborating with another brand is a powerful way to generate lots of leads.
Indeed, co-creating content is a great way to connect with industry stakeholders and access a different audience.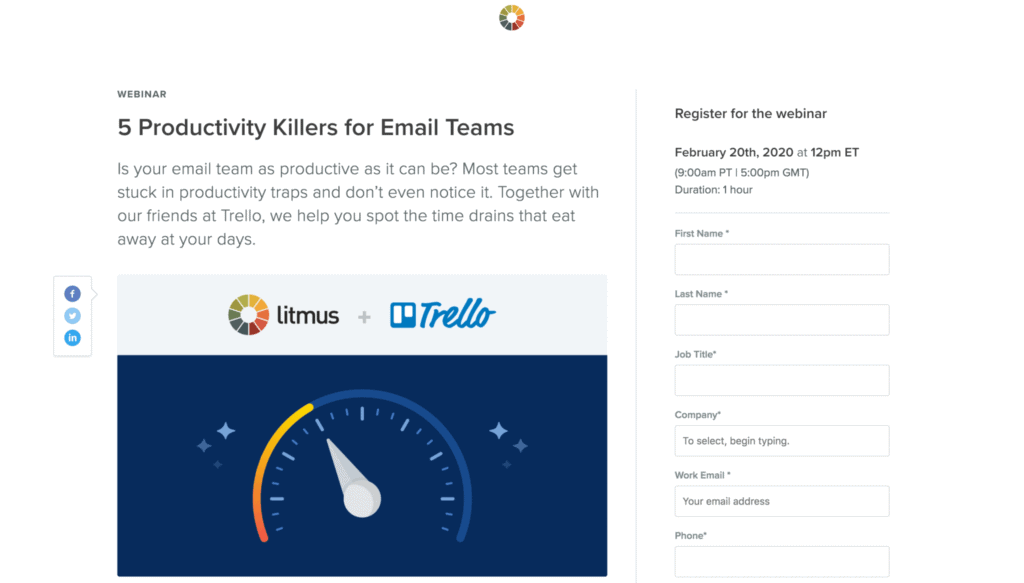 Litmus does this brilliantly, and manages to associate its brand with very big brands in the software world such as Trello.
The advantages of this strategy
Offer very specific content with a clear promise
Generate lots of leads
#6 Gather Content: A strong visual identity
The audience of your webinars will spend at least half an hour with you, during which you show them… your presentation.
You can make this presentation downloadable for free to stay in the minds of your listeners even longer and get some shares.
GatherContent has understood the potential of its webinar presentations and uses them to establish its visual identity, to create a memorable medium.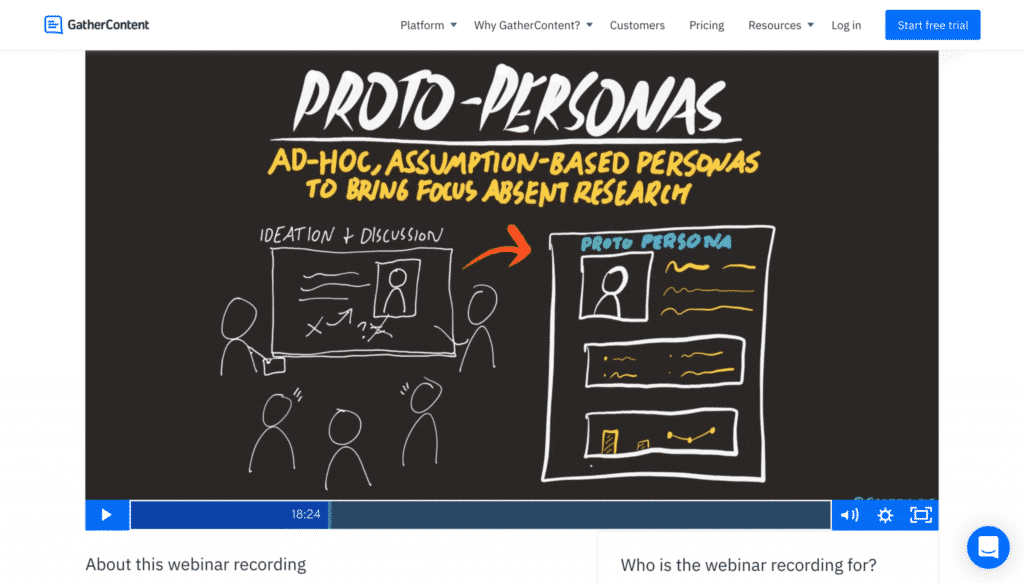 Without going that far, take care of your visuals, and keep in mind that it is a powerful way to consolidate your brand with a highly qualified audience.
The advantages of this strategy
Strengthen your brand image
Generate leads even after the webinar has been broadcast
#7 Conductor : webinars 30 / 30
Instead of just talking about industry news or talking to various guests, Conductor has created 30/30, which is aligned with its product.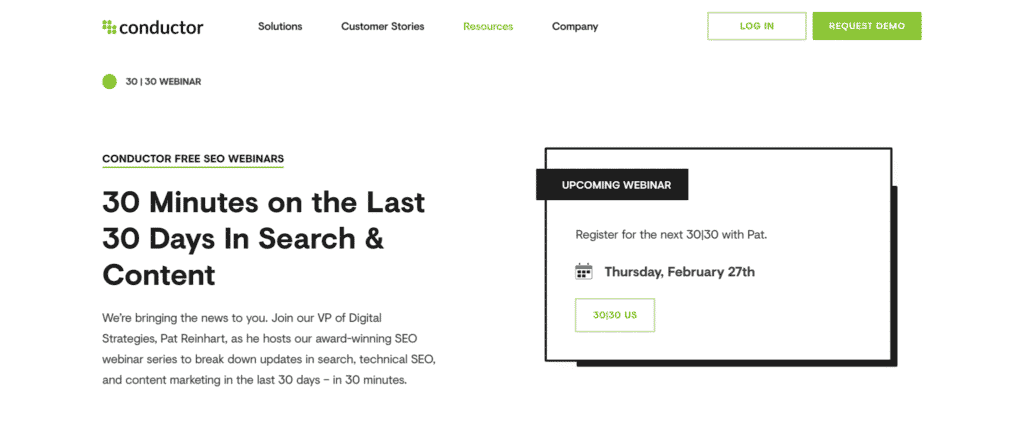 What does 30/30 mean? It's simple: 30 minutes of the last 30 days of research and content. This means that Conductor has a very specific topic and everyone knows what to expect from the webinar series.
The advantages of this strategy
An effective, memorable, and consistent framework that focuses on a very current trend.
A good way to generate multiple entries (with the right marketing automation sequences).
Minuses of this strategy
Webinars become outdated very quickly.
You have to create an identity around the "30/30" format quickly and get the audience to come back to the next one to take advantage of it.
#8 SEMRush: Live Audit
SEMRush (an SEO tool) offers live audits in webinar format. All you have to do is nominate your website at the time of registration to have a chance to be drawn. Then, during the webinar, SEO experts conduct a live audit of the selected websites.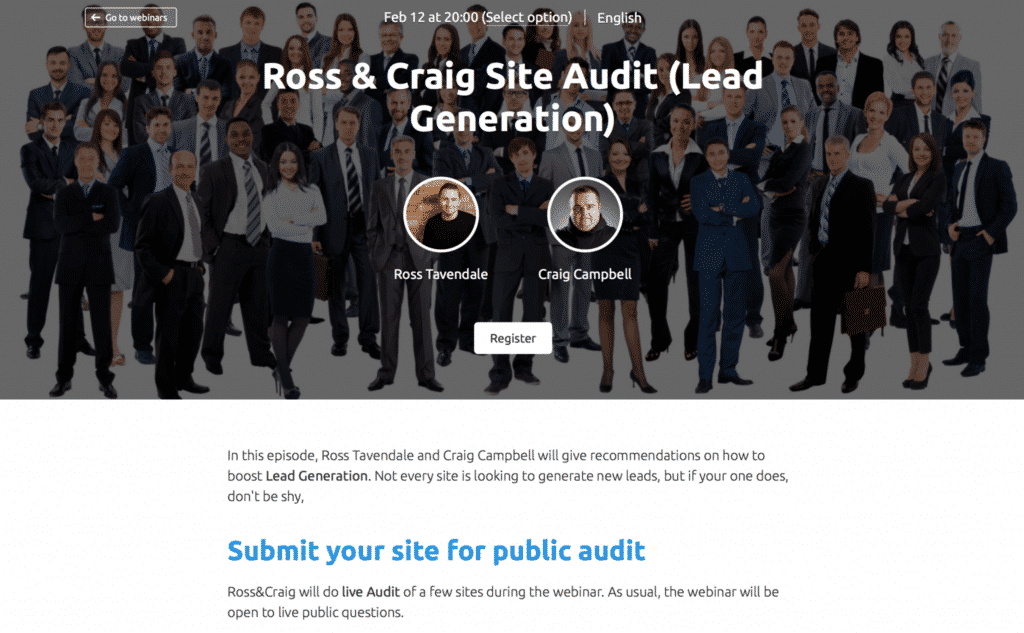 A great way to get shares by collaborating with someone as well as to definitely convince a prospect.
The advantages of this strategy
A very powerful way of establishing expertise.
Get shares by collaborating with someone. In terms of communication, my site & its brand were displayed on a webinar with hundreds of people.
This is a good way of convincing a prospect. Select the beneficiaries of your audit carefully!
#9 SproutSocial: Share your research results
SproutSocial has built a social network influence score tool and organises webinars to explain the methodology, the limitations, and the results.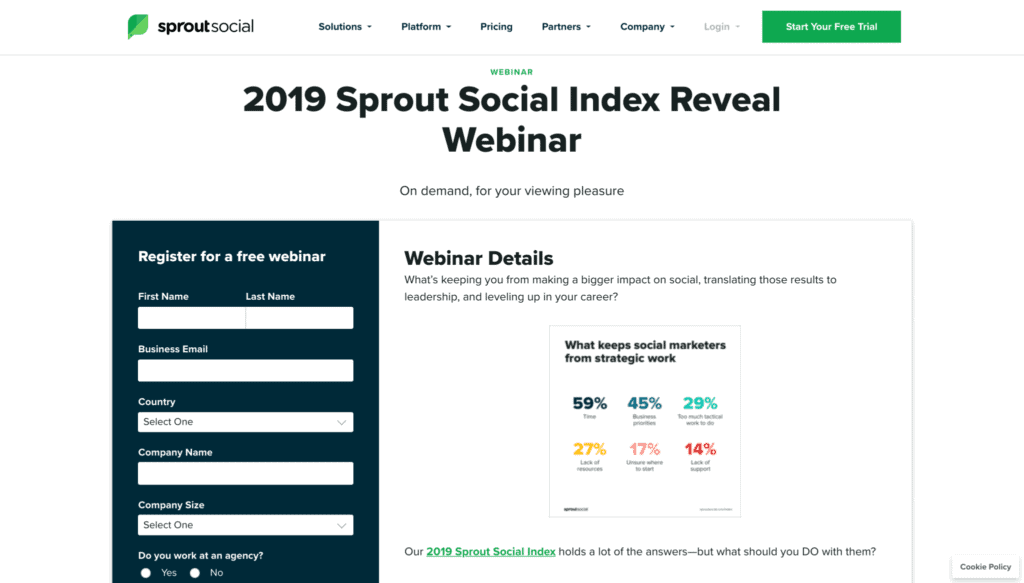 If you are doing research for your blog, branding, or as part of a business proposal, you may benefit greatly from sharing the results and methodology through a webinar.
The advantages of this strategy
Allows you to repurpose content and get even more leads from your efforts.
#10 LeadPages: Offer a goodie
Offering a downloadable document to the webinar audience for free is also a great way to engage your audience.
Leadpages is a very interesting example. Once you have registered, they give you only 24 hours to watch the webinar recording. During those 24 hours, you can also download a manual available on the webinar page.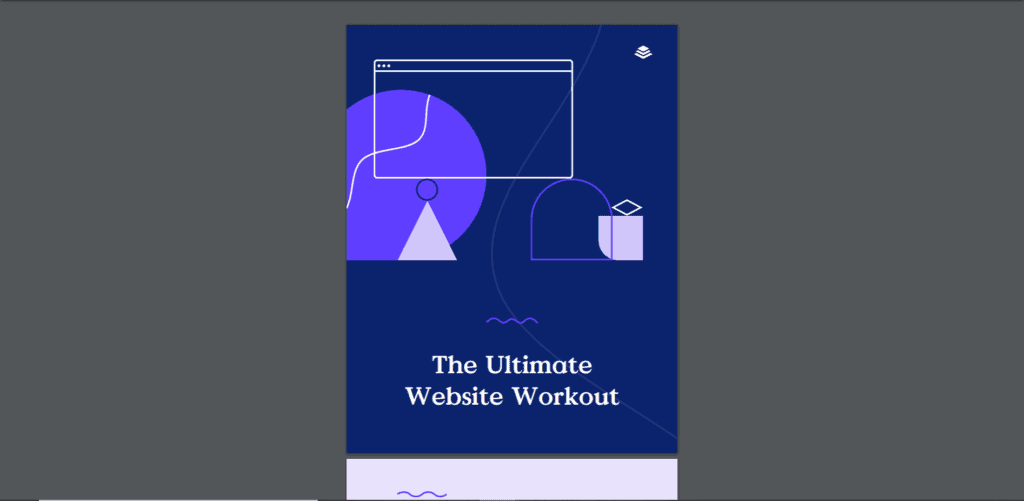 Unbounce, on the other hand, does a little "quiz" that helps the virtual participants to put into practice what they have learned in the webinar.
The advantages of this strategy
Take concrete action from the webinar
Provide a document used (ideally regularly) by your prospects
To go further
Discover the best tools to generate leads from your webinars:
Livestorm : Our favourite for managing your webinars