How can you organise a webinar in a simple and intuitive way for your customers, prospects or employees? We will give you our detailed opinion on a very intuitive and efficient solution: Livestorm.
Would you like to compare this tool with other solutions on the market? Find our comparison of software to host your webinars.
We are pleased to present a 100% French solution, adopted by many companies in France and abroad. Livestorm is an all-in-one platform, allowing you to optimize the organization and management of your webinars. For your customer training sessions, demonstrations, and communication sessions, with Livestorm, you will be able to generate more leads and qualify them. A valuable tool for marketing and sales teams with advanced analytics tools.
Livestorm's analytics and data enrichment allow for a better understanding of attendee behaviour, profile, source of registration and engagement throughout the webinar.
Get started for free with Livestorm
Our opinion on the platform
Criterion
Note Salesdorado
Comments
We highly recommend it: easy to use & gives a very professional look. Not to mention an excellent lead management tool.
Extremely pleasant interface, both for the organiser and the webinar participant.
Customer service available in French and quick response (less than 3 hours for us)
The tool is really designed for organising and conducting webinars. The lead enrichment is a great feature. The landing pages are excellent. The chat interface once in the webinar is also very good. We especially like the lead dashboard that shows who asked questions, registered, was present or not, etc.
The software itself is not cheap, let's be honest. Paid plans start at €99/month. While this may be a small investment for smaller sales teams, the ease of use and all the features make it probably the best possible investment for your webinars.
Please note that the recruitment of participants remains your responsibility (although the tool will send reminder emails for you).
The criteria in detail
Ease of use
Livestorm stands out with an extremely pleasant interface, both for the organiser and the webinar participant. Your participants do not need to install any software on their computer to participate, they can simply register via their browser. The webinar interface itself is very user-friendly, each section is easy to access during the live session (e.g. chat and questions).
Customer service
The customer service offers you a personalized support to launch your first webinar and is then very reactive to answer all your questions in French. In our case, we contacted the customer service to get clarification on the pricing and we got a clear and concise answer in less than 3 hours.
Functional depth
The tool has been designed for the organisation and animation of your webinars. It includes essential features such as :
Real-time HD video streaming and screen sharing
Possibility to watch the video again
Landing page and email registration management
But Livestorm also provides access to more advanced functions:
Post-webinar analysis tools (the leads dashboard that shows who asked questions, registered, attended)
Audience segmentation
Native integrations with CRM and marketing tools
Enrichment of leads
Want to know more about lead nurturing? Discover our complete guide.
Integration
The tool integrates the main professional applications:
The connectivity with Zapier, in particular, is excellent, allowing you to send data from Livestorm to any other application in the Zapier directory (over 1000).
However, we regret the lack of many B2B CRM & marketing automation software such as Active Campaign, which you can find in our selection of the best free CRM software.
If you have the time and skills to work on a custom integration, with the Webhook feature you can use the data from Livestorm as an API.
Price-quality ratio
While Livestorm offers a free version, premium plans that allow you to increase the number of participants and conduct longer webinars are quite expensive. Please note that you can try each plan for free.
There are therefore 2 types of subscription:
A free plan with which you can benefit fromall the features but for a limited number of participants for webinars of maximum 20 minutes.
A monthly subscription based on the number of users. Paid plans start at 99€ / month for 100 participants and 4h sessions max . It is possible to involve more people: 198€ / month for up to 250 participants (connected simultaneously), and 397€ / month for up to 1000 participants.
We are aware that this can be a significant investment for small organisations but it will quickly pay for itself. This tool will increase the efficiency of your teams and your sales processes by improving the follow-up of the leads you generate.
Feature details
1. Landing page for registration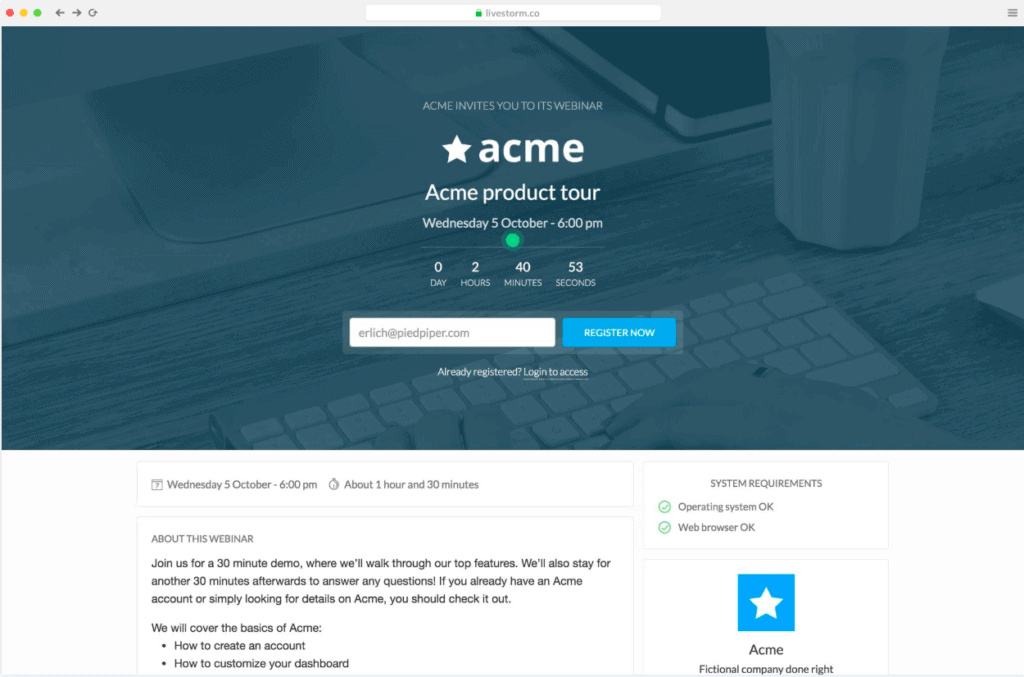 The registration landing page is very important because it is the page where your potential customers will be able to register for your webinar. The aim is to create a page that is optimised for conversion. A simple and effective page so that your prospects do not miss out on your webinar.
Livestorm again greatly simplifies this step of the process. Indeed, by going to the "Optional settings" section, you will be able to :
Via the "Registration" section: Define the information required to register for your webinar. Adding fields can improve your knowledge of your audience.
Via the "Design" section (below): Build a custom landing page, in your company colours by adding your logo and branding colours. You can also choose the cover image according to the theme of your webinar.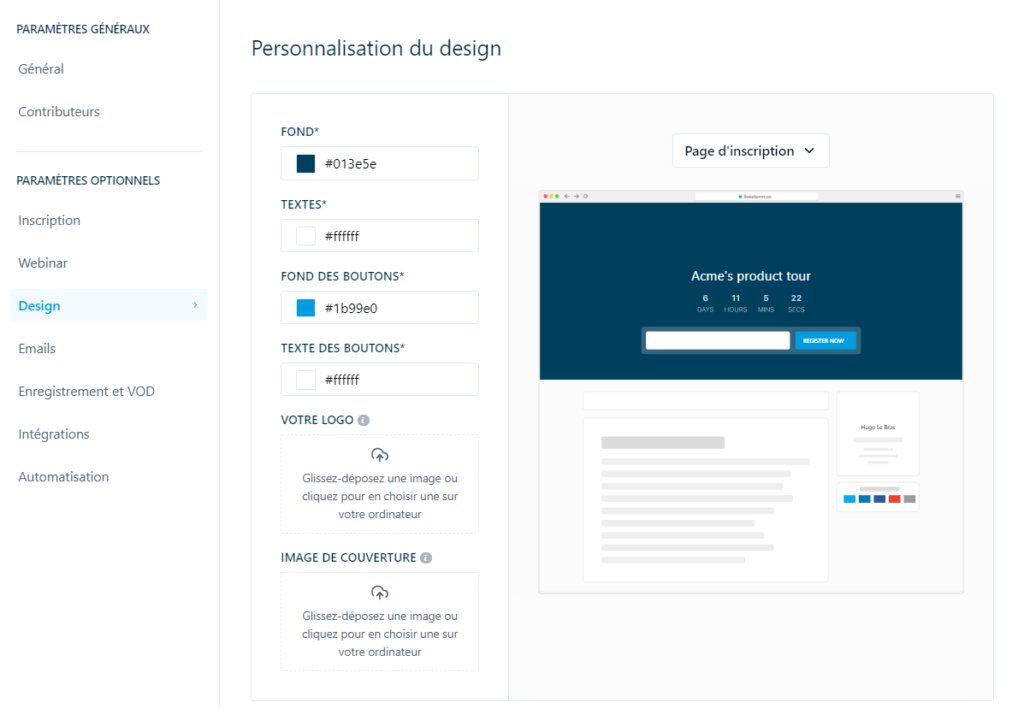 2. Reminder emails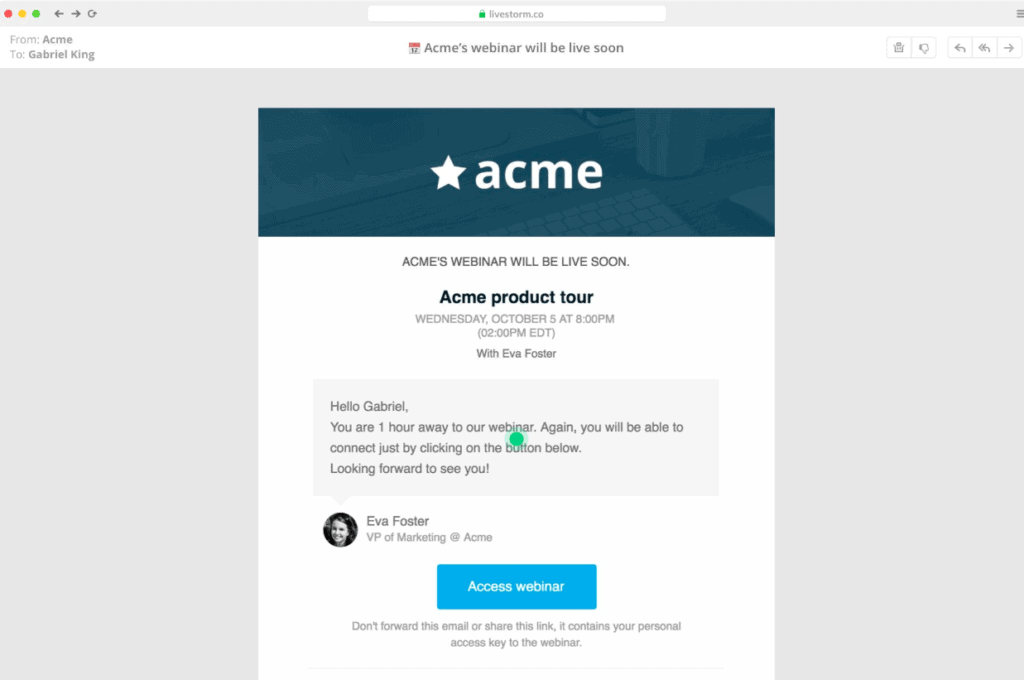 This is also a step that you need to pay attention to in order to get your future customers to participate in your webinars. Livestorm takes care of managing notifications and reminders, from registration to the last reminder shortly before the start of your session. These reminders are essential to maximize your participation rate.
Here the platform is again very intuitive. Still in the "Optional settings", go to the "Emails" section. Livestorm helps you to set up an efficient email suite for the registration and follow-up of your participants. You can edit the content of each email by clicking on "Preview or edit" and then "Edit content", as below.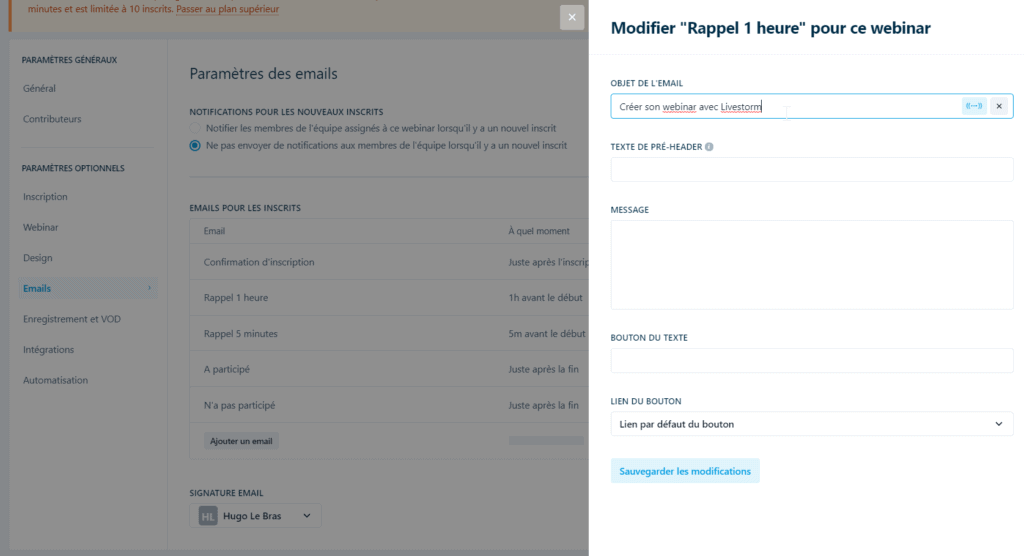 3. Reporting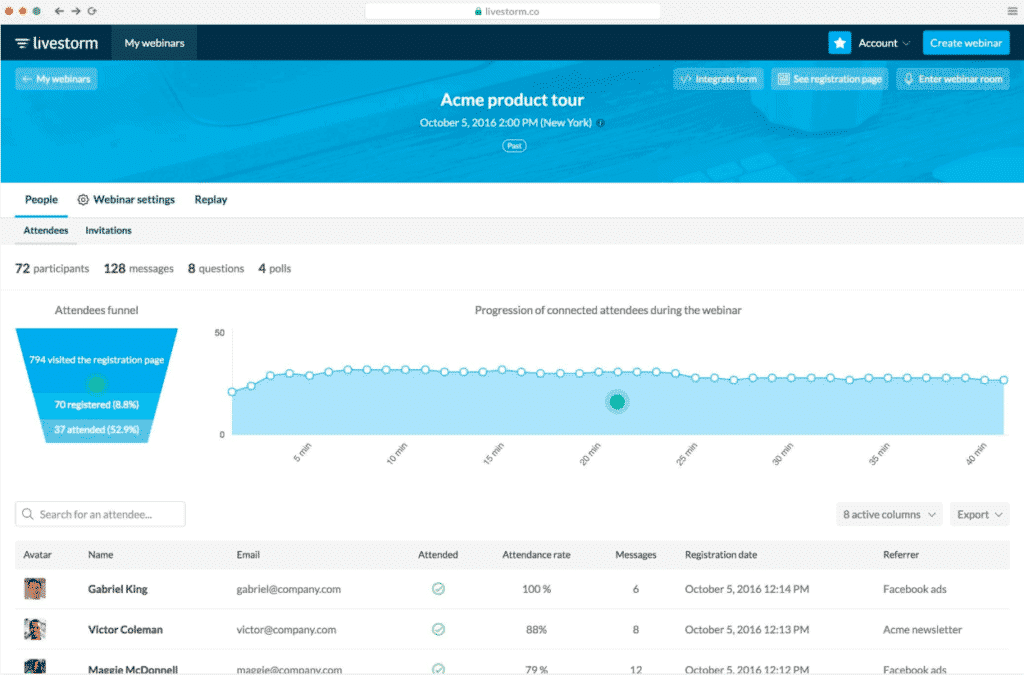 This is one of the main reasons why we love this tool. Livestorm provides you with very advanced information on the behaviour of your participants. This information will be invaluable in improving the content and organisation of your webinars. Take the time to understand this data in order to generate more qualified leads, propose adapted content and increase your conversion.
Want to know more about lead generation? Check out our complete guide on the subject!
Thus, you will know :
From which media your prospect has registered (Facebook ads,…)
To what extent do your registrants ultimately participate in the webinar
If they ask questions
How they found the webinar
…
This advanced data and the simplified interface that allows you to understand it easily is really the strength of Livestorm.
In addition to helping you generate qualified leads, the tool also allows you to enrich each lead with Linkedin data. This allows you to identify the position and company of each participant and therefore to score your leads. This will make life much easier for your sales teams, who will be able to contact the hottest leads.
To find out more about lead qualification, see our guide.
4. The webinar itself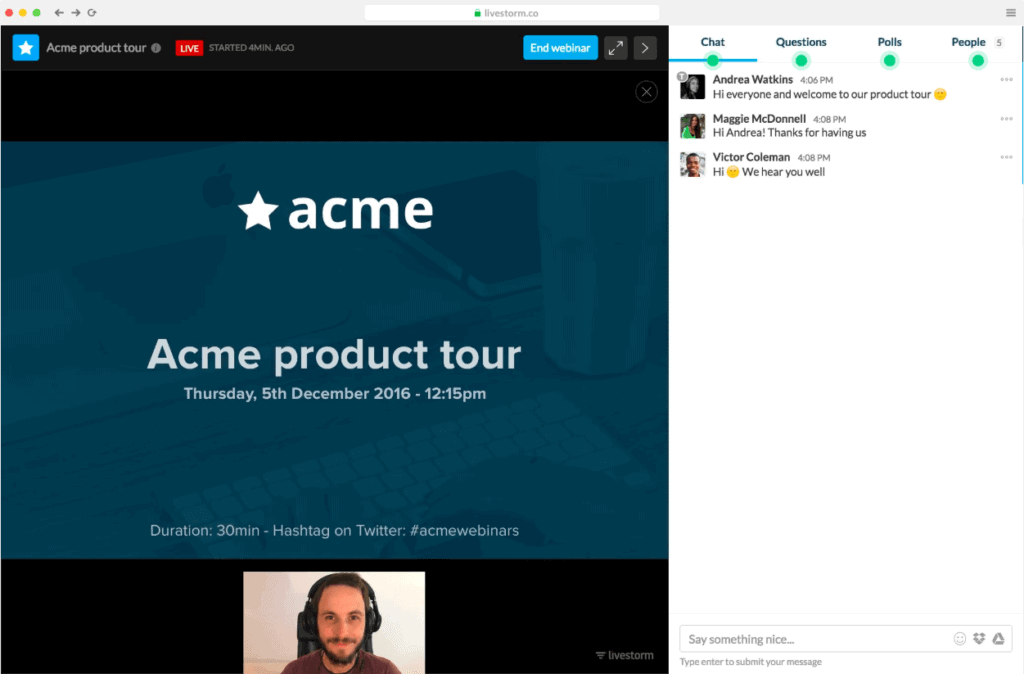 The platform is robust and solid, you can organise webinars with a large number of participants without fear of technical problems. This is an important notion to avoid losing face with potential clients.
During the webinar, the chat is a very practical feature, you can invite anyone to intervene by having them come "on stage" to ask a question or when you present a project in a team.
You have access to the list of participants and all questions in real time and after the webinar.
5. The replay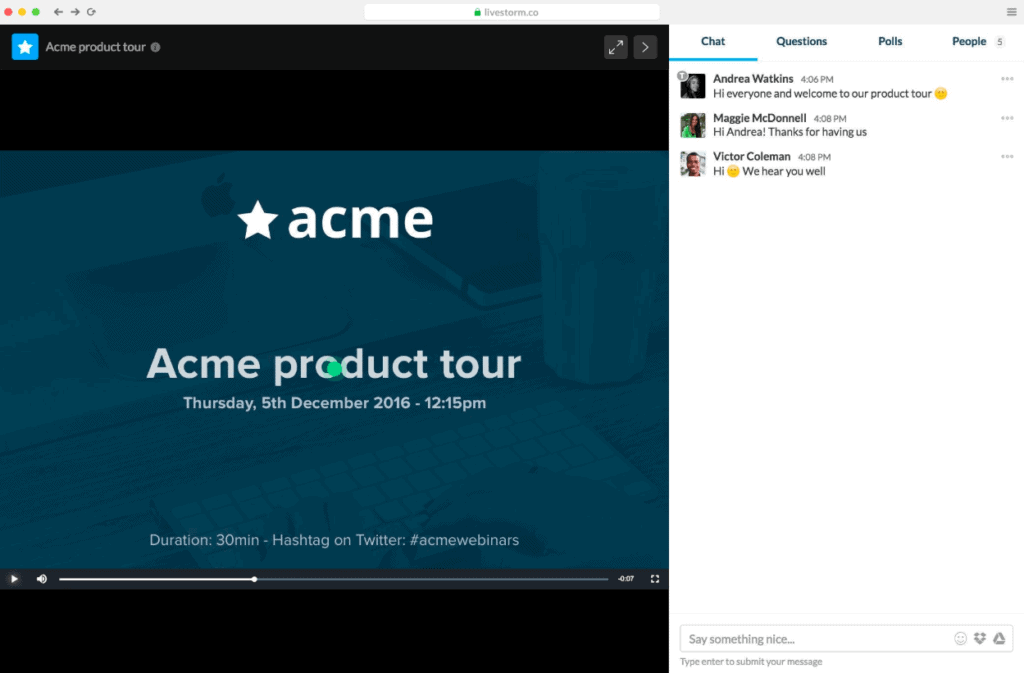 Here too the tool is designed to help you generate more leads!
The webinar remains available as a replay afterwards, so you can share it with people who couldn't attend for example. This is a great way to continue capturing leads even after the live event is over.