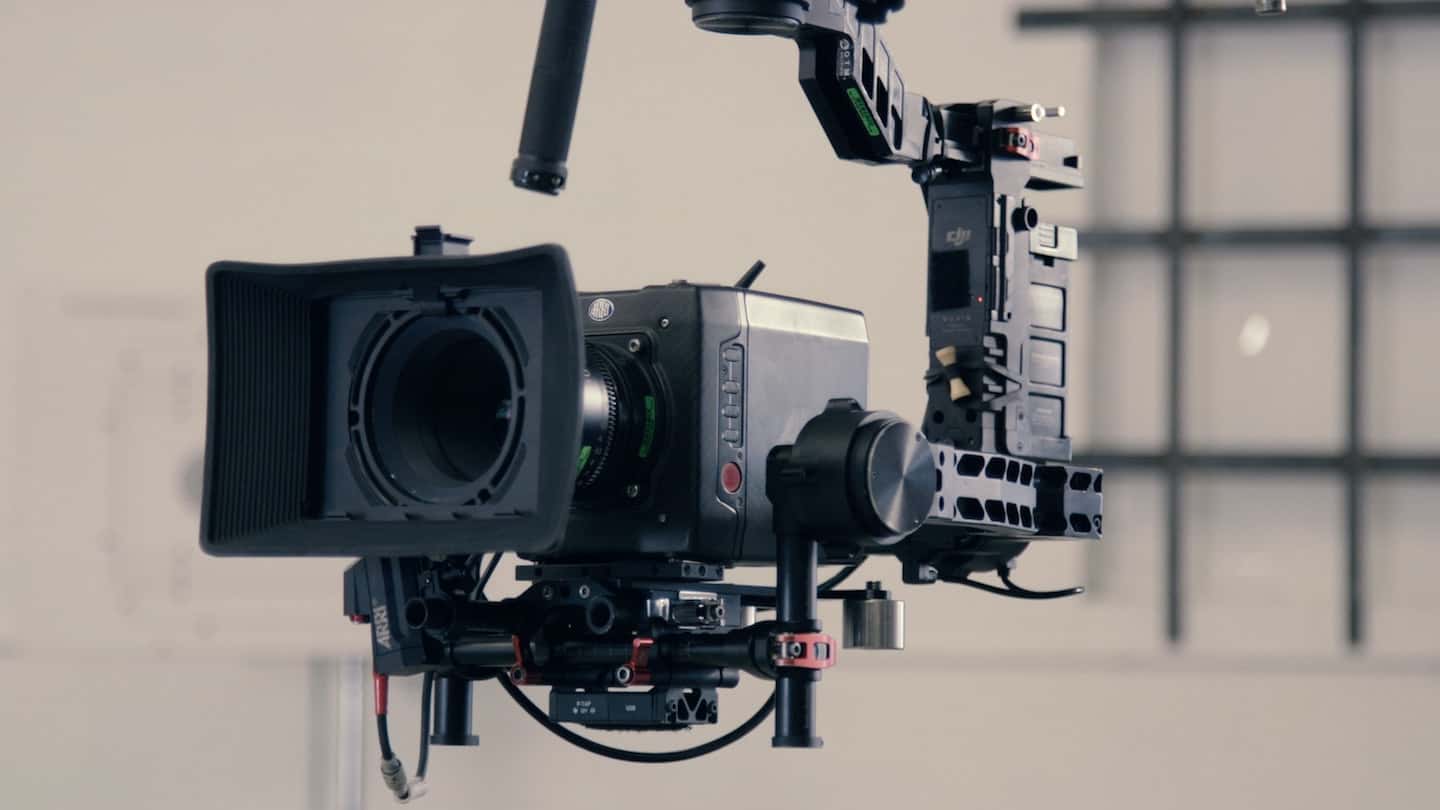 With the health crisis of 2020, sales methods and organisations have been profoundly modified to incorporate more and more distance selling and, in particular, by videoconference. In this article, we present you with 10 tools to sell better via videoconferencing.
What makes a good video conferencing tool?
In this article we are talking about video conferences, not webinars. Salesdorado distinguishes between the two by a very simple feature: should everyone be able to speak and upload their video, or not?
If so, you are looking for a classic video conferencing software.
If not, you are looking for webinar software, in which one or more hosts speak to an audience.
We've made a comprehensive comparison of webinar software, and more suitable for this need if that's what you're looking for.
In general, all video conferencing software has more or less the same functionality:
The presence of a live chat module in which you can write, send links, ask questions in writing to avoid everyone talking at once, etc.
Screen sharing to show a tool, share a presentation, or give a product demo during a sales meeting for example
Recording of the appointment is usually part of the premium features, but all video conferencing solutions offer it
HD video and audio: the technologies behind all these tools are now largely consolidated, and are not very innovative. Whatever the less convincing product marketers say, this is not a selection criterion.
And some software allows you to go a little further, with more or less advanced and more or less successful features:
Price: A bit obvious, but there are many free solutions on this market, and prices vary greatly from one solution to another.
Tools for interacting without audio or video: not all software offers this, and it changes a little depending on the software, but the idea is to be able to raise your hand, vote yes or no but anonymously, etc. This is an interesting feature for trainers, or for conducting meetings with a fairly large number of participants. Note that this is a feature present in all webinar tools.
Security: We heard a lot about the zoom-bomb during the lockdown. Some clever people had found a loophole that allowed them to enter videoconferences on the Zoom solution, without being invited. This is a major issue, especially if you are communicating on sensitive subjects, as you may often have to do when teleworking.
Access: Zoom (not to mention the others) requires you to download an application on your computer or mobile phone, which makes the experience quite complicated. The others run on a standard web browser, which makes them very easy to access from anywhere.
Integrations: Each tool offers more or less successful integrations with calendar software, CRM software, etc.
#1 Whereby: free and lightweight video conferencing software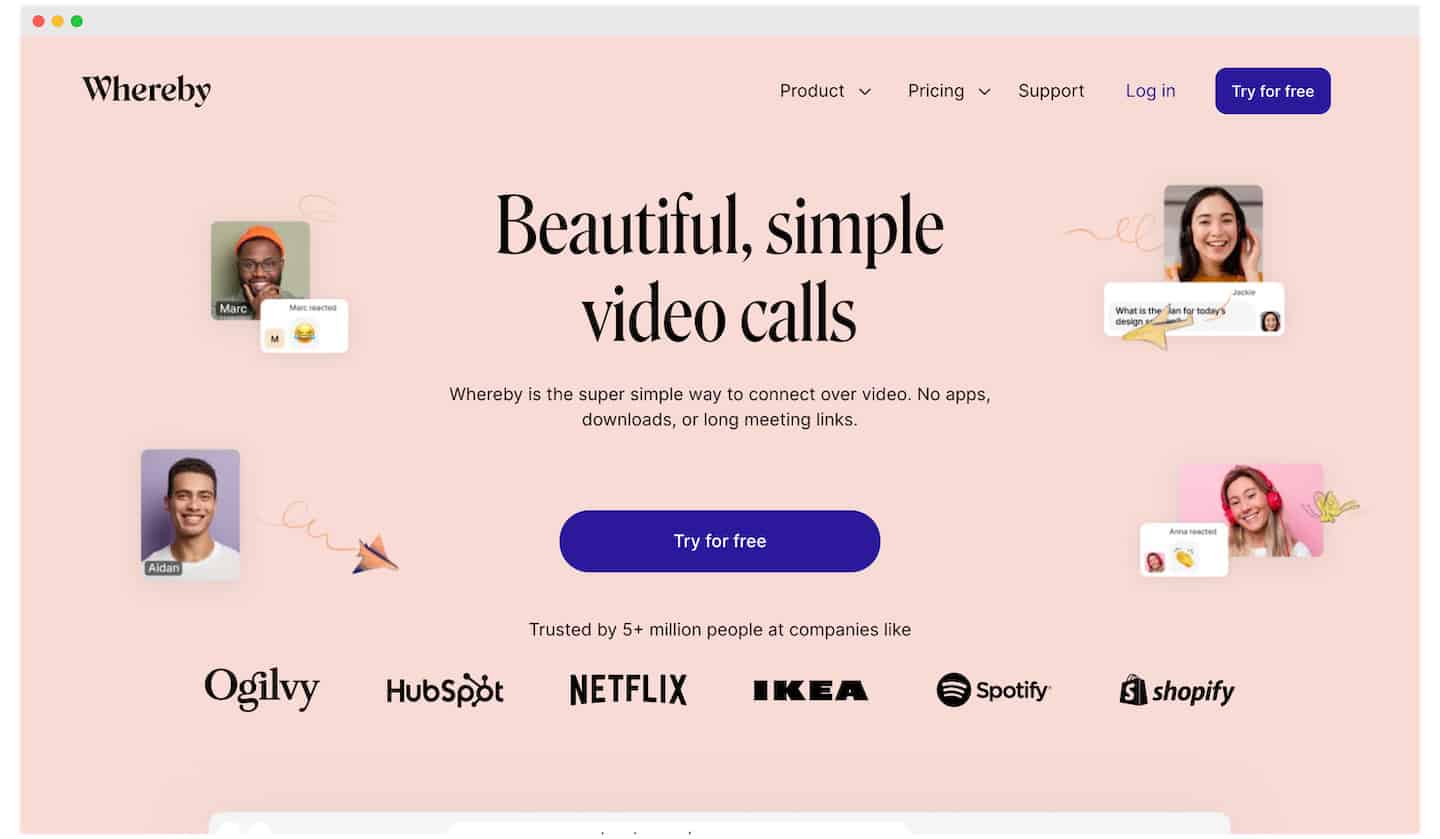 Whereby is the lightest video conferencing tool known to man. You just need to store your link, and then you can send it to anyone.
It will work on mobile, tablet, computer, and any other tool that has a web browser, microphone and webcam.
It's even easier than Whatsapp.
The main features of Whereby are:
The possibility to join a videoconference in 1 click,
You can share your screen,
Share the same personalised link for every meeting – easy to remember and easy to join,
Possibility to participate in an appeal even when travelling,
Record and download your conversations etc.
Whereby is totally free if you use it only for yourself.
The Pro plan, at $9.99 per month, will allow you to have up to 12 participants, customize the wallpaper and logo of your rooms, and have priority customer support.
The second and last plan is the Business plan at 59.99$ per month. You can be up to 50 participants per call, you can define several administrators or have the possibility to integrate a calendar.
Extremely easy to use,
Works even on the move,
Nothing to install
It is free for individual use.
You can only register your appointments from the Pro plan.
#2 Google Hangouts: Google's free video conferencing tool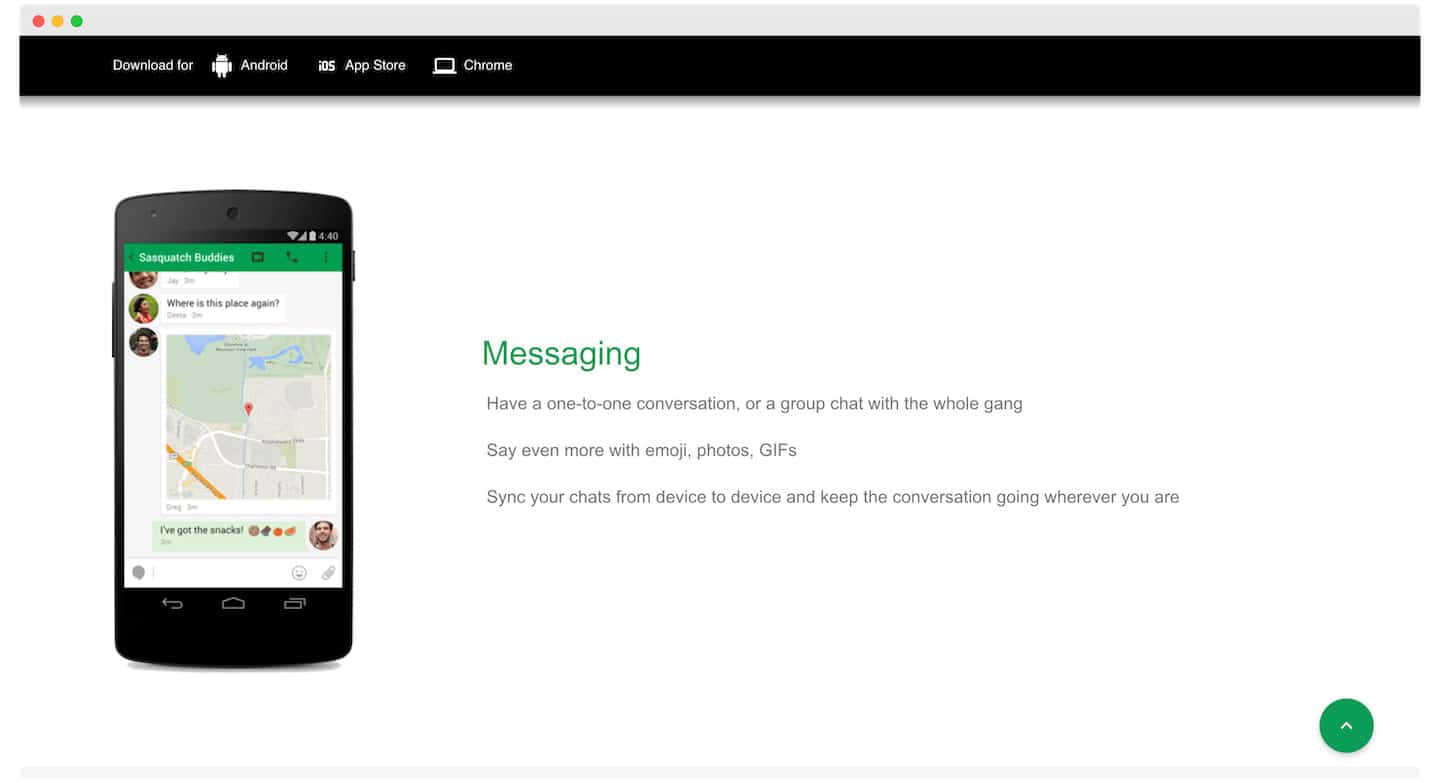 One of the companies that has recently banned the use of Zoom internally has been Google, and this is not very surprising, as it already has its own video conferencing platforms. For a start, you can make video calls with up to 10 people via its own free instant messaging platform, Google Hangouts.
Well integrated with all other major Google applications, such as Gmail and Google Calendar, Hangouts is very simple and intuitive to use. You can set up a meeting and start chatting with people with just a few clicks, either in your web browser or via the Android, iOS or Chrome apps.
It is a free tool,
Extremely easy to use.
Quite light in terms of functionality,
Use limited to 10 people.
#3 Google Meet: the G-Suite video tool (Google for Business)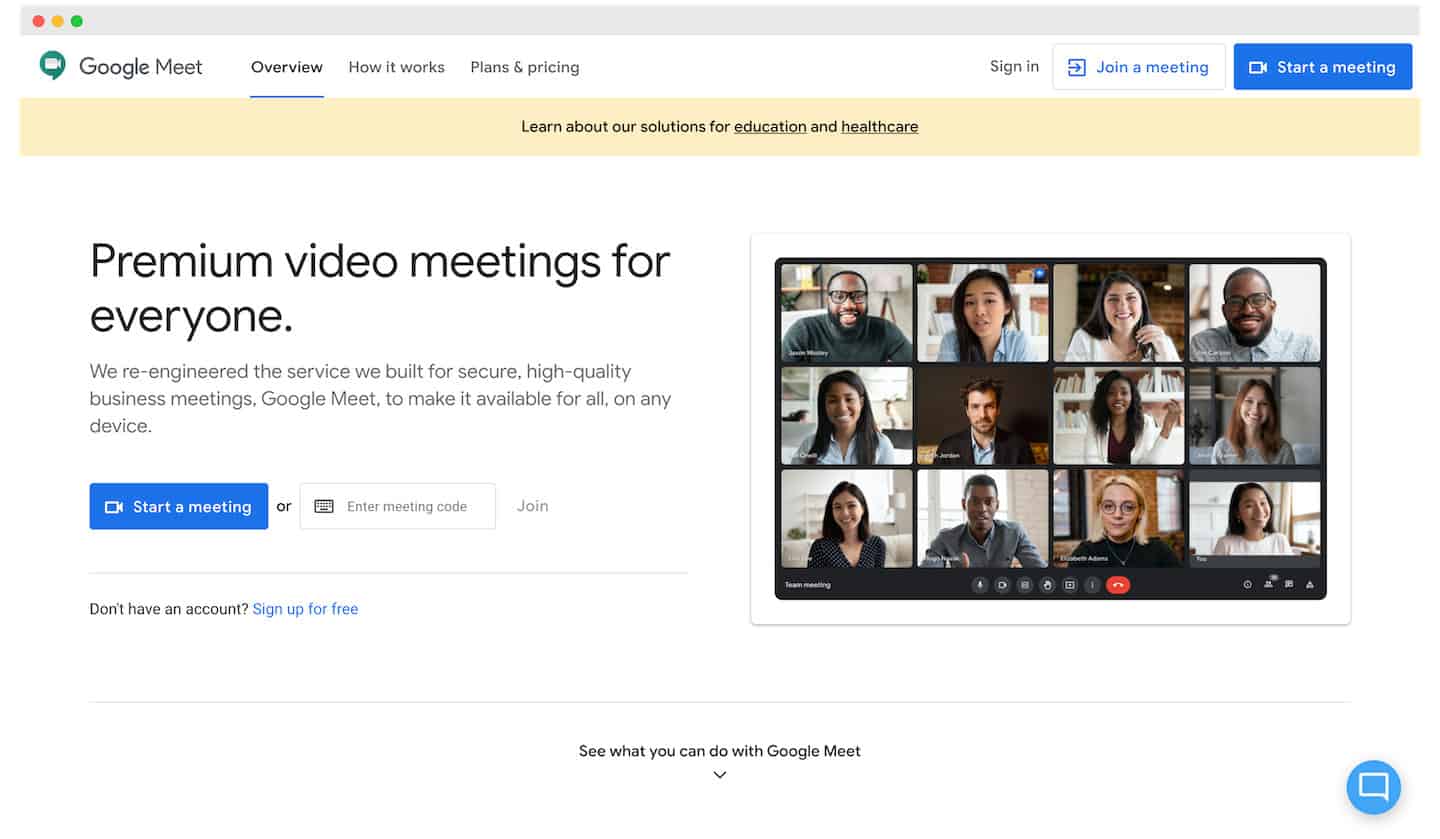 If you like Google Hangouts but want more advanced video conferencing features, Google also offers Google Meet. With Google Meet, you can invite up to 100 people, record meetings, share your screen and stream HD video.
Corporate customers can record meetings on Google Drive and enable live viewing for up to 100,000 viewers. Participants can access your meeting via the web application, a special phone number or even via competing services such as Skype.
Google Meet offers a free 14-day trial. Next:
The G Suite Essentials package is $8 per month per user. You will be able to run meetings for up to 300 hours, have up to 150 participants and the ability to invite people internationally.
The ultimate plan is the G Suite Enterprise where the price is only available on request. Up to 250 participants, the possibility of live streaming or meetings saved in Google Drive make this a very complete package.
Hold video conferences for up to 100 people,
Guests can use Skype or their phone.
The video link and phone number are generated automatically when creating an event in Google Calendar.
There are – still – very few advanced features.
#4 Zoom: the big winner in containment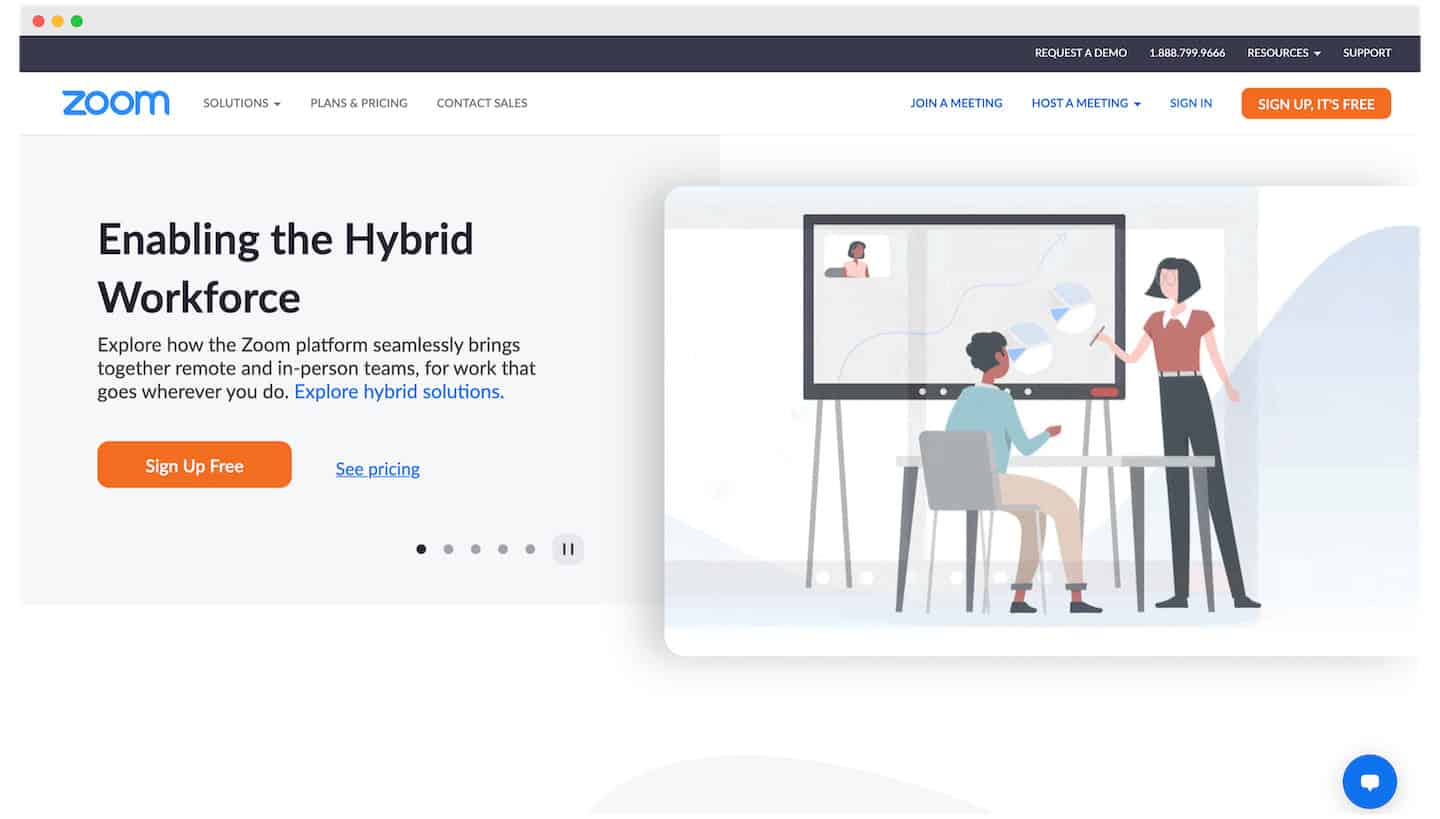 Downloads and use of Zoom have exploded since the beginning of the lockdown and the trend is not about to reverse. Apart fromadapting its commercial strategy to the post-Covid-19 era, the main reason for this craze is not obvious. Indeed, most of its features are matched or surpassed by other applications, including those on this list. But people simply find Zoom easy to use, robust and reliable. The free version of Zoom allows you to invite up to 100 people to your meeting, and up to 49 can appear on the screen. The software can host your webinars or video meetings.
Participants can join the meeting via the app, their web browser or a traditional phone call. You can hold unlimited meetings, with video quality up to 720p; you can record your meetings locally; and have 24/7 online support. If you want to add a touch of colour to your meetings, you can also add Zoom backgrounds, which are becoming a real cultural trend.
Zoom offers the Pro version at €139.90 per year per user. The number of group meetings is unlimited, you can broadcast live on social networks and benefit from a GO of recording on the Cloud.
The second plan is the Business version at 189.90€ per year per user. You can involve up to 300 people, the possibility to transcribe recordings to the cloud or have a unique administrator access.
The Enterprise plan is also €189.90 per year per user, but you will need to purchase a minimum of 100 licences. Up to 500 participants, unlimited cloud storage and a dedicated account manager for support.
You can be up to 100 participants in a meeting, all free of charge,
You will be able to customise your backgrounds.
With the free plan, meetings are limited to 40 minutes,
Some security concerns were encountered.
Zoom invites everyone to download and install a program. This is a big hindrance if you are using it for a webinar for example.
#5 GoToMeeting: A solid video conferencing software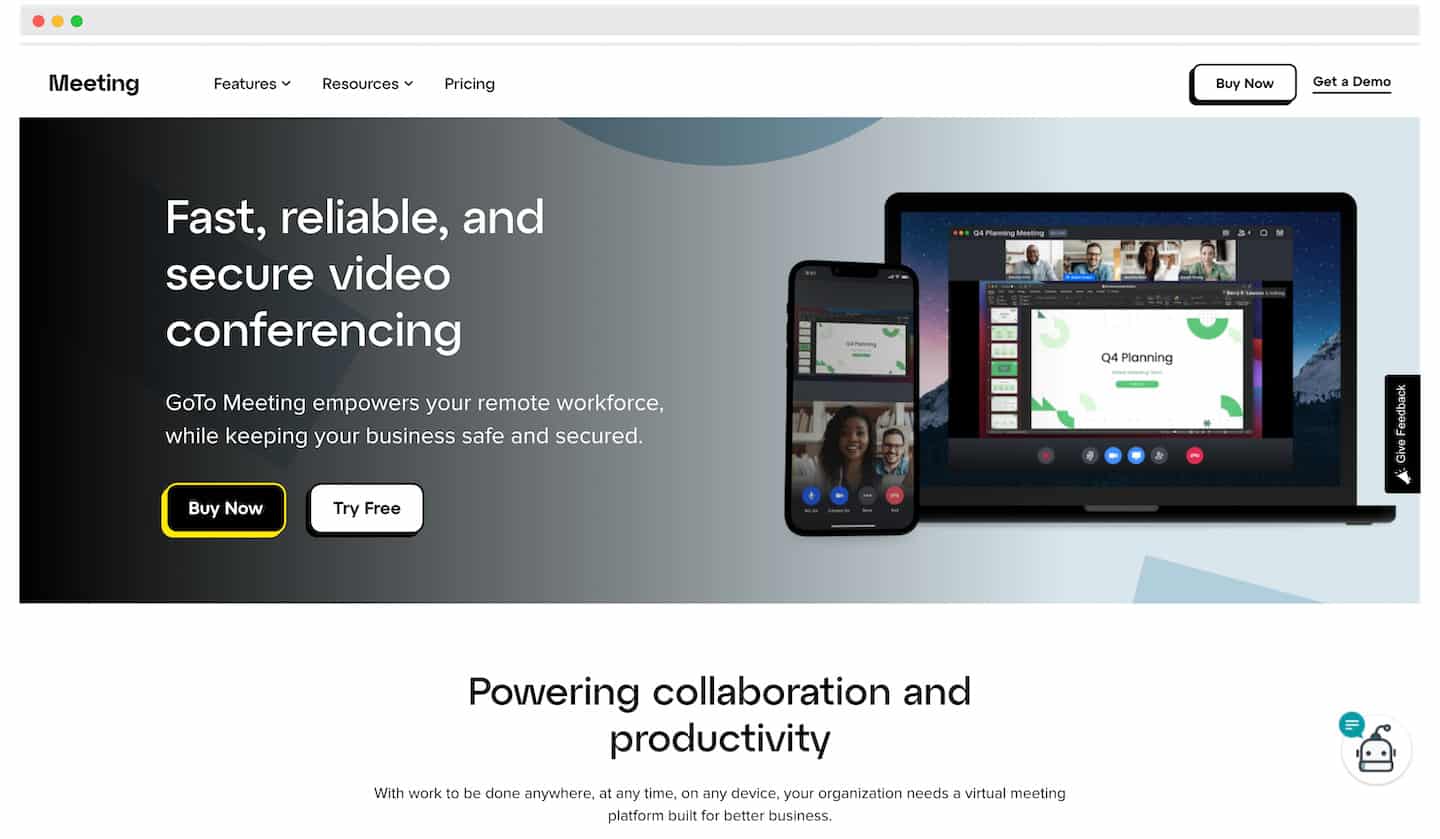 While some applications like Skype or Google Hangouts are broadly aimed at anyone who wants to organise a group meeting, GoToMeeting focuses on being a "serious" tool designed for businesses.
Supporting between 150 and 3000 guests per meeting, depending on your price plan, this service is packed with features to make your meetings organised and professional.
These include HD video, screen sharing, automatic transcription, unlimited cloud recording, note-taking support and 24/7 telephone support.
Hosts can start meetings via their smartphone and can even hand over control to another participant. Participants can join meetings via their browser, apps for Android, iOS or Windows Phone, or a phone call.
GoToMeeting does not have a free version.
For 10.75€ per month, the Professional package will allow you to secure your meetings or to have an unlimited number and duration of meetings.
The Business package at 14.33€, will also allow you to have access to the transcription or to take notes directly in the tool.
And the Enterprise plan (price not disclosed) allows you to invite up to 3,000 participants, but also to have a dedicated customer success manager or a quarterly customised training and functional analysis.
Very business-oriented,
Powerful advanced features.
This tool is far from being cheap,
You cannot record your meetings with the Starter plan.
#6 Skype Meet Now: one of the first video conferencing programs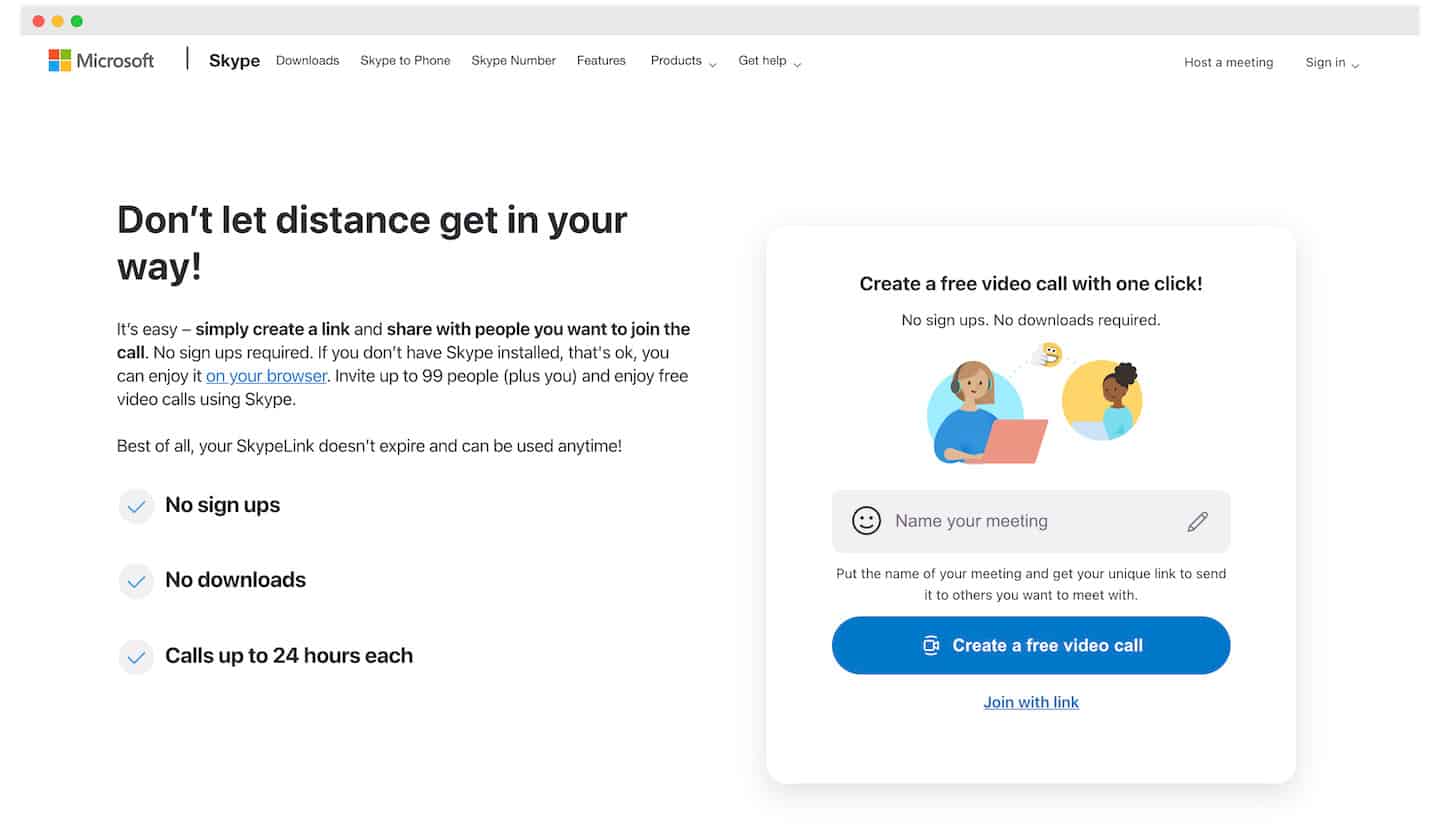 This is one of the historical video conferencing software that is still going strong. One of the main advantages in using the platform is that most guests are familiar with it. Skype Meet Now offers excellent video conferencing features, even in its free offering.
These include group calling for up to 50 people, screen sharing options and, most notably, the ability to automatically blur backgrounds.
You can also record calls and add live subtitles to conversations. Participants can access Skype via the web browser or dedicated desktop and mobile applications.
It is free to use, however, you will have to pay credits if you wish to call certain countries.
The meeting time is unlimited,
You have the option of blurring your background.
Use is limited to 50 people at a time with the free version.
#7 IONOS video chat: completely free video chat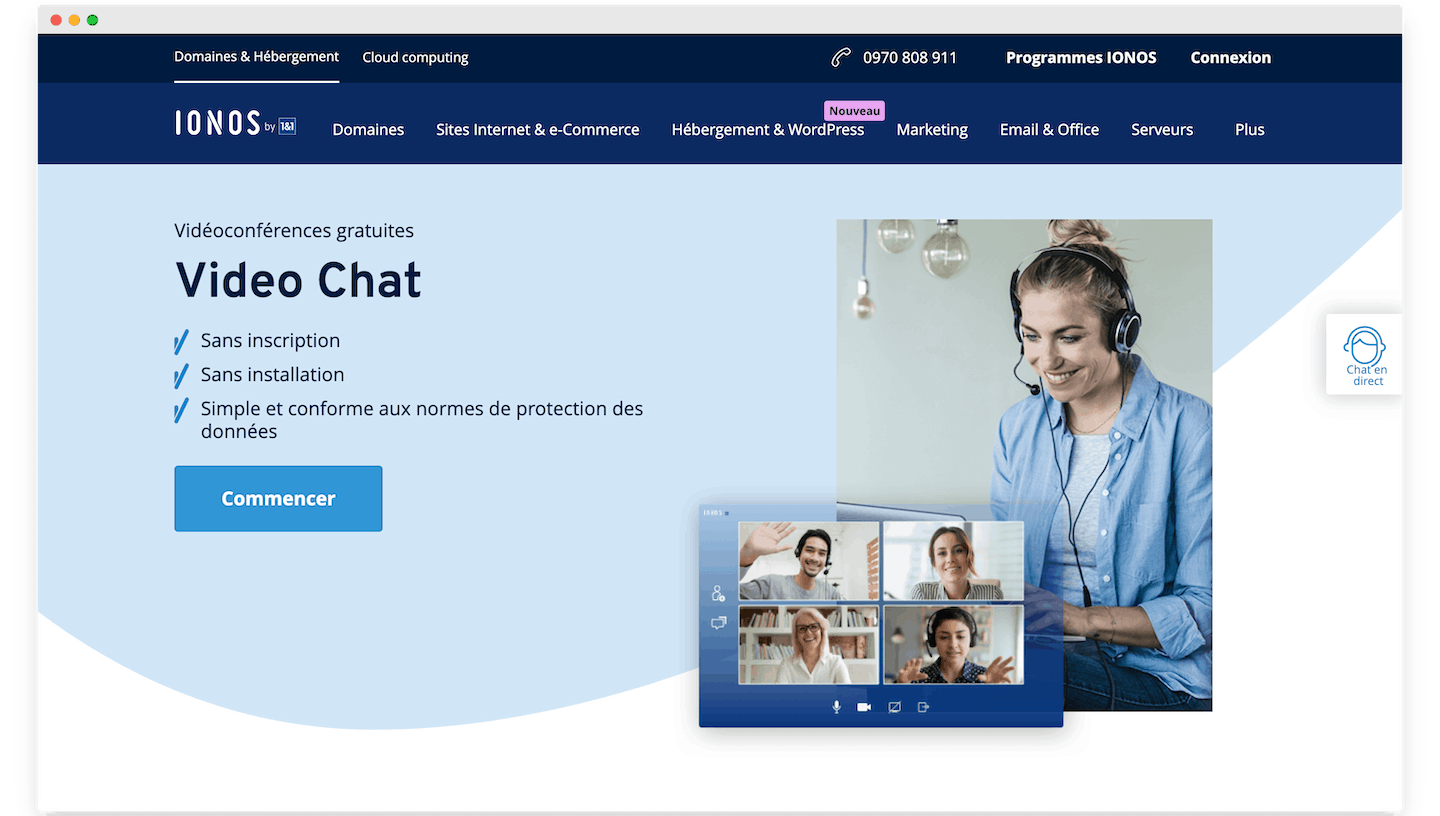 Hosting giant IONOS offers a completely free video conferencing tool. No registration, no installation: you open the link in any web browser, and you can start the conference. And you benefit from the infrastructure of one of the web's giants, to ensure smooth video conferencing.
Functionally, the tool allows up to 24 users to be connected to the same conference, to share the screen, and it also includes a written chat to facilitate multi-party conversations. A password can also be used to lock conferences and avoid "Zoom-bombs".
We also appreciate the fact that this is a European solution, unlike most of the software presented here, which complies with data protection standards. They even ensure that they do not collect your personal data.
It's completely free, no registration and no installation for up to 24 users
European solution and protection of your personal data
Interesting features: a hand-up button, video sharing, a home lobby, etc.
#8 Microsoft Teams: the Microsoft Pro Suite tool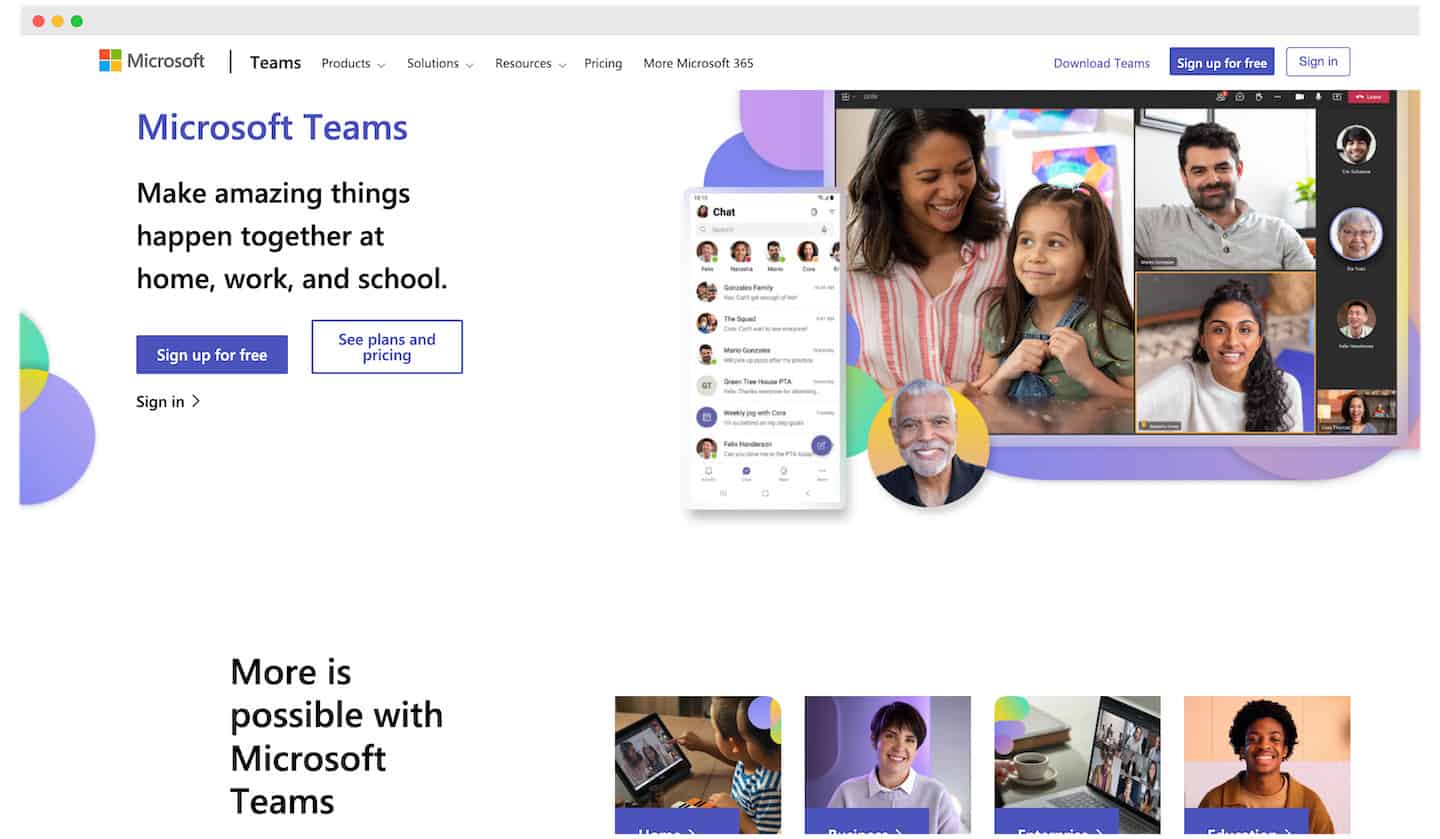 Microsoft Teams is designed for seamless efficiency and collaboration. It integrates with Office applications like Word and SharePoint. Its design and infrastructure make it exceptionally interactive.
The company has also made it possible to integrate Skype Business into Microsoft Teams. The programme was designed in response to the growing number of collaboration tools, such as Slack, that have dominated the market in recent years.
Microsoft Teams is a catch-all tool for all things workplace, but its video conferencing option is probably the most compelling and powerful on the market. Users can initiate video conferences directly from their chats.
You can use Microsoft Teams with the Basic version from 4.20€ HT per month. You will have a storage of 1 TO, a professional inbox and an integrated security. The Standard version is 10.50€ HT per month. All Microsoft applications are included.
You will also benefit from monthly updates and HD quality during your video conferences. Finally, the E3 version at 19.70€ HT per month with, among other things, the possibility for your clients to schedule appointments.
If you are a Microsoft 365 user, you will not have to pay anything,
Searching, saving and collaborating on files is very smooth,
Quite simple to use.
#9 Zoho Meeting: For Zoho Suite users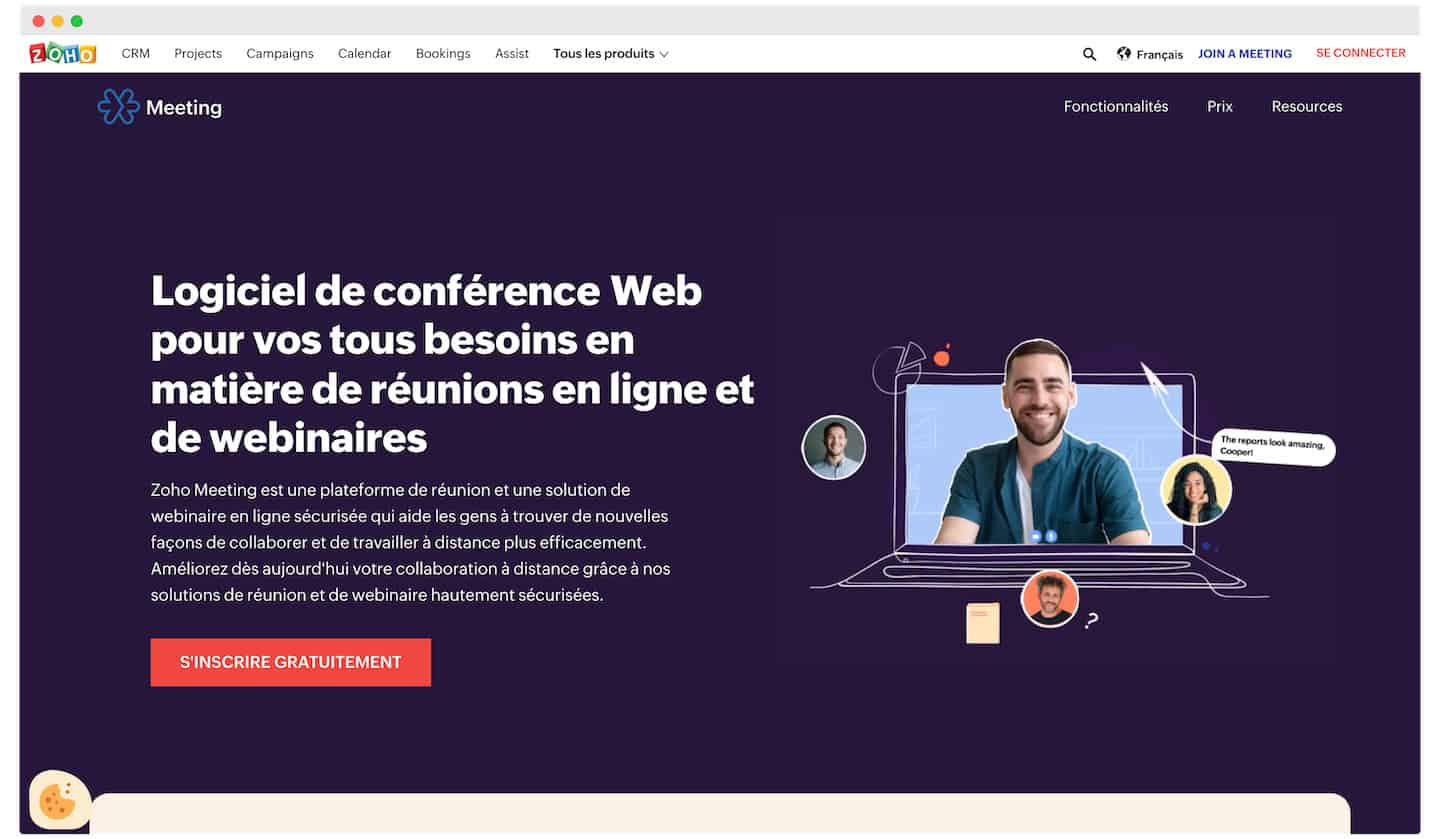 Zoho Meeting is a popular application that allows you to conduct online meetings more efficiently. It is the video conferencing tool associated with the Zoho CRM suite. Its integrated conferencing system allows you to share your desktop and hold face-to-face meetings with clients.
You can also transfer control to customers during product presentations. Other key features include connecting to Zoho Meeting directly from your desktop, integrating with your website to reach a wider audience and customising with your own visual identity.
Since it is entirely web-based, there is no need to download software. Participants can easily join the meeting with a single click. Zoho Meeting works with Windows, Mac and Linux operating systems, even with simultaneous access.
Zoho Meeting is available from £8 per month. With this, you can create meetings for up to 100 people and have the ability to store up to 10 session recordings.
Free version already very solid.
Registration from 8€ / month.
Hidden costs can sometimes be surprising,
Somewhat rudimentary functionality.
#10 BlueJeans: The artists' video software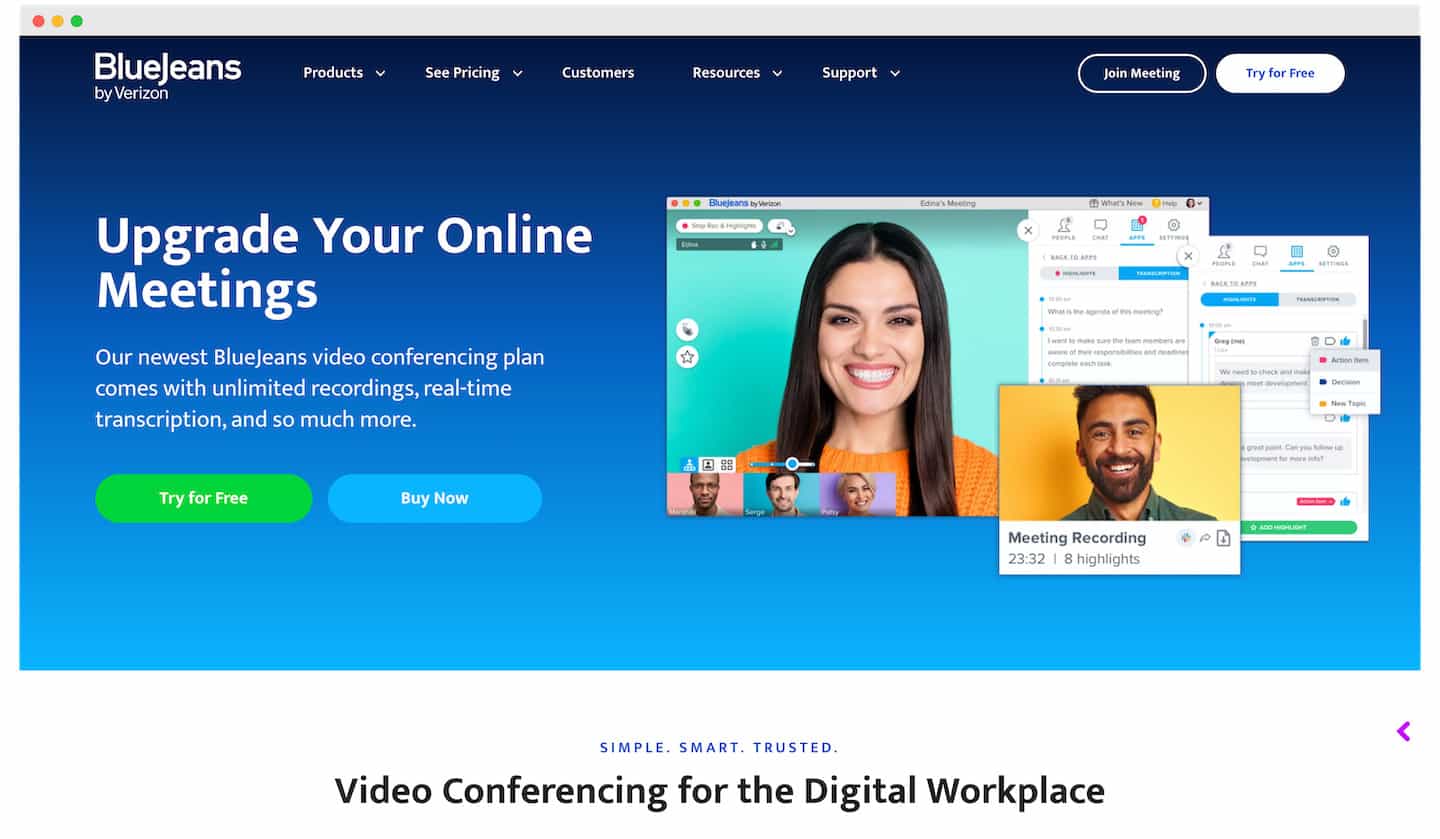 Bluejeans is another high-end video conferencing service for business users. It is both easy to set up meetings and to scale them to a level of complexity that meets your needs. For example, hosts can create up to 20 breakout sessions to collaborate on sub-tasks. In addition, you can not only share your screen, but also annotate it like a whiteboard. Uniquely, the service supports directional audio for Dolby Sound compatible rooms. Meetings are accessible via web browsers, Windows, Mac, Linux, iOS and Android, and you can host from 50 to 100 participants, depending on your pricing plan.
There is no free plan but BlueJeans is available from $9.99 per month with the Standard plan. You will be able to host up to 50 participants, unlimited meetings, 24/7 support and enhanced security.
The Pro plan at $13.99 per month will allow you to host up to 75 participants, record 25 hours of meetings or integrate Slack, Gong, Zoho etc.
The Enterprise package is only available on request.
A Dolby feature unique in the industry,
An annotation function is also available and uncommon.
Your backgrounds cannot be blurred,
BlueJeans is relatively expensive.
#11 Cisco Webex: the Fortune 500 video software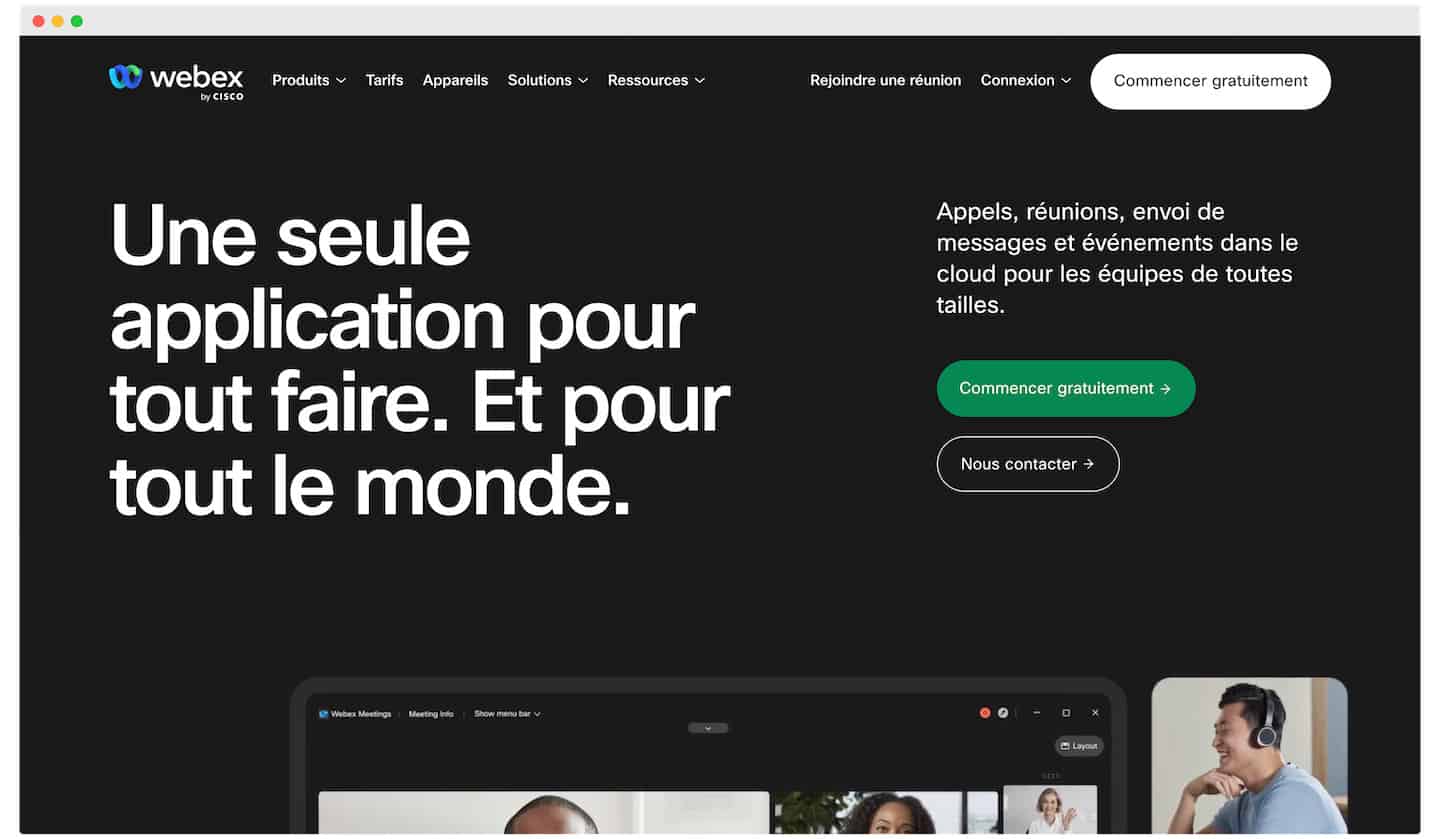 Cisco is a major name in enterprise software and its tools are generally very expensive. So it's surprising that its video conferencing software, Cisco Webex, comes with a free plan. Especially since it will meet most people's needs, allowing you to hold HD video conferences with up to 100 people, share your screen and even set up private chat rooms.
Meetings can be accessed via desktop, iOS and Android apps, there is no limit to the length of meetings and you can make MP4 recordings (1GB of cloud storage is provided with the free plan).
You can access meetings via your web browser, desktop applications, iOS and Android apps, or via a phone call. In short, a truly comprehensive tool for making video calls.
At the tariff level, 3 plans:
Starter from 12.85€ per month: You will have access to an unlimited number of meetings, 5 GB of storage in the cloud and many integrations.
The Plus package at €17.30 per month also allows you to benefit from 24/7 customer service or to allow other people to schedule meetings on your behalf.
The Business plan at €25.65 per month allows you to invite up to 200 people, 10GB of storage and single sign-on.
A very professional appearance,
Up to 100 people can be accommodated free of charge.
Unfortunately, it is a lesser known platform than its competitors.
Reader Interactions