According to a 2021 study conducted by Wakefield for Slack, 79% of users say their collaborative platform is very important to their work.
But when we talk about collaborative platforms, we're referring to project management, communication and document editing tools.
While this kind of solution is a real added value for teams looking to structure themselves and improve their communication (both internal and external), not all the platforms available on the market have the same functionalities, and therefore don't all meet the same needs.
That's why in this article we've divided our 15 favorite collaborative platforms into three parts, depending on your organization's needs: project management tools, communication or document editing.
Why choose a collaborative platform?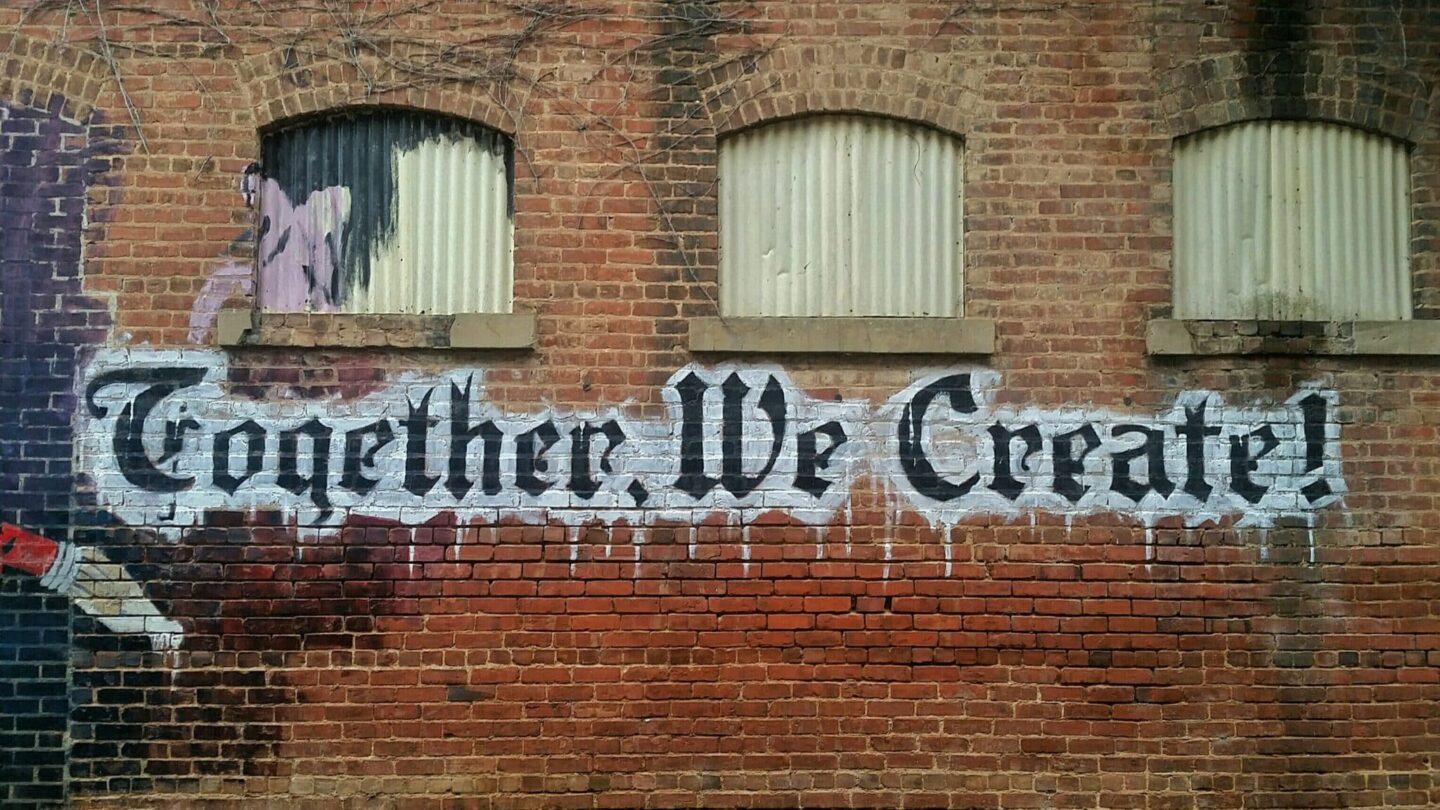 Corporate communication has always been a real headache. But Covid19 and widespread telecommuting have led to the emergence of innovative digital solutions to compensate for the absence of face-to-face meetings and exchanges.
Collaborative platforms aim to reduce the use of email and the multiplication of meetings by centralizing communication to make it faster and more efficient. Since 2019, platforms like Slack, MS Teams or Google Workspace have entered the daily lives of corporate employees.
Even if the situation has returned to normal, these tools are still used by many structures. The study conducted for Slack in 2021 reports that 78% of IT decision-makers say they continue to use this software.
In fact, collaborative platforms meet a deep-rooted need for centralized business exchanges, which the corporate social networks that were so fashionable a decade ago failed to satisfy.
How do you choose the right collaborative platform?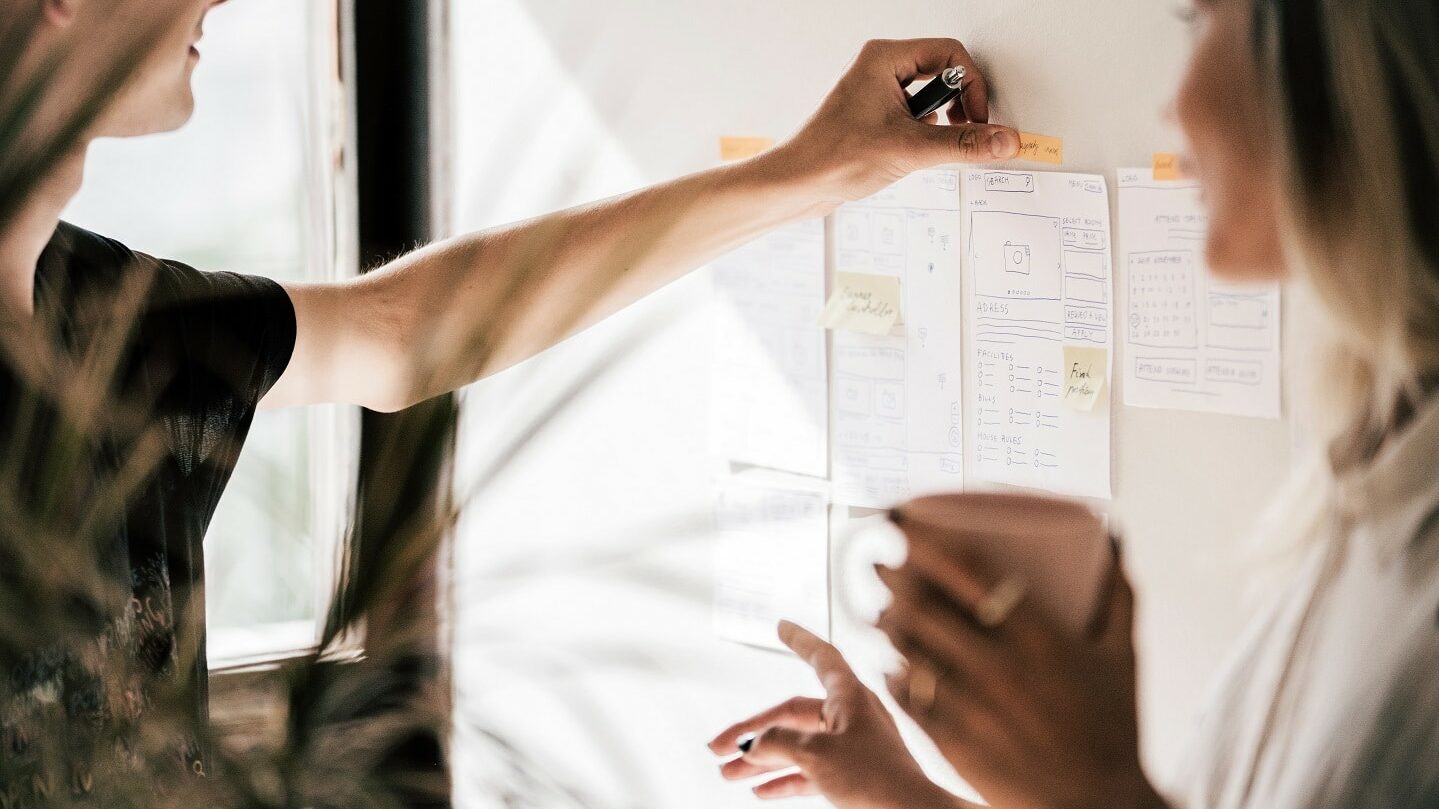 The trend in recent months has been towards"Work OS" (Work Operating System). We need to draw a parallel with what we call an Operating System in the software world: Windows, Mac OS, Linux, Chrome OS, … It's the foundation on which all other software is built and installed.
The dream would be software that brings together all a company's communications, project management and documents – a digital workspace.
But the idea that one tool could suddenly make all your business communications efficient is a bit of a stretch.
In real life, it's best to detail your needs in terms of your existing internal problems, to find the tool that will provide you with the best solutions:
Integrating new members into your project team is a real headache? Specialized project management platforms(Monday, Wrike) are the ones for you.
Having trouble centralizing all your data? Turn to platforms dedicated to internal document management(Notion, Google Drive).
Can't find your way through the conversations generated by your various communication channels? Ideally, you should use a platform dedicated to improving your exchanges (Slack, Microsoft Teams).
Top 5 collaborative platforms for better project management
#1 Monday: The undisputed leader in project management
At Salesdorado, we consider Monday to be the leader in project management: it's an excellent software package, offering a wide range of features (integrations, planning tools, etc.), including advanced collaboration functions.
Monday offers a collaborative dashboard, with advanced features such as the ability to display your entire team's schedule over a defined period of time (it's also a great time-tracking software).
The free version of Monday Projects allows the use of brainstorming and planning tools by 2 collaborators, and up to 1000 tasks.
The paid version, which starts at 9 euros/month/user, offers an unlimited number of free visitors, unlimited tasks and projects, as well as various project views in Kanban, dashboard or calendar.
Try Monday for free
Monday's free plan is ideal for small teams looking for a collaborative tool for complex projects!
#2 Clickup: Sillicon Valley's hottest challenger
When it comes tofree project management tools, Clickup is one of the best solutions on the market: the free plan offers fairly advanced functionalities (integrations, automations, etc.) for an unlimited number of projects and users.
And it's all the more appreciable that Clickup also offers some super cool collaboration features: interactive whiteboards, instant messaging, Gantt software for visualizing dependencies between different projects, to name but a few.
The free plan is functionally very advanced, but limited to 100 MB of storage. Then, count $5/month/user for the first paid plan.
Try Clickup for free
Clickup is the perfect solution for those looking for a collaborative tool with great functional depth.
#3 Wrike: The big, comprehensive machine
Wrike is a project management software that recently launched a range of advanced collaboration functions, ideal for complex projects involving several different teams.
What makes the difference? Ultra-advanced security features for a program that's still easy to learn, and advanced scheduling functions.
Wrike offers a functionally deep free plan limited to 2 GB of storage per account, then a 1st plan at $9.8/month/user with more integration and automation features, and a Business plan at $24.80/month/user.
Try Wrike for free
Wrike's free plan gives you a good idea of the tool's functional depth!
#4 Basecamp: The only software on the market with a single fee
Basecamp is a veteran of project management, and as such offers a host of collaboration features that are highly practical for both small and large teams.
Key features include advanced instant messaging tools for brainstorming sessions, as well as automatic check-ins that send questions to your collaborators like "How's the marketing campaign going?"
The free Basecamp plan is limited to 3 projects, 20 users and 1 Gb storage. What's special about Basecamp is that there's only a $99/month pay-as-you-go plan to access all the software's functions, with no user or project limits.
Try Basecamp for free
If you're looking for a proven collaborative platform, we recommend Basecamp's free plan.
#5 Teamwork: Ideal for agencies and service companies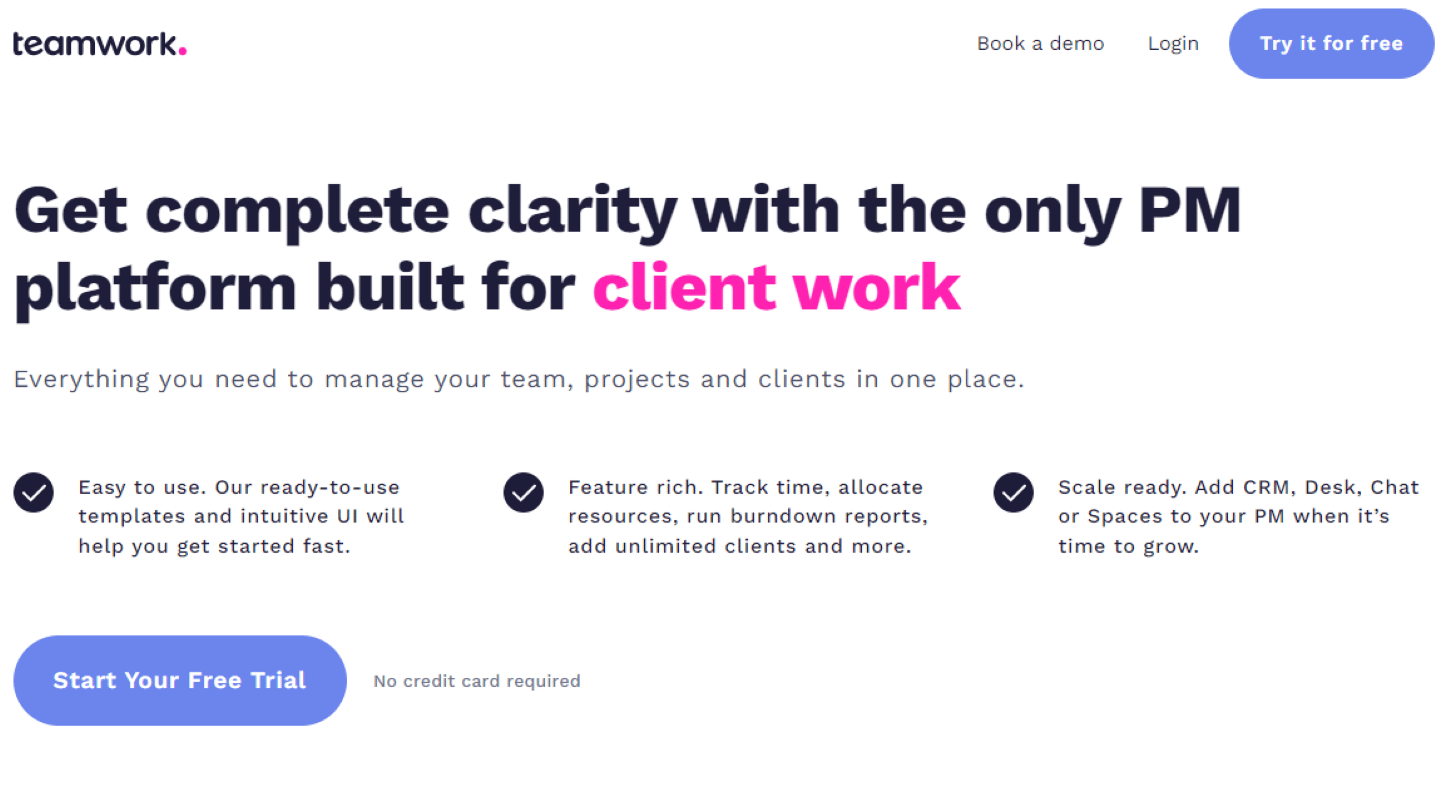 Teamwork is the ideal collaborative platform for agencies and service companies. You can easily keep track of the projects of individual team members, and plan the tasks to be completed together.
The most? Their instant messaging application is suited to both internal and external collaboration. Basecamp also offers a space where you can share your ideas and ask other team members for feedback.
The free version of Teamwork is limited to 5 users, but allows you to use all the basic collaboration tools. To unlock this limit, you can upgrade to the paid version at 10 euros/month.
Try Teamwork free of charge
You can test Teamwork's free plan to see if this collaborative platform is right for you.
Top 5 collaboration tools for better document management
#1 Notion: The innovative leader that makes your documents dynamic
Notion is one of our favorite collaborative platforms. And for good reason: it completely eliminates the notion of a static document. We create a workspace, manage access rules and build a real navigable architecture to access a given page or table (the equivalent of a document).
It's a modular, all-in-one software package that's truly ideal for bringing all your company's information together in the same collaborative workspace, with the ability to work on your documents, calendars, kanban tables, etc., in groups.
However, the free version has been designed as an individual tool, with an unlimited number of pages and blocks, but which you can only share with up to 5 users.
If you're looking for a collaborative platform above all else, we recommend the paid version from $4/month, which gives you access to collaborative workspaces and an unlimited number of guests.
Try Notion for free
Notion is a reference in project management software and especially in collaborative tools!
#2 Google Drive: Efficient document sharing within the Google suite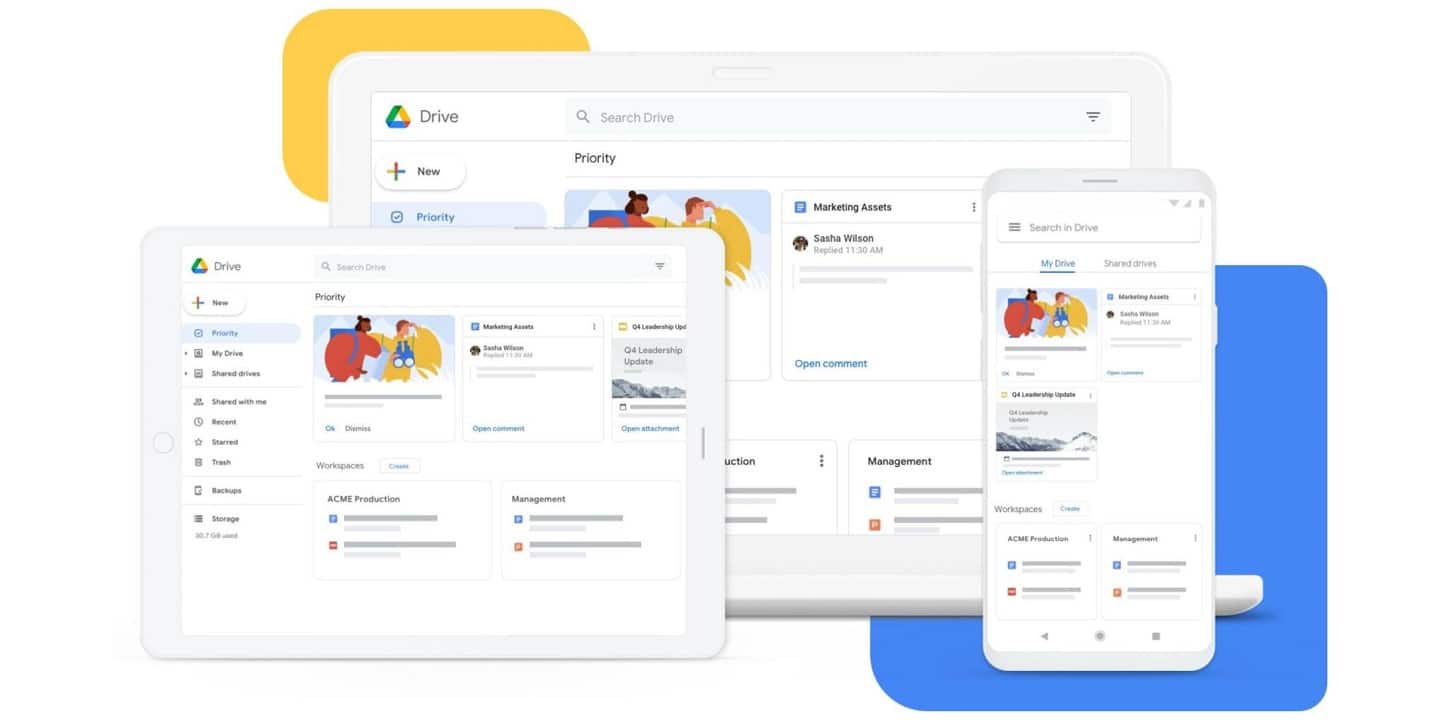 When it comes to editing documents, Google Drive is obviously the must-have collaborative tool. It's an extremely simple and intuitive tool that lets you share and modify any type of document in real time with other members of your team.
The real advantage of Google Drive is that it's part of the Google suite, and as such, it integrates seamlessly with many of the tools you may already be using, from Gmail to Google Calendar.
The second advantage is its price, because the Google suite is free and gives access to all its tools.
Try Google Drive free of charge
Google Drive is the ideal collaborative tool for Google fans!
#3 Microsoft 365: Ideal for die-hard Office fans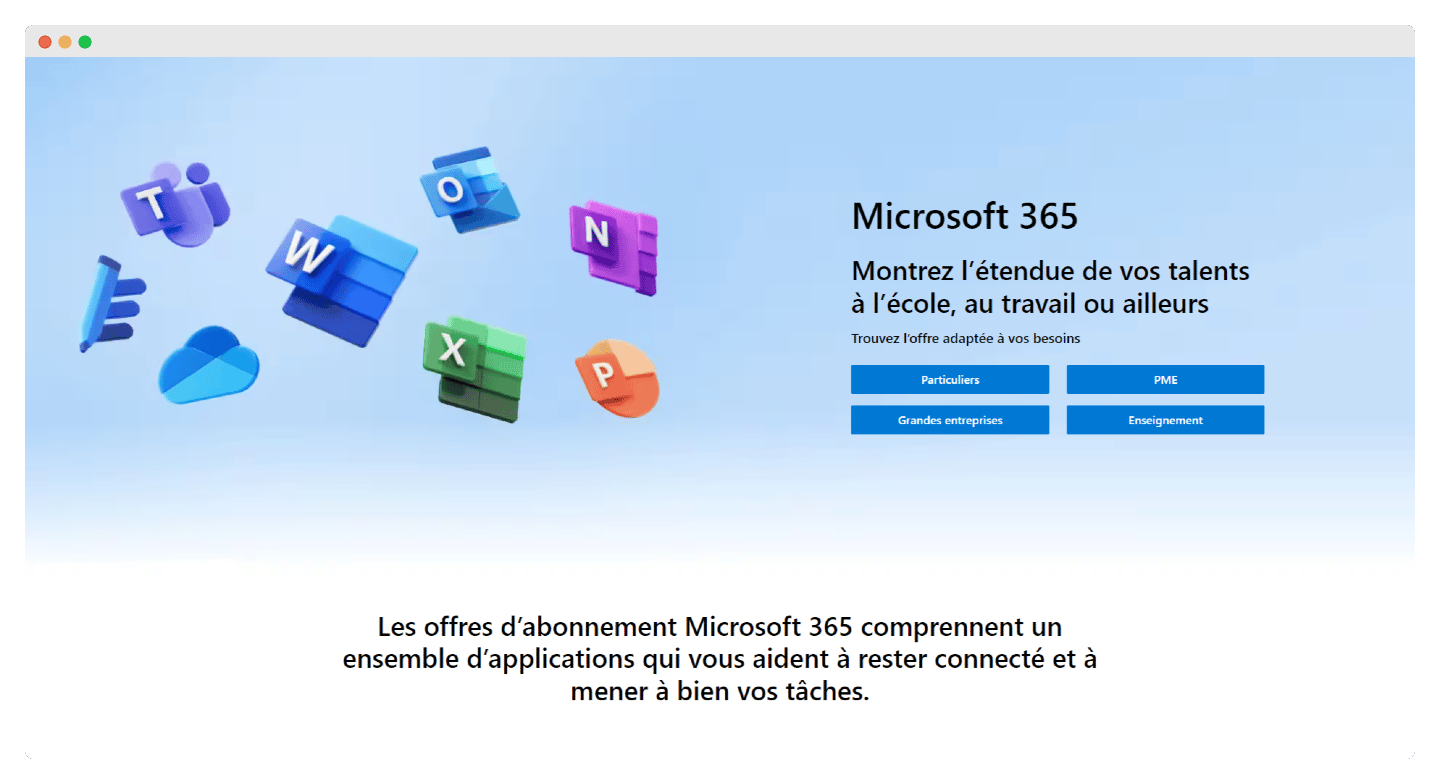 Microsoft 365 is the equivalent of Google Drive for users of the Office suite. When it comes to collaboration, this cloud-based tool lets you edit documents with other members of your team, from your computer or from their mobile app.
The real plus is the integration with Microsoft Teams, thevideo-conferencing tool, which lets you share all these collaborative documents during your meetings.
The pricing structure is a little complex to understand, but overall, for businesses, the 1st plan costs around 5 euros/month and gives access to all the tools in the Microsoft suite.
Try Microsoft 365 for free
Microsoft 365 is a great collaborative tool if you use Microsoft Teams.
#4 Miro: The collaborative virtual whiteboard that will delight regulars and novices alike
Miro is not the most classic of collaborative platforms. It offers a whiteboard on which several people can work simultaneously: they can add files and images, draw, pin notes and more.
The real plus, in addition to the attractive design, is the possibility of making calls via Miro with the board in front of you, so you can discuss the various information on the board with your colleagues.
The free version of Miro is quite interesting in that it has no user limits. On the other hand, it only offers 3 displayboards, unlike the 1st pay plan at $8/month/member, which offers an unlimited number of displayboards as well as more advanced displayboard customization functions.
Try Miro free of charge
Miro is one of the most attractively designed collaborative tools available!
#5 Canva: The collaborative template gallery for communications teams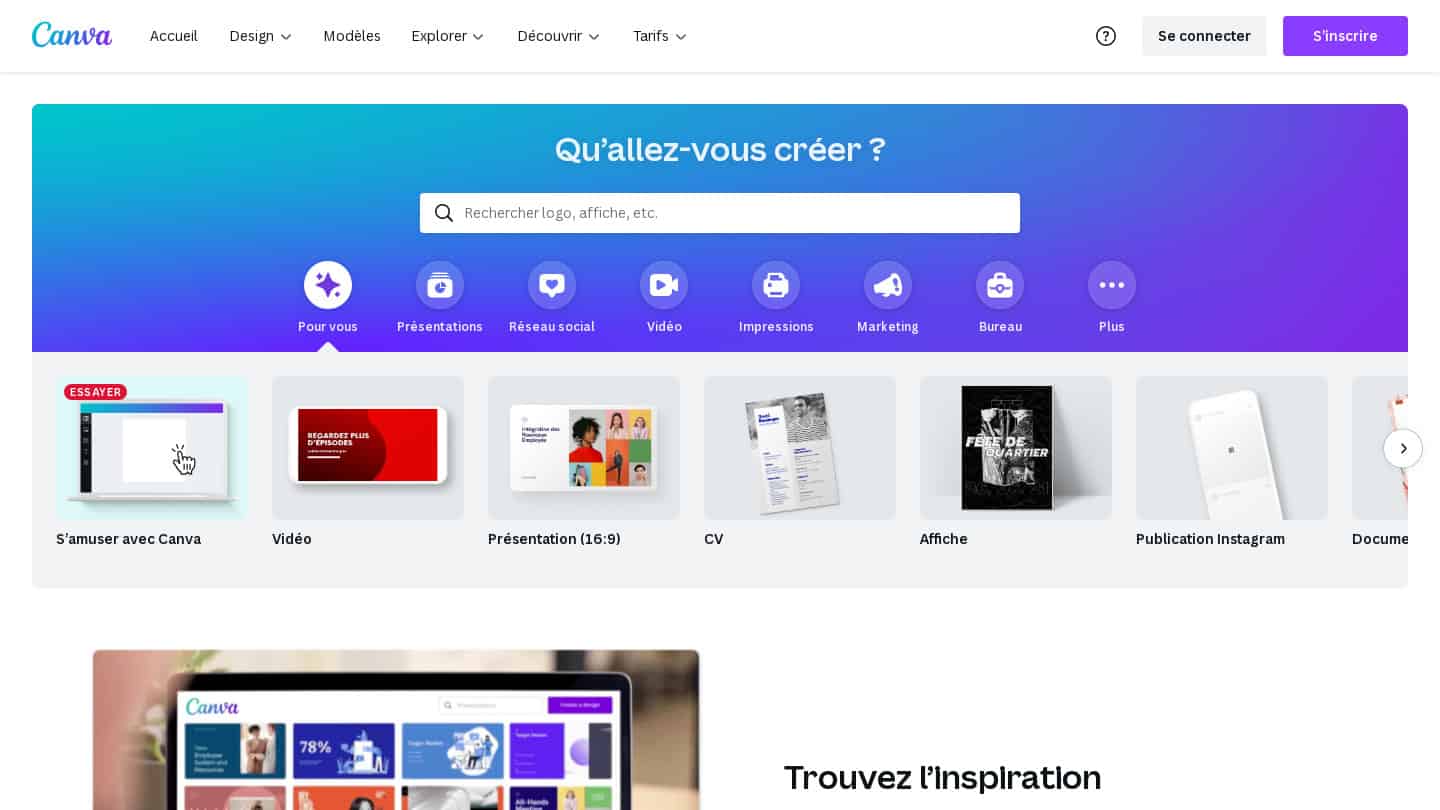 Canva is a well-known document creation tool for making beautiful presentations, but they also have some pretty powerful template management features.
It's ideal for a communications team to manage everything produced by all the other teams: they can easily provide them with the appropriate templates and graphic guidelines.
In terms of pricing, the free version of Canva is quite advanced, but limited in terms of the designs it offers. Teams will be better off with the paid version, starting at 109.99 euros/year/person, which unlocks all the limits of the free plan.
Try Canva for free
The free version of Canva lets you take collaboration to the next level.
Going further
Canva is one of our favorites when it comes to business processes.
Top 5 collaboration tools for better communication
#1 Slack: The must-have software for smooth communication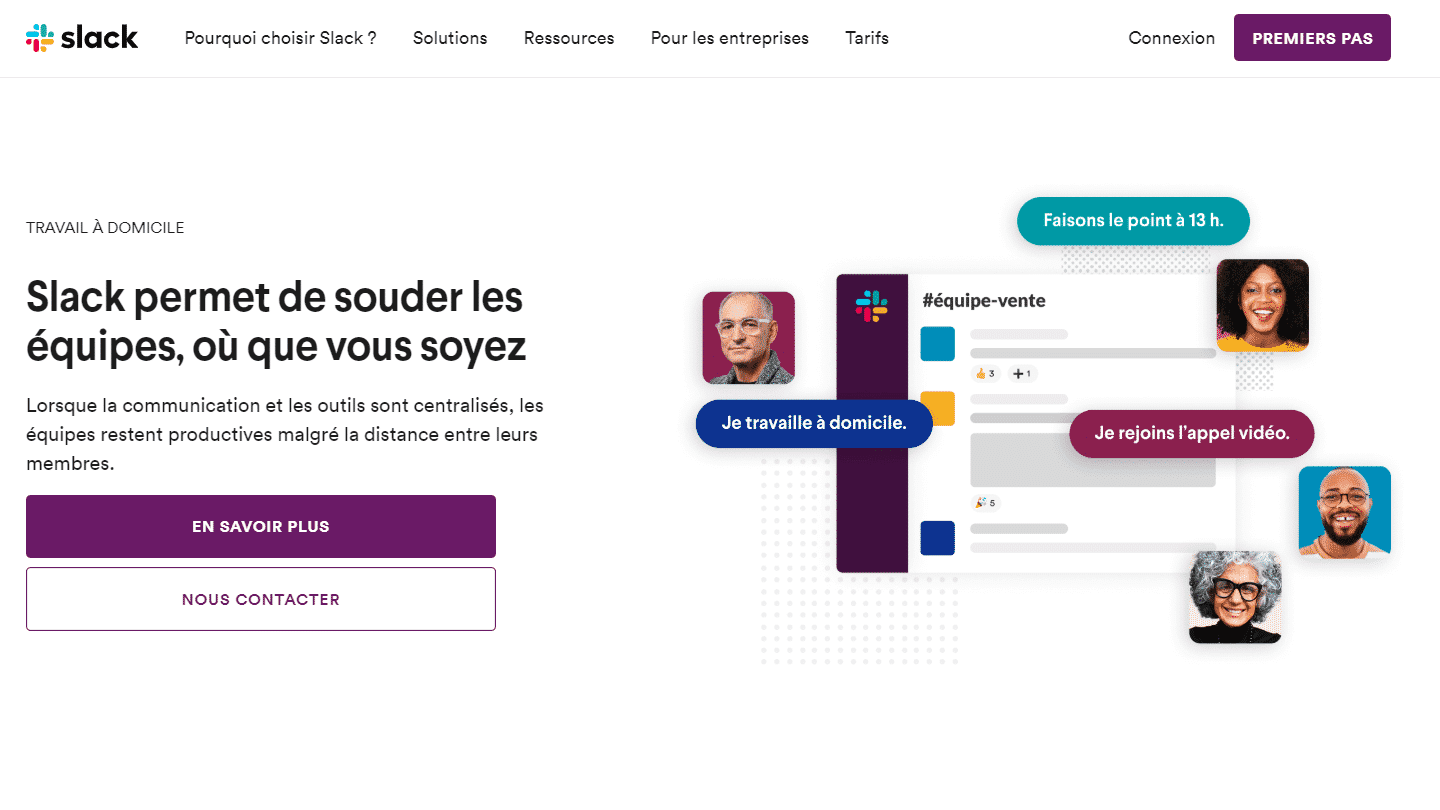 When you think business communication tool, it's hard not to mention Slack. This collaborative platform is very popular, and rightly so: it simplifies exchanges with your teams by dividing them into different channels depending on the subject.
Slack is hyper-intuitive: integrations with Google Drive let you drag-and-drop documents, and Slack also integrates web applications such as Trello.
But Slack's greatest strength is its popularity with developer communities, who have created a huge number of applications to enrich the Slack experience. One very classic use is the Slackbot: this is a robot that automatically sends a message on Slack when certain conditions are met. For example, to notify your sales teams (or even the right person directly) when a form is filled in on your site, or to notify your customer support teams every time a customer review is posted on a public platform like Google Maps or Trustpilot.
In terms of pricing, the free version is ideal for small teams with fairly basic communication functions. Otherwise, you'll need to switch to the paid plans, starting at 6.25 euros/person/month to unlock all user limits.
Try Slack for free
Slack is a must-have among collaborative tools.
#2 Microsoft Teams: Attractive, streamlined communication within the Office suite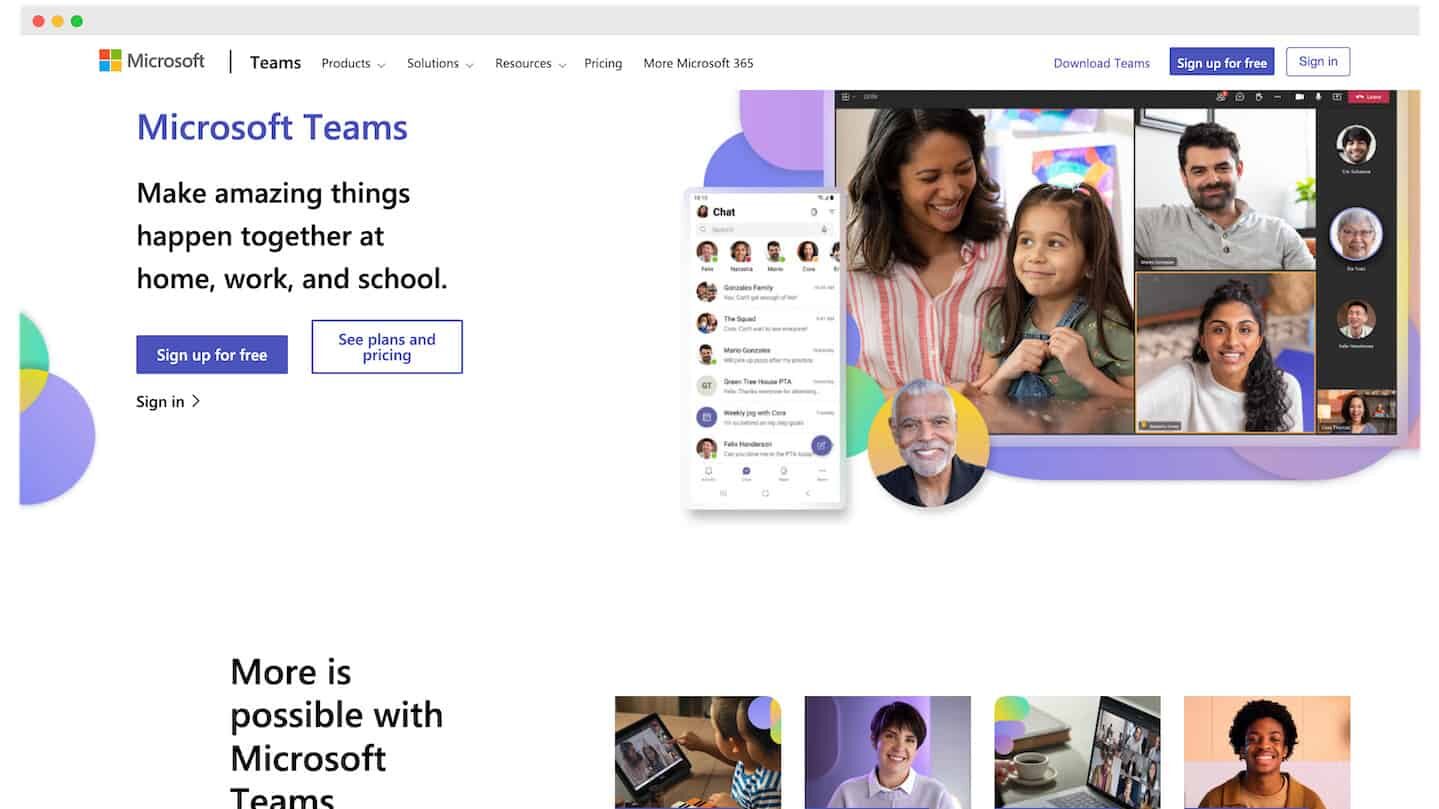 Microsoft Teams is a great alternative to Slack for fans of the Office suite. It's a robust communications tool that will integrate with all your applications, from Word to Skype Business, not forgetting Microsoft 365.
It's an all-in-one tool, and sets itself apart from its competitors with an extremely convincing videoconferencing option, which can be launched directly from the chat.
The free version of Microsoft Teams is ideally suited as an internal communications tool, but if you also want to benefit from a true videoconferencing tool, then the paid package, starting at $4/month/user, is more suitable, as it unlocks all time and user limits.
Try Microsoft Teams free of charge
You can test Microsoft Teams at the same time as Microsoft 365!
#3 Loom: Ideal for solving internal problems in record time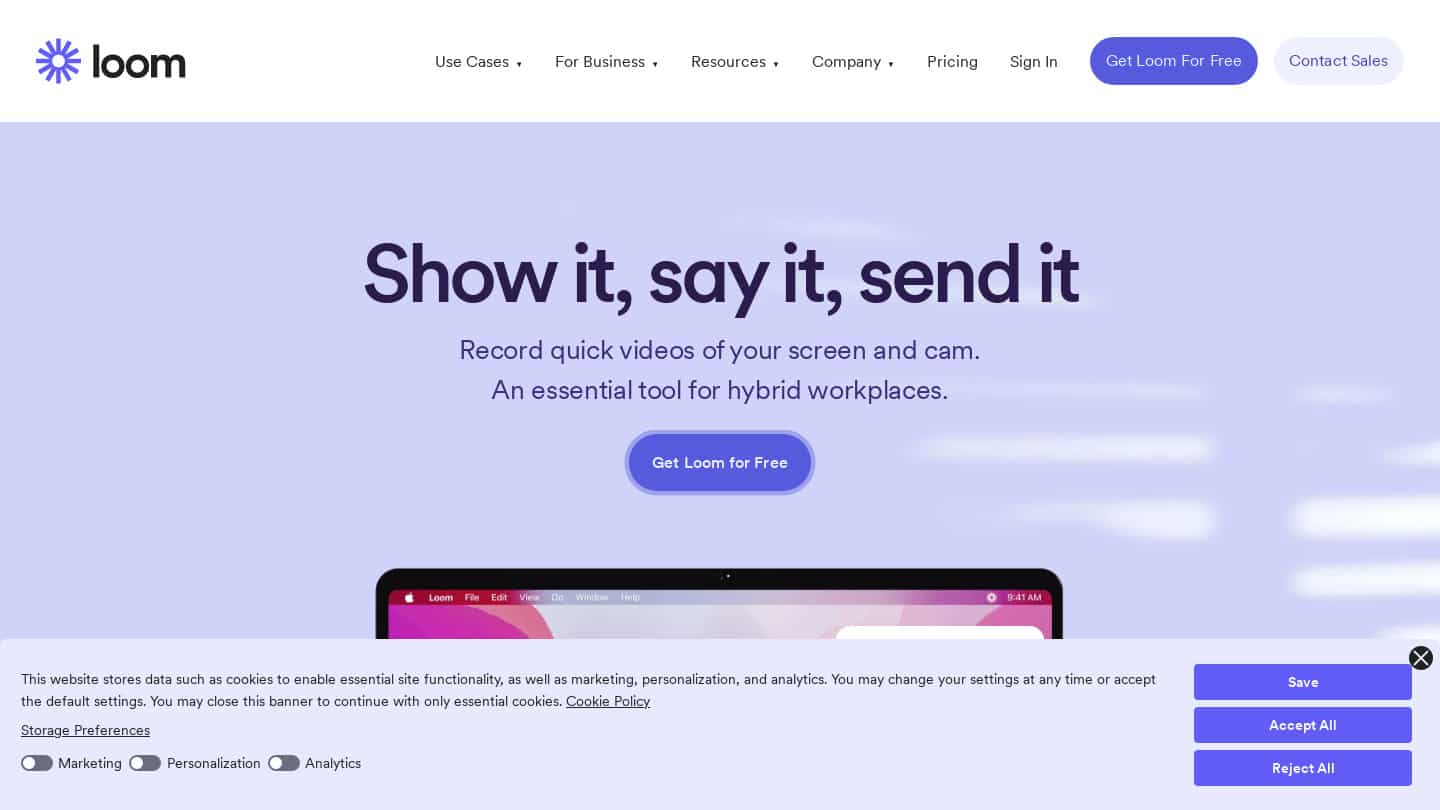 At Salesdorado, we use Loom'schrome extension a lot to solve our internal problems very efficiently. This tool lets you record videos from your computer and then share them via a simple link.
It's the ideal tool for promoting distance learning and transmitting information very quickly using a simple video!
In terms of pricing, Loom offers a freemium version limited to 25 users, 100 videos and a maximum of 5 minutes for each video. You'll then have to opt for the paid plan, at $8 a month.
Try Loom free of charge
Take advantage of the freemium version of Loom to get a feel for the tool!
#4 tl;dv: The meeting recorder that saves you precious time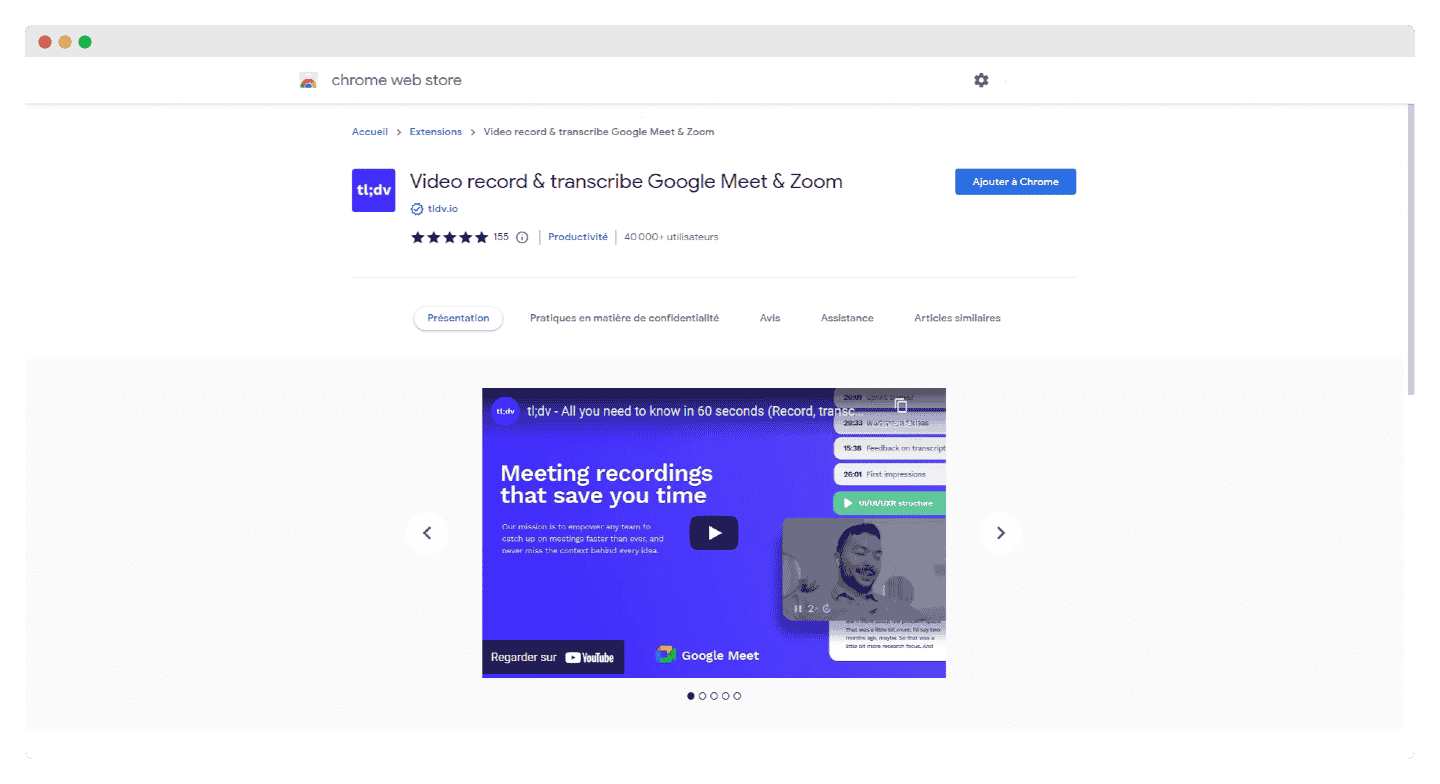 Tl;dv is a useful Chrome extension that records and transcribes your google meet & zoom meetings and lets you add notes.
Key features include the ability to time-stamp important moments in the live meeting, and instantly share fully contextualized summaries with your team so they can catch up in minutes.
The advantage of this tool is that its free version is extremely comprehensive. They also offer a premium version at $20/month/user, which gives access to advanced recording functions not necessarily required by smaller teams.
Discover tl;dv
tl;dv is an extension that records and transcribes your Google Meet & Zoom meetings and lets you add notes.
#5 Claap: The new kid on the block that will make your communication crystal clear
Claap is a French start-up that has launched its remote collaboration tool: it's a clever mix between Slack and Loom, and the tool is based on asynchronous business communication.
In short, it's a collaborative platform where you share recorded videos of your work with your team, and everyone can then annotate them, and respond with another video asynchronously. The idea is to go much further than written conversations or video calls.
The free plan is very comprehensive, but videos are limited to 15 minutes. Paid versions start at $10/month/user.
Try Claap free of charge
You can test Claap, the new kid on the collaborative block, free of charge.