A benchmark among to-do list applications, Todoist is a lightweight, efficient solution for managing uncomplicated tasks and projects.
Easy to implement, with a rich catalog of templates and integrations, this tool is ideal for users who don't have major functional requirements. Todoist has its limitations, particularly in terms of collaboration and automation.
In this article, we tell you everything you need to know about Todoist!
Our opinion on Todoist
Criterion
Note Salesdorado
Comment
Overall rating
Todoist is a high-performance solution for to-do lists and task management.
Ease of use
Todoist is easy to use, thanks in particular to the numerous templates on offer.
Easy to set up
Intuitive, Todoist is very easy to set up.
Customer service
The resources on offer are numerous, but the tool does not allow you to contact your customer service directly.
Functional depth
This is a limitation of Todoist, which is very complete for task management, but less so for other areas, such as collaboration.
Integrations
Todoist boasts a rich marketplace of integrations, filling in some of the gaps.
Quality-price ratio
With a limited free plan offering no notifications and reminders, but attractive paid plans, Todoist offers good value for money.
The advantages of Todoist:
Ease of use: the software is easy to understand at first glance. Intuitive set-up is facilitated by a rich gallery of templates.
Multi-platform access: Todoist has been developed for the web, tablets and smartphones (iOS and Android). It's easy to handle on any device, and offers a host of interesting features (dark mode, voice control, etc.).
Todoist's drawbacks:
Functional depth: the software's light weight makes it a solution with limited functional depth for structures with large needs, high volumes and many members to collaborate with.
Free plan: the free plan is mostly limited to a good option for discovering the tool: you're quickly limited, and the numerous ads disrupt the user experience.
Todoist: Features at a glance
Task planning and management
Todoist works with a system of projects, to which you can add tasks and subtasks. Projects can be used to separate your different to-do lists, for example to separate personal and professional tasks.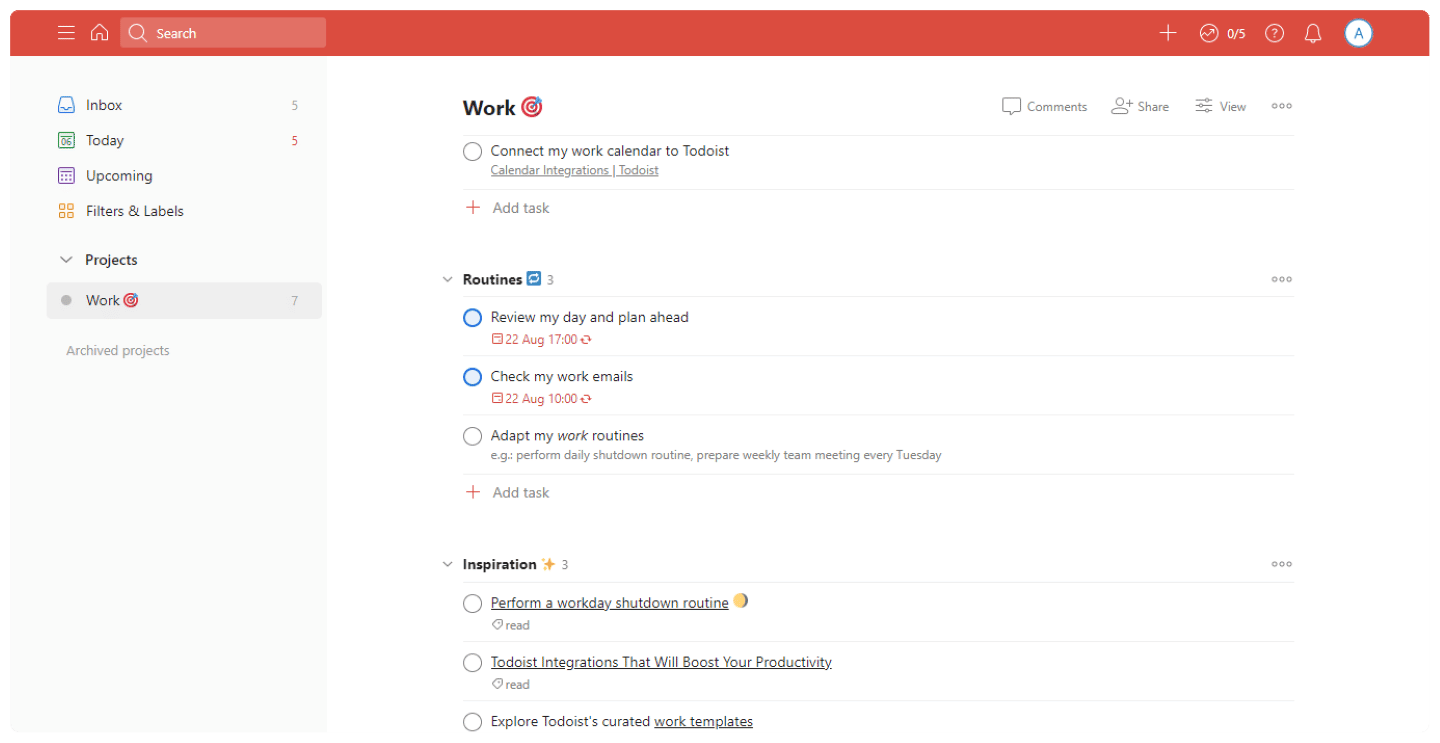 Todoist offers several views: you can view the tasks to be completed that day, all the tasks in your inbox, or all the tasks to come.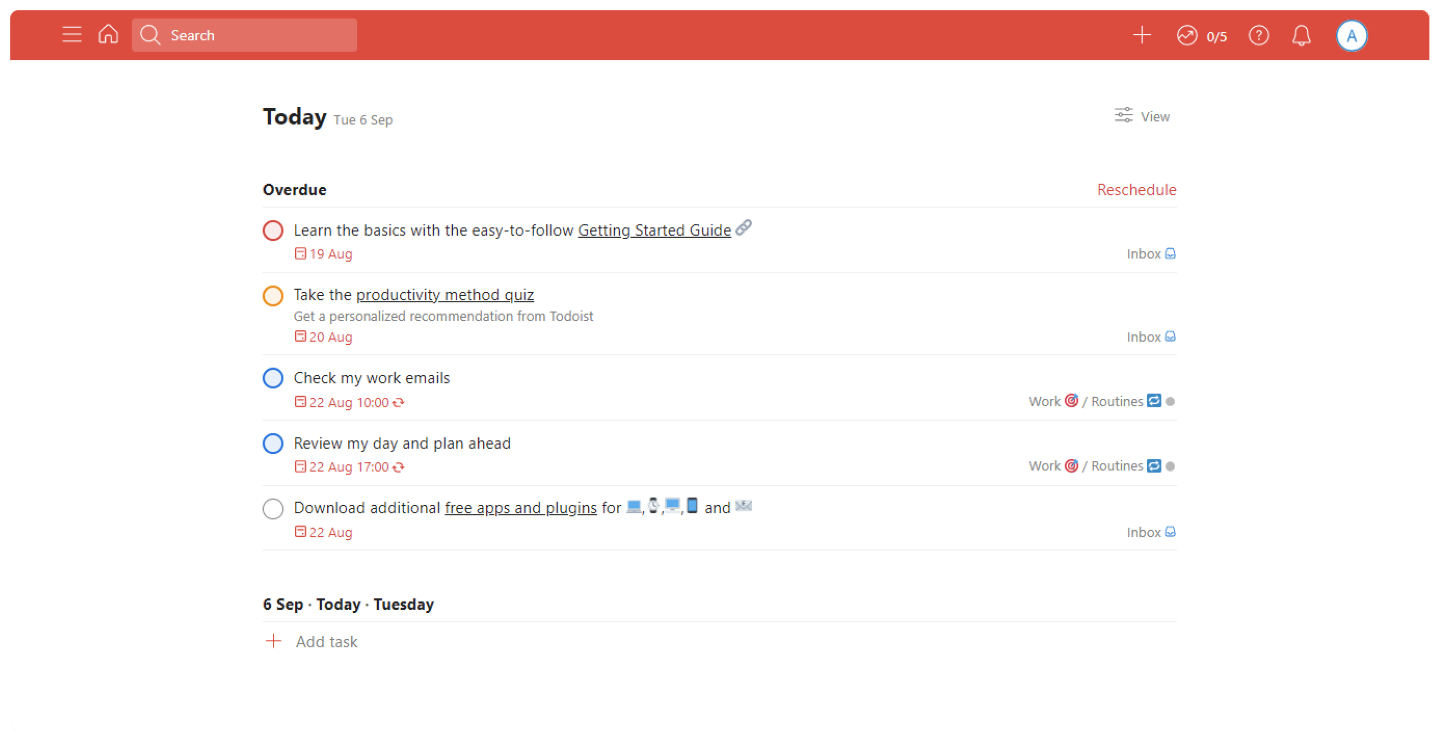 Tasks can have filters and labels, and be sorted manually, or automatically according to the criteria of your choice (by project, priority, due date…).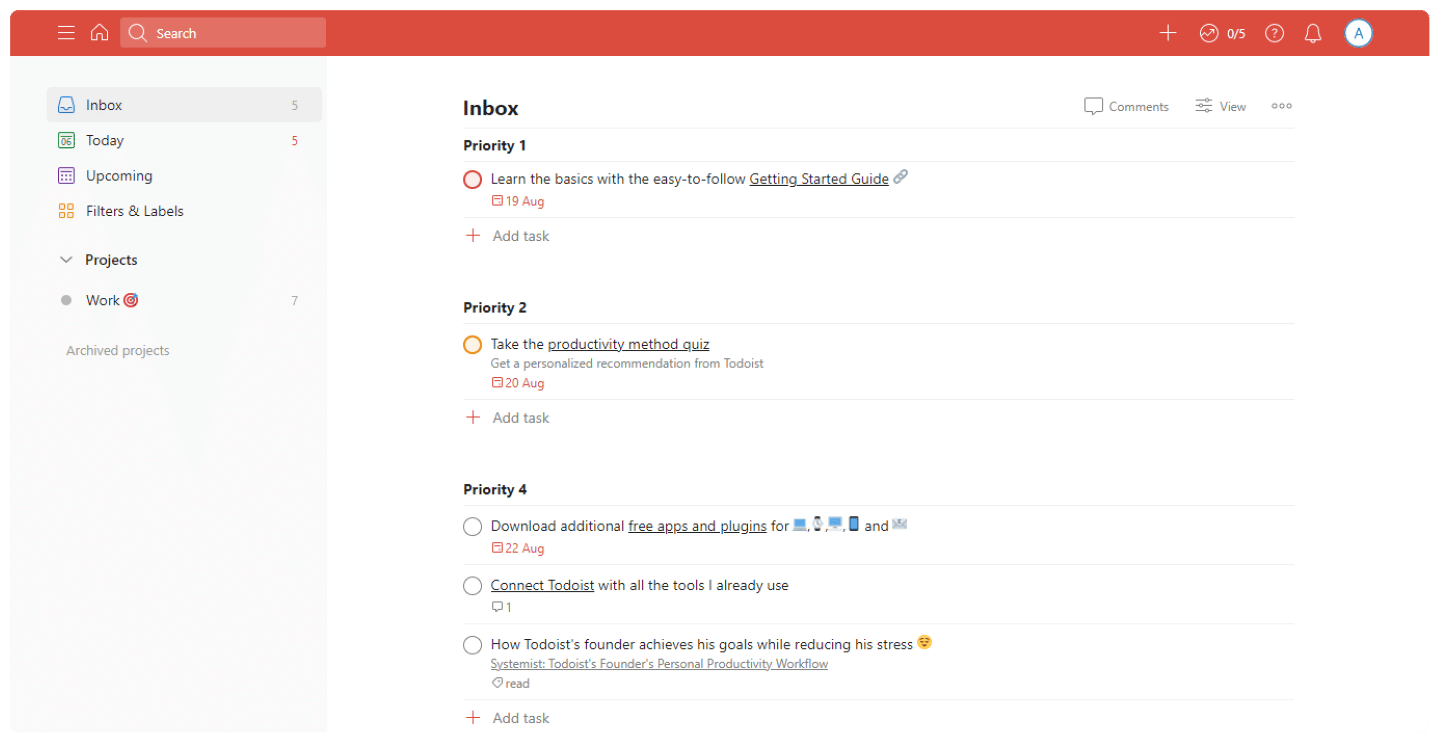 Notifications let you know when a task is due or when an employee has marked a task as completed. Time-based and geolocation-based reminders are also available for users with a paid plan.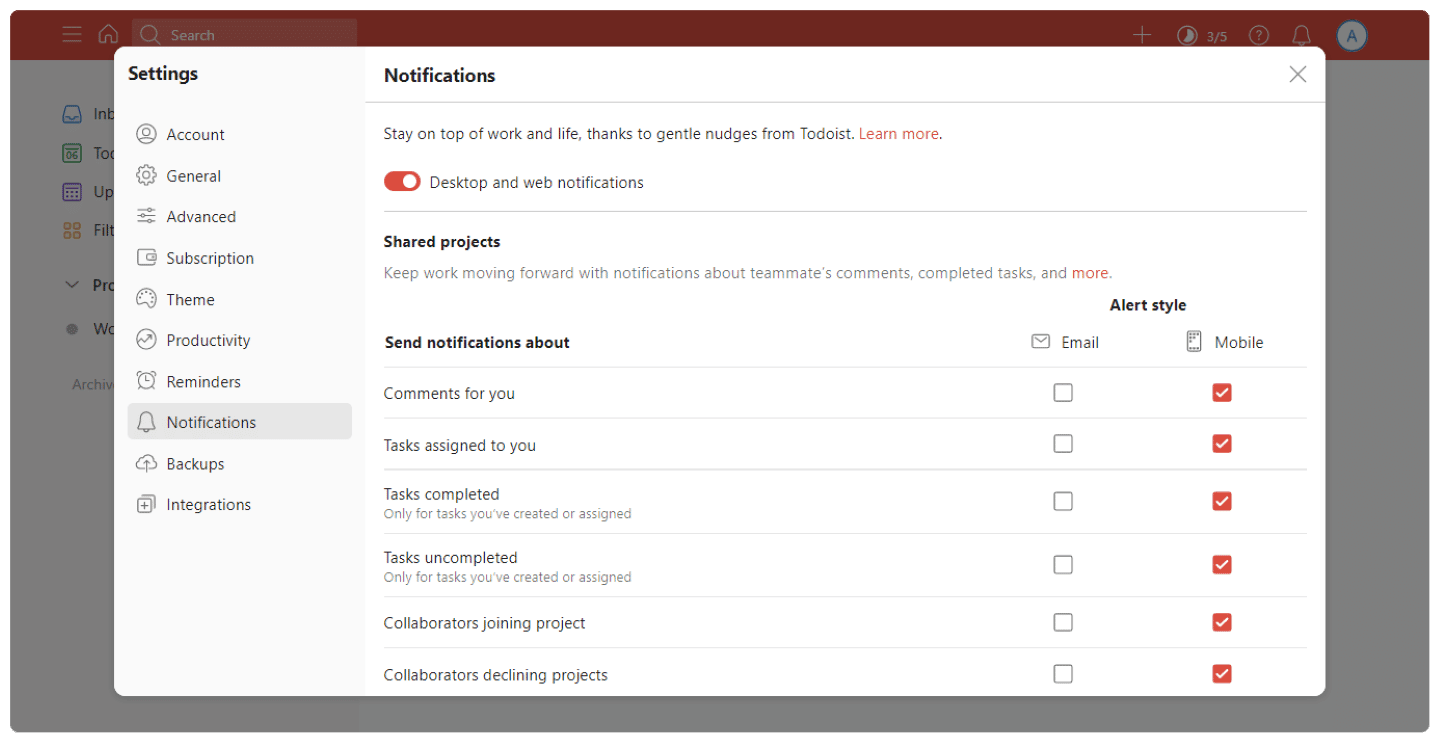 To help you set up your projects, Todoist also offers a rich gallery of templates.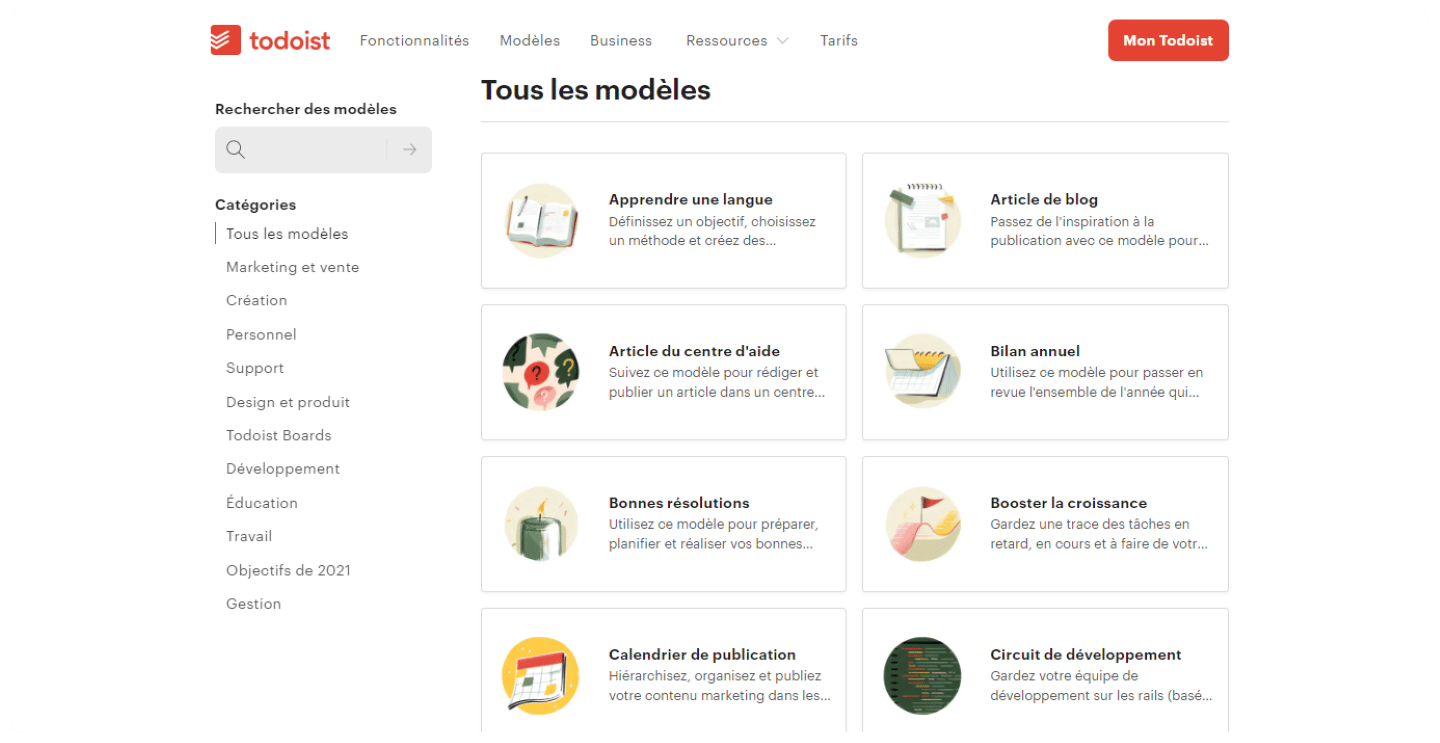 Collaboration
To collaborate in Todoist, invite collaborators to one of your projects. Once a collaborator has accepted your invitation, you can assign tasks to each other.
Pro tip
If you're using the Pro version of Todoist and you invite collaborators to work on a project, they'll need to register for a Todoist account, but not upgrade to the Pro version.
To communicate, you can upload files and add comments to tasks.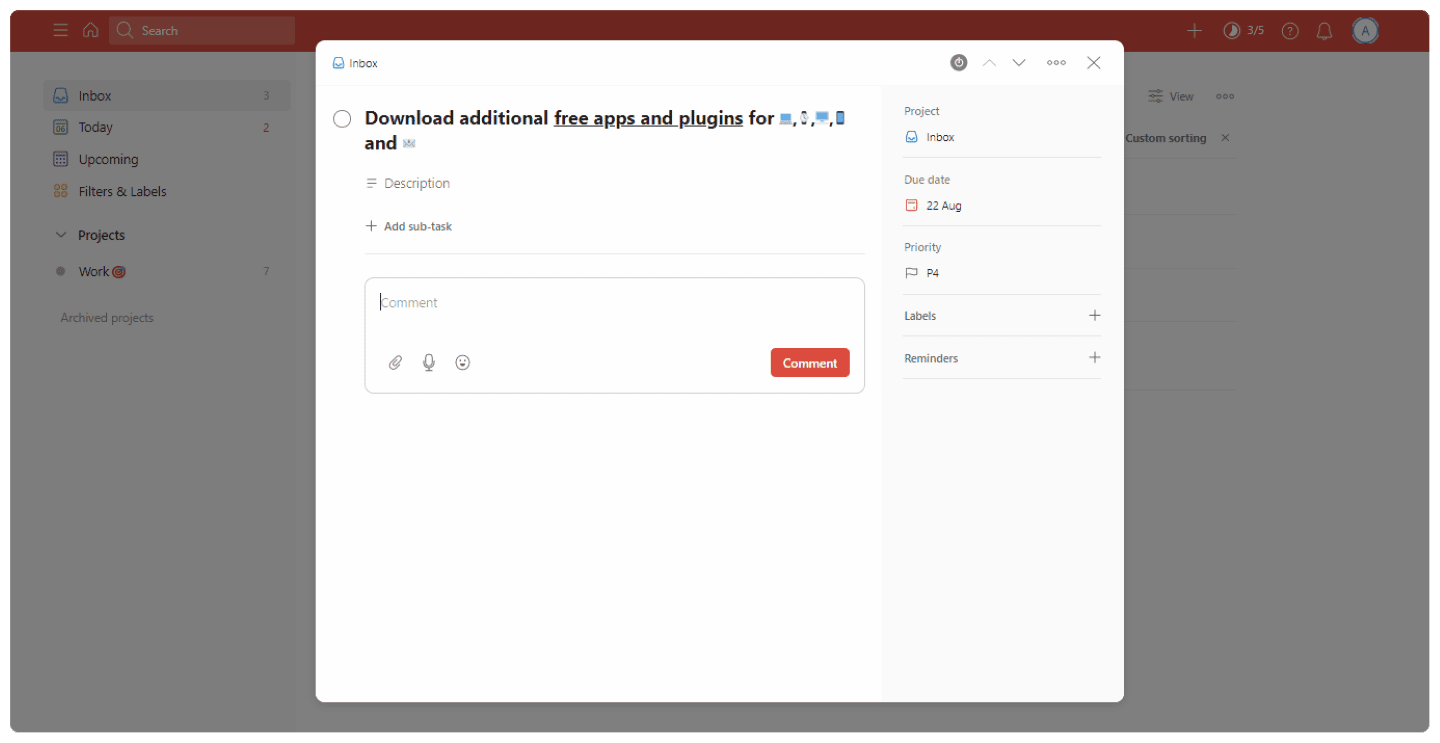 You can also customize your alerts, for example if you don't need to be informed of every change made by your collaborators.
Reporting
Todoist generates a daily productivity report, color-coded by project. You can choose to display the report according to daily or weekly tasks completed.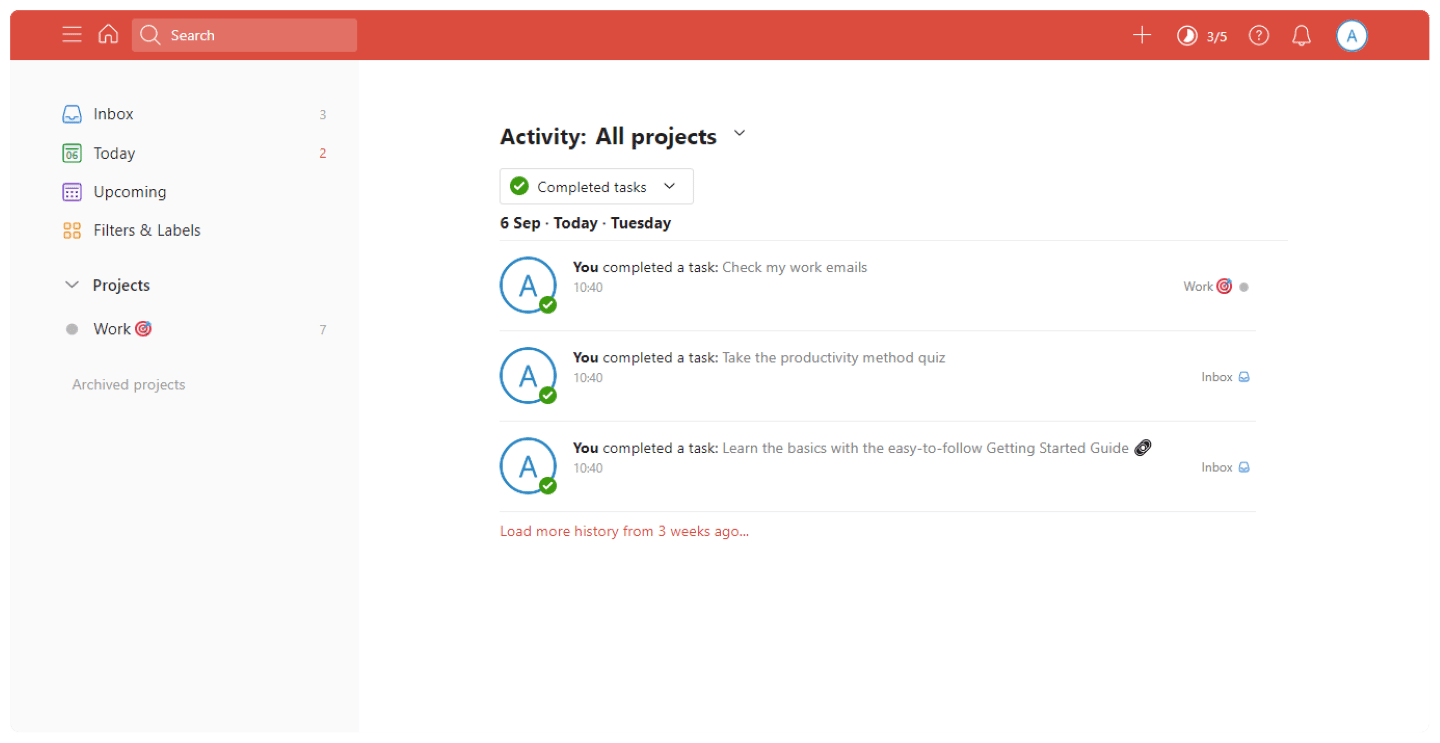 A scrolling graph also shows the number of tasks completed each week, sorted by color and project.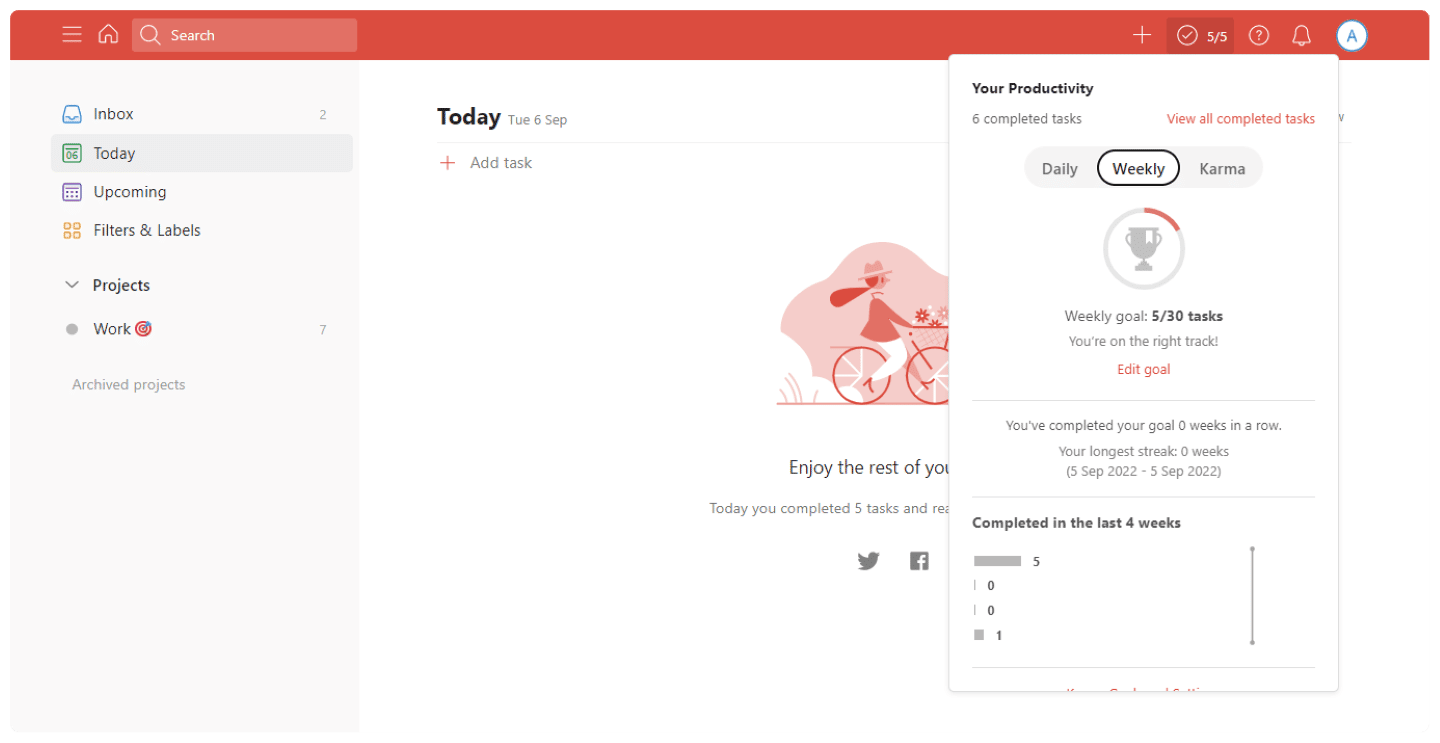 A Karma score also allows you to track your progress according to your statistics and goals, for example the goal of completing three tasks every day of the week.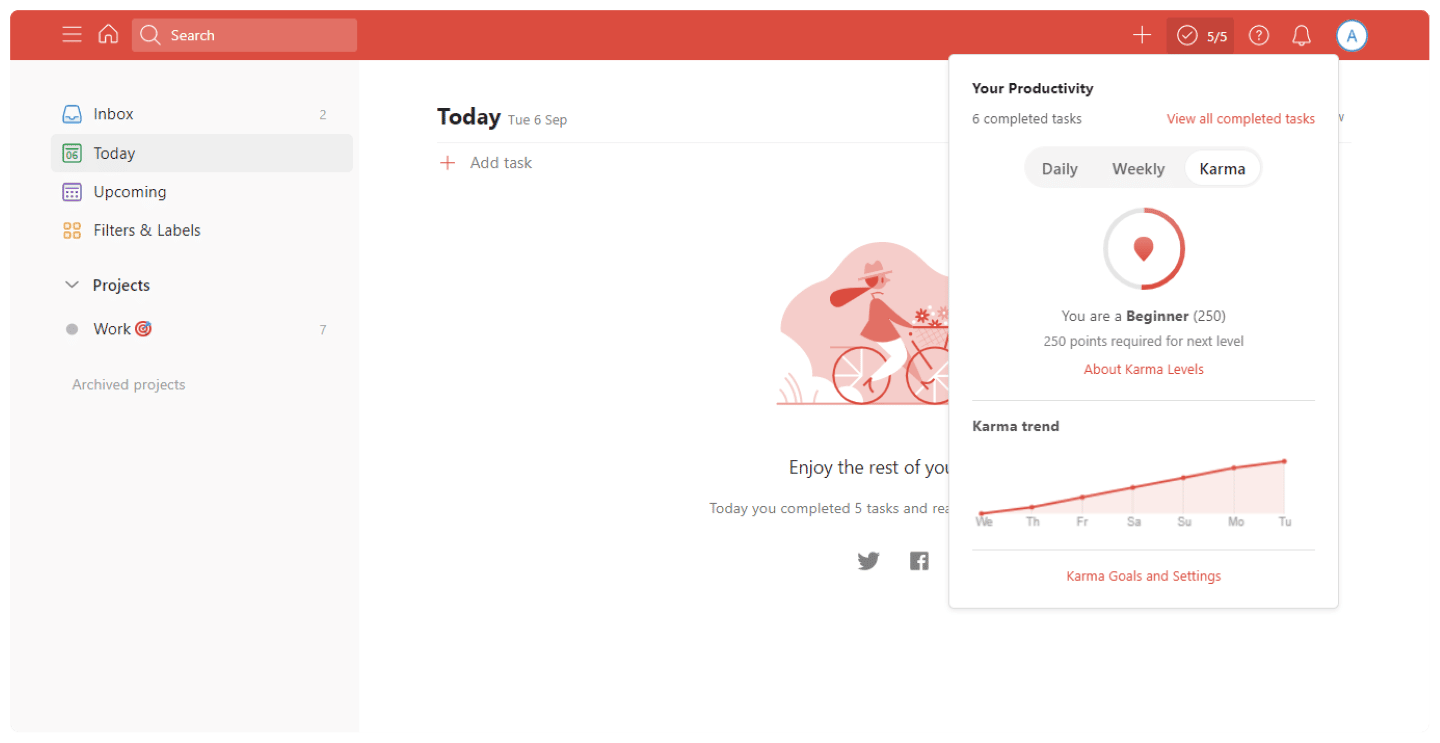 Todoist's big plus: Flexibility of access and customization
Todoist offers apps for all major platforms: Android and Android Wear, Apple and Apple Watch, Windows, browser and web extensions. Synchronization is reliable and effortless, making collaboration much easier.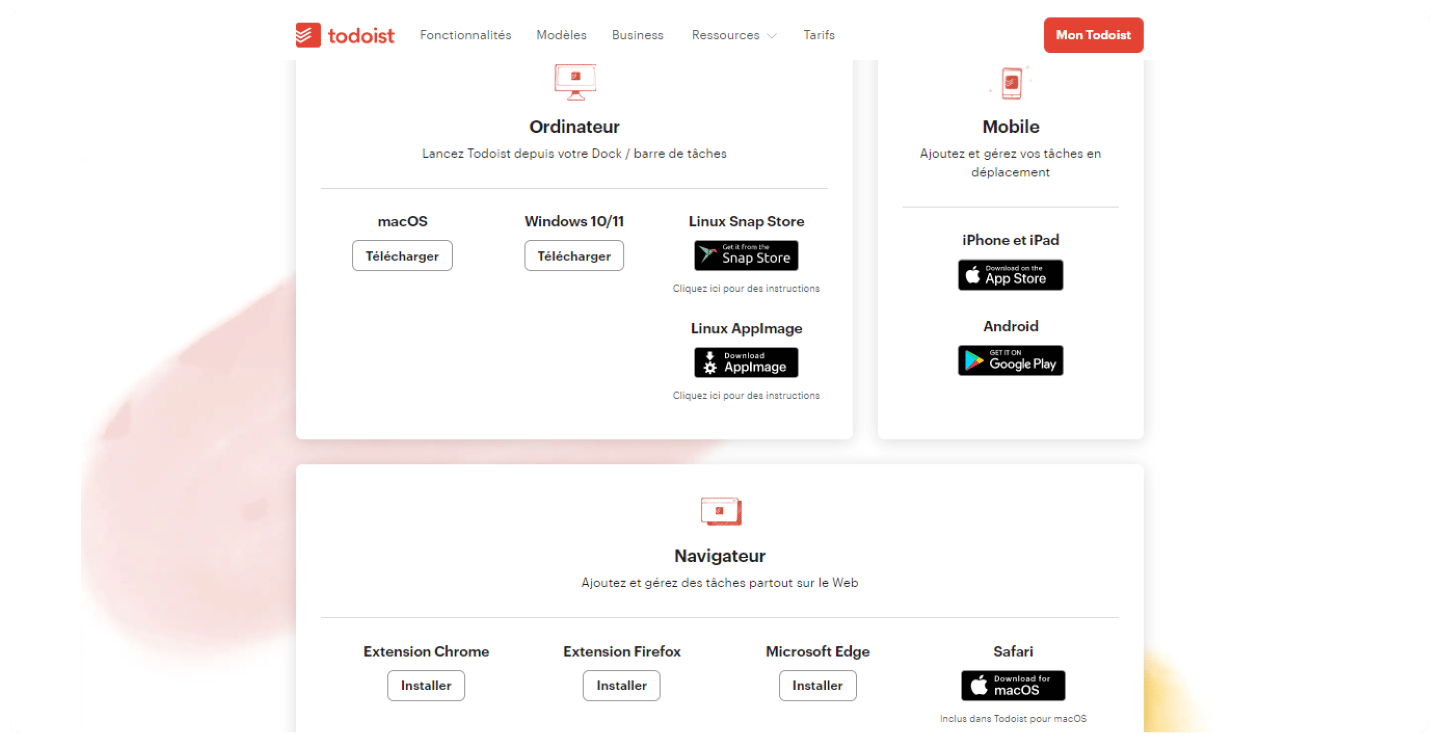 Salesdorado's opinion
Todoist is one of
our favorite Chrome extensions
: it lets you add websites as tasks and complete them directly from your browser.
Todoist also features a dark mode, which can be activated manually, or synchronized with your phone: if your phone goes into dark mode, your Todoist app will automatically do the same.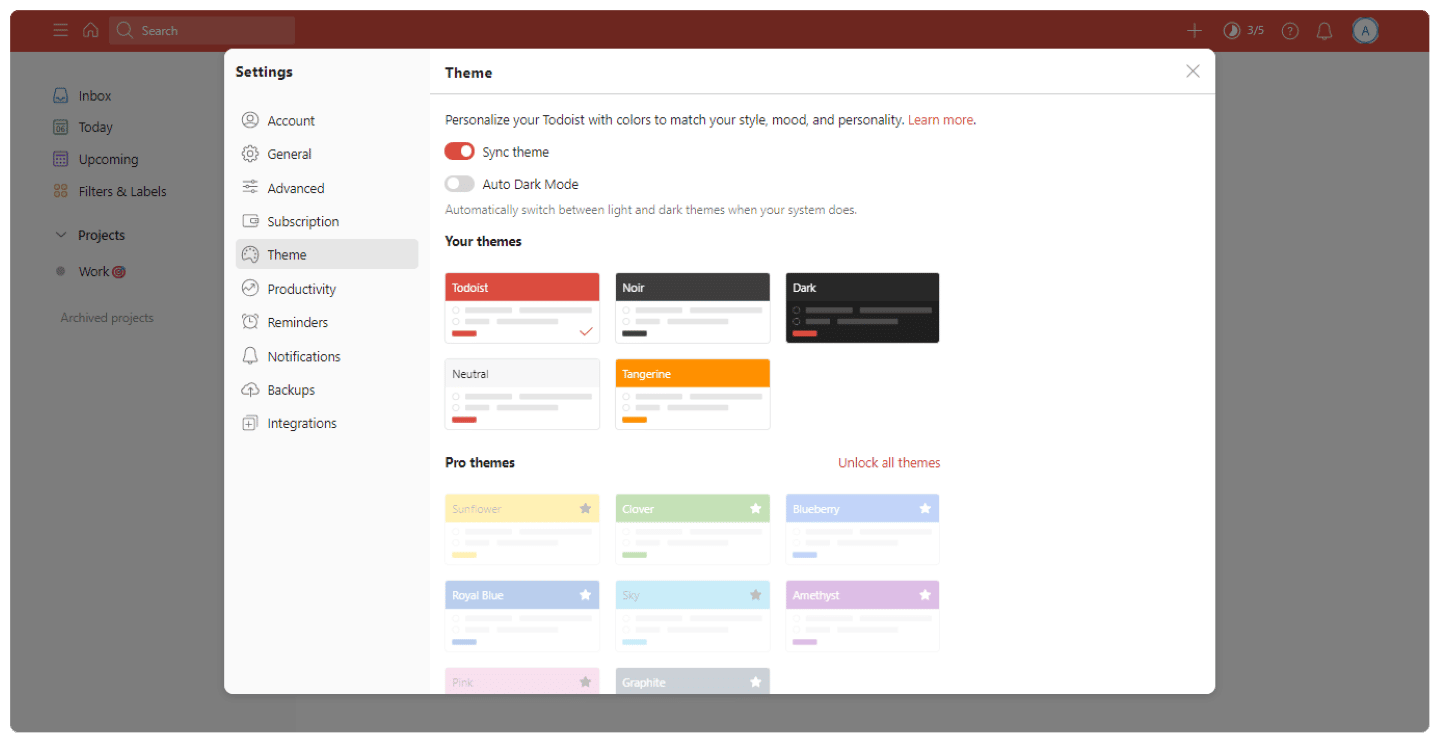 Todoist finally offers voice command functionality with Siri, Google Assistant and Alexa, which also work with the Apple Watch and Android Wear. For example, they make it easy to define due dates.
Discover all Todoist features
Todoist offers a totally free version, so don't hesitate to give it a try!
Customer reviews of Todoist
Customers generally appreciate the way Todoist helps them focus their ideas around tasks and an effective schedule. They also appreciate the sense of accomplishment created by the application's design and reporting.
Some customers find the application difficult to use effectively. Some also regret the lack of a general calendar view, and the fact that reminders are not available in the free version.
Make your own opinion about Todoist
Todoist offers a totally free version, so don't hesitate to give it a try!
Customer support at Todoist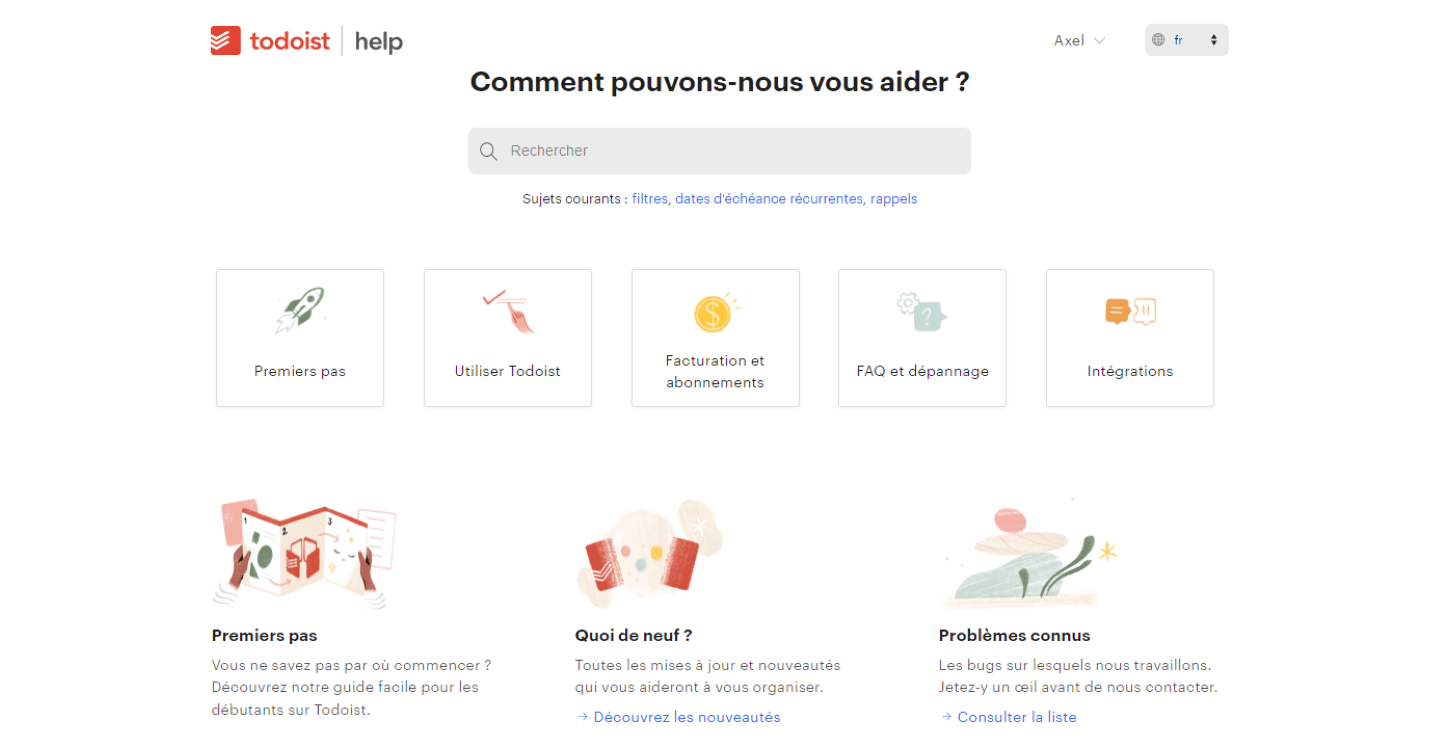 Todoist customer support offers a wealth of resources to help users: articles, tutorials, FAQs… They can be easily accessed via a search bar, and the most popular items are highlighted.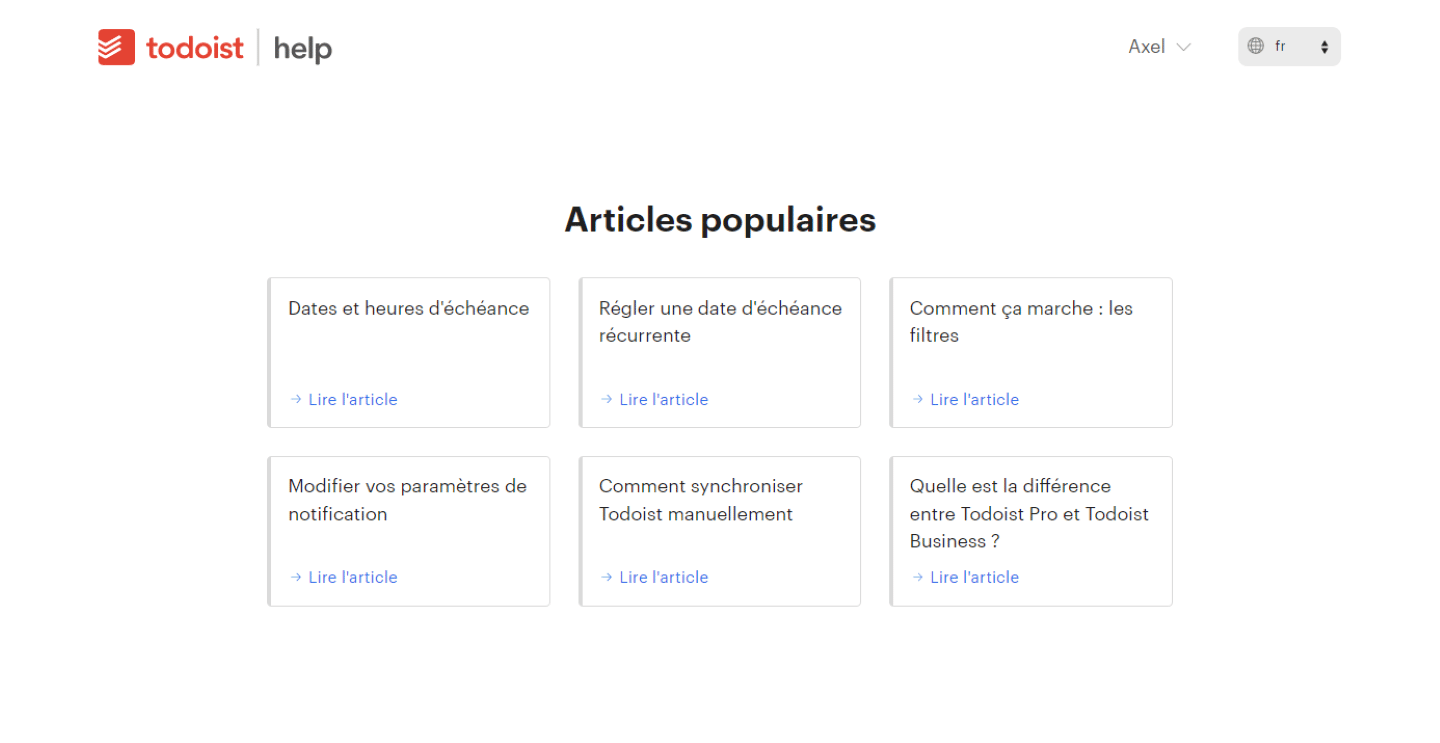 Todoist also has a blog with lots of publications, tutorials and tips.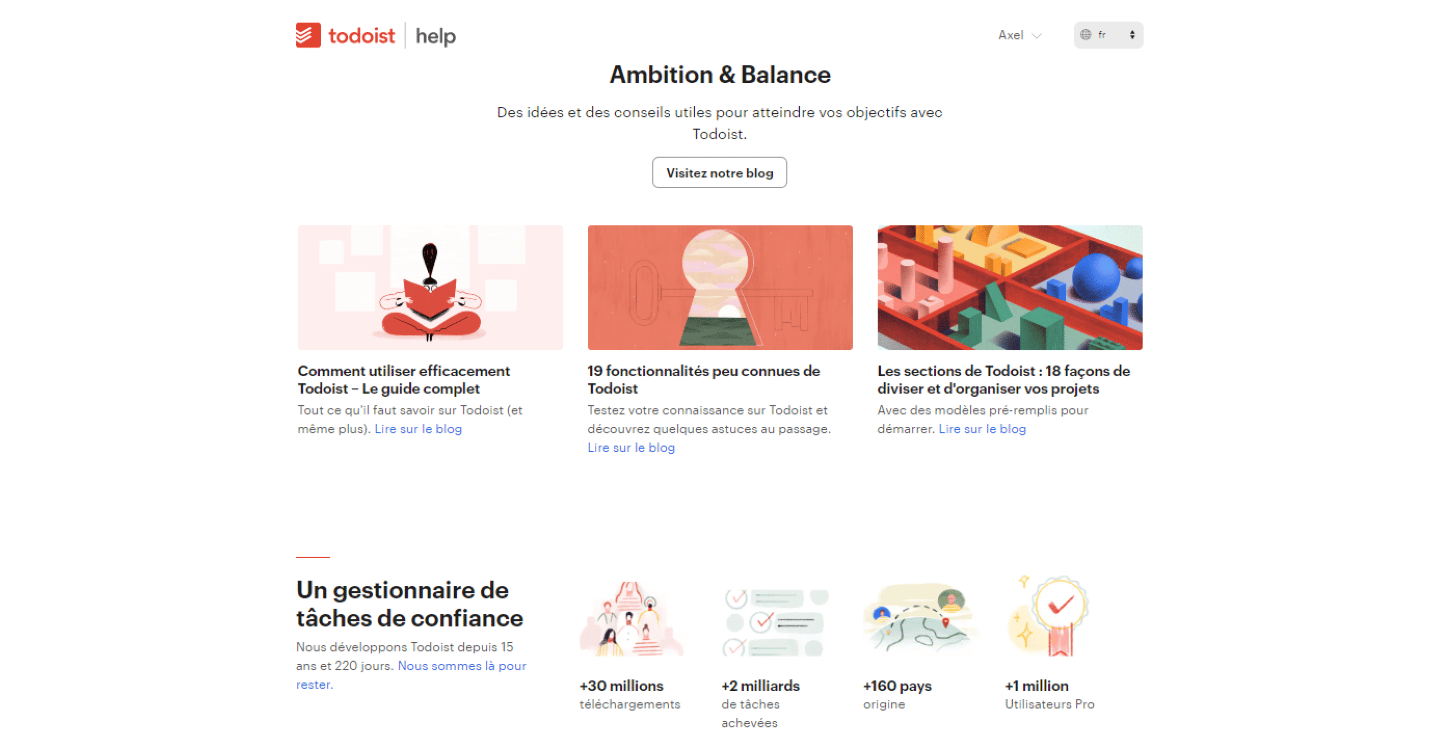 Todoist's Youtube page contains many informative videos. The tool is also present on other networks: Twitter, Facebook and Snapchat. We regret, however, that customer support doesn't offer the option of contacting the team in the event of a problem.
Todoist integration marketplace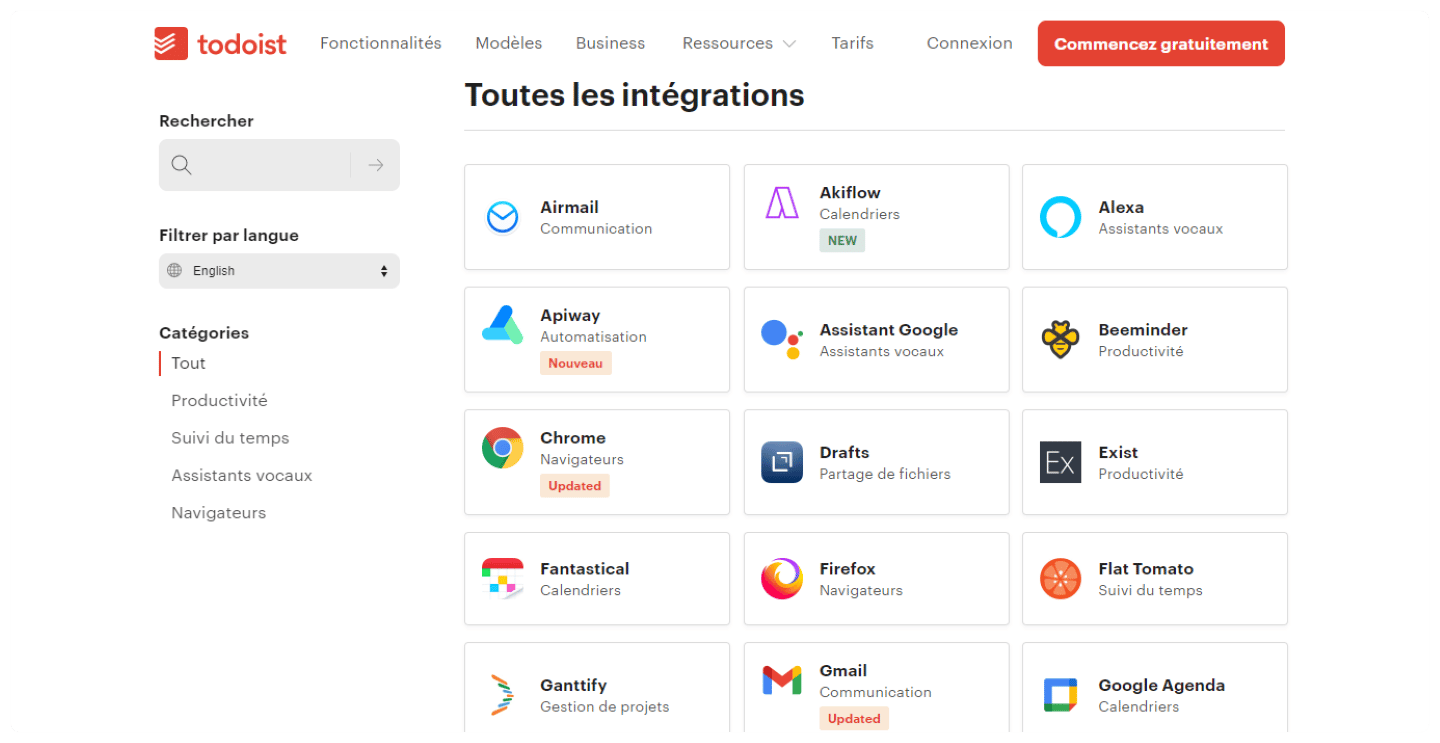 Todoist offers a wide range of integrations:
Communication: Teams, Outlook, Gmail, Slack… These integrations with the main collaborative platforms are essential, as Todoist's collaboration and communication functionalities are limited.
Time Tracking: Time Doctor, Flat Tomato, PomoDone… These integrations with time tracking software fill the gap left by Todoist's lack of a time tracking solution.
Productivity: Gantify, Evernote, Cerebro… Thanks to these integrations, you can complete the productivity functions already offered by the tool.
Automation: Integromat, Zapier, Save My Leads… Once again, these integrations fill a gap in Todoist's automation capabilities.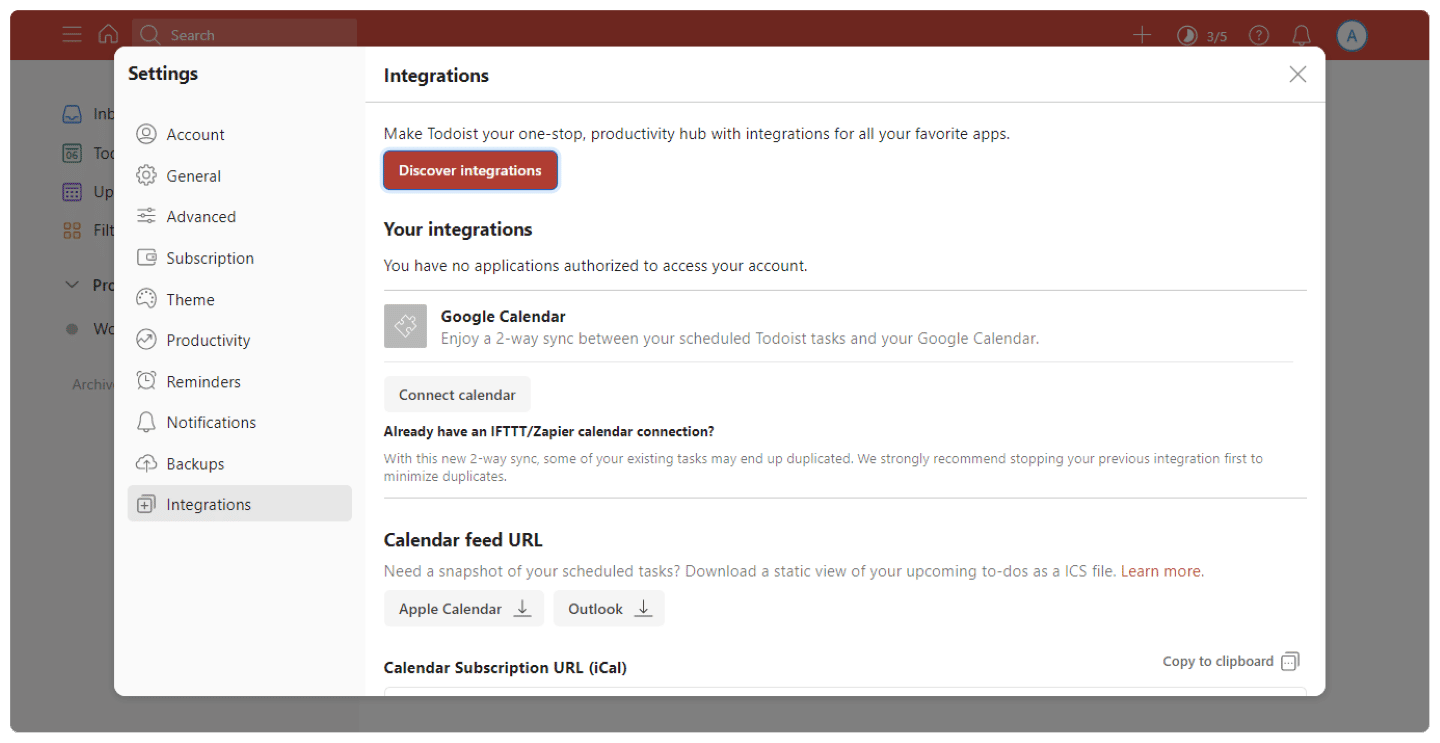 Todoist: prices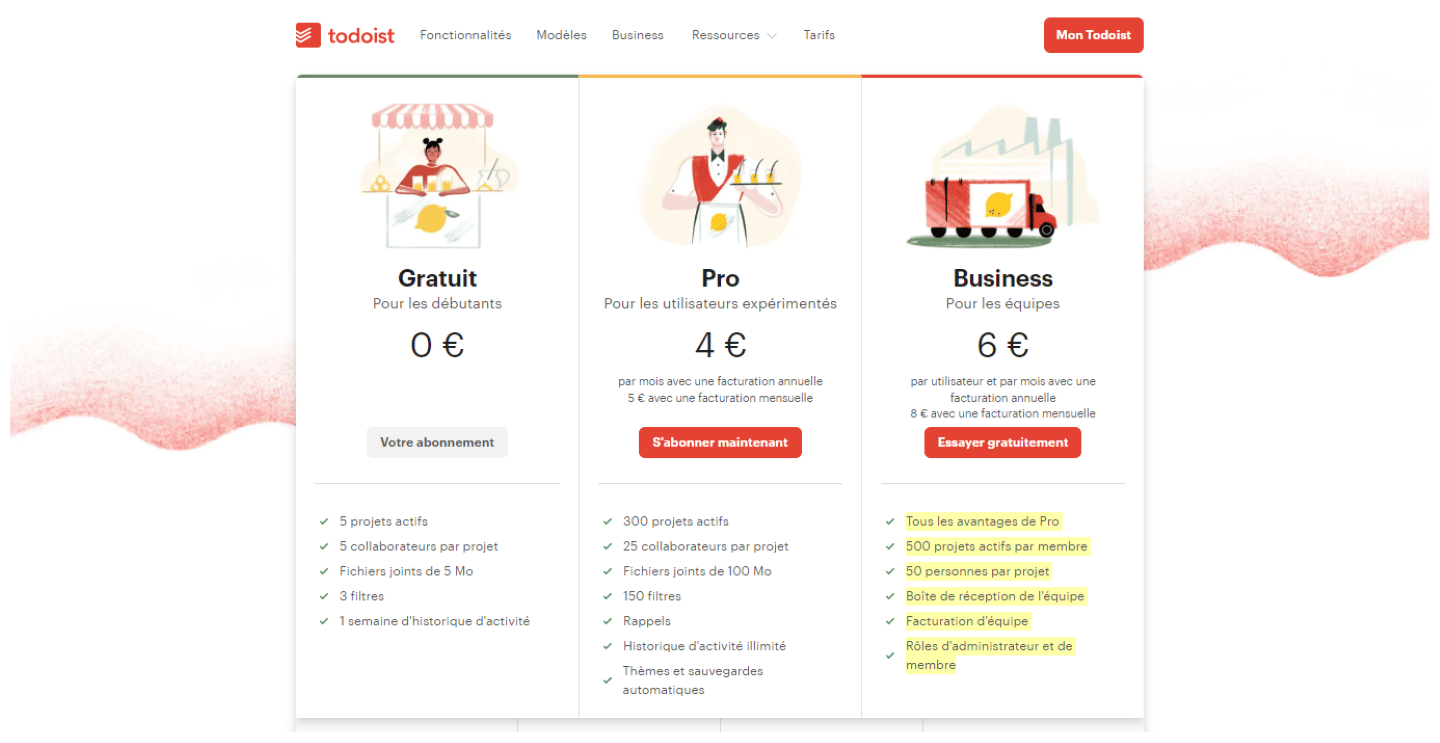 Todoist offers three different plans:
Free : this free plan gives access to 5 active projects open to 5 collaborators. It also guarantees 5 MB file downloads, 3 filters and 1 week's activity history.
Pro : this version, priced at €4 per month per user (invoiced annually), gives access to 300 active projects open to 25 collaborators. It also offers file uploads up to 100 MB, 150 filters and reminders.
Enterprise : this plan, priced at 6 euros per user per month, includes all the benefits of Pro, for 500 active projects per member and 50 people per project. It adds inbox and team billing functions, as well as administrator and member roles.
Pro tip
If you are a student, a teacher or work for an NGO, Todoist offers you a discount on its rates!
Todoist offers a totally free version.
Don't hesitate to give it a try!
The main alternatives to Todoist
Todoist is easy to learn, but light on features. For those looking for functionally deeper project management software, we recommend Monday, Jira or Wrike.
Todoist's collaboration functions are limited. For those looking for a program more geared towards document sharing and collaboration, we recommend looking at Notion or Trello.
Todoist offers a totally free version.
Don't hesitate to give it a try!