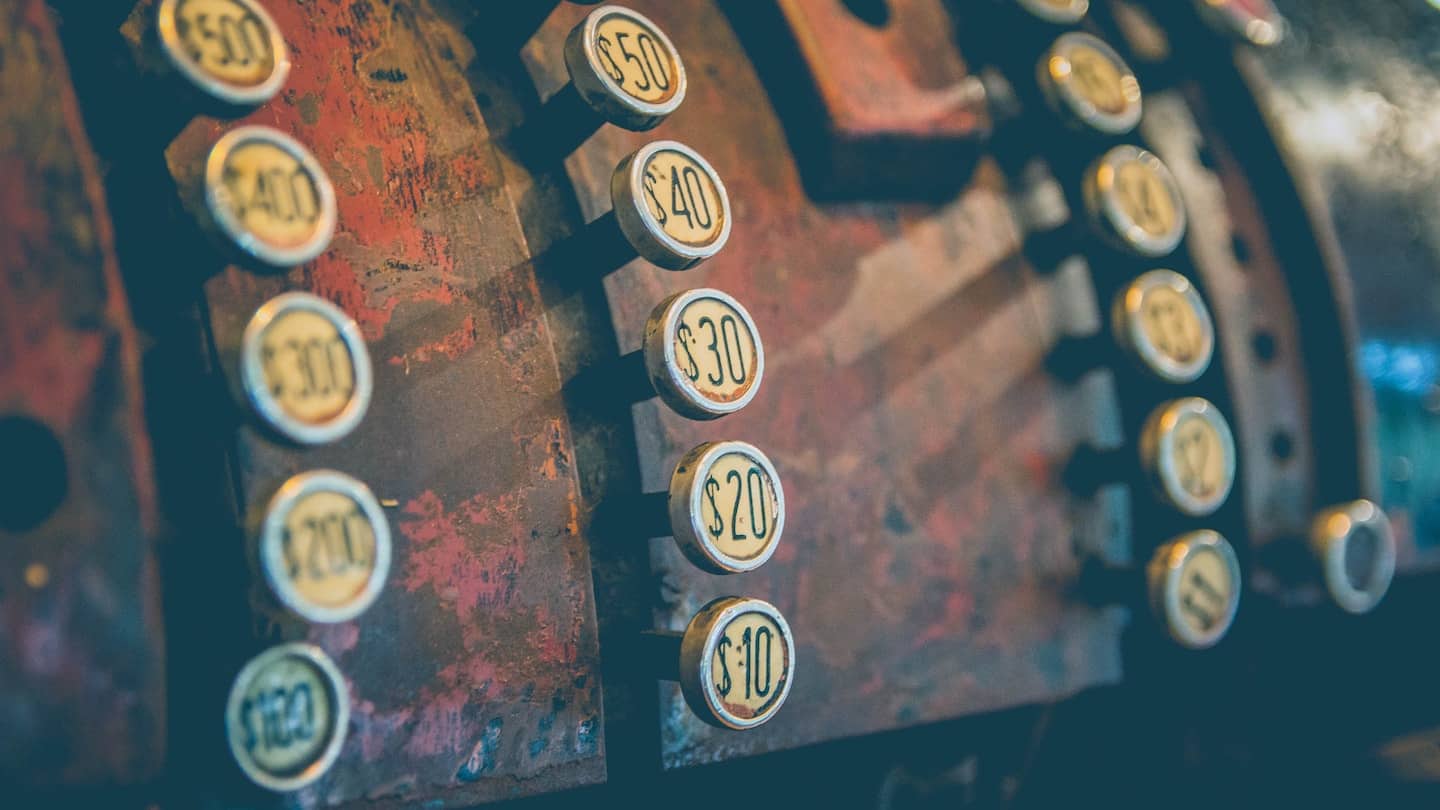 This is not the nth article full of affiliate links with deceptively free CRM solutions, or with hidden costs arising after two weeks.
We are ourselves confronted with the problem quite regularly on various side-projects: we need some sort of CRM to manage the activities but the "true" CRM solutions are not only too expensive, they're often way too heavy for a project that's just starting.
In most cases, I'll just go for a Notion template with more or less customization depending on the project and its maturity. But we've tried all of the options listed here, and they really all make sense. Just a matter of what tools you're used to, what other tools you're using, and what feels comfortable for you or your sales team.
Salesdorado's advice
If what you're looking for is a light, simple, and comfortable solution, check out Monday CRM, they've done a lot of work on the CRM suite, and it's pretty efficient for simple projects.
The free plan allows up to 2 users, and Monday integrates with Google Suite, Outlook, Slack, Zoom, Linkedin, etc. It is very useful to better manage your contacts, and build a beginning of sales process.
In this article, we recommend 12 *really* free CRMs. We have classified them by simplicity of setting, from about 30 minutes for the first one, to a few hours for the last one.
Why talk about the last one then?
Solutions that are more complex to set up will also survive your evolution longer, and the time invested at the beginning is worth it quite quickly, especially if you expect longer sales cycles.
Also consider solutions that will integrate well with the tools you are planning for the future, and if there are any, that you already master or use.
A final note
Beware of the illusion of free access. If you are looking to set up a CRM for a highly ambitious and highly funded project (hyper-growth type of thing), free tools will get the job done for a while, and soon enough you'll have to migrate. That's when trouble starts. CRM migrations are messy, costly, and time-consuming affairs. In the vast majority of cases, the cost of migration is largely offset by the few months of paying for an "overly robust" solution like
Pipedrive
or
Hubspot
#1 Hubspot CRM
One of the leading CRM solutions with a great free plan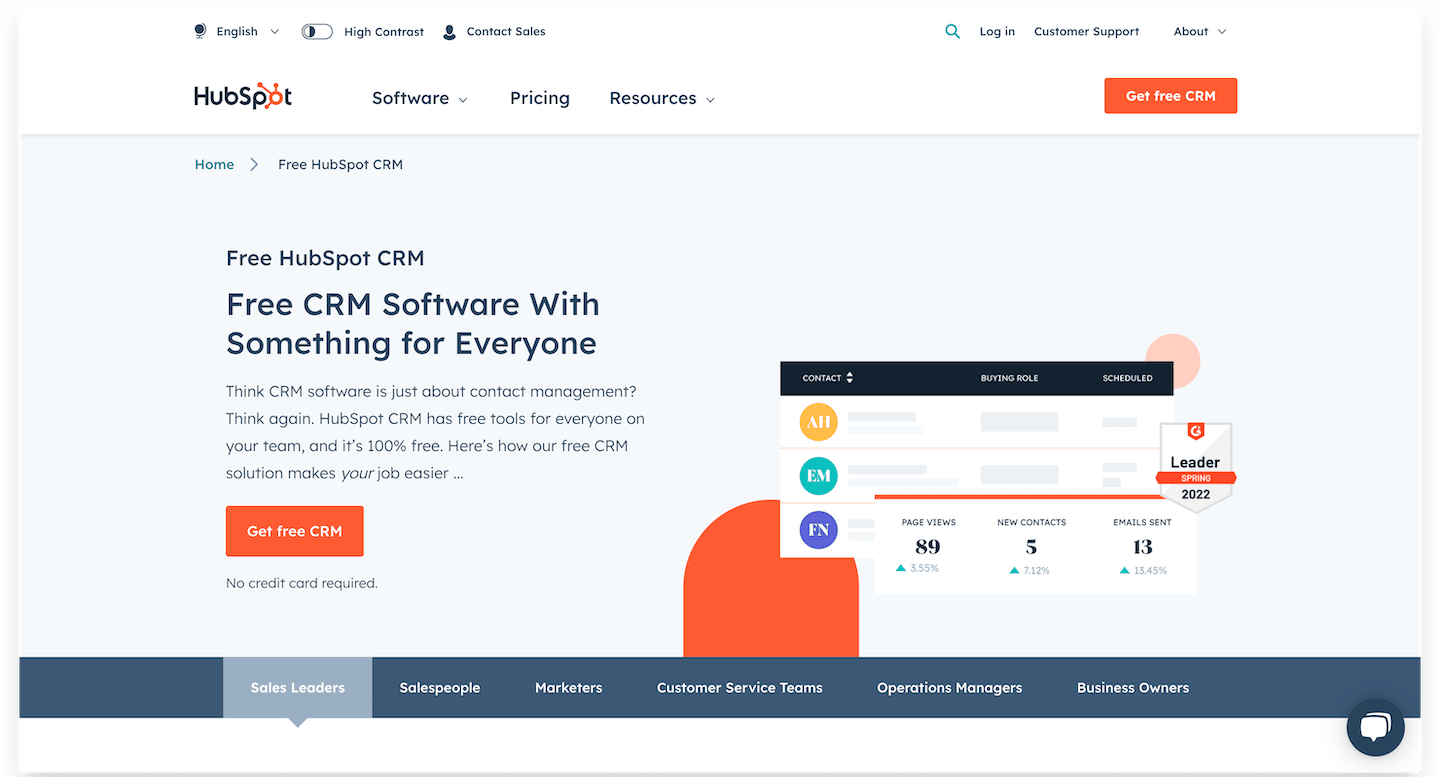 Hubspot is now very well established in the CRM world. Marketing automation, social media campaign, reporting, very strong support etc. Hubspot has all the necessary features of any good CRM. Hubspot CRM has a free version.
The free plan allows you to create up to 3 dashboards, with 10 reports per dashboard, but is limited to a single business pipeline. You can connect your emails, but you can only connect one mailbox. Hubspot's online appointment scheduling tool is also included.
In short, if you are a small team, there is no question. You can access all the functional sets of one of the most comprehensive CRM software on the market, but the usage and collaboration on the tool is a bit limited.
If, on the other hand, you are a large team and have a lot of collaboration needs, but not much in the way of "pure" CRM features, solutions like Trello or Notion (presented below in this article) will surely be more suitable.
It's a true CRM solution, with all the associated features, and there are many.
Hubspot allows you to customize just about anything to your brand and sales processes.
If there are more than 3 of you, Hubspot's paid plans are really more suitable. The Starter version starts at 50€ / month with 2 users (add 25€ / month / user)
Hard to find others…
Try Hubspot CRM for free
Hubspot is free to access, no credit card required.
#2 Folk App
New age, contact centred CRM with a great free plan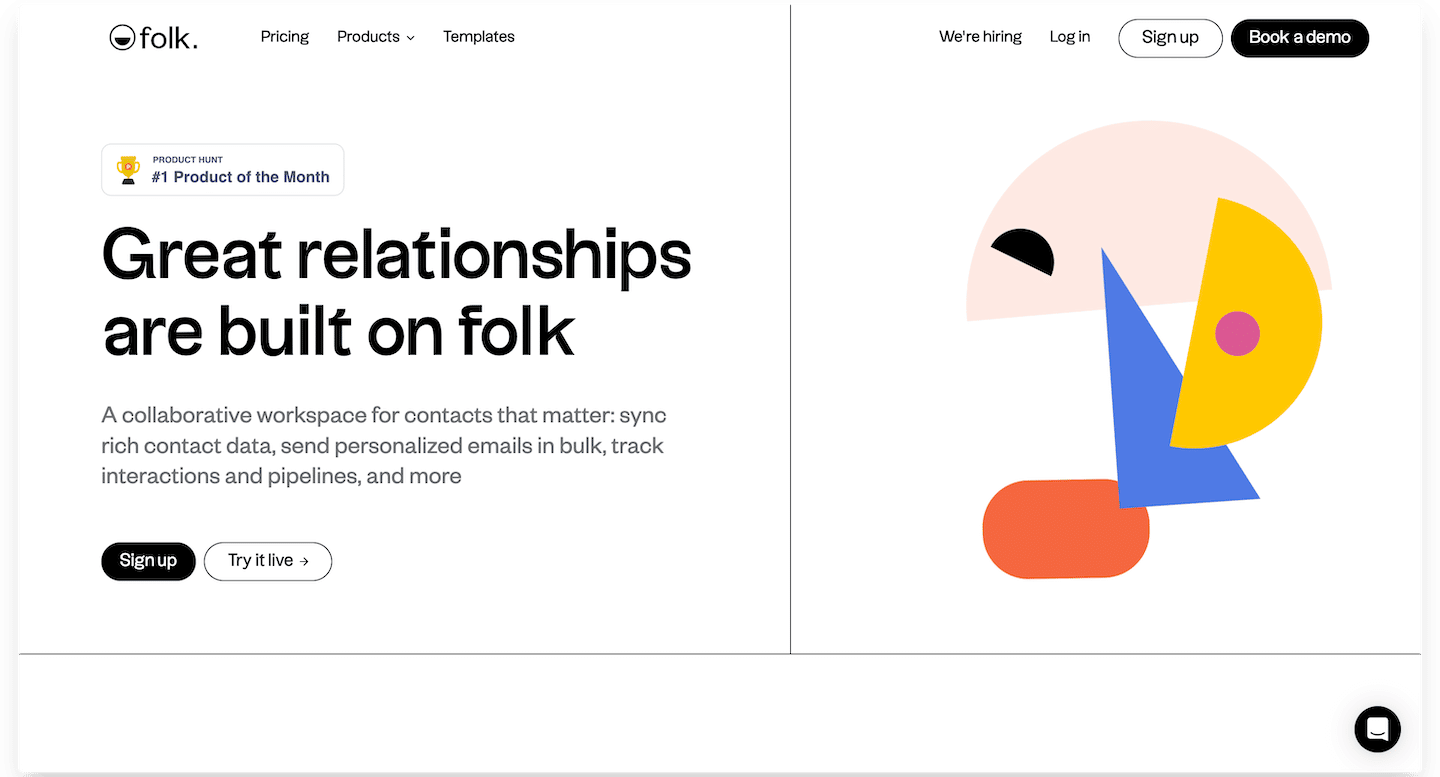 If you're looking for a CRM that puts user experience and personalization first, Folk App is a great option.
The software offers a contact-first approach, with very deep integration with G-suite. Each team member imports all his contacts from his mailbox, and we get a very rich interface to organize them at the organization level. The history of all exchanges is available to everyone and the prospect file can be customized as desired.
But the intelligence of Folk is to have added all the complexity needed for small agile teams, without adding unnecessary complexity:
You can categorize your contacts as investors, friends, suppliers, employees, journalists, competitors, etc. and create groups for each of these categories.
You can manage who has access to which group of contacts very easily and in a very precise way. A trick traditionally reserved for "Enterprise" plans with prohibitive prices for small structures
The tool also proposes to distinguish between companies and contacts with the appropriate links between the two. It may sound basic, but in reality few free CRMs really allow it.
In short, it is a program that allows you to go very far, but is designed to remain simple, without ever imposing a complicated configuration.
The main limitation is that we are really using a contact management tool, and not a pipeline tool. But the notion of a pipeline only makes sense for commercial organizations that are already quite advanced, and it is mostly very limiting to commercial activity only.
The approach is really different, and it's refreshing!
The free plan is a real free plan: it allows up to 200 contacts, and 200 messages with access to all the features. Beyond that, the Premium plan is priced at $8/month per user. We are not very far from Notion ($5) or trello (also $5).
#3 Pipeline by Trello
Free CRM on the leading kanban project management platform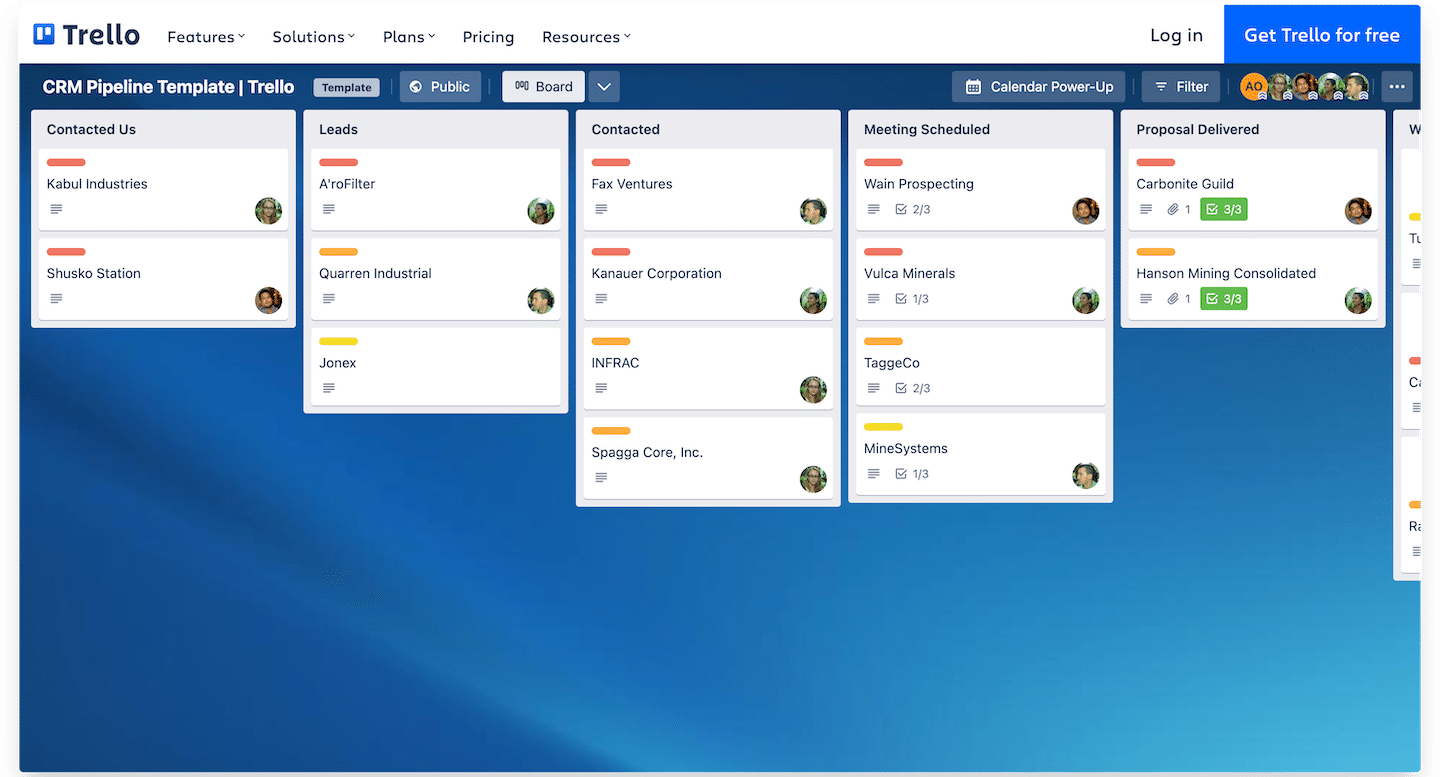 If you are used to using Trello, you know that the power of the tool lies in automation. You can assign, pre-fill and move cards automatically, set up deadlines, etc. Here are the main features you can use for free:
Create an inbound lead or prospect management pipeline that can be tailored to your team's needs for any type of contact or customer relationship management.
Organize contact information and notes on each prospect's record.
Keep assets in a centralized location by attaching all relevant documents, such as emails and follow-up requests.
Keep business development on track by assigning team members and due dates to tasks, then watch the map move throughout the process from "In" to "Done."
The free CRM template is well designed, and allows you to quickly see the automations to set up (for example the pre-appointment checklist, or the automatic arrival of leads when a contact form is processed).
No real reporting in trello apart from the kanban view. You will need to implement more automation & be a little creative to adapt it to your business processes.
#4 Crmble
An advanced CRM template on Trello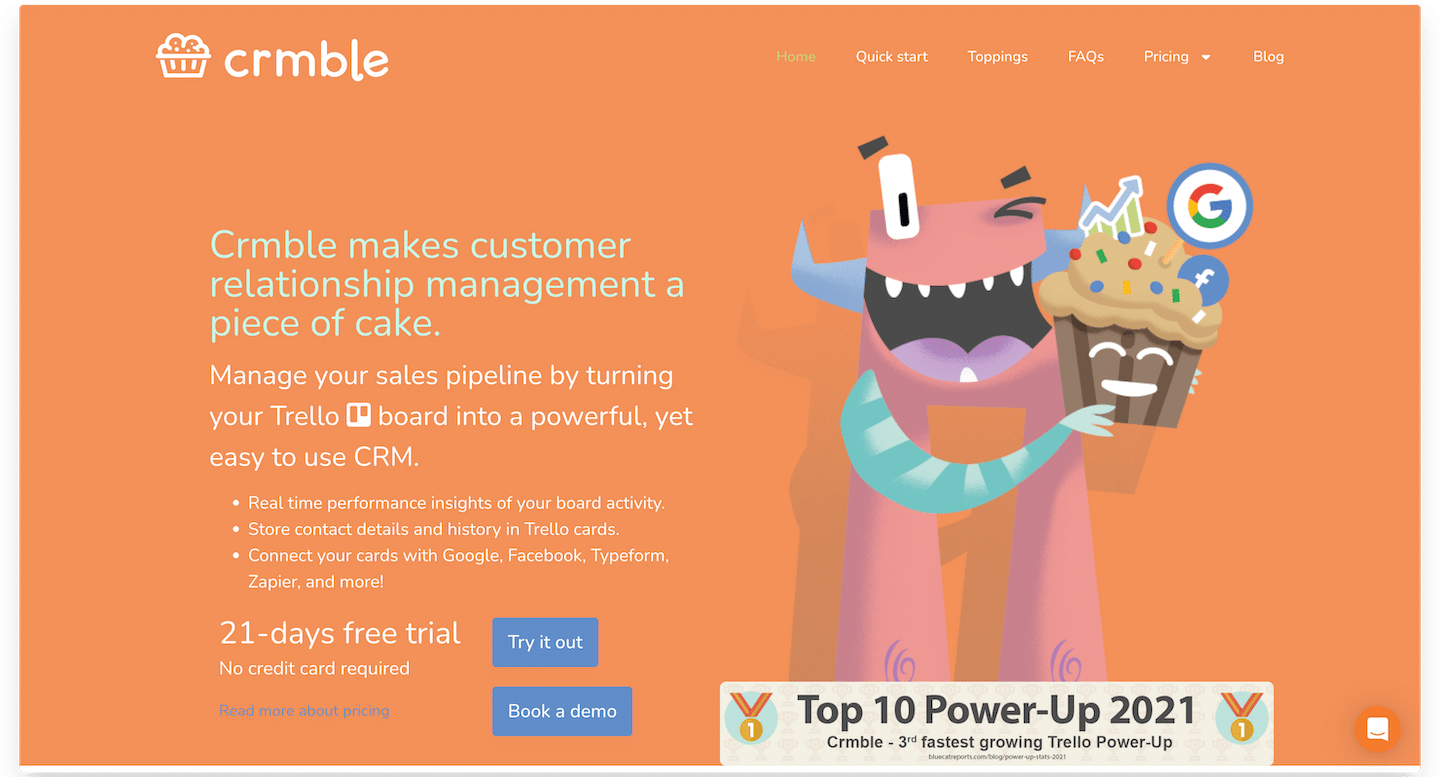 If you're looking for a simple CRM tool that's powerful enough to manage your sales pipeline, try Crmble. It's an easy tool to get started with and setting it up in your Trello board will only take a few minutes. Here are the different functionalities you will find:
Get instant access to your customers' contact information with the "Crmble fields". A key feature that helps you stay organized and offers consistent data collection and great integration opportunities with third-party services.
A popular Trello feature is the ability to import a CSV file into Trello and turn your lines into cards on your Trello boards. Easily migrate your contact list to your board with Crmble!
Whether you are using Google Forms, Typeform, Facebook Lead Ads etc., you can sync your leads directly into your board with Crmble.
Start syncing your Trello card data with your Google account. Create a Google contact on demand from any Trello card or save your card attachments to your Google Drive
It's a much more advanced tool and makes adding the right layers ofautomation easy.
Significantly more complex solution, and quite rigid.
A good solution to be guided, but you will need prior knowledge of some CRM solutions on the market like Pipedrive.
#5 Notion lightweight CRM
A beautiful, easy to use, free CRM solution for small teams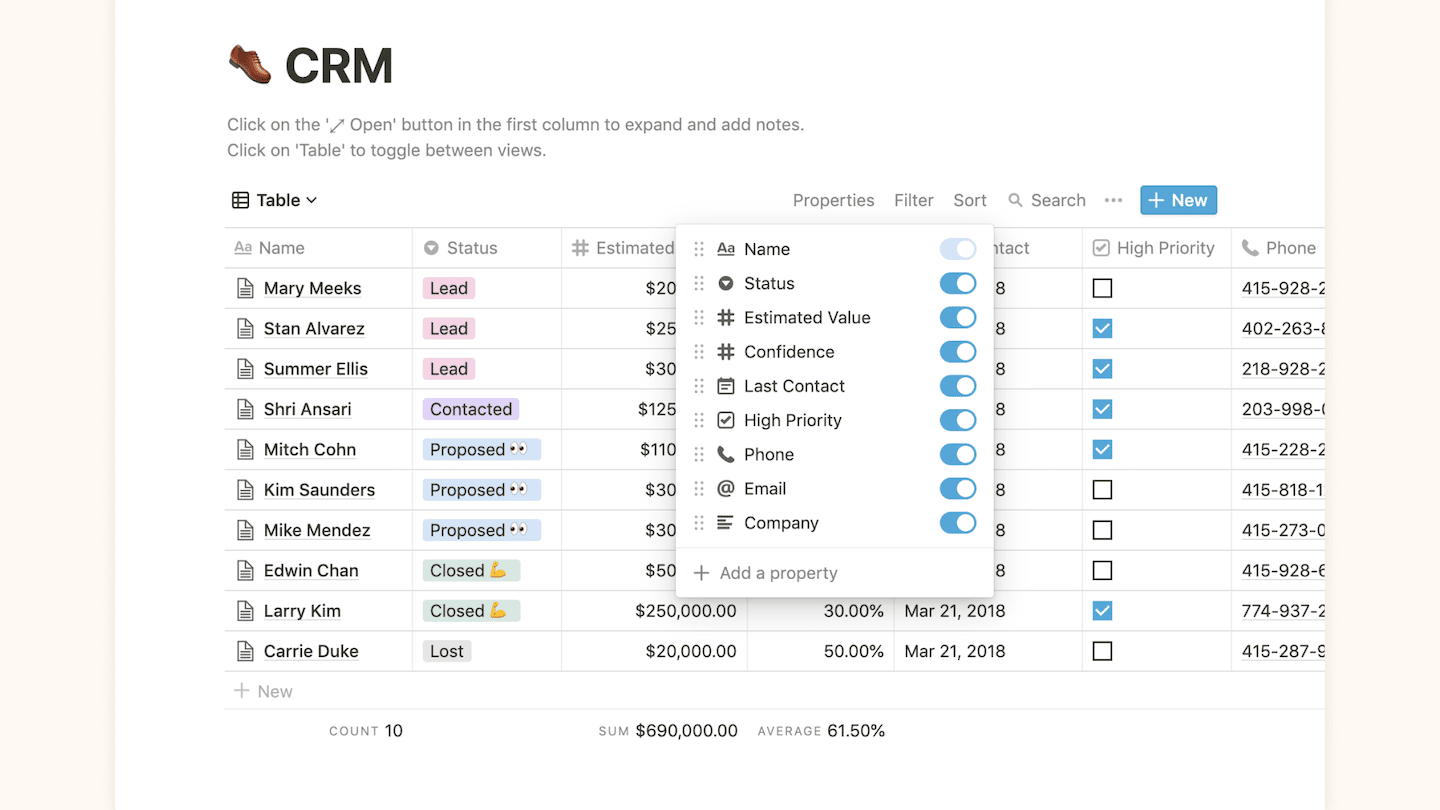 Notion provides you with the basic elements that will allow you to create your own layouts and toolbox to work with. Many people refer to Notion as an "internal wiki" allowing teams and individuals to plan their projects and track their work and goals throughout the process. This workspace allows you to :
Create your own wiki (with infinite content layers),
Plan using a Kanban view, a calendar or a simple list view
Capture your workflows and record everything that creates spreadsheets and databases.
In addition, Notion offers features for real-time collaboration and allows teams to share, comment and assign tasks and reminders.
Notion is an "all-in-one workspace". It is a SaaS designed to concentrate all the information and documents you need for your work. It works very simply as a pyramid system of pages that are all connected and can take a wide variety of formats.
It is a solution very close to the free CRM Google Spreadsheets.
Notion is therefore very simple and easy to set up, with the power of Notion and the interface significantly more pleasant.
Quite limiting. The fact that there is only one table means that you quickly find yourself with a lot of columns that are not used very much if you are not careful.
Try Notion Lightweight CRM for free
#6 Alex Sherwood's CRM template for Notion
A more advanced, multi-table CRM template on Notion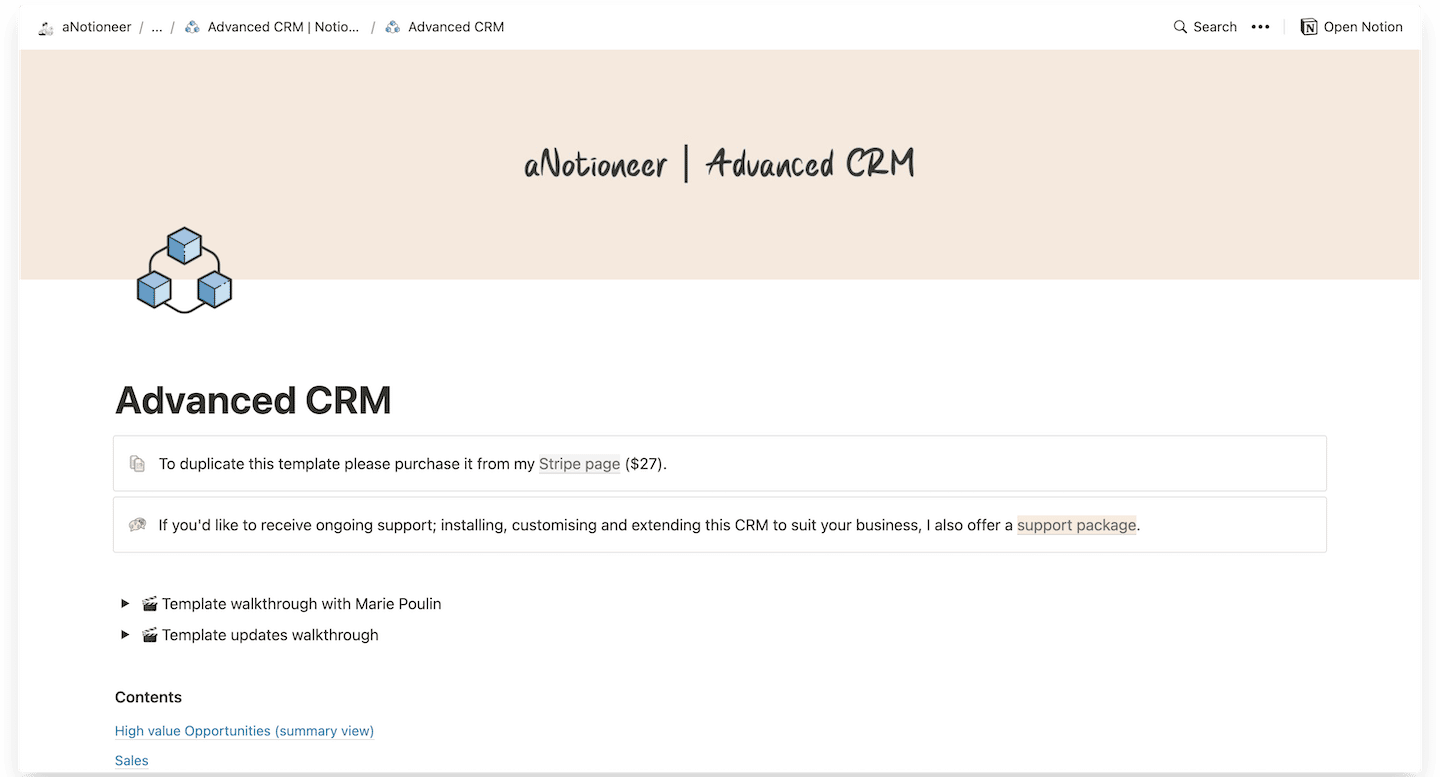 Of course, this version is not free, but paying $27 to have access to a much more complete (and multi-table) version is really worth it.
Multi-tables allow to go much further & to limit the complexity of each table (and data filling operation, whether automatic or manual).
It's still $27. Then again, it helps out a guy who creates an incredible amount of stuff for the Notion ecosystem. Better than helping Salesforce?
Try Notion advanced CRM for free
#7 Streak CRM
Easy to use and free CRM on Google Workspace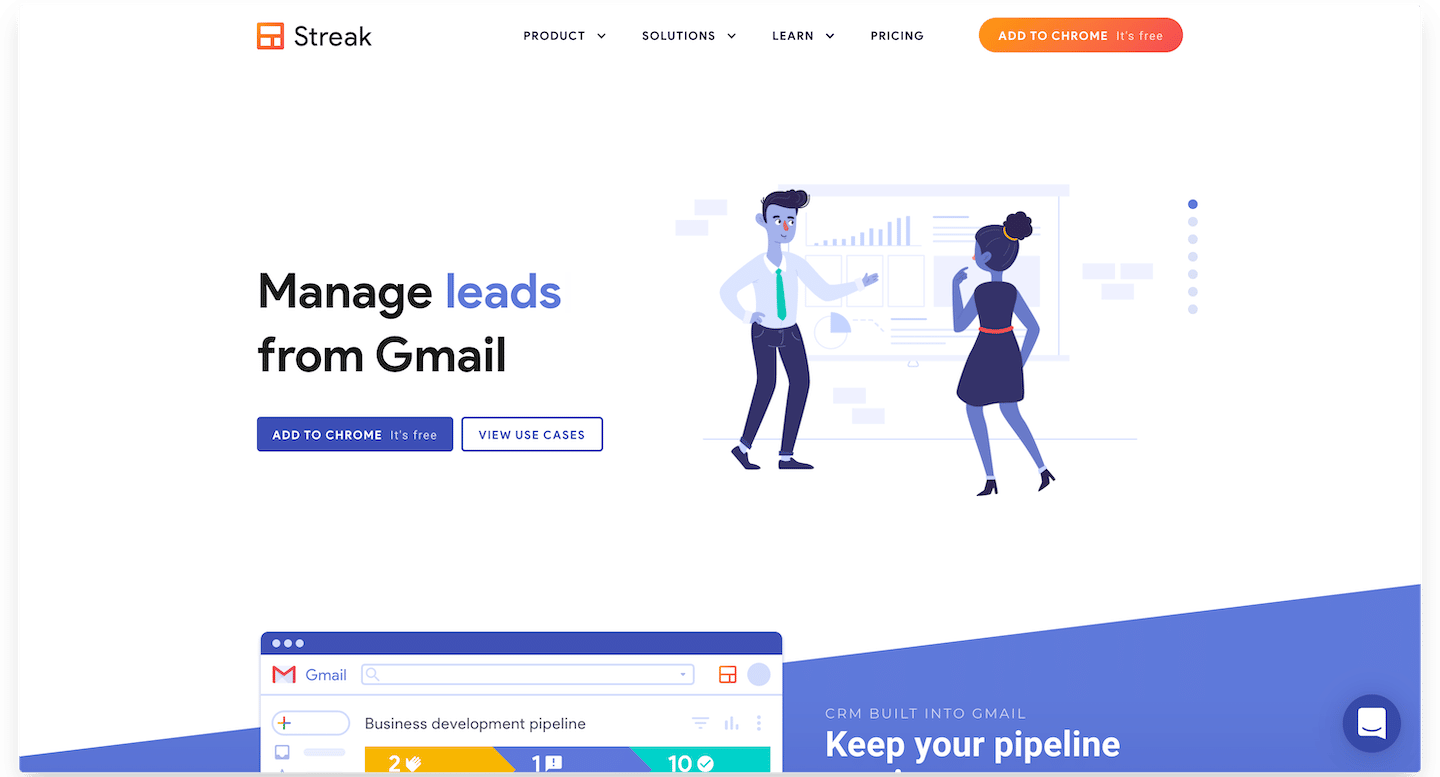 Streak CRM is an add-on to the Gmail suite that allows you to go very far.
In the free version, you get unlimited pipelines, which you can adapt to all your processes: customer support, sales, pre-sales, etc. The tool also has a lot of cold mailing features.
The (big) limit is that you can't share anything in a team before the pro plan, which starts at $49/month. Basically, if you're going to manage CRM on your own, it's a great tool, and the free version will take you quite far.
On the other hand, if you plan to recruit in the short or medium term, it is rather more expensive & less good than market leaders like Pipedrive or Hubspot.
Excellent interface & superb vision
The gmail integration and working modes are excellent
Very efficient for simple processes and for prospecting
Free plan prevents sharing of information
Pricing on paid plans is quite complicated to justify except in very special cases…
No support on the free plan, and no French support
Try Streak CRM for free
Please note that you will need a gmail or gsuite account to use Streak CRM.
#8 Google Spreadsheets
Can't beat a spreadsheet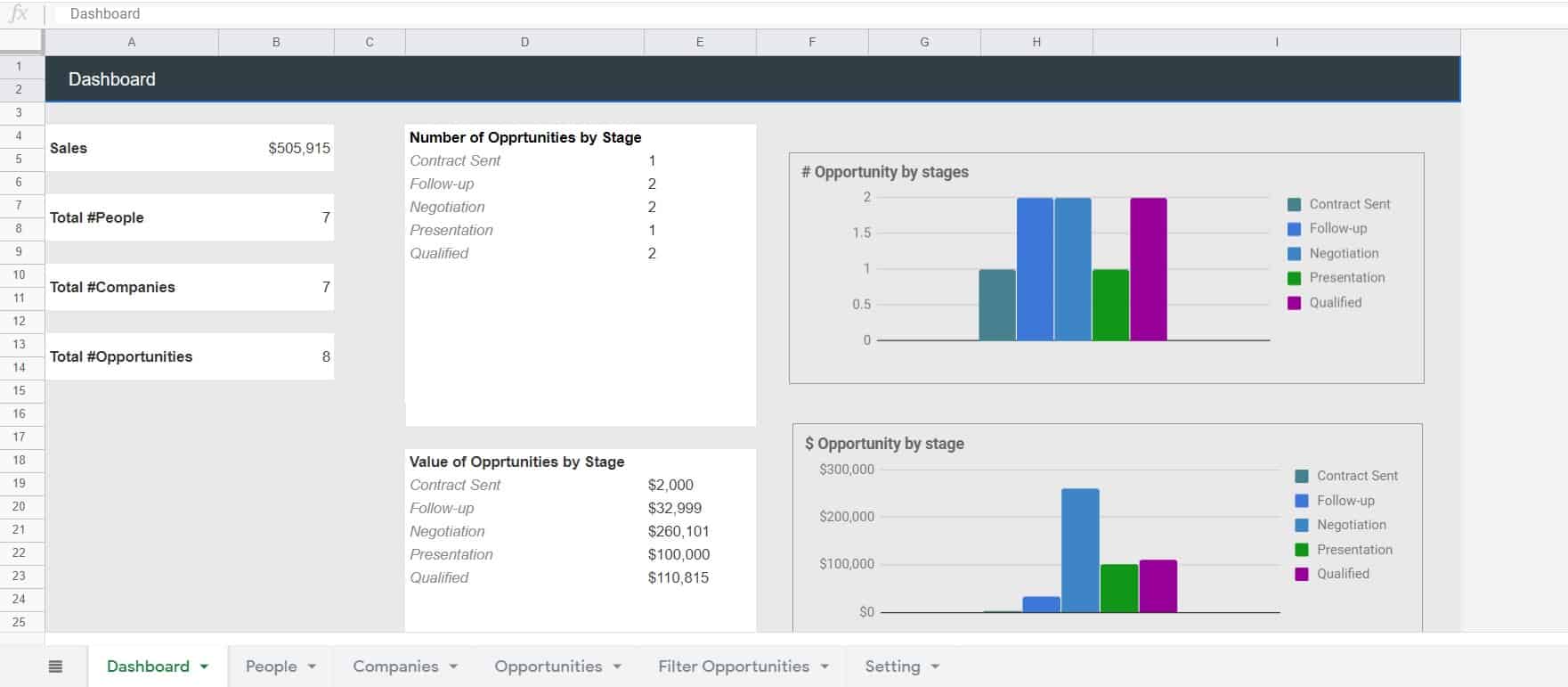 The most advanced relational CRM software has a set of tables:
Contacts
Organizations (accounts)
Opportunities
Google Spreadsheet is very light, very efficient and has a reporting dashboard (see picture above). You can format and analyze data with standard spreadsheet tools, extract data from the Web, and automatically run complex workflows.
Very easy to set up, but you have to do everything yourself.
Effective reporting system.
Does not stand up well to the evolution of the team. We tried adding an "owner" column, or consolidating several individual spreadsheets into one, but it takes a bit of tinkering and honestly doesn't work well.
Try the free google sheets template
If you're managing business activities on your own and are just looking to get a little more organized and structured, this is perfect. If not, move on, you need a more collaborative solution.
#9 Agile CRM
A little known, very complete CRM solution with one of the best free plans on the market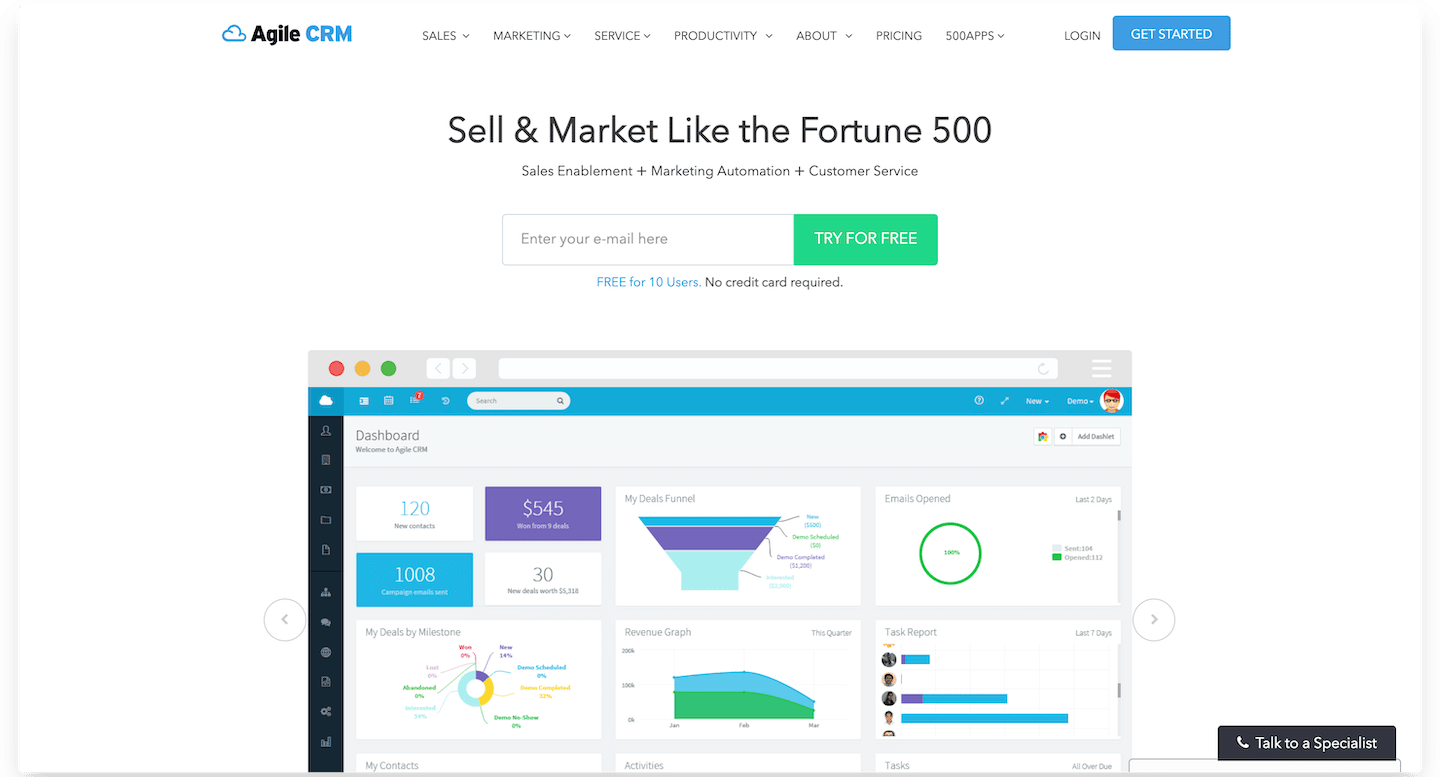 Agile CRM is a SaaS software, and it is not open source. But it is probably the CRM software that offers the most generous free plan.
In addition to the many features of a commercial CRM, the software also offers many features closer to those of amarketing automation software. However, these marketing features are only available from the first paid plan. The software even goes as far as to offer customer support features, and it is also a true live chat software.
But back to the free plan: you can use the free plan with 10 users, up to 50,000 contacts & businesses created. You will be able to enjoy quite advanced features like lead scoring, appointment setting, tracking of your prospecting emails, and solid integrations for telephony (both ways) and emails (read & write).l
In our opinion, it is the most complete free solution on the market, but it is still significantly more complex to set up than Hubspot.
Solid software, and excellent reputation
Unmatched functional depth for a free version
Ability to expand to pay-as-you-go plans at excellent value
A true vision of enterprise software, far from the dusty ERP
A bit more complex than Hubspot or lighter tools
No support in French, and no support on the free plan
Learn more about Agile CRM
You can try Agile CRM for free without having to provide any payment information.
#10 Bitrix24
Really free, but hardly simple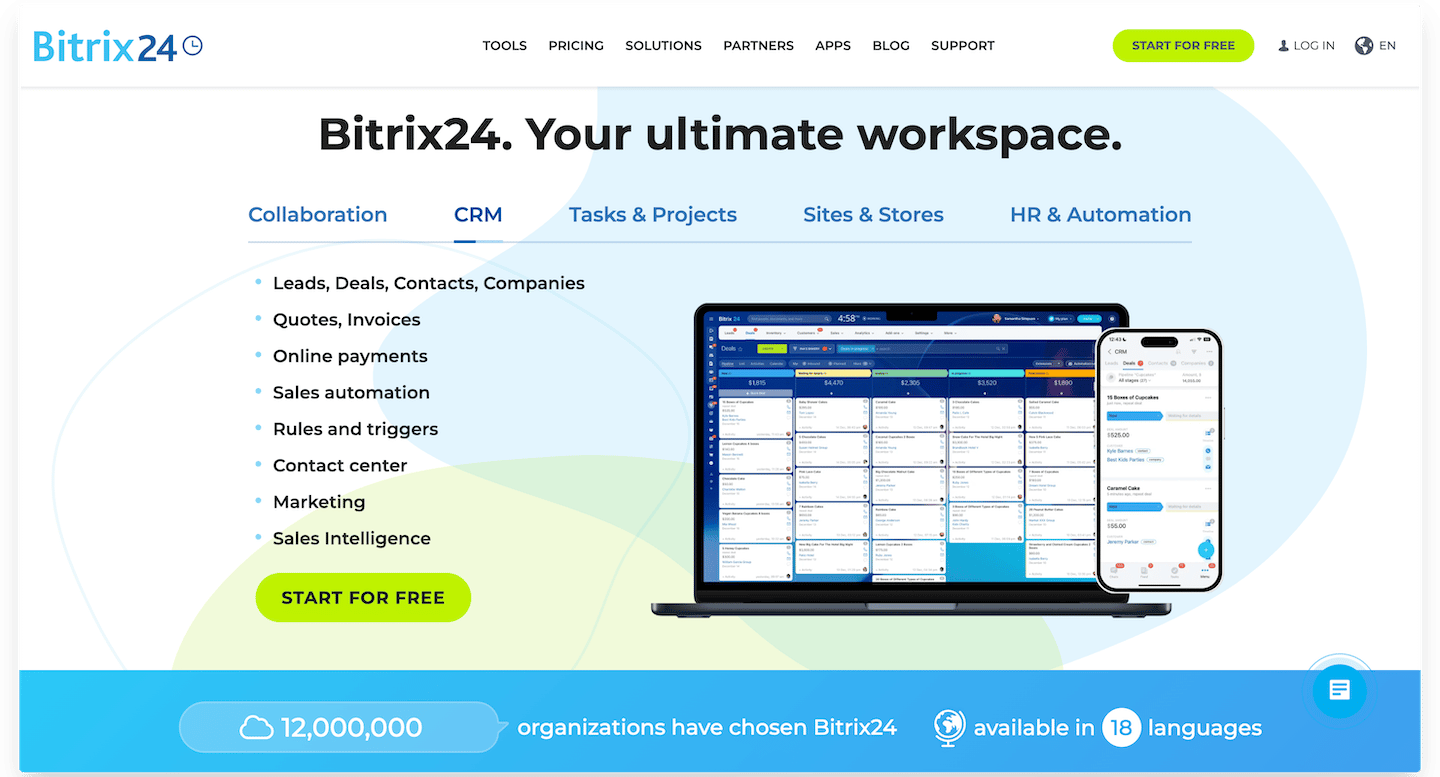 Bitrix24 is a software that is not much talked about, but that actually allows you to go very far. The big drawback of the tool is that all the features (which are very, very numerous) are rather poorly arranged.
It's hard to know where to start and, in most cases, you end up with a very partial use, on a much less clear and easy interface than much lighter solutions. On the other hand, if the management of your customer data is at the heart of your activity, and you know the subject well enough, Bitrix24 will please you a lot.
Lots of features available.
Quite complex and difficult to access.
Learn more about Bitrix24
#11 Dolibarr
Open Source ERP & CRM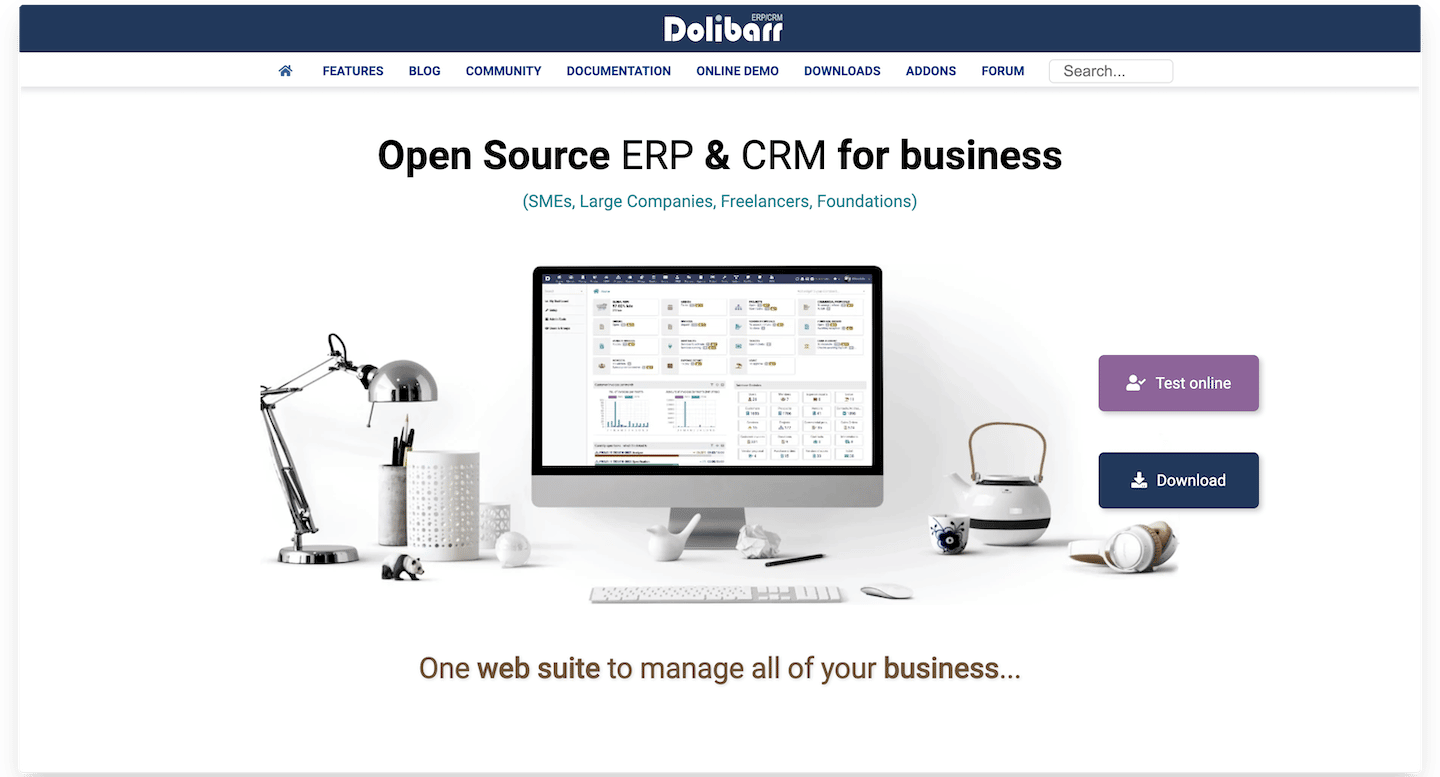 We hesitated for a long time to include Dolibarr in this list, but since everybody does it, we thought it was better to address the subject & explain why it is not a very good choice.
It's all in the title of their homepage: ERP & CRM.
In real life, a solution like Dolibarr may be free in terms of license costs, but it will quickly cost you a lot of money in installation, maintenance, training, and other costs related to the installation of a CRM software.
So the trade-off is very far from being a trade-off between free or not, and you really have to look at the full cost of the installation over the first 2 years to make the right decision. The price of CRM licenses for such complete solutions is usually marginal compared to the rest.
Free software
Great functional depth, and good reputation in the market
Old solution with a real network of partners
Much too heavy, has aged rather badly
The hosted solution of Dolibarr has very little success
Learn more about Dolibarr
You can try the software online for free on their website, or download it directly
#12 VTiger
All in one open source software, but maybe not for long…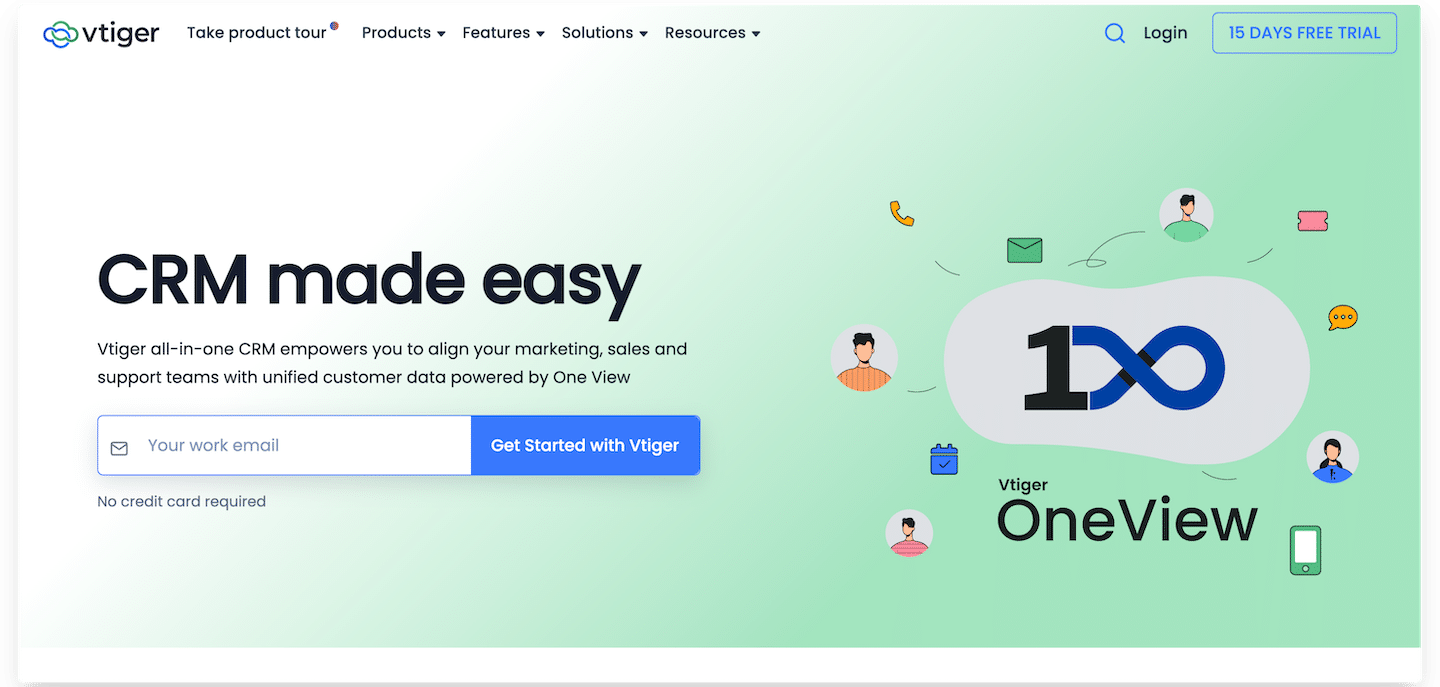 Opinions on the evolution that vTiger is taking are a little mixed.
Version 7 of the software is available for free download, like all open source software. So far so good.
It is a very complete software, with a real "all-in-one" ambition: Marketing, Sales, and customer relations (helpdesk, etc.).
Where it gets complicated is that they have released a version 9 that is just as complete, and with a free plan, a bit like Agile CRM: 10 users, but only 3000 records. So there is a very serious programmed obsolescence of the free plan…
A bit of a pity, because version 9 is very promising, see for yourself, it's a real all-in-one software
In summary, in the open-source version, vTiger is a solid & robust piece of software, but it's not clear how much of the company's efforts will be turned to this deprecated version…
And in the new version, it's clearly ambitious, but you can hardly call it free software. A bit of an unclassifiable in this comparison, but the software is clearly worth a look!
Accessible and highly regarded open source version
Large community and strong network
Version 9 is very promising, too bad it's only available as a SaaS.
The v9 free plan is more like a free trial.
The future of the open-source version is rather uncertain considering the distribution strategy on v9
Learn more about vTiger
We recommend that you learn about the two versions of vTiger
Reader Interactions