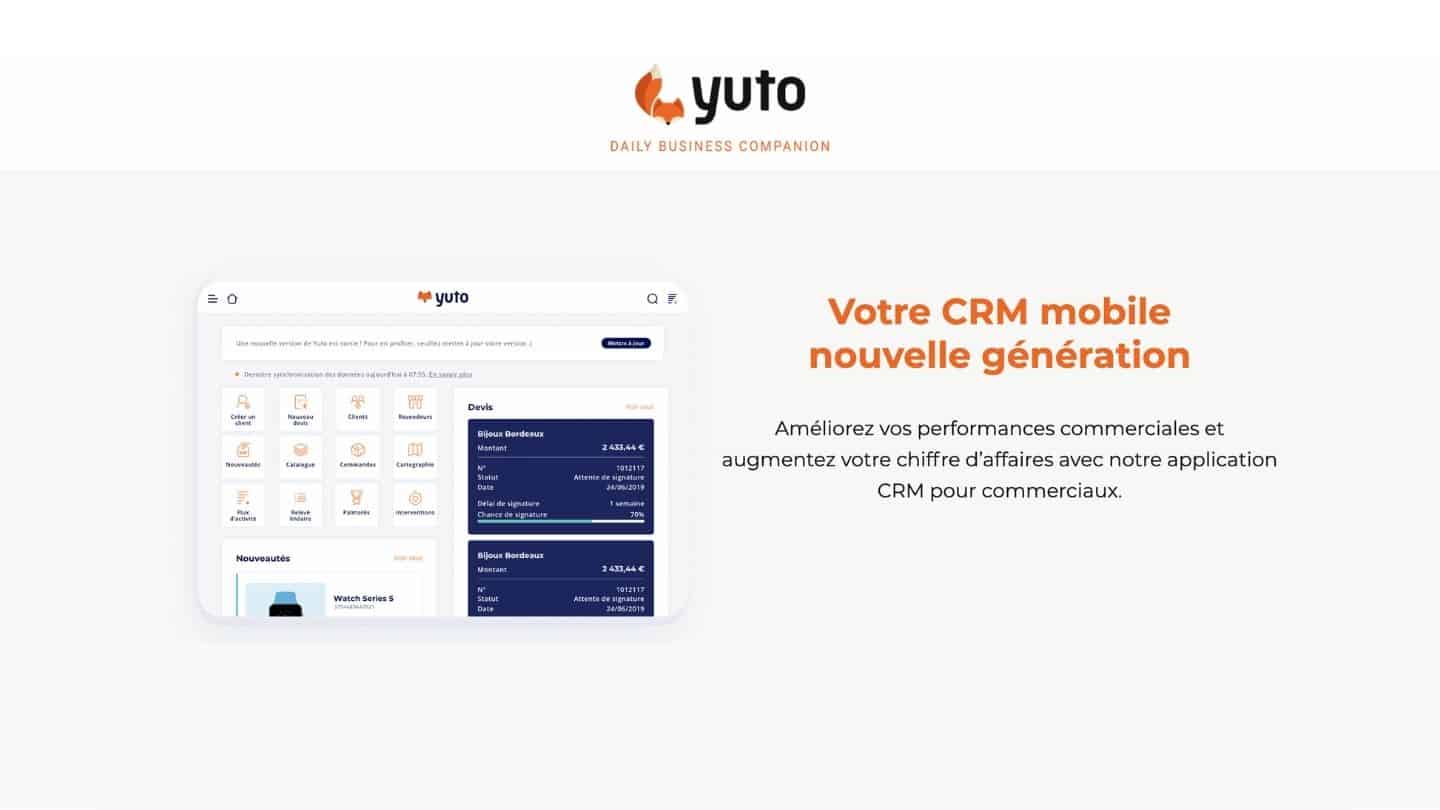 Yuto is a French mobile CRM developed by the web & e-commerce agency RiaStudio in La Rochelle. The challenge is simple, to offer a CRM designed for field salespeople. And it is rather successful! In this article, our detailed opinion on the software: functional scope, ease of use, customer support, integrations, and customer reviews on Yuto.
Our review of Yuto : summary table
Criterion
Note Salesdorado
Comment
Overall score
Yuto is a 100% mobile tool. Designed in France, it has been developed to meet the needs of sales people in the field. The result is very successful!
Ease of use
The tool is sales-oriented. Easy to use, it allows you to manage your company's sales activity and optimise the chances of conversions. We really appreciate the shortcuts to access the main features of the application.
Easy to set up
The tool is pretty much set up when you create your account. To enjoy the Yuto experience you just need to register and download the application, which is available on both
Google
Play and the AppStore
Customer service
Support is available in French. It is rather reactive, but only accessible by email. A resource centre and tutorials also allow you to browse and find answers to your questions.
Functional depth
Yuto is mainly designed for sales people. Don't expect to have access to really detailed reports about the conversion performance of your different traffic sources. The tool, simple but concrete, allows you to improve the efficiency of your sales department.
Integrations
Yuto is compatible with the most common ERP's on the market, notably
SAGE
. Be careful, however, as these integrations are only available if you subscribe to the Enterprise account, the most expensive and complete of the Yuto offer.
Value for money
You can benefit from a free 14-day test. The Essential plan, the most basic, is 29Є per month per user. The Business plan is 60Є per month per user. The monthly rate for the Business plan is available only on request.
Yuto: a mobile and very complete CRM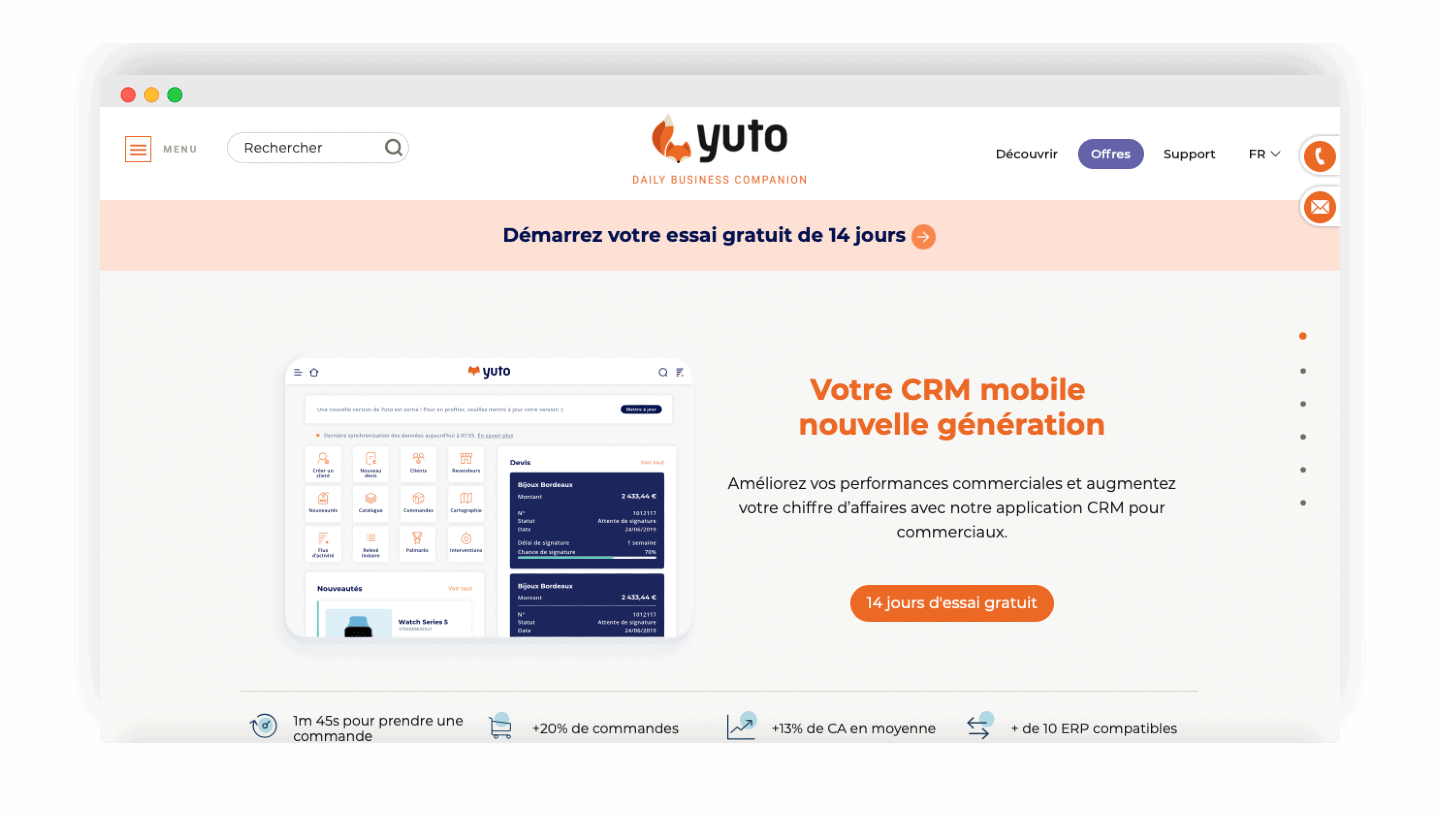 Yuto is a CRM software with many features. In this section, we present everything you need to know about this tool and its features.
Contact management on Yuto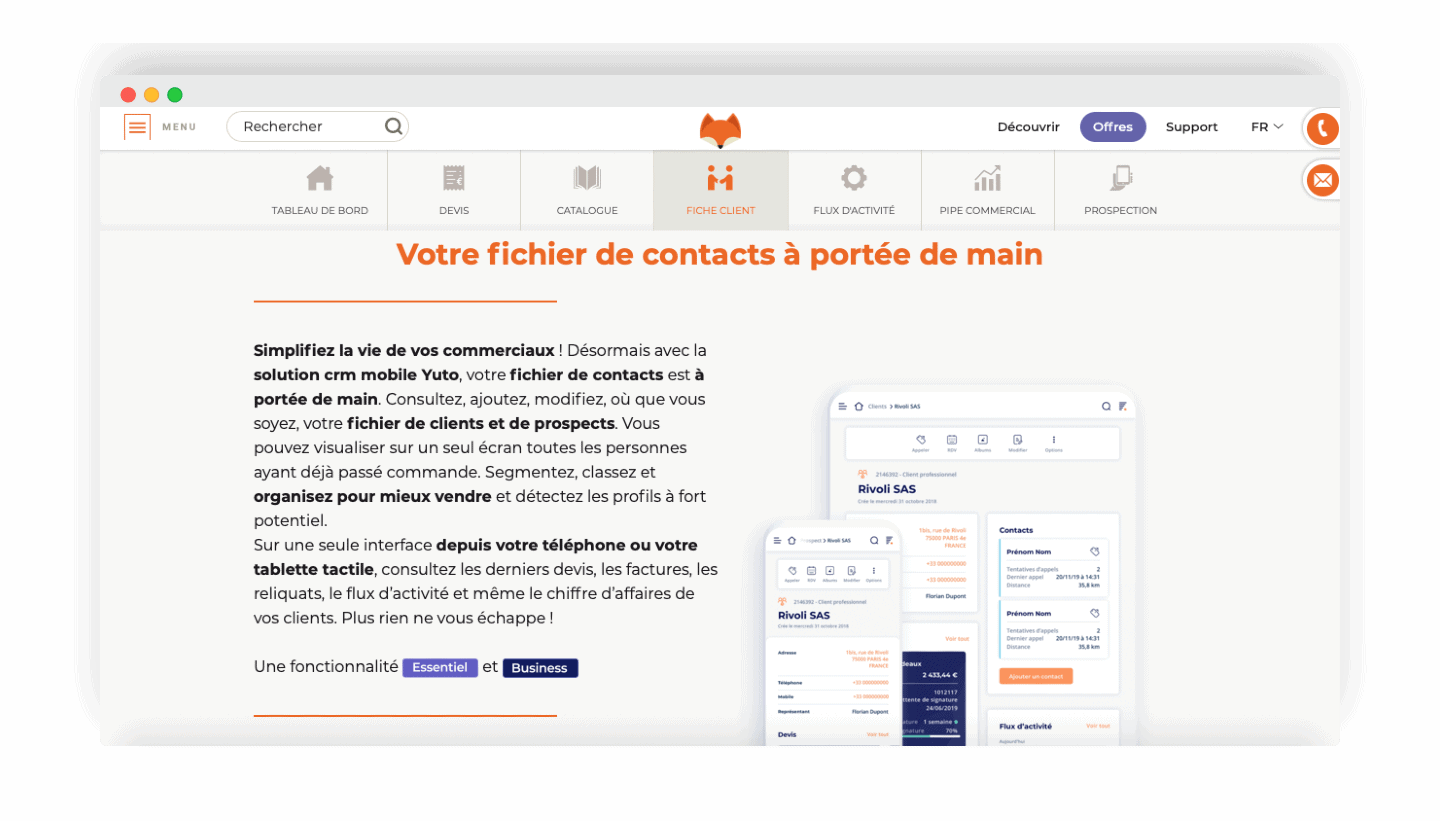 Yuto allows you to import contacts from your phonebook into the application. The data is analysed by Yuto, which transmits a number of them. In a few seconds, you can retrieve the contact's identity (first and last name), company and phone number.
Once the contact has been imported, you can find all the information in the two sections "Clients" and "Suspects". By synchronising the application, again in a few seconds, you can bring up this customer data in the general administration.
You then have access to all customer and contact data on your phone.
The sales pipeline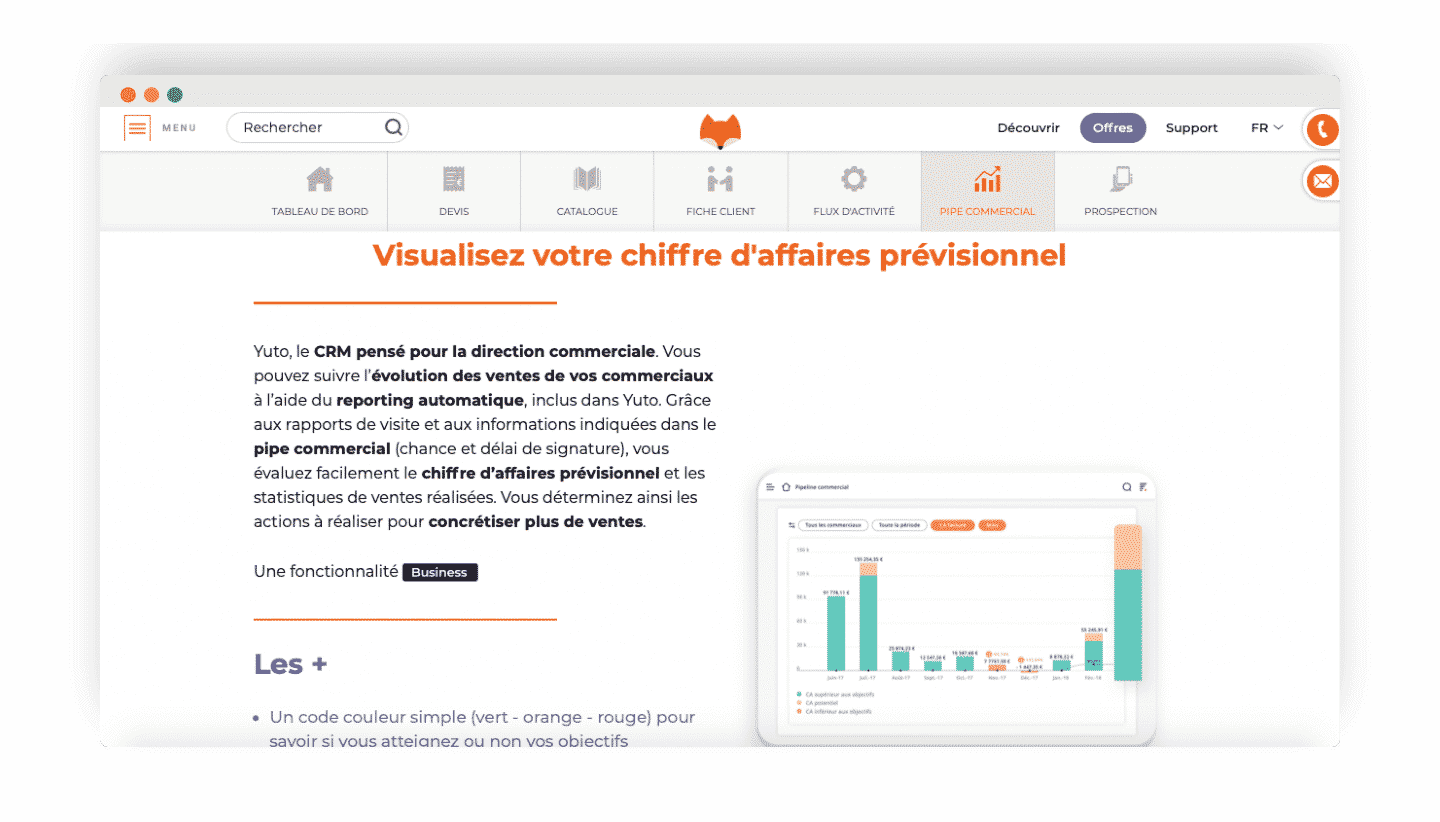 Yuto is a sales-oriented CRM. It allows to follow the evolution of the sales pipeline thanks to its automatic reporting functionality.
Although reporting is not Yuto's strong point, data such as visit reports, chances and signing times are automatically reported. This makes it possible to evaluate projected turnover and analyse sales statistics.
Finally, the sales pipeline is very efficient. You can register your orders and advance your deals directly into the pipe, very simply.
A CRM designed for the field
Mapping
The addresses recorded in your customer files are automatically displayed in the application's mapping tool. You can determine which customers are in your vicinity and refine your search with the customisable filters.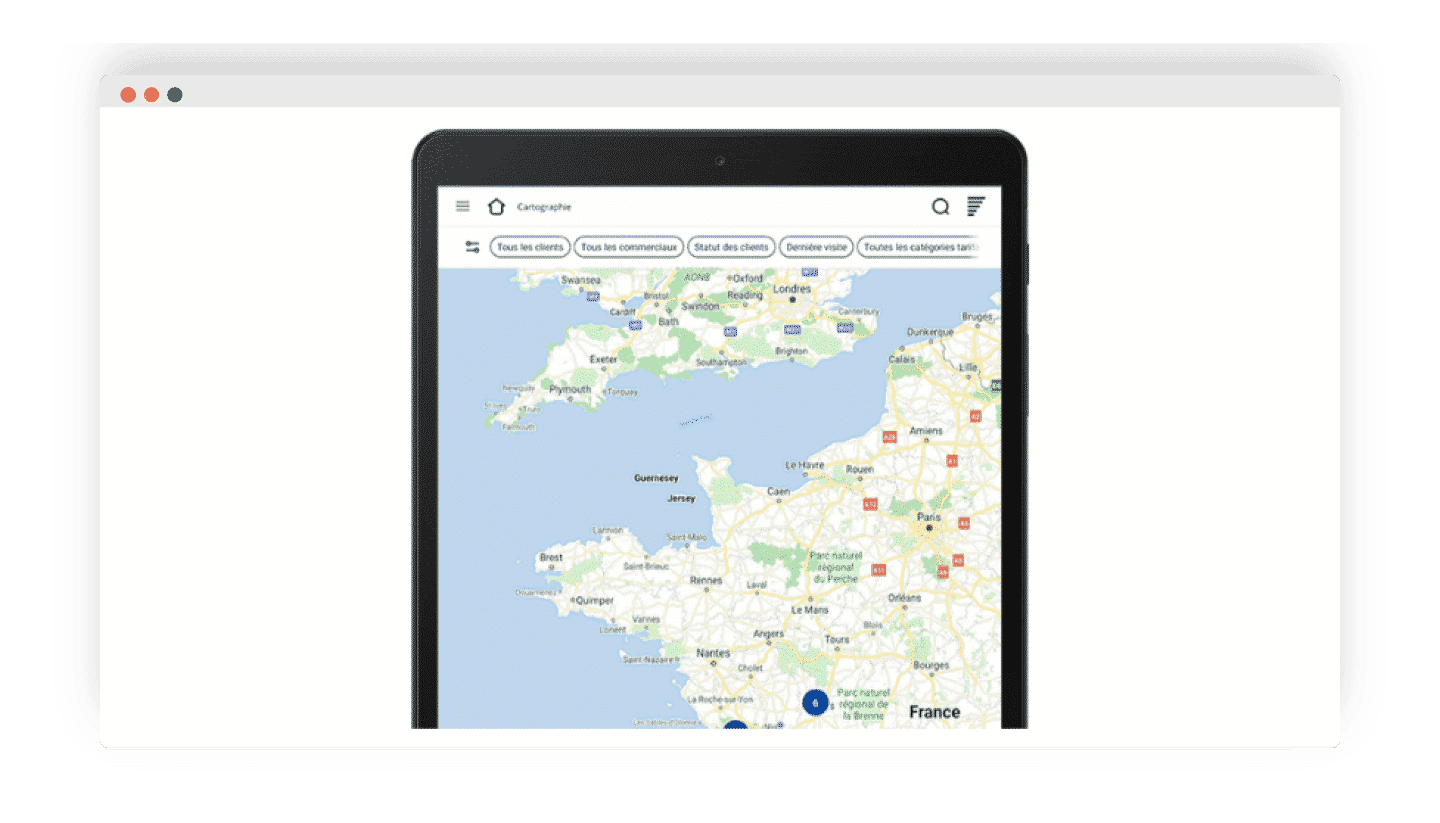 Yuto offers four default filters:
All customers: you can search for a single customer by typing their name and get their information
All salespeople : to monitor the activity of their sales teams
Customer Status: Allows you to select the type of account you wish to display on the map. Namely, suspects, prospects and customers.
Last visit: allows you to select the levels of your customers' last visits.
In addition to these default filters, you can create other filters, personalities from the Yuto configuration on Riashop. This feature allows you to better respond to business needs.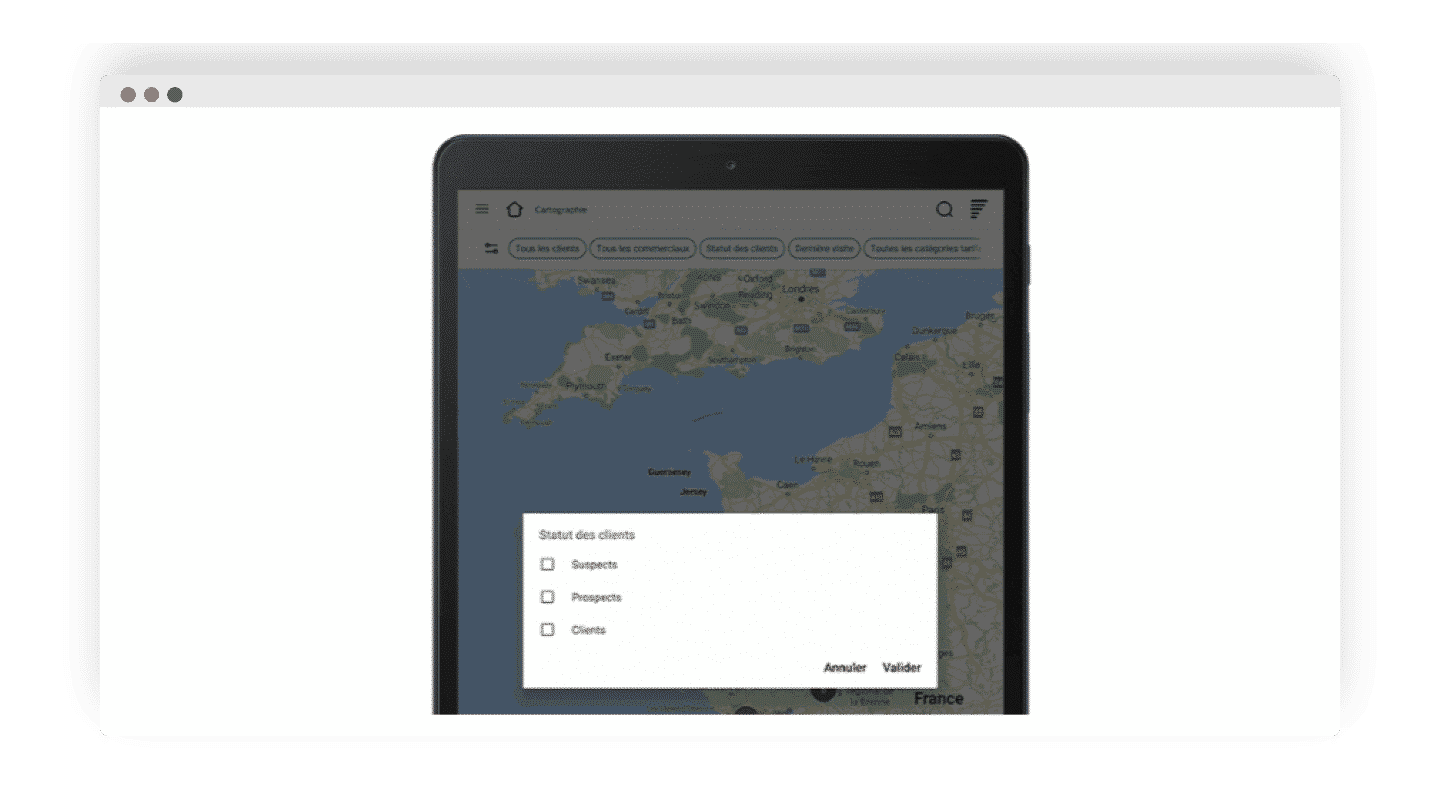 Other filters and features enhance your user experience. You can use Waze with Yuto to easily create a route. You have your location and the location of the customer you want to visit.
Monitor the activity of your sales staff
Managers, you can track the activity of your salespeople with the "visit report" feature. This report corresponds to the information entered by your sales representative following his first exchange with a prospect.
Within the application, the "All Salespeople" filter, you can see the customer portfolio of all your sales team members. Information that you can then extract in order to keep track of the actions of your sales people.
Editing quotes and invoices on Yuto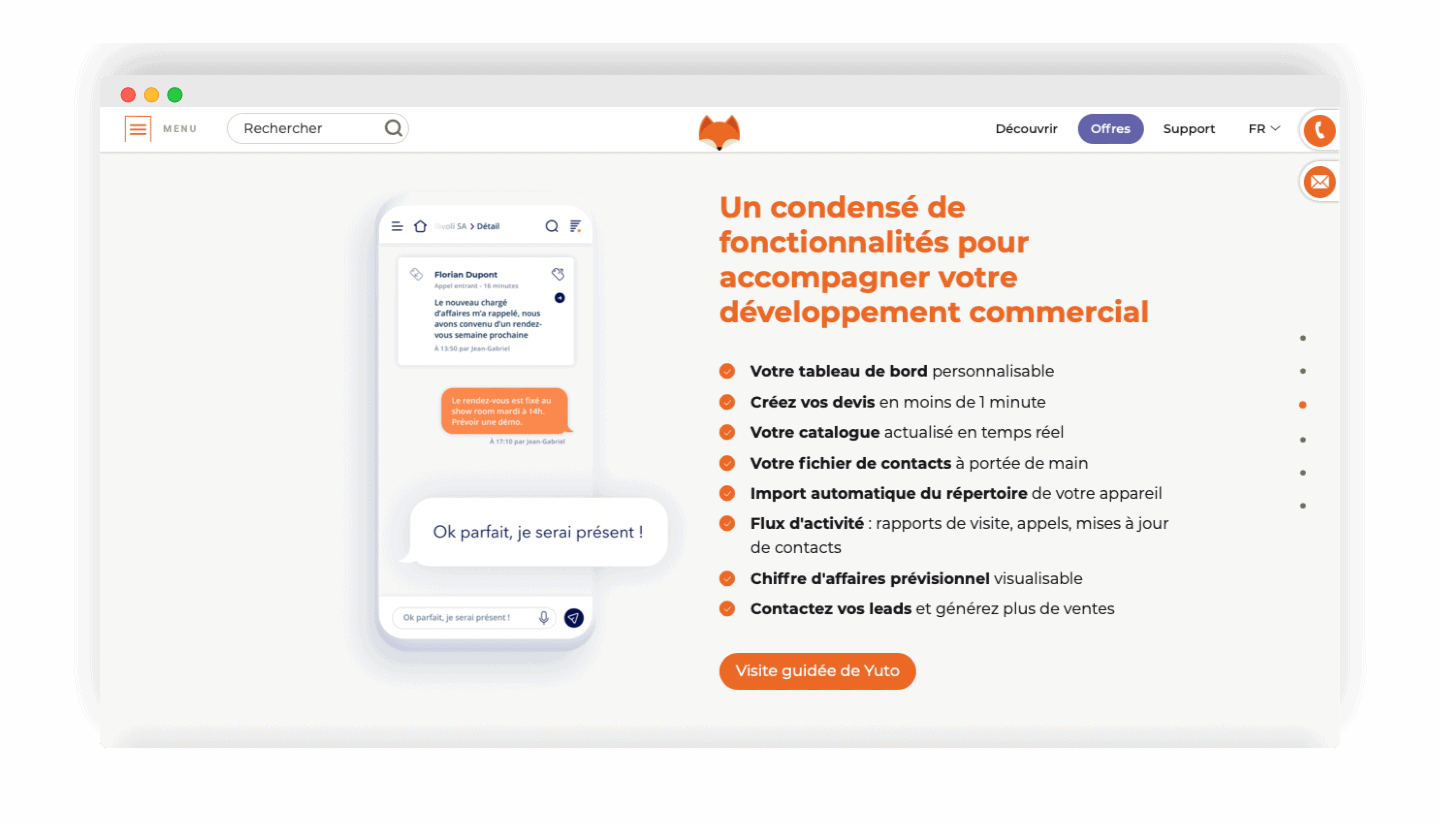 It is possible to create quotations via Yuto CRM, in all circumstances… Even without an internet connection. Very practical, the tool automatically saves itself with each modification (like adding a product). The document can be taken back and reworked at any time.
The quotes can be personalised and easily completed, depending on the chosen configuration. Depending on your activity, you can, for example, have custom fields! Your quotation is then sent to the prospect you have previously defined as a contact point.
Once the customer has received the quotation, he opens it and has access to all the commercial and legal information. They can read the terms and conditions before signing the document, via their screen, which is then transformed into an order.
Reporting on Yuto
To help you, Yuto offers several types of reporting:
Turnover statistics: this feature offers data on the turnover achieved. You can refine your search through the use of filters, such as the period, the figure by margins, by order status etc. A simple colour code allows you to better analyse your performance. Green means that you have exceeded your objectives, orange means the opposite while yellow is a forecast.
Visit reports: Yuto records data related to your visits. These statistics inform you in particular about the number of reports made, the type of visits made (product presentation, signature of the estimate, after-sales service…) and the time spent per visit. These data can be configured according to your needs.
Visit time: You have access to statistics related to visit time illustrated by a graph. Here again, you can filter by period.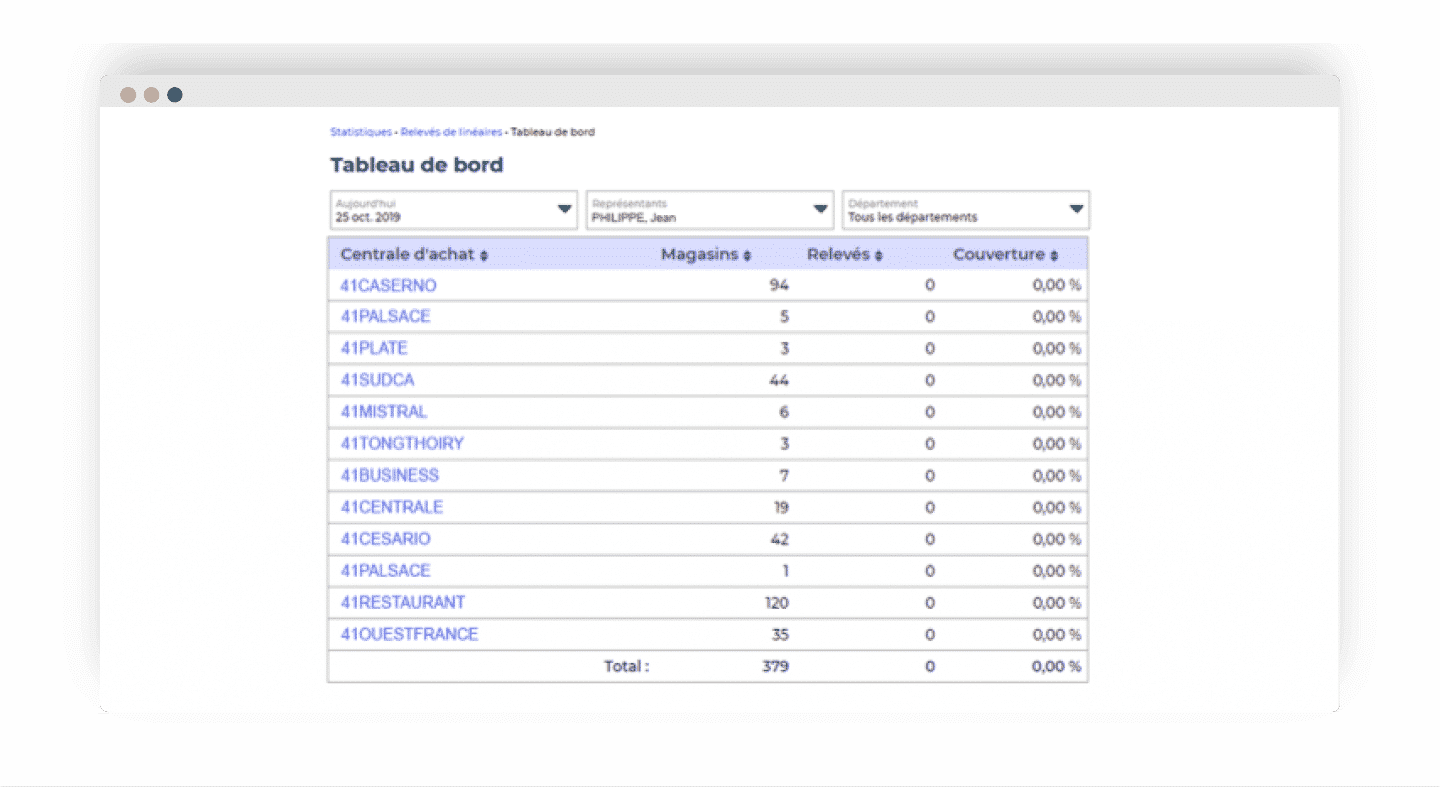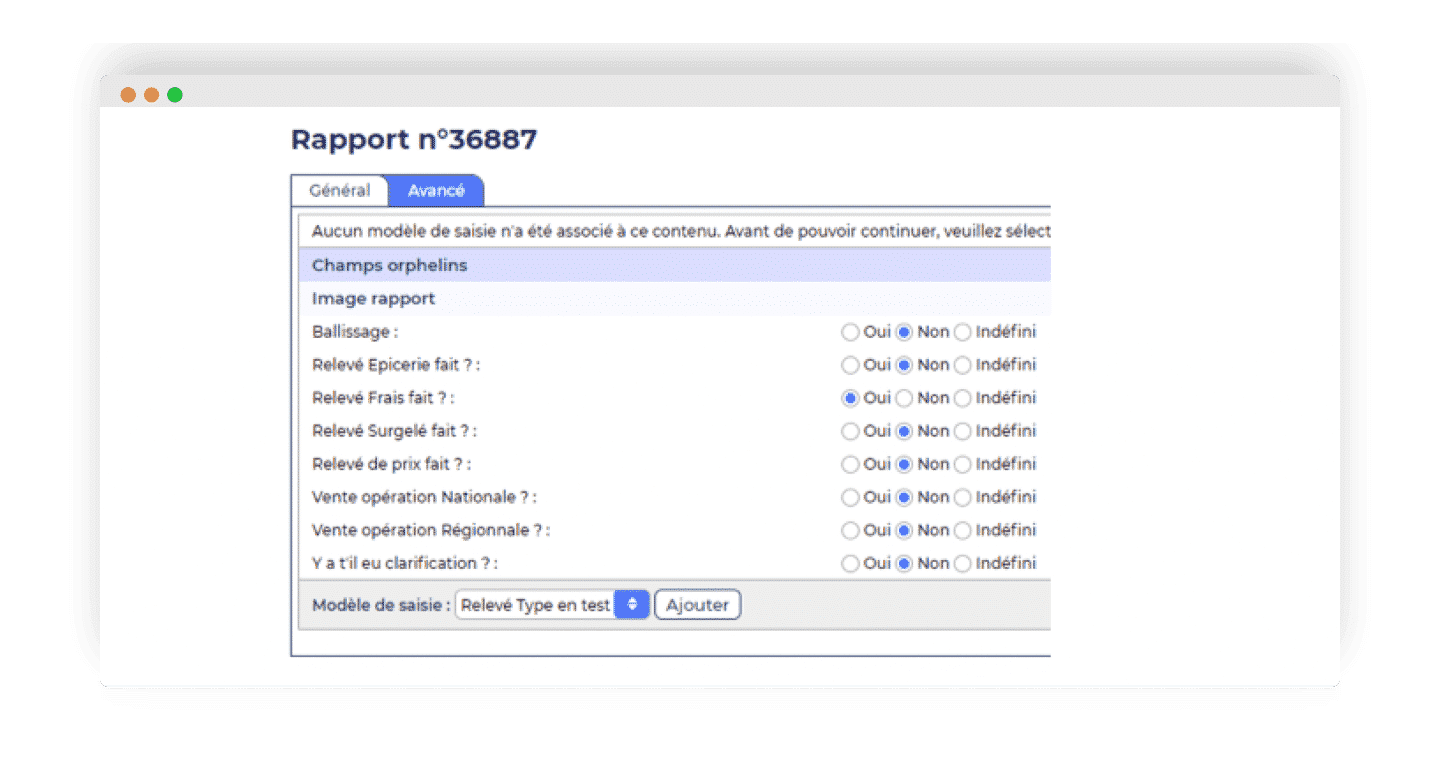 Going further
Yuto is a very complete French CRM. We suggest you discover the rest of the best French CRM on the market, through our dedicated comparison!
Product reporting
Yuto offers product reporting. This feature gives you access to all the statistics related to the sales of a particular product. You also have access to related information, such as the identity of the customer(s) who placed the order.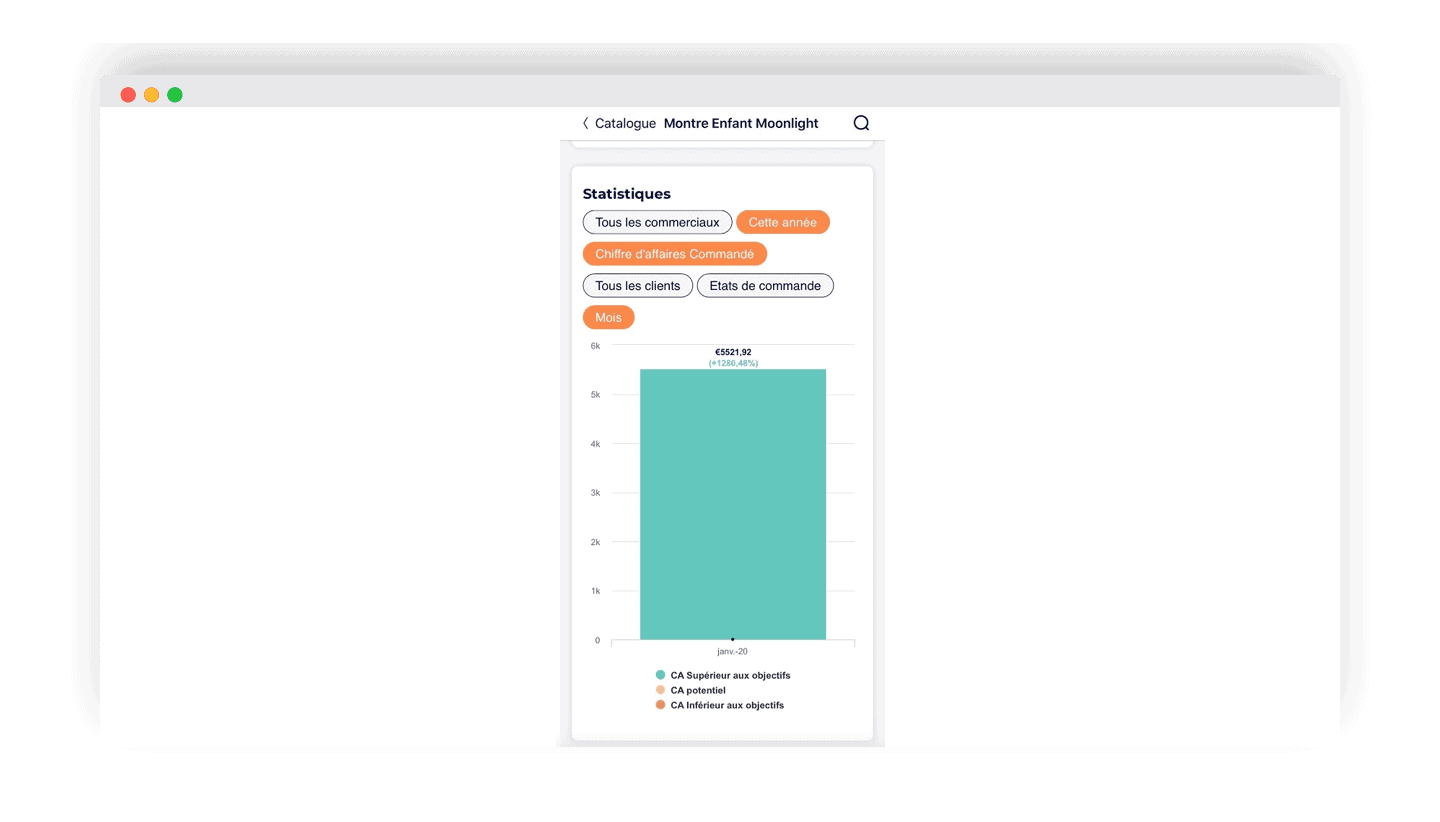 The available filters allow you to refine your search. You can follow the sales statistics of this product over a defined period.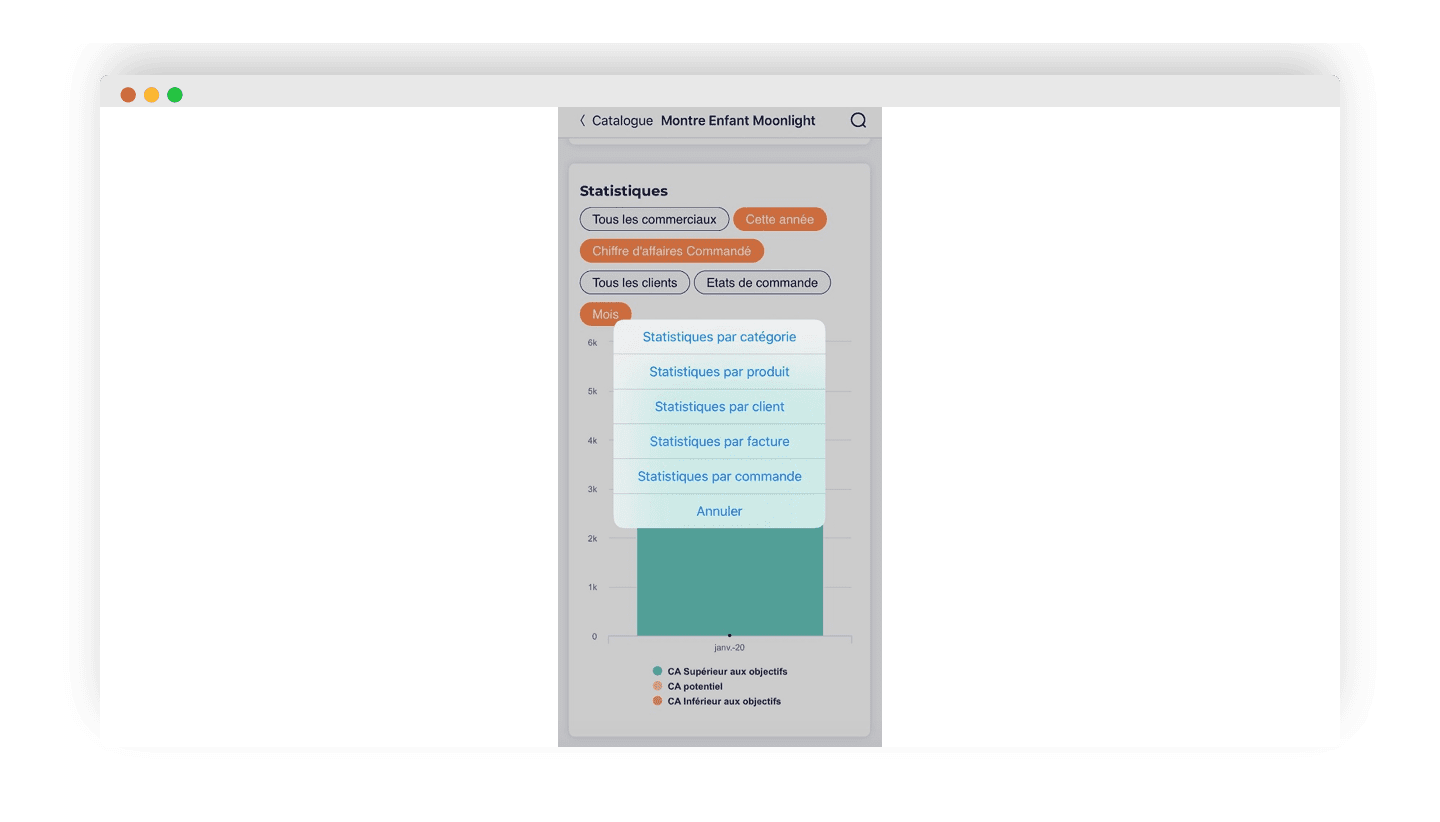 Our opinion
Yuto is a powerful software that deserves to be discovered. We recommend that you test the tool, free of charge, for 14 days to get an idea!
Yuto: a CRM software that can be used everywhere and all the time
Yuto is a proactive software. It anticipates commercial needs. This saves time and improves sales performance.
Even when on the move, your sales representative can geo-locate his contacts, visualise the sales pipeline, enrich his customer database, track his orders and enrich his reporting very easily.
The sales manager monitors the general development of the sales activity. He has a visual on the forecast objectives, can allocate a quote to one of his sales team members and, ultimately, adjust the sales strategy.
Managers and sales executives can better monitorsales activity, forecast targets, allocate quotes to their teams, and thus readjust their sales process on a daily basis.
Our opinion
The advantage of Yuto lies in its accessibility. It is possible to use it from your computer but also via a dedicated application, which even works offline! Ideal for sales people who are often on the move.
Yuto integrations
Yuto is a tool that is compatible with the most common ERP's on the market, notably SAGE and Dynamics 365. However, be careful. The integrations with your ERP SAGE and EBP are only accessible from the Enterprise plan. Yuto's Rest API is also available for the use of other tools.
Our opinion
We regret the few integrations offered by the tool, especially as some are only accessible from the Enterprise plan, the most advanced.
Customer support at Yuto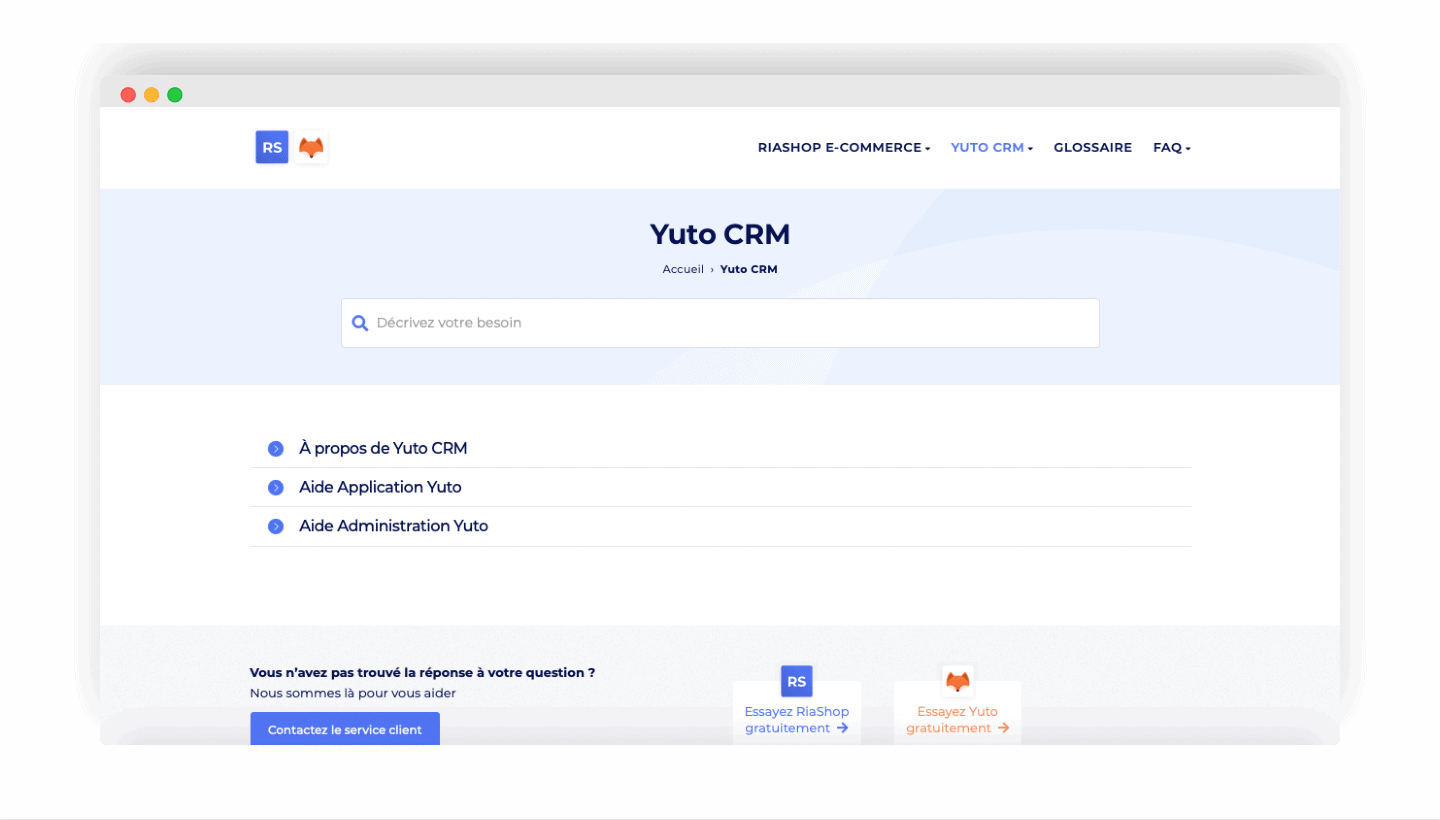 Yuto is a French solution. Customer support is available in French. You will not find any telephone number to contact them. However, it is accessible and available by email.
For more information, you can also turn to the resource centre. There you will find some videos and tutorials to help you answer your question. Yuto's LinkedIn page is also very active. It features many webinars, to help you better understand and manage the product.
Our opinion
While it can be annoying to have only one way to contact customer support, Yuto's support is responsive and available. This makes it easy to solve any problems you encounter.
Customer reviews of Yuto
Updated on 1 November 2021
Overall, users are quite satisfied with the application and Yuto CRM. The main negative feedback concerns a few bugs that have probably been fixed by updates.
Yuto's prices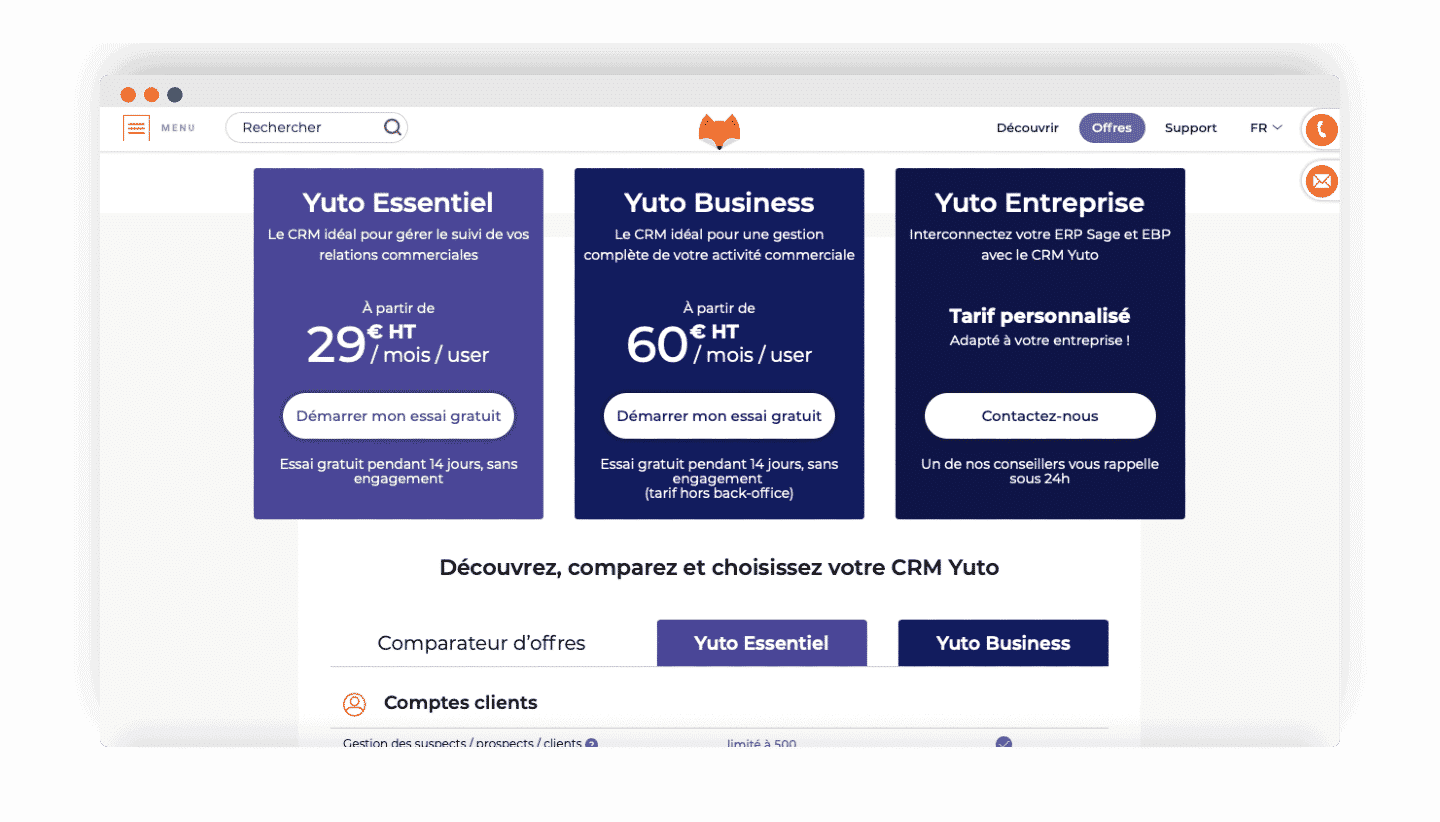 Yuto offers three pricing plans:
Yuto Essential: this is the basic version. The essential plan offers the essential features of a CRM software allowing the follow-up of its commercial relations. It is available from 29 euros per month per user.
Yuto Business: richer in features, Yuto Business is the ideal plan to ensure a complete management of its commercial activity. It is available from 60 euros per month per user.
Yuto Enterprise: interconnect your Sage and EBP ERP directly into the Yuto CRM. Concerning the prices, you have to turn to the sales team. The price is adapted to your company.
Reader Interactions