When we talk about CRM software, we first think of the Salesforce and Hubspot of this world. But not only are these solutions often too cumbersome to install & maintain, they are also generally quite poorly translated, and with a rough customer support (when it exists!). Fortunately, there is also CRM software made in France, by French people, and in French. 🐓
In this article, we present the main French CRM software.
#1 NoCRM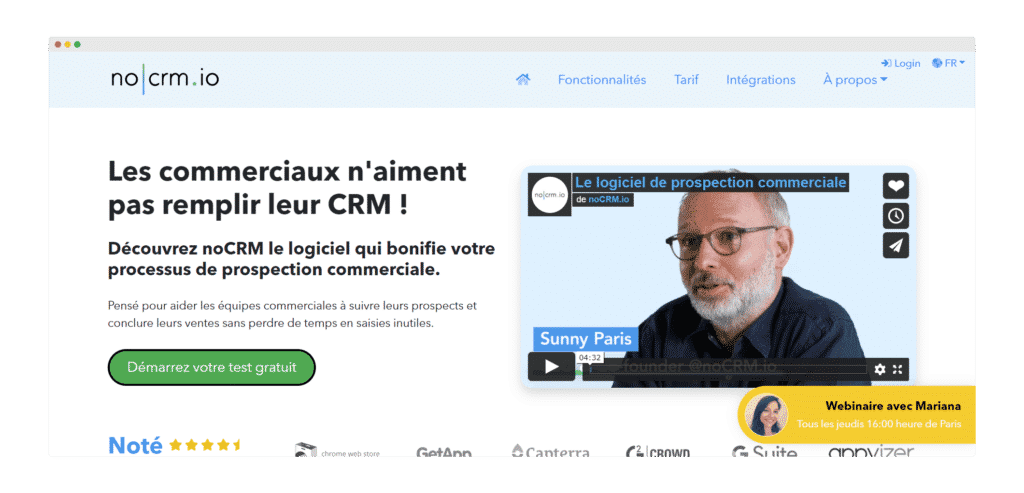 Founded in 2014, NoCRM is growing exponentially and already equips nearly 10,000 sales people (mainly SMEs). NoCRM's success is international: the French start-up generates 70% of its turnover abroad and has made its solution available in 7 languages!
The tool aims to allow salespeople to focus their efforts on prospecting and to gain in efficiency. Very easy to use, the lead management interface is similar to an Excel spreadsheet, which has been considerably improved to allow the input of actions and the monitoring of the evolution of leads via a Kanban view.
NoCRM's offer is based on two formulas:
The "Starter Edition" dedicated to micro-businesses, at €10 per user per month, which includes all the opportunity tracking features.
The Expert Edition, at €16 per user per month, which allows you to go further in team management, outbound actions and after-sales follow-up.
#2 Axonaut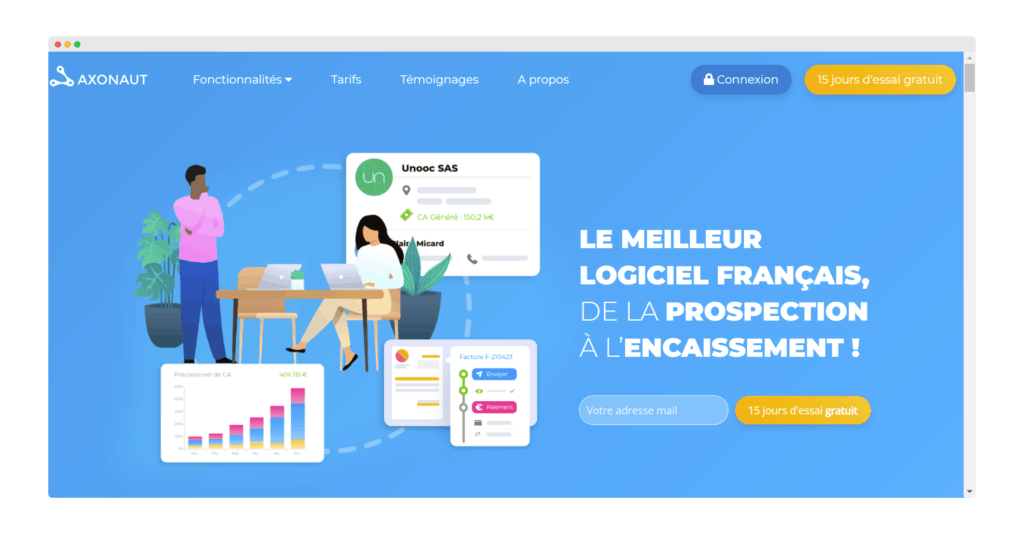 The Axonaut adventure started in 2017 in Toulouse and under the name of Rocket ERP with the desire to simplify the management of French SMEs. Since then, the company has grown rapidly and has celebrated its 20,000th user, its next challenge is to conquer new international markets!
Axonaut is defined as an all-in-one ERP for SMEs: Sales management, estimates & invoices, cash flow and accounting, everything is there! The idea of the tool is to preserve an intuitive ergonomics in order to guarantee a high adoption rate. The CRM module and the customer support are more than convincing, with a small limitation on the still limited prospecting campaigns.
Axonaut's positioning corresponds to its target and remains affordable for SMEs by offering a quality tool.
From 1 to 9 users, you pay €29.99/month (including 1 user) and €14.99/month per additional user.
From 10 users, you pay €183.74/month + €14.99/month per user. Get 30 days free via this link
#3 Sendinblue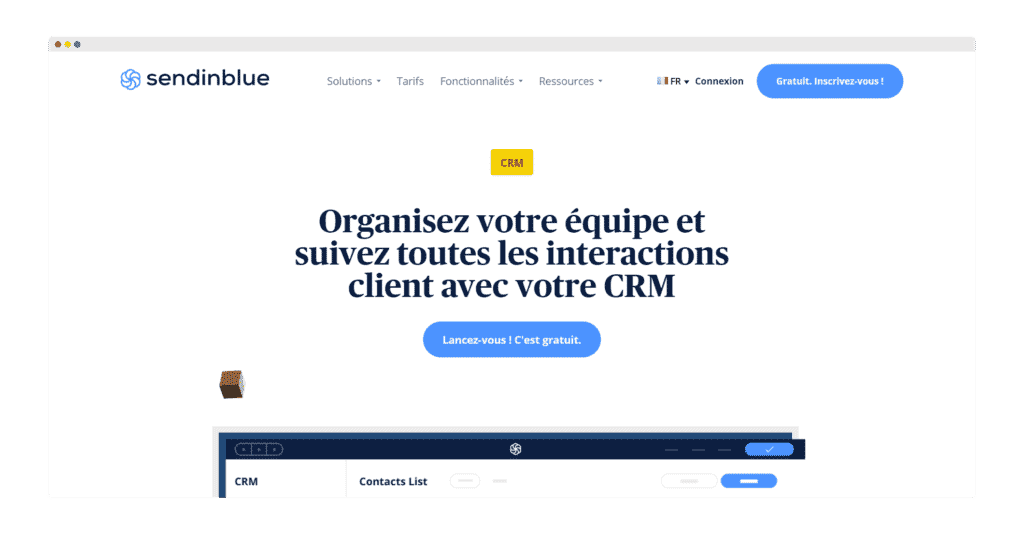 Founded in 2012 in Paris, mainly known as a marketing automation software, Sendinblue has become a major player in customer relationship management for SMEs, with 80,000 users and a fundraising of 140 million at the end of 2020 to accelerate its international development.
The tool has developed considerably in terms of functionality to become an all-in-one Marketing & Sales platform offering advancedemailing, SMS campaigns, marketing automation and even conversion features, including the creation of landing pages.
They even released a commercial CRM module in 2020, still in its infancy, but already quite effective with all the other features.
Sendinblue's rates depend on the number of emails you wish to send.
There is a free version, limited to 300 emails per day, with access to the CRM module
The Lite version allows you to send 10,000 emails per month for 19€.
The Premium version, at 49€, allows up to 3 users and activates the advanced features: marketing automation and landing pages in particular.
#4 Sellsy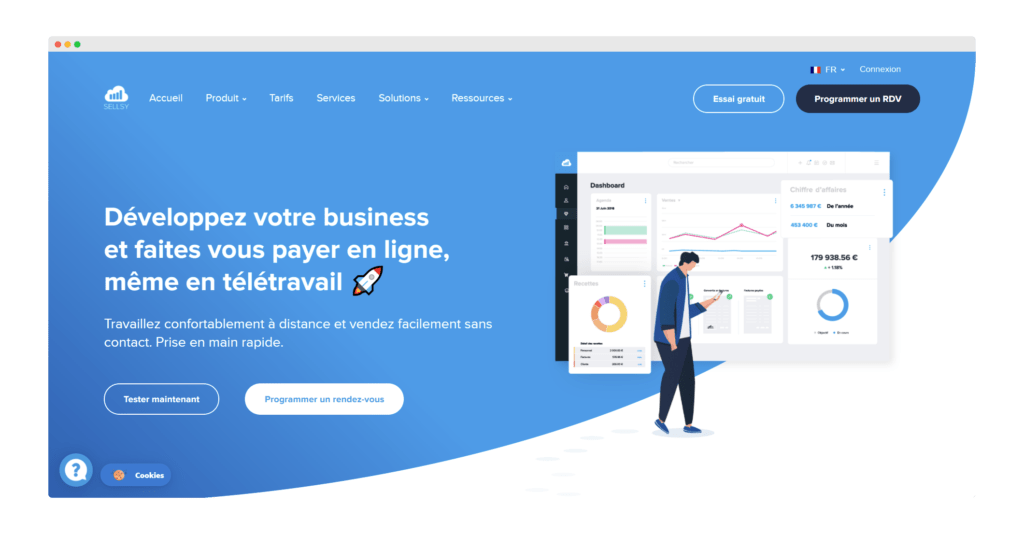 Sellsy, a complete management software, started in 2010 in La Rochelle and now supports 4,500 SMEs throughout France, with 19,000 daily users. Sellsy is positioned in the segment of large players such as Cegid or Sage.
Sellsy is a marketing and sales management, invoicing and accounting software package designed for SMEs. The tool is very complete and offers an email automation solution, lead scoring and a pipeline view of leads. An all-in-one solution to manage the entire customer life cycle.
In terms of pricing, Sellsy works on the basis of the number of users: 40€ per month for 2 users for the CRM part only and 100€ if you add the billing and accounting aspects.
#5 Oryanoo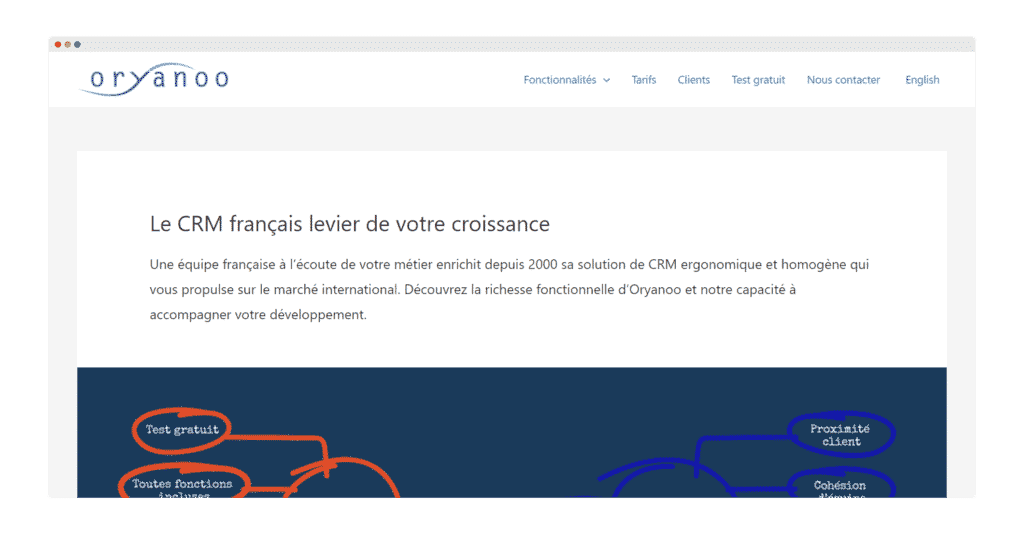 Created some twenty years ago, Oryanoo is a 100% French CRM solution. The tool is a CRM with an integrated ERP, adapted to SMEs. The software is multilingual: available in English, German, Italian and Dutch.
Oryanoo is defined as a suite of tools allowing small structures to optimise the management of their commercial activities as well as their internal and external communication. The wide functional coverage is accompanied by customer support through mini-trainings and excludes only accounting.
The Oryanoo CRM suite works on a subscription basis: 30€/month per "Intranet" user account and 1€/month per "Extranet" user account (shared files module).
Access to the email & sms marketing features generates an additional cost: 0,0012€/send for emails and 0,104€/send for SMS.
#6 Efficy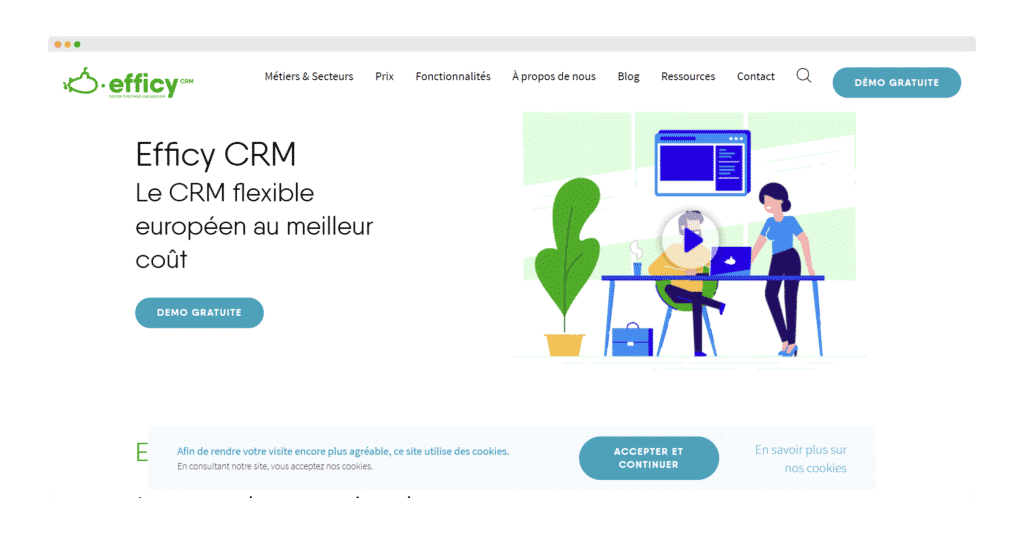 Based in Brussels, the Efficy group is becoming an increasingly important player in the CRM software market. Its original offer, geared towards medium and large accounts, was completed last September with the acquisition of Ines CRM, which is better suited to small businesses. Efficy now wants to continue its international development and compete with the American giants of the sector.
Efficy offers a complete suite of features to ensure your sales follow-up and the activation of your customer database with advanced reporting and emailing tools. The software also offers project management and gamification solutions integrated with the CRM.
The "Enterprise" package, which contains only marketing and customer relationship management features, costs €55 per user per month. The "Premium" and "Corporate" packages, which offer more advanced marketing features, cost €70 and €85 per user per month.
#7 YellowBox CRM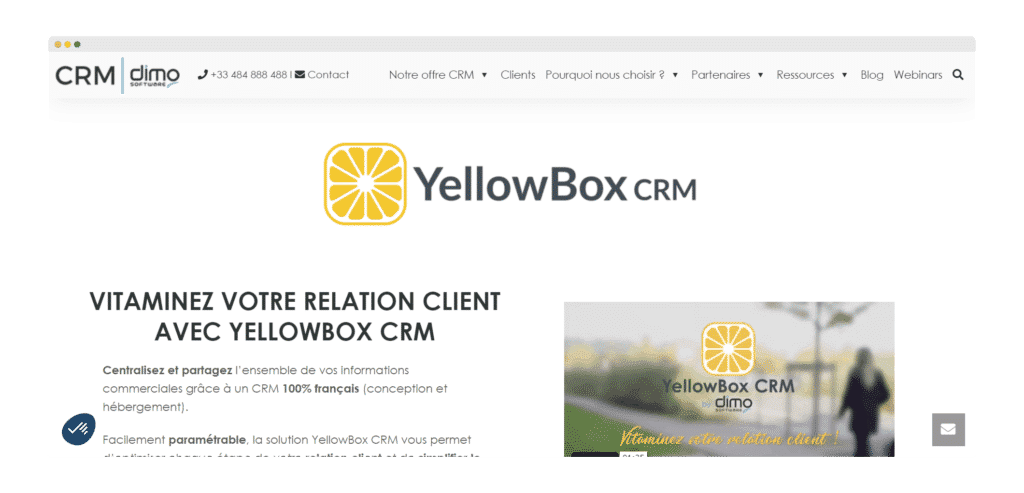 The Yellowbox CRM solution is integrated into the DIMO Software suite of tools: publisher, distributor and integrator of management solutions since 1996. DIMO became publisher of Yellowbox CRM in 2010, via the acquisition of Yellowstone Software.
The Yellowbox CRM software is a flexible and scalable CRM, available in Saas mode. The functional perimeter is complete on the commercial side: management of calls for tender, lead tracking and marketing campaigns. It is possible to enrich it with integrated tools for collaborative messaging and email management in particular.
In terms of pricing, Yellowstone CRM proposes an offer at €59/month excluding VAT for all features. This price may vary according to the size of your organisation and its mode of use.
#8 Yuto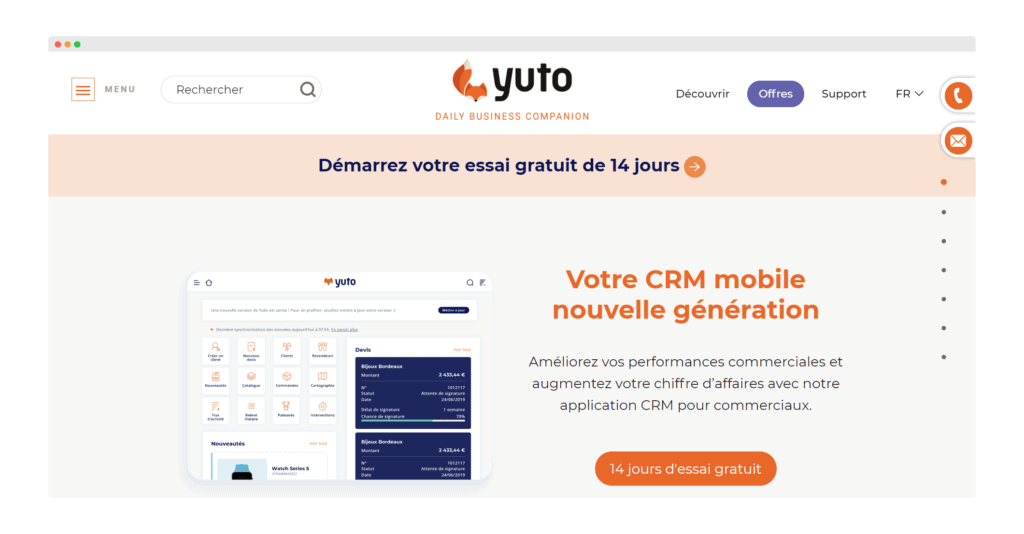 Yuto stands out from the tools presented so far and for good reason: it is a 100% mobile solution and available on IOS & Android! Specifically designed for sales teams on the move, the CRM is very intuitive and allows you to optimise the time spent in the field by your sales force.
In terms of pricing, Yuto offers 3 packages: Essential, Business and Enterprise, available from €29 per month per user. You can try all packages with a free 14-day trial.
#9 Simple CRM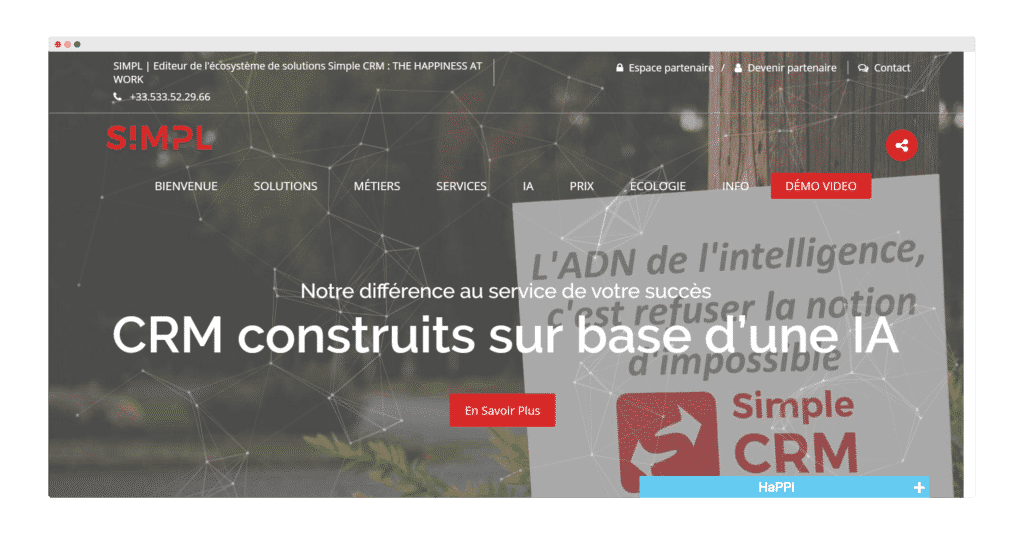 Simple CRM wants to bring novelty around CRM through the extensive use of Artificial Intelligence across its tools. Since 2015, the Simple CRM team has been developing an AI solution called HaPPi, which can be found in several aspects of the software:
Voice recognition,
Detection of potential customers,
Gamification and strategic advice
All these elements are optimised by HaPPi in order to allow commercial organisations to pass a milestone in terms of productivity and to better structure themselves.
Simple CRM's offer remains affordable and varies mainly according to the number of users, the tool is available for 15€ / month / user, from 1 to 5 users and for 65€ / month / user for an unlimited number of users.
#10 Youday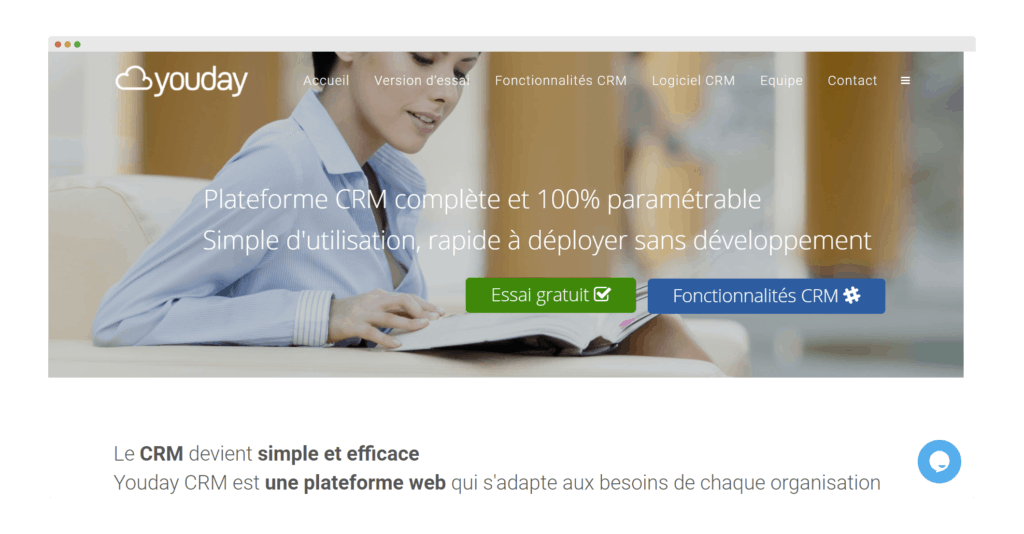 Unlike the American giants such as Salesforce or Oracle, which are long and difficult to deploy, Youday is adapted to human-sized structures: easy to set up and use! From opportunity management to expense reports and after-sales service follow-up, the tool is very complete and can handle all your customer management needs.
The same applies to the offers proposed: no module-based operation, all the features highlighted are available in your subscription. You will have to count between 40 € HT/month/users and 60 € HT/month/users according to the number of users concerned.
Here is what we can share with you about the 10 best (in our opinion) French CRM software. We are fortunate to see some very nice tools being developed in our country, it would be a shame not to give them a fair shake and prefer the American giants without hesitation! If you use a CRM solution that we have not mentioned, please share it with us in the comments.
To go further
Feel free to dip into our resources if you want to go deeper into the CRM topic 🙂