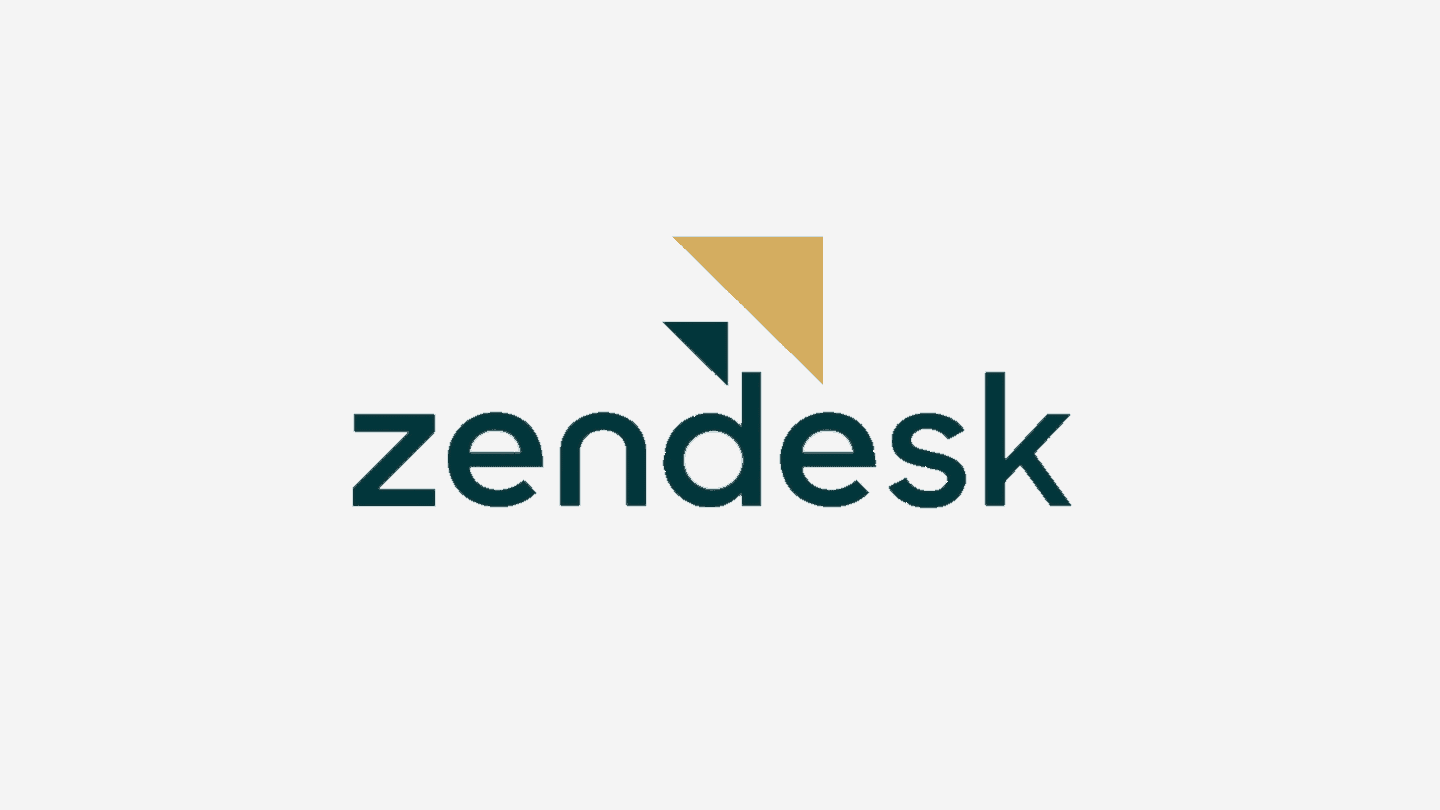 Optimised to facilitate your lead and contact management, Zendesk CRM is very useful for prospecting. By clicking on the Add button on the top right, a drop-down menu allows you to choose between, lead, contact and deal.
The contact management interface
Compared to these competitors, Zendesk limits the level of detail with which you can enrich your contact databases. A small description box allows you to enter whatever you want, but the other fields are limited to basic contact information and social networks.
Example of a contact "card
Salesdorado's opinion
Overall the tool is simple and efficient in terms of managing contacts, when you start it offers you the different options to import your contacts and guides you step by step to get started quickly.
The sales funnel on Zendesk Sell
The "Sales Opportunities" tab gives you access to your sales funnel where you can see the progress of your leads. It is not the most visual pipeline on the market (we prefer Pipedrive 's for example) but it is effective. You can customise the funnel by adding or removing steps.
The sales pipeline 
The benefits of merging Zendesk Support and Zendesk Sell are obvious as soon as you click on a particular opportunity. The ability to access all of the customer's latest interactions with your support via the "Customer Area " section will allow you to provide a more relevant response.
This page gives you immediate access to the following items:
The value of the business,
The status of the case: Incoming, Contacted, Proposal, Agreement, Closed or Won
The percentage probability of a win
The estimated closing date
Reference information
Using this page, you can add a note or send an email to your contacts. The conversations are easily accessible so that anyone on the offers page can see the last interaction with the contact, they will also see if their email has been viewed and if the contact has clicked on any of the links.
Collaborators and upcoming appointments are also visible in this section and can give users a good understanding of the past and current information of the opportunity. Having all the key details of a deal at hand makes calls and contacts easier and more fluid.
Salesdorado's opinion
The opportunity tracking interface is quite simplistic, but still effective. If you already use Zendesk to manage your incoming emails, the centralized customer relationship tracking will be a big plus.
The Salesdorado bonus
Our complete CRM software benchmark is available for download in excel format free of charge. You will also find a comparison of each tool on about thirty different features.
Easy to use and set up
Use
Zendesk does not innovate in CRM, but focuses on the efficiency of its product. When you log in to Zendesk, you will probably have a feeling of déjà vu if you have used a similar tool before.
The dashboard is customisable, you can choose the blocks to be displayed in priority to better follow your activity through your different commercial performance indicators. The navigation is done through the icons located in the header.
So there are no surprises as far as the interface and navigation are concerned, but it is very easy to find the key elements and to start using the tool quickly.
Similarly, the Zendesk calendar is easy to use. Just click on a time slot to enter information and save it. The basic calendar will help you organise your day, but not much more.
Setting up
The dynamic nature of the Zendesk Sell interface automatically optimises the layout of the display. This means that the navigation ribbon can move to the left. This frees up space to display graphics and widgets as well as a secondary menu if required.
Zendesk Sell's user interface lends itself well to Android and iOS mobile apps that present essential information on smaller screens. On an Android smartphone, you can use the "Today" view that displays a revenue report, pipelines and various tasks, calendar events and communication at a glance.
Salesdorado's opinion
The "no-frills" interface makes it easy to deploy the tool within your teams, and your salespeople will be up and running quickly.
The integrations offered by Zendesk
The integration between Zendesk Sell and Zendesk Support is quite deep and is the big strength of the tool. The account management and billing functions are accessible from Zendesk Sell. All in all, Zendesk customers now have solutions that cover the entire customer experience, from sales to support and everything in between.
This integration gives support even more context to the sales process. It also allows support agents to notify sales when opportunities arise in their conversations with support.
The integration of Zendesk Sell with your other tools, such as campaign management or e-commerce, is facilitated by the Zendesk marketplace: by selecting the products associated to the "Sell" section.
The Salesdorado opinion
The integration of Zendesk Sell with Zendesk Support, which has made the product famous, is the great strength of the tool: it allows support and sales to follow all the customer interactions through a centralized platform, and therefore to give a more relevant answer to the customer.
What Zendesk CRM customers say
The tool has generally received good feedback from its users with :
4.3 / 5 on Capterra (126 reviews)
4.3 / 5 on G2 (400 reviews)
Advantages & Disadvantages identified by users
Ease of use and onboarding : "Zendesk Sell is complete and flexible to meet our needs, the tool quickly facilitated our sales process"; "I also like the fact that everything worked for the first time when I imported my results…"
Mobile app : "…a fantastic mobile app, both for IOS and android, that allows us to work remotely"; "one of the qualities we use best and that contributes most to our work is the mobile app, as it is easy and much more convenient to use anytime and anywhere."
Integrations with third-party applications : "Zendesk Sell doesn't offer you many integrations with third-party applications, which limits the functionality of the software a bit…"; "…it has few integrations, which makes it difficult to work with other tools."
Zendesk Sell pricing
The Zendesk Sell offer is based on 4 formulas:
Team – £19 per user per month. This option gives you access to the mobile application, personalised sales pipeline and call recording.
Professional – £49 per user per month. This package adds custom email campaigns, Mailchimp and Zapier integrations, and access to the core API.
Enterprise – €99 per user per month. This plan allows you to create 2 pipelines, access the lead scoring module, automation solutions and Hubspot integration.
Elite – £199 per user per month. Unlimited number of sales pipelines, dashboard per sales person, all integrations and APIs.
Salesdorado's opinion
If you are already using Zapier or Hubspot, please note that these integrations are only available for certain plans, you will quickly be limited in terms of integration if you don't choose the right formula!
The Salesdorado bonus
Our complete CRM software benchmark is available for download in excel format free of charge. You will also find a comparison of each tool on about thirty different features.
Reader Interactions