A good landing page guarantees a high conversion rate and therefore maximum leads.
We've already provided you with a comparison of landing page creation tools, but it's clear that Unbounce is one of the leading landing page software programs on the market.
Both ultra-complete in terms of functionality and easy to use, Unbounce also offers innovative features thanks to AI as well as numerous integrations. In short, it has well earned its place among the leaders in landing page software.
In this article, find out everything you need to know about Unbounce!
Our opinion in brief on Unbounce
Criterion
Note Salesdorado
Comment
Overall score
Unbounce is a must for landing page publishing. Its diverse and powerful features (notably thanks to AI) make it a tool that many organisations have chosen.
Functional scope
A wide variety of features, and above all, a range of third-party integrations like few others. Access to AI tools (Smart Builder, Smart Traffic) is possible for more advanced plans.
Reporting
The reporting is accurate to monitor the occupancy rate of your resources in real time.
Accompaniment/Support
The support is easily reachable and responsive, but it is not accessible in French.
Integrations
The real strength of Unbounce is the variety of applications, both deep and standard.
Value for money
A high-quality solution, but one that comes at a cost.
Advantages:
Unbounce is designed with the sole purpose of helping you convert traffic. All the features and user paths are clearly conversion oriented, and that's a real strength for us. It's like the Livestorm of landing pages (although Livestorm came a long time later).
The integrations are some of the most numerous, and most successful of all landing page tools. What they call Unbounce apps are super deep integrations that allow you to work with Stripe, Typeform, Google Analytics and Adwords, Unsplash, Vimeo, as if they were part of Unbounce. And the integrations with CRM software and marketing automation tools are particularly clean.
We really like the Smart Copy tool, which is free for up to 5 queries per day, and which allows you to iterate on your titles and key messages. This is clearly the first conversion factor on a landing page (well before the colour of the button…) and Unbounce offers a tool that allows you to work this lever well.
Disadvantages:
It can be a bit confusing the first time you arrive on the interface if you are not used to website builders. The objective is much more to help advanced users to do a lot in very few clicks than to make the discovery easy. A bias that may be displeasing.
It is surely the most expensive tool on the market. Where they are clever is that the price depends on the conversions generated. So the ROI calculation is very simple and very fast.
The reporting is a bit light compared to other solutions. In our opinion, it is much less structuring in the sense that a landing page tool is part of a relatively complex marketing mix and a centralised reporting tool is essential anyway. On this point, the integrations are flawless.
Try Unbounce
Unbounce offers a 14-day free trial with access to all features to give you a good idea of the tool's possibilities.
Unbounce: our opinion on the essential features
The landing page editor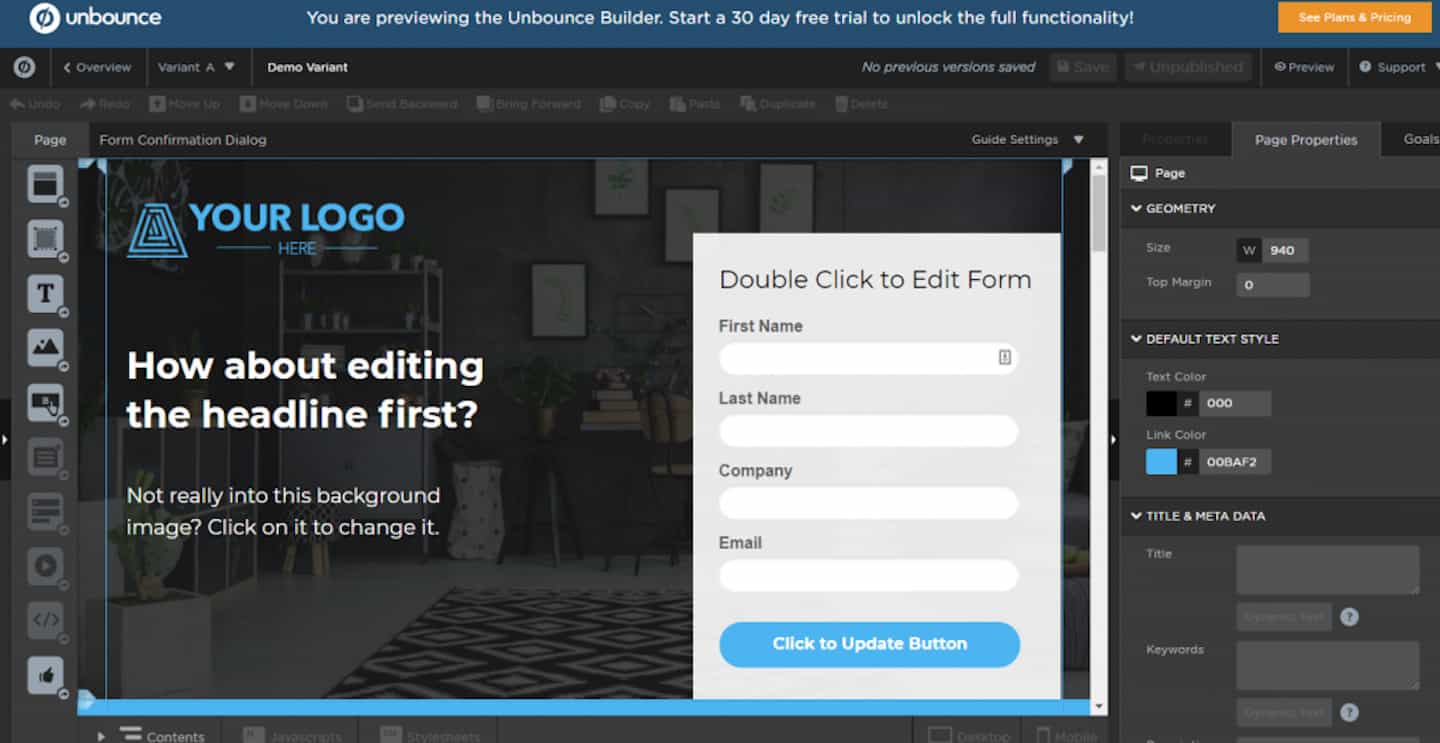 The Unbounce drag-and-drop landing page editor is very easy to use: anyone can create pages without knowing how to code or using specialised software.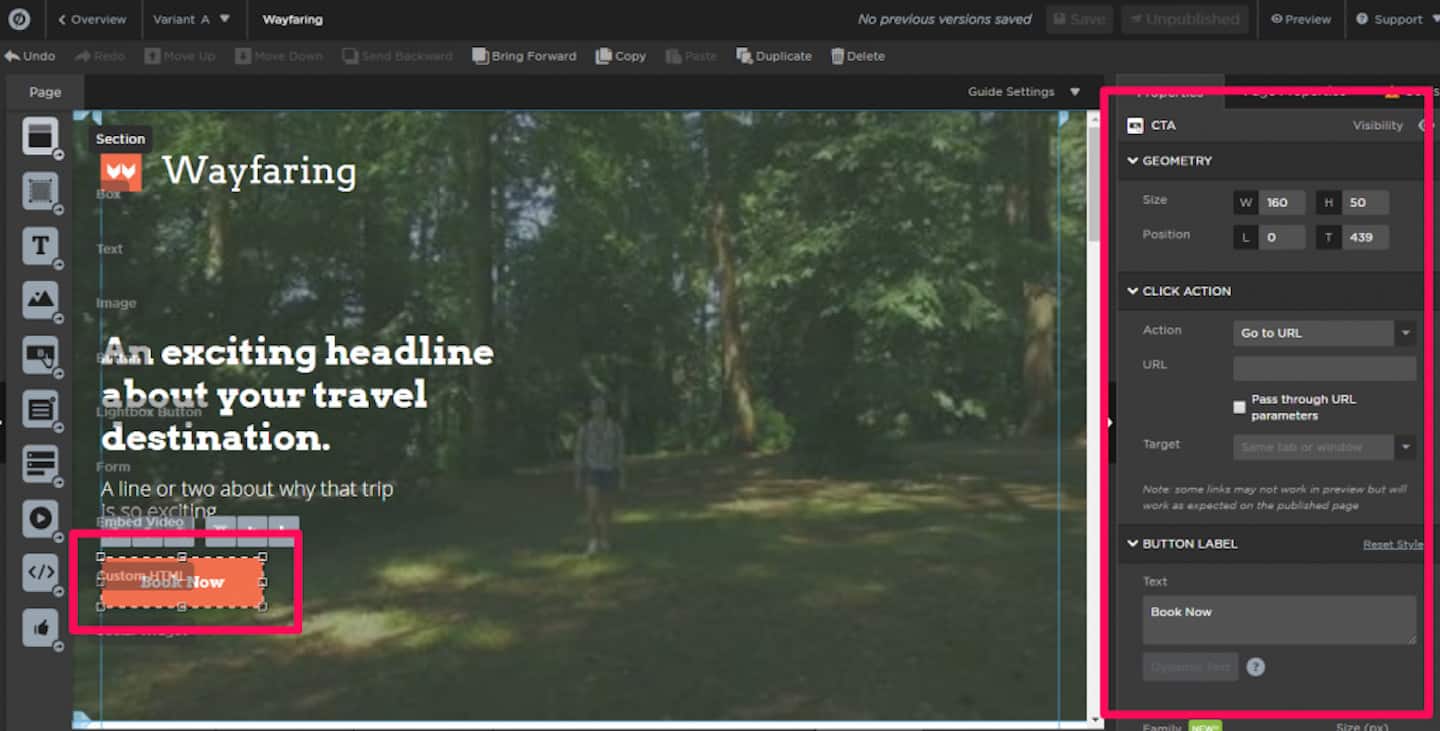 Some of its features at a glance:
Drag-and-drop: Add, remove or customise any part of your landing pages in a few clicks.
Over 100 templates: Generate pages quickly from a template or create your own from scratch.
Duplication: Save time by duplicating and modifying your best landing pages for new campaigns.
Copy and paste: You can copy and paste elements from one landing page to another to increase efficiency.
Detailed control: Customise every detail down to the pixel and add your brand mark in an ultra-pushy way.
Quick publishing: Publish your pages directly to your WordPress site with the WP landing page plugin from Unbounce. You can also do this via your own custom domain.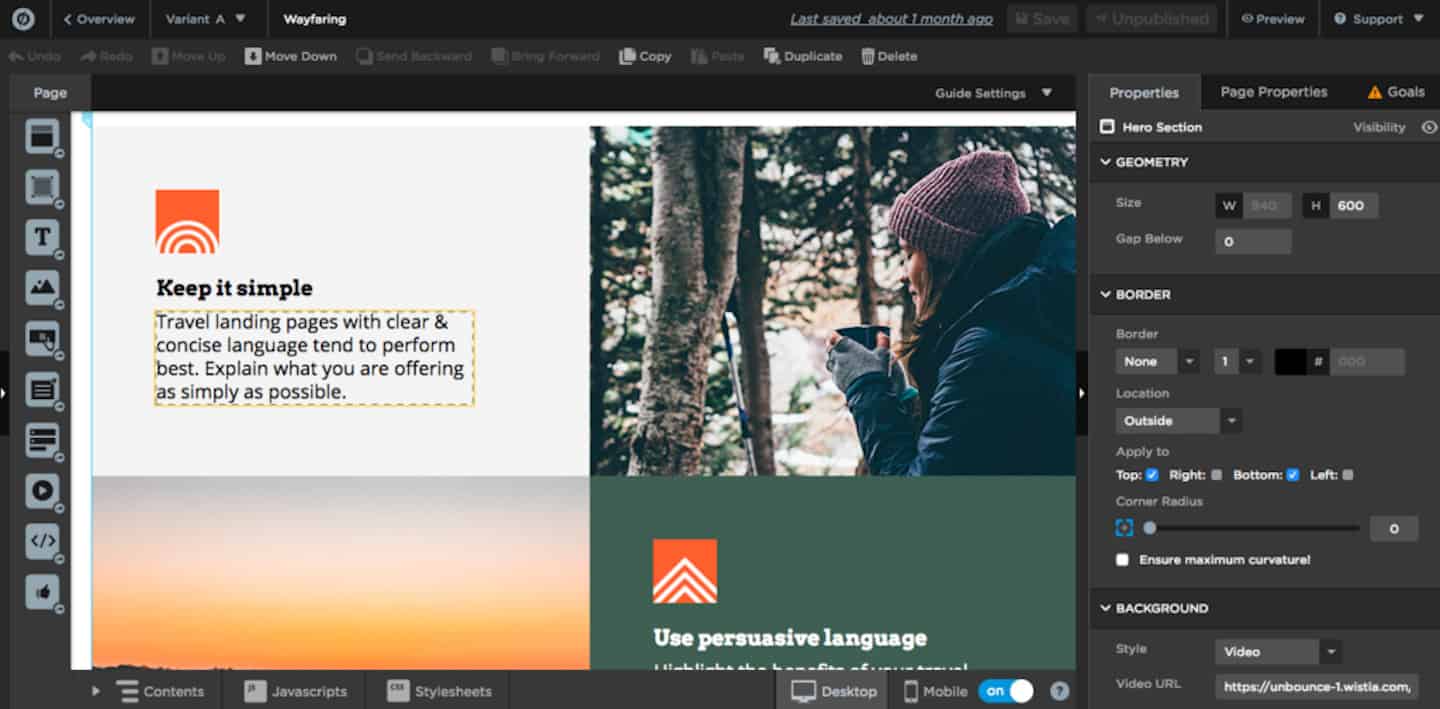 To get started, you can choose from hundreds of templates and customise them to your organisation's needs.
And to make things even faster, use the duplicate and copy and paste functions, and save your templates for later use.
Unbounce's landing page editor is one of the most fluid on the market. You have complete freedom to design your landing pages to best suit your needs and brand.
Going further
And for more tips on managing your brand, check out our article on the best media agencies.
Smart Builder
Smart Builder is an AI-powered Unbounce tool. It acts as a design assistant to maximise the conversion rates of your landing pages.
By analysing your sector of activity, your audience and your objectives, it suggests the ideal landing pages for your campaigns.
Note, however, that it is still in Beta in 2022.
Our opinion
Smart Builder offers dynamic layouts to maximise your conversion rates and create new variants in a flash.
The A/B test engine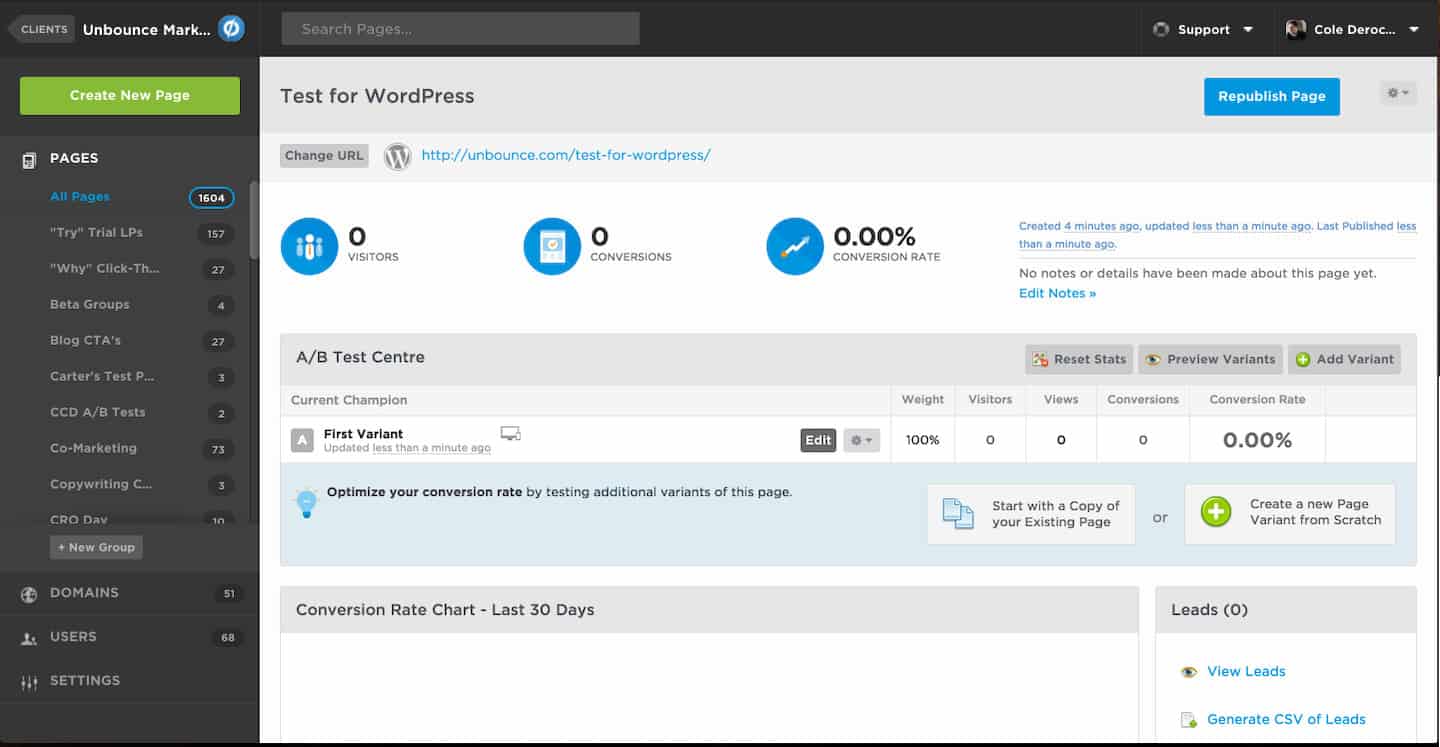 If you are a fan of A/B testing, you can duplicate a page and create a variant to modify it. There is no limit to the number of variants you can create. But it is better not to generate too many variants for your tests.
A/B tests are used to determine which copy performs better in terms of conversion rate. So making too many changes to the variants is not recommended: you won't even be able to link them to the original page.
Before launching the variants, you must determine their weight. The percentage chosen will influence the number of hits for visitors.
It is best to give them equal weight:
For 2 variants: 50% each.
For 4 variants: 25% each.
This way, they appear the same number of times for a sample of 100 visitors.
Pro tip
Once the test is done, you can check which one has the best conversion rate. And if ever, Unbounce helps you to identify it thanks to the "Trusted" column.
Smart Traffic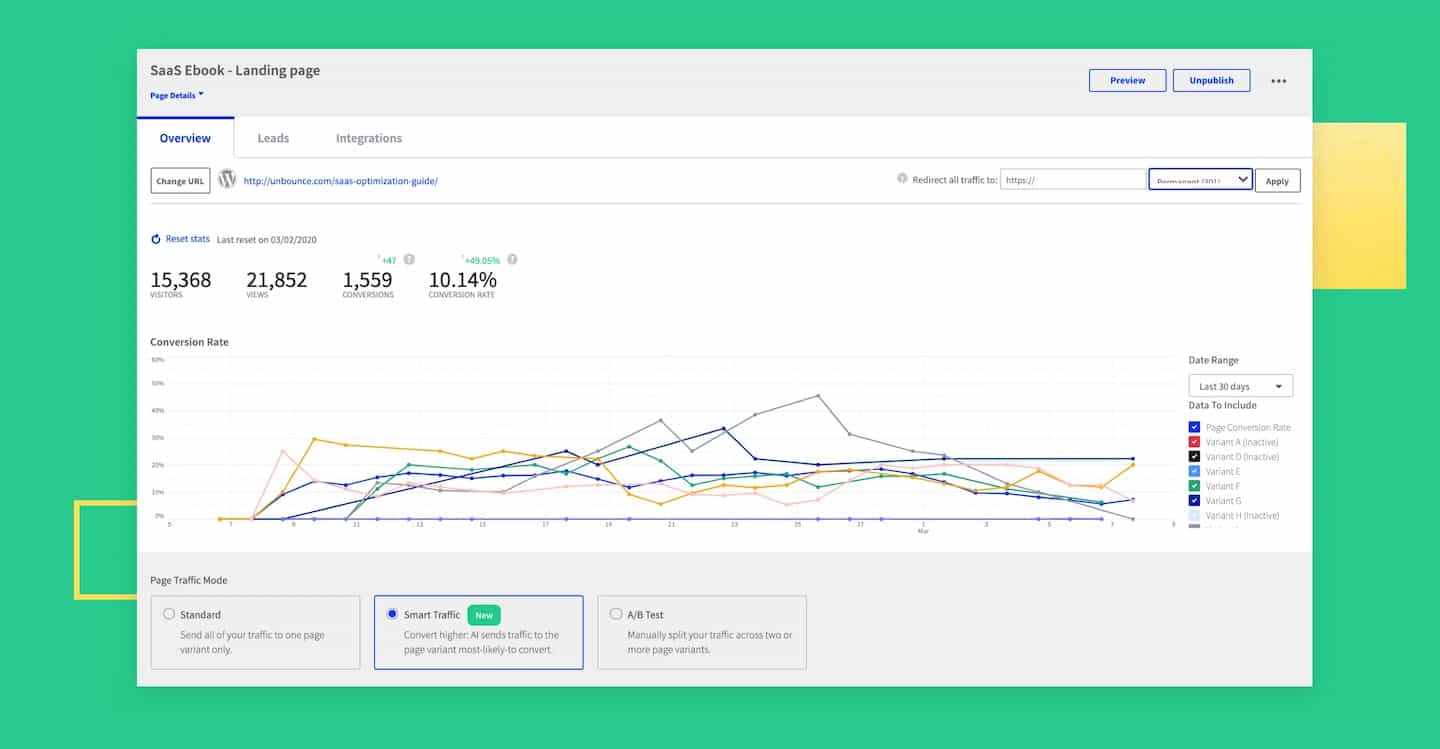 Smart Traffic™ is an AI-powered conversion tool. It analyses the characteristics of each visitor and directs them to the most relevant landing page. To do this, it determines, among other things, the user's location, the device used…
Optimisation via AI: Unbounce's algorithm starts to optimise after 50 visits.
Automated CRO: Increase your conversions without having to wait for tests to reach statistical significance.
Fast results: use Smart Traffic™ to test landing page variations faster.
According to Unbounce, the tool boosts your conversion rates by an average of 20%. If this is the case, the rate of return is really effective, knowing that the AI does everything for you!
This percentage is difficult to verify, especially as the feature is still in beta version. But it remains a really innovative tool for the platform.
Going further
And for more tips on generating new leads, check out our article on the best inbound marketing tools.
Forms, pop-ups & sticky bars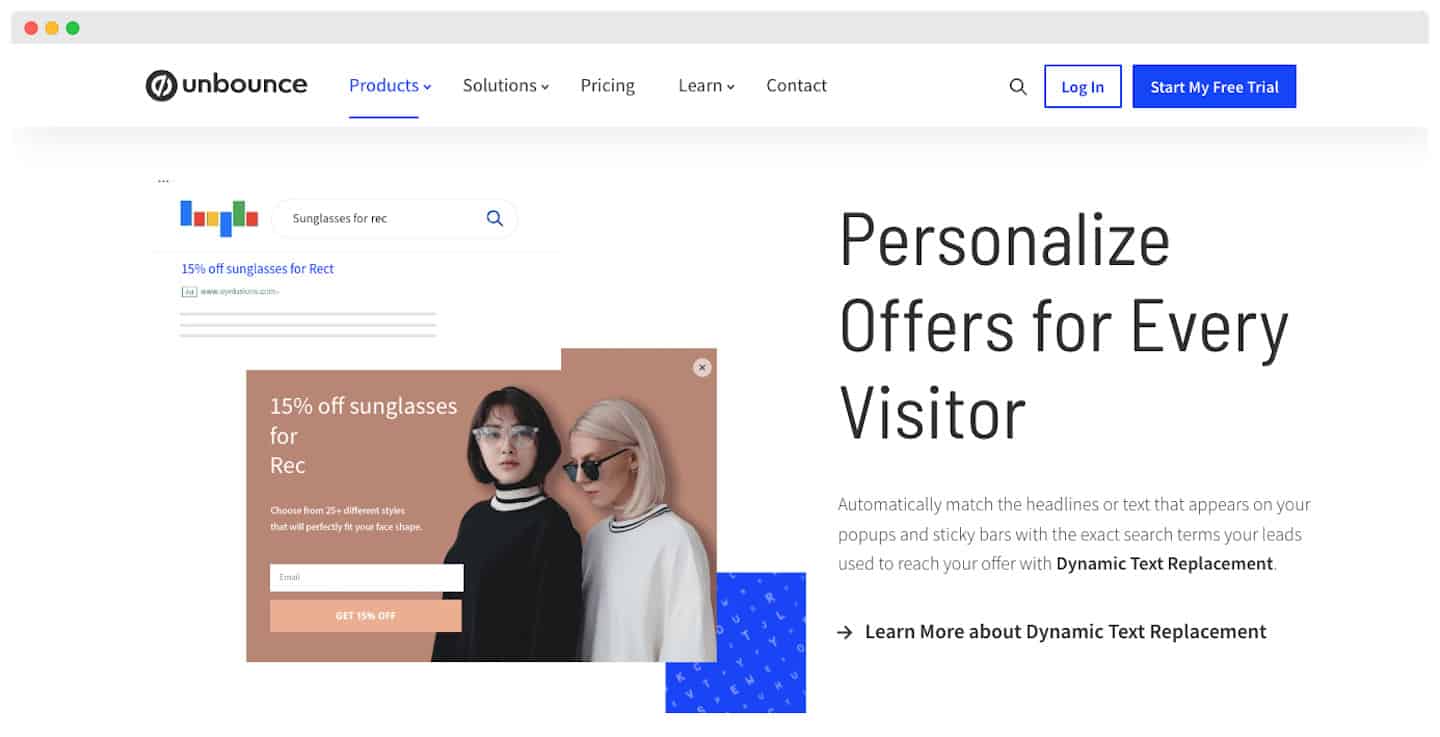 In addition to the landing page editor, Unbounce also has a pop-up and sticky bar editor. It allows you to increase your conversion rates, and especially if combined with other  lead generation tools to make your turnover take off.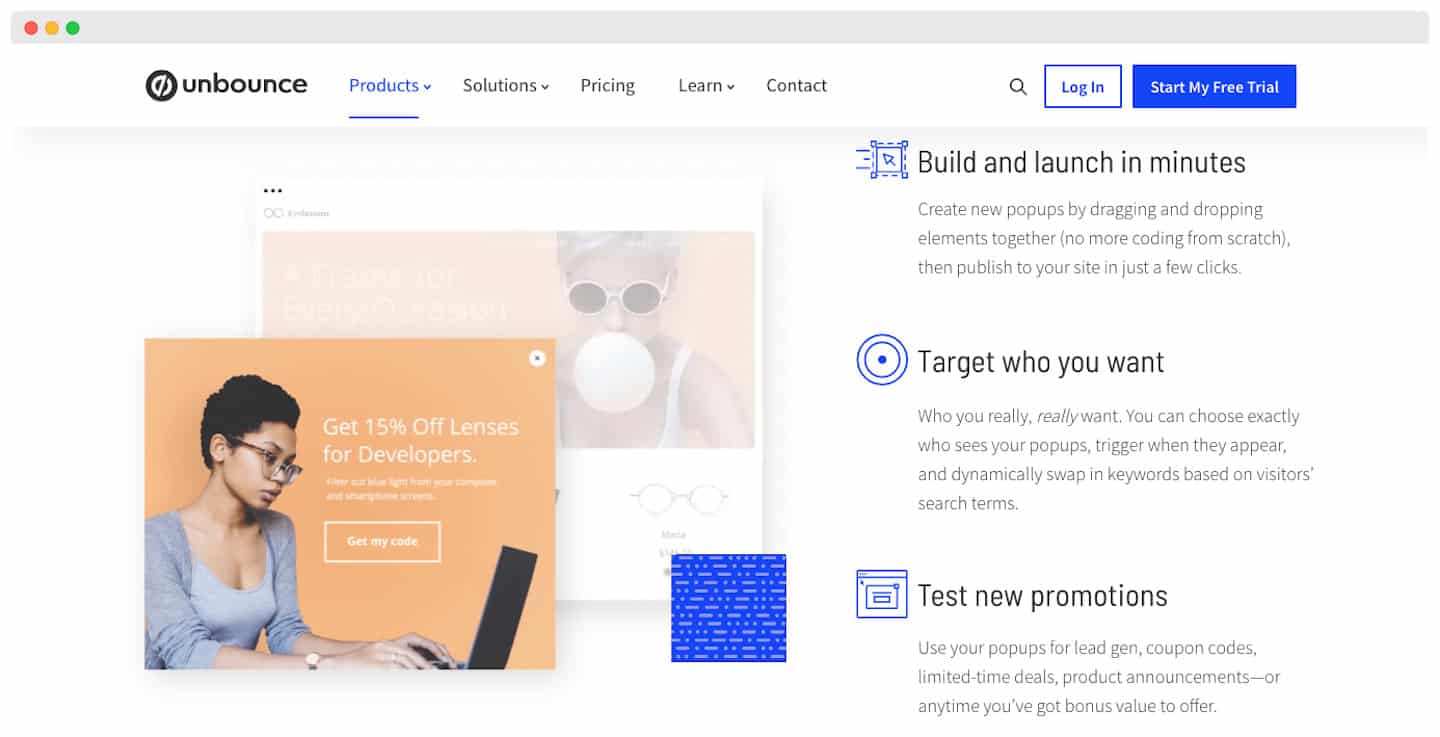 Among its features:
Drag-and-drop editor: Once again, you have a fast and solid tool to create your pop-ups and sticky bars.
Templates: Generate pop-ups and sticky bars quickly from a template or create your own from scratch.
Target & trigger: You can choose who sees your popups and when they are triggered. With dynamic text replacement, change their content according to the visitors' keywords.
In this regard, find our tips for ultra-targeted campaigns in our Top 10 CRM marketing software.
Scheduling: Schedule automatic campaigns to always display your most relevant promotions.
A/B testing: You can test different messages and offers to maximise the impact of pop-ups and sticky bars.
Pro tip
For desktop visitors, use exit pop-ups. For mobile visitors, use sticky bars to optimise their experience.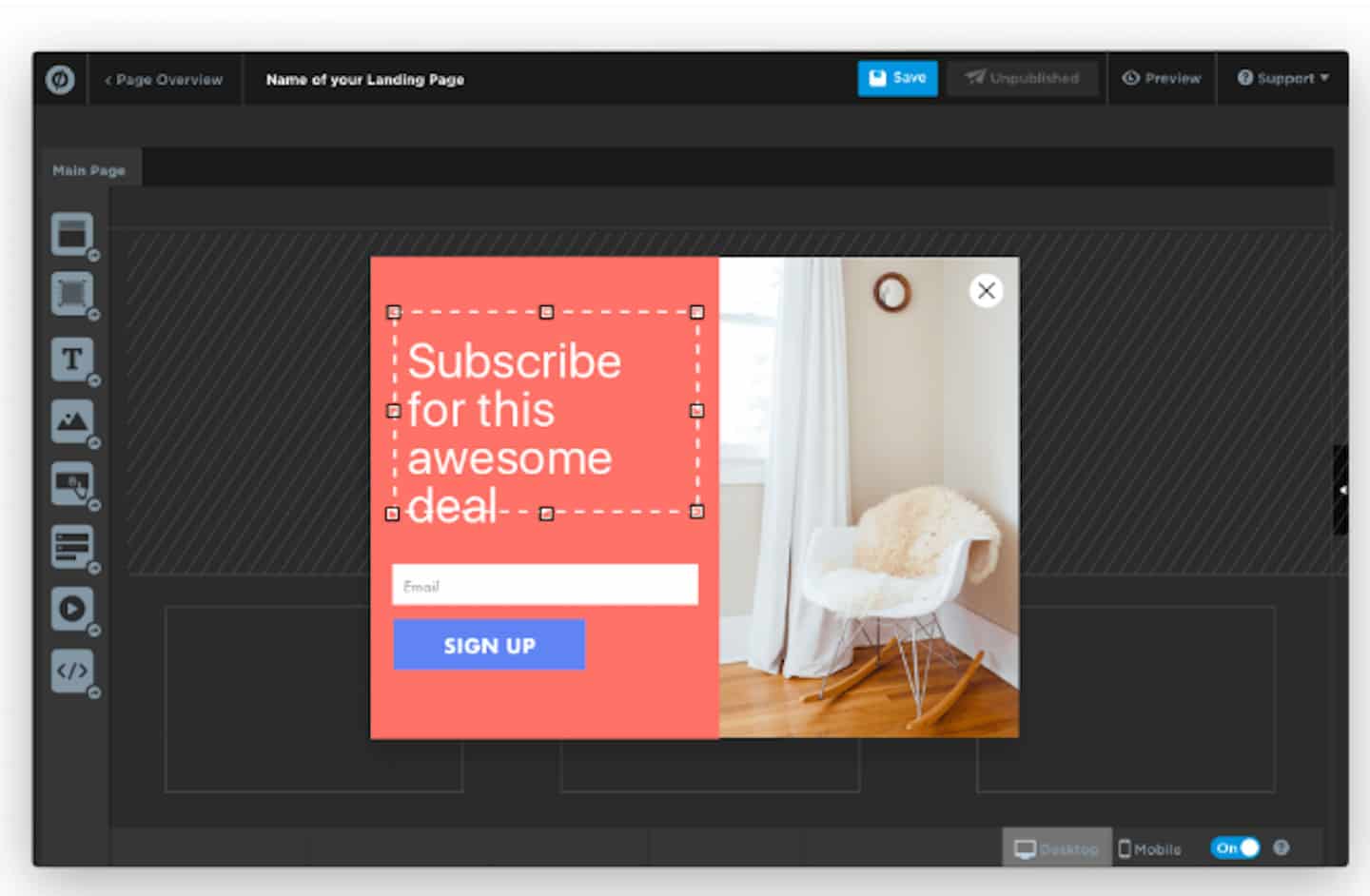 Attention
Make sure your repeat visitors don't always get the same pop-up when they arrive on the site.
Dynamic text
Dynamic text replacement is Unbounce's solution for customising your landing pages. With this feature, your landing page text matches the keywords that users type in before clicking on your PPC ads.
Combined with dynamic Google Ads keyword insertion, you can create paid campaigns that match the user's search exactly, for every interaction.
This feature increases the relevance of your landing pages. Your messages have more impact on users, which increases your conversion rates.
How to configure dynamic text replacement in Unbounce?
Select the chosen text, then click on the "Dynamic text" button.
Define the dynamic text that replaces your default text. Then confirm the default text to be displayed when dynamic replacement is not activated.
Repeat this operation for the target keywords of your campaign. Unbounce takes care of the rest!
Our opinion
This feature saves you time and efficiency. A real asset for your internal organisation.
Try Unbounce
Unbounce offers a 14-day free trial with access to all features to give you a good idea of the tool's possibilities.
Smart copy: a real differentiator for Unbounce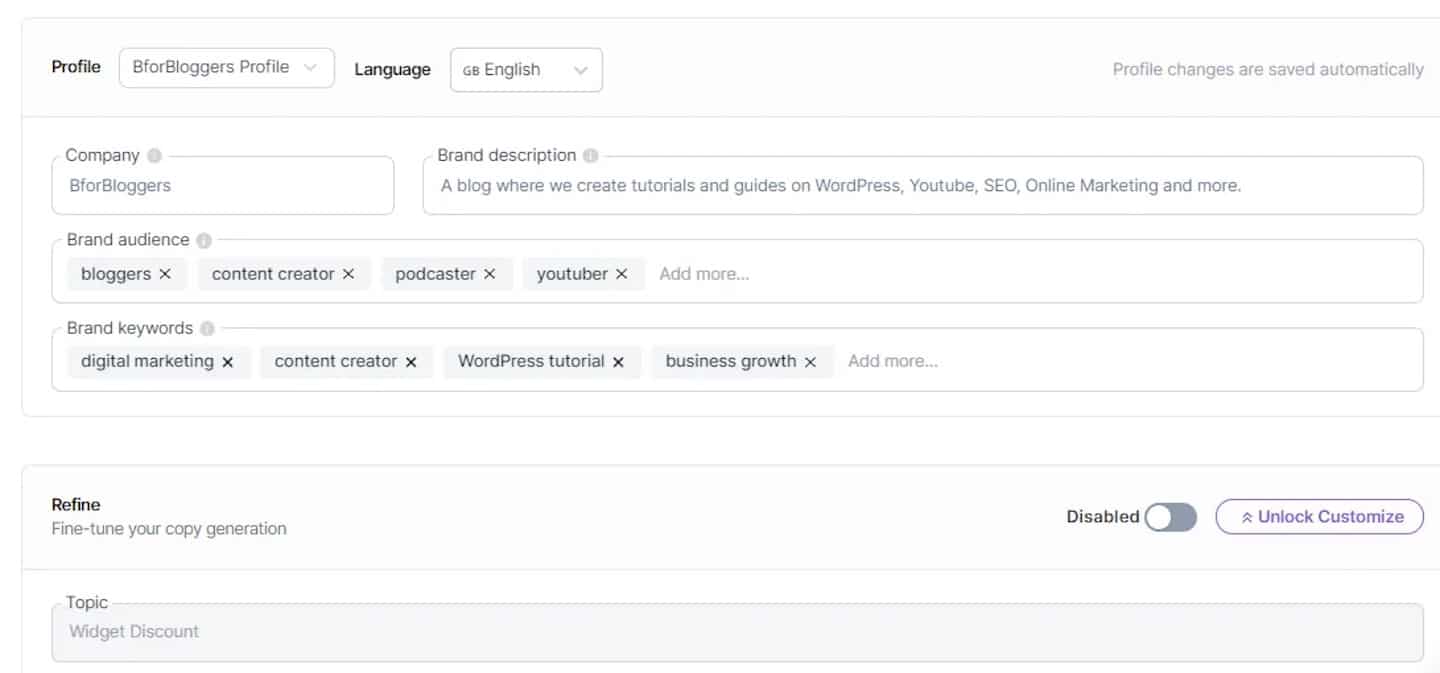 Smart copy is a content generator that uses the GPT-3 AI (like Copy.ai, the leader on the subject). It is free up to 5 generations per day, and offers a Chrome plugin for daily use.
This is really the strength of Unbounce:
Write ads quickly: Create ads without word count or layout constraints with the templates offered by Google Ads Generator and Facebook Primary Text Creator.
Create effective slogans: Generate a slogan in seconds using the slogan editor.
Reinvent your landing pages: The editor offers you an unlimited number of copy variations, to create variants that appeal to different audiences.
Try Unbounce
Unbounce offers a 14-day free trial with access to all features to give you a good idea of the tool's possibilities.
Integrations at Unbounce
The Unbounce apps: the deep integrations of Unbounce
Unbounce offers a full range of third-party integrations:
Unsplash: The image bank for importing photos directly from the landing page editor.
Stripe: To take payments directly from your landing pages.
Shopify: The integration allows you to sell products directly through your Shopify site, but from your Unbounce landing pages. The integration imports the product(s), records the purchase, and feeds back into your Shopify analytics.
Typeform & Jotform: If you want to build complex forms in several steps, you can do it directly from the editor on dedicated tools.
Vimeo: To display videos on your landing pages.
Google Adwords is not part of the Unbounce Apps nomenclature according to them, but it is certainly the deepest integration of the software.
We've talked about dynamic text, but the integration goes a long way on the tracking side, especially for passing on conversions to your Google campaigns, no matter how complex the account is!
Standard Unbounce integrations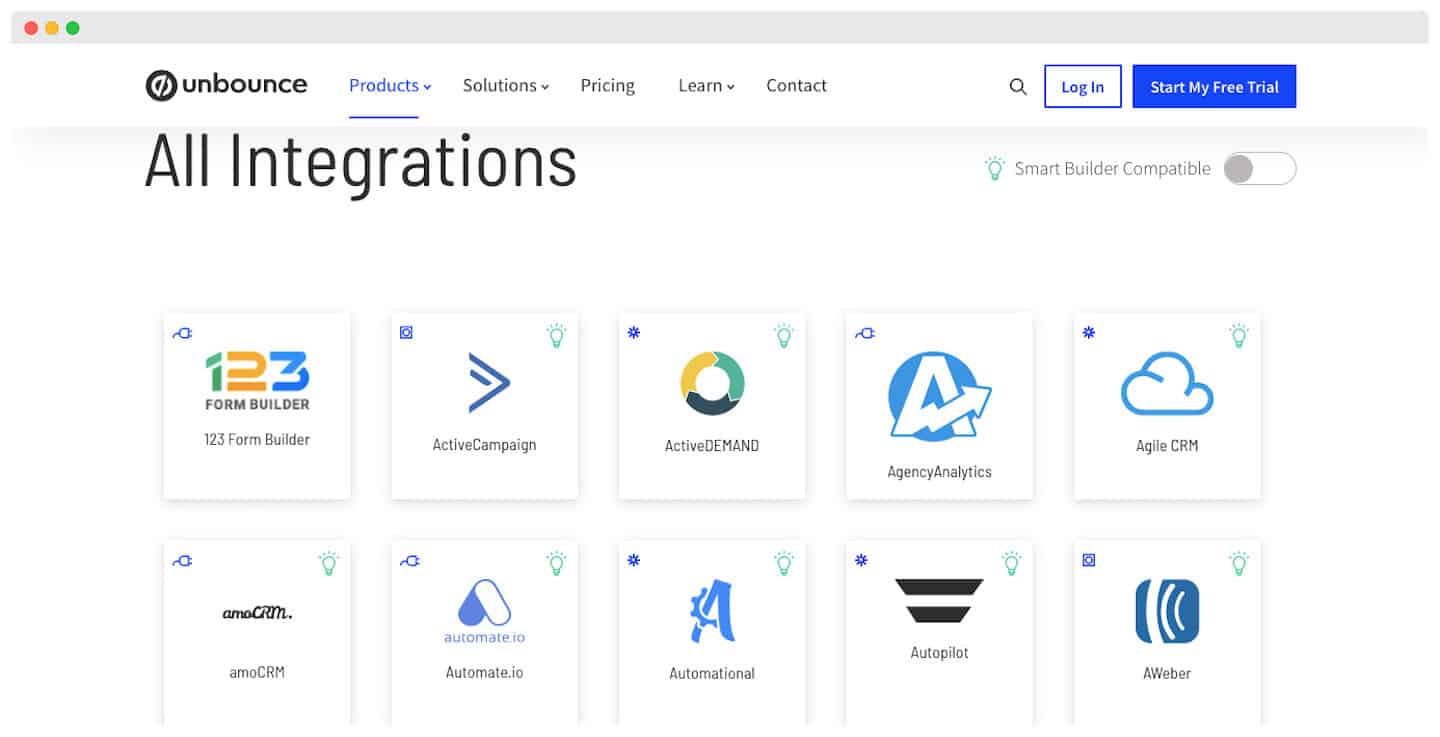 Some native integrations built and maintained by Unbounce:
CRM marketing software: ActiveCampaign, Hubspot, Marketo, Salesforce…
WordPress: To publish Unbounce landing pages directly to your WordPress site.
Zapier module: It allows you to integrate virtually all marketing CRMs on the market (with Slack), and most CRM software and cold mailing tools (like Woodpecker).
We prefer Integromat, and we explain why in our review of Integromat.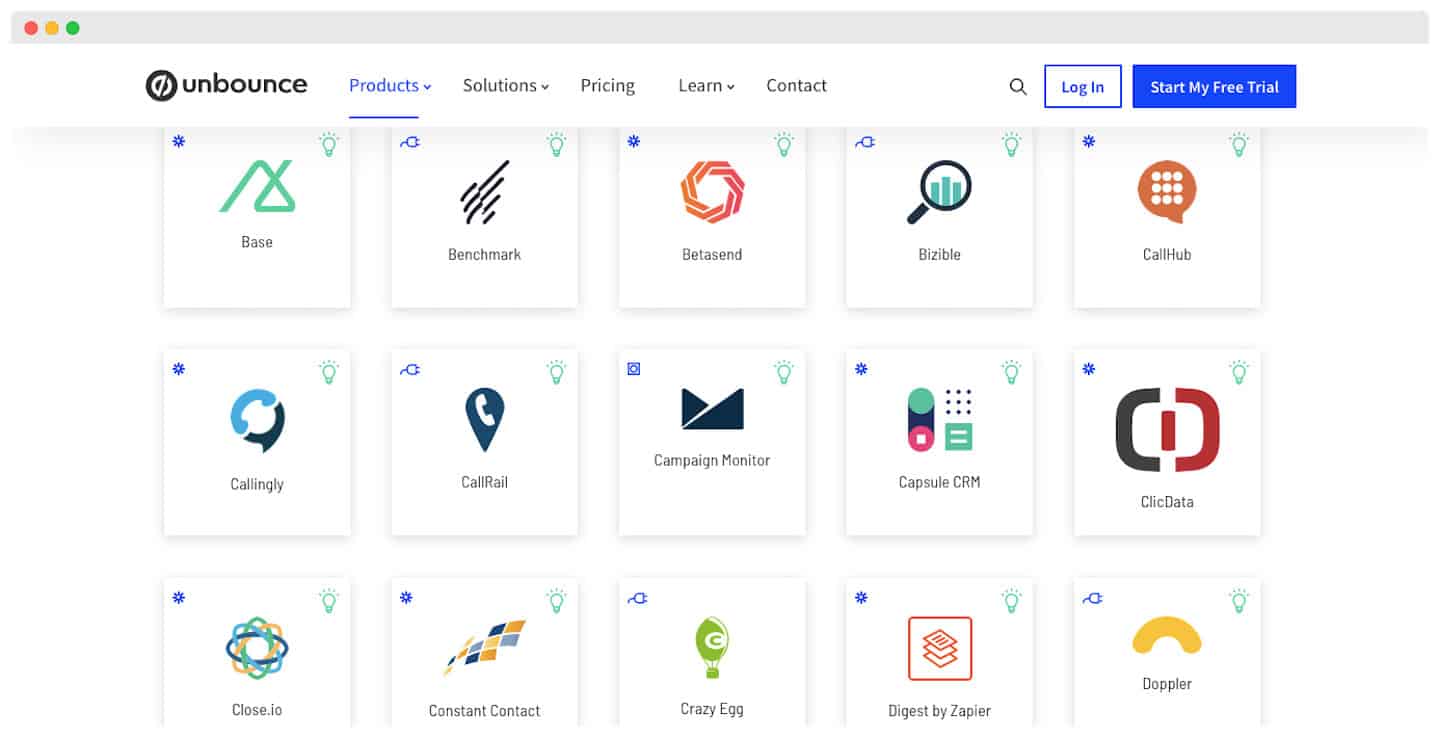 Try Unbounce
Unbounce offers a 14-day free trial with access to all features to give you a good idea of the tool's possibilities.
Customer reviews of Unbounce
Overall, customers are satisfied with the tool's capabilities and its ease of use. The recurring negative point is its price, which can be a deterrent. But the functionality is there.
Try Unbounce
Unbounce offers a 14-day free trial with access to all features to give you a good idea of the tool's possibilities.
Customer support at Unbounce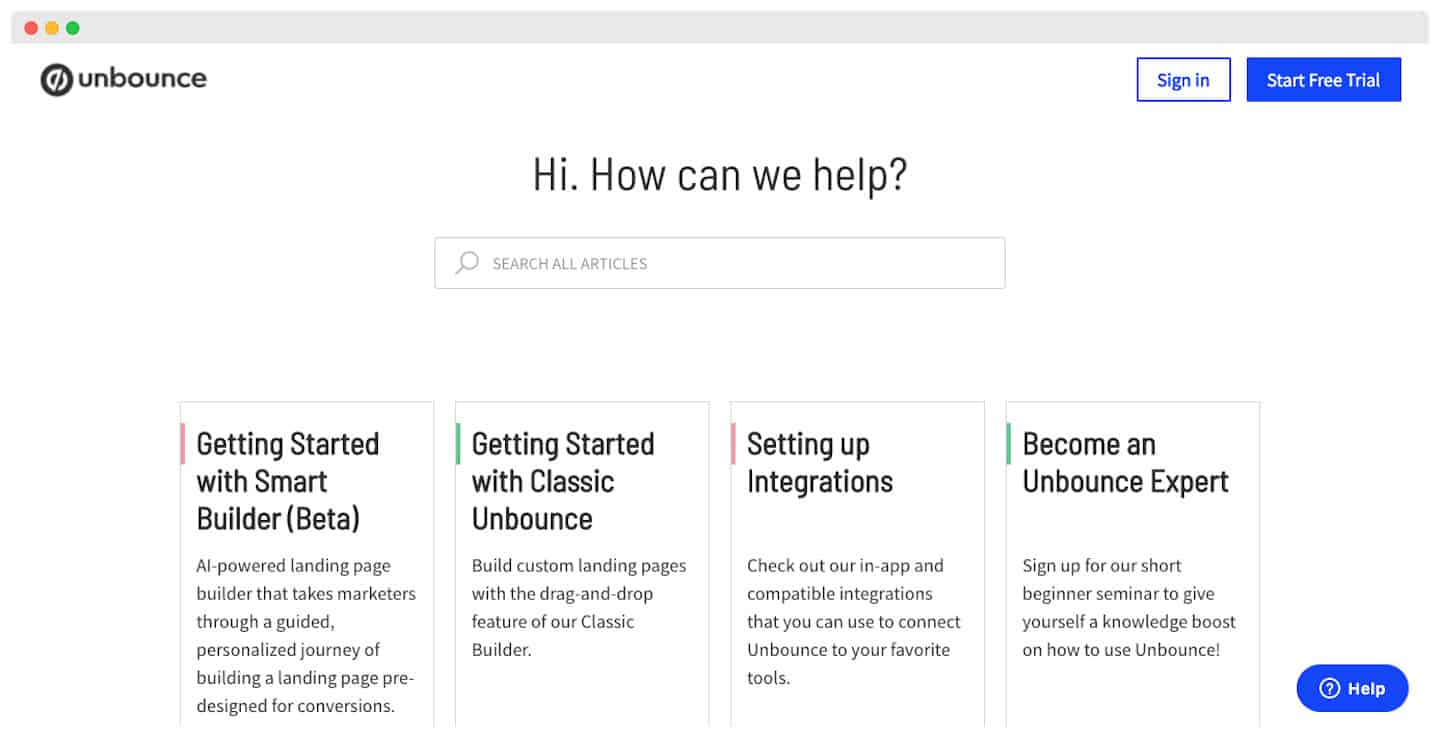 The Unbounce helpdesk is really comprehensive (and built on Zendesk). It's easy to navigate and you can quickly find what you're looking for, thanks to the large number of resources available.
In addition, the support agents can be reached via various channels: email, live chat and telephone. They are available from Monday to Friday during normal office hours.
Overall, the customer reviews are excellent: the support is responsive and efficient. This is clearly one of the reasons for their very good reputation in the market.
Attention
The tool is not available in French, and neither is the support. Be sure to consult your teams on the subject before you start!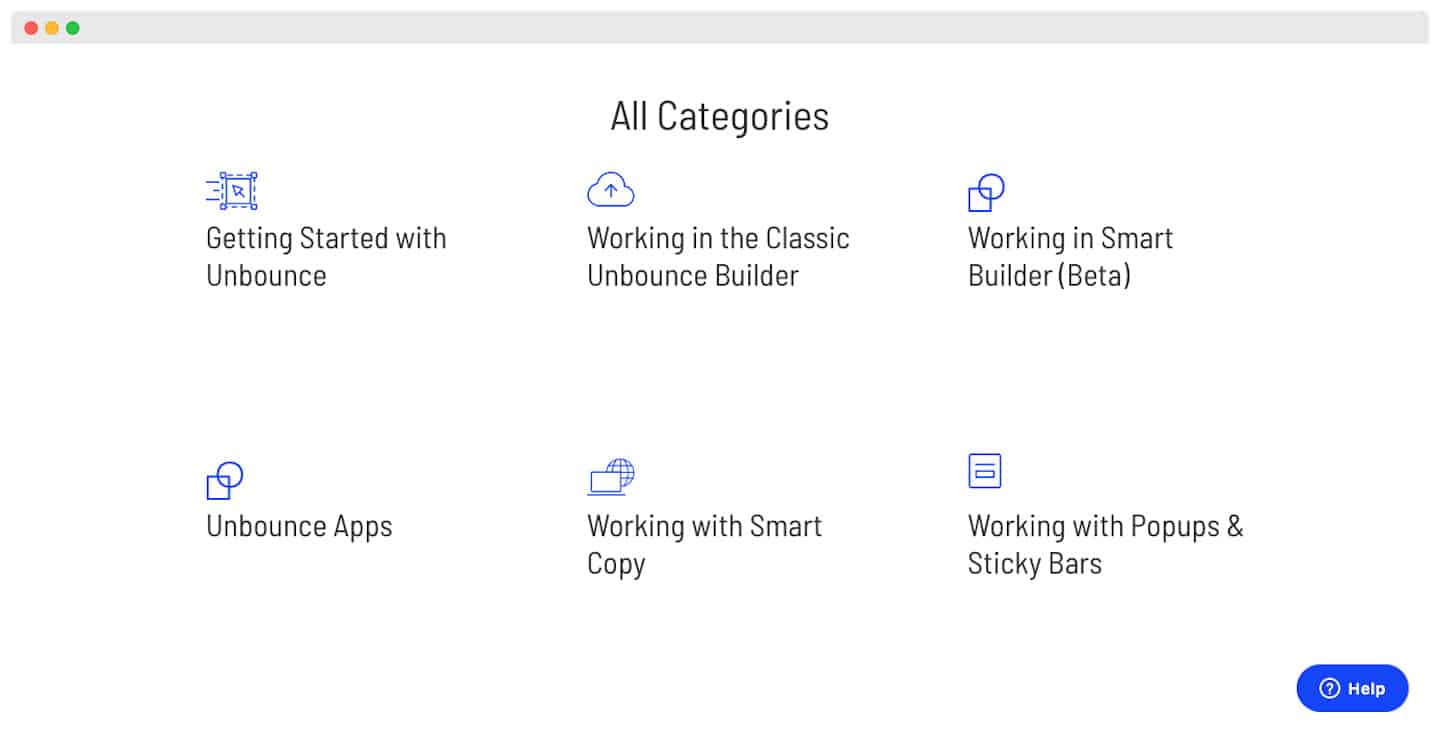 Try Unbounce
Unbounce offers a 14-day free trial with access to all features to give you a good idea of the tool's possibilities.
Unbounce: price details
Smartbuilder: Creation & optimisation of landing pages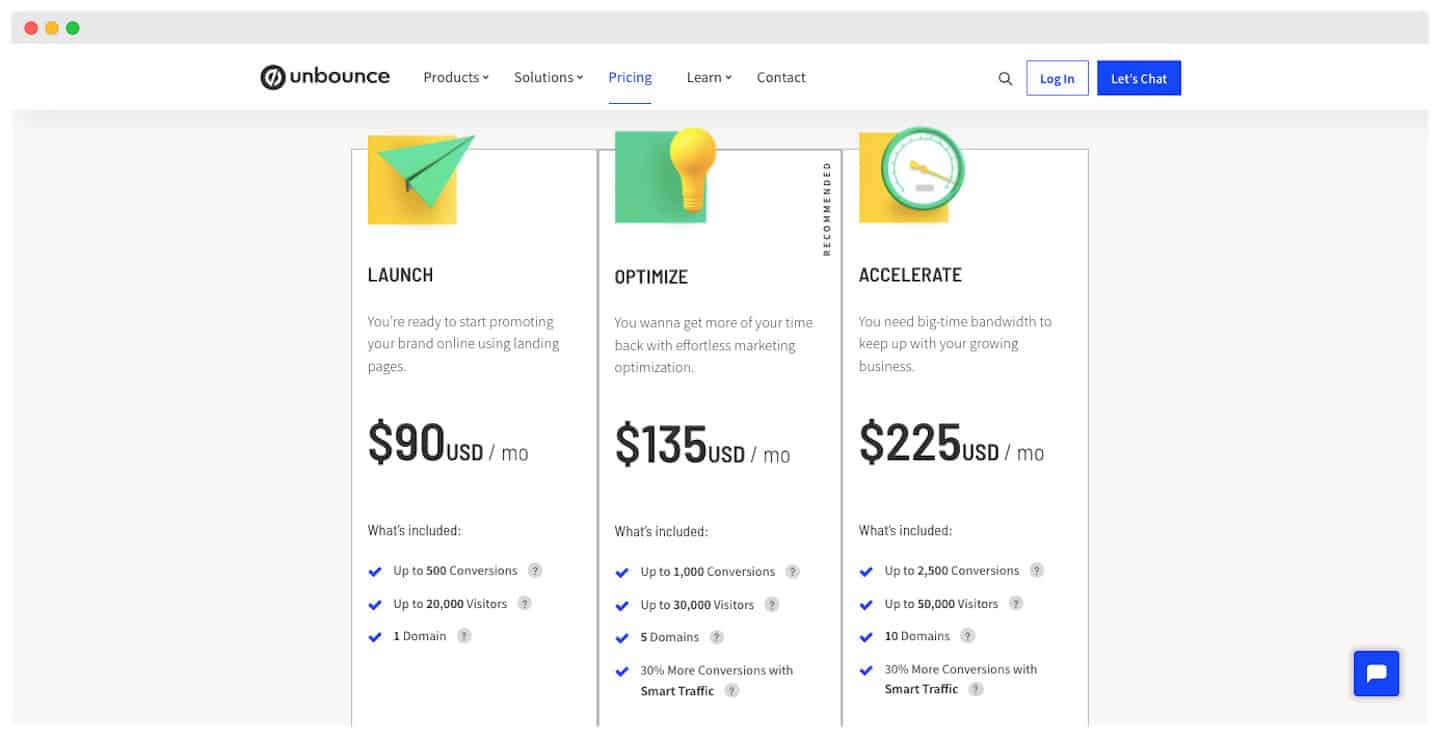 Unbounce offers 3 Smartbuilder plans. All include access to integrations, pop-ups & sticky bars, and unlimited landing pages.
Launch : up to 20,000 visitors and 500 conversions per month. Count 90$ per month.
Optimize: Access to Smart Traffic. Up to 30,000 visitors and 1,000 conversions per month. The rate is $135 per month.
Accelerate: 50,000 visitors and 2500 conversions per month. With Smart Traffic, up to 30% more conversions. Count 225$ per month.
Pro tip
All options are available on a monthly or annual basis. For an annual subscription, you get a 10% discount on the rates!
Smartcopy: AI assistant for content writing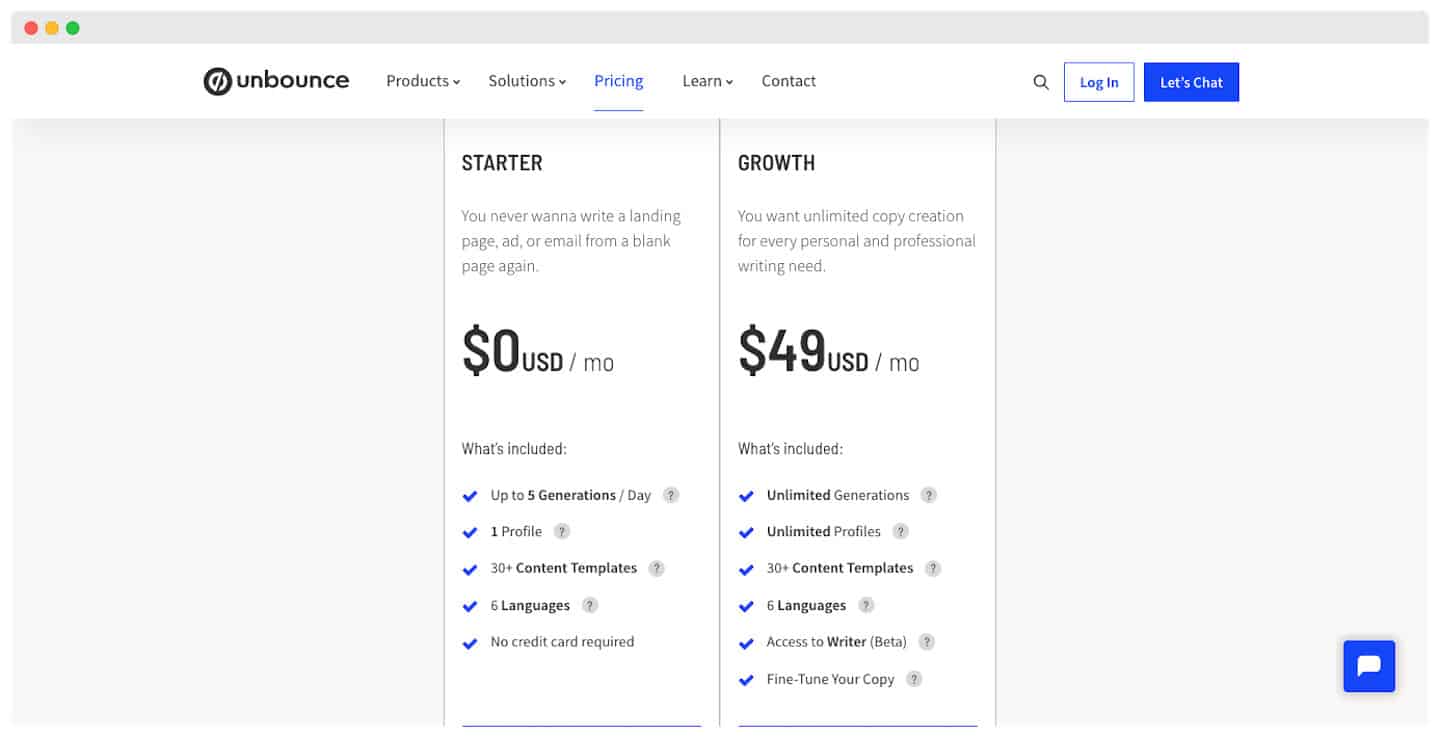 For this feature, 2 plans are available:
Smarter: You can edit up to 5 contents per day. Available in 6 languages and access to over 30 templates to create your own. And it's free!
Growth: The same features, but with unlimited content editing and number of profiles. Plus access to Smart Copy Writer. This plan costs $49 per month.
Pro tip
If you choose the annual subscription, you get 49% off the monthly rate!
Try Unbounce
Unbounce offers a 14-day free trial with access to all features to give you a good idea of the tool's possibilities.