Hubspot is an all-ine-one CRM solution that is among the best CRM software on the market. This tool offers, beyond its strict CRM functionality, excellent marketing automation, reporting andautomation features. If you only need some of these features, there are solid alternative solutions, which we present in this top.
In terms of marketing automation, Hubspot is among the leaders in the industry. In this article, we selected alternative solutions, that offer similar B2B functional depth, but also lighter and cheaper software, such as ActiveCampaign and Brevo (ex-Sendinblue), or more SaaS-oriented software, such as Intercom.
One of Hubspot's strengths is that it offers a very powerful free CRM that can meet the needs of many users with simple sales processes and limited customization needs. But other solutions exist, some more robust, such as Salesforce and Pipedrive, others lighter, such as Zoho and Freshworks.
To consolidate its place in the market, Hubspot is positioning itself more and more as an all-in-one CRM. The solution seeks to democratize marketing automation, particularly through the CMS software, and with attractive prices. But some lighter solutions are easier to implement and are credible alternatives to Hubspot.
Alternatives to Hubspot's marketing automation tools
Hubspot's limitations
Hubspot is one of the most complete marketing automation software on the market, offering a very powerful free plan, especially for small teams or solopreneurs who want to take advantage of the sales features and other CRM tools (marketing or service), but its features are quite limited.
Its pricing model is ideal for small businesses that need basic CRM functionality. For example, the first marketing plan is 20€ per month and allows 1000 contacts.
But at a very advanced stage, Hubspot offers packages that are quite expensive for what they offer. For example, to take advantage of Hubspot's pro features, you will have to pay $880 per month for 2,000 contacts. Many of the solutions in this top list offer these same features at a lower cost.

Try Hubspot
Hubspot is one of the favorite CRM software of startups for its versatility, depth, and numerous integrations. You can try the tool with their free plan or request a demo on the site.
#1 Brevo (ex Sendinblue)
The French emailing and marketing automation nugget (Sendinblue)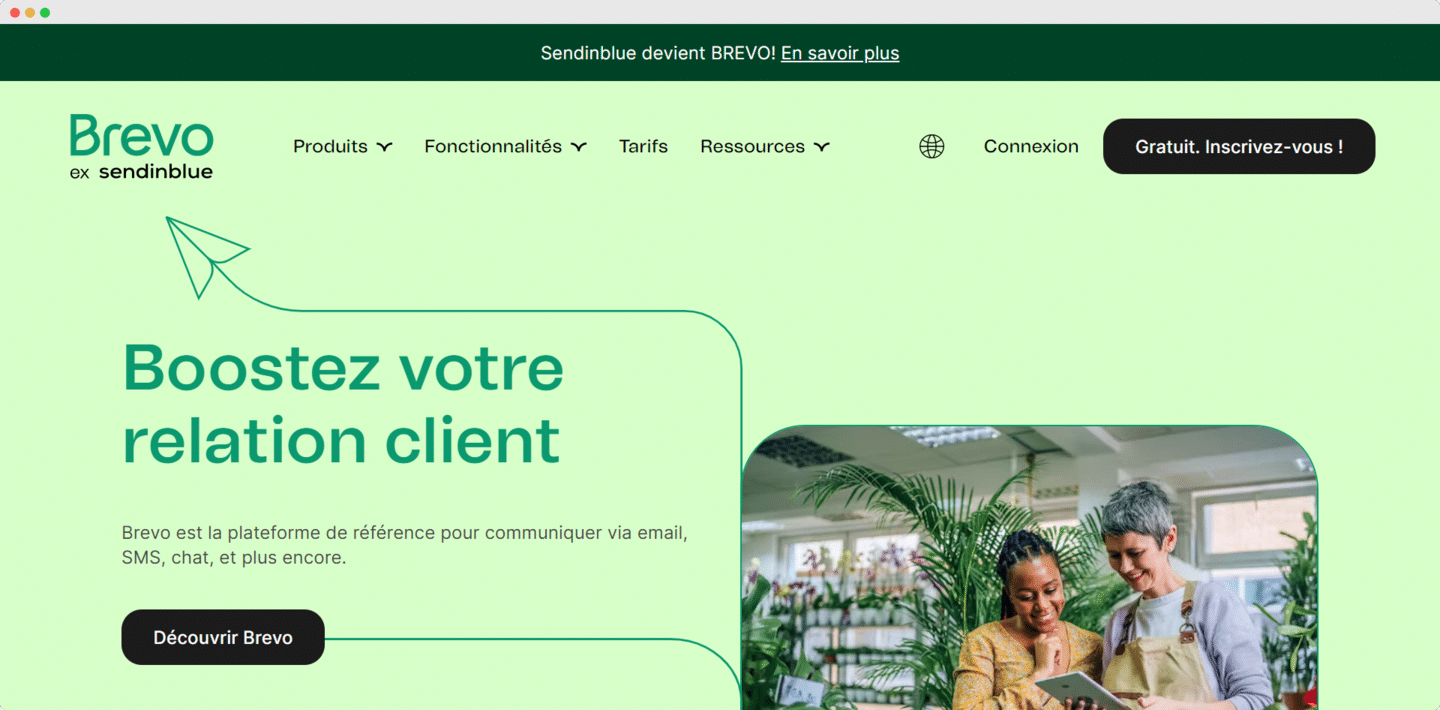 Brevo (formerly Sendinblue) is an email marketing solution that offers integrated CRM software. This tool allows you to set up quality lead nurturing sequences, manage large volumes of leads, and perform accurate reporting.
The CRM features allow you to find all your leads' information and plan your follow-ups in one place. Brevo offers an unlimited number of contacts and can therefore be used as a Lead Relationship Management tool to implement a lead nurturing and lead scoring strategy upstream of your CRM software. Brevo also offers integrations with most commercial CRMs on the market, such as Pipedrive and Hubspot.
Hubspot's CRM features are better than Brevo's. But Brevo offers better value for money and is a great alternative for small and medium-sized businesses looking for a complete email marketing software and CRM with automation features.
Brevo offers an entry price of 49€ / month to benefit from the marketing automation features.
For 40,000 emails per month, Brevo offers a €59/month package, which includes 1 marketing user, 1 landing page and 500 push notifications/month.
The Conversations add-on at 13€ per month per user allows you to benefit from chat, automation, visitor analysis, reporting, etc.
Try Brevo (ex Sendinblue)
Brevo (ex Sendinblue) is the French nugget of emailing and marketing automation, try it!
#2 ActiveCampaign
A very complete and effective marketing automation solution for B2B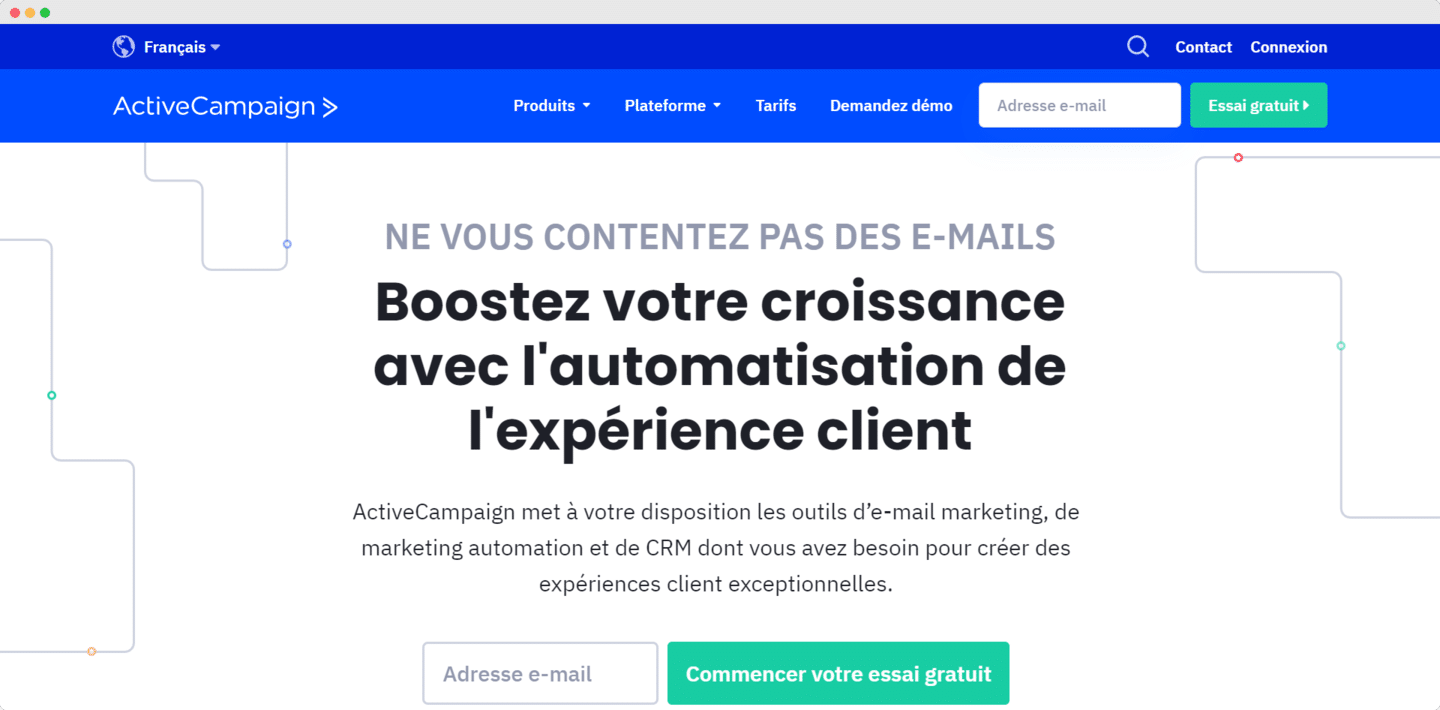 ActiveCampaign, like Hubspot, is a well-known marketing automation solution on the market, which offers good lead scoring and nurturing features. The tool is easy to use, the interface is intuitive and the customization features are more advanced than Hubspot's. For example, you can integrate custom reporting widgets.
This tool also includes an unlimited number of pipelines and provides detailed reports on each of them.
ActiveCampaign offers an initial package at $70/month for 1000 contacts.
Count 186$ / month for 5000 contacts.
Try ActiveCampaign
Active Campaign is a very complete and effective marketing automation solution for B2B, don't hesitate to discover it
#3 Intercom
A reference in conversational marketing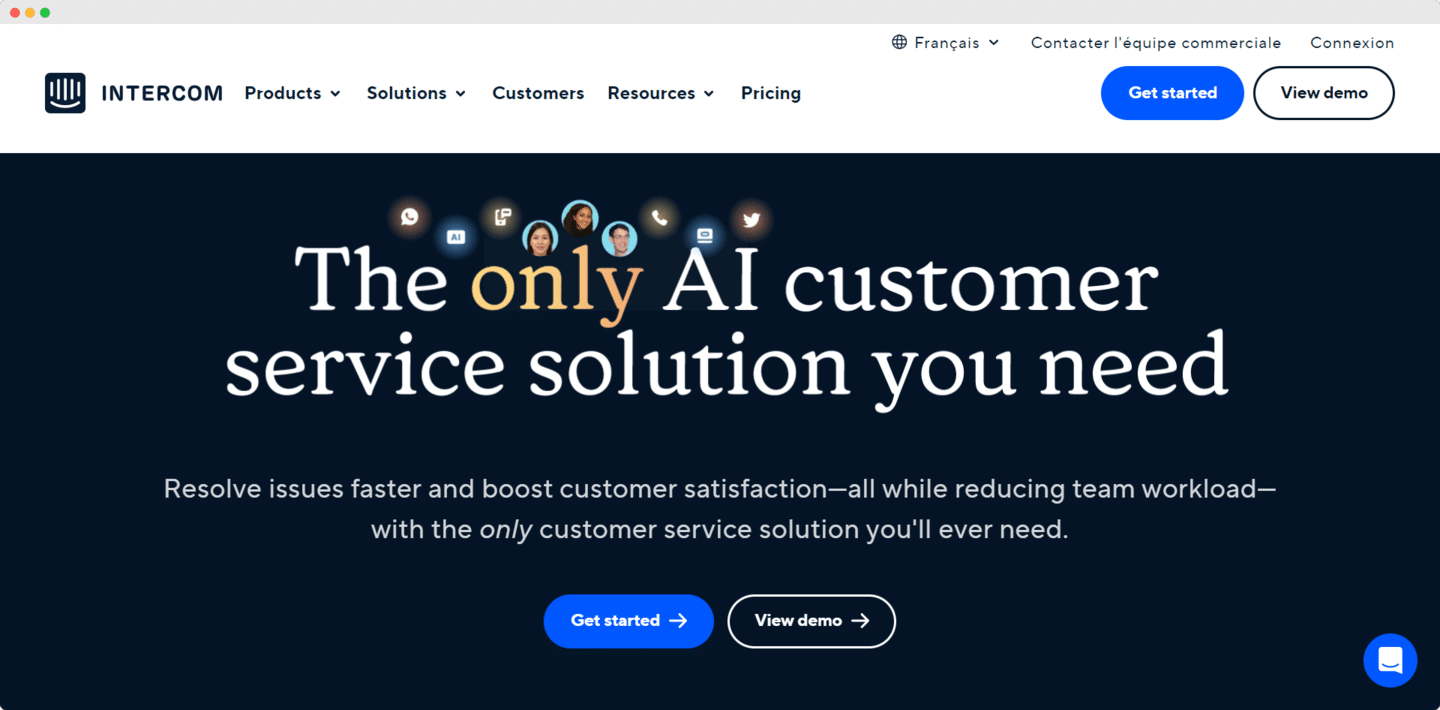 Intercom is a marketing automation solution that perfectly meets the needs of small and medium-sized businesses. This tool offers a very good catalog of integrations (Intercom integrates with everything), and is especially distinguished by its tracking and event creation features.
Above all, this solution offers excellent segmentation tools, including an ultra-powerful segmentation engine that is very intuitive for beginners. The solution uses behavioral targeting to help companies better understand, engage and retain their customers.
On the campaign side, Intercom is very much SaaS-based, so mechanically the channels are very much "on site", with the generation of rich-popups, chatbots, etc. The tool also supports email & SMS, but that's about it – which is fine, since that's what it's supposed to do.
Intercom has an offer for very small businesses, with a Starter plan at $74/month for 1000 contacts, and a free trial is available.
For the "most companies" offer, the rates for the three plans Support, Engage and Convert are only available on request.
Try Intercom
Intercom is a reference in conversational marketing, try it!
#4 Pardot
Salesforce's B2B marketing automation suite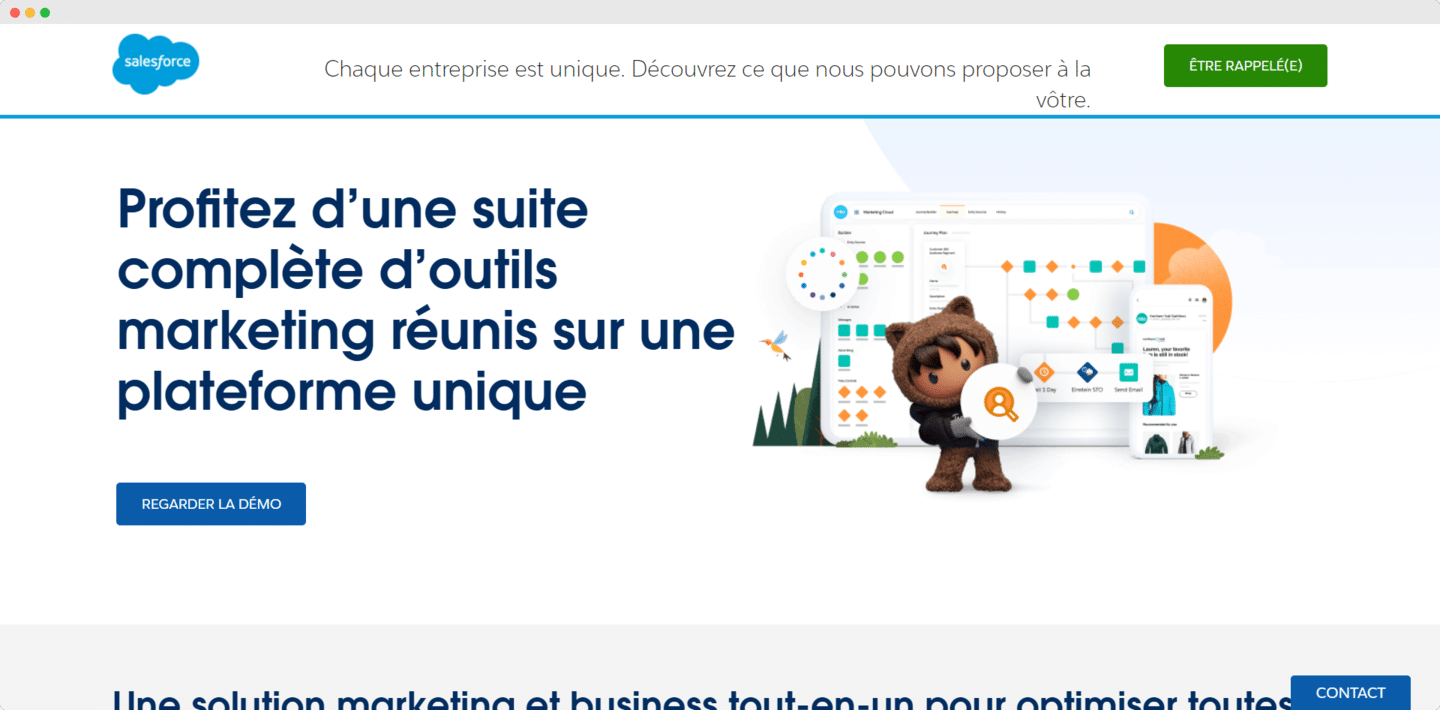 Pardot is one of the very good marketing automation software alternatives to Hubspot, especially for B2B Salesforce users.
The SFDC integration is ideal if you use Salesforce as your CRM. The leads and actions you take through Pardot are automatically synchronized, which allows you to easily assign the leads to the right salesperson. The Google Adwords integration allows you to integrate all the interactions of your prospects with your campaigns in the global Pardot tracking. The social network connectors (Facebook, Twitter, Linkedin) are also present.
In terms of segmentation, the real strength is the very powerful Einstein Behavior Scoring developed by Salesforce. It identifies prospects who are close to making a purchase and assigns them a score to guide and refine your marketing campaigns. But Pardot shines especially when used as an account-based-marketing software.
On the campaign side, journey builder and personalization tools allow you to target the best content and the best channels to deliver your marketing campaigns. The predefinition of customer paths and the sending of alerts according to predetermined critical thresholds allow for continuous improvement.
The Growth plan is limited to 10,000 contacts and allows access to a number of advanced features for €1,250/month: unlimited volume of email campaigns, lead scoring and reporting features, creation of forms and landing pages, etc.
The Plus plan, at €2,500/month, provides up to 10,000 contacts. This package adds advanced analytics capabilities for your email campaigns, A/B testing and Google Adwords integration.
For access to Einstein Behavior Scoring, you can expect to pay 4,000 euros/month for 10,000 contacts.
Try Pardot
Discover Pardot, the B2B marketing automation suite from Salesforce!
#5 Customer IO
A very complete B2B marketing automation tool for the mid-market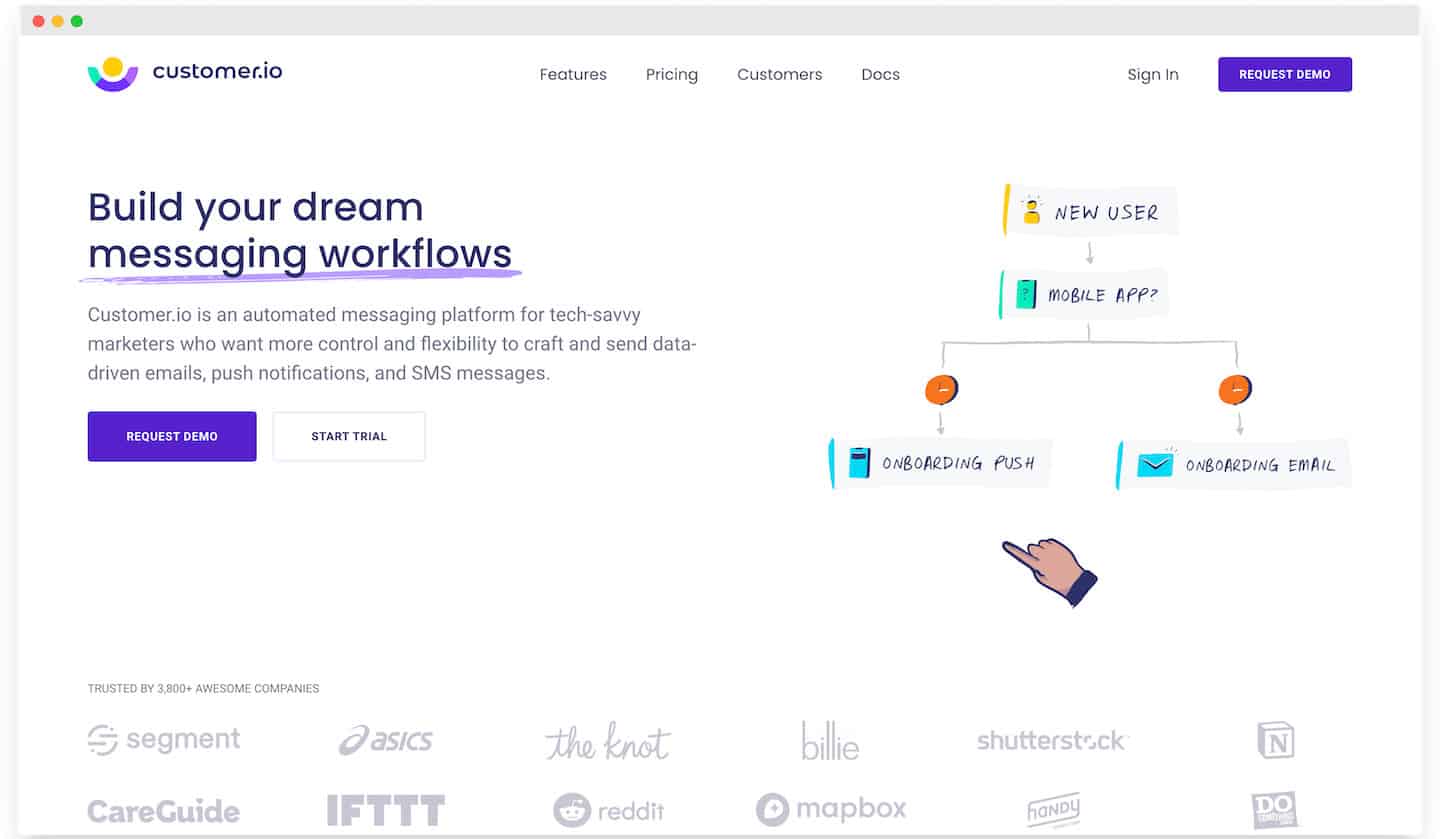 Customer.io is a marketing automation software that offers a highly developed catalog of integrations and an integration with Zapier, which allows to multiply the possibilities.
Custoemer.io offers very good features for synchronization with audiences from platforms like Google or Facebook, synchronization with a data warehouse, and automated deduplication.
For segmentation, Customer.io is very developed, and allows you to filter according to your needs and without limit. One of the strong points is that you can send raw events to Customer.io, and build intelligent segments on this basis in the tool. This is ideal for SaaS and mobile applications.
In terms of campaigns, Customer.io allows you to deliver via the great classics (email, SMS, push notifications) and in-app messages on your site (popup, chatbot, etc). The best part is that it also offers iOS & Android SDKs that allow you to push in-app messages to mobile.
Customer.io offers a first price of $100/month for 5000 contacts, which gives access to segmentation features, all their channels and email support.
Rates for more advanced plans are available upon request.
Try Customer IO
Try Customer.io, a comprehensive B2B marketing automation tool for the mid-market
Alternatives to Hubspot's Commercial CRM
Hubspot's commercial CRM has three major flaws.
First, it does not allow you to add multiple email addresses to a single contact.
Second, the reporting features included in the free plan are limited – which does not allow for custom reports and multiple dashboards.
Finally, the CRM does not allow you to schedule recurring tasks. Users must therefore manually add each daily task to their queue.

#1 Salesforce

The leader in commercial CRM

Salesforce is the leader in commercial CRM. It offers excellent functional depth and a comprehensive ecosystem of integrations and applications. It is the account-centric CRM software par excellence, easy to use and ideal if you want to build a 360 degree view of your customers and leads and manage complex sales processes.

Salesforce offers excellent features for reporting, sales forecasting, and customization of sales floor animation. Its customer follow-up features are among the best on the market and allow you to provide personalized follow-up to all your customers. This is particularly effective if you are using anAccount Based Marketing (ABM) approach.

Salesforce's power also lies in its AI-based sales assistant, Salesforce Einstein, which is very powerful, both in assessing prospects and in automated activity tracking or its sales tips.

On the other hand, Hubspot, which offers almost similar functionality and numerous integrations, is more accessible to small teams than Salesforce, which remains a complex tool to implement and use. We present you both solutions in this article.

Salesforce offers 4 plans, ranging from 25 euros/user/month to 300 euros/user/month for the Unlimited plan.
4 500€ / year for 5 users with the Professional plan, for a relatively advanced use
The Enterprise plan costs 90 000€ / year for 50 users.
The Enterprise and Unlimited plans are the most comprehensive plans and are designed for large commercial organizations. It is necessary to count at least 5 000 € the first year for a team of 5 with relatively simple needs.
Salesdorado's advice
Salesforce has a very complex pricing structure, offering flexible prices when the volume of users increases, but to which you must add, beyond the cost of licenses, other costs that we detail in this article. You can find the details of the different plans in this document.
Try Salesforce
Try Salesforce, the leader in sales CRM
#2 Pipedrive
The commercial CRM with the highest adoption rates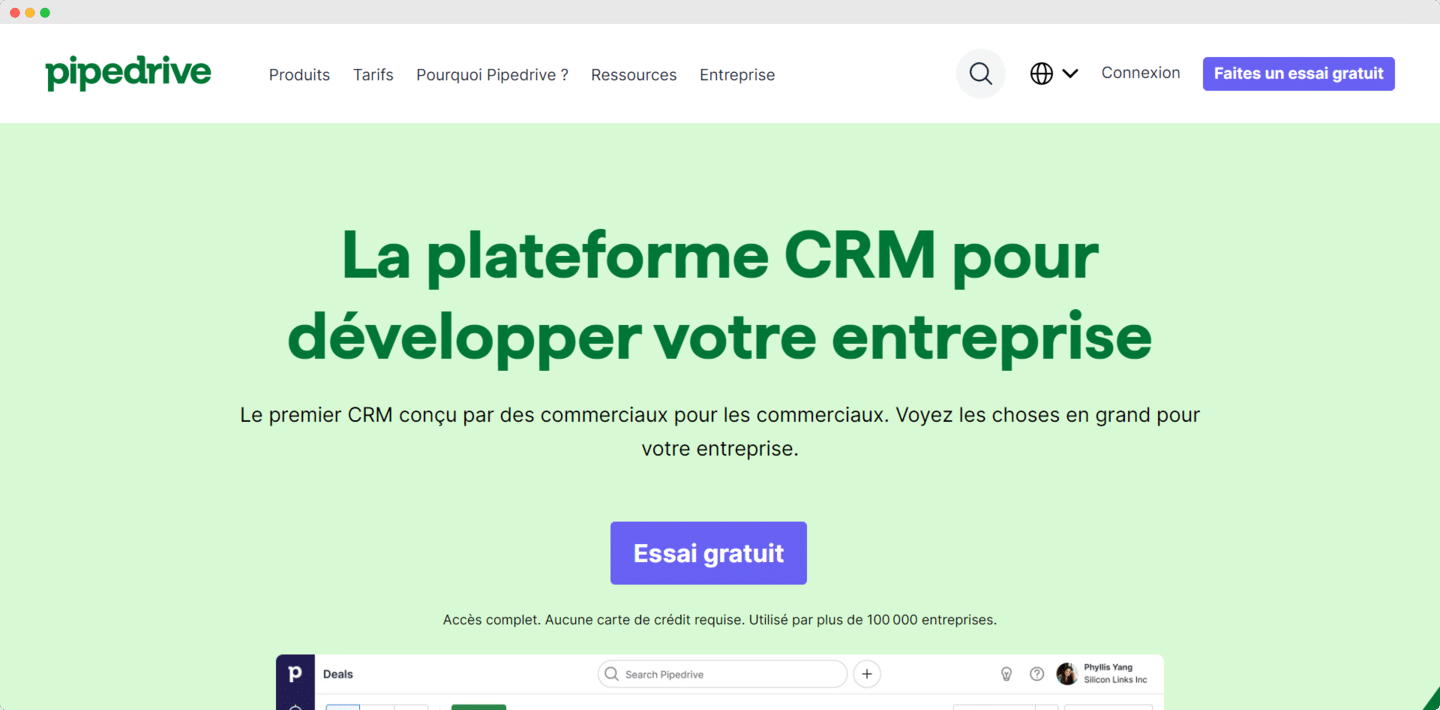 Pipedrive is among the best CRM software on the market for established B2B sales teams with advanced sales processes, simple account management andAccount Based Marketing needs, and high stakes on prospecting and managing their lead and opportunity flow.
It is a deal-centric CRM tool that offers an excellent user experience, a very powerful mobile application, and a very intuitive interface. This tool allows you to follow all your sales processes at the same time thanks to a very sophisticated Kanban view.
Pipedrive also offers a very good management of business tasks and reminders. This solution can handle large volumes of sales and offers very good integrations, but is less powerful than Hubspot in terms of automation.
If you want to benefit from more automation features, you can subscribe to the Campaigns add-on, at 13,90€ / month, to create and send personalized emailing campaigns or use easy to configure templates.
Pipedrive offers an entry price of 20 € / user and month, and allows you to benefit from all the features, except for automation, numerous integrations, sales analysis and allows an unlimited number of contacts. Count 35€ / user / month to connect an email box.
For 5 users and a relatively advanced use, count 300€ / month on the Professional plan.
For 50 users, the Enterprise plan offers a formula at 59 400€ / year.
My opinion
Pipedrive allows you to integrate a lead generation form, an appointment booking form and a chat to your website with the Lead Booster extension (32,50 € per month). This extension also provides access to a database with 400 million profiles worldwide and is perfect for companies that prospect a lot.
Try Pipedrive
Discover Pipedrive, the commercial CRM with the highest adoption rates
#3 Zoho CRM
A very complete CRM on the management of commercial activities & reporting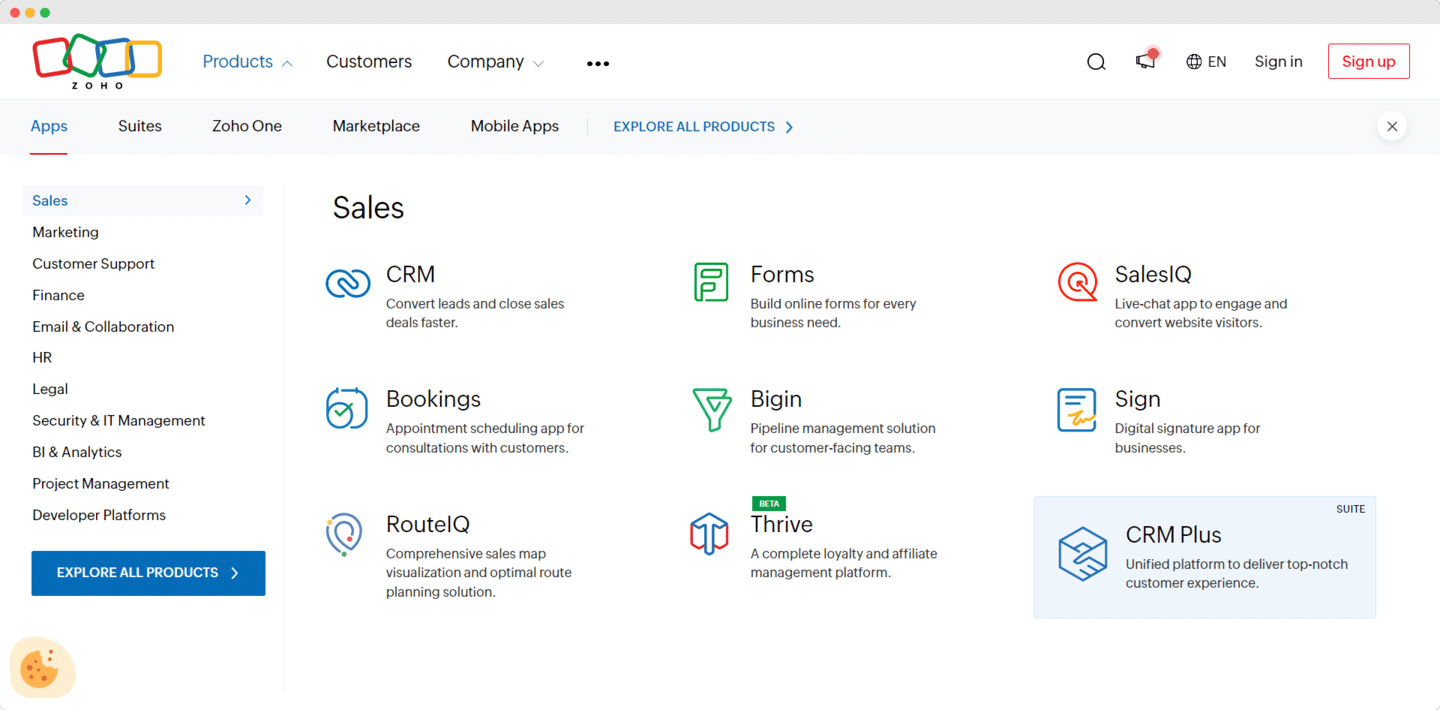 Zoho is among the best CRM solutions on the market. This tool offers many features, is easy to use and provides a good view of the sales pipeline. Zoho CRM is part of the Zoho ecosystem, which offers many third-party integrations available through the Zoho Marketplace.
Zoho is a very complete solution, especially in terms of sales automation and the creation of sales processes. Like Hubspot, Zoho allows you to import lists, files and leads for easy cross-platform switching or integration.
But compared to Hubspot, Zoho offers a less intuitive interface and a more limited dashboard. The reports are lighter than those offered by Hubspot and the automation features are less powerful at Zoho. But Zoho is a more affordable alternative and remains an ideal CRM for small and medium-sized B2B companies with limited resources.
Zoho CRM offers an entry price of $20 per user per month. This plan includes access to lead scoring features, automated scenarios, and the ability to create multiple custom sales pipelines and dashboards.
The Professional plan, at $35 per user per month, includes the Sales Signal tool to track your prospects' activity, forms integration and the integrated inventory management solution.
The Enterprise plan, at $50 per user per month, includes Zoho's AI tool called "Zia", the multi-user portal, and the mobile and MDM SDKs.
Try Zoho CRM
You can take advantage of a free 14-day trial to discover the features of Monday, the complete and easy-to-use all-in-one software, don't hesitate!
#4 Monday CRM
A very powerful project management tool that publishes a very flexible CRM suite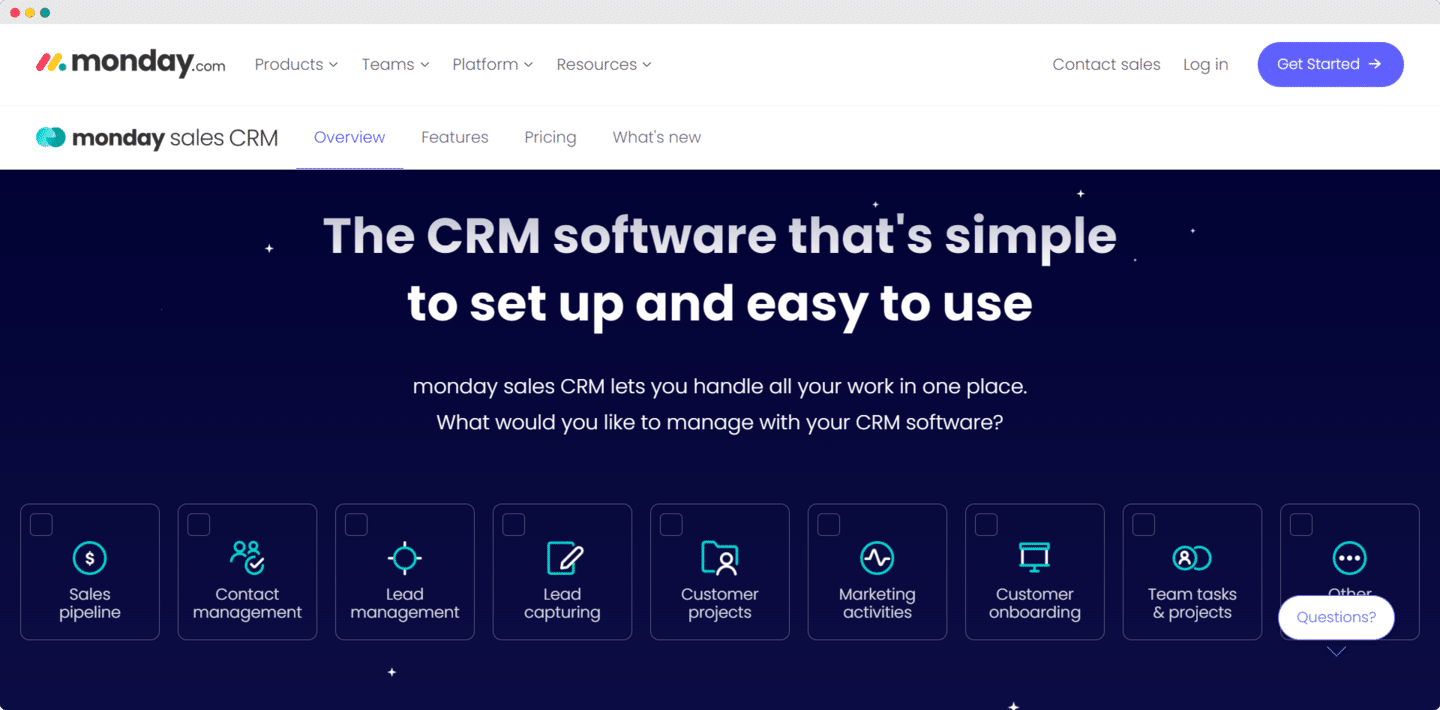 Monday CRM is an all-in-one work management software that offers hundreds of CRM templates and projects. It's an intuitive solution that allows you to organize your project management, sell and track the progress of your projects in one place. The sales pipeline management interface is well done and allows its users to manage and view any type of sales, marketing and administration activity or project.
But Monday CRM offers less powerful Sales features than Hubspot, in terms of managing a sales floor, a sales pipeline, reporting and forecasting. Until Hubspot's pro plan, Monday is an interesting alternative.
But Monday is better than Hubspot at managing complex project tracking. It's a solution that perfectly meets the needs of those who sell projects, especially complex services, to wholesale customers.
The first paid plan is 40€/month for 5 users and gives access to the essential features of collaboration, automation, reporting (Kanban view) and support. To benefit from 250 more automation actions and more advanced reporting features, you will have to subscribe to the Standard plan at 50€/month for 5 users.
The Pro plan, at 80€/month for 5 users, allows you to benefit from 25,000 automation actions, time tracking features and to combine up to 10 dashboards.
Try Monday CRM
Monday offers a 14 day free trial
#5 Freshworks CRM
A well thought-out, flexible and modern CRM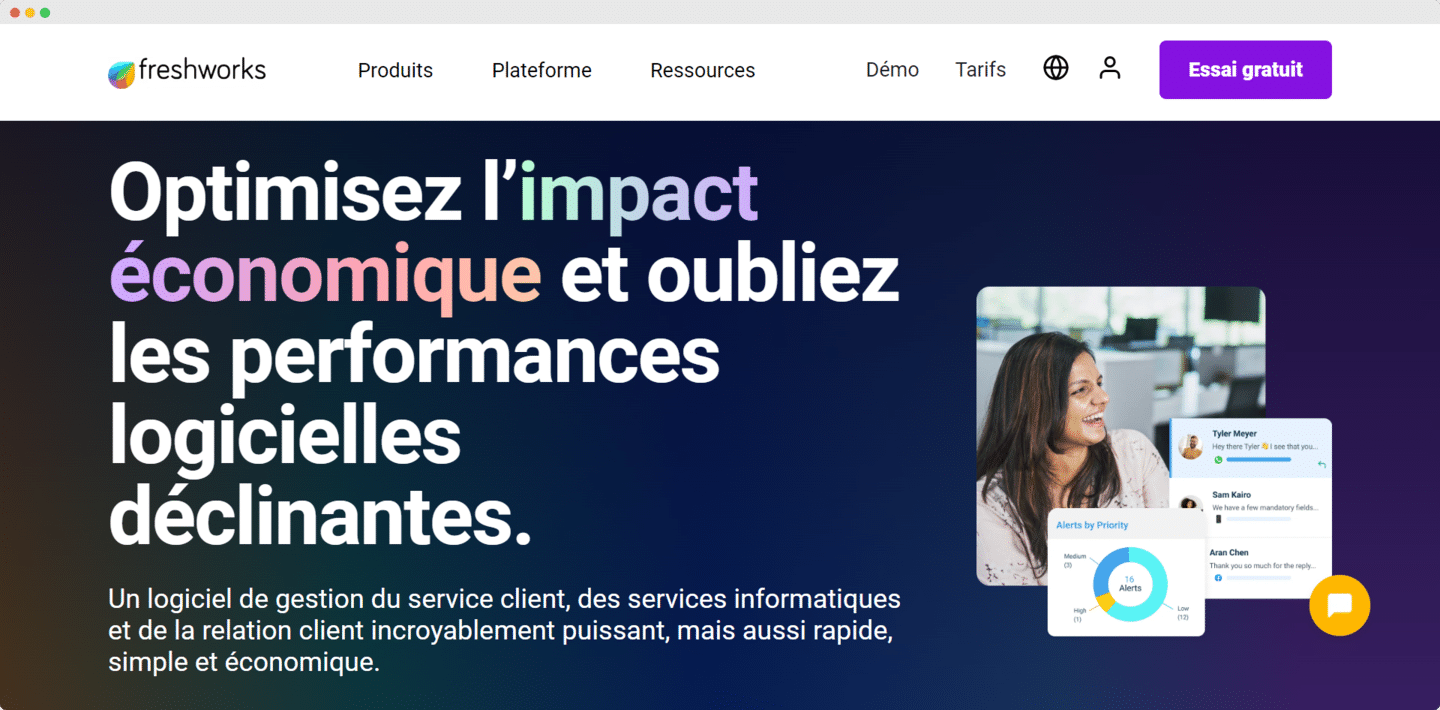 features.
Freshsales offers the classic features of a sales CRM (customizable dashboards, contact and account management tools, marketing automation features, lead management, detailed analysis). This tool provides a drag-and-drop pipeline view that identifies your prospects and offers 24-hour weekday phone and email support.
Freshales also offers AI-driven contact assessment functionality across its paid plans, the ability to automate its workflows, and AI-based business insights. So in terms of support, ease of use and configuration, Freshsales is superior to Hubspot.
Freshsales offers a $15/user/month entry price with visual sales pipelines, 20 workflows, AI-powered contact scoring, 2000 bot sessions, and WhatsApp business. The equivalent at Hubspot (Starter plan) costs 29,97 €/month.
Freshsales' Enterprise plan costs $690/month for 10 users with 100 workflows, custom fields, 10 custom modules, auto-attribution rules and a dedicated account manager. Hubspot's Enterprise plan is $1200 for 10 users.
Try Freshworks CRM
Check out Freshworks with a free 21 days trial
Alternatives to Hubspot as an all in one platform
#1 Brevo (ex Sendinblue)
A good alternative to Hubspot for freelancers and small businesses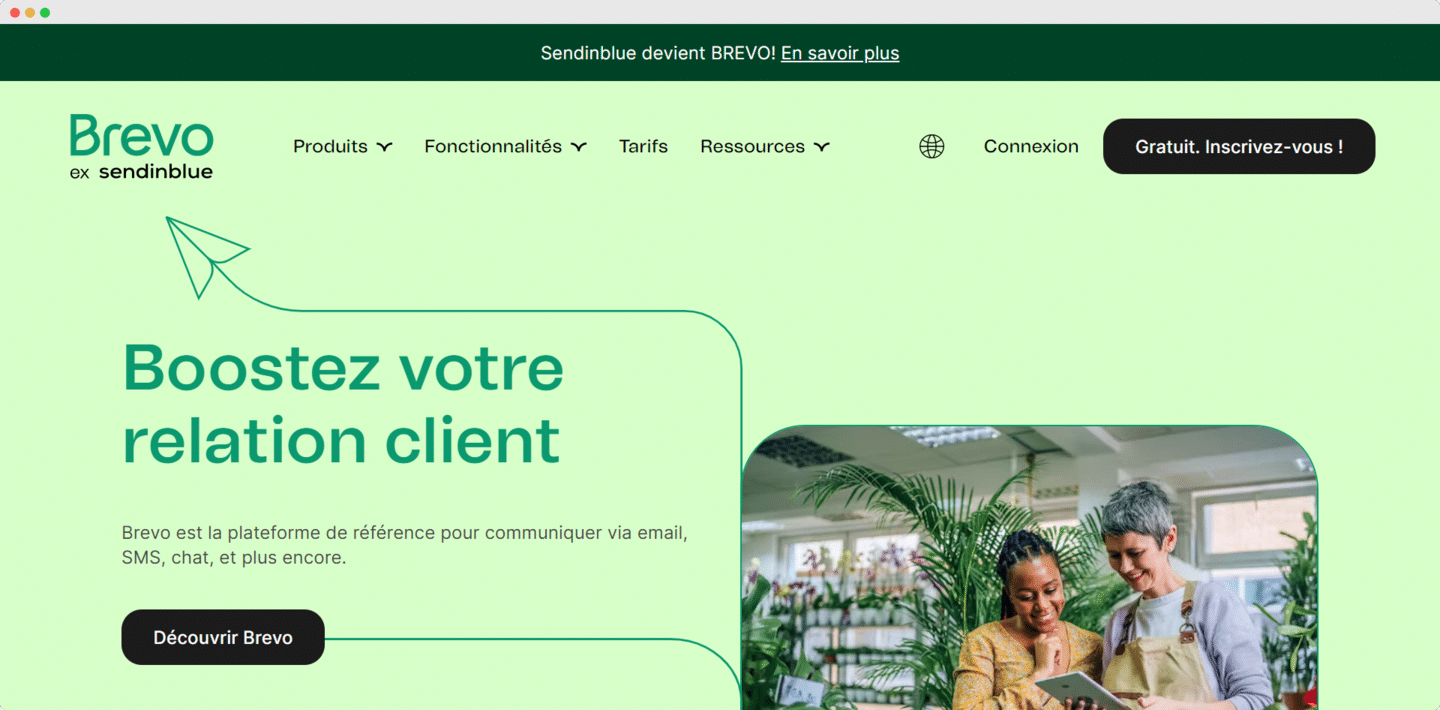 As you have read above, Sendinblue has become Brevo. Brevo founder and CEO Armand Thiberge says the name change expresses an important evolution of the company, which, since its inception in 2012, has developed a host of other products and features beyond its newsletter tool capabilities.
Brevo becomes a simple and affordable CRM software that offers marketing and customer relationship management tools, not just email marketing features. The company's common thread remains the same: enabling companies of all sizes to forge lasting relationships with their customers.
Beyond this name change, Brevo has made several acquisitions: Metrilo (e-commerce software), Pushowl (push notification software), Chatra (live chat), Meetfox (appointment scheduling software) and Captain wallet (leader in mobile wallet marketing).
Brevo has a strong marketing automation heritage, but it's mostly an all-in-one platform that offers live chat and online appointment scheduling features. The live chat feature allows you to install the widget on the site of your choice, chat with your prospects and automatically register your contacts in the CRM. Brevo also offers its users the ability to increase their sales through customized transaction pipelines. This feature allows you to track revenue opportunities, customize your sales cycle steps, automate tasks, etc.
Brevo offers several products:
The entry price for the marketing platform is 19€/month and allows unlimited contacts. The Enterprise plan, at €49/month, is aimed at marketing managers and e-commerce professionals. There is also a free plan, which allows 300emails/day, customizable email templates, drag&drop editor and SMS and WhatsApp campaigns.
For the "Conversations" product, there are two packages: a free plan, limited to one user, and a pro plan, at 13€/month/user, which allows to have real-time information on its visitors, chat evaluations and reports, and a lead capture bot.
The "Sales Platform" product is free and allows users to track their interactions with their prospects. It offers sales pipeline management, task allocation, CRM automation, inbox management and meeting scheduling features.
Try Brevo (ex Sendinblue)
Discover Brevo, the French emailing software (ex-Sendinblue) has developed a suite of marketing automation and segmentation tools that make it a light but credible alternative to Hubspot
#2 Freshworks
A comprehensive software suite for small businesses and small teams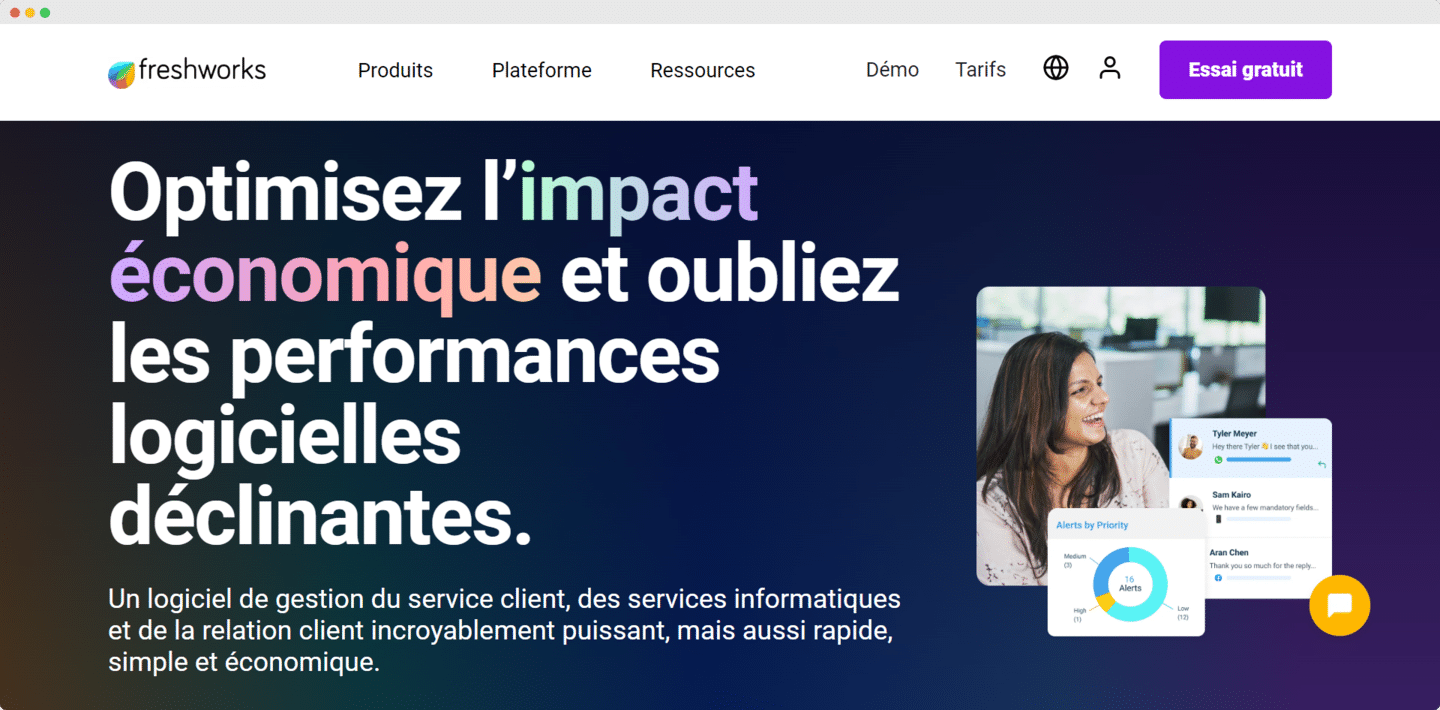 Freshworks is an all-in-one platform that offers various sales marketing and customer support tools.
For each tool of this suite, the price list is different. Freshmarketer plans are among the most expensive. For the other tools, it is necessary to count between 15 and 80€/month/user on average. You can find the detailed rates here.
Try Freshworks
Try Freshworks, a comprehensive software suite for small businesses and small teams
#3 Zoho
One of the only really credible "Work OS" on the market today for small and medium sized businesses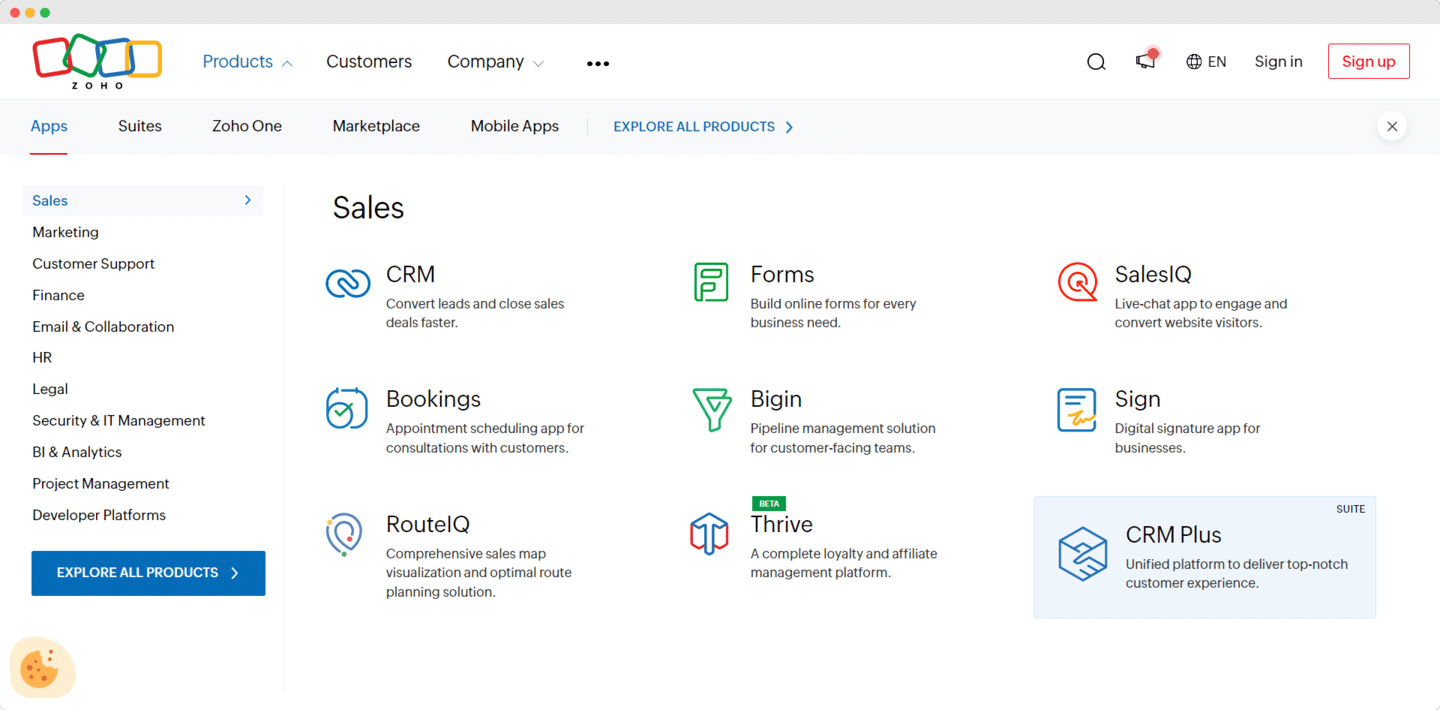 Zoho is a suite of software that helps you manage your business, from project management to sales, productivity, finance and business processes. Zoho is one of the most comprehensive software suites on the market.
In addition to its CRM tool, which offers a large number of third-party functionalities and integrations, available on the Zoho MarketplaceZoho offers an impressive set of software, from a chat module to video, email management, and even a lightweight CMS to create mini-sites easily, Zoho Bigin. Zoho has even launched Zoho Canvas, a tool that allows you to customize your CRM.
Zoho One, available from €45/month/employee, provides access to the full range of Zoho applications. There are two possible options:
buy a compulsory license for all employees and benefit from a 45€/month/user rate
buy a license for the number of users you want, at the price of 105€/month/user.
The first option allows you to equip all the teams in your company with a single, very solid software suite.
Try Zoho
Don't hesitate to try Zoho, one of the only really credible "Work OS" on the market today for SMBs
Going further If you wish to have more information on these different tools, you can browse our other articles on the subject
#4 Salesforce
The best CRM, and among the best marketing automation and customer support tools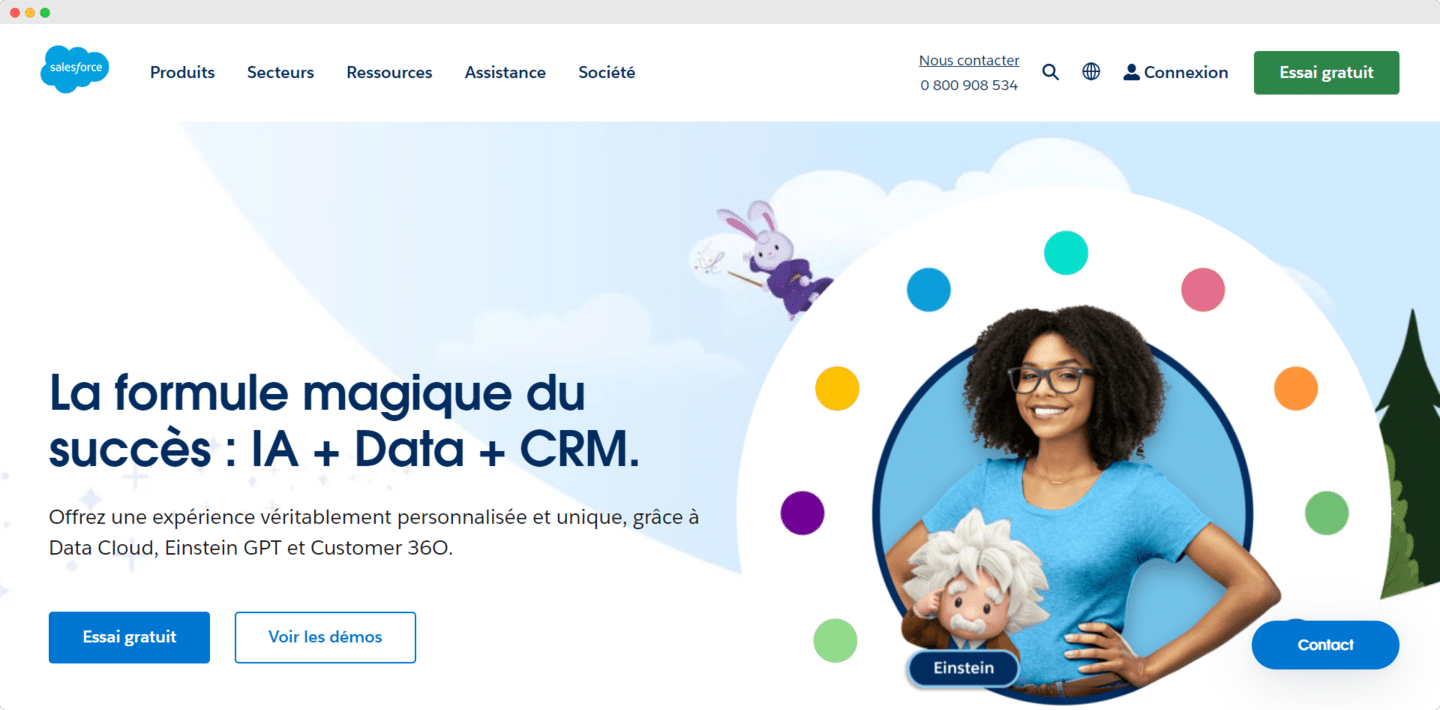 Salesforce is a little different from the other solutions on this list: it's not really a Work OS, but rather a Customer Data Platform (CDP) that offers to gather all customer data and customer communications (customer support and Content Management System) on a single tool.
One of Salesforce's strengths is the Einstein suite, an AI-based sales assistant that offers lead scoring, automated activity tracking, or sales tips. AI is also used for nurturing, segmentation and sales actions and it is very efficient overall.
Salesforce offers more than 40 add-ons and a very complete marketplace(AppExchange). Each software suite is billed separately, the pricing grids are complex and comparing them requires an in-depth analysis of your target functional scope.
Try Salesforce
Discover Salesforce, the best CRM, and among the best marketing automation and customer support tools
#5 Zendesk
Leading customer support provider adds commercial CRM to its offering to gather customer data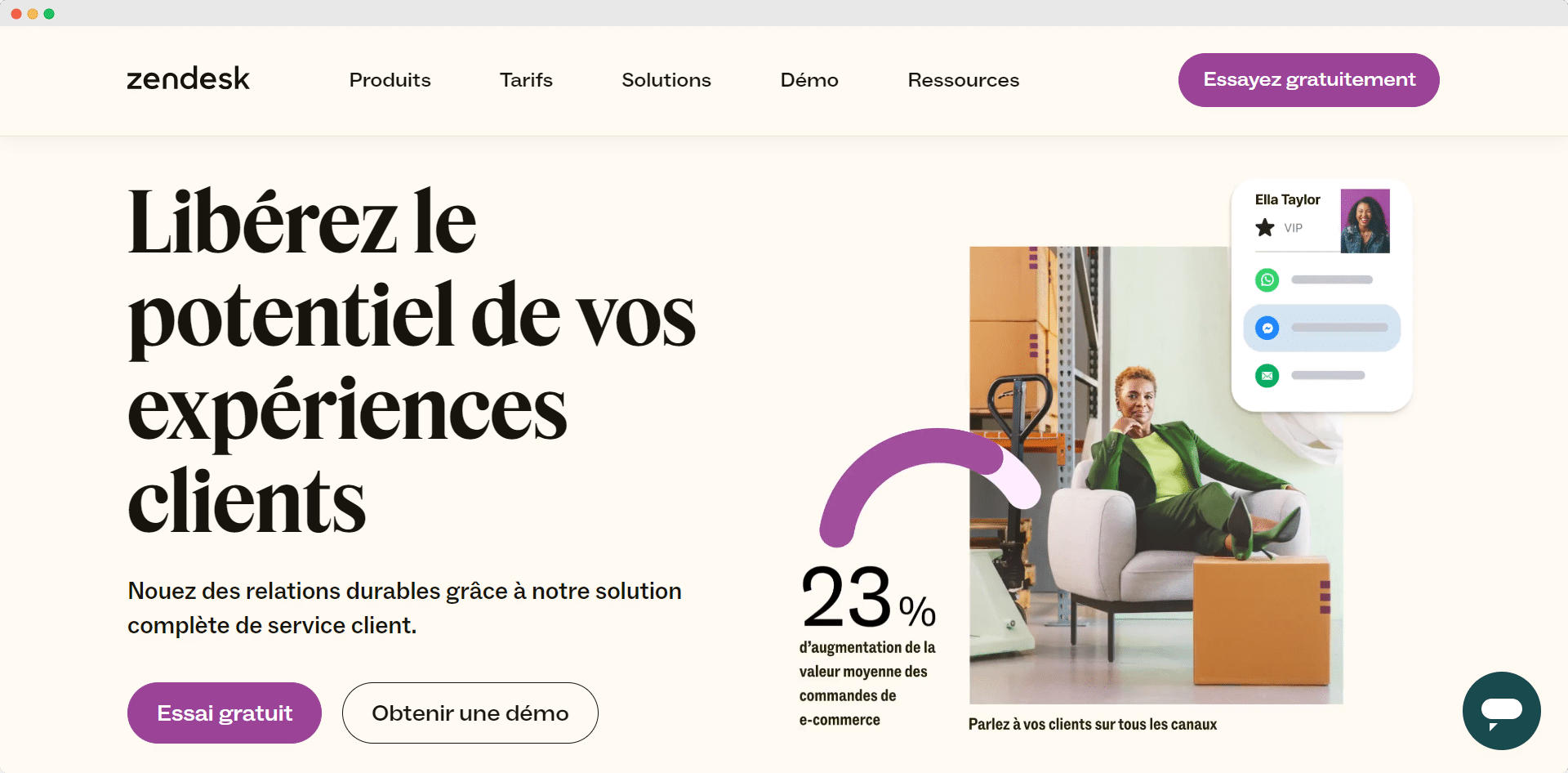 Zendesk is the market leader in customer support software. This tool offers a functional depth that is hard to find elsewhere, in terms of channels managed, available integrations, automation or reporting. It is a nativeAmazon Web Services tool that provides all the necessary tools to facilitate the customer experience.
Like Salesforce and Hubspot, Zendesk is more of a Customer Data Platform (CDP), but unlike those two tools, Zendesk has a help desk DNA that remains very strong today, and not marketing like Hubspot or sales, like Salesforce.
The Zendesk suite offers a suite of tools to create an omnichannel support solution. For example, Zendesk allows its users to generate support tickets, via different channels (social networks, chat applications). Beyond omnichannel management, Zendesk has collaboration tools to improve communication between users, good automation tools thanks to AI, including an Answer Bot that is always online to answer common questions. The help desk and customer service features offer interesting customization possibilities.
Zendesk offers a CRM suite, Zendesk Sell, starting at €19/month/user and up to €99/month/user for the highest plan. The help desk suite, Zendesk support, costs between 49€/month/user and 150€/month/user.
Try Zendesk
Try Zendesk, the customer support leader adds a commercial CRM to its offering to gather customer data