Dux-Soup is one of the oldest automation tools on LinkedIn, and it continues to be relevant because of its simplicity, and its efficiency. Its integration with Pipedrive makes it a very powerful enhancement tool, and the various actions the tool offers make it a must-have for anyone who takes prospecting on LinkedIn seriously.
Our review of Dux-Soup: Summary table
Criterion
Note Salesdorado
Comment
Overall score
Dux-Soup is a reliable and very efficient tool for prospecting on Linkedin. The richness of its functions and the low prices make it a tool that we really like.
Functional depth
A very complete tool that allows you to identify prospects that match your KPI, to contact them automatically directly on Linkedin and to enrich your
CRM software
by downloading customer data.
Getting started
Dux-Soup is simple, fast, and effective if you already know LinkedIn. A small learning curve is to be expected though, especially if you are used to tools that take you by the hand like
Prospectin
.
Stability of the tool
Dux-Soup is one of the first automation tools on LinkedIn, and it is one of the only survivors! 6 years of surviving the limits imposed by linkedin and the (very) regular updates is very very strong. As for the risk of being banned from LinkedIn, it is mostly related to a bad use of the tool.
Customer support
If you have any concerns, customer support is there to help. Knowledge base, live chat, free phone support, everything is in place to ensure that your problem is solved quickly.
Value for money
The tool is very affordable for what it can do and, in addition, it offers a free version to test the basic features, which is very useful to get familiar with the Dux-Soup ecosystem.
#1 Key features of Dux-Soup
Search for prospects
Finding qualified prospects and building strong relationships are the main reasons to use Dux-Soup. How do you do this? By combining automation with a personalised message template.
The Dux-Soup Starter Plan improves and automates the search for prospects meeting specific criteria.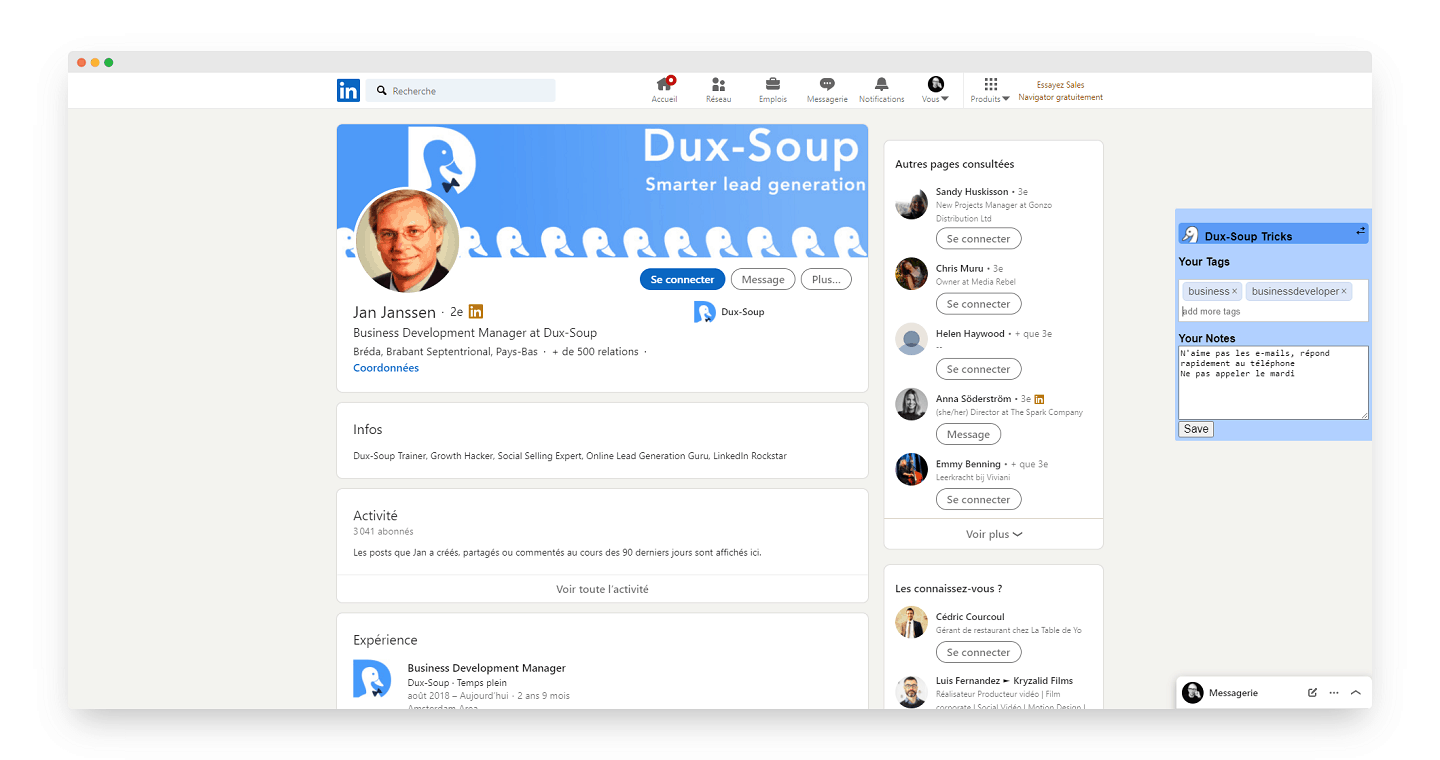 The search tool can be used to refine your results by location, position or connection level. Once you have the list, the prospecting can begin:
Visiting profiles – Here, profile visits and data logging will begin automatically. People will see that someone has visited their profile, which may encourage them to visit their profile.
Visit and Login – This action visits the profile and sends the user a login request. Login requests can be personalised with a message to increase the chances of acceptance.
Profile Scanning – This feature allows profiles to be scanned without the user knowing that someone has just visited their profile. Perfect for collecting data to export to CRM software.
Contacting your prospects
With your prospecting list in hand and your connection requests sent, let's move on to the follow-up and segmentation of your contacts.
Here, everything can be done by means of a tag. Tagging can be automated and allows you to see where a prospect is in terms of approach, follow-up and interest. The choice of tags and how they are used is up to you.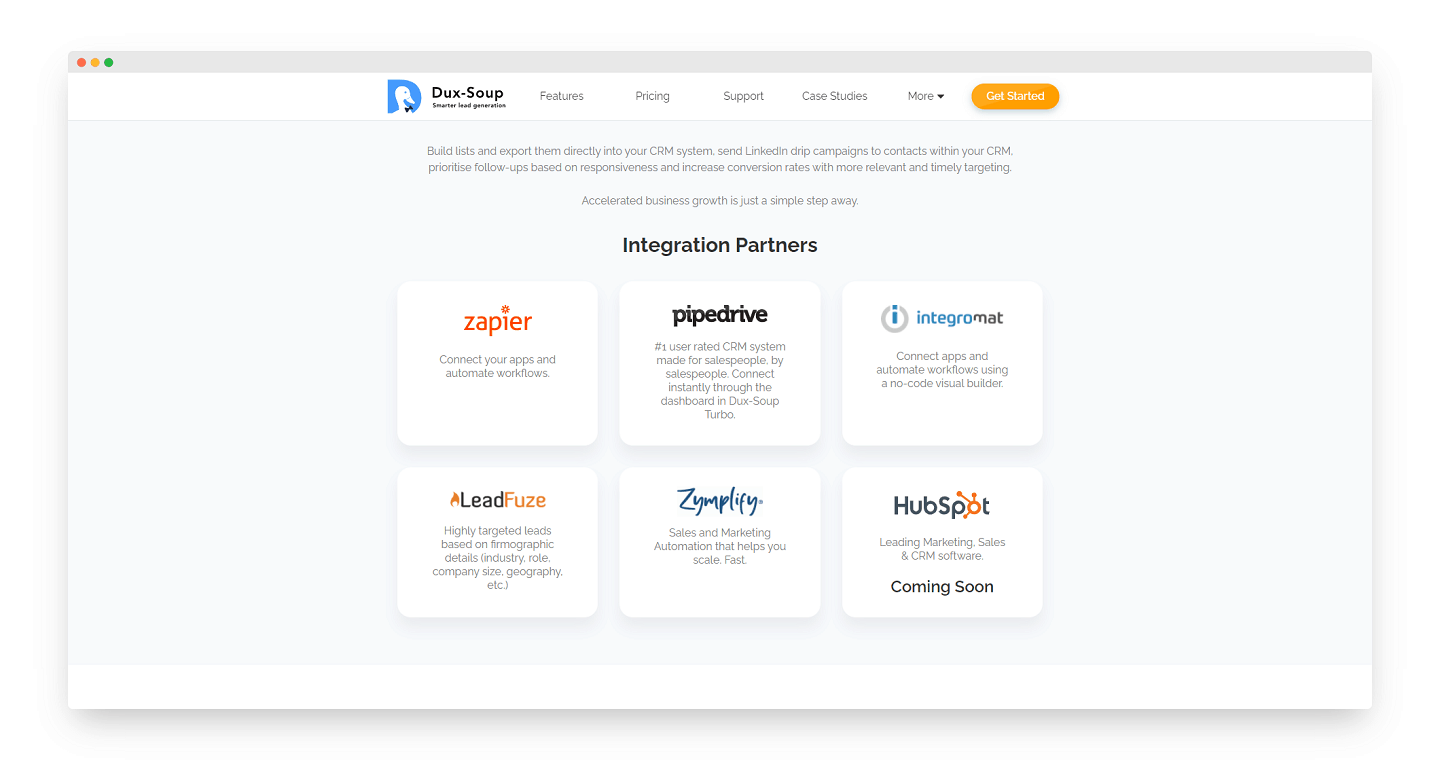 Dux-Soup connects your CRM to facilitate theenrichment of your B2B data by retrieving the details of the target profile. This includes :
Full details of the profile (summary, skills, training etc.).
E-mail addresses.
Sharing notes and tags with team members.
The search for tagged profiles.
Profile notes and attached tag lists.
With Dux-Soup Professional, download visited profiles to a CSV file. With Dux-Soup Turbo, send actions and profile visits to Pipedrive, HubSpot, Salesforce, Zoho or Zapier.
Salesdorado's opinion
Dux-Soup offers a very nice functional depth, identification of prospects, sending of personalized messages, enrichment of your CRM data… a very complete tool to reach a milestone in terms of prospecting on LinkedIn.
#2 Getting started: a small learning curve to be expected
Downloading and installing Dux Soup is simple and takes only a few minutes. As Dux-Soup is a plugin for Chrome, having Google Chrome and a Google account to log in are the only prerequisites.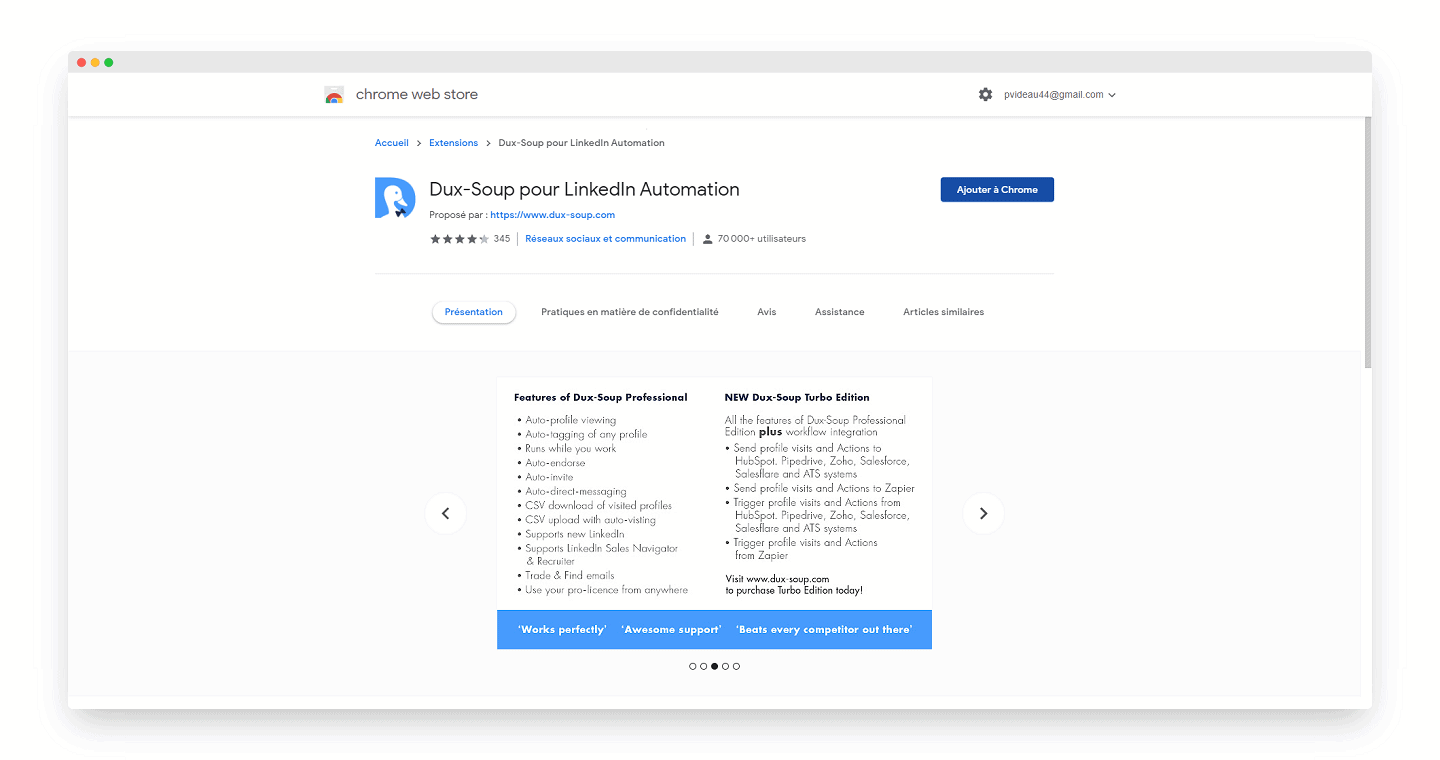 Once the plugin is installed, there are not many instructions on how to proceed. There is only a "Watch Tutorials" button that takes you to the Dux-Soup YouTube channel, where some videos explain the basics of the tool.
Although the videos do not help in developing an outreach strategy or organising the data collected, they do provide a good starting point.
Salesdorado's advice
The installation is easy and quick but the use of the tool requires a small learning curve, the management of tags in particular could be more intuitive. Dux-Soup is an excellent solution if you are familiar with the possible scenarios to implement on LinkedIn.
#3 Stability: the oldest automation tool on LinkedIn
Dux-Soup is without a doubt one of the most reliable and established Linkedin automation tools on the market (for more than 6 years).
A thorough understanding of how the LinkedIn algorithm works, valuable advice given to users and the advantage of being a Chrome extension support this claim.
By following the Dux-Soup guidelines, your automated behaviour is as natural as possible, so it is not considered spam and complies with LinkedIn's rules of use.
Salesdorado's opinion
Dux-Soup is a stable and robust tool, present on the Linkedin automation market for over 6 years. Be careful though, massive prospecting can be penalized by the platform and the tool is very permissive. It is up to you to use the tool with care!
#4 Customer support: significant progress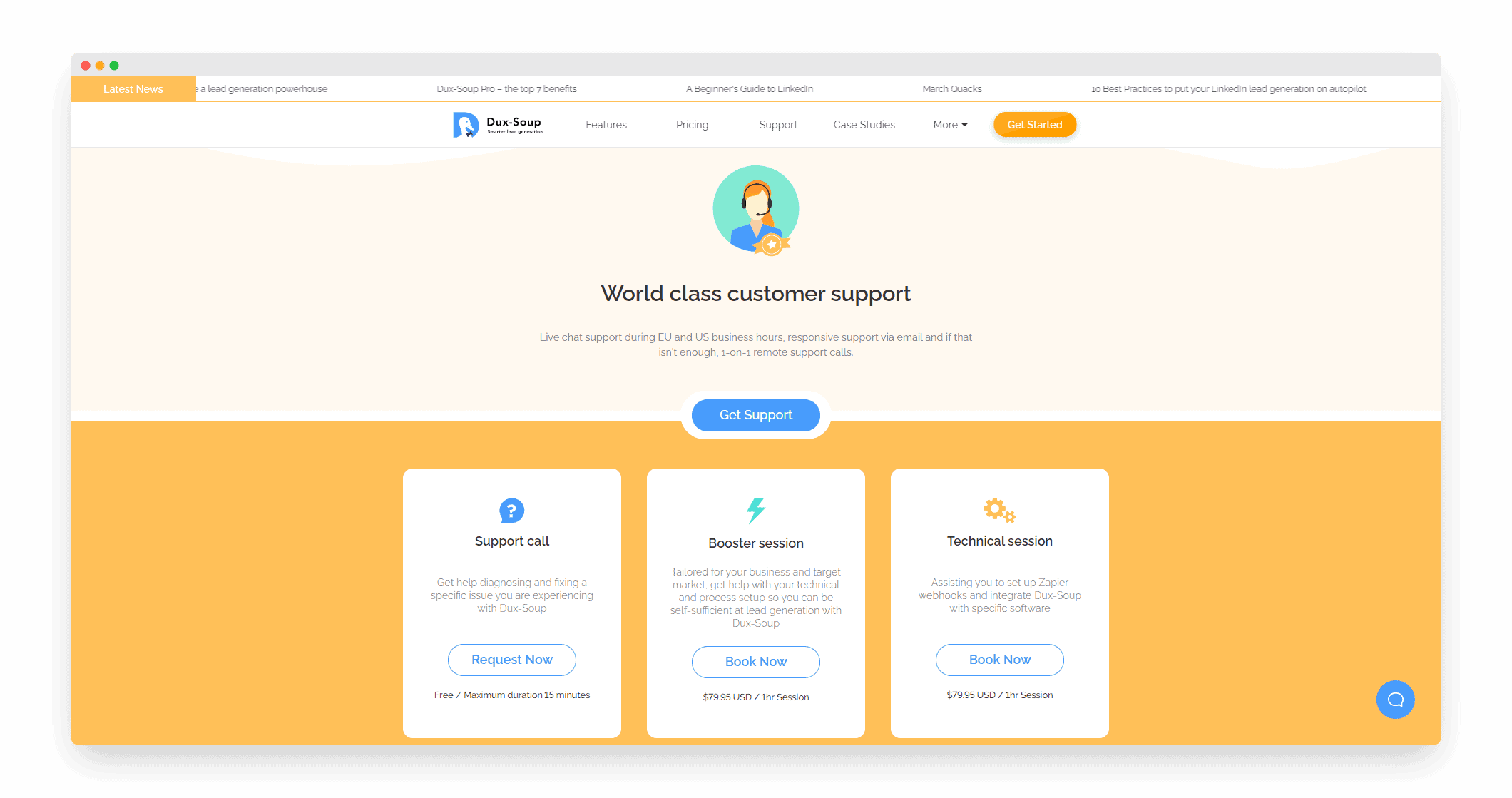 Dux-Soup offers a comprehensive knowledge base to find a solution to any problems encountered. If the solution is not found there, there is a live chat and e-mail support.
It is now also possible to have the support team call you back. These calls are free of charge and last a maximum of 15 minutes.
Dux Soup's support service has expanded its offer and now provides two additional forms of support:
Booster Sessions: These sessions start at $79.95/hour and help create workflows in Dux Soup, as well as find and target your ideal clients on LinkedIn.
Technical Sessions: These sessions also start at $79.95/hour and are focused on technical integrations and solutions.
Finally, even if Dux-Soup is not the most popular tool on the market, it has been able to develop its own community, which is present and active to answer users' questions.
Salesdorado's opinion
Dux-Soup makes an effort to offer a high quality customer service. E-mail support, live chat, telephone service and training sessions are all available to guide the user through the many features.
#5 Customer reviews of Dux Soup
In terms of user feedback, Dux-Soup has a good rating of 4.2/5 on G2. We have summarised the most important feedback from daily users of Dux-Soup:
Advantages & Disadvantages
Great time saving : "The ability to automate manual and tedious processes is great and I can't count the hours it saves me per week!"; "I like that the tool works automatically and provides me with just the right amount of functionality to help me in my prospecting."
Ease of use: "Adding theChrome extension is extremely simple."; "With Dux Soup, I am able to send numerous LinkedIn connection requests with minimal effort."
Risk of being banned from Linkedin: "I was banned for using this Chrome extension. So my advice is to avoid it! There are much better cloud-based alternatives."; "LinkedIn doesn't really like the Dux-Soup extension and has prevented me from connecting with prospects with one click."
Here, we have decided to share with you this comment related to the risks of being banned from LinkedIn, even though it is totally wrong, because it illustrates the preconceived ideas related to prospecting tools on LinkedIn.
The strength of this comment is that it combines two big mistakes in just a few lines:
1. It is not Dux-Soup that will lead LinkedIn to ban you but your overuse of the tool! LinkedIn does not clearly define the limits that you should not exceed in order to stay in line. Many solutions/tools linked to LinkedIn do tests and put forward some figures that we do not share with you, as this lacks hindsight. Stay within reasonable volumes, which will also allow you to keep time to better customize your approach.
2. The cloud is better because it allows asynchronous and fully automated (no need to turn on your machine and launch google chrome). On the other hand, on the contrary, it increases the risk of detection by Google.
On LinkedIn, as on other channels, massive prospecting brings little or no results and is penalised (rightly so!). Dux-Soup does not limit the use of the tool very much, and relies on the experience of its users. We appreciate this. If you would rather be guided in your first steps, look at Prospectin
#6 The Dux-Soup tariffs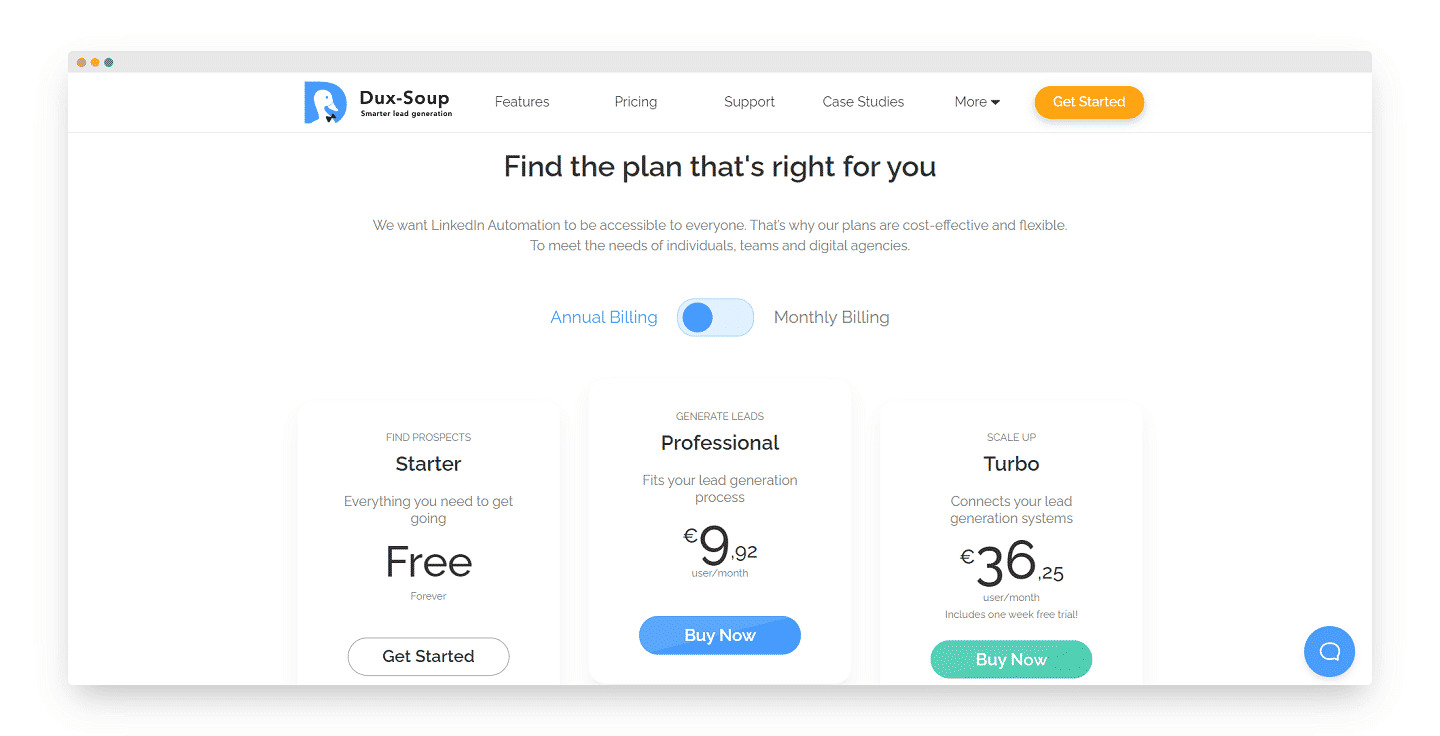 Here are the details of the tariff plans offered by Dux-Soup:
Free Package: The free package provides the opportunity to find prospects, target and filter already tagged profiles, but also to filter profiles according to a custom template.
Professional package for 9€92/month/user (1 year commitment): here, upload your own Linkedin profile lists, engage your prospects with automatic InMails and access the full history of the automation work.
Turbo package for €36/month/user (1 year commitment): in addition to the professional package, send automatic follow-ups, set up multiple and simultaneous LinkedIn campaigns with optimal message timing and sequences and connect your CRM for optimal follow-up.
Salesdorado's opinion
Dux Soup is an affordable tool considering the functional depth offered. A free version is available to try the tool and make sure it meets your expectations!
This article presenting the Dux-Soup tool is now closed. Are there any of you regular users of this tool? Do not hesitate to give us your opinion in comments.