There are a whole host of CRM software packages, each designed to meet very specific needs. For non-profits, CRM software needs to be easy to use and cover a wide range of needs, from managing contacts and communications to membership fees.
There are two options for non-profits looking for CRM software. On the one hand, all-in-one software, provided it is sufficiently flexible and adapts well to their processes. Most of these software packages offer advanced features such as website editing and member space management, but at prices that quickly escalate.
On the other hand, general-purpose software, which is aimed at a less specific audience and offers more limited or even non-existent functionalities in terms of payment, pre-accounting or ticketing.
What makes a good CRM for a non profit?
There are several types of CRM, each designed to meet different needs depending on the type of non profit for which they are intended.
For small non profits, whose main needs are managing memberships, collecting subscriptions and managing the day-to-day running of their organization, we recommend lightweight, affordable and easy-to-use CRMs. All-in-one CRMs dedicated to non profits, such as Assoconnect, are well suited to the needs of small non profits
For large national NGOs, which regularly launch donation campaigns, have a very large membership base, significant emailing needs and many partners, CRM functionalities need to be more advanced, particularly in emailing. Solutions such as Brevo (ex-Sendinblue) or Hubspot enable you to manage large contact databases. For those with specific needs, such as managing fundraising campaigns, specialized software like Kindful is a good option.
Important contact, member and partner management functions centralize contact data and ensure traceability of all operations.
Features such as segmentation, automatic addition of communications (automatic receipts, anniversaries, satisfaction surveys) or evaluation of the number of emails sent per contact enable finer management of communications with members.
Last but not least, CRMs must meet the needs of non profits in terms of managing membership fees and donations. These are mainly online payment functions, tax receipts for non profit members, and the creation of dedicated member spaces.
The solutions presented here fall into two categories.
On the one hand, there are the all-in-one CRM software packages, which are well suited to the needs of non profits, but which can be too feature-rich.
On the other hand, general CRM software requires integration and customization.
#1 Brevo (Sendinblue)
For those who want a full-featured, high-performance CRM for email marketing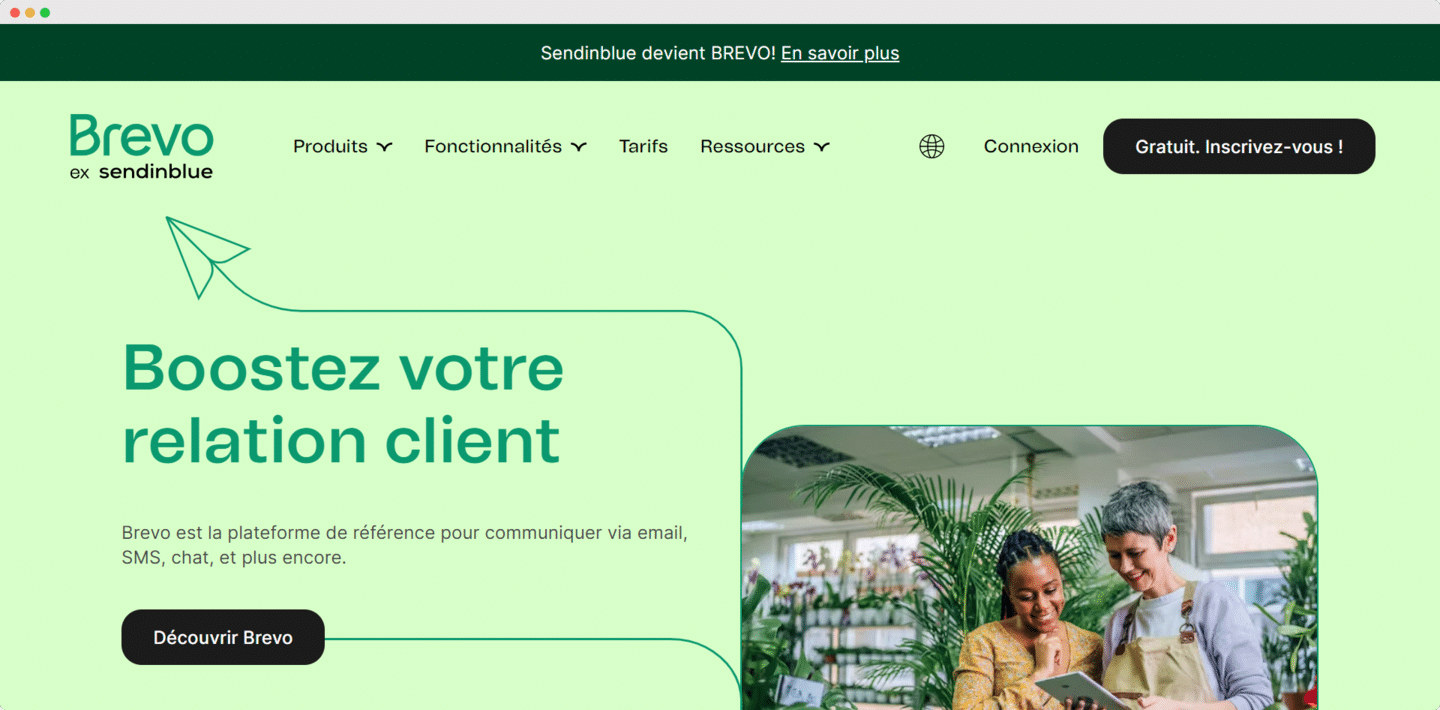 Brevo (ex-Sendinblue) is a French emailing software company that has developed a suite ofmarketing automation and lead managementtools. But Brevo also offers integrated CRM software and a host of automation features. If your non profit's needs are simple, you can centralize everything in a single tool.
Brevo is one of the most comprehensive and affordable email marketing software packages on the market. It offers all the functionalities of a marketing tool: segmentation, contact management, marketing automation, emailing, SMS and live chat. Brevo also offers precise reporting, the ability to track the number of link opens and easily export the list of all openers and clickers for each campaign.
Brevo's rates are based on the number of emails sent, so you can pay according to your needs. Non profits benefit from a special rate.
Brevo is a highly intuitive and easy-to-use solution. For those who need guidance in setting up the software, our customer service is very efficient.
Up to 10 users can create and manage events free of charge.
Brevo allows online payments, which is ideal for large-scale donation drives.
Lead management can be a little light if your needs are specialized. For example, there's no integrated lead scoring.
You can't create a website, but Brevo offers the possibility of creating customized landing pages.
The templates proposed for creating landing pages are rather dated.
Brevo is free up to 300 emails sent per day, with an unlimited number of contacts. Count €49 / month for 20,000 emails per month. The price increases on a sliding scale according to the number of emails sent per month, with no limit on the number of contacts. The monthly fee is €369 for 500,000 emails/month.
Non profits benefit from a 20% discount on catalog rates. To take advantage of this service, contact their team after creating a free account. They will ask you for a few documents to prove that you are an eligible non profit.
Try Brevo (Sendinblue)
Brevo (ex-Sendinblue) is one of the best CRMs for creating effective email campaigns. Give it a try!
#2 Assoconnect (Springly)
For those who want to centralize CRM and other administrative tasks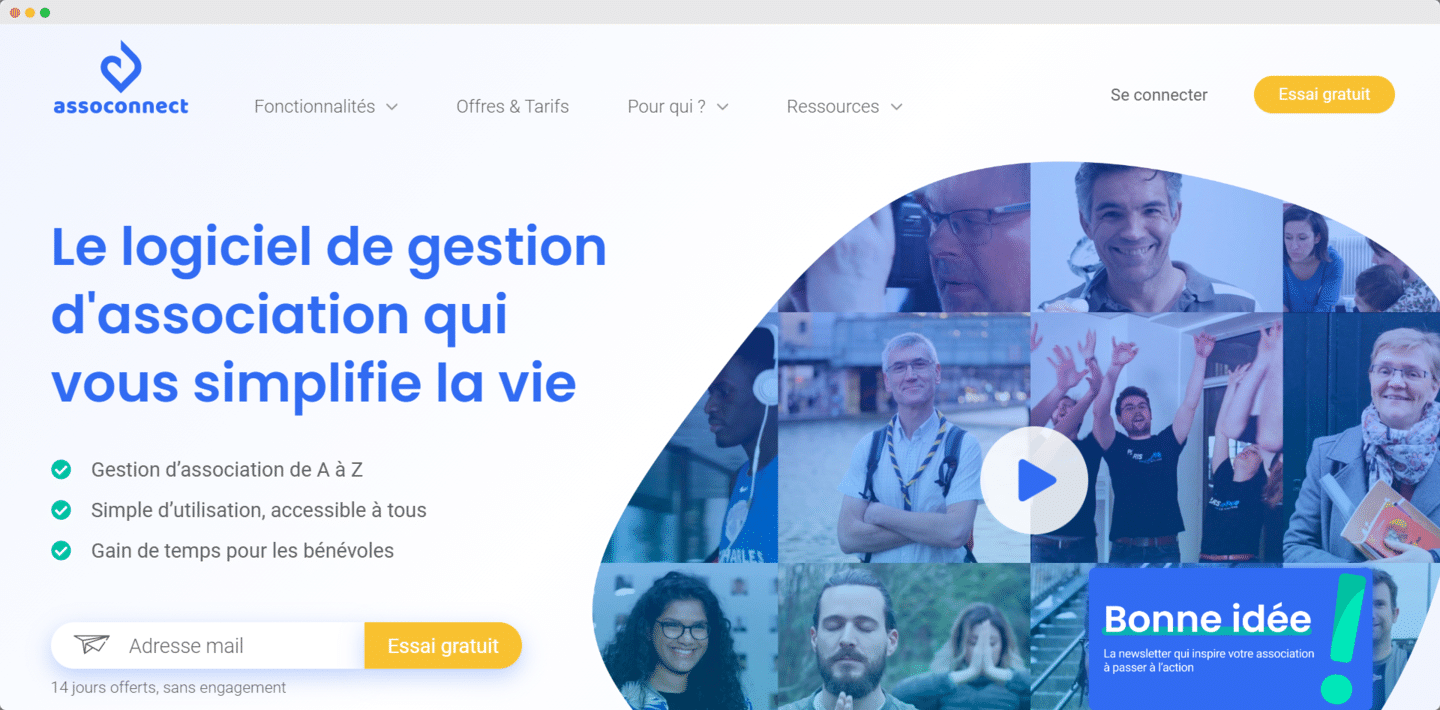 Assoconnect is the ideal solution for non profits wishing to centralize CRM functionality and other administrative tasks. It is recommended, for example, for non profits that organize a lot of fundraising or manage a large number of membership fees.
Assoconnect is a CRM specialized in non profit management, making it a must-have solution in this top ten.
This software allows you to centralize all your non profit's management on a single tool, thanks to its CRM, accounting, online payment collection, communication and marketing functionalities.
It's a simple, comprehensive tool. You can easily import your contacts, segment your database, or get an overview of each member's interaction history with your non profit.
Assoconnect is a very easy-to-use solution, with a clear tutorial and responsive customer service.
For non profits with independent branches, it is possible to decentralize CRM management.
Assoconnect also allows you to open memberships for legal entities via the CRM, and to have separate records for your other members. The solution is RGPD-compliant.
Assoconnect does not offer a reporting tool.
The tool has no native integration with project management tools.
Assoconnect is free to manage registrations and accept payments. The first package costs €24/month for 50 contacts. Count €2,299 / month for 5,000 contacts.
Try Assoconnect (Springly)
Assoconnect is one of the best all-in-one CRMs for managing your non profit from A to Z. Don't hesitate to take advantage of its free plan!
#3 Hubspot
For those who need an ultra-solid CRM with advanced automation and reporting features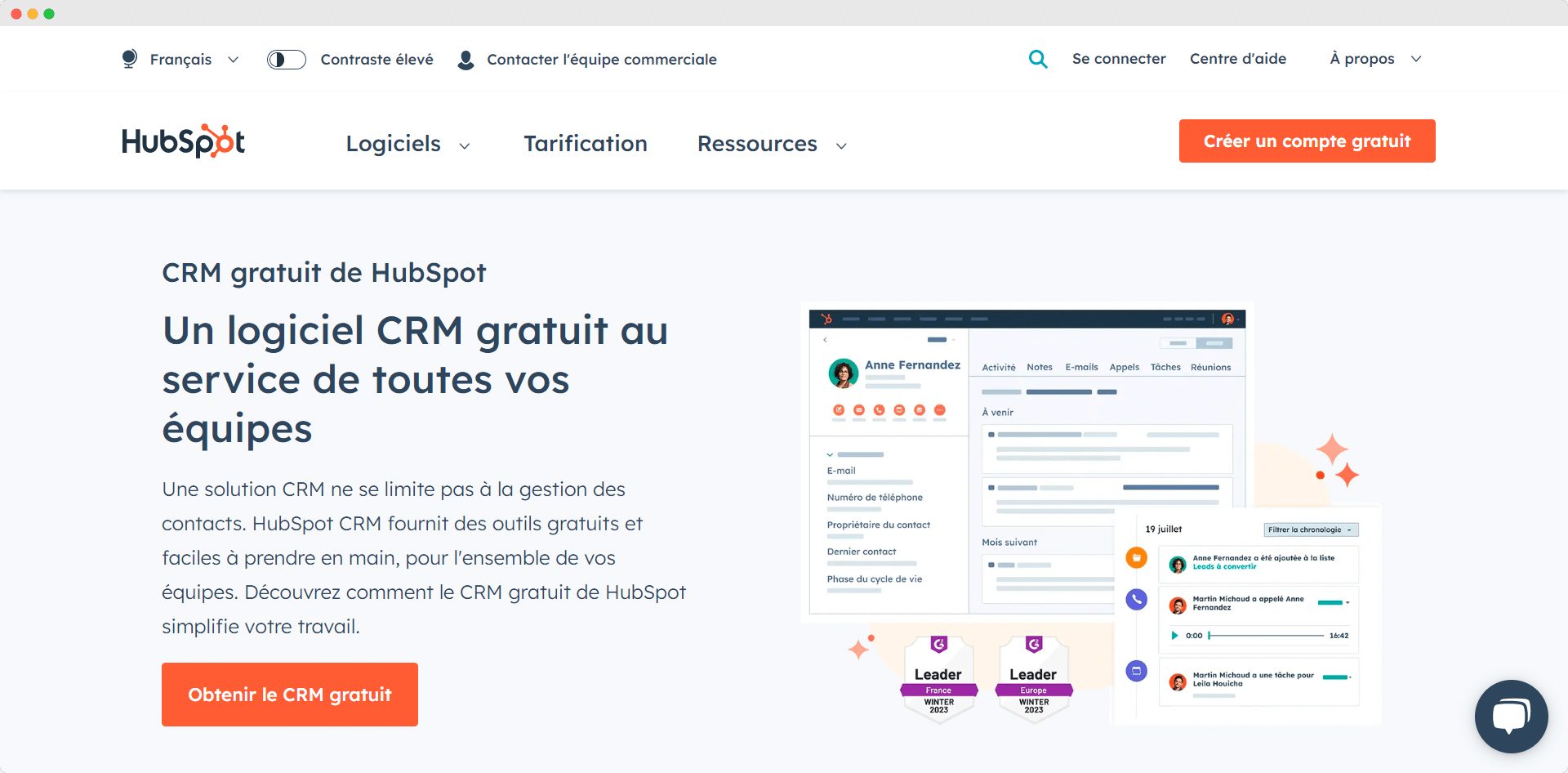 Hubspot is an all-in-one CRM tool that ranks among the best CRM software on the market. Its free plan is very powerful and can meet a wide range of needs.
Hubspot offers a comprehensive CRM suite that combines classic CRM, CMS software, marketing automation, reporting andautomation features.
Hubspot's CMS makes it easy to create a website, free of charge and without coding, thanks to a CRM-native vision that turns visitors into leads.
This solution offers highly advanced reporting, which can be useful for analyzing the scope of a donation campaign or identifying regular donor profiles.
The free version is very limited, and the prices of the paid versions go up very quickly, especially if you have a lot of contacts.
Hubspot's features are sometimes too advanced for small non profits with few members, who already have a website or who don't do much email marketing.
The CRM suite gives you access to all Hubspot's tools at a very attractive price. You can choose the number of contacts and users you want, but rates go up pretty quickly. Hubspot also offers a free service, but with the Hubspot logo stamped all over it.
The starter CRM suite starts at €50/month for 2 users (Sales Hub) and 1,000 contacts (Marketing Hub). If you keep 2 users, add €49/month for each additional 1,000 contacts.
You can also opt for Hubspot's CRM Marketing Suite, from €20/month for 1,000 contacts, plus €20/month for each additional 1,000 contacts. Please note, however, that marketing automation is virtually non-existent on Hubspot's lightest plan, and the entry price for access to it (Pro plan) is €880/month. A far cry from Brevo's prices.
Try Hubspot
Hubspot is the ideal software for those who want an ultra-solid CRM with advanced automation and reporting features. You can try it for free, so don't hesitate!
#4 Personify (Wild Apricot)
For those who want an all-in-one CRM that lets you plan events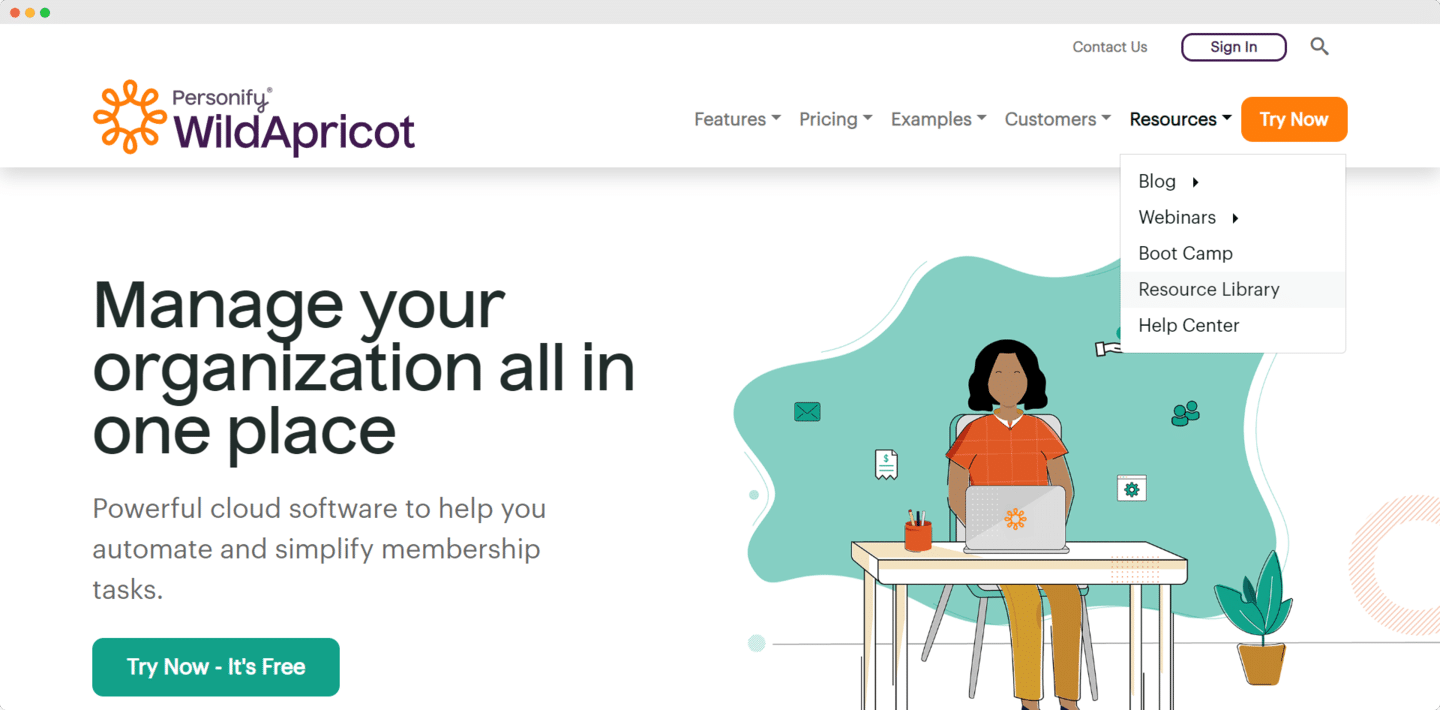 Personify (Wild Apricot) is an all-in-one CRM that lets you manage your members and your database.
Personify features online payment, event management and email campaign creation. You can also create a website easily without coding.
This software offers website templates that can be customized with your logo and colors. You can easily integrate it with your existing site.
Registration of new members is made easier thanks to an online form and the possibility of paying directly online.
Personify also facilitates event planning. You can quickly create events, automate their promotion, customize registration forms and track payments.
Customer service is not very responsive.
The solution sometimes lacks flexibility in website customization.
It's a rather dated tool, and updates are rare.
Personify offers a first plan starting at $60 / month for 100 contacts. Count $440 / month for 5000 contacts.
Try Personify (Wild Apricot)
Personify is the all-in-one CRM that lets you manage your members and plan your charity events. Try it free for 30 days!
#5 Ohme
For those who want to integrate their CRM with all their business applications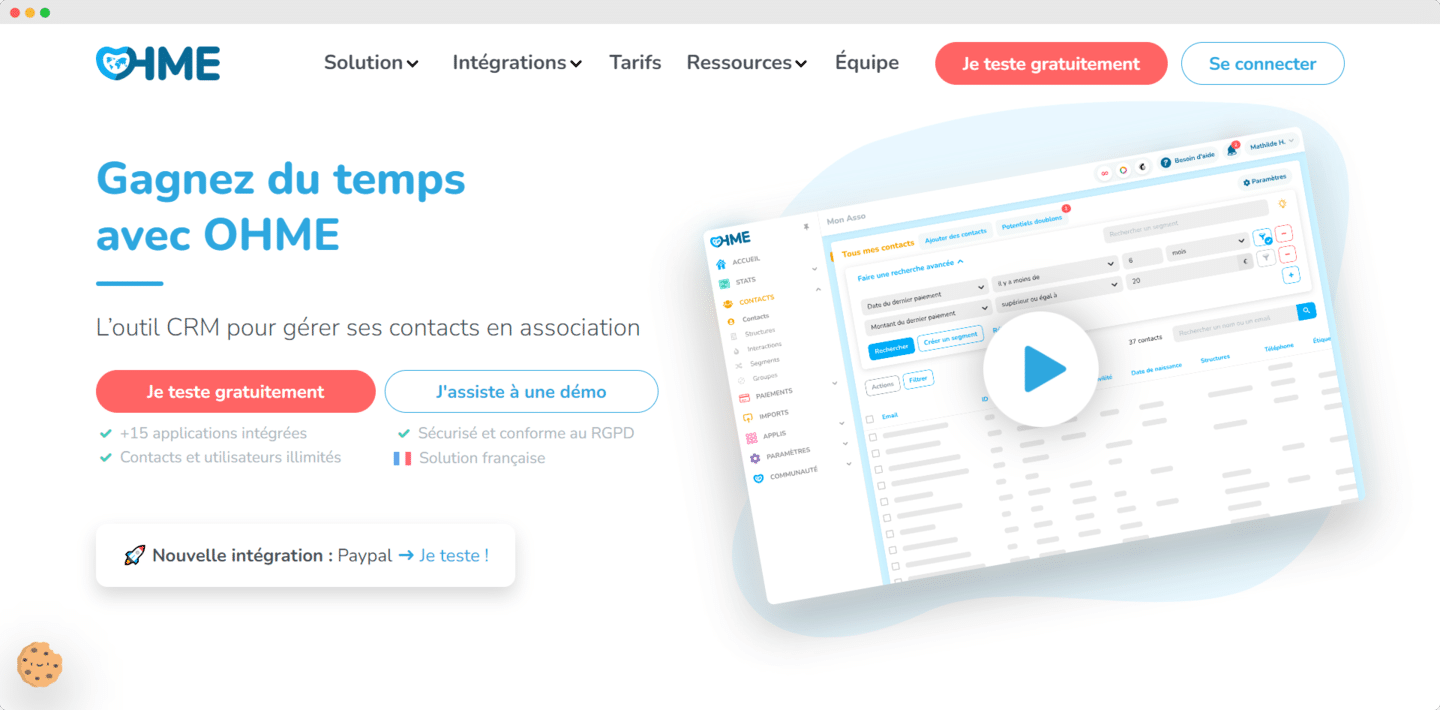 Ohme is a tool that offers the classic features of a CRM: centralization of your contacts and connection to your other management software. This is a useful solution if you're already using several software packages and want to keep them all.
Ohme offers API integrations with numerous software applications: Hello Asso for your fundraising campaigns, Mailchimp for your newsletters, or Weezevent for ticketing.
Ohme does not limit the number of users or contacts, as pricing is based on the non profit's budget, not on the number of contacts or users.
Management of donors' tax receipts is excellent.
Ohme specializes in contact management, so you'll need other software for your other needs.
Ohme offers a free plan for 1 user and 150 contacts. The first plan costs €24/month, then the price depends on the non profit's annual budget.
Try Ohme
Ohme offers a 30-day free trial, so don't hesitate to discover the CRM you can integrate into all your business applications.
#6 Salesforce NPSP
For those who want to benefit from the most advanced features of the CRM market leader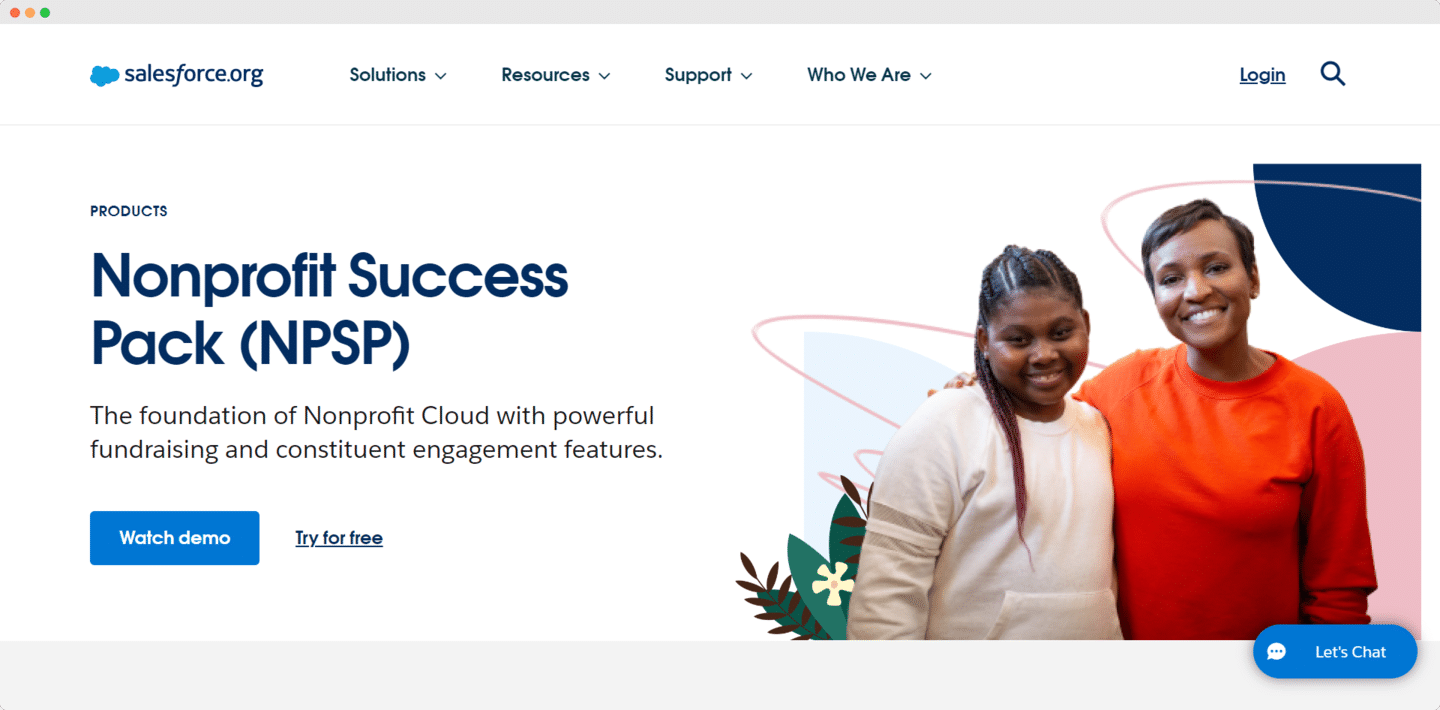 Salesforce NPSP is a CRM tailored to non-profit organizations. This solution offers 10 free subscriptions, subject to eligibility, which may be of interest to non profits looking to acquire a CRM but unsure which solution to adopt.
Salesforce is one of the leaders in the CRM market. This tool offers excellent functional depth and can be adapted to a wide range of needs.
This tool offers very powerful reporting features, thanks in particular to its AI tool, Einstein Analytics. For example, you can identify your regular donors and evaluate the performance of your donation campaigns.
Salesforce is the best solution in terms of integration, especially with management tools. It's one of the largest third-party application marketplaces, thanks to its SalesforceAppExchange platform, which provides access to over 5,000 applications. Don't hesitate to check out the best apps on the AppExchange.
Salesforce is a very sales-oriented CRM, which doesn't always meet the needs of non profits.
Getting to grips with the tool is complex and time-consuming, and may require the services of a . Templates or ready-made solutions are few and far between.
It's a less affordable solution than other tools on the market, despite the fact that the first 10 licenses are free.
Salesforce is free for up to 10 users. Beyond that, you pay $60 per user per month.
Try Salesforce NPSP
Salesforce NPSP is the must-have CRM on the market for national & international non profits. Get it free for 30 days!
#7 Kindful
For those who organize fundraising campaigns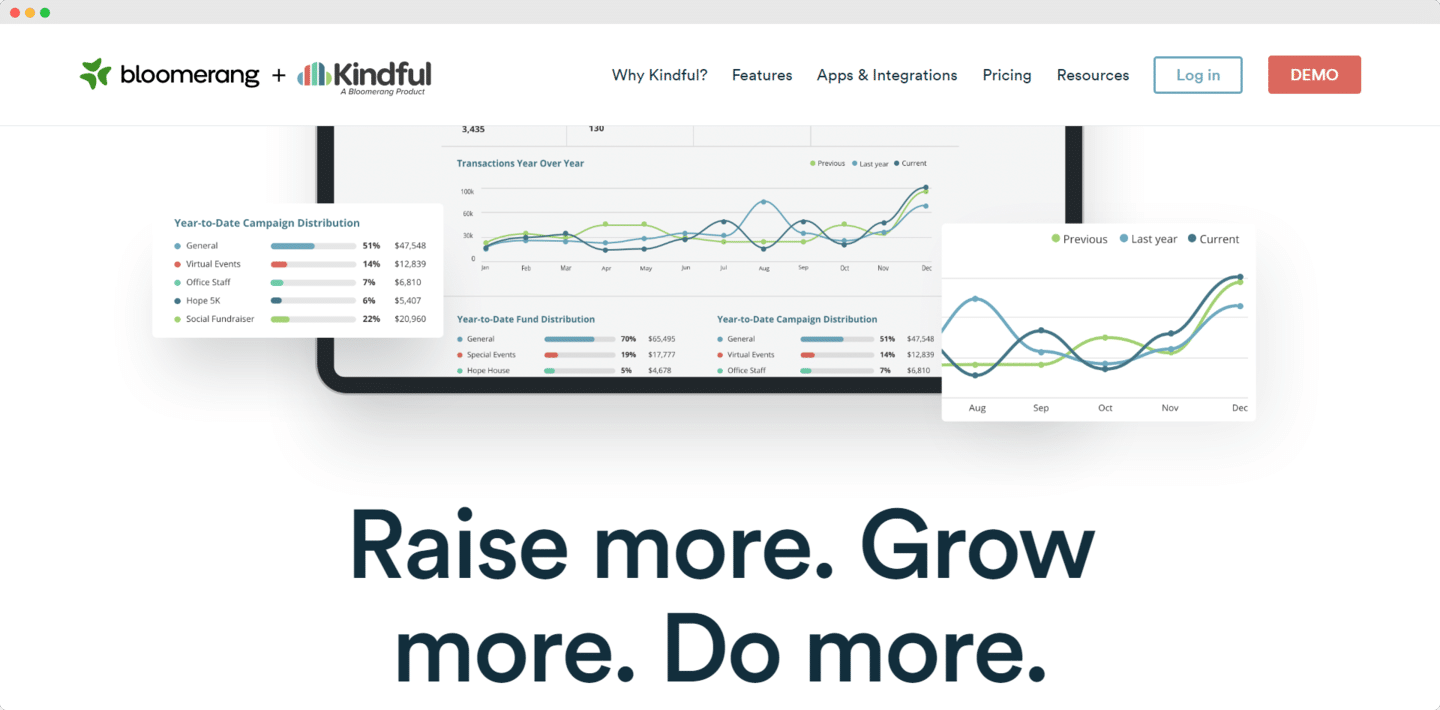 Kindful is a CRM software package that perfectly meets the needs of non profits specializing in the management of donation campaigns. This tool allows you to manage your donors and their data.
Kindful makes it easy to donate from your website without transaction fees and to manage your donor database.
The tool automates your interactions with donors. For example, you can automate the sending of receipts and thank-you notes.
Kindful allows you to measure donor engagement via ready-made templates.
Customer service is very responsive.
Kindful does not limit the number of users, and integrates with a wide range of software applications, including fundraising tools such as Classy and Fundraising Report Card.
Kindful offers fairly limited email personalization.
This tool is ill-suited to managing a membership base, and remains highly specialized in donations.
The least expensive formula, starting at $119 for 1000 contacts, is high in comparison with the other solutions in this top.
Kindful offers an initial package starting at $119 per month for 1,000 contacts. Count $239 per month for 5,000 contacts.
Try Kindful
Kindful is the ideal CRM for managing your donation campaigns, so don't hesitate to take a look!
#8 Monday
For those who need to manage lots of projects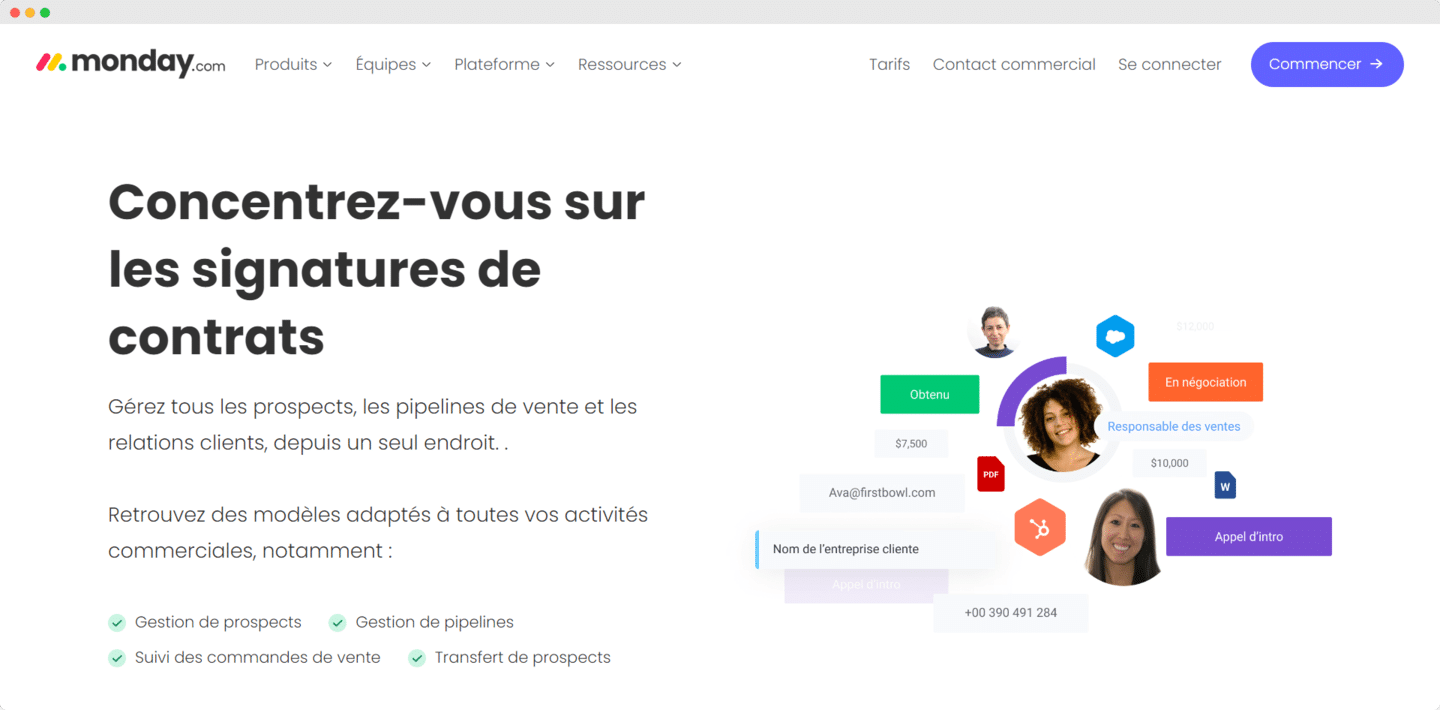 Monday is first and foremost a project management tool, but also offers CRM functionality, providing an unrivalled user experience and a high degree of flexibility.
It's the ideal software for non profits focused on project management, and perfectly meets day-to-day needs. For example, managing volunteer schedules. Monday is equally well suited to organizations with specific processes.
Monday is a comprehensive and flexible all-in-one project management platform that adapts to a multitude of processes.
It's a highly flexible tool that offers numerous customization possibilities.
Monday offers integrations with your classic work tools, a list of which can be found here.
Monday does not offer CRM-specific reporting features (i.e. automatically generated reports), but allows any user to create the specific report they need.
This solution does not allow you to create a website.
Unlike some of the other solutions in this top ten, there are no specific functionalities for organizing donation campaigns.
Monday is free for up to 10 users, after which it costs €57.6/year/additional user. 576/year for 20 users. The annual fee for 50 users is €2,304.
Try Monday
Monday is the CRM leader in project management. Discover its free plan for up to 10 users!
#9 Neon CRM
For those who need an all-in-one CRM specialized for non profits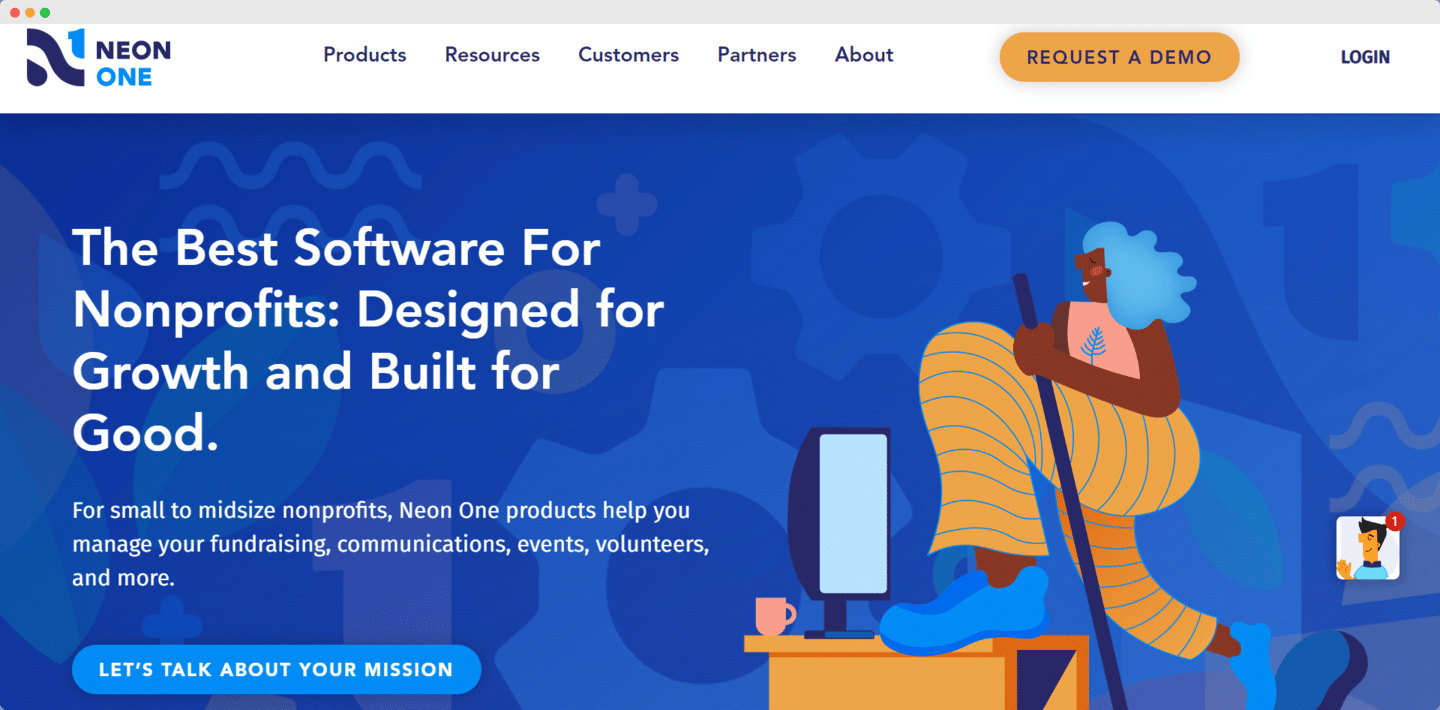 Neon CRM is an all-in-one cloud-based software solution for non profits, enabling them to plan events, manage memberships and stimulate donors.
Neon CRM offers excellent member management features. You can, for example, automate membership renewal or automate the promotion and management of events reserved for members, and offer a discount based on membership level.
The tool also lets you build automated emailing campaigns.
You can simply create a website and offer online payment options.
The number of users and emails is unlimited for each version.
The solution is not very intuitive, and some features are difficult to implement.
The first price is $99 per month. Secondly, pricing depends on the non profit's sales.
Try Neon CRM
Discover Neon CRM, the all-in-one CRM for non profits, free of charge!
#10 Hivebrite
For those who prefer to grow their community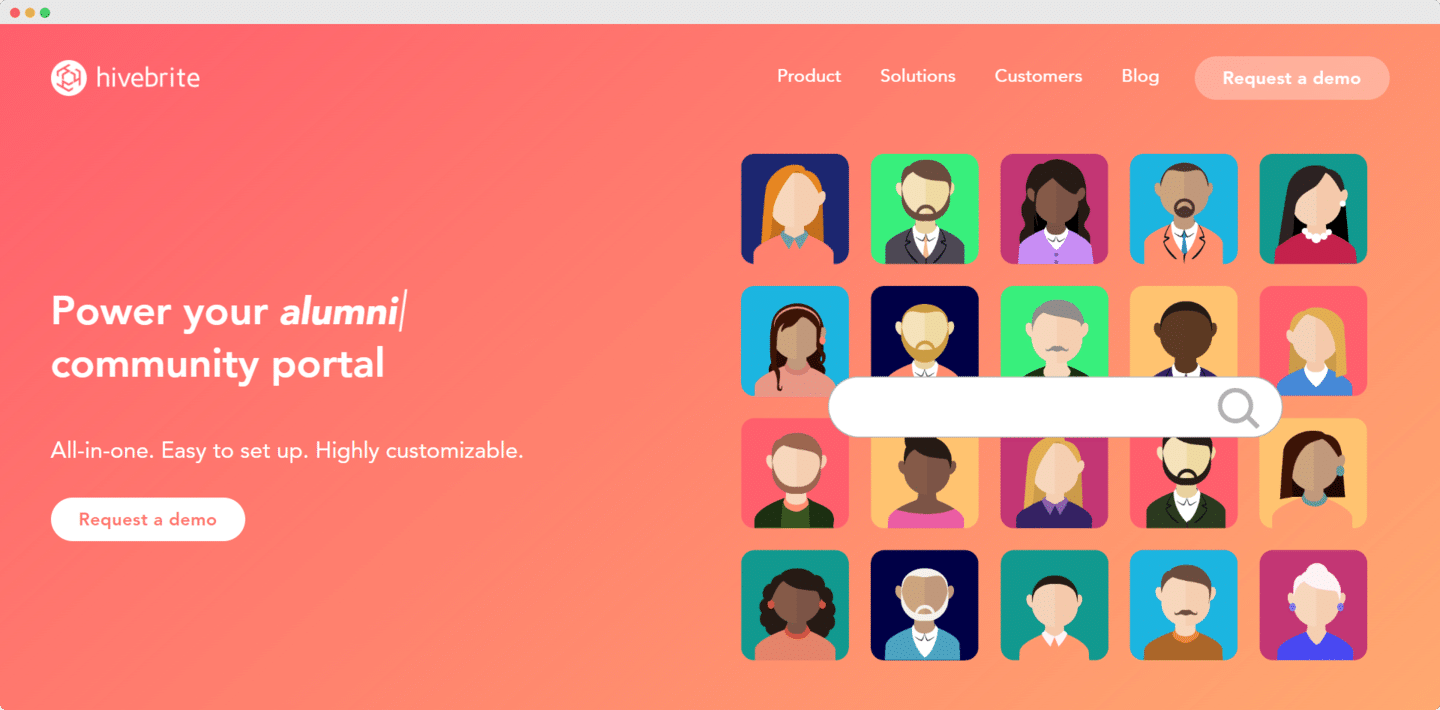 Hivebrite is a tool dedicated to managing a multi-level community of members, which is ideally suited to the needs of non profits. This is a good option if your non profit is mainly driven by membership fees.
Hivebrite offers a wide range of functions, including member management, data reporting, event management and online payment.
This solution is highly customizable. For example, you can choose whether your network is open to all or by invitation only. You can also personalize member profiles, or design the tool with your logo and colors.
Hivebrite offers reporting functions, but their customization is limited.
Integration possibilities are limited.
Hivebrite prices are available on request.
Try Hivebrite
Hivebrite is an interesting tool if you want to develop the growth of your non profit and manage your community of members. Don't hesitate to discover it!