There are a lot of CRM software packages out there, each of which meets specific needs. But for a freelancer, a CRM software must be easy to use, inexpensive and cover a wide range of CRM needs. A good mobile application, integration with the software/project management suites you use, and data security are also factors we evaluated to build this selection.
Which CRM for a freelancer?
Three types of CRM software can meet the needs of freelancers:
Easy-to-use generalist CRMs offering a free plan or an inexpensive entry plan. They offer advanced functionalities covering all CRM needs. This type of CRM is therefore particularly suitable for freelancers who wish to develop their customer base or who are looking for advanced marketing or customer file analysis functionalities. Perfect for a solopreneur who has set up an online business and is starting to have a fairly large customer base.
The all-in-one CRMs designed for freelancers, which cover all the needs of a freelancer: management of contacts, projects and the entire sales process, from prospecting to invoicing and payment. The difference with more traditional CRMs is their ease of use, their often lower cost and features that are more focused on administrative tasks than on accurate analysis of the sales process. We therefore recommend this type of CRM to those who want a simple tool that covers their entire business process and facilitates administrative tasks.
Project management applications such as Monday or Notion can serve as a CRM and allow freelancers to centralize everything in one tool. This type of CRM is not specifically made for freelancers but they are practical to communicate with a customer, free or almost free and especially easy and pleasant to use. This type of software is recommended for freelancers who work with relatively few clients at a time but on complex projects that require a lot of collaboration and communication.
The best CRM for freelancers
#1 Hubspot
The most complete free CRM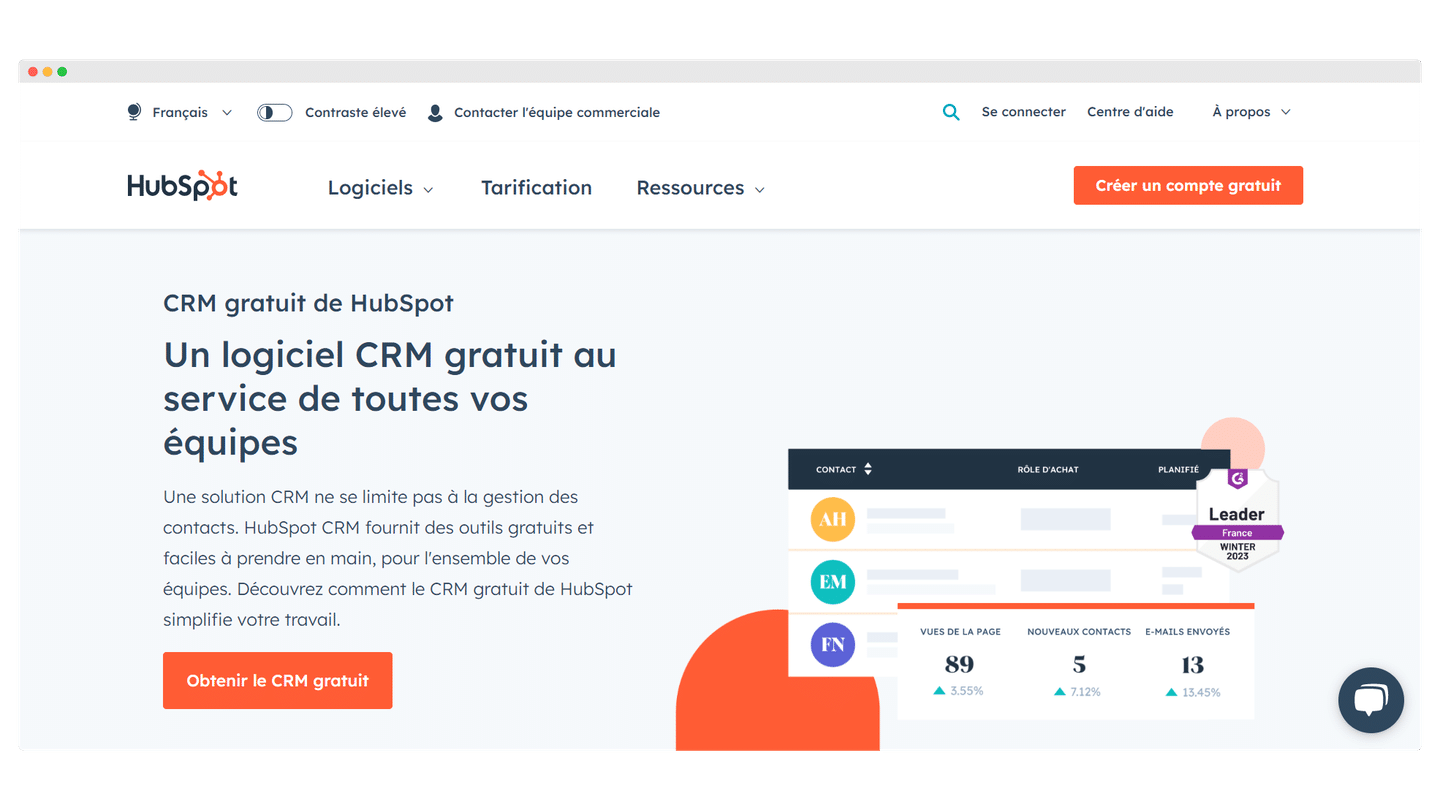 Hubspot offers a free plan that allows you to build a very professional CRM and benefit from advanced reporting, a lot of automation, and many tools (email management, calendar management, templates, etc.).
But the big strength of Hubspot for a freelancer is in the "Starter CRM Suite" which includes all Hubspot tools (marketing automation, sales CRM, help desk, CMS, and operations) in the Starter version. This plan is only 50€ / month, and it is reserved for new Hubspot customers. Not sure if they will keep it for very long, but right now you have to go for it! Managing all aspects of your business for 50€ HT / month is a real gift.
Try Hubspot for free
Hubspot is one of the favorite CRM software of French startups for its versatility, depth, and numerous integrations. You can try the tool with their free plan or request a demo on their site.
#2 Monday
CRM for project management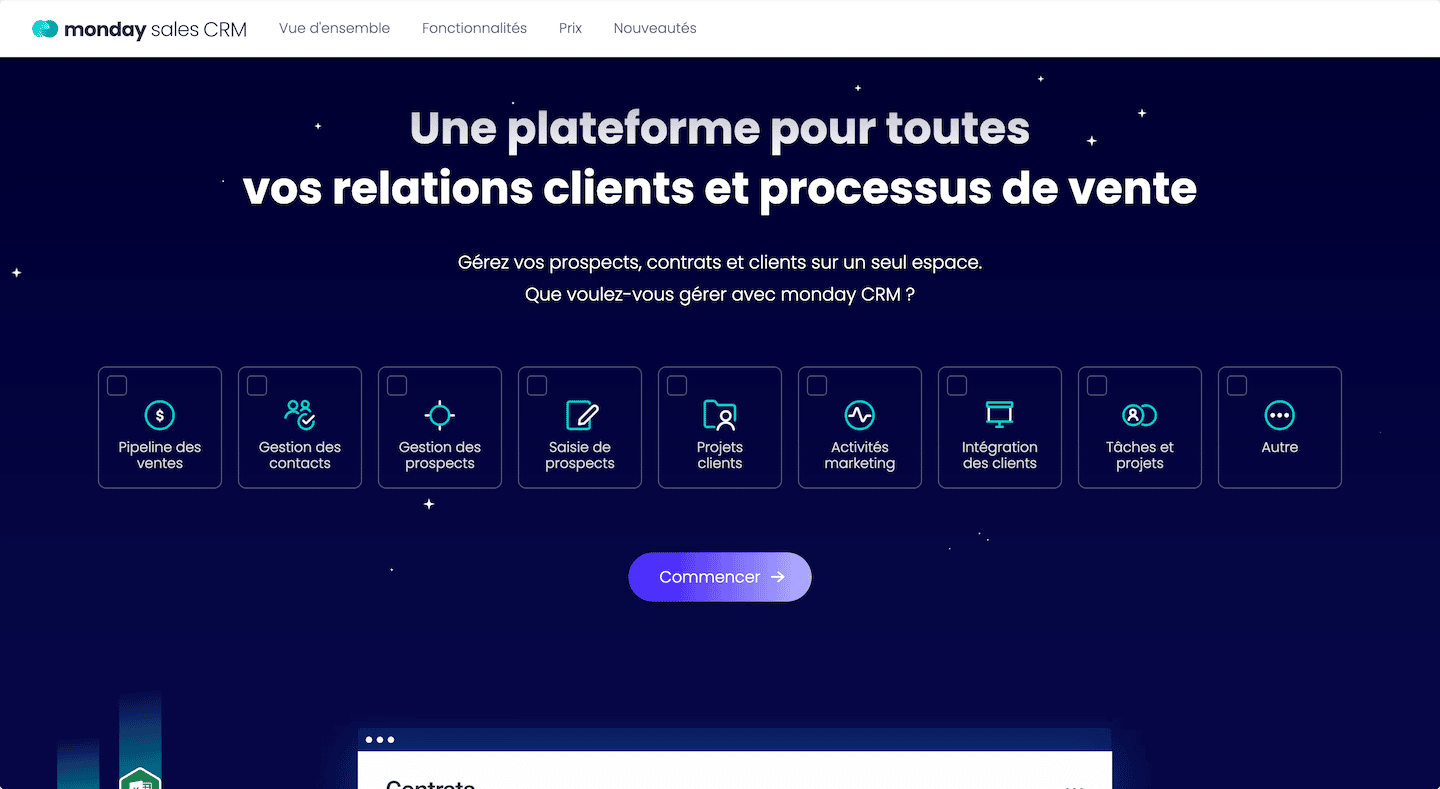 Monday is an all-in-one work management software perfectly suited for freelancers who want to centralize their client data to better communicate with them.
It offers a free plan and provides customizable charts that allow users to manage and visualize any type of sales, marketing and administration activity or project.
Monday offers hundreds of CRM templates and projects that users can access immediately.
It is a very simple to use and intuitive software that allows you to add or modify all your data on a simple table. This is especially interesting for freelancers who want to keep track of their data.
Monday also offers a free trial for all of its plans, except for the Enterprise plan.
The first paid plan is 10€/user/month, the Standard plan costs 14€/user/month. The solution requires you to have at least 3 users, but it is very consistent for small teams.
Try Monday for free
You can take advantage of a free 14-day trial to discover the features of Monday, the complete and easy-to-use all-in-one software, don't hesitate!
#3 Folk
CRM to manage your network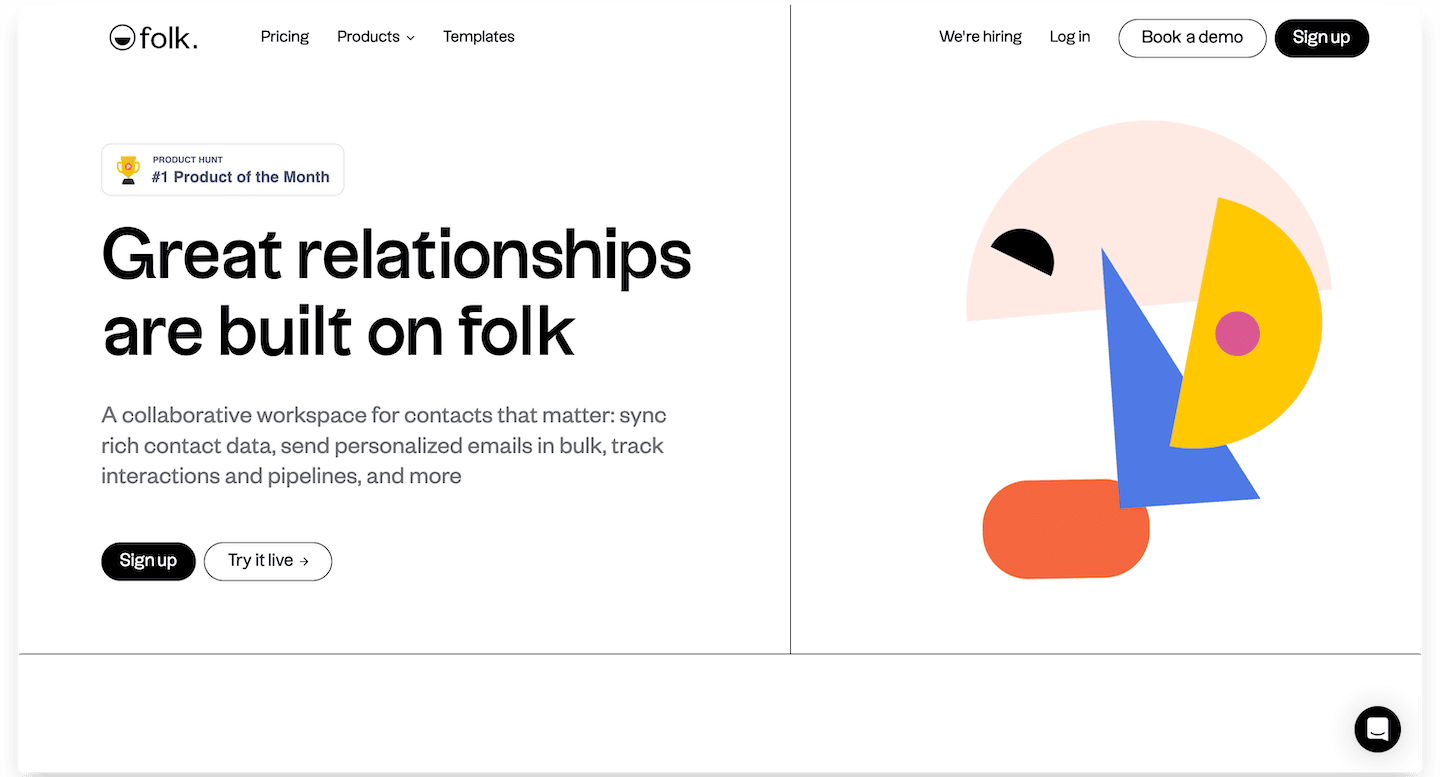 Folk is a flexible and very easy to use software.
It allows you to integrate all your contacts to the database, not only customers or prospects, but also other entrepreneurs, experts, lawyers…You can also add notes, personal information, tags and automatically view your interactions with all these contacts.
It integrates perfectly with G-Suite.
Folk offers limited sales and marketing reporting capabilities.
There is still a lack of integration.
Folk offers a free plan, and a first plan at $19/month/user.
Try Folk for free
Discover for free during 14 days the features of Folk that will allow you to manage your network!
#4 Pipedrive
CRM for solopreneurs who want to increase their sales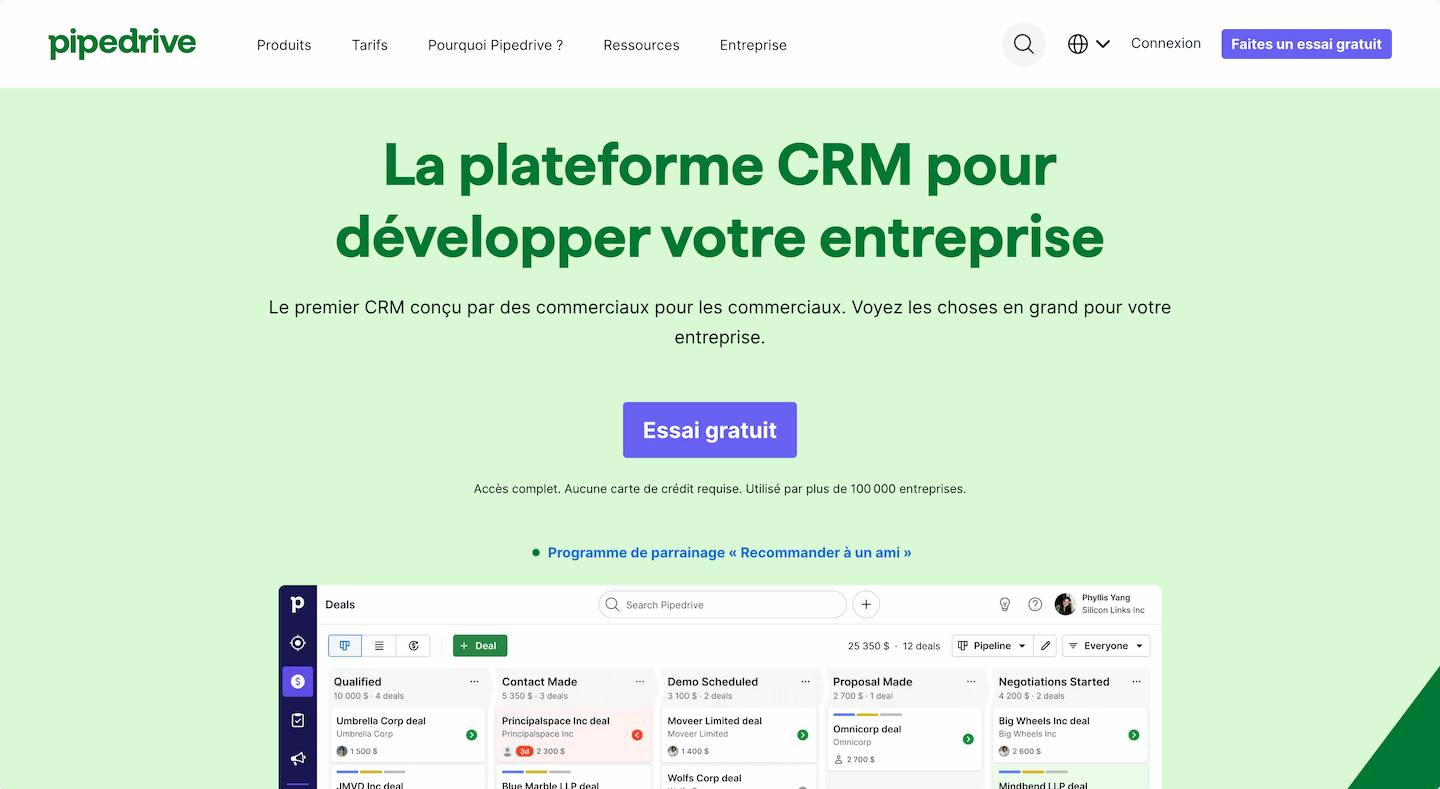 Pipedrive offers a very visual and intuitive interface that allows its users to see their entire sales funnel.
It has solid contact and business management features, such as calendars or personalized tracking of your pipeline.
It features SmartDocs functionality that allows for quick entry of contact data on sales documents, as well as electronic signature and document tracking capabilities.
Pipedrive also has built-in tools for scheduling meetings and video calls.
The SmartDocs feature is only available in the Professional plan.
Integrations with Google Drive and OneDrive are quite expensive.
Pipedrive does not offer a free plan, but a 14-day free trial is available for all its plans. The first paid plan is 19.90€/user/month. The Professional plan costs 59.90€/user/month and is mainly aimed at those who need to boost their performance and income.
Try Pipedrive for free
Pipedrive is the ideal solution for solopreneurs who want to increase their sales. You can try it for 14 days to get an idea of the features of the tool, enjoy it!
#5 Bonsai
The time-saving all-in-one CRM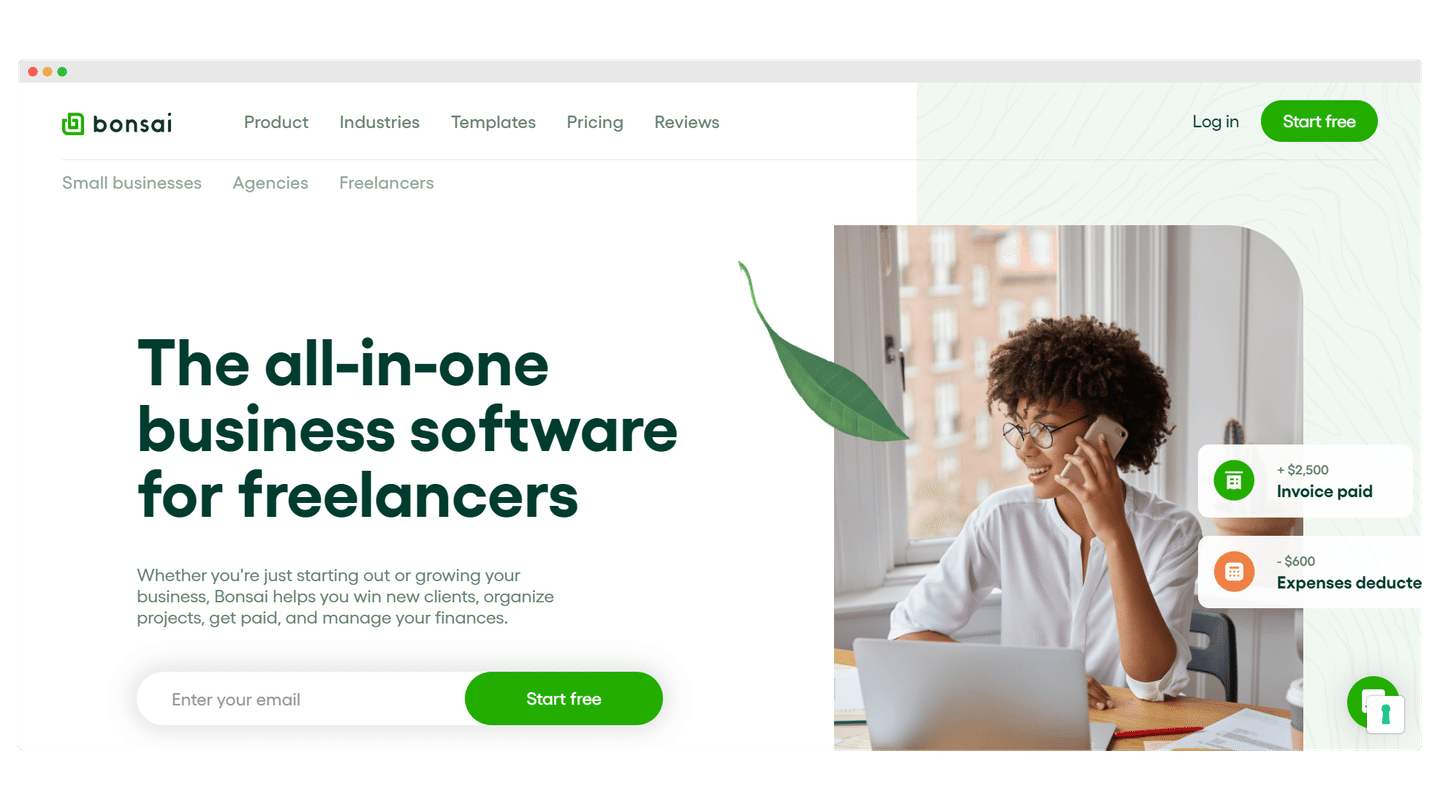 Bonsai is a CRM software designed for established freelancers. It simplifies all aspects of project and customer management in one place and covers the entire business process for its users.
It's an easy-to-use, inexpensive CRM that also offers a mobile CRM if you ever want quick access.
It includes numerous templates, complete accounting functions and allows for satisfactory tracking of tasks and projects.
Some features are not included in the plans, you have to pay extra to get them.
Bonsai does not offer a free plan, but 2 months free for all its plans. Count on average 24$/month for 5 users.
Try Bonsai for free
Bonsai is one of the best all-in-one CRM software and makes your administrative tasks easier. You can try it for 7 days, enjoy it!
#6 Zoho
The CRM that is easy to use and goes far enough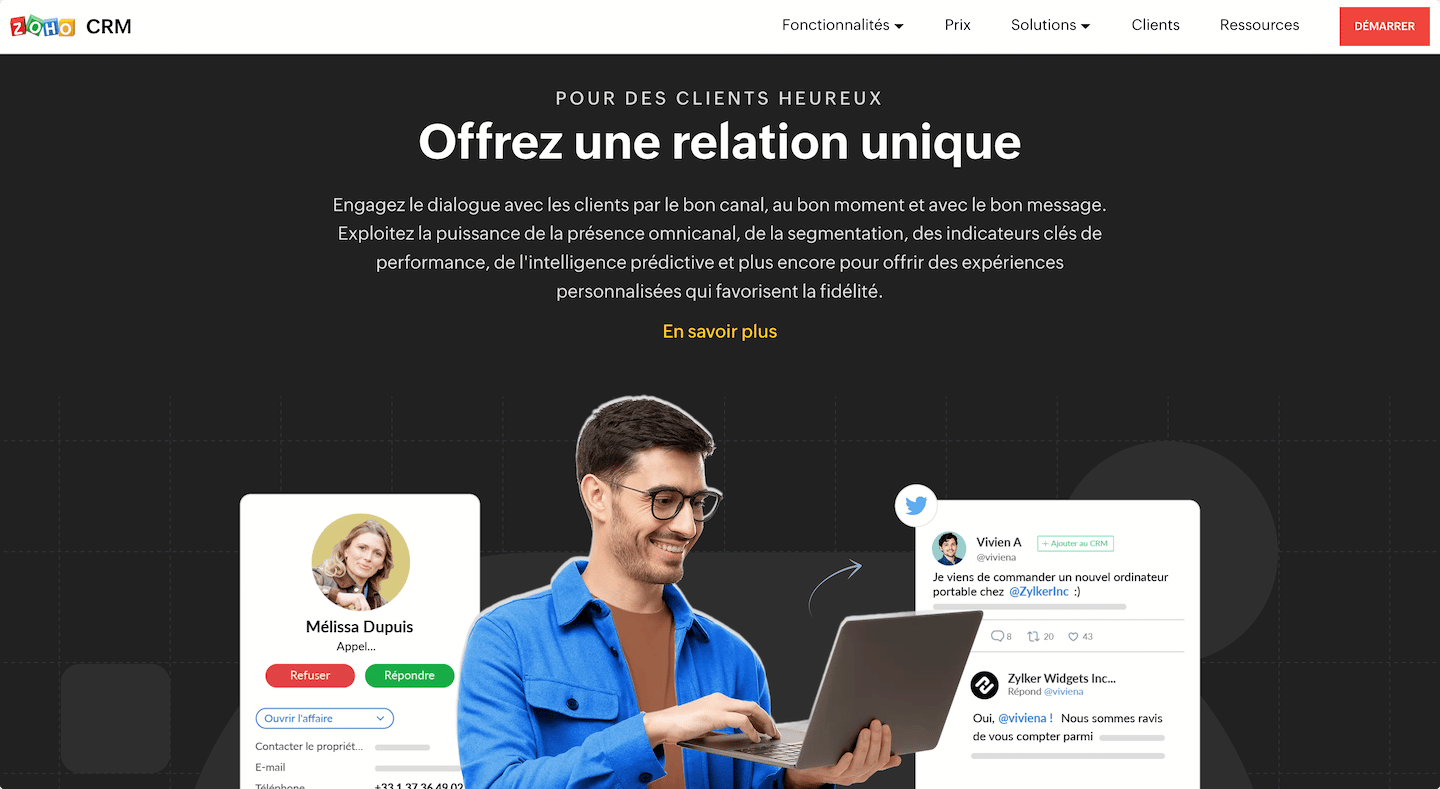 Zoho CRM is easy to use and perfectly suited for freelancers and start-ups.
It has a data porting feature that allows you to easily transfer information from spreadsheets to the CRM.
Zoho includes sales and marketing management and automation features, powerful reporting, AI, and sales enablement features that are great for solopreneurs.
It is a highly customizable CRM in terms of modules, tabs, layouts, automations and data fields.
Zoho offers a very relevant inventory management module for freelancers. It is available in the Professional plan and includes a series of features for generating and sending sales documents and tracking inventory.
There is also an invoicing feature that allows users to manage recurring and progress invoices.
Zoho CRM offers a free plan, but it is very limited. It does not allow third party integrations for example.
Some features are considered "Add-Ons", e.g. AI features are not available until the Enterprise plan.
Zoho does not offer individual email tracking or individual lead notifications, which can be limiting if you rely heavily on individual engagement.
Zoho offers a first pay plan at €20/month/user, a professional plan at €35/month/user, and an enterprise plan at €50/month/user. This is the most popular plan, but the most suitable for independents is definitely Bigin.
Salesdorado's advice
Bigin is a pipeline-focused CRM by Zoho CRM solution designed for small businesses. The tool makes it easy to manage customer relationships and offers a free plan. The first plan is 9€/month/user and allows 3 pipelines. Try it for free!
Try Zoho for free
Zoho is very appreciated by freelancers for its ease of use and its complete functionalities, don't hesitate to discover them thanks to the free 15 days trial!
#7 Harlow
The all-in-one CRM for freelancers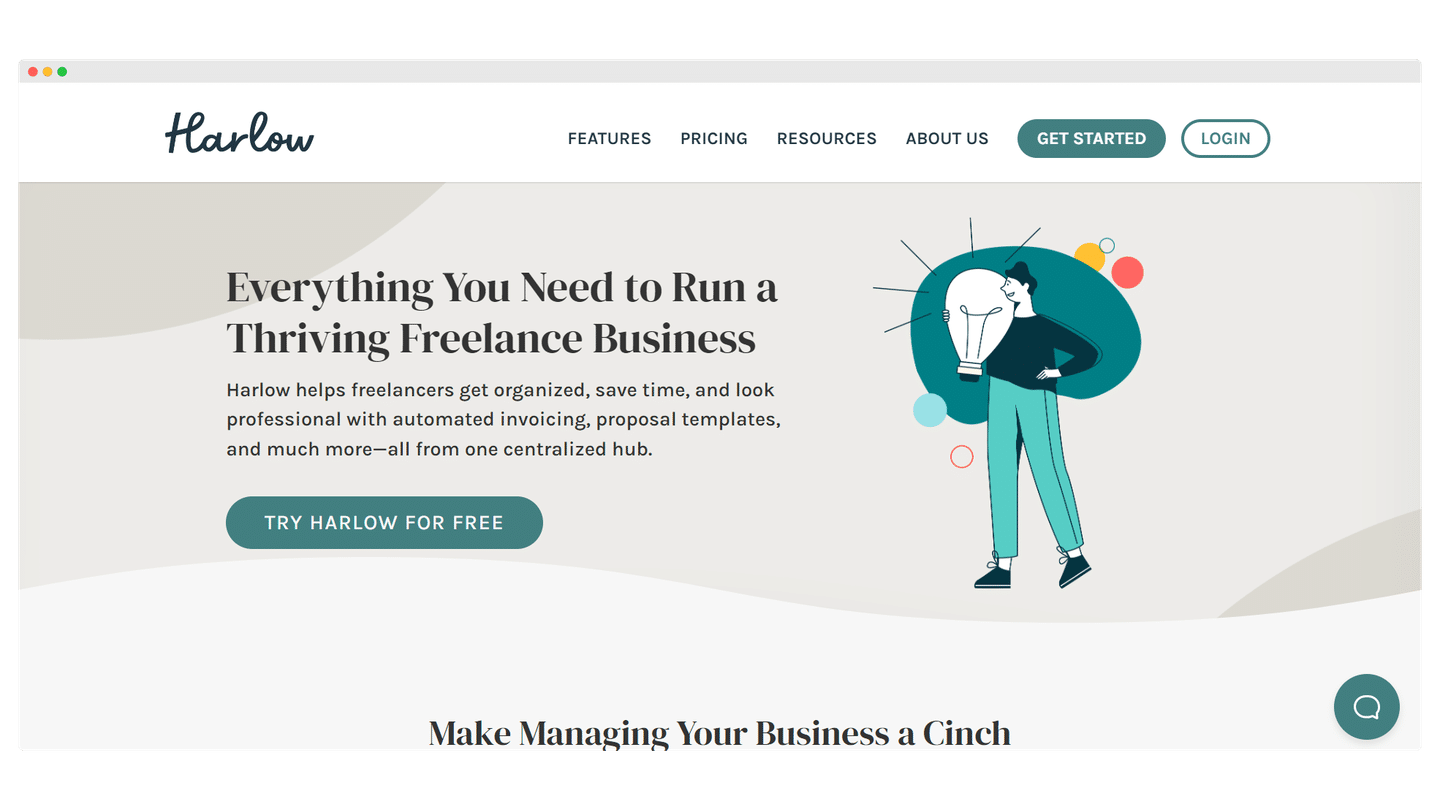 Harlow is a complete software package designed specifically for freelancers, by freelancers.
It includes client management features, the ability to generate contract proposals to San, billing and task management.
Since it really is focused on individual freelancers, Harlow is not customizable and is only for people who are leveraging their skills to make money by offering a digital service online.
Harlow offers a single plan at $29/month. You can try it for free for 14 days.
Try Harlow for free
Harlow offers a free 14-day trial to get an idea of the tool's features, so take advantage of it!
#8 Wobaka
CRM to automate your sales process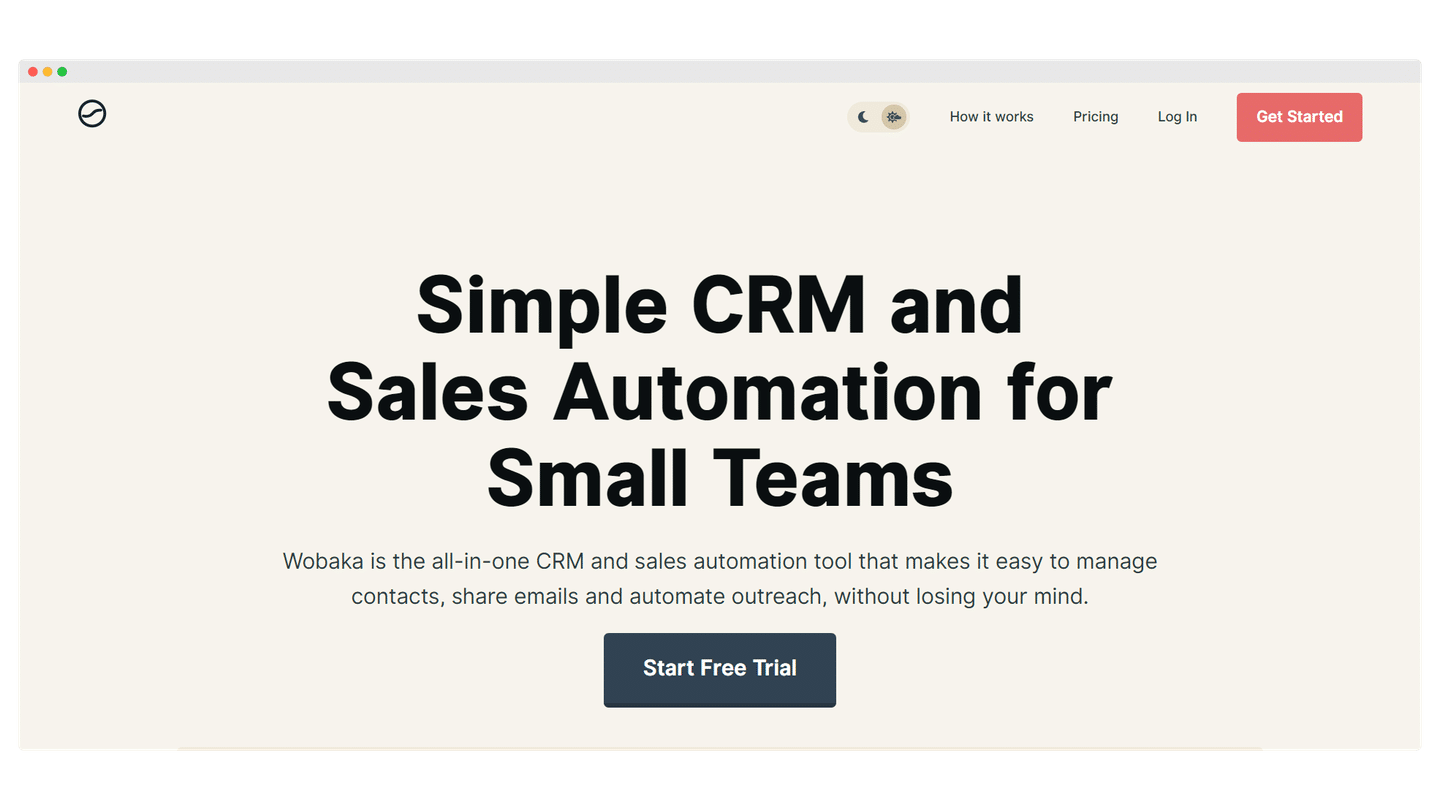 Wobaka is a CRM tool for freelancers who want to automate their sales processes.
It makes it easy to organize leads, track and automate contacts.
You can create as many sales pipelines as you want, automate the sending of your emails, create to do lists…
Wobaka offers a single plan at $19/month per user.
Try Wobaka for free
A free 14-day trial is offered by Wobaka, the CRM for those who want to focus on automating their sales process, don't hesitate!
#9 Streak
The CRM to sell more without leaving Gmail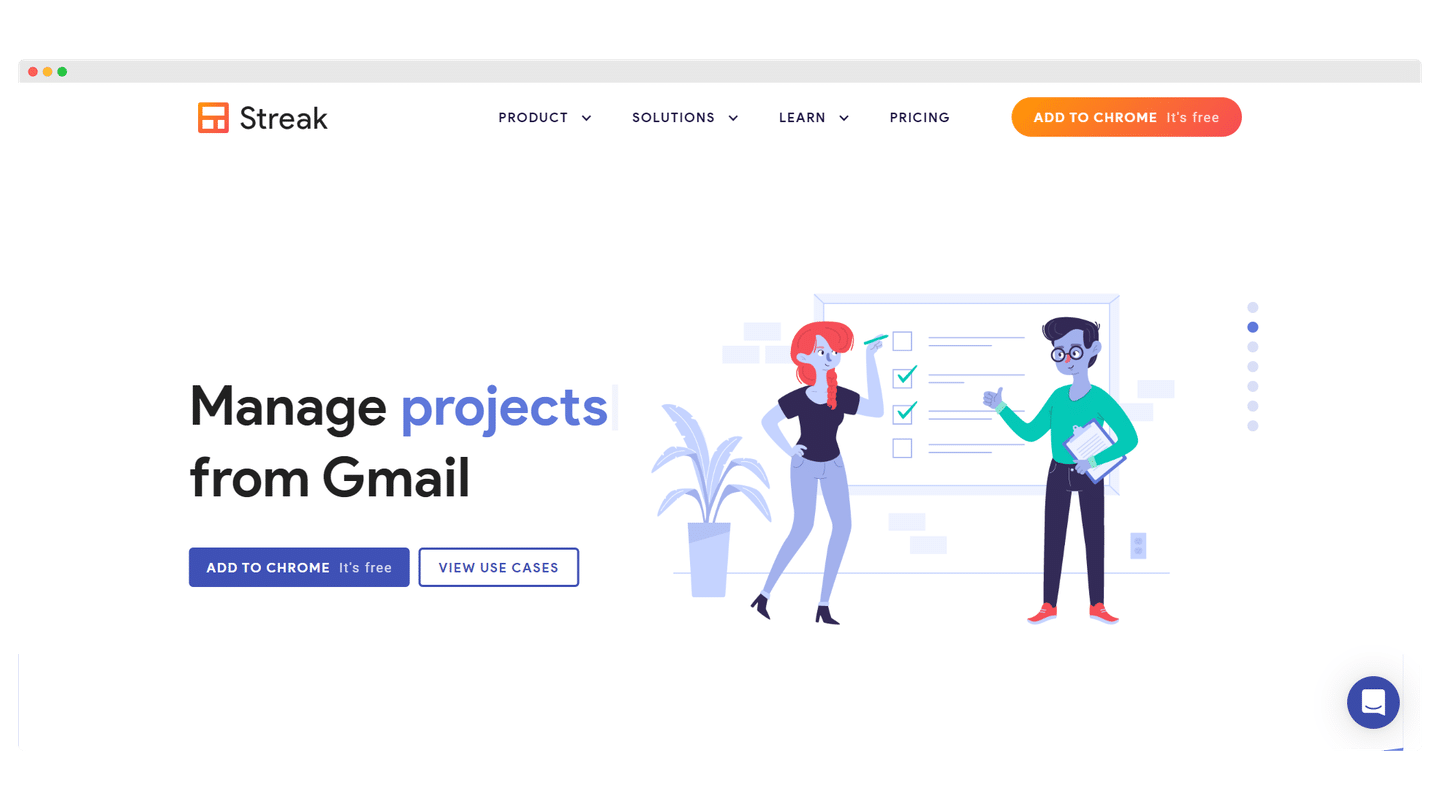 Streak is a unique CRM software that works from Gmail that allows you to import contacts and sales data.
It offers classic functionalities: data capture, receiving calls and sending follow-up emails, sales tracking, list creation, creation of customizable workflows, etc.
The tool has an intuitive interface and organizational features that allow you to classify your data, especially thanks to the colored labels.
Streak integrates with G-Suite products, and with Zapier in premium plans.
Detailed tutorial videos are available to get you started in just a few minutes.
Using Streak requires using Gmail.
The free plan is quite limited and offers only basic features.
Streak offers a free plan that provides basic CRM, email tracking features and more. The first paid plan costs $15/month/user and the Pro plan costs $49/month/user. The first is well suited to freelancers looking for a versatile CRM.
Try Streak for free
Streak offers you to discover all its features during 7 days thanks to its free trial, discover this solution if you have already adopted Gmail!
#10 Retool
Customized CRM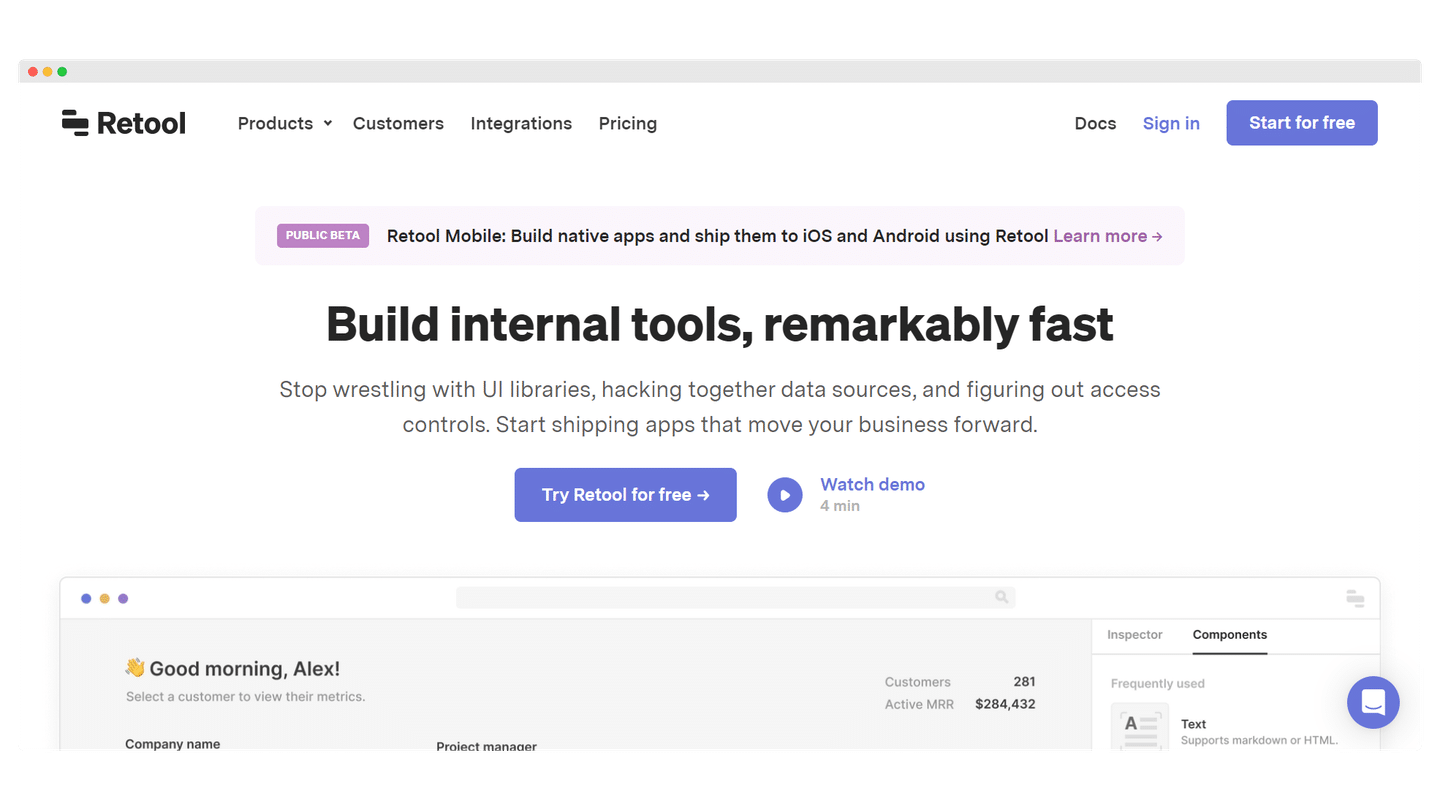 Retool is a software that allows you to build web applications for internal use. It proposes to create basic CRM functionalities for freelancers who have classic needs.
Retool is interesting but requires quite advanced technical skills, which makes it more suitable for developers and/or indie-makers.
Retool offers a free plan for up to 5 users. The first paid plan costs $10/month/user and is aimed at teams that need control and collaboration features.
Try Retool for free
Retool is a custom CRM that requires good technical skills. You can use it for free if you're not sure which solution is best for you!