Twilead is CRM software for sales automation, prospecting and marketing. This all-in-one system enables you to develop your sales and marketing processes as efficiently as possible. It has a number of tools that make it possible to integrate your marketing platforms, messaging systems and calendars.
This article details many of these features, and will allow you to form an opinion on this software that promises a revolution in business development!
The impressive functional scope of the solution
Twilead is a true all-in-one solution that allows you to manage your customer relationships through marketing and sales tools, and even integrate customer support. For SMEs or freelancers, it is an excellent solution that replaces more than a dozen common marketing and sales tools.
1. Contact management in Twilead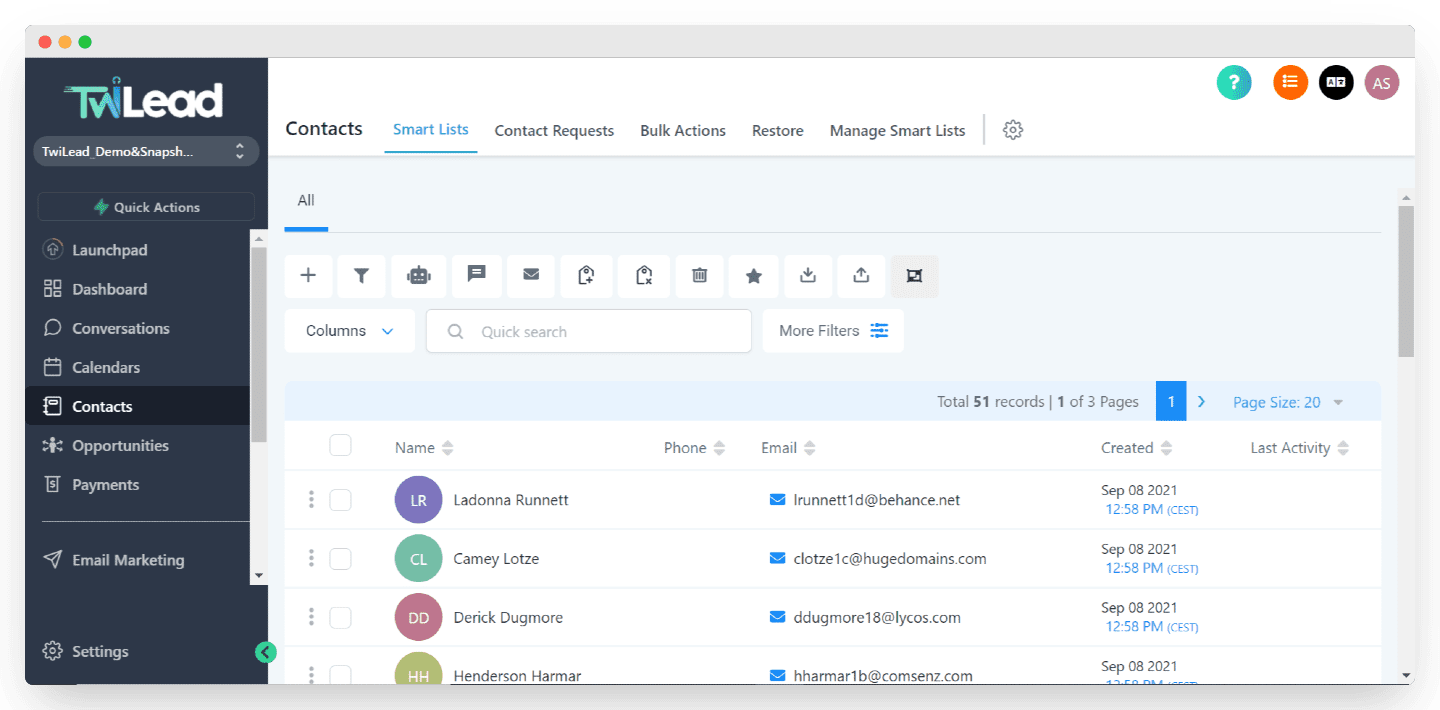 The contact management functionality is available directly from the left-hand navigation bar. All your contacts are gathered in this tab. You can check off the ones you want and easily add a tag to them, send them an email, sms and even change their stage in the sales pipeline using one of the tabs at the top of the page.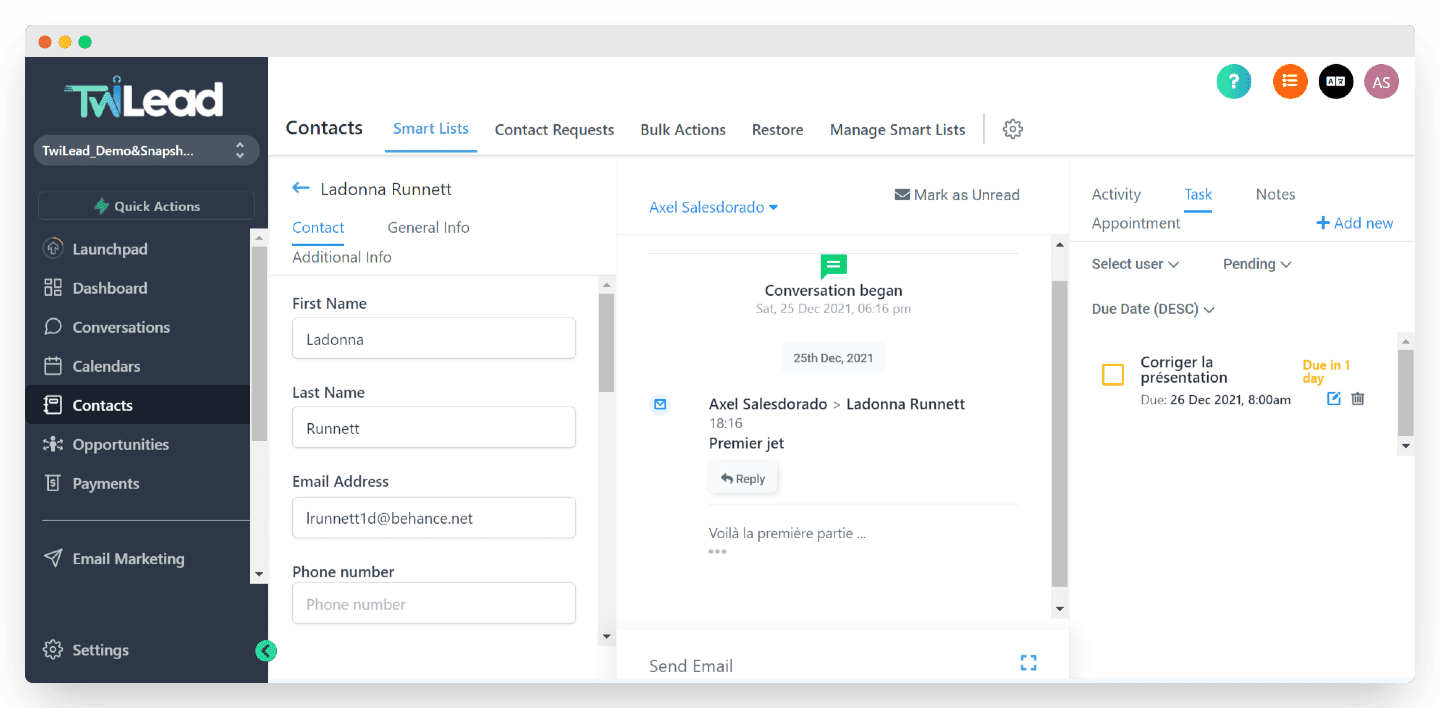 By clicking on a contact, you can access their detailed information, conversation history, activity, appointments and assigned tasks. For example, on the right, a task has been assigned to this customer.
Our opinion
All the essentials – and a little more – are very clearly there. You have access to a true 360° view for each contact and you can easily build contact segments with the advanced segmentation engine. You can use tags or custom fields.
2. Opportunity and sales pipeline management on Twilead
Twilead allows you to visualise your sales pipeline in an intuitive way.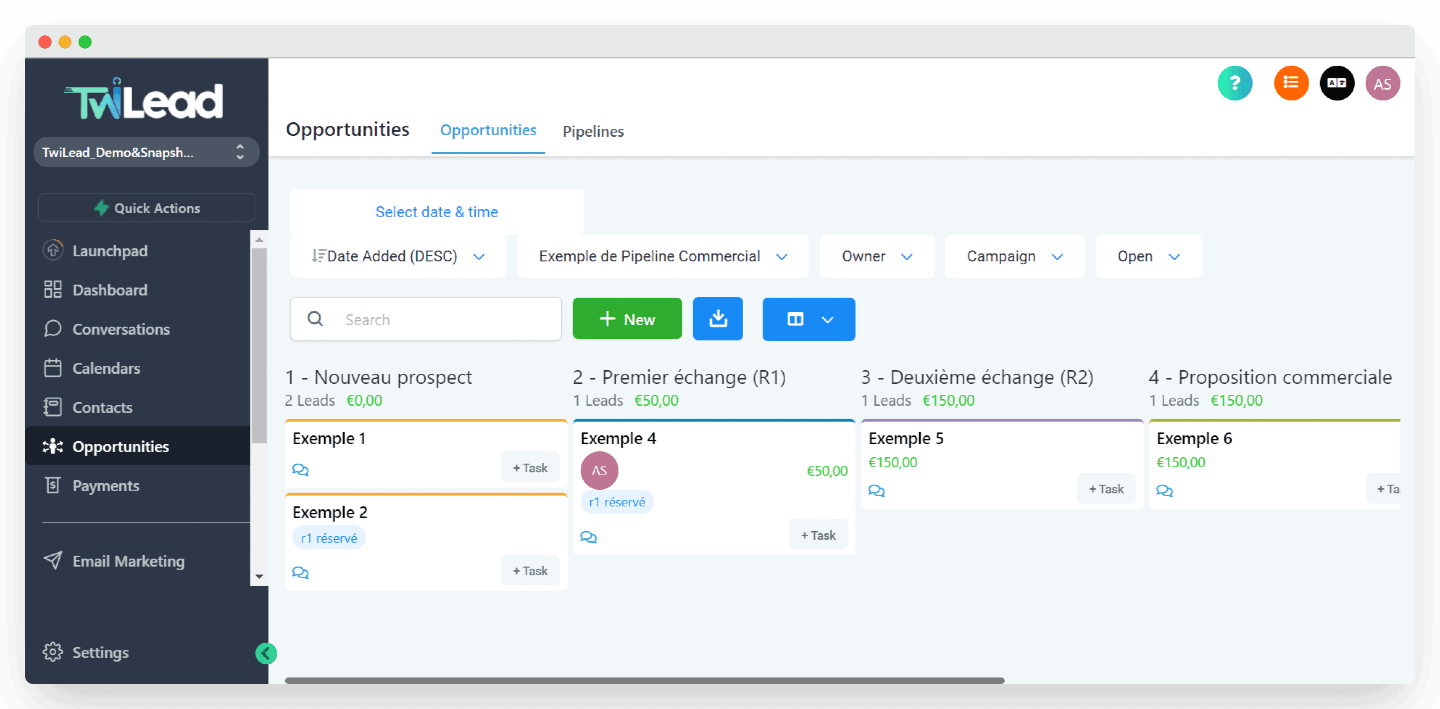 Here, this is the main view for sales teams. The pipeline is broken down into several stages, with the corresponding leads inside.
You can build multiple sales pipelines and customize the pipeline steps. It is also possible to get all the necessary details at a glance, add notes, upcoming appointments, or tasks to be reminded in a few clicks.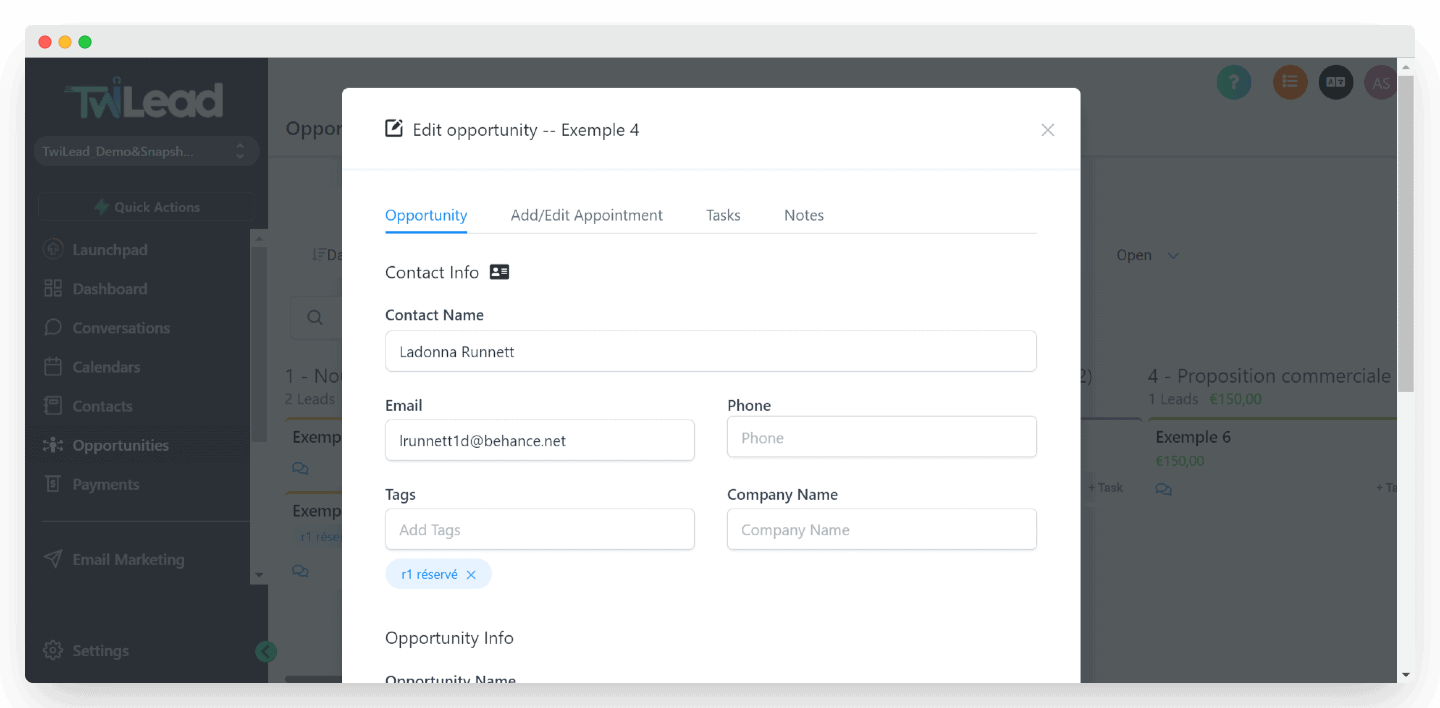 If you click on a prospect, you have direct access to his or her contact details and can select actions such as making an appointment, assigning a task or simply leaving a note.
Our opinion
The pipeline view is simple, and very effective. We appreciate the flexibility of the tool for creating new opportunities, or adding tasks, appointments, or notes, and the use of tags from a single interface.
Try Twilead for free
Twilead offers a 14-day free trial with access to all features to give you a good idea of the tool's possibilities.
3. Websites, funnels, and live chat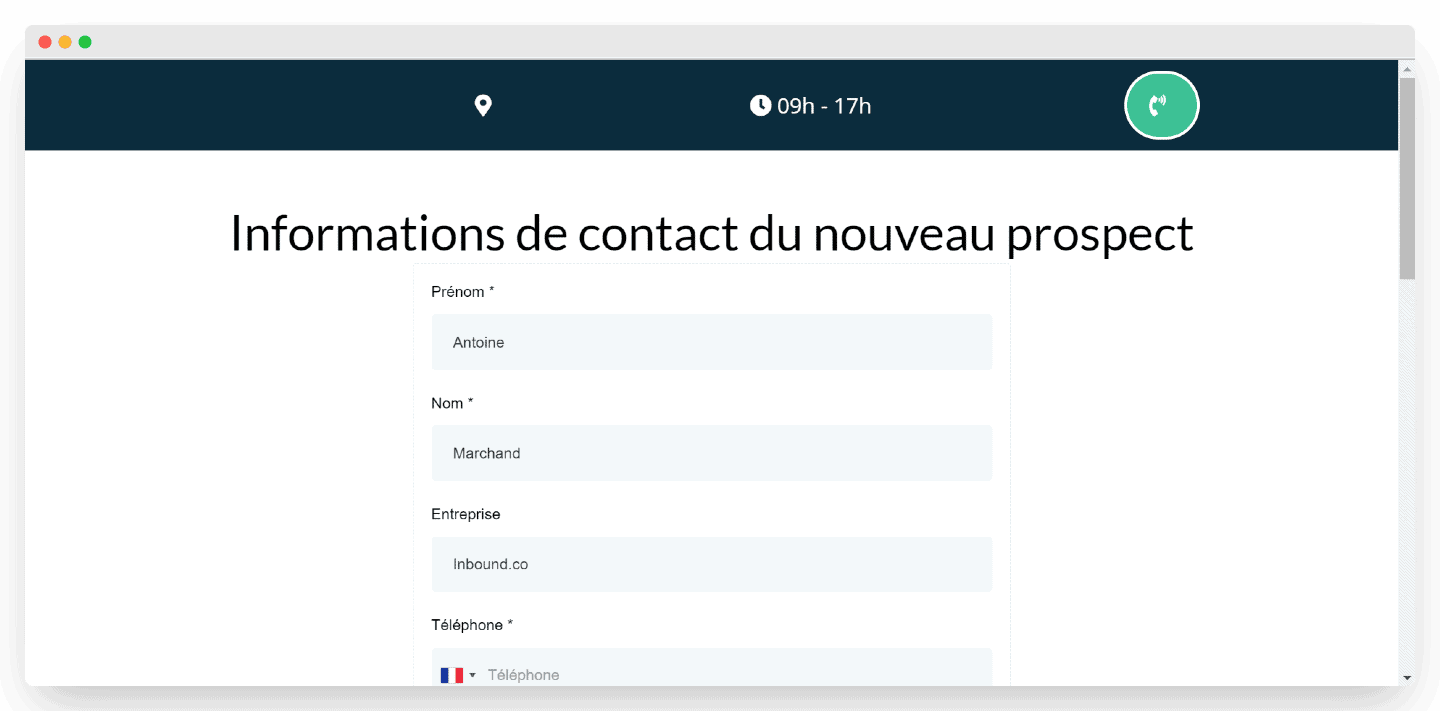 Twilead allows you to create a form and host it on a customised landing page with just a few clicks. All you have to do is enter the new prospect's contact details.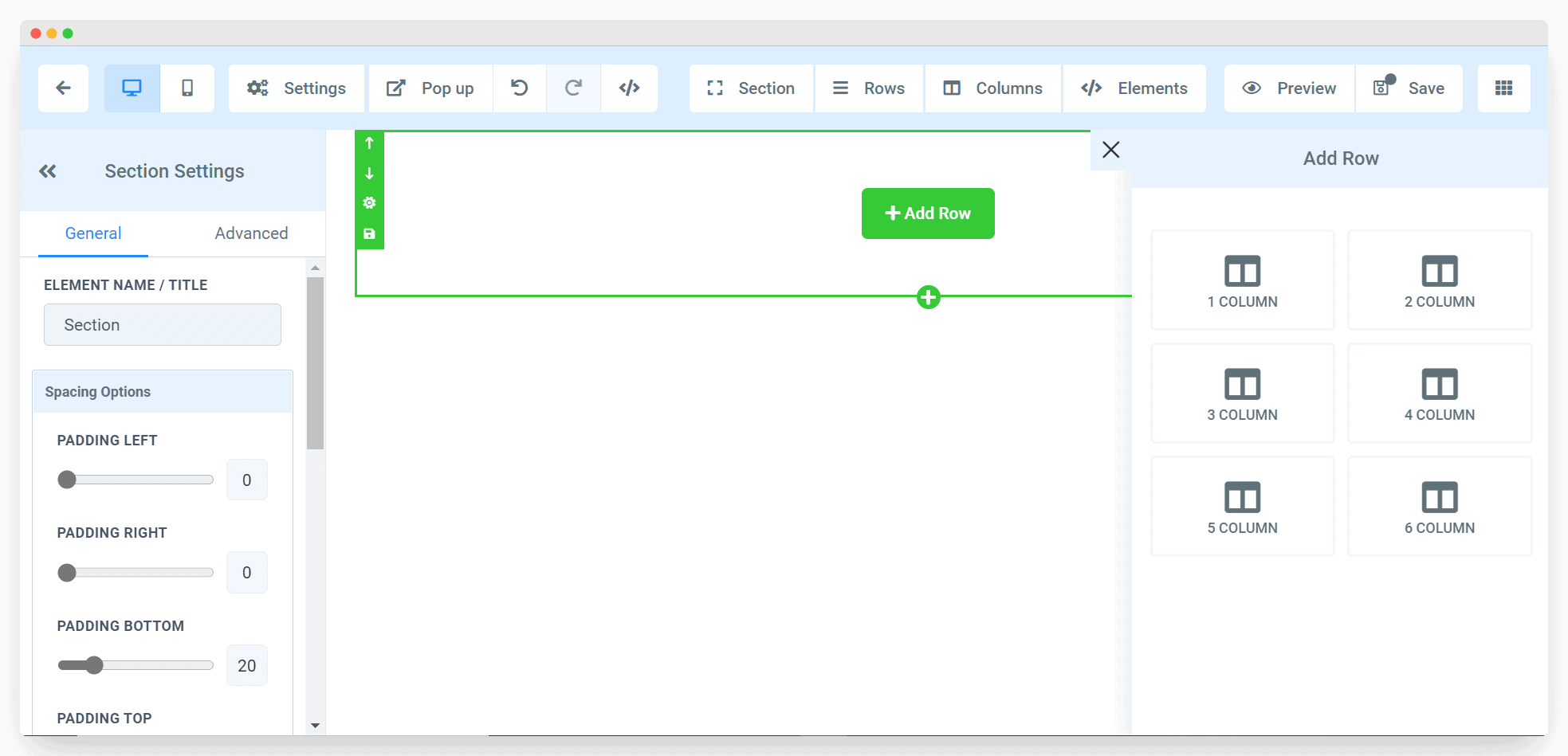 The landing page builder is very simple, and very effective. It allows you to add rows and columns intuitively, as well as change the font, background and layout easily.
But Twilead goes further, and even allows the traditional contact form to be replaced by a synchronised calendar to enable live appointment scheduling.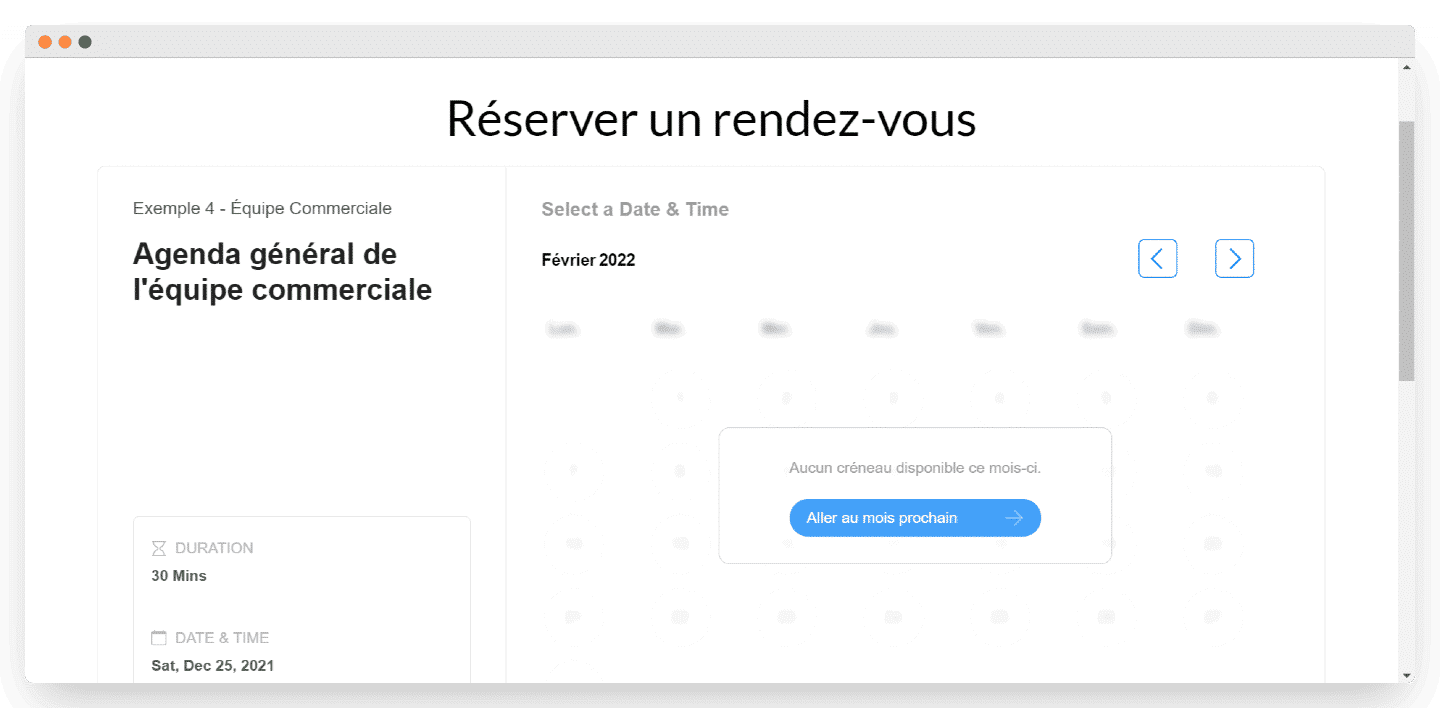 You can also add a chat widget, to talk directly to your visitors and capture more leads. This is one of the simplest and most effective lead generation strategies.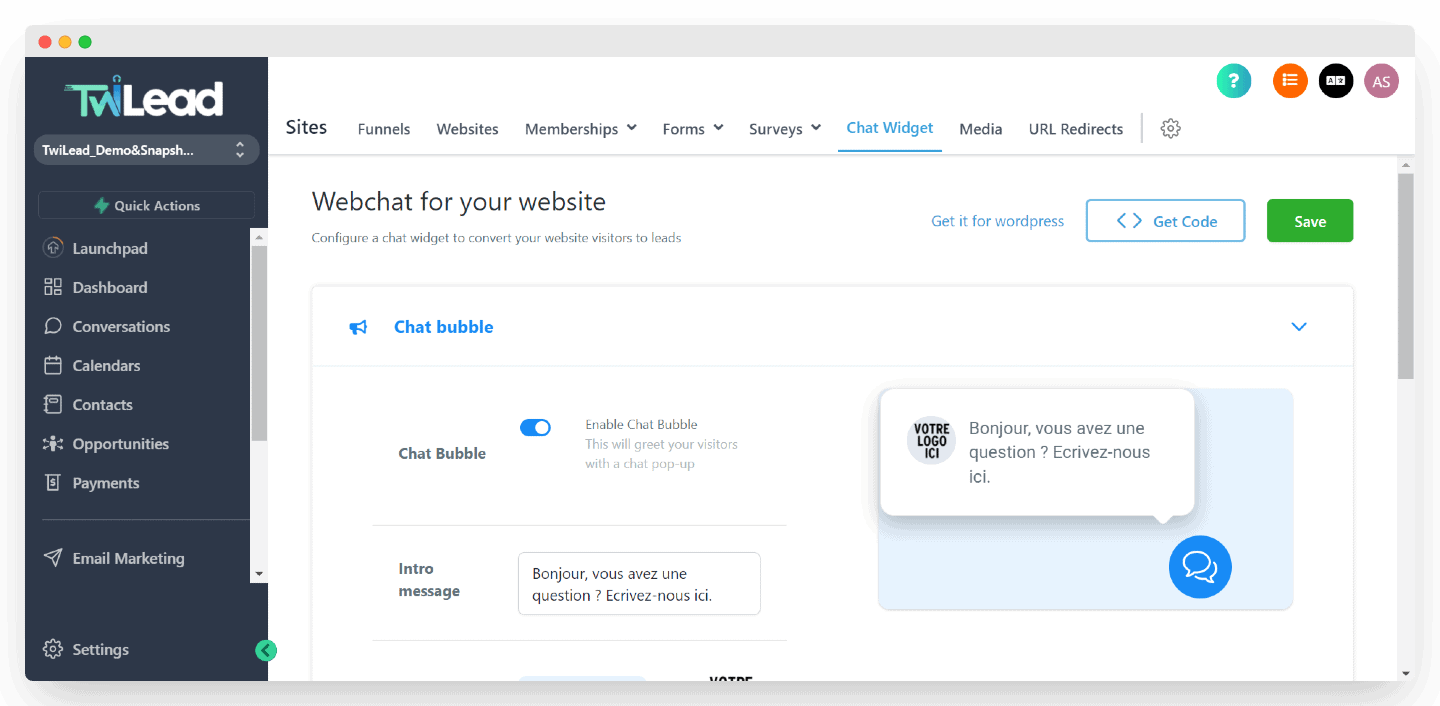 Our opinion
The tool allows you to go very far in terms of lead generation with a really complete module that is very easy to use and accessible. You can set up more or less complex forms, an appointment calendar, and survey questionnaires. But you can also build more complex funnels in several steps, and even create an entire showcase site from scratch.
4. Conversations
This is another important feature of the tool as it allows you to bring all your conversations together under one interface.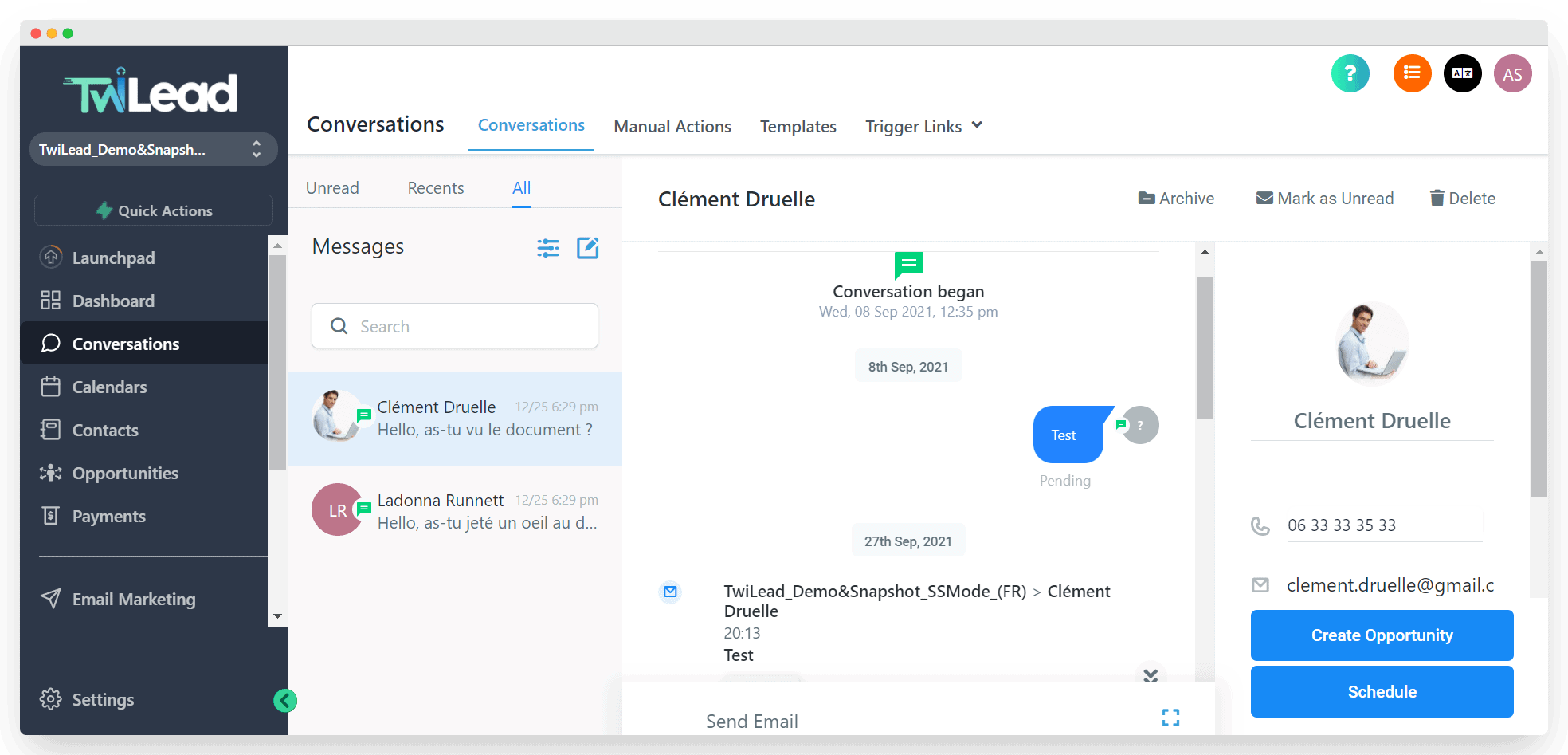 The conversations module gathers all communications from your leads & customers by:
Email
Telephone
SMS
Facebook, instagram, and whatsapp
Google My Business (reviews)
You can also use templates to harmonise your communications and save time.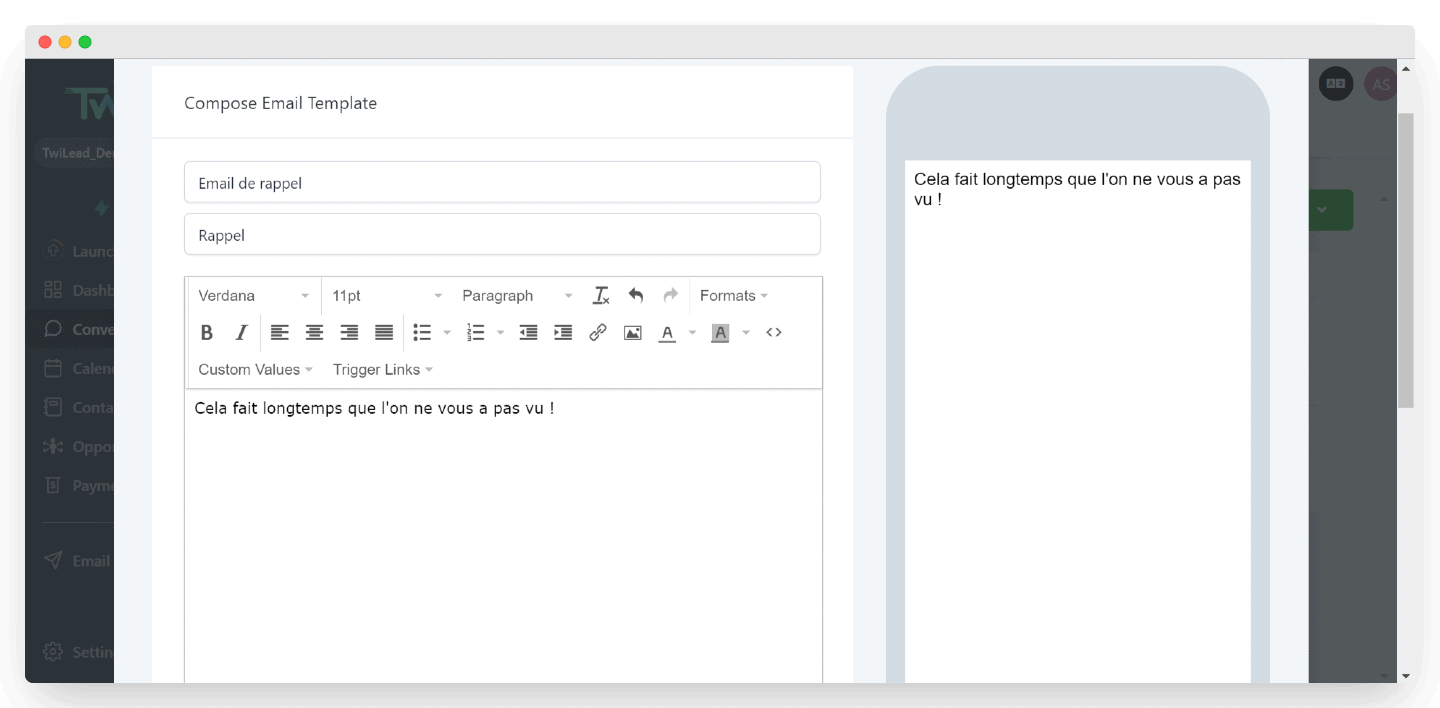 Our opinion
Gathering all communications with your prospects and customers is no easy task, but Twilead makes the 360° view of customers accessible from a simple interface, and it's pretty effective! Ideal for launching multi-channel prospecting sequences.
Try Twilead for free
Twilead offers a 14-day free trial with access to all features to give you a good idea of the tool's possibilities.
5. Email marketing with Twilead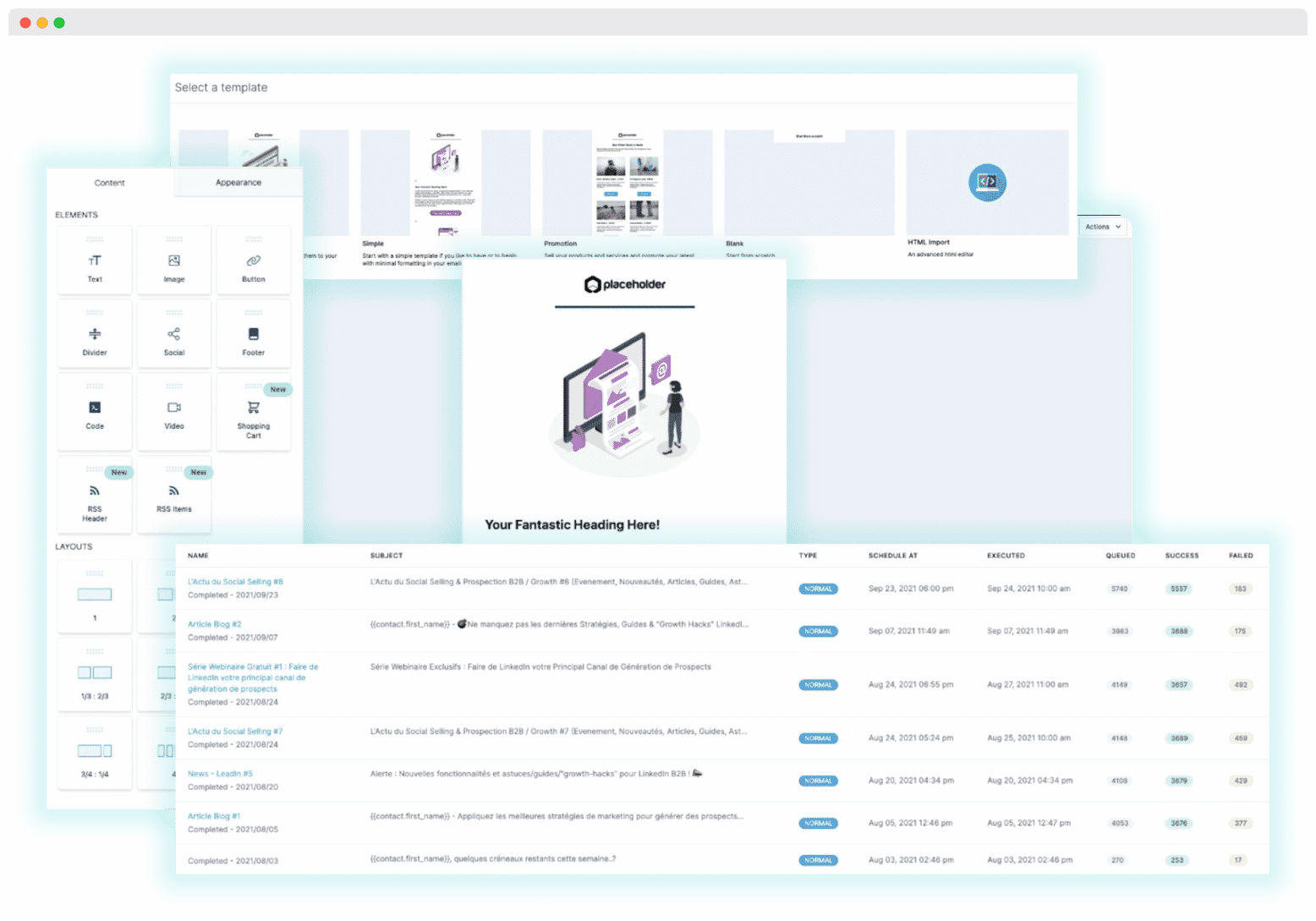 Twilead allows you to activate your database very easily thanks to a marketing software included in the platform that allows you to develop your email marketing, replacing your other marketing software such as Mailchimp.
The software offers you different email templates to catch the attention of your targeted prospects.
It tracks emails to ensure that they are delivered, thus ensuring that the information collected (ensuring compliance with the GDPR) is converted into results.
Our opinion
Another advantage of all-in-one software is that Twilead replaces your traditionalemail marketing software with the same functionality.
6. Automation
In our opinion, this is the enormous added value of the all-in-one side of the software. The automation platform makes it possible to set all the different modules of the tool to music without having to deal with complex data models and data flows.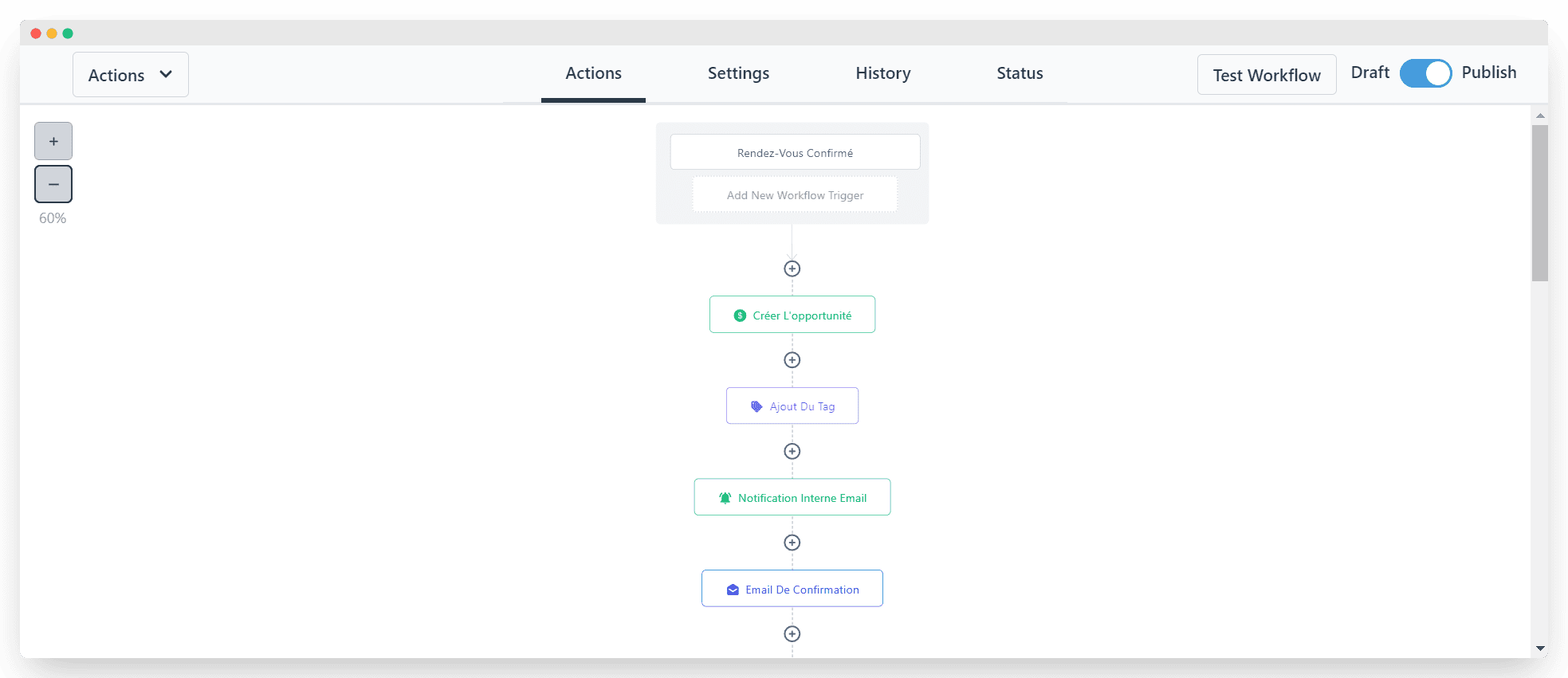 For example, when a lead fills in a form you have created with Twilead :
Create the opportunity in the CRM (the contact will already have been automatically created).
Add tags to indicate the source of the lead.
Notify the commercial agent with whom the appointment was blocked.
Send a confirmation email automatically to the prospect who has made an appointment.
Send a reminder of the appointment the day before or 1 hour before the appointment to limit no-shows – by email, sms, etc.
The tool allows you to automate a significant part of your sales processes, and encourages you to systematise them in order to increase efficiency.
That's all we like!
Our opinion
The automated workflow design tool itself is very effective. Easy to use, clear, and yet very powerful. It also offers detailed statistics for each step of the workflow, and complete logs to facilitate debugging or study a path in detail. But the great strength of automation on Twilead is above all the functional richness of the tool that provides it. The platform allows you to design workflows ranging from lead capture to appointment reminders in just a few clicks, and that's very powerful.
Try Twilead for free
Twilead offers a 14-day free trial with access to all features to give you a good idea of the tool's possibilities.
7. Reporting
Reporting is also very comprehensive on Twilead. The more traditional CRM reports are present and very effective:
Follow-up of telephone calls and performance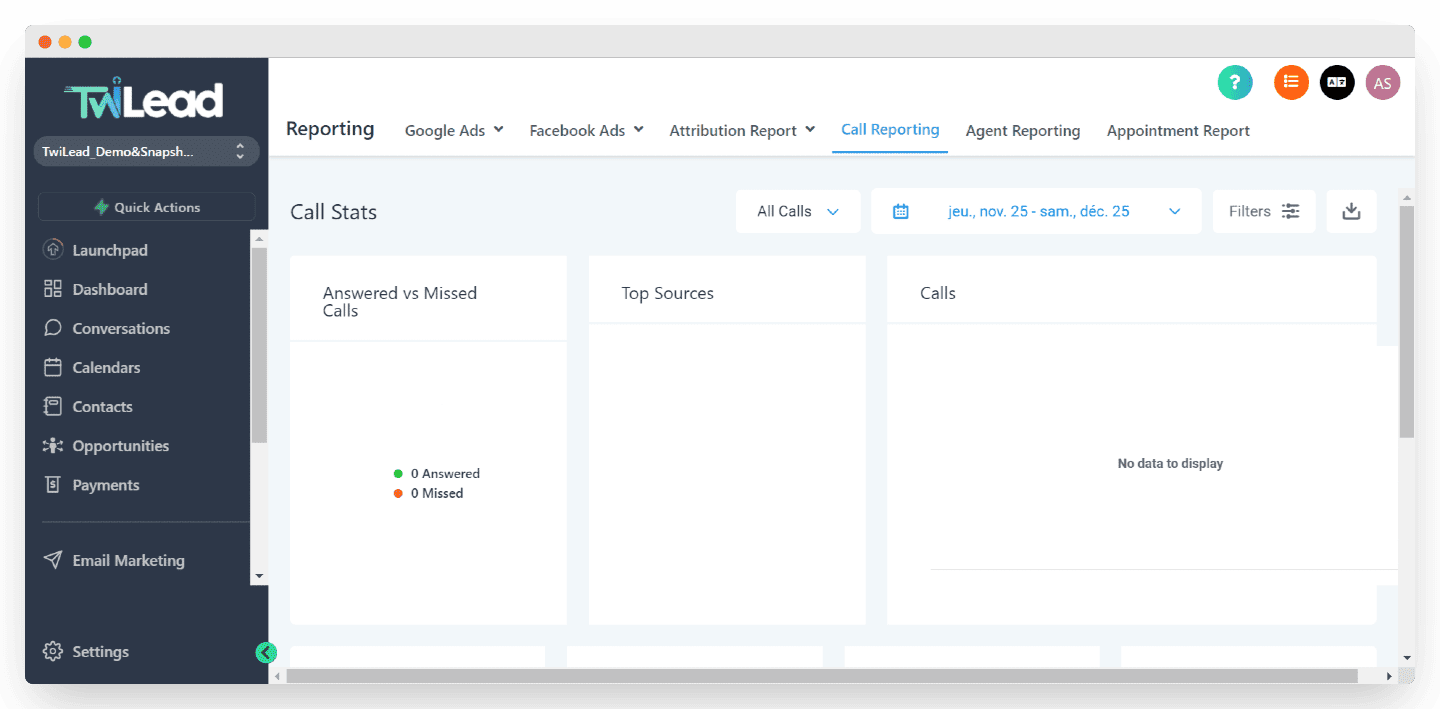 Performance monitoring by sales agent – with a leaderboard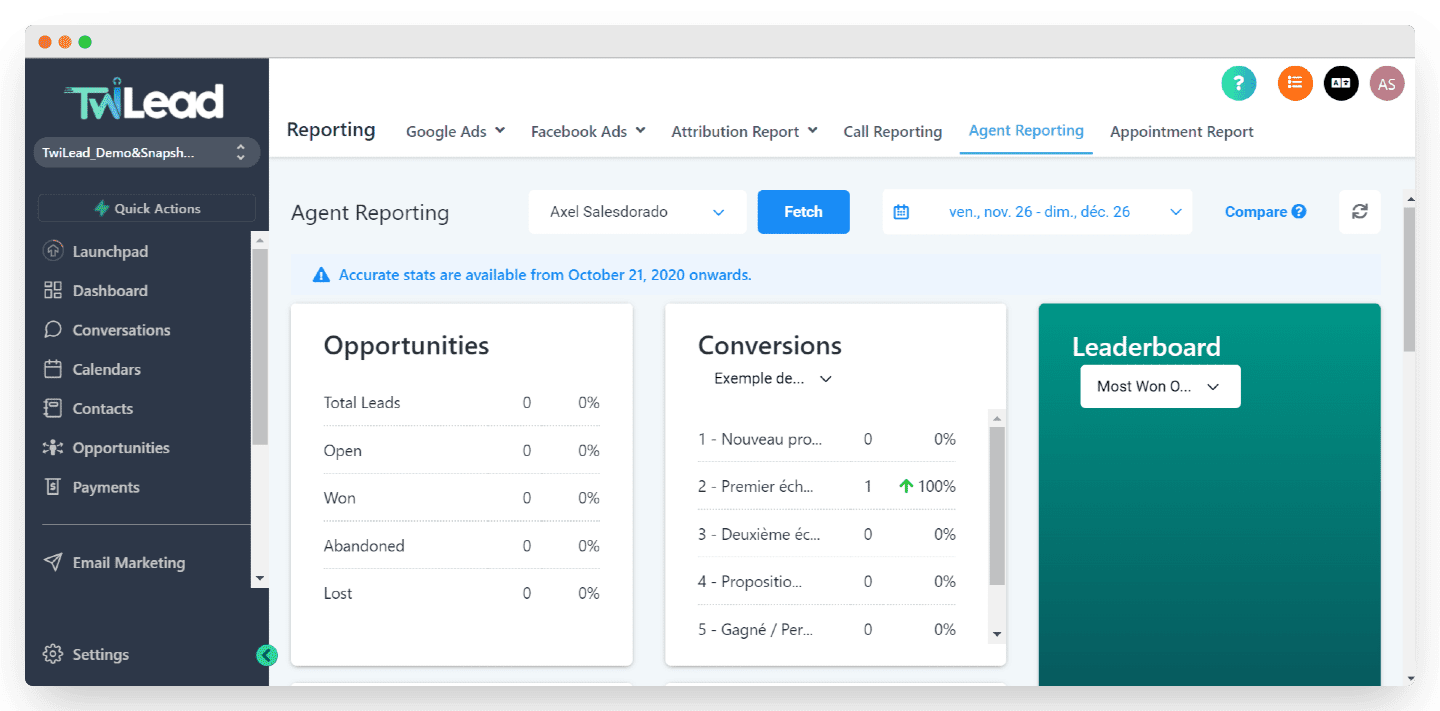 Opportunity and appointment tracking for a more macro view of the sales funnel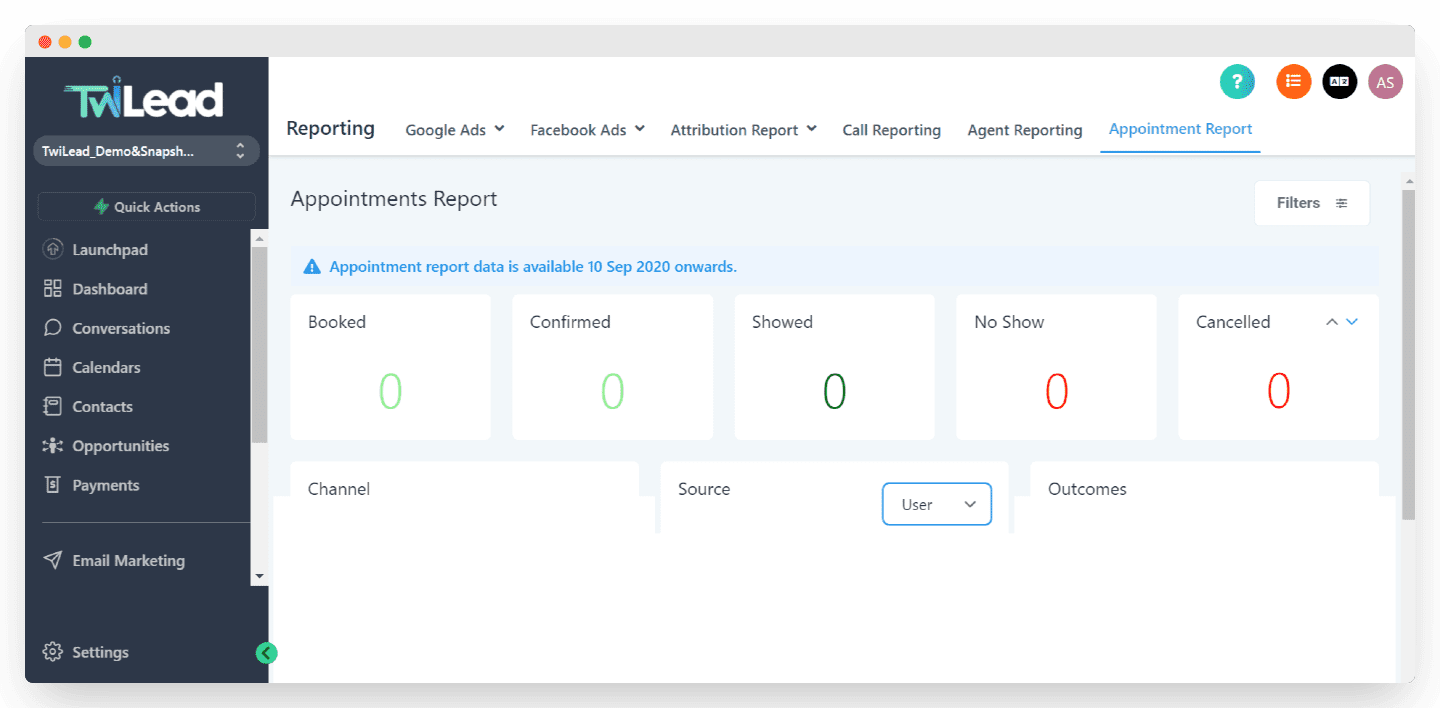 But here too, we appreciate the connectivity with marketing tools, which allows detailed reporting on the performance of each Google Adwords or Facebook campaign, from CPM or CPC, to conversion and average basket – since everything is in the same software.
Twilead offers a tool that allows you to analyse the performance of each traffic source in order to optimise your marketing campaigns in an informed way, and this is a real plus.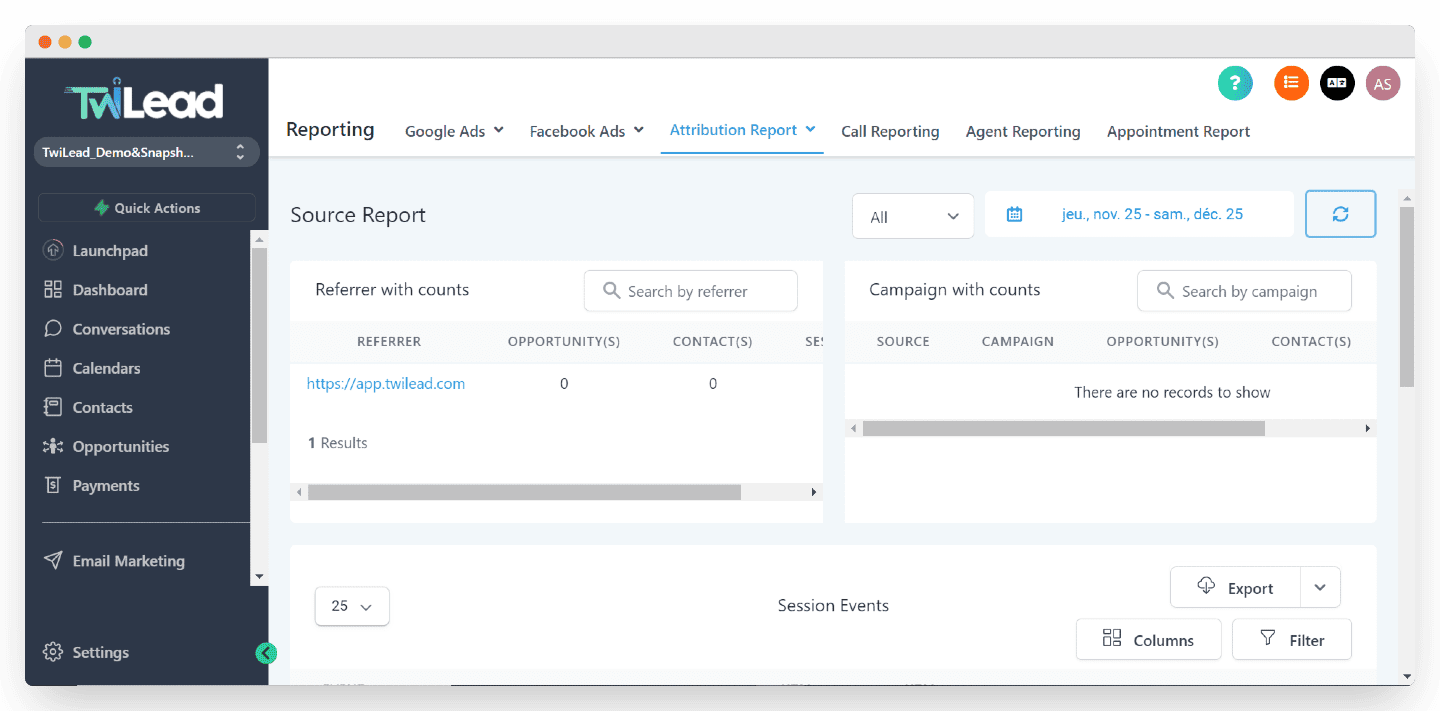 Our opinion
The reporting is globally successful: complete and accessible. We particularly appreciate the richness of the marketing campaign performance monitoring features, connected directly to the CRM and to the economic reality. An asset for aligning your sales and marketing teams!
8. Reputation management
A little more gimmicky, but in reality it's a real asset to have in the CRM suite. Twilead also offers a tool for monitoring and optimising customer reviews.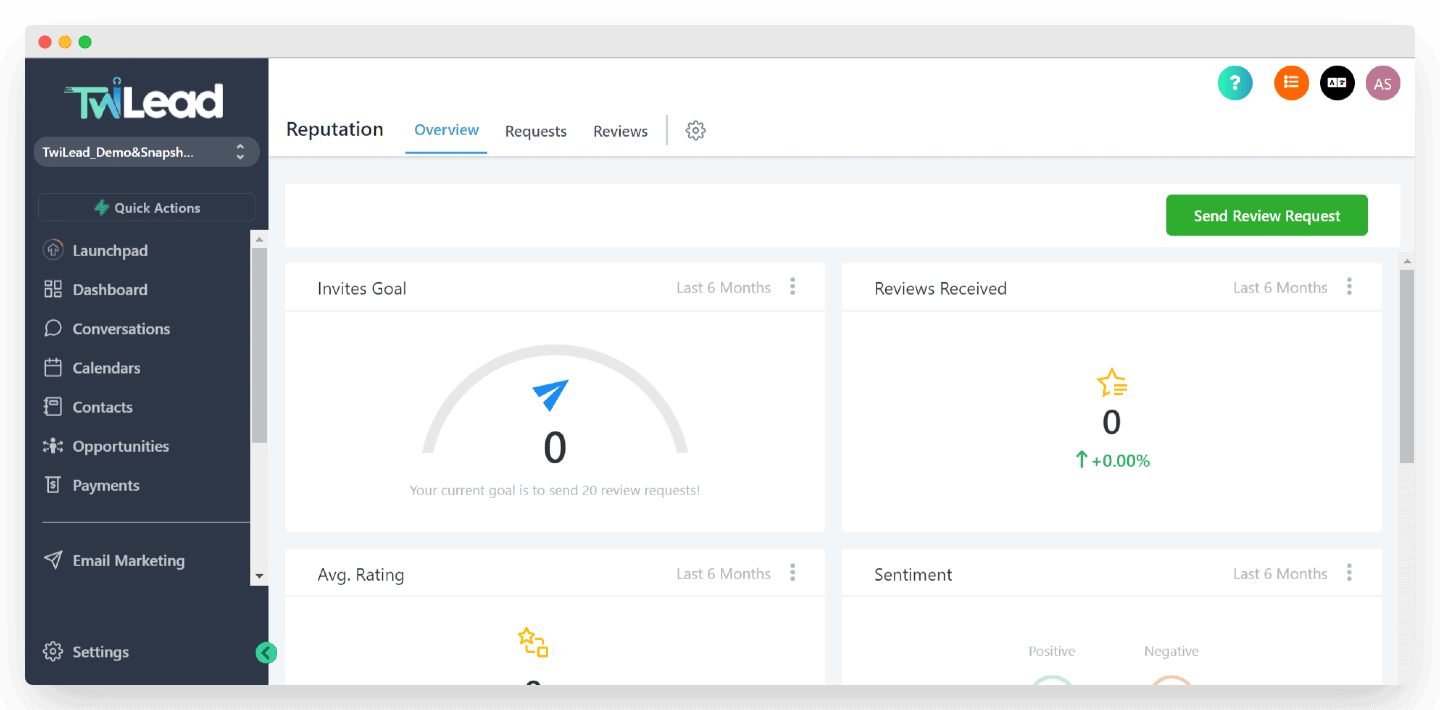 This allows you to ask your satisfied customers to leave you a positive review simply and, above all, at the right time.
And it also allows you to integrate public reviews into your customer tracking; and to notify you immediately when a review (positive or negative) is left on your business so you can react.
Pro tip
It is a real asset to have an online reputation management tool integrated with the CRM, and the module is very successful with email and SMS templates to request a review, and a custom landing page.
Try Twilead for free
Twilead offers a 14-day free trial with access to all features to give you a good idea of the tool's possibilities.
Twilead integrations
Twilead is also a software that integrates very well with the essential upstream and downstream tools of a CRM: email communications, calendar, payment, prospecting tools, etc.
Email, calendar, Google Meet & Zoom integrations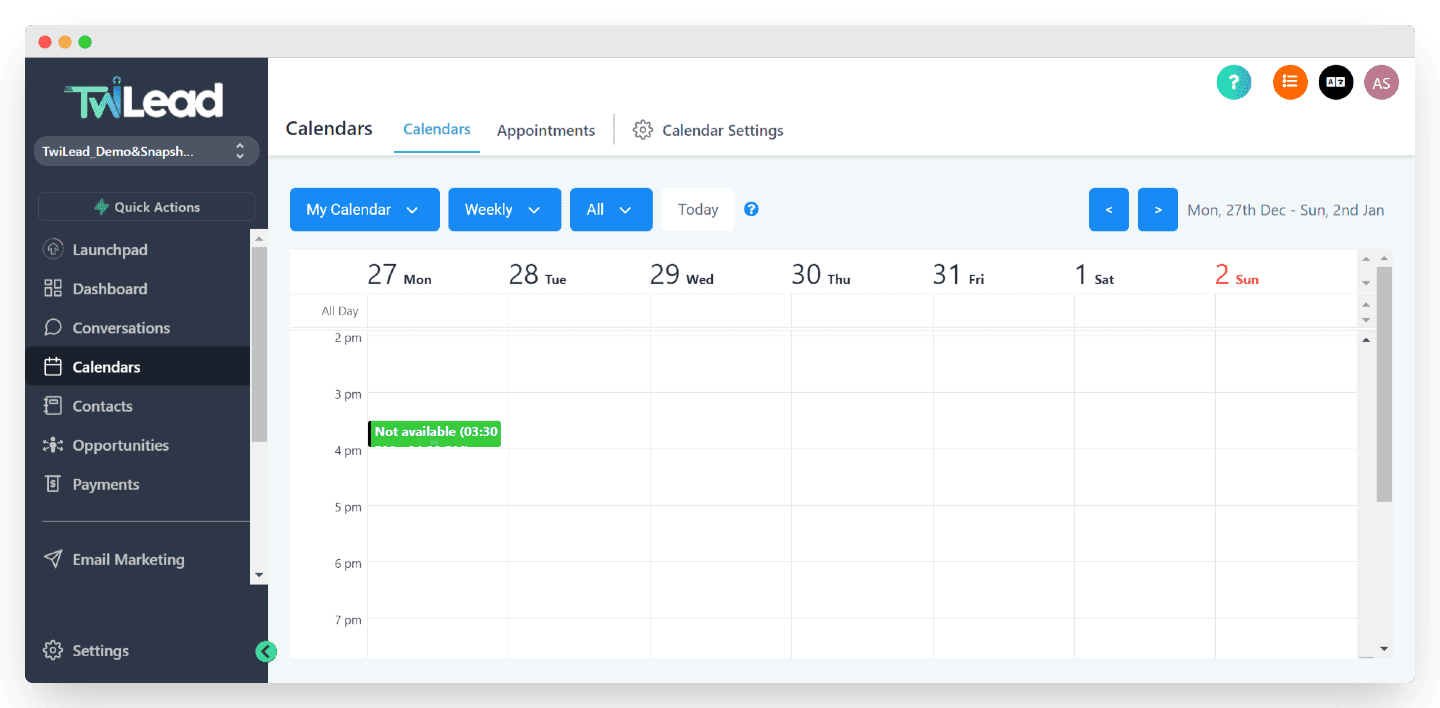 One can simply add a Gsuite or Outlook account to Twilead, and create a two-way integration:
Sending emails from Twilead with your email account.
Categorise and organise all incoming emails in Twilead.
We also appreciate the native integration of the Gsuite or Outlook calendar with Twilead, which allows for appointment scheduling features from the website etc.
It is also possible to set up a custom SMTP or Sendgrid to send larger scale mailing campaigns.
Our opinion
The Gsuite & Outlook integrations are very complete. We also appreciate the possibility to configure a custom SMTP to send larger volumes of email.
Integration with Leadin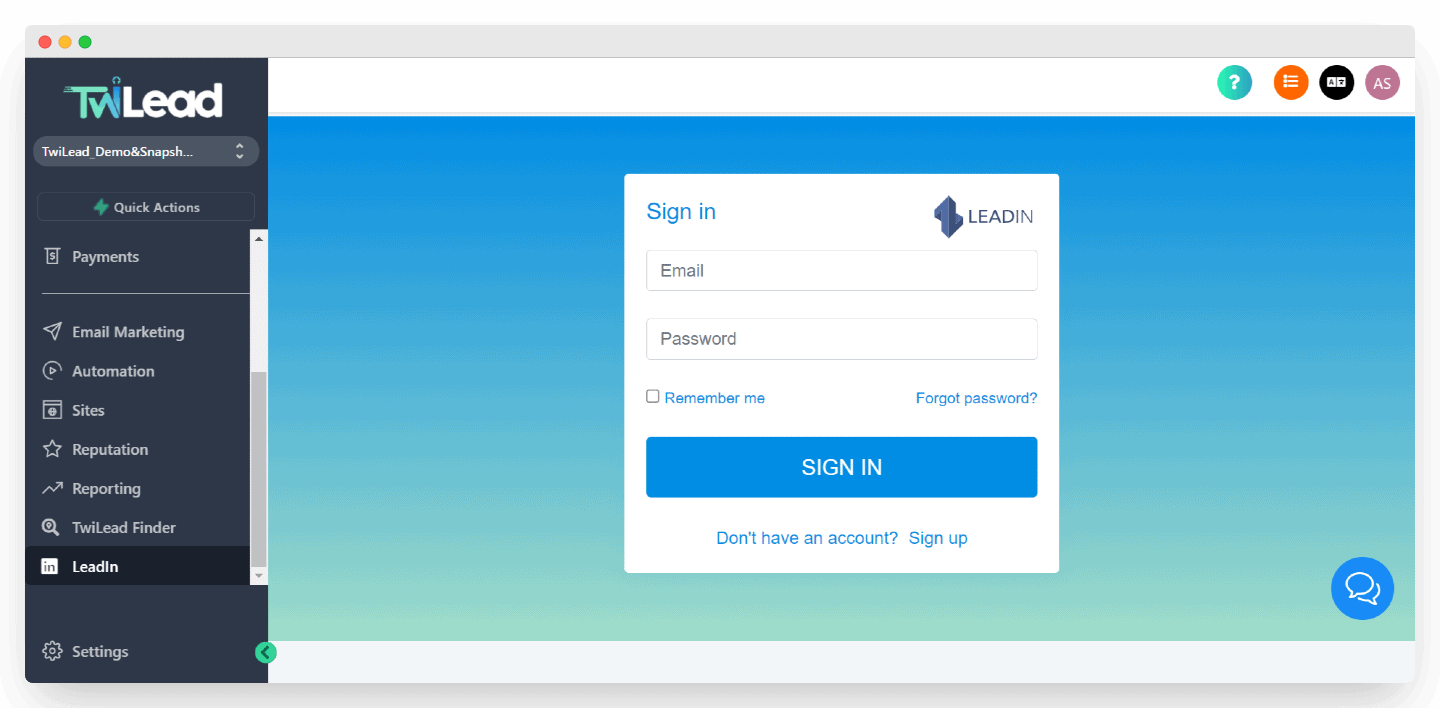 Leadin is a very effective multi-channel (email & LinkedIn) prospecting tool, published and supported by the same company. Twilead therefore offers a native integration that automatically connects your prospecting and customer relationship management tools.
This is a real plus for speeding up your sales cycles and increasing conversion, by passing the hottest leads directly (and automatically) to the CRM.
Adwords & Facebook Ads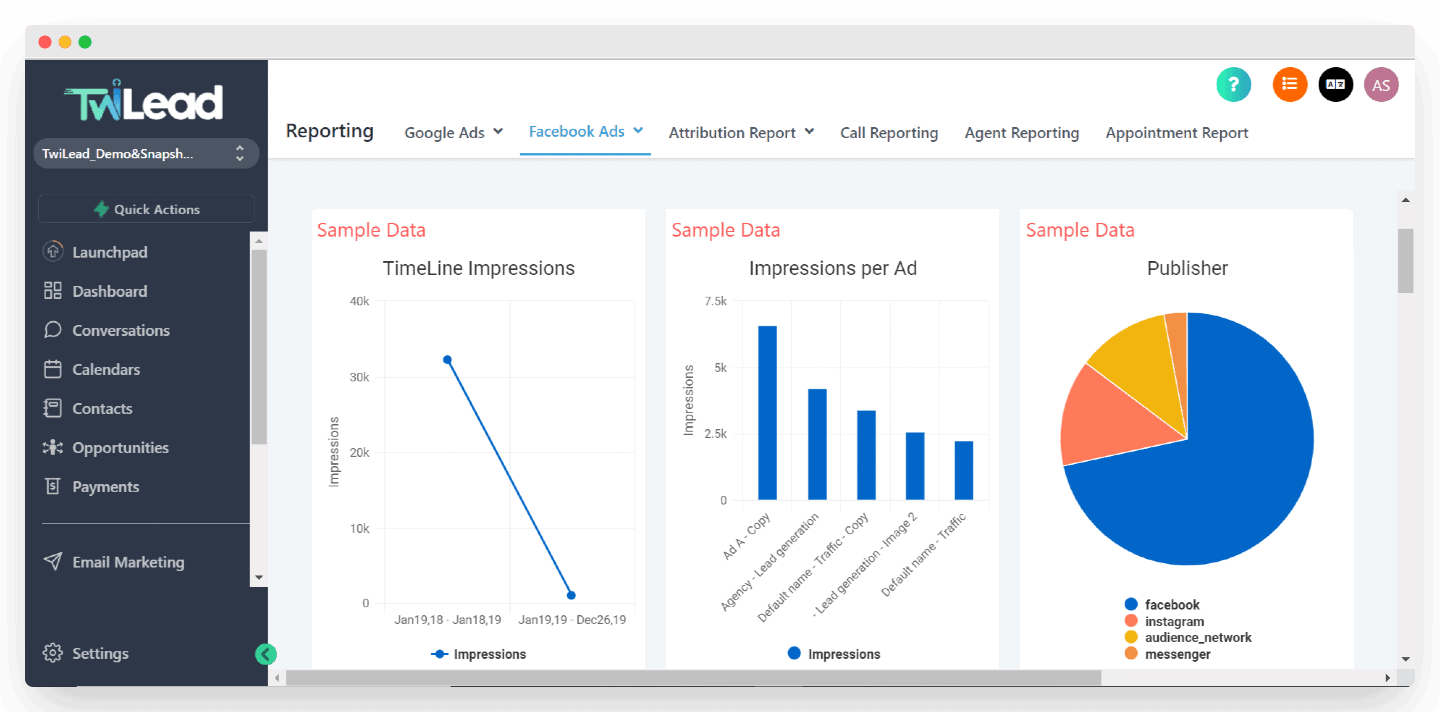 The tool also offers full integration with your Google Adwords & Facebook Ads accounts to provide detailed reporting by connecting your sales data (CRM) with your marketing campaign data.
It is these integrations that power advanced campaign sales reports to allow you to optimise on the only KPI that really matters: revenue generated.
Stripe & Paypal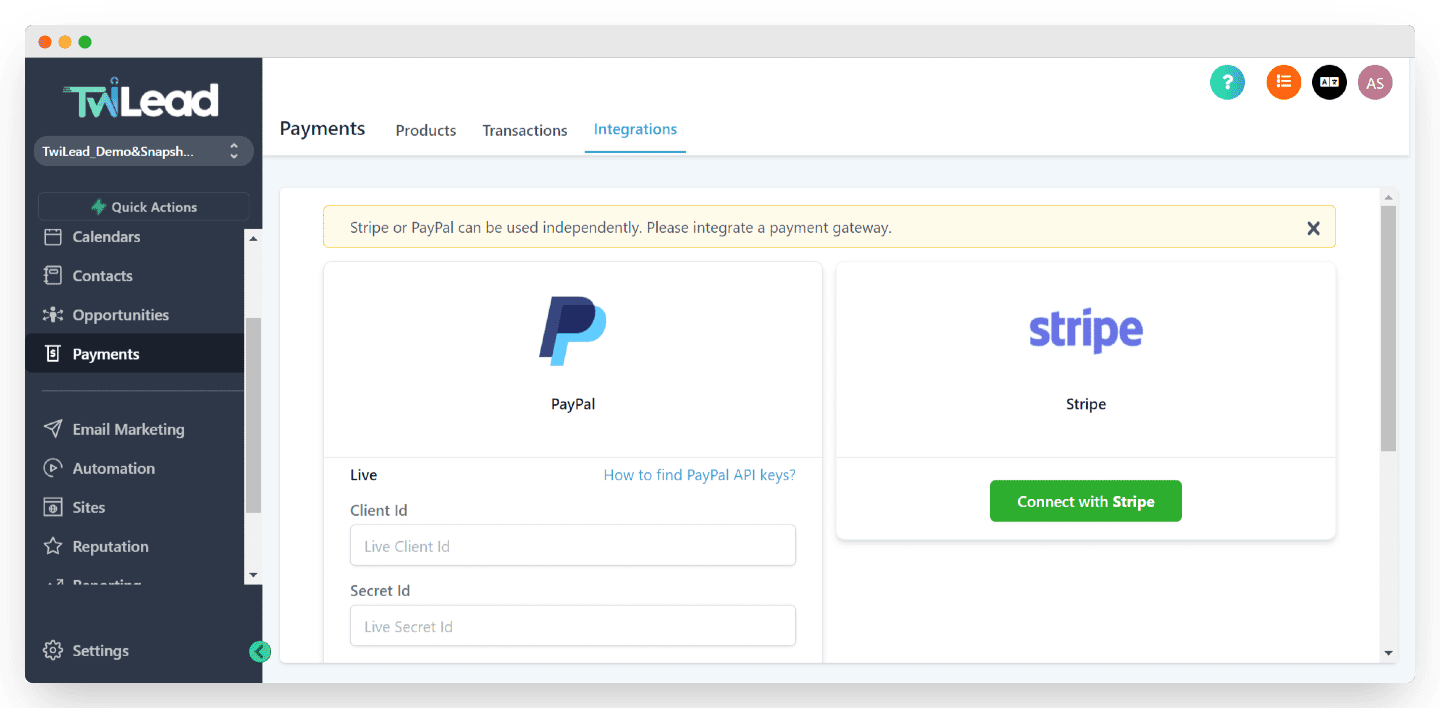 By integrating Stripe or Paypal, you can offer direct sales from your website.
Twilead allows you to create products, and turn your site into an e-commerce site in a few clicks. Powerful integrations to link your real-world revenues to your CRM, marketing and customer data.
The tool also offers integration with Shopify to manage your e-commerce site from the platform and with Quickbooks to automate almost all your invoicing processes
Google My Business and Facebook location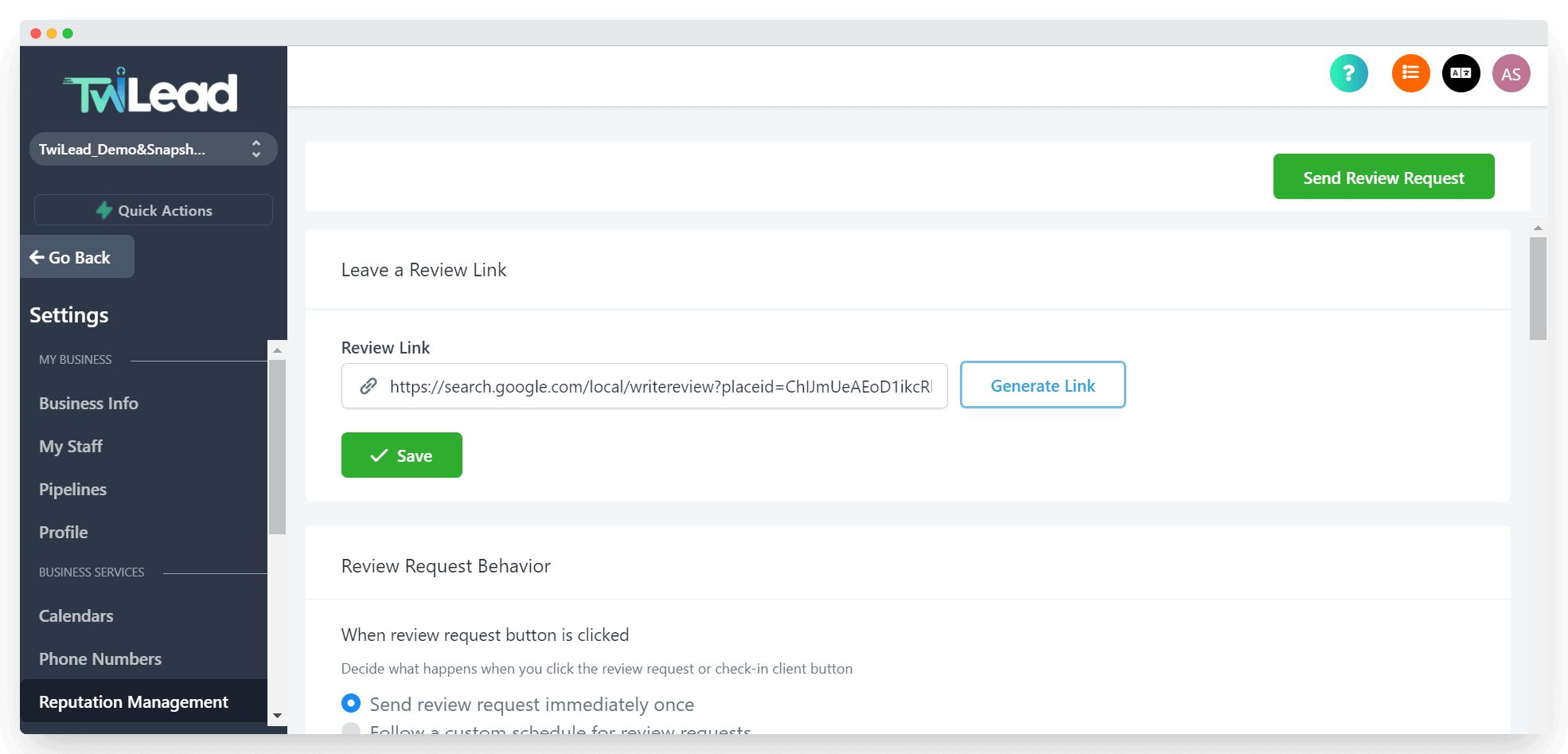 The last category of integrations offered by Twilead is the monitoring of your public profiles on Google my business, Facebook, etc.
It is this integration that allows you to track your customer reviews and react to them quickly. It also allows you to know which of your customers have left you a review (positive or negative) in order to thank them or to try to solve the problem they have encountered.
Our opinion
This is clearly one of the great strengths of the tool, which offers a large number of integrations, all of which are rather deep. There is also a well-documented open API for those who want to go further, and a fairly advanced Zapier connectivity.
Try Twilead for free
Twilead offers a 14-day free trial with access to all features to give you a good idea of the tool's possibilities.
Twilead's mobile application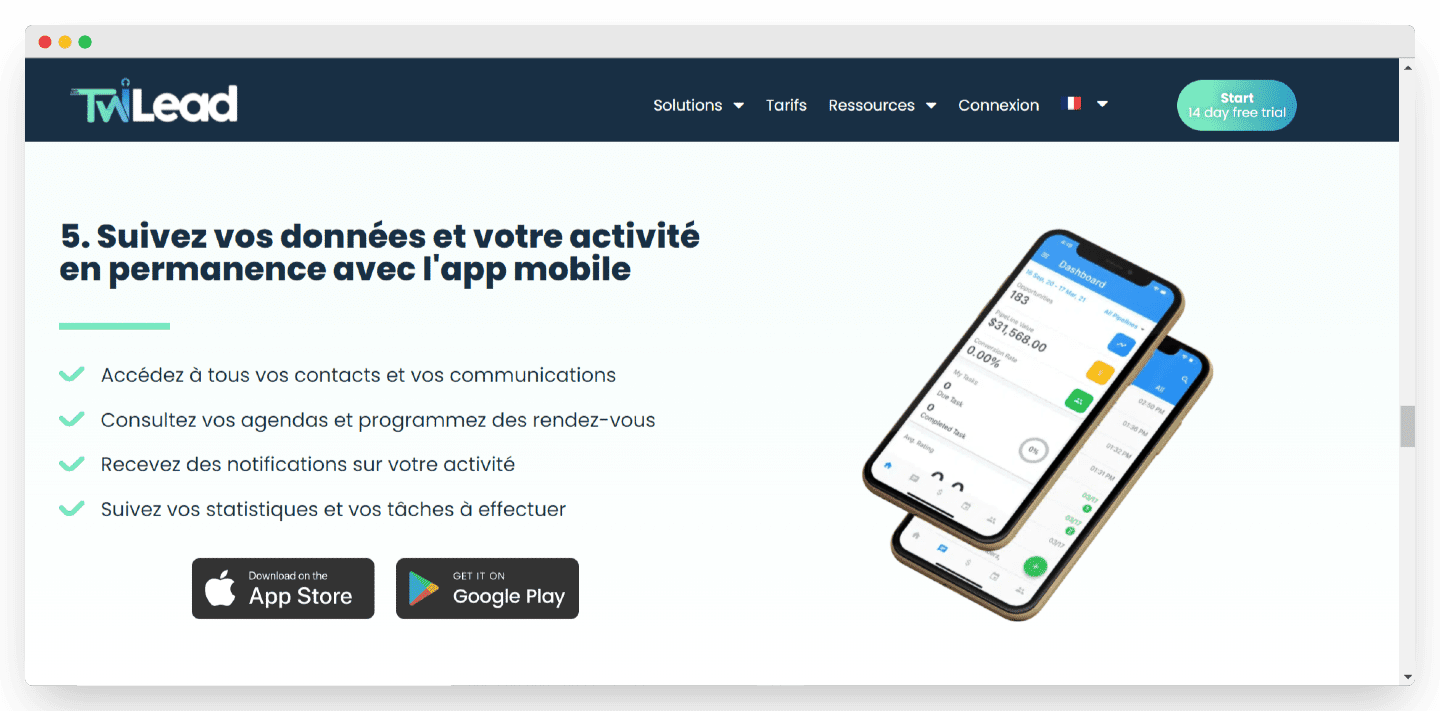 The application, available on AppStore and Google Play, allows you to continue your business development on your phone. With the Lead Connector app you can, among other things:
Accessing your leads
Access your calendar
Monitor your sales pipeline
View your statistics.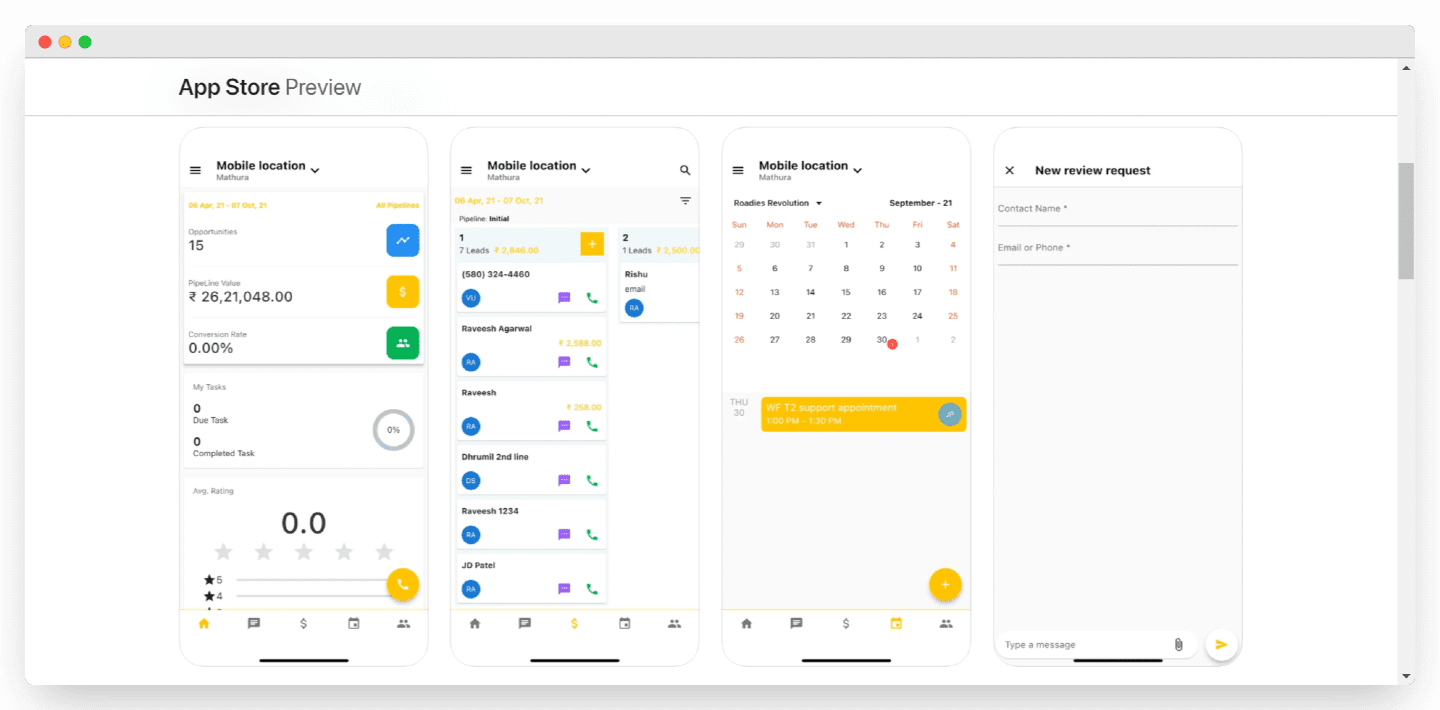 Try Twilead for free
Twilead offers a 14-day free trial with access to all features to give you a good idea of the tool's possibilities.
Customer reviews of Twilead
The application is quite new, so there is little hindsight and statistics available at the moment. It is currently difficult to find complete customer reviews. However, don't hesitate to tell us what you thought of it in comments!
Try Twilead for free
Twilead offers a 14-day free trial with access to all features to give you a good idea of the tool's possibilities.
Customer support at Twilead
Twilead is the number one platform for automating your company's sales development. Customer satisfaction is therefore at the heart of their policy.
Before subscribing to Twilead, you can request a demonstration of the software by an expert from the company. If you have any questions before signing up or while using the software, a contact form, chatbot and phone number are available to answer them.
Articles are also freely available on the site to help you with your business development strategy.
Try Twilead for free
Twilead offers a 14-day free trial with access to all features to give you a good idea of the tool's possibilities.
Twilead's prices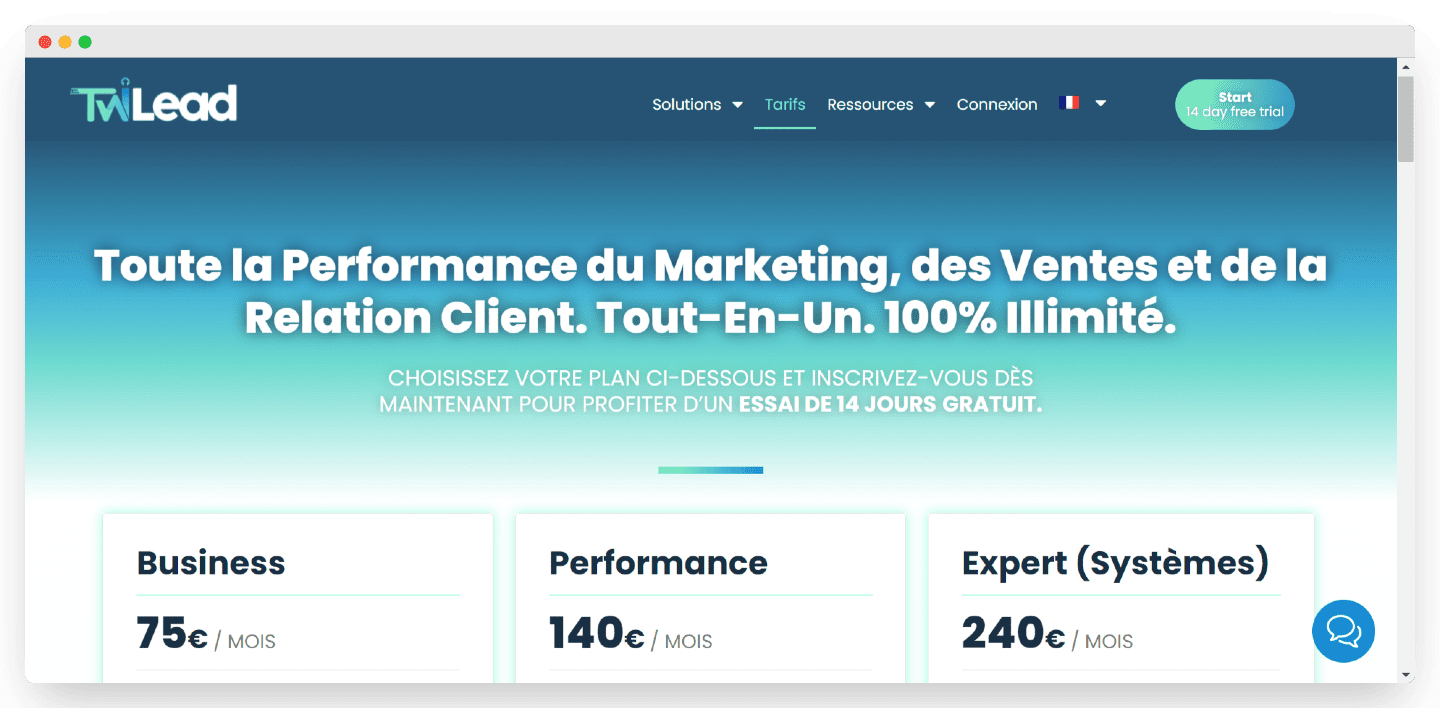 Twilead offers 3 tariffs:
Business: For £75/month, this package includes the core features such as conversations, sales pipeline, email marketing, website creation and reputation. However, with this package you will not have access to automation scenarios, personal and team calendars, survey creation, performance reporting and other advanced features.
Performance: For €140/month, this package offers all the Business features, plus the advanced tools mentioned above.
Expert: For 240€/month, the expert offer includes the Performance offer as well as a complete audit and a start-up of your automation strategy. You will also benefit from a tailor-made support in French from an expert.
The real bonus is that Twilead is 100% unlimited, in terms of the number of contacts or the number of users. The subscription price does not vary, whether you have 300,000 contacts in the platform or 25 user accounts.
Finally, the Twilead tool is very deep and offers multiple possibilities to boost your sales. It is impossible to detail all the features in one article, but we hope that the overview has given you a better understanding of whether such a solution is suitable for your business!
Try Twilead for free
Twilead offers a 14-day free trial with access to all features to give you a good idea of the tool's possibilities.