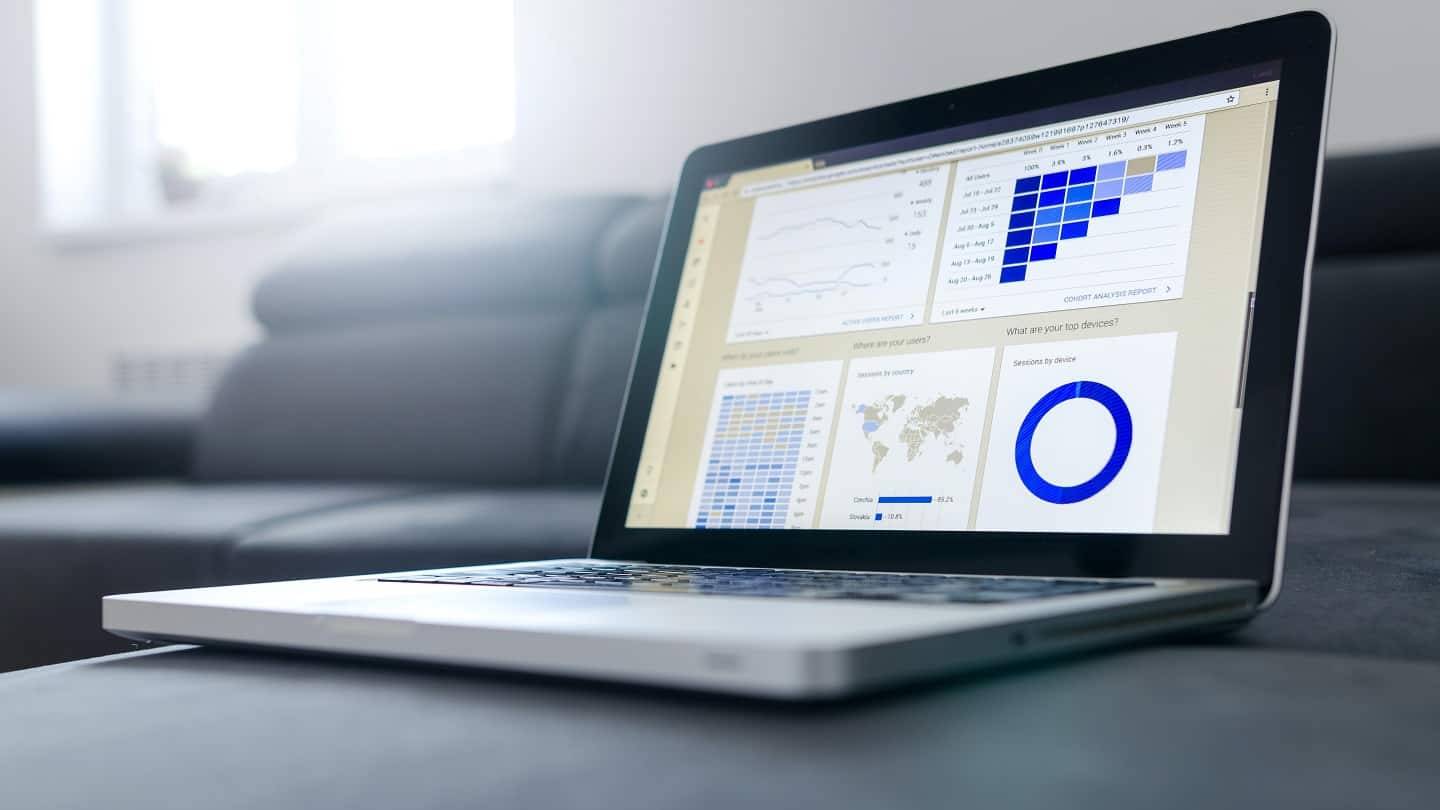 In the world of CRM software, it's hard to go wrong with Salesforce products. But Salesforce can be a bit of a heavyweight solution, sometimes requiring a lot of customisation. The integration and maintenance costs of Salesforce software make it an increasingly popular option for SMEs.
We've put together the 4 best alternatives to Salesforce CRM and identified the features they offer that make them shine. We'll take a look at our analysis and then go into the analysis of each of the solutions we've chosen.
What makes a good alternative to Salesforce?
Salesforce is quite simply unrivalled in many respects, but there are many alternatives that have the essential functionality, for a much higher price and ease of use. We have therefore selected three functional aspects for each solution, price, and ease of implementation and use.
1. Reporting
This is where Salesforce excels. The software allows you to manage your business operations with a masterful hand. However, the reports can be a bit complex to set up, and the visualisations are not always the best. Some users may want a solution that makes reporting a little simpler to produce and understand and that can be more easily applied to their sales cycle.
2. Customisation
Here too, you can do just about anything with Salesforce. The platform will adapt to all sales processes. But at a cost. Sometimes at a high cost. The more standardised platforms offer much more intuitive customisation options, which will often be sufficient.
3. Assistance
Salesforce does well on support, but again, at a significant cost. They are expensive to support and you can only get free support for the most crippling issues that affect all users. The company offers Salesforce University to help you get the most out of the software, but this also comes at an additional cost.
4. The price
As you can see, Salesforce is heavy – far too heavy for many SMEs who just want a great, easy-to-use CRM tool. Others may not have the budget for a product like Salesforce and are looking for more affordable options. And as with any product, some people have had bad experiences with Salesforce and may be looking to change.
5. Ease of implementation and use
Salesforce allows you to go extremely far for the most advanced companies, but this often involves a high integration cost. In addition, the maintenance cost can become very high: creating a report or a new attribute for your leads will quickly become disproportionately complex. A good solution for SMEs must be flexible and allow for easy and quick adaptation to processes that change often and quickly.
Looking for a CRM?
Discover the CRM software with the highest adoption rates in the market
The 4 best alternatives to Salesforce: comparison table
#1 Pipedrive: the best alternative to Salesforce: cheaper and easier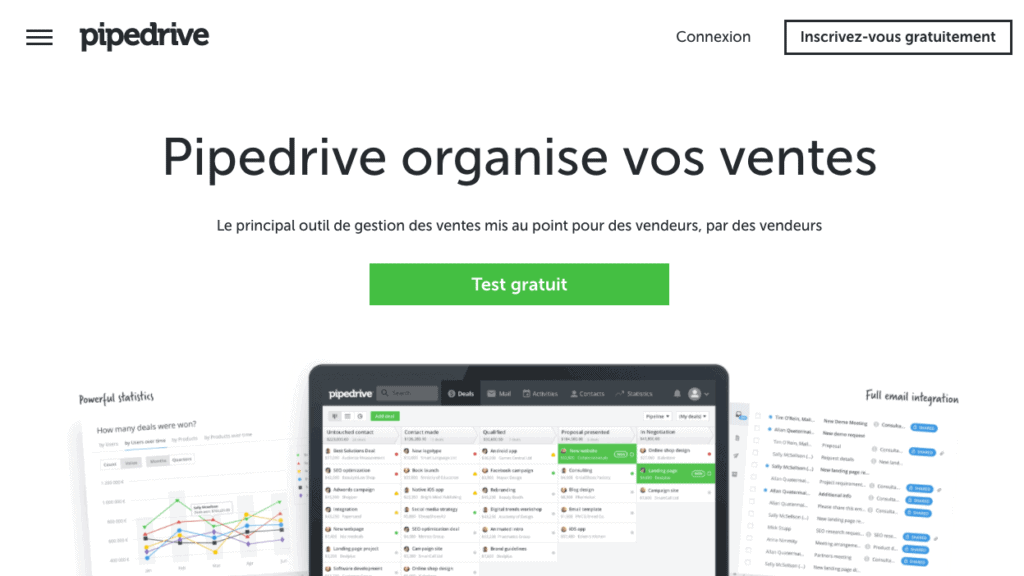 Reporting
Pipedrive is better known for its conversion tunnel vision than for its reports. But recently, the software has improved a lot, and allows to:
Monitor the performance of each salesperson,
Track the value of each separate transaction
Or track the history of each prospect.
Recent enhancements to the system allow for key comparisons, such as between closed and lost transactions. In terms of reporting, note that Pipedrive has the ability to store all conversations and relevant information in a central database. You can then export these to other systems, or use your own application to extract detailed summaries. You can also view the live dashboard and track the status of your wins, losses, people, activities and news, or customise a special report that will display all aspects of your performance.
Customisation
Pipedrive's major shortcoming is its lead attribution functionality. This is not ideal if you want to doAccount-Based Marketing. Otherwise, the tool adapts very well to the majority of sales processes, thanks to a very clear view of the sales funnels and a data schema based on each deal.
The support
Support is one of Pipedrive's big strengths. In our comparison of B2B CRM software, Pipedrive gets excellent marks, and the support is a big part of that. Besides being available from Monday to Friday, the support is 100% in French, which is very convenient compared to some competitors. In addition, you can have access to very detailed training courses to get to grips with the tool more easily.
The price
Again, the price of the CRM software is another strong point of Pipedrive. With an implementation cost close to zero and a 14 day free trial to get you used to the tool, Pipedrive sets the bar high. Regarding the paid plans:
The first paid plans start at €15 per month per user, with a minimum of 3 users.
If you wish to integrate your email communications (reporting etc.), you will be charged €29 per month per user.
If you want to go as far as integrating your IP telephony platform (as well as all the reporting etc.), count on 59€ per month and per user.
Ease of implementation and use
The tool is almost always recommended by its users for this reason. It's hard to explain, but each action requires fewer clicks than on other platforms, and the interface is overall very responsive and pleasant.
#2 Hubspot CRM: the free alternative to Salesforce… which is rapidly becoming very expensive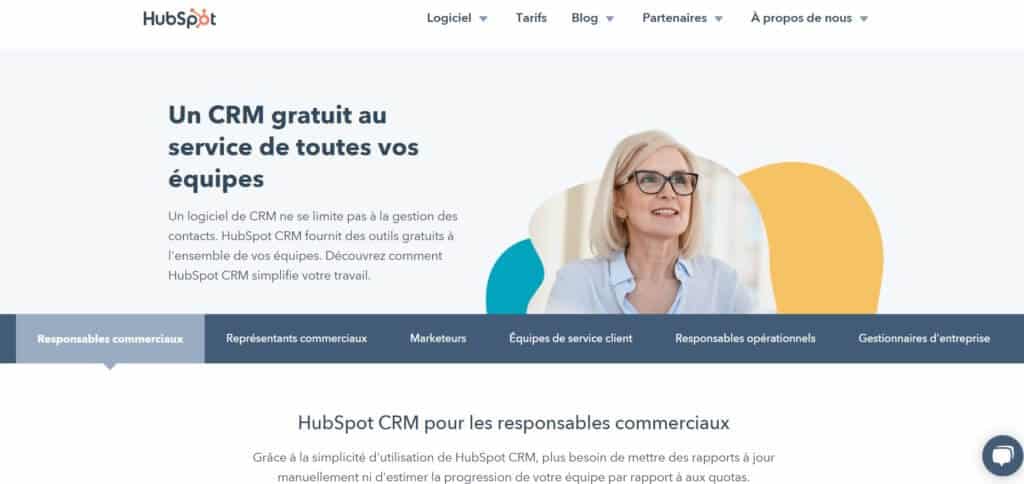 Hubspot CRM is really on a par with Pipedrive, and has a free version with no time limit, which makes it a very attractive tool.
Reporting
Hubspot CRM is less deal-centric than Pipedrive, and much more contact-centric. You create "companies" and "contacts" that move from one stage of the sales process to another. The reporting is excellent in every respect, but a little more complex to set up than Pipedrive.
Customisation
Hubspot CRM is also excellent in this respect. Indeed, with this tool, you can adapt just about anything you want to your own sales process. However, and this is an important point, many of the customisation options are limited to the first paid plan which starts at 46€ per month for two users.
The support
The software also has an excellent reputation, and over the last ten years has developed a very large network of agencies specialising in Hubspot, whether it be for marketing automation or pure CRM functions. You can therefore count on a very solid support in French.
The price
Knowing how much you're going to get for it with Hubspot CRM is no easy task. In their defence, the software is really excellent, and offers many features for free. But you quickly find yourself on the PRO plan, which starts from 460€ per month, to have, for example, more than one inbox per email in the CRM.
Good to know
Hubspot CRM also offers a special plan for startups. Startups will have all the tools, strategy and support needed to grow your business quickly and scalably. With Hubspot CRM, you will be able to attract and retain customers right from the start of your business.
Ease of implementation and use
Hubspot is overall very easy to use. Lots of advanced features with a bit of a higher cost of entry, but they've kept the basics simple, and easy to set up.
Looking for a CRM?
Discover the CRM software with the highest adoption rates in the market
#3 Agile CRM: the cheaper, highly customisable Salesforce alternative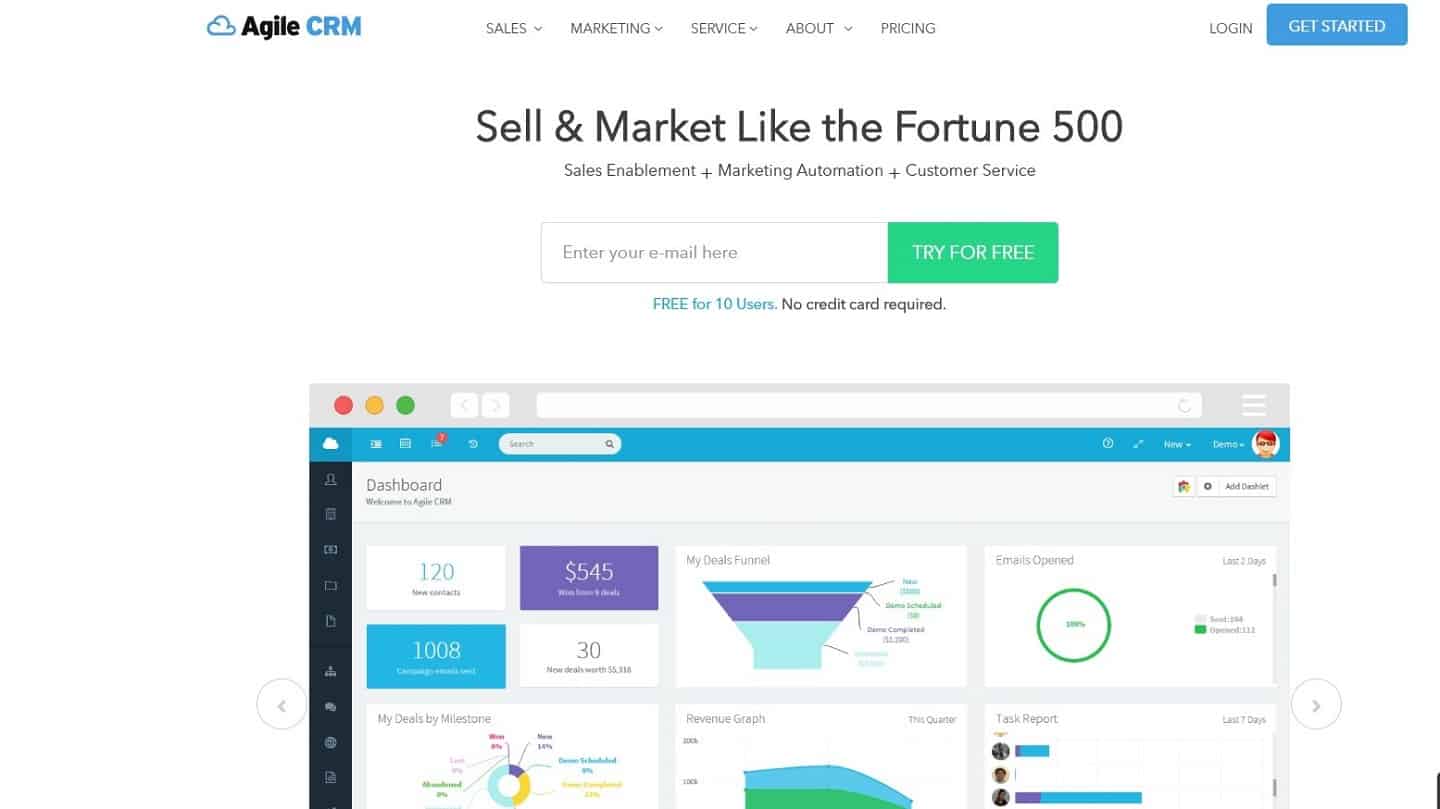 Agile CRM is a very versatile software, which allows to manage a lot of communication flows with a lot of automation. All this makes it a very powerful software for SMEs that want to manage marketing, webmarketing, customer service, and business processes in one place.
Reporting
Reporting is far from being the strong point of Agile CRM. Even if they are less "clean" than pure-CRM solutions, they are still quite powerful, especially by including web-tracking to reconcile your marketing and sales data.
Customisation
One of the big strengths of Agile CRM is really its customisability. Not only are there many integrations with external platforms, such as Skype and Facebook, but connecting and using them is easy, with no lag. Plus, you can automate a lot of things to make your job even easier.
The support
Customer support is a strong point at Agile CRM. Looking at all the user reviews all over the internet, the support gets an excellent rating.
The price
Agile CRM is a little more expensive than some of its competitors, but it offers a discount for each level if you pay one or two years in advance.
There is a free version for up to 10 users, ideal for small businesses or solo entrepreneurs. Since you can create a free account, there is no free trial period for higher levels.
The Starter plan expands the capabilities of the software for $14.99 per month per user (reduced to $9.99 per month per user if you pay for the year, or $8.99 if you pay for two years).
Next is the Regular plan, which adds service-oriented options for $49.99 per month per user (or $39.99 per month per user if billed annually, or $29.99 for two years).
Finally, the Enterprise level comes with some nice extras at $79.99 per month per user ($64.99 per month per user billed annually and $47.99 for two years).
Ease of implementation and use
Agile CRM is one of the best in its class when it comes to user-friendliness, thanks in part to its intuitive layout. Every major feature of this CRM is visible with a single click, and when you use these features, it's a completely seamless experience, even when you have a large database. What really helps Agile CRM stand out is the user experience. However, because of the sheer number of features, the tool can become overly complex for simple operations.
#4 Monday CRM: The Salesforce alternative for SMEs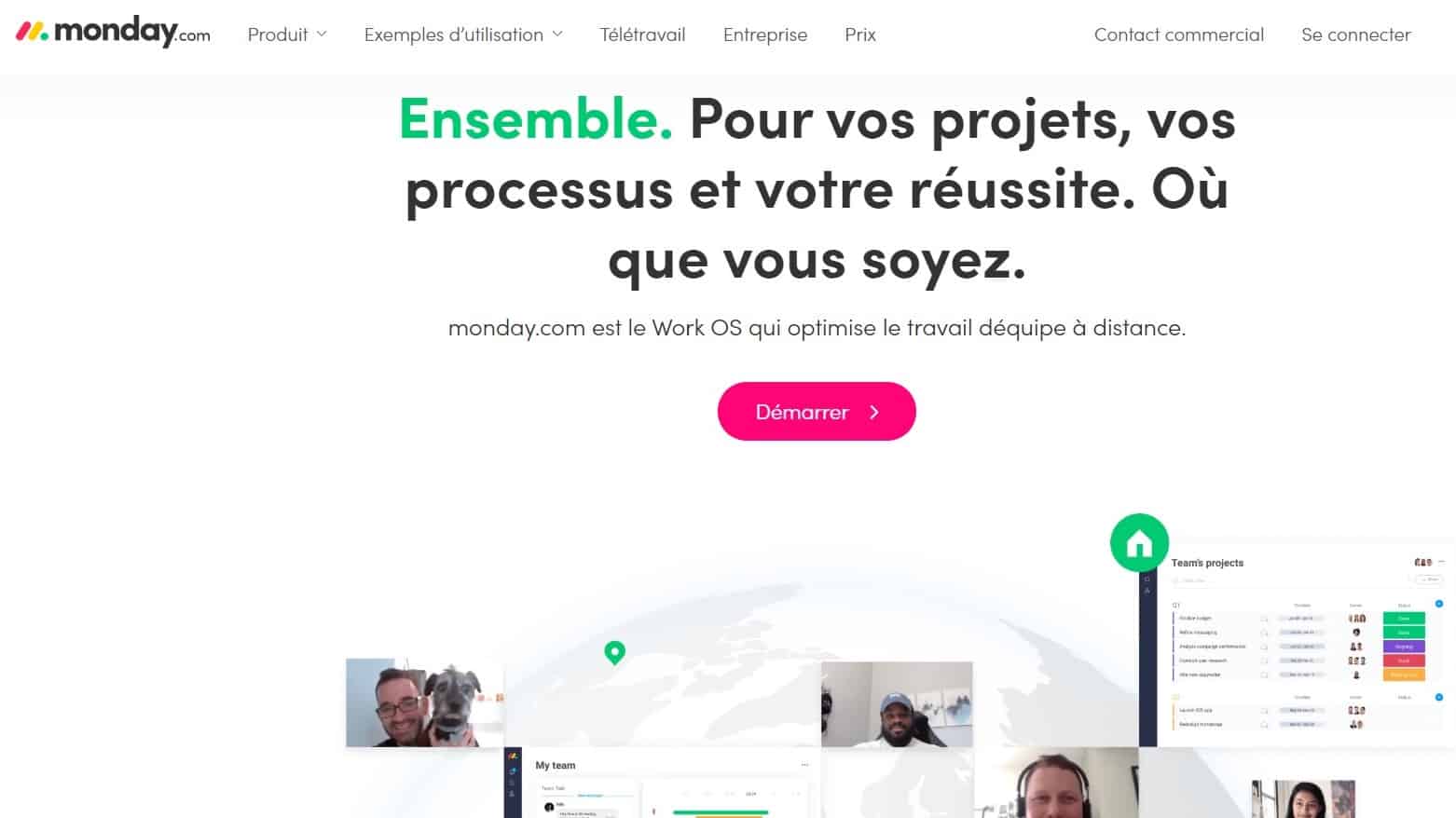 Monday is primarily a productivity and project management tool, but they've developed a lot of functionality around the CRM use case, and it's pretty effective.
Reporting
It's not Monday's biggest strength, but most of the essential reports are there, and it's pretty effective. Expect a CRM centred around "projects". It gives a lot of freedom, but it doesn't allow you to go very far in the analysis.
Customisation
This is one of the great strengths of Monday. The tool can be adapted to just about any sales process. If you are involved in long and complex sales cycles with a small team, this could be a really interesting tool for you. In addition, Monday has many integrations (Slack, Trello, Mailchimp etc.) that are easy to set up.
The support
The platform excels, and its users say so. Test it for yourself and you'll see that its agents give you the answer you need.
The price
Monday.com is a very affordable CRM for small and medium-sized businesses, even if it is not as functionally rich as a tool like Pipedrive or Hubspot.
49 per month for 5 users
From €59 per month for 5 users with advanced features (timeline view, customisation of online forms)
From €99 per month for 5 users with 25,000 automation credits per month and time tracking.
Ease of implementation and use
Again, excellent. Very easy and pleasant interface. Everything is optimised to allow you to get to the point quickly.
Looking for a CRM?
Discover the CRM software with the highest adoption rates in the market
Reader Interactions